Popular Trekking and Hiking Holidays in Iceland
In Iceland
View all trips
A Quick Overview of Hiking in Iceland
Ah, Iceland. The land of ice and fire. With volcanic landscapes, black beaches, glaciers and mountain peaks, it's no wonder anyone wants to go hiking in Iceland. The vast majority of the country is wild and barely populated, making it easy to get off the beaten track to explore. But where to start? We'll break things down region by region to help you get the most of your time in Iceland.
You can broadly break Iceland hiking down into a few regions:
Icelandic Highlands
The Westfjords
The Eastfjords
The Snaefellsnes Peninsula
South Iceland
Reykjavík Area
We'll go through each one in turn, but first, a few practical considerations about when to do your trip...
When to go Hiking in Iceland
Iceland doesn't really do average. You can tell that by a quick look at even a handful of photos of the country's landscapes. But the same can be said for its weather. While most countries tend to have four seasons, Iceland doesn't really go in for that. Autumn and Spring are a bit mediocre, so Iceland just ignores them completely. Either you have summer or you have winter.
Generally speaking, the summer hiking season is from June to August. These three months give you the most stable weather for being out of doors and not battling through a blizzard. Although don't expect the weather to be beach-worthy, you are in the Arctic Circle! Summer temperatures range around 10 to 20 degrees C. Pack a few jumpers.
The winter season is from October until around May - or even into June in a bad winter. Generally people do not go hiking or trekking during these months. The snow can be so thick that roads are inaccessible and hiking trails are not maintained throughout these months. Oh and the wind - it gets really windy. Like we said: Iceland doesn't do things by halves. That said, if you have some experience with mountaineering on snow and ice, there might be something around for you. Most hikers tend to avoid winter.
Where can I go? Your Options
We're glad you asked. You are basically spoilt for choice when it comes to hiking or trekking. Iceland is packed with interesting landscapes and wild vistas. Plus there are several maintained trekking routes for people who don't like to stay in the same place every night.
Icelandic Highlands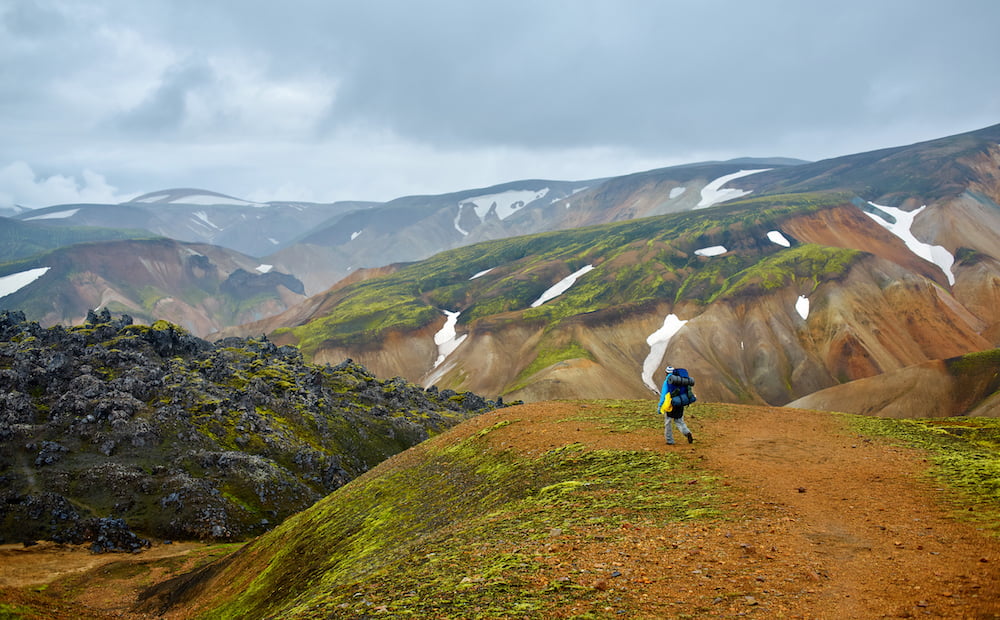 The Highlands are home to some of the most popular hiking trails in Iceland - and with good reason - but don't expect it all to be busy. The Highlands is a 40,000 km area in the centre of the country. Think you can probably manage to dodge the day-trippers in that. What is so appealing about this area of Iceland is the sheer, incredible landscapes. The land's volcanic history has created an incredible combination of peaks, plains and colours. Plus it really is wild: don't expect bridges or paved roads or any of that modern nonsense!
You could very easily find days of hiking to do in this area, wherever took your fancy. However, if you'd like a bit more structure, the Laugavegur Trail, in the Landmannalaugar National Park, takes in some highlights of the area. Expect to be on a multi-day trek through mountains coloured orange, red and yellow by rhyolite. Pass by hot springs and through mossy valleys.
The Westfjords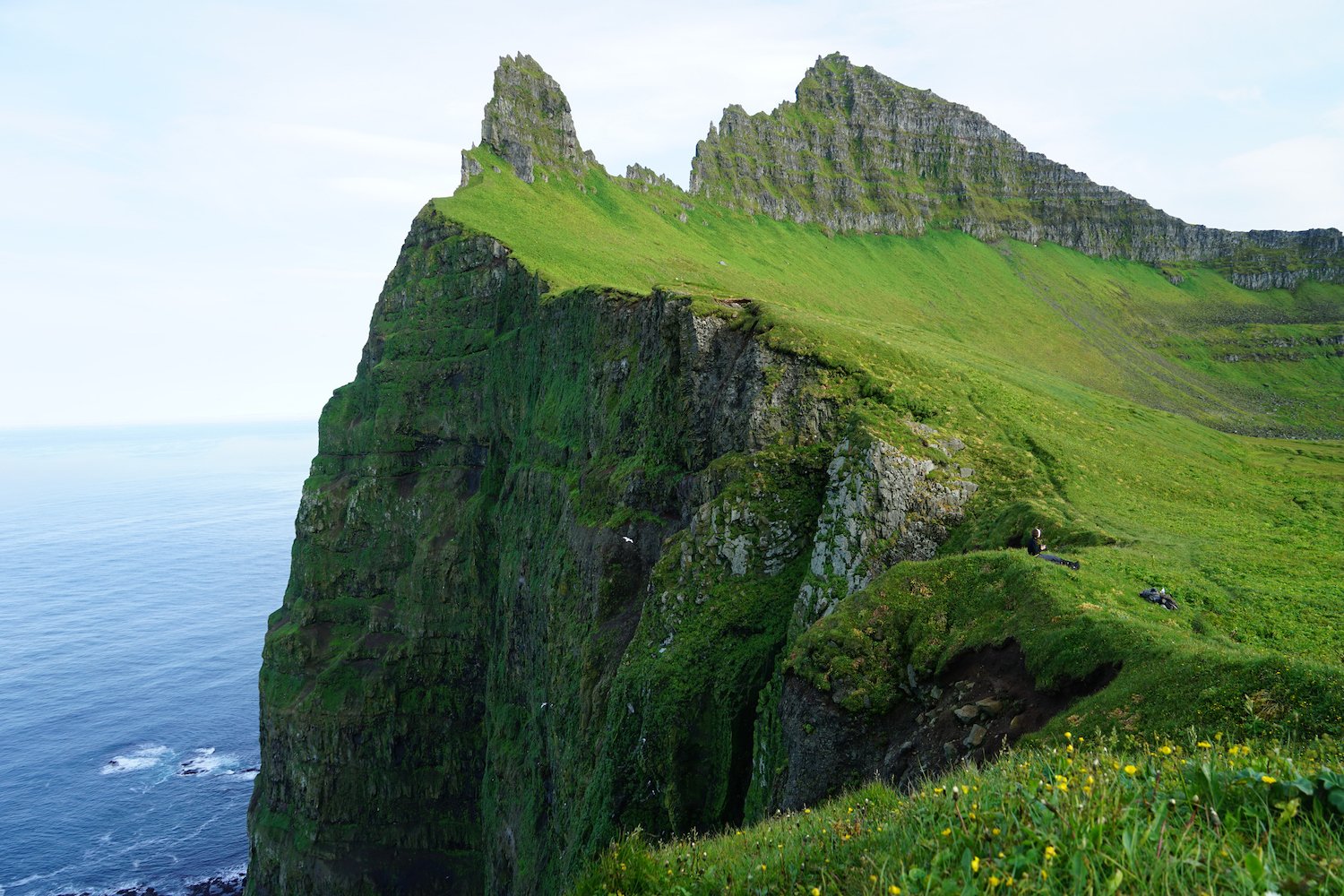 If you want to hike in a place that is truly remote, the Hornstrandir Nature Reserve might be for you. It is famously inaccessible by vehicles - once you step off the ferry, you can only continue on foot. That's certainly one definition of a hiker's paradise! The Hornstrandir reserve has some incredible pinnacle-like cliffs, sticking out at all sorts of angles high above the waves. It certainly makes for a coastal walk with a difference!
The Eastfjords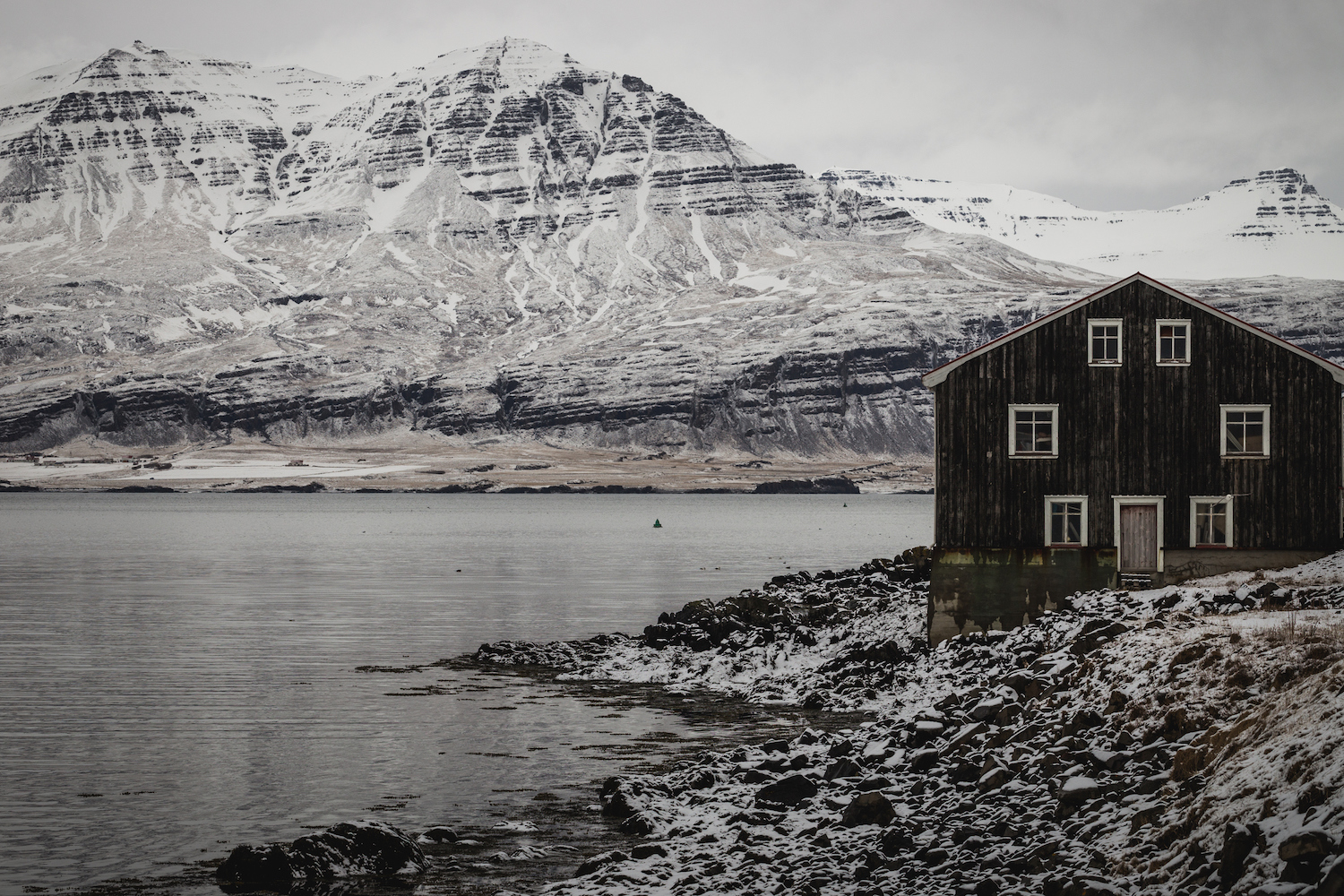 The Eastfjords area includes Iceland's largest forest and a lot a reindeer! Hallormsstaður National Forest contains some 740 hectares of mostly birch trees - native to Iceland. Although the forest has been a testing ground for introducing new and exotic species. There are 11 marked hiking trails to explore.
However, the main feature of any fjords area has to be the costal walks. You might like to try the Borgarfjordurs or the Vikur hiking trails around coves and inlets on the east of the island, exploring black beaches and maybe spotting some puffins.
The Snaefellsnes Peninsula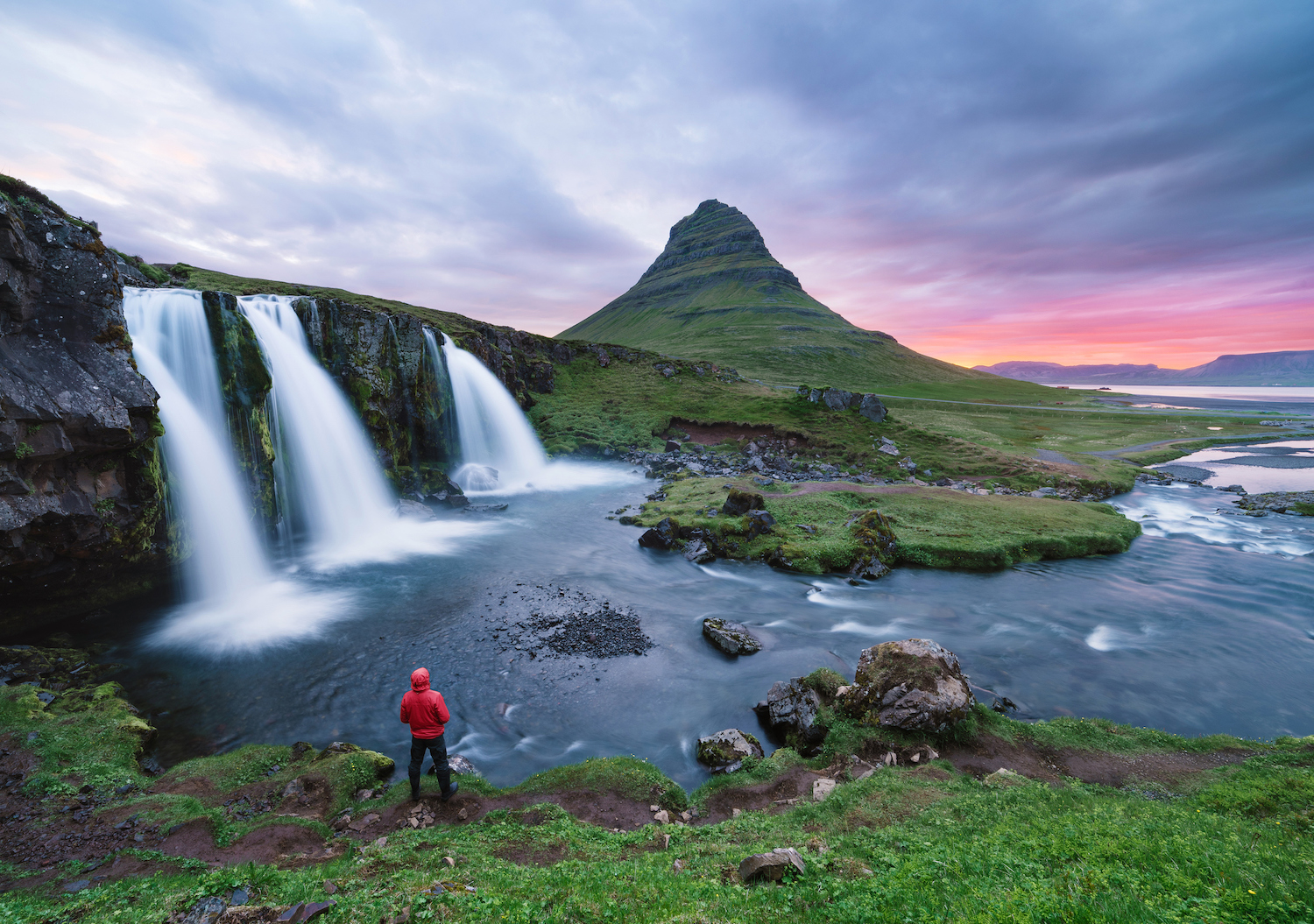 You're probably already having a tough time deciding which area of Iceland to go trekking across. Maybe you've just about decided between the ones we've already mentioned... and then the Snaefellsnes Peninsula comes along. It's got caves and waterfalls, an ice cap on a volcano and lava fields. Yup. All on a 90km peninsular. Plus because it's a peninsular it's also got Iceland-style cliffs and coastline... Decisions!
Mount Kirkjufell (meaning Church Mountain) is probably the most popular landmark in the area, a distinctive wedge-shaped mountain. There is a hiking trail right to the top, where you'll find the fossils of ancient fish buried in the rock.
South Iceland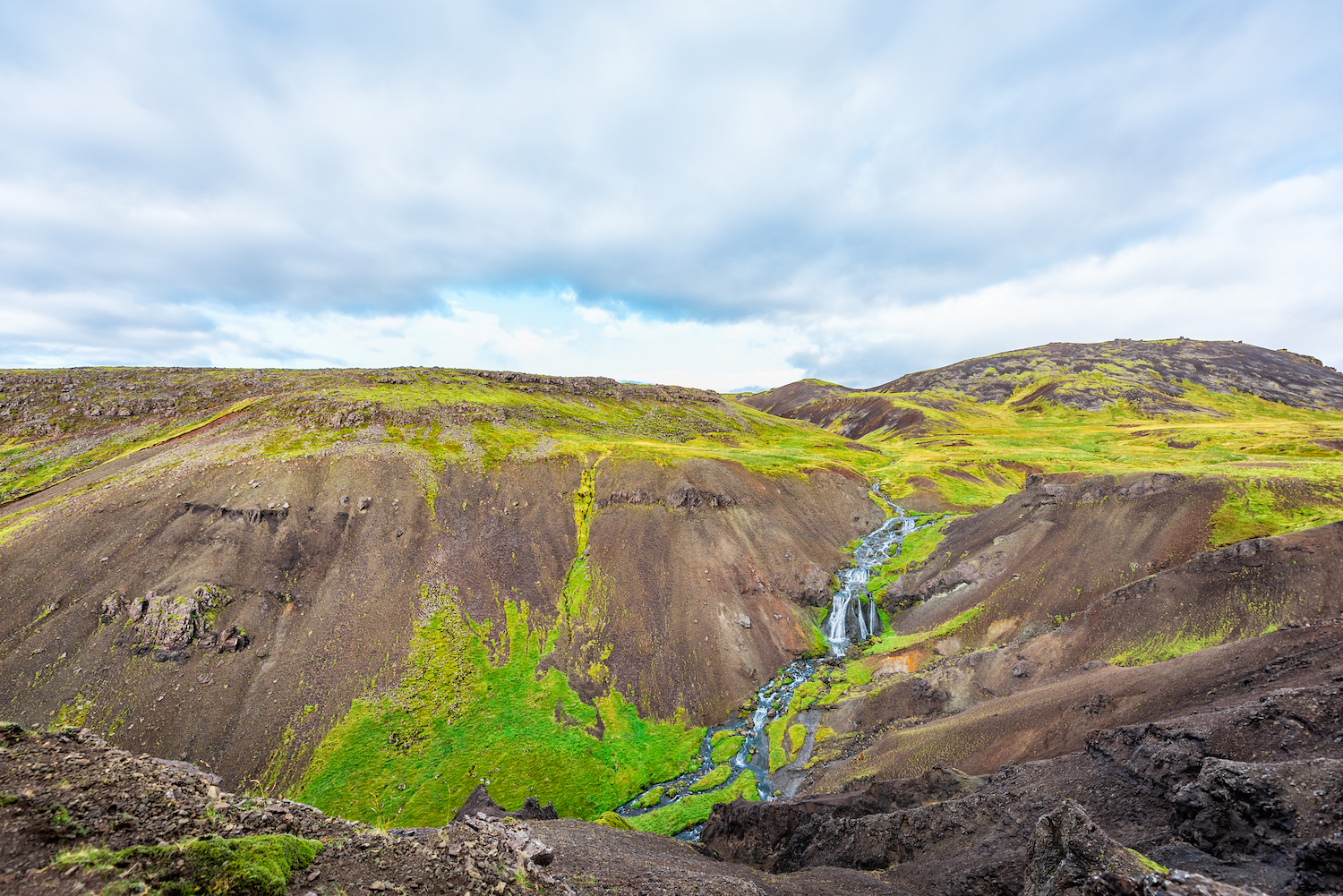 Oh, we're not done yet! The south of the country is home to some of the best hikes in Iceland. Including the highest peak: Hvannadalshnjúkur at 2110m above sea level. It goes without saying - you get how Iceland rolls - but this is not a light undertaking. Either you need some stiff mountaineering skills, and the willingness to cross a crevasse laden glacier, or a guide to help you on the way. Probably both would be useful.
There is also the Reykjadalur Trail, that leads to a hot river across bubbling mud pools - a perfect demonstration of Iceland's geothermal activity. You can even have a dip in the warm river, although this location is not a secret any more. And watch out, some of the springs in the area reach up to 100 degrees C!
Reykjavík Area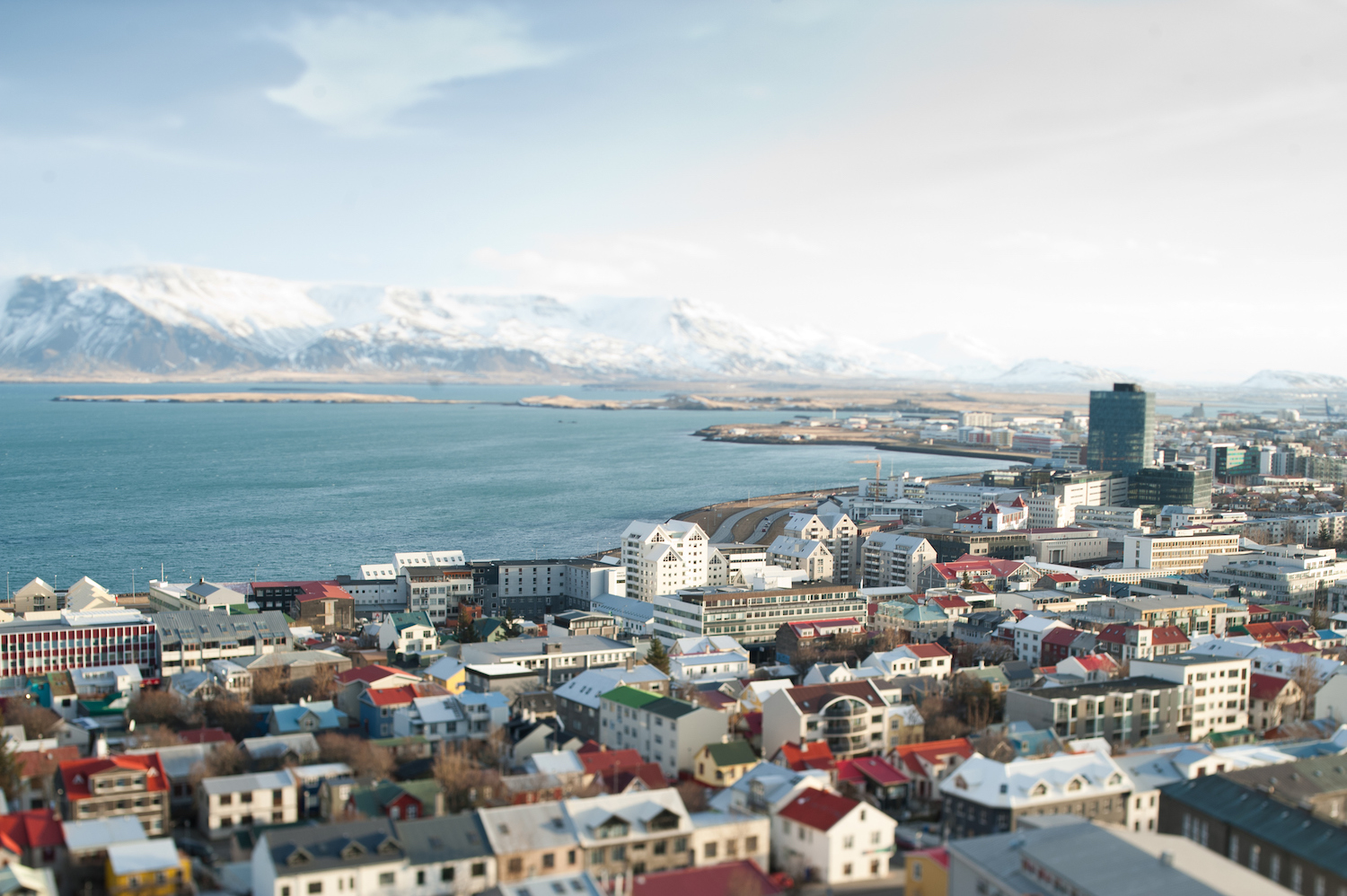 Don't feel like staying near Iceland's capital city is drawing a short straw. Reykjavik is a tiny city by most people's standards and opens straight out onto the wilderness that Iceland is so famous for. If you don't have much time for travelling, this might be the choice for you. In fact, you can see Mount Esja clearly on the horizon behind the city. It's only 9 miles away and at over 900m is still a very worthy mountain, if you can measure such things by size.