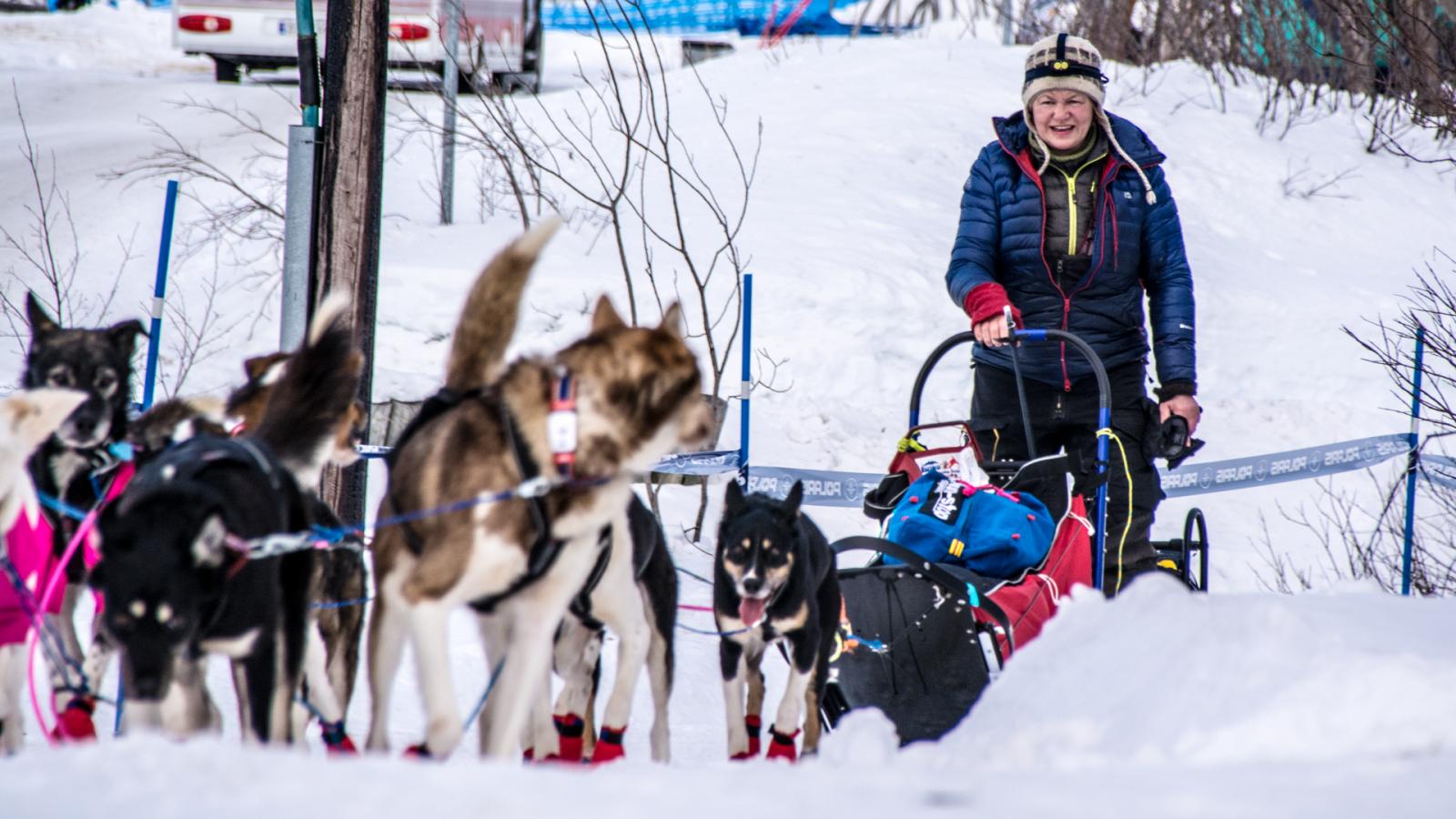 For those of us who've grown up devouring adventure tales like Jack London's Call of the Wild, driving a sled dog team is the ultimate sub-zero adventure. But what is it really like to be a 'musher' (a sled dog driver)? We spoke to Tove and Torkil, a mother-and son-mushing team based in Norway, to find out!
Tove and Torkil are owners of Tromsø Vilmarksenter, a dog sledding company based on the Norwegian island of Kvaløya (the whale island), just outside Tromsø. I speak to them on a Skype call set up by Ieva, another member of staff -  she points the laptop out the window, so I can see the dogs, the kennels, and the surrounding landscape. Then I see Tove and Torkil arrive by dog sled. Torkil pats a dog, smiles and waves at me through the window as she steps off the sled.
Hi guys. Nice to meet you.
Torkil: Hi, I'm Torkil.
Tove: Hi, I'm Tove, Torkil's mother.
Thanks for speaking to us. So when did you set up the centre?
Tove: I started the business in 1988, when Torkil was born. I've been into dog sledding for about 10 years now. I decided to set up this business with the idea to get more people out into nature. I love to show people the natural environment here in Tromsø. I love being in nature, and mostly I love being with the dogs.
Our idea is to show our guests why we love it here so much. And after operating here for more than 20 years, we can see that our guests love it here too.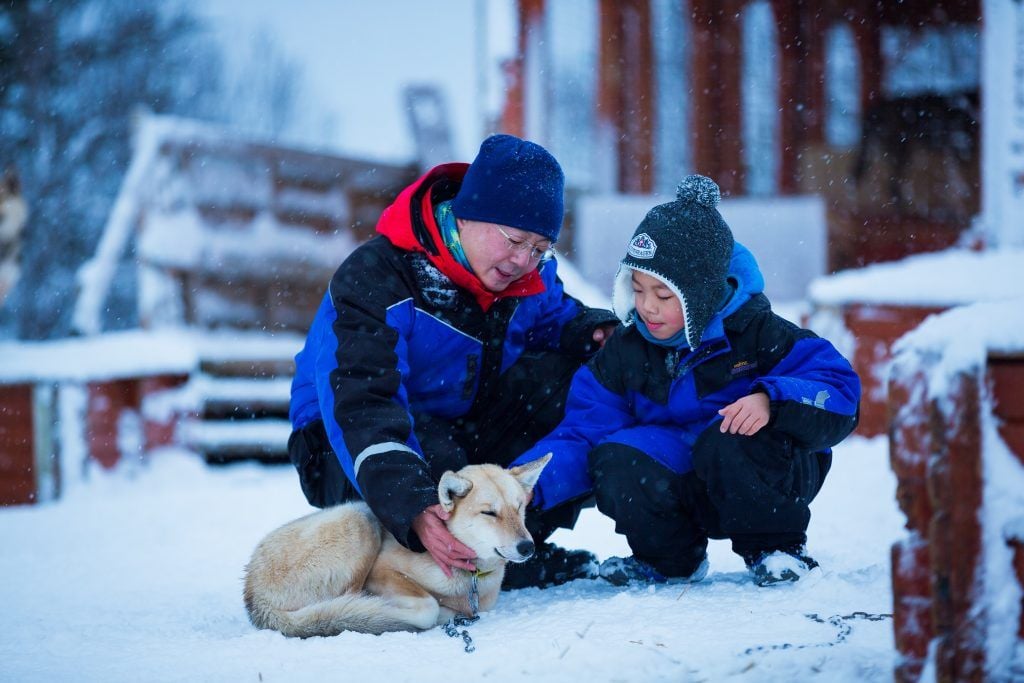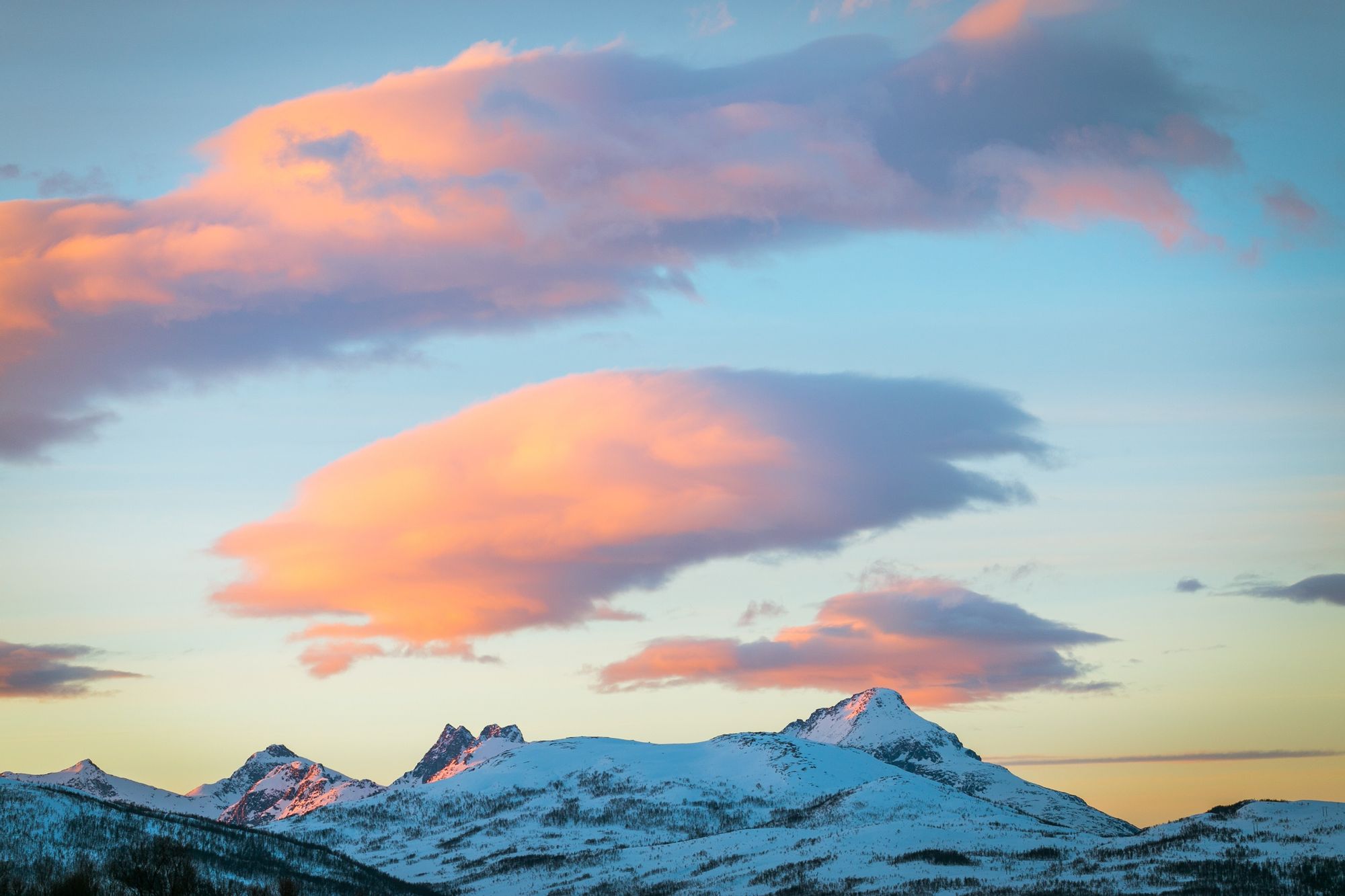 Great. So how long have you guys lived in Tromsø?
Tove: Well I was born here, and Tromsø is my hometown.
Torkil: I was actually born here, at Tromsø Vilmarksenter. I was a newborn, riding on my mum's back when she was driving dog sleds, so all my childhood I have grown up at the dog-station. I have known many of these dogs since I was young.
Our father built a house here in the early days, and that turned into the office of the company. And the company has grown ever since, and now my Mum has her own house.
I moved away to the city for two years. I wanted to work in a clean place, with a suit, and in a 'normal environment.'
Then I jumped at the opportunity to come back, and I am part owner of the company. I now juggle my time between running the business and competing in dog sled races with my mother.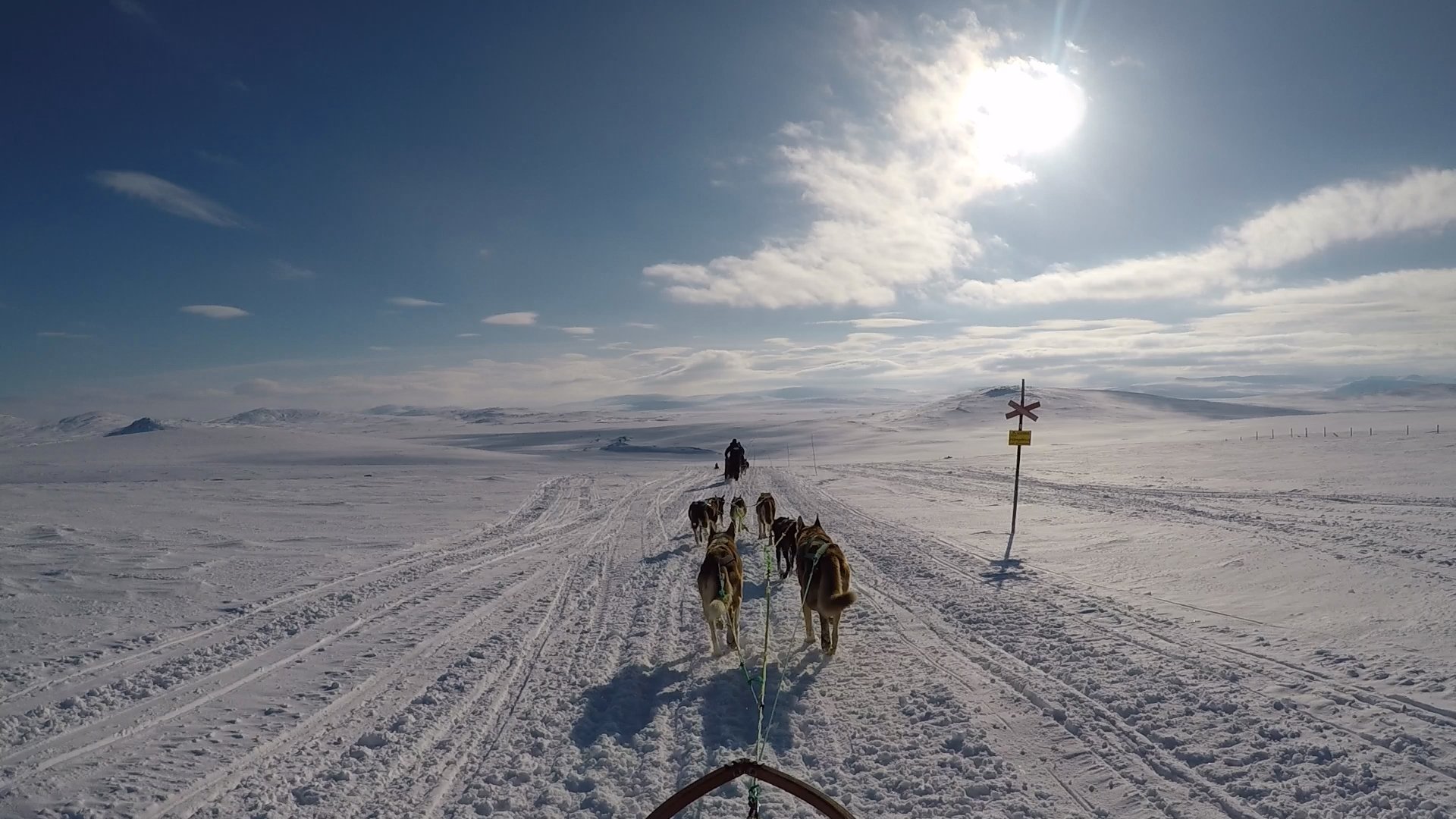 Any races specifically?
Torkil: Well the race we have been doing every year for last 6 years is the Finnmark race, which is the longest in Europe. It is a total of 1,000 km.
Is that a competitive affair?
Torkil: I'd say that for a 1/3 of the people it is competitive, and for a 2/3rd's of the people, it is something to simply train towards. Sort of like a marathon, I suppose. You know, it's a goal.
For me and my mum, we are not aiming for 1st place, but we try to do as well as we can, and as well as the dogs can. The better you do, the more fun it is!
What's your best result?
Tove: For me, its 5th. Even to just complete this race is amazing. It's crazy what the people and the dogs are doing. You aren't resting very much, you aren't sleeping very much. It's a psychologically tough race, but I just love it. I don't have any idea why we love it, we just do. *Laughs.*
But when you have a business that you created out of your hobby, it is still important that you keep your hobby. I love going out with our guests, and I love seeing how happy it makes them. But I still need to get out with my race-dogs sometimes, and that's why I do these races.
And do the dogs enjoy the racing?
Torkil: Well they can't wait to go running, every single day. They love pulling sleds. But when you are a long way into a race, they adopt a totally different mentality. They rest less, eat more, and they really start to push themselves.
But in the run-up to the race, they don't care if they are racing, coming first place or last place, as long as they are happy and able to run.
One of the most important things for me is building a solid team, and making sure the team is as happy and healthy as possible. Happy and healthy teams run much better.
In fact, we recently came back from a 650km race, where we can 9th place. We were very happy with that. We were very ill at the time. Tove got the illness just before the race, and I got it during the race. I started puking often during the race, as did Tove.
But often we find that the dogs can sense when something is wrong. They can sense the negative energy coming from you, and they will give a little extra, and won't fool around as much.
The dogs know that when it is serious, it is serious.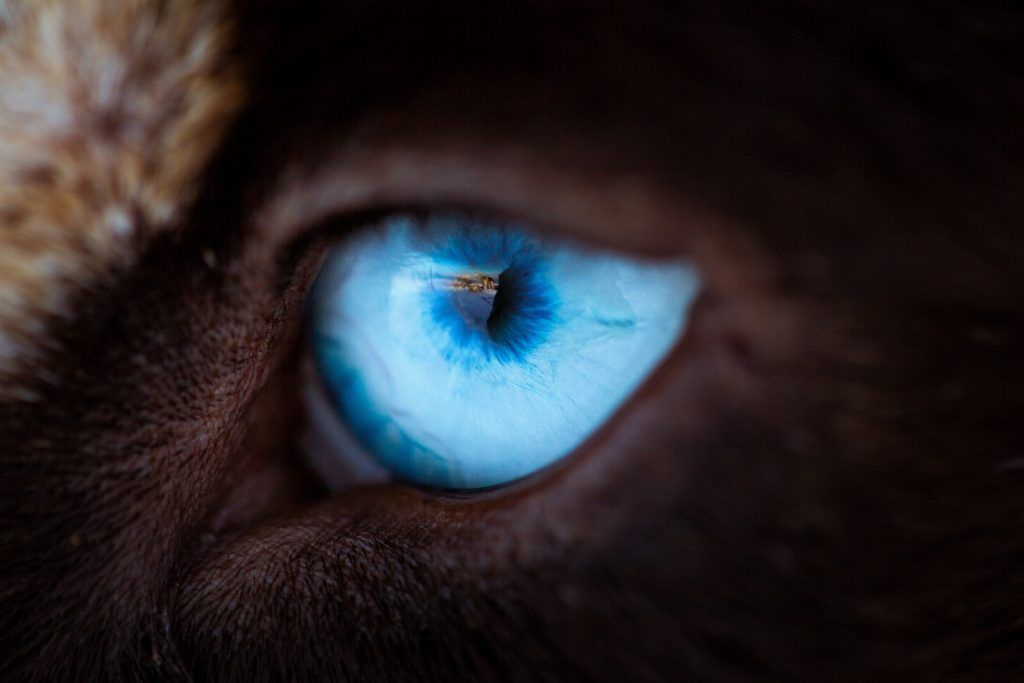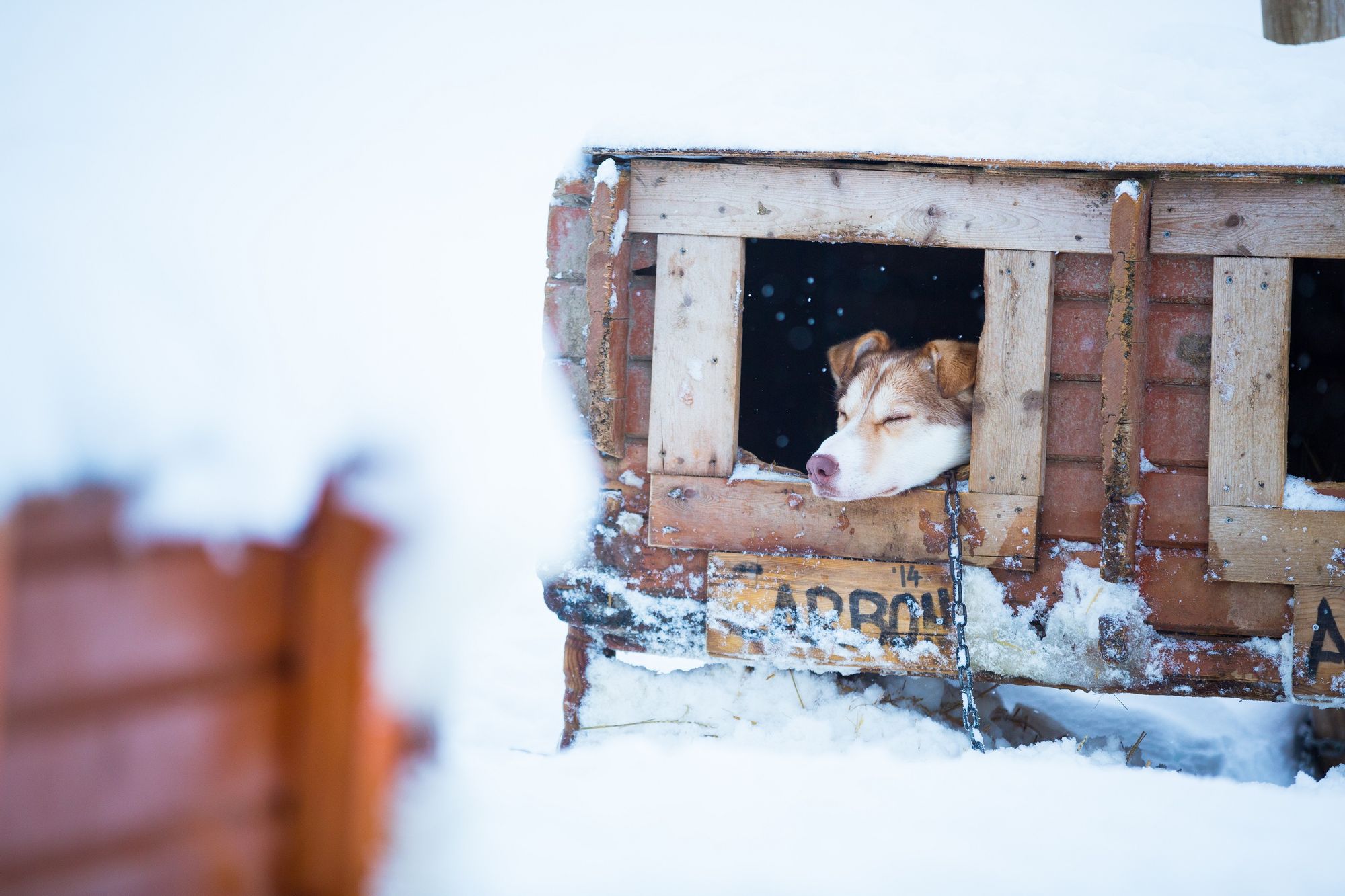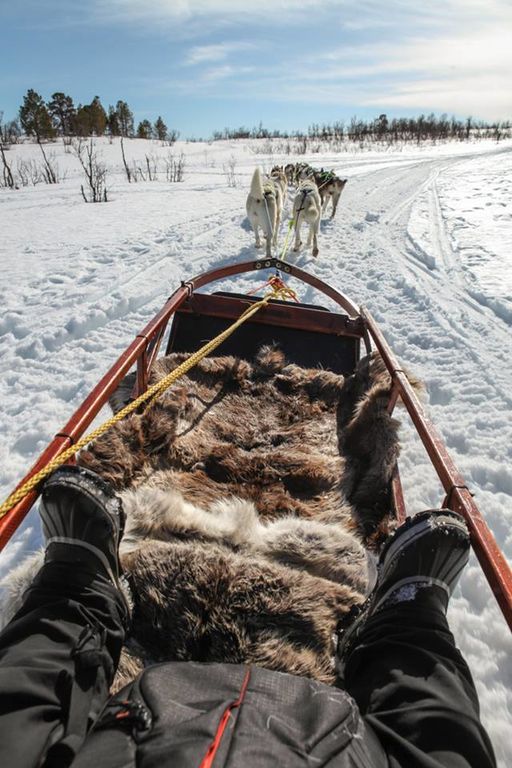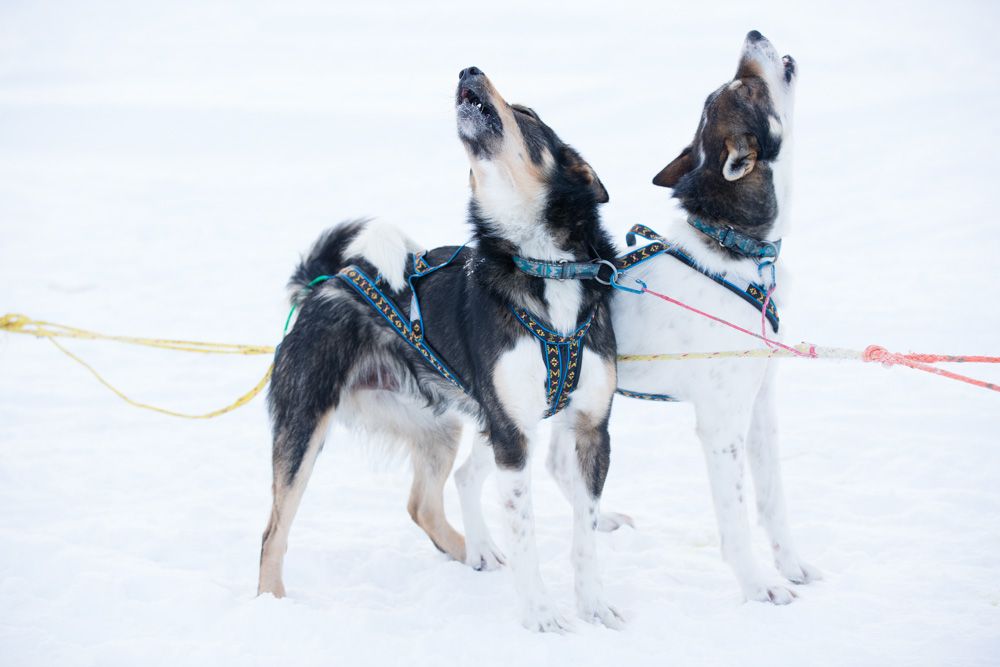 So during the Finnmark race, how many dogs did you have?
Torkil: 14
And how important is the combination of dogs that you use?
Torkil: I think that any dogs can run with any dogs, more or less. But it is important that the dogs have all trained together, and that they know how to work together and pull uphill, that makes all the difference. But it takes time.
It's the same in any kind of workplace. For example, we have people from 21 different nationalities all working together. It is important that everyone works together, everyone is at an equal level and that everyone is happy. There has to be harmony. The leaders have to be strongest and be the most motivated.
Out of interest, do dogs get down in the winter in the same way the humans do, is that true?
Tove: Because of the sun? No, I don't see that. Humans get down in the sun because they have glands in our forehead that secretes Vitamin D, and reacts to sunlight. Dogs don't have the same mechanism.
And when I flew the dogs over to the Iditarod, they don't get jet lag either.
(Tove and Torkil's attention suddenly redirect out the window, and I hear the sound of dogs barking.)
Tove: Torkil just has to go and fix the dogs. One of the dogs got loose. But you can talk to me. One of the 'A' dogs is causing a fuss.
The 'A' dogs?
Tove: The dogs we pull tourists with are called 'A' dogs. They are our racing dogs. You know, like a football team, they are the 'top dogs'. They train much harder and eat the best. If they ever fight, and one gets bitten, they can get infected, so we have to look after them very well.
Can you tell me a little more about your experience doing the Iditarod?
Tove: It is a very hard race. One of the reasons is that is so long, about 1000 miles. Another reason is that there is not very much help when you get to a checkpoint. At the Finnmark, you have people following you by car, so you have someone who can help with directions. However, with the Iditarod, there is nothing. You have to rely entirely on your own map reading skills, and you have to pack all your own food and equipment.
But the landscape of the Finnmark is actually a little bit harder. In Alaska, everything is huge. The mountains, the valleys, the people. *Laughs.*
You travel through a lot of small Inuit villages, and you see a simple life that they live. They have often not received very much communication from the outside world. A lot of children would often come and see us, and we would give them sweets and chocolate, so that was very nice.
I am grateful I made it through, as I'm sure it is one of the toughest in the world to complete. It can be very psychologically draining as you are not sleeping that much either.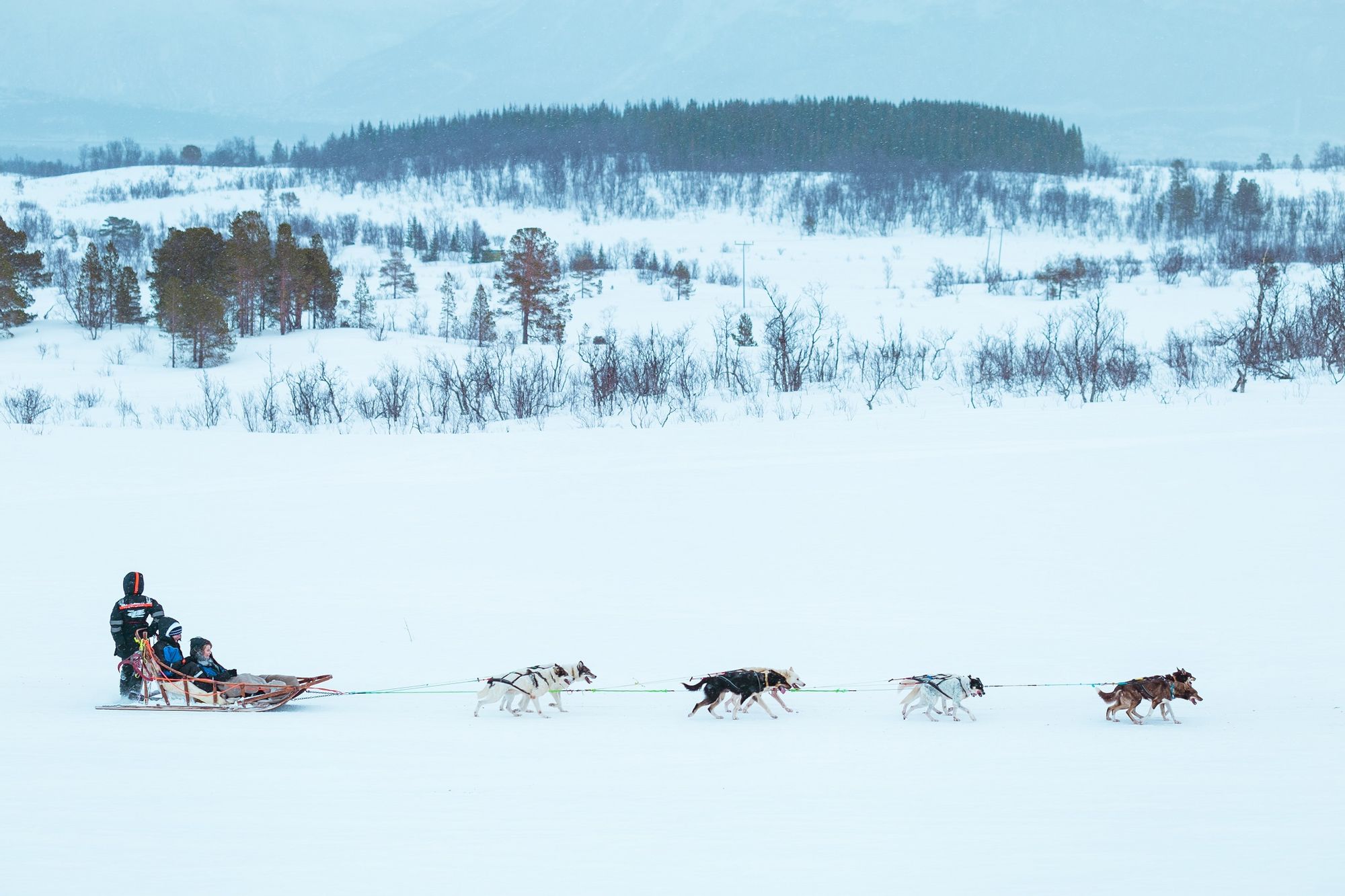 (Torkil returns from tying up the dogs.)
So Torkil, are you mostly in charge on the business side of things?
Torkil: Well I look after mostly the outdoor side of things. I check to make sure the routine in the kennels is always the same, and that the dogs are all happy. I have a brother who looks after the marketing and bookings. The inside stuff. I try to stay away from this stuff as much as possible, so I'm able to be outside.
But I think Tove want's me to take care of the inside business stuff more and more, so she can drive dogs more and more.
*Tove smiles.*
But Tove and I have the same mentality when it comes to the dogs and the employees. We both agree that dog sledding is a great way to get people away from the city and out into nature.
A guy I was just sledding with told me that I must have the best job in the world. I said yes, that is true. Even on the rainy days, it is the best job in the world.
It's all about your mentality. Today, for example, it's -12 outside. But I'm happy to sled. When it's cold and dry, and even cold and wet, I'm as happy as the dogs to go sledding. Even if we don't get to see that much, we still get to go into nature and have a natural experience.
Tove: It's also important to stress how much of a family business this is. Torkil and myself are training a lot together, and we do a lot of long-distance trips together. People always ask us, "how can a mother and son spend so much time together?" We have to respect each other and understand that he is his own human, and I am my own human. I think I am lucky, I don't know if Torkil thinks he is so lucky. *Cautious laughter*
But we respect each other, and it is quite interesting to see that the mother and child can work so well together.
That's really interesting to hear. So where do you plan the business to be in 10 years time?
Tove: It is difficult to say, but we have to watch the movements of the tourists, and we have to judge what they want, and how can cater to that.
So we have to talk and listen to people. What we have learnt recently is that education is key. People who live in towns never get the opportunity to learn more about the natural environment, and how to survive in it. Often we find that people who live in, say, London, have never seen a tree, or learnt how to make a fire.
Keeping an eye on what the customers want helps us to be the best at providing dog sled tours in Tromsø.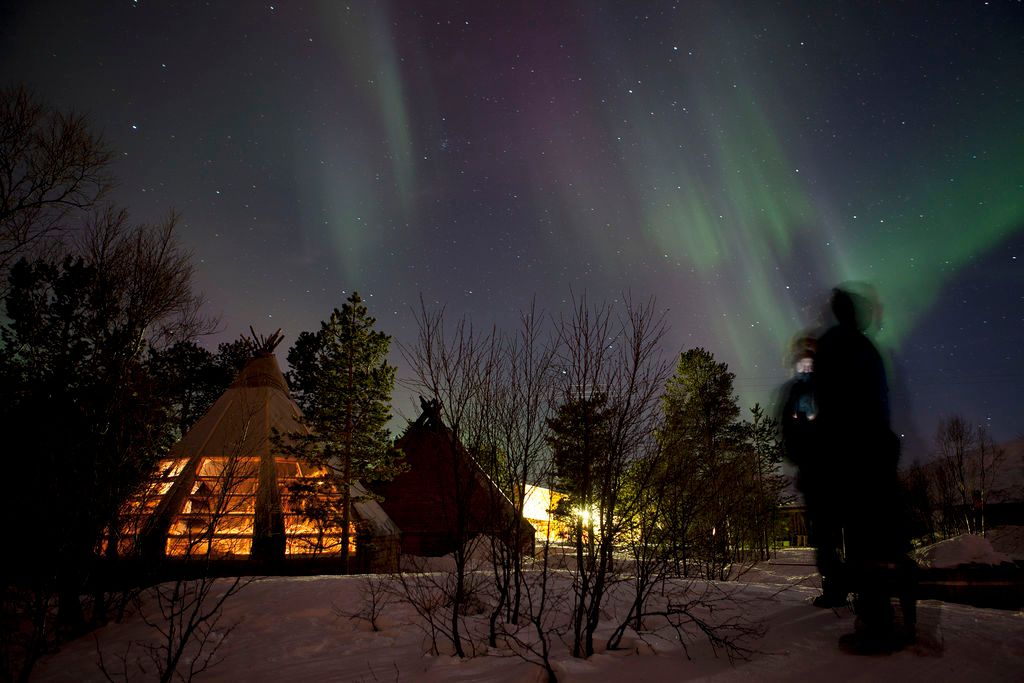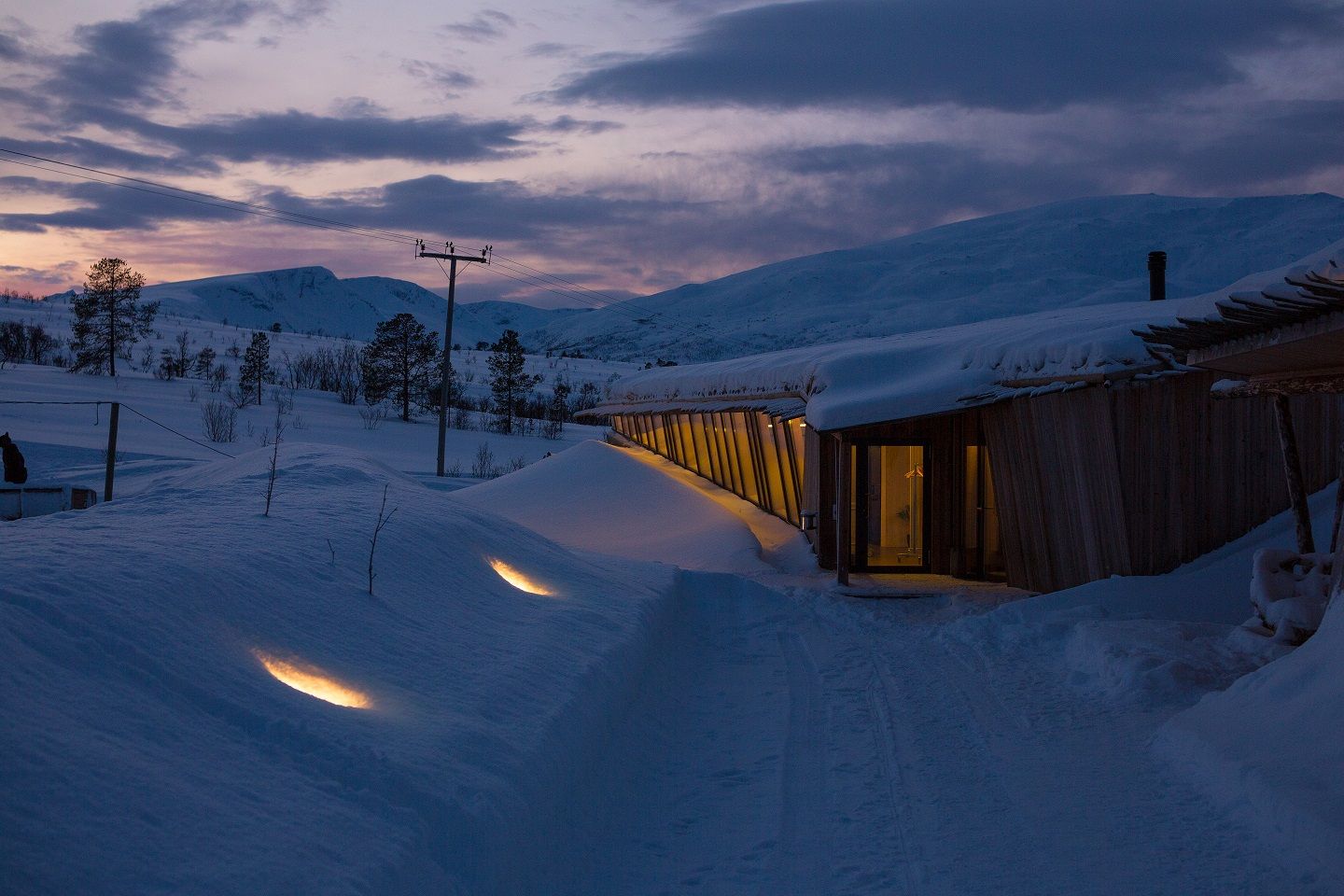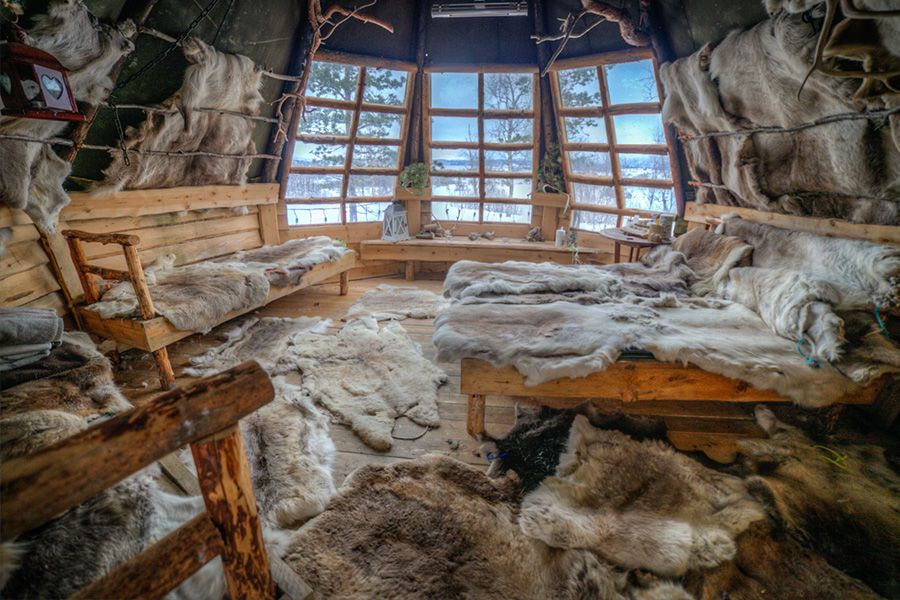 That's great. So Tromsø Vilmarksenter has its part to play in encouraging an outdoor lifestyle, or 'Friluftsliv' [Norwegian for open-air living]?
Torkil: You almost go the pronunciation right. *Laughs.* Another similar thing I like to bring up to all of my guests as well is the idea of the 'all man's right.' It is one of the constitutional laws in Norway, that no-one can own nature. It is known as the law of 'Allemensratten.' You might be able to own land, by no-one can deny you access to go into nature. No-one can tell you not to pick berries or swim in streams. Access to this nature is the last free thing in the world.
Another facet of the law of 'Allemensratten' is that you can use nature for everyone's good, as long as you leave it as a better place than you found it.
So it is the difference with the say, in America, where they also have large swaths of people moving to the countryside. But over there, for example, the Grand Canyon, beautiful place, closes at 4.00 pm.
You can be very rich or a pauper, and you will be enjoying the same thing when you are in nature. A thing we love about our work is that we feel that nature is a great leveller. We have blind people, disabled people and very young children come on our tours. They all come and experience 'friluftsliv', and they love it all the same.
When our guests return from a tour, they get inside and sit down. They breathe out, and they are exhausted. But they have a good exhaustion. You feel physically drained but mentally replenished. Fresh air does that to you.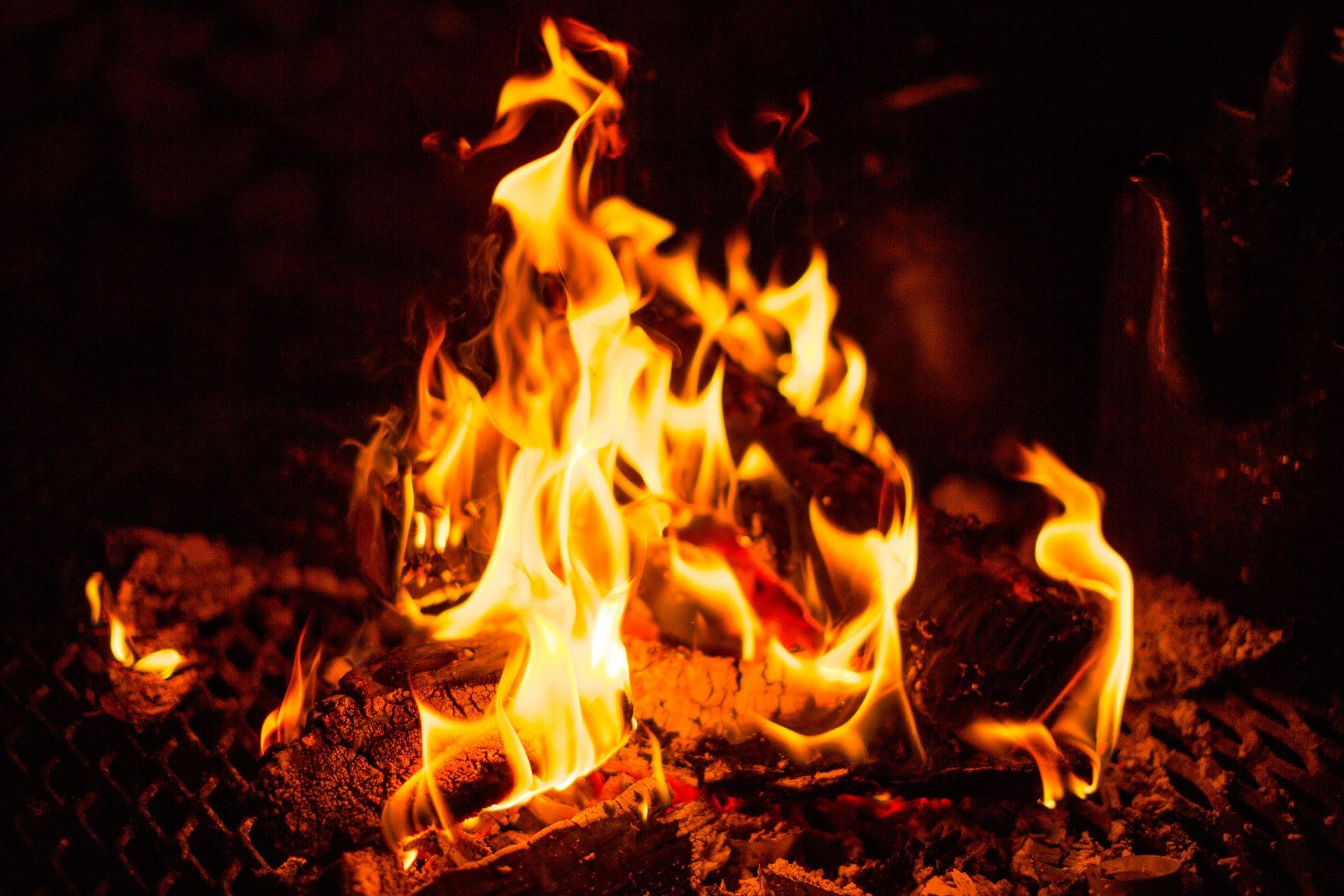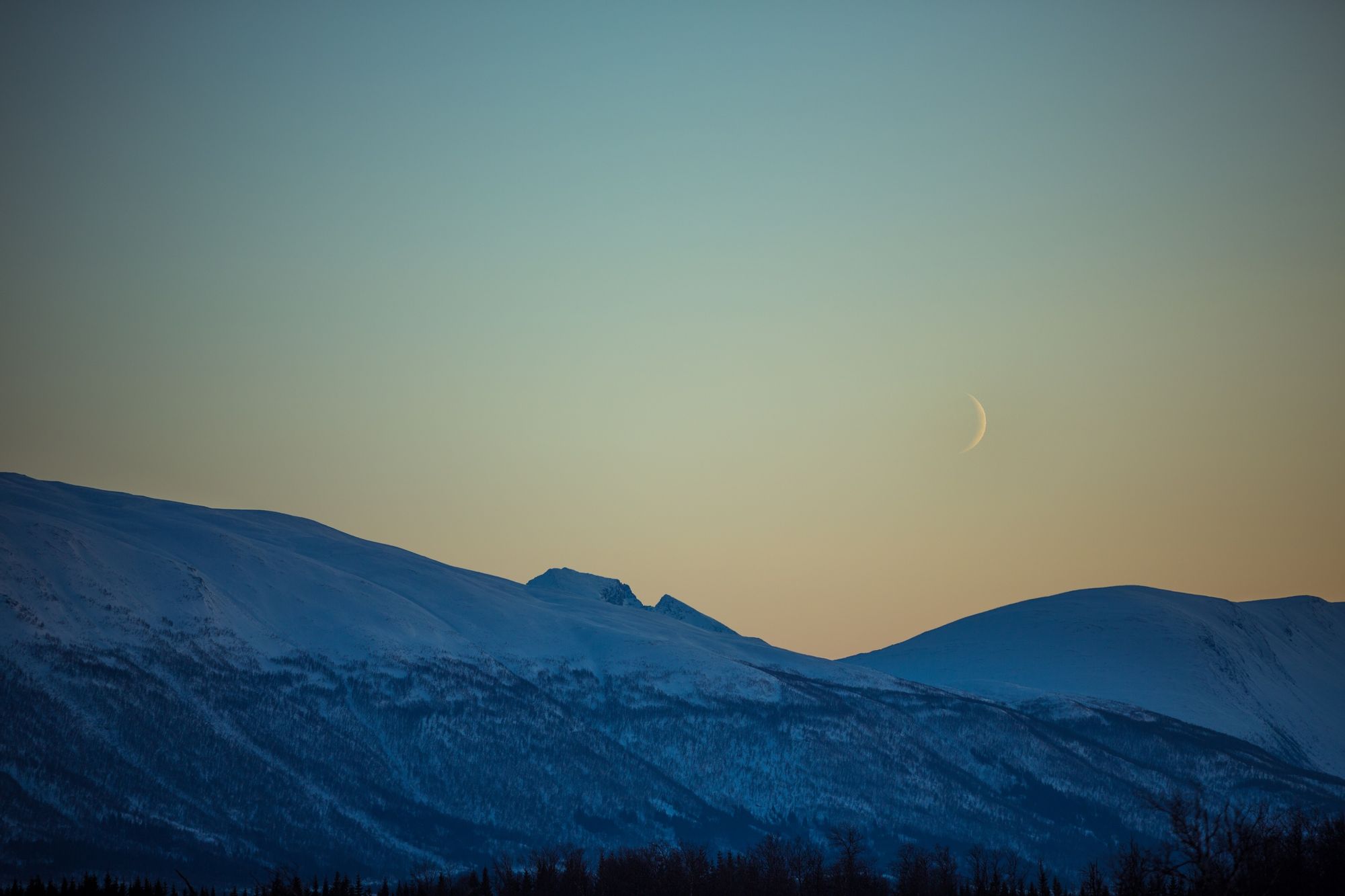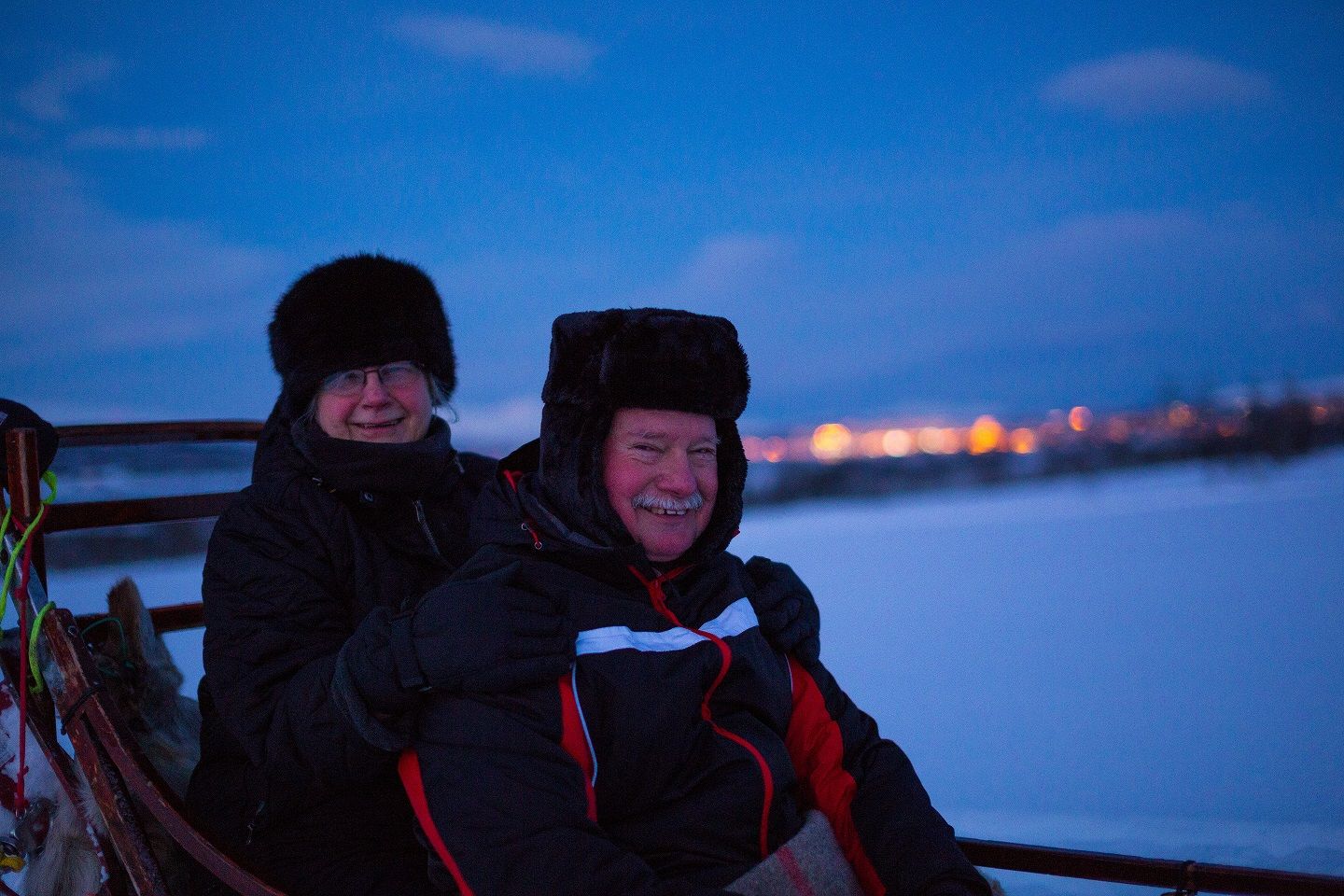 And so finally, what does an average day for you guys look like?
Torkil: Dog food, dog sh*t, dog sledding. Dog food, dog sh*t, dog sledding.
Tove: Then sleep!
*Laughter all round.*
Thanks for speaking with us guys!
*All photo credit goes to Tromsø Vilmarkssenter
Feeling inspired? Check out our Husky Sled and Northern Lights Expedition, or our other Sub-Zero Adventures.