So, you've been skiing for a few years now on a variety of different ski holidays, and you feel confident throwing yourself down red pistes in the resort. It's a lot of fun and you enjoy zooming past all the slower skiers, but you're hungry for something a bit different, something new, something more exciting. You crave to go further afield and you keep looking up at the surrounding peaks in the distance. What would it be like to ski over there, and more importantly, how do you get there?
So what is backcountry skiing?
Well, firstly there are three main ski categories – resort skiing, off-piste skiing and backcountry skiing. Resort skiing tends to be on groomed pistes within a roped off area and is the most common form of skiing. The bread and butter of skiing, where we all learned how to ski on green, blue, red and black pistes. It's fine, it's fun, it's safe, it's crowded.
People often lump off-piste and backcountry skiing together, but in reality, they are pretty different beasts. Off-piste includes skiing anywhere off the pistes or cat tracks within a resort, using chairlifts to access the terrain. You might hike up or over to that little powder stash you can see just over there, but you're still likely to be within spitting distance of a lift or help should you need it.
Backcountry skiing tends to be away from the ski resort, hiking up and skiing down unspoilt and ungroomed slopes, it's not called the backcountry for nothing. It is the purest form of skiing that exists, but also the most dangerous. You are far away from the relative safety of a ski resort and at the mercy of mother nature. In the backcountry, there are no groomed pistes, no restaurants, no chair lifts, no après-ski, no skidoos, it's just you and the mountains (and hopefully loads of epic powder).
Although skiing in the backcountry can be the most awesome thing ever, it is not to be underestimated. All backcountry skiers should be well equipped with safety gear and accompanied by a qualified ski guide.
Why go backcountry skiing?
The promised land of powder snow. Soft, deep and fluffy powder is what all skiers dream of and it exists in the backcountry. Floating through powder is the holy grail of skiing. And where better to do it than in the wild mountains away from the crowds. There comes satisfaction from hiking up a peak and skiing down, all under your own steam.
How do you know that you're ready to take it to the backcountry?
It goes without saying, before venturing out into the backcountry you need to be a competent skier. You should be able to ski anything on the hill and be in control in all manner of weather and snow conditions. Powder is the holy grail right, but that doesn't mean you won't encounter sketchy patches of ice, rocks, and potentially need to drop off small ledges, and navigate through trees. If you can't control your skis, all these obstacles could become potentially dangerous, especially at speed. You should also have experience skiing in powder, as it's very different from hurtling down a newly groomed corduroy piste. Although it's soft, if you fall over time and time again, you're going to get pretty exhausted, and wet, pulling yourself out and getting going again.
You'll also need to be relatively fit. The very nature of being in the backcountry means you can't rely on a chairlift to get you where you want to be. You'll likely need to hike or skin up steep ascents, often through deep powder, and for long periods of time, your thighs will burn and you'll huff and puff a lot. It's tiring stuff, but oh so worth it.
Ideally, you will also want to have a bit of avalanche training under your belt, at the very least ensure that any guide you head out in the backcountry with teaches you about avalanche awareness and how to use your transceiver or peeps, probe and shovel beforehand. Transceivers not only emit a signal so that you can be found in the event of an emergency, but they are also used to find that signal. Don't leave it to everyone else, it's your duty to make sure everyone on your trip has these things and knows how to use them.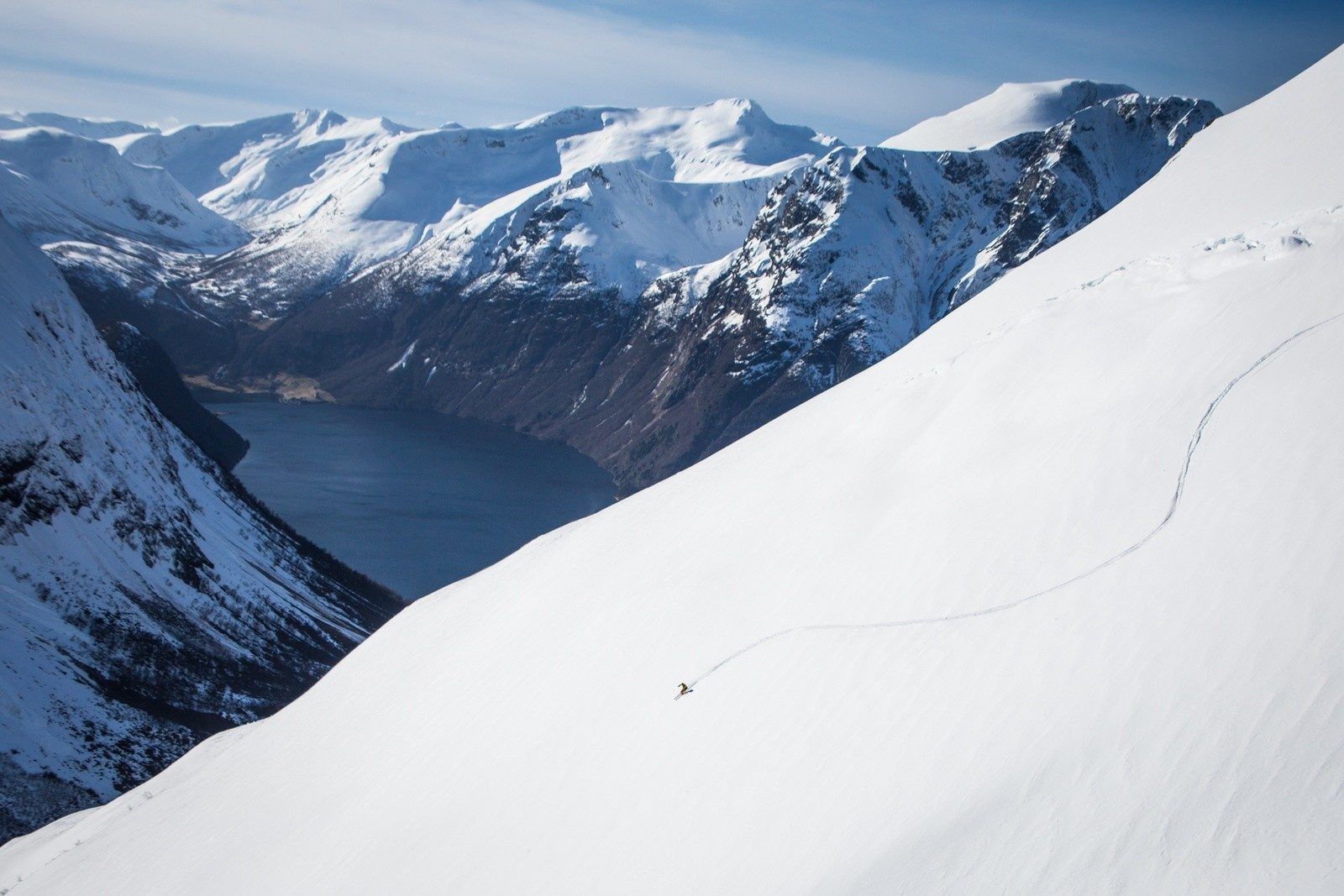 What equipment and preparation do you need?
Once you are confident you have the ability, it's worth checking out some guided backcountry tours and start to prepare your equipment for the big trip. It is crucial to go on a guided trip, especially if it's your first time venturing into the unknown. This is by far the best and safest way of skiing in the backcountry and making the most out of the experience.
You will need a few essential pieces of equipment, like an avalanche transceiver kit, shovel and probe as mentioned above, as well as ski equipment that will enable you to ski tour in the backcountry (i.e. ski touring specific bindings, touring skins and ski boots), quite often these can be hired locally or provided by your guide. Again, it's vital to be able to know how to use the avalanche safety equipment and be confident using it to help others. That's why you should go on a guided tour because you will be taught avalanche safety skills and awareness that you can't learn any other way (No, YouTube does not count)
Other than that, you will need a backpack, durable ski outerwear, goggles (with the right lenses) and the usual sun protection. These items can be rented if you don't own them so don't worry, you won't have to buy a whole new wardrobe.
Why we love backcountry skiing, and why you will too.
As the planet becomes more and more overcrowded, it's so important for us to be able to experience raw nature whenever possible and to make sure we don't lose our connection with the natural world. To be able to ski in the backcountry will establish a true connection with nature and make you appreciate the world we live in and to take better care of it. It's not something you can experience fully within a resort.
Skiing on natural snow that hasn't been groomed by piste-bashers is so much more rewarding and enjoyable. It's so soft and fluffy (on a good day) that you will almost feel like you are floating. Every turn is earned by your hard work on the hike up, so you develop a real appreciation of each turn on the way down and you certainly will remember each descent you make for a long time.
Backcountry skiing almost always begins with an ascent starting down low in the forest before you make it above the treeline and up to a peak or a col where you descend from. Seeing this transition from bottom to top is unique and you will be blown away by the natural beauty of the mountains. Also, wildlife! Lots of it! You'll see animals you wouldn't see in the ski resort, like birds of prey, mountain goats, marmots, wolves, bears, who knows… but keep your eyes peeled and camera ready.
Inspired? Check out our Arctic Wilderness Experience in Finland if you fancy trying backcountry skiing for yourself!