Mount Rinjani rises from the plains on the Indonesian island of Lombok. At 3726 metres (12,224 feet), climbing it will push you to your limits. But the view from the top - of distant volcanoes wreathed in clouds, and Segara Anak, a vibrant turquoise lake inside the crater rim - makes it all worthwhile.
"We have a lot of volcanoes in Indonesia, but most of them are too active or the ground is too rough, so we can't climb them. But Rinjani is very accessible. If you want to challenge yourself, it's a good one," explains Yangyang Li, a marketing manager for an Indonesian adventure tourism company.
It's one of their holy volcanoes - they think that everyone must climb up Rinjani to pray at some point in their lives
"It's really different from the other volcanoes I've been to, because it's quite high. You start with the savannah, the dry short grasses. Then you go up to the volcanic ash ground, then you reach the volcanic rocks. You can enjoy a very beautiful view on the top of the summit, of course -  you can see the sunrise and sometimes you can even see Agung, on Bali.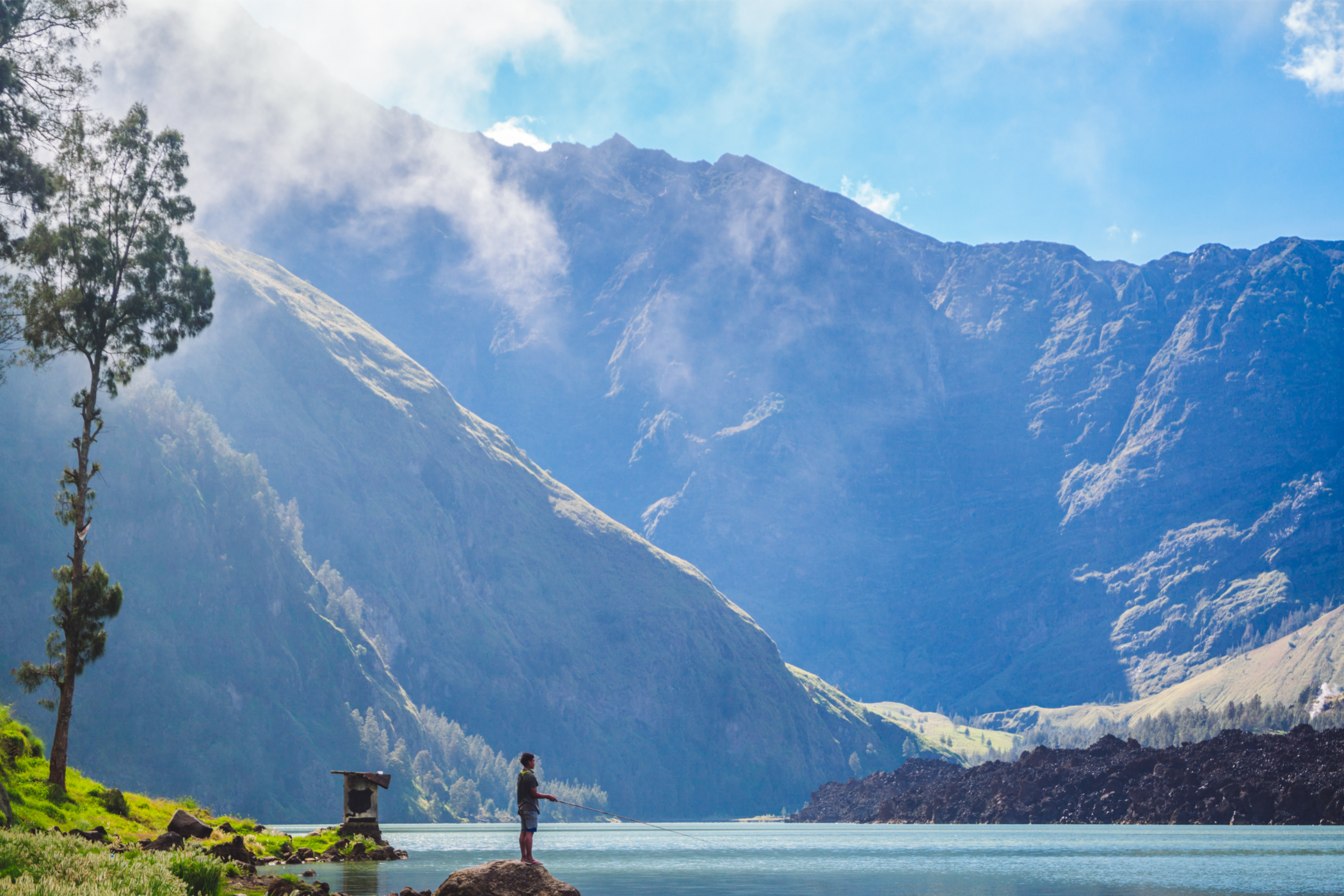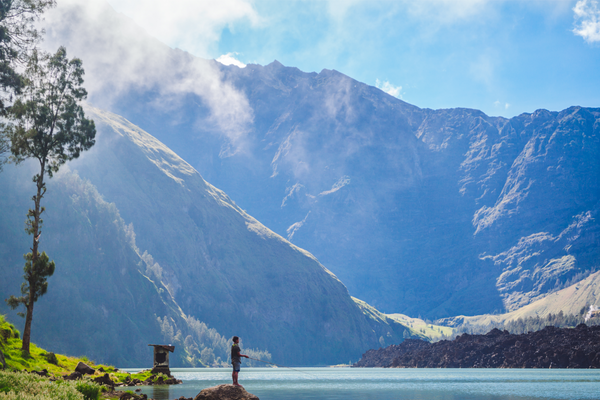 "Then you will descend and pass a lake surrounded by trees where you'll see a lot of monkeys. You will come across local fishermen; they climb up Rinjani just to go fishing. There are also hot springs during the dry season - if it rains a lot the lake rises, so you can't always find them. There's another 2000 metres of descent until you reach the end of the trail, across a huge tropical jungle. I really like climbing Rinjani because during the trek, you see lots of different types of vegetation.
"For the local people all the volcanoes are spiritual, where their god lives. So if they want to do ceremonies or if they want to pray, especially after the big festival of Ramadan, all the Indonesian people will climb up to the volcanoes, especially Rinjani. It's one of their holy volcanoes - they think that everyone must climb up Rinjani to pray at some point in their lives."
We spoke to Yangyang about how to prepare for a Mount Rinjani hike, the different trekking routes, the best time of year to climb and more. This Mount Rinjani trekking guide is ideal for getting started, but it's no substitute for a detailed map, and the services of a local guide.
Where is Mount Rinjani?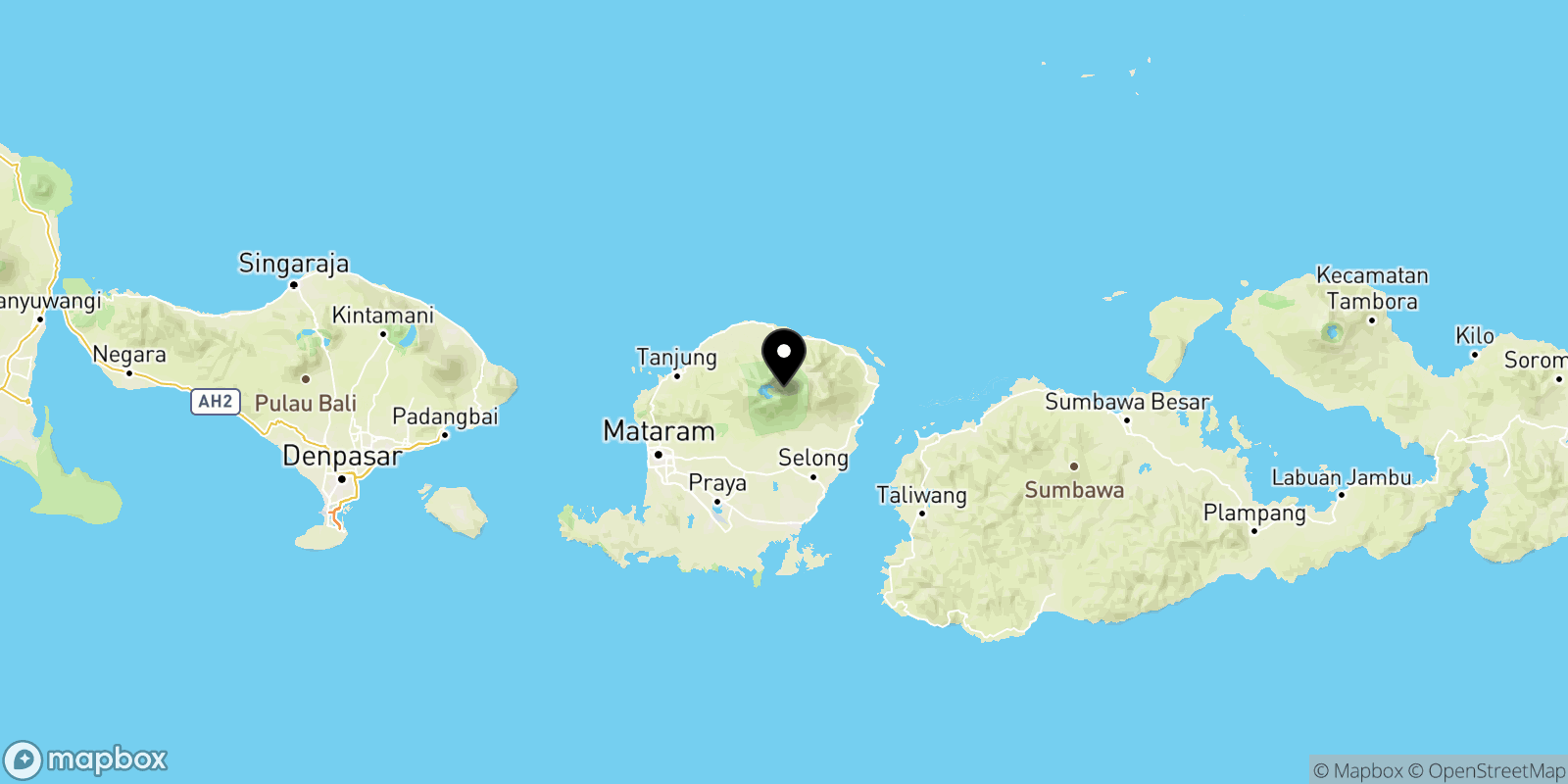 Mount Rinjani is located on the Indonesian island of Lombok, which is part of the Sunda Archipelago (also consisting of islands such as Bali and Flores). Mount Rinjani is located in the northern part of the island, as the map above shows, and is part of the Pacific Ring of Fire.
How Hard is Climbing Mount Rinjani?
The distances for climbing Mount Rinjani are relatively short, which leads hikers to regularly underestimate the difficulty level. But Yangyang cautions against this.
"Sometimes my clients notice it's only 10 kilometres on the first day and think it will be easy, because they normally walk 30 kilometres in a day. I tell them they need to check the elevation - that first day you're going up more than 1000 metres. It's very tiring," she says.
"Rinjani takes a minimum of two days and one night at least, if you want to tackle the summit - our itinerary takes three days and two nights, so it's quite difficult. It's only a kilometre for the summit hike - but you need to walk three hours just to make that kilometre. The terrain is rocks, ashes and sand. You can climb three steps and then you'll slide two steps down. It's like walking in the desert. That's the reason why it takes so long."
You can climb three steps and then you'll slide two steps down. It's like walking in the desert
Yangyang says you need to be mentally and physically prepared to do the trek, and recommends doing a couple of warm-up hikes, such as an ascent of Mount Batakaru (2,276m/ 7467ft) in Bali.
Climb Mount Rinjani: The Route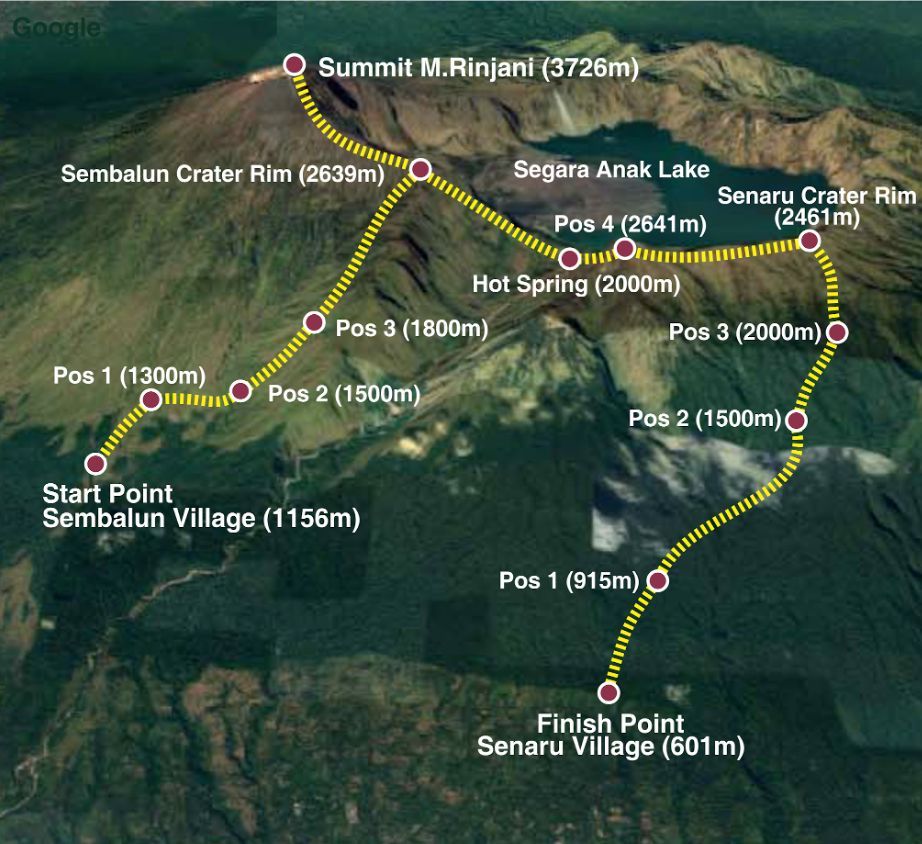 There are two routes up Mount Rinjani, the Sembalun Route and the Senaru Route. Yangyang recommends beginning with the former, which begins in the traditional village of Sembalum, and then descending via the Senaru route. This avoids having to retrace your steps, and will allow you to visit the crater lake and hot springs.
"Of course, you can go in reverse. You would then start in Senaru Village, cross through the jungle and then you go up for the first night's camp in Senaru Crater rim," Yangyang says. "But we prefer to do it the other way, starting with Sembalun, as the first day's hike is easier, and then you conserve your energy for the summit the next morning.
"Many people who hike the Senaru Route aren't aiming for the summit - they're just going up to the crater rim, to see the lake and the fishermen, then go back. So for the best chance of the summit, you start with Sembalum."
Day One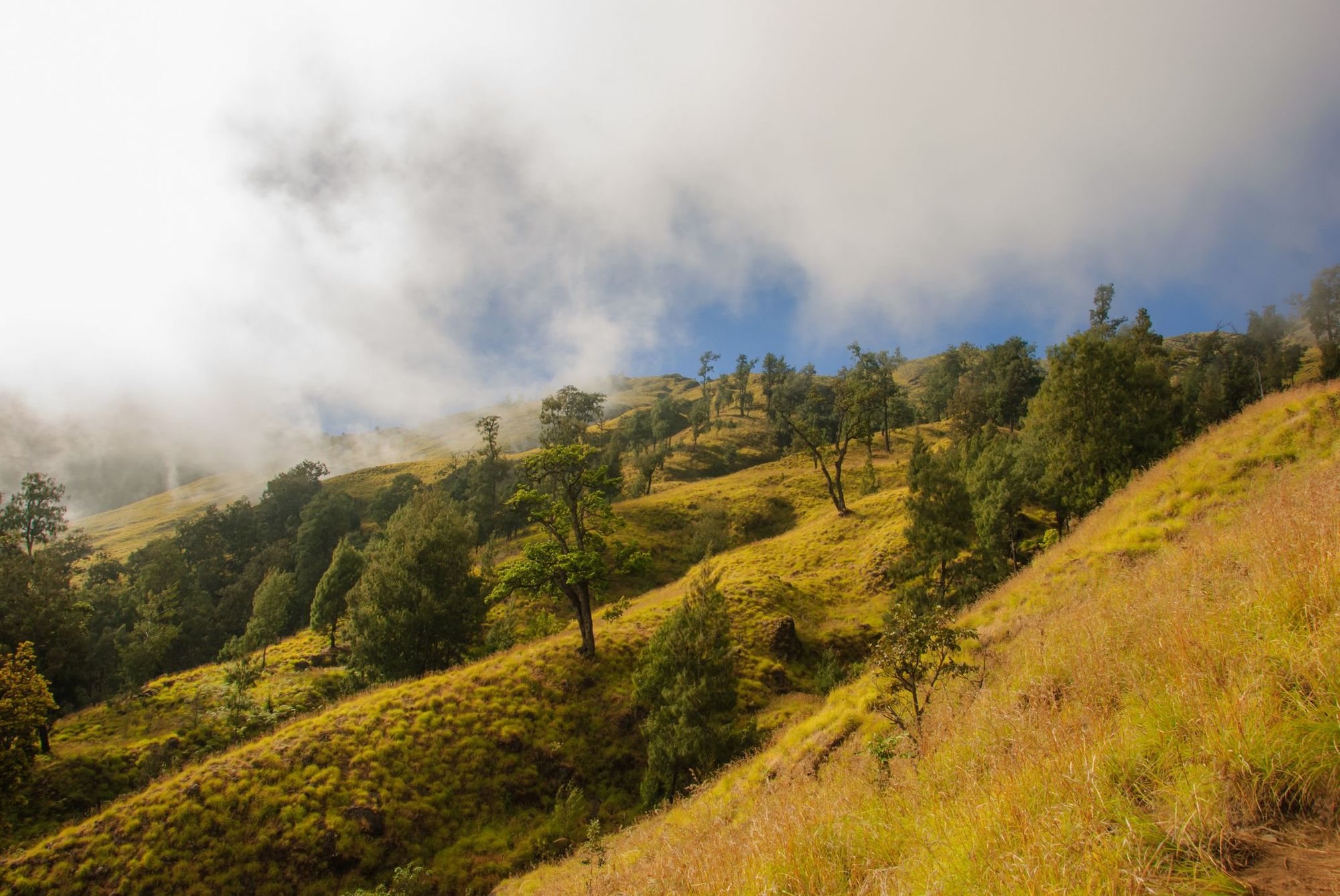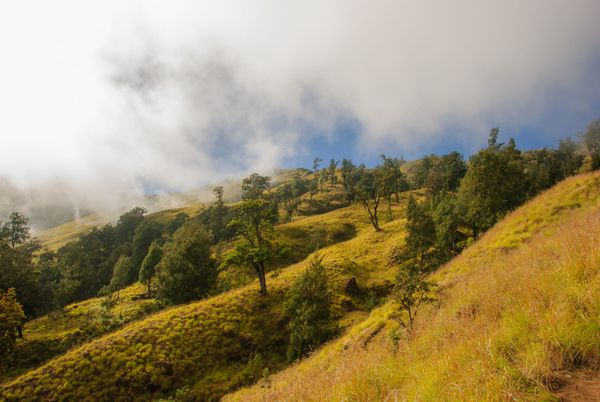 Distance: 7km/ 4.3 miles
Elevation: 1483m up
Hiking time: 6-7 hours
You'll begin your trip by registering with the Mount Rinjani National Park office. Yangyang's company also conducts a health check before the climb begins, checking trekkers' blood pressure among other things.
The first two to three hours are spent hiking through the savannah, with a gentle ascent. You'll break for lunch at the spot marked 'pos two' on the map at around noon. Although this part of the hike isn't strenuous, it will be made more difficult by the heat - Yangyang says at this elevation, you'll be looking at temperatures between 25-30°C. But it'll get gradually cooler as you climb higher.
"From post two to post three is about one and a half kilometres and around 90 minutes of hiking," she says. "The view starts to change because the altitude is higher. You leave the savannah and start to see more alpine trees. From post three you go directly to the campsite, which is a huge change in elevation. It's only around 2.5 kilometres, but can take two to three hours depending on the client's physical condition. If you are quick enough, you will arrive before the sun sets and you can enjoy the view."
Day Two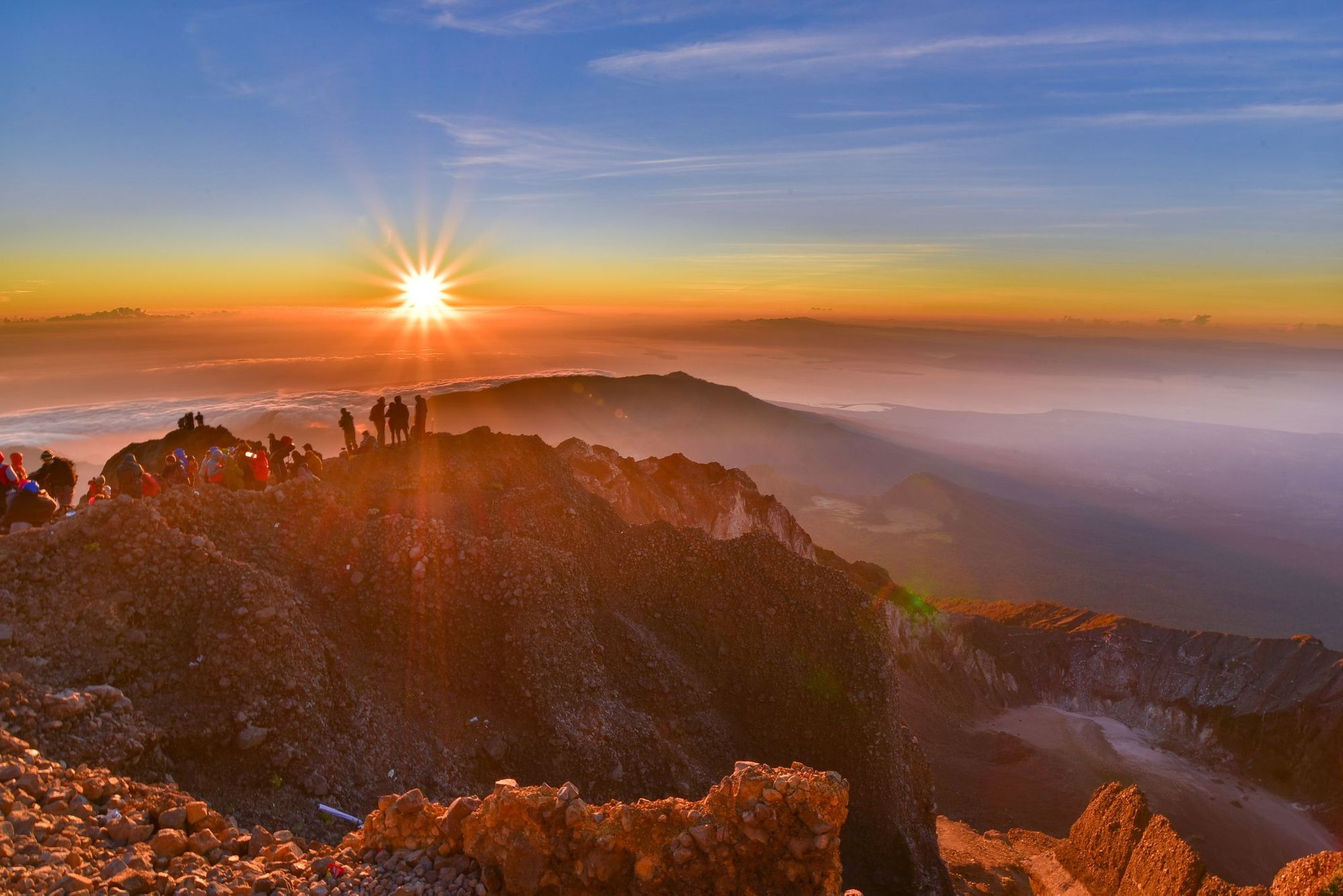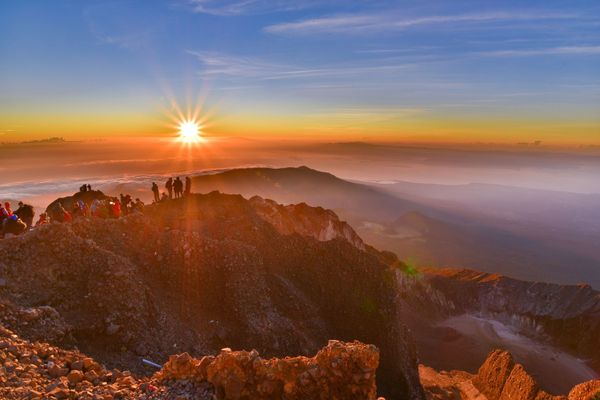 Distance: 6.5km/ 4 miles
Elevation: 1087m up 1265m down
Hiking time: 10-11 hours
The big one. You'll start early, at three in the morning - or 2am, with a slower group. You'll have a quick snack and set out towards the summit with your head torch on. According to Yangyang, this is when you will need to dig deep.
"The route will be rocky and sandy with the ash from the volcano. It's only one kilometre but you walk for three hours. You're really, really tired actually - because it's so early you haven't woken up yet," she says.
"Then we will wait to see the sunrise on the top for around one hour, but the temperature goes as low as five degrees, and it's very windy and cold. After an hour, we return to camp - it takes between 90 minutes to two hours. We have breakfast, and a rest."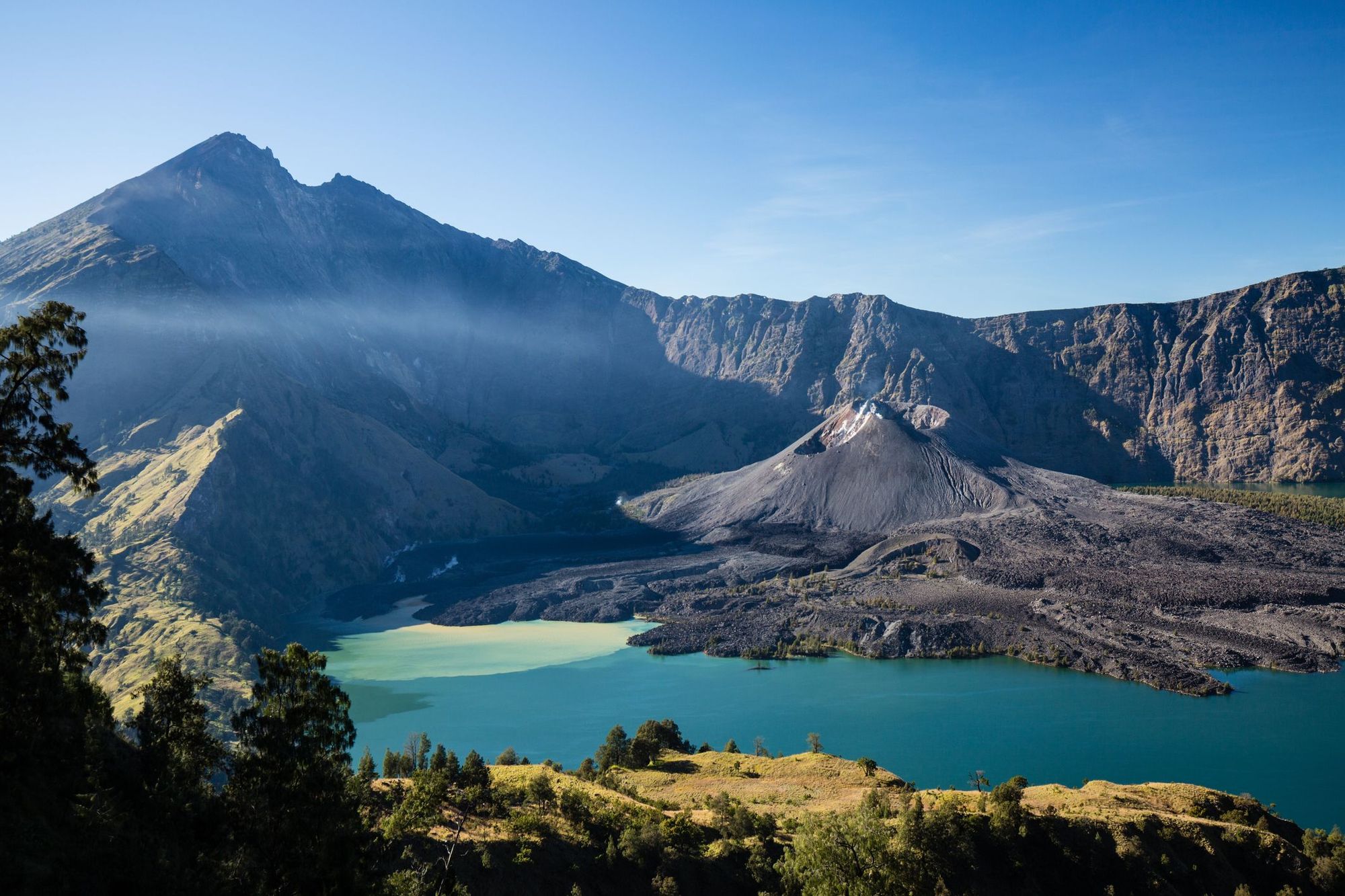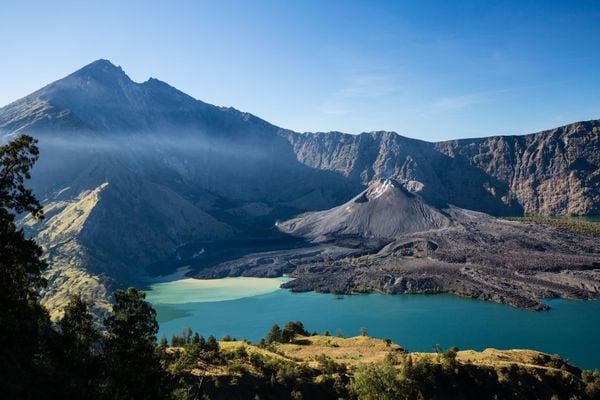 At around 10 am you'll descend to Segara Anak Lake, which is nestled in a volcanic crater. It takes around 90 minutes. You'll be able to have a refreshing dip in the lake, or relax in the hot springs. After lunch there are two options, depending on your group's energy levels.
"If the group is very exhausted we will camp by the lakeside. If not, after lunch we will climb up to Senaru Rim campsite for the second night," Yangyang says. "It's around two and a half kilometres, three hours hiking and it's very, very steep with big rocks - sometimes you will need to use your hands. We have to climb up from 2000 metres to 2600 metres, and then back down to 2,400. If you do this, you'll have spent more than 10 hours hiking."
However, she does recommend hiking up to the crater rim campsite if you have the energy. Failing to do so will mean a long day at the end of the trip.
Day Three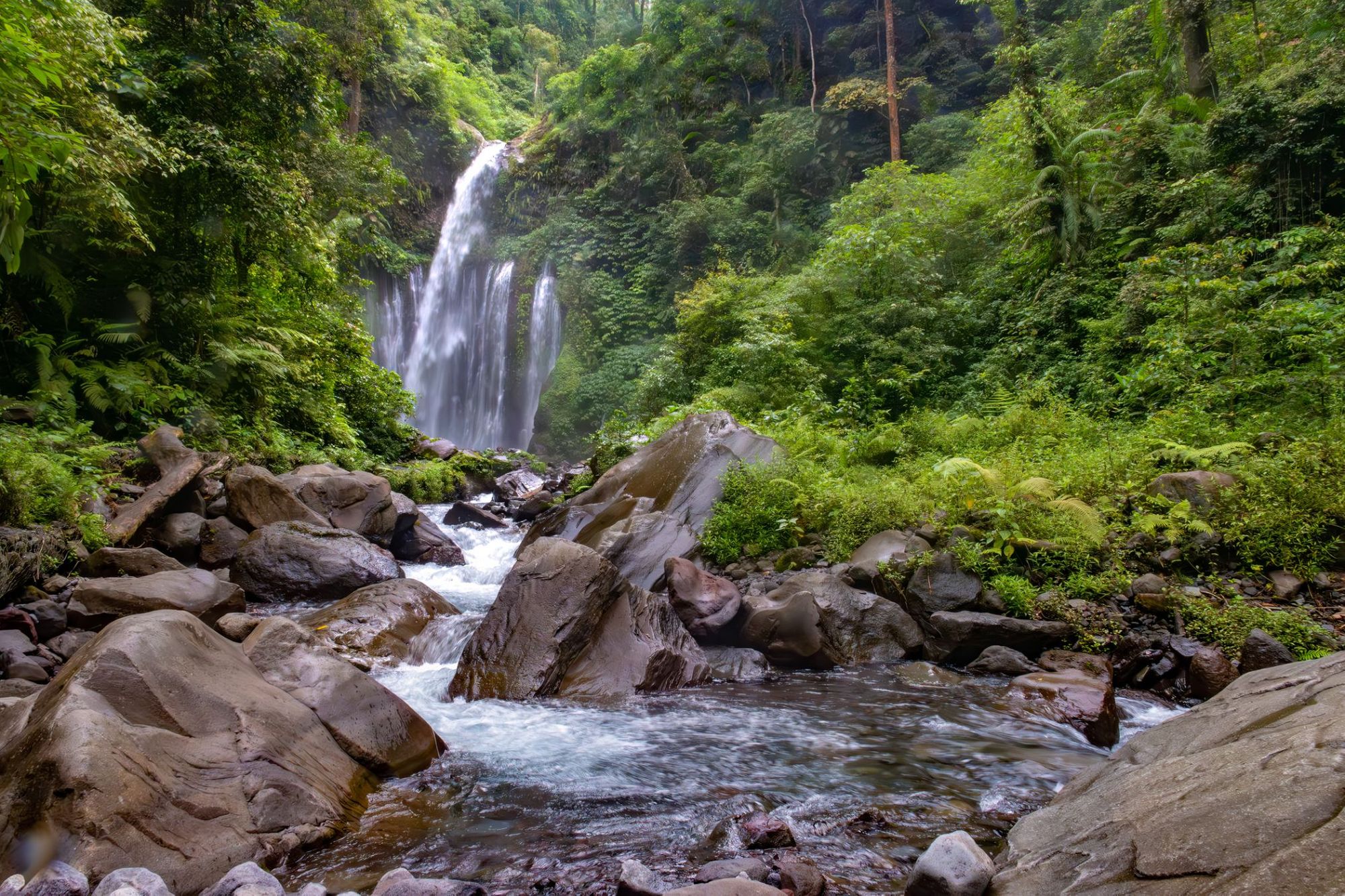 Distance: 5.5km/ 3.4 miles
Elevation: 1860m down
Hiking time: 5-6 hours
The last day, if you make it to the second camp, is easier in comparison.
"You have the descent to do, which is around 2000 metres. It's quite hot. At some point there's a moment when you don't feel your legs anymore. You walk like a robot," Yangyang says.
Yangyang's groups tend to start the descent to the finish point at Senaru Village around seven in the morning, walking for around three and a half hours to reach post 2, where you'll have lunch.
"After that you reach the jungle, which is very slippery, and then descend to the finish point at 600 metres. That last part takes around two hours," she says.
Can you Climb Rinjani Without a Guide?
According to Rinjani National Park regulations, people are only allowed to climb Mount Rinjani with an accredited guide. There are reports of people being able to circumvent this by starting the hike at Senaru village (and presumably pretending they are just heading to the crater rim), or by signing a waiver saying you are responsible for your own safety. But we don't see the point of making things difficult for yourself. This regulation is there for trekkers' safety - guides will have expert knowledge of the volcanic terrain, and of trekking at high altitudes.
You can hire a guide to take you up Rinjani, but we'd recommend going on an organised trek. That way you have porters to carry the food, water and camping equipment, and companions in misery for that long, steep trek to the summit.
Accommodation on Mount Rinjani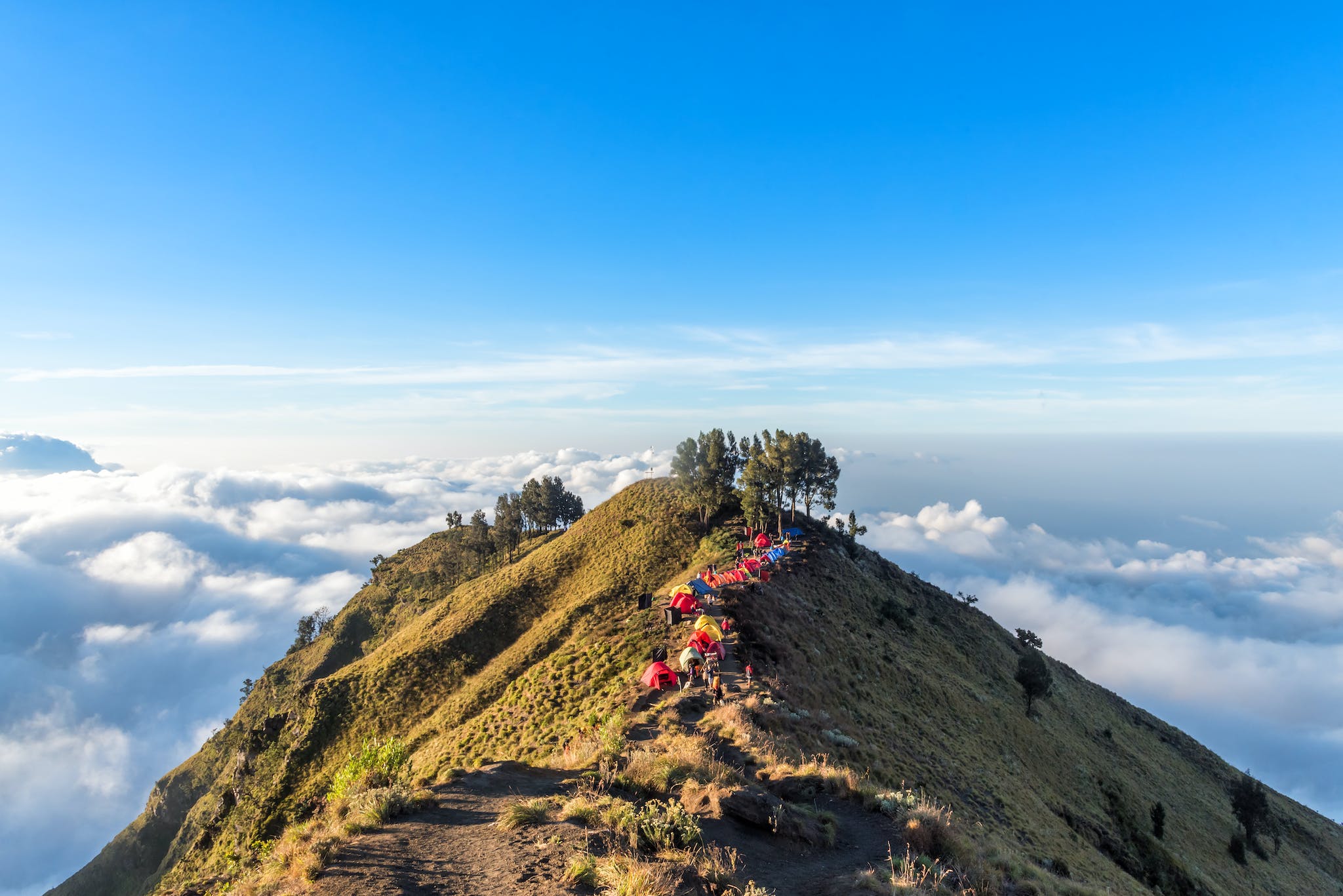 When climbing Mount Rinjani, trekkers will camp in designated points along the route, normally Sembalun crater rim and Senaru crater rim. It's wild camping, but there'll be the comfort of blow up mattresses, and an expedition cook who will ensure you're well fed. Choosing a trek which offers a private toilet tent is key, as there aren't any toilet facilities on the mountain.
"The porters always walk at the same speed, but our clients become more and more tired. On the first day, the clients arrive at the same time as the porters so will help them set up the tents," Yangyang says. "Generally, for the other days, the porters will be moving ahead, and they will put up the tents."
"There are some prohibitions like no littering, no chopping wood and no loudspeakers. You mustn't hunt or capture animals. Cigarettes are ok, but only in the campsite and when having meals - you have to take the butts with you."
When is the Best Time of Year to Climb Mount Rinjani?
According to Yangyang, the best time to climb Mount Rinjani is during the dry season from April to the end of October. Rinjani is closed during the rainy months, as the trails become to slippery and perilous.
"Try to avoid climbing Rinjani between July and August, or the big festival just after Ramadan, as lots of locals come to the mountains then," Yanyang recommends. "The government  has limited access to 400 climbers a day - 290 spaces for foreign tourists and the rest for local people - which tend to fill up very quickly."
The reservation system makes last minute bookings difficult. Yangyang recommends booking your trek and sending your passport details to your host as quickly as possible to avoid disappointment. This is especially pertinent during July, August and late April to early May. Quieter times to visit include early April, June, September and October, although you may have more changeable weather.
What to Pack for Climbing Mount Rinjani
Packing for Mount Rinjani can be a challenge, due to the temperature changes you'll encounter along the route. It'll be hot when you start out - sometimes reaching 30°C - while daytime temperatures at the slightly higher altitudes range from 20°C to 25°C. You might be cold at the campsites, where the night time temperatures hover between 10°C to 12°C. And on the summit it's even colder, between 3°C and 5°C, with high winds.
Some of the most important bits of kit you will need include:
A hiking daypack (30-40 litres)
Thermal tops and long johns for camping
A light waterproof jacket
Light waterproof trousers
A warm fleece jacket for the evenings
Worn-in hiking boots
Sun cream
A sunhat
Sunglasses
Sandals or light shoes for camp
Swimming costume (for the hot springs)
However, it's best to check with your trip provider for a full and comprehensive kit list.
How to Get to Mount Rinjani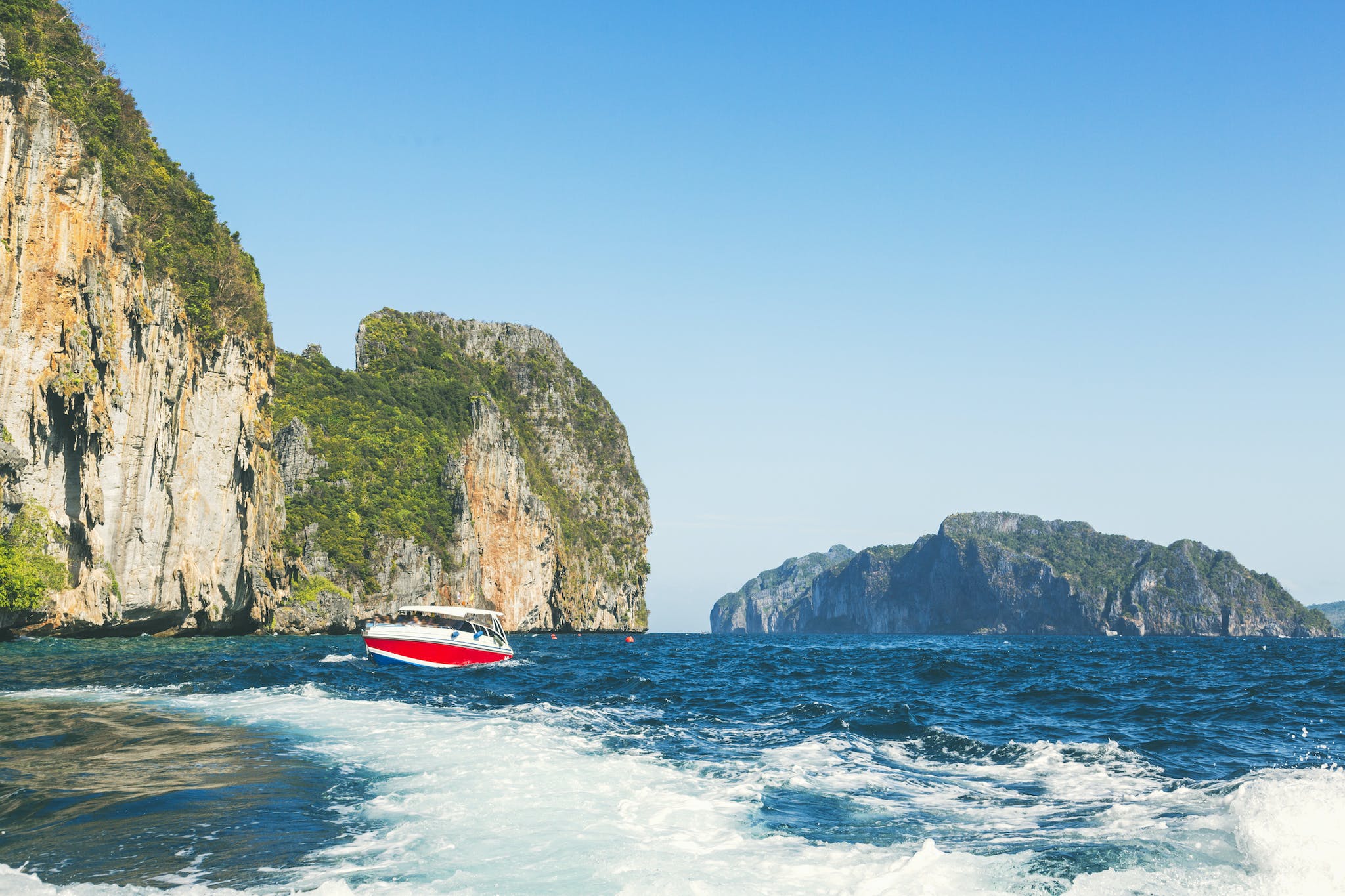 The most direct route to Mount Rinjani is to fly to Lombok, which has direct flight connections to eight cities in Malaysia, Indonesia and Singapore. It takes just over two hours to drive from Lombok Airport to Sembalun - you can book a taxi, or transport might be included in your trek.
However, many people also combine Mount Rinjani with a longer trip in Indonesia. If you're coming via the popular island of Bali, there are several ways to reach Rinjani: a flight, a ferry or a fast boat service. We recommend the fast boat, as ferries can take up to six hours. Meanwhile, the fast boat from Amed,in Bali, to Bangsal (the closest port to Mount Rinjani) on Lombok only takes 90 minutes. Amed is also close to Agung, another popular volcano to climb in Indonesia.
Feeling inspired? Join us on The Ultimate Volcano Adventure in Indonesia, which includes a trek up Mount Rinjani.