Climbing Mount Kenya (5,199m) is a treat for any lover of sublime, steep rock faces and remote, wild places. This is not a mountain of one peak, but many - a cluster of spikes, spirals and summits which draw ever more captivating the closer you get. When the clouds clear, this ancient, extinct volcano can be seen on the drive in from Nairobi - its summit towers standing tall above the surrounding landscape of farmlands, forests and hills, which roll on a plateau 4000m below.
A panorama of the imperfect spikes of Mount Kenya sits on the horizon beyond, and the sparkling stars bounce off the glimmering water of the lake.
Mount Kenya is often said to be a mountaineer's mountain. That is, at least partly, because the highest two peaks on the mountain (Batian, at 5,199m and Nelion at 5,188m) can only be reached with specialist mountaineering equipment, and of course, the knowledge of how to safely use it. The highest point that most hikers reach is actually the third highest summit, Point Lenana, which sits at 4,985m.
Only around 50 people each year summit Batian, and Point Lenana itself is a stunning trek - still requiring high fitness levels, a head for heights and, if you choose the more adventurous routes, a real sense of adventure.
The route up the mountain can take anywhere from three to eight days, and passes bamboo forests and high-altitude moorlands before arriving at the bare ice and rock of the alpine peaks. Hiking alone is prohibited, so a guide will be required.
The wider Mount Kenya National Park was designated a World Heritage Site in 1997, and UNESCO wrote that "with its rugged glacier-clad summits and forested middle slopes, Mount Kenya is one of the most impressive landscapes in East Africa." Here's everything you need to know to climbing Mount Kenya.
How High is Mount Kenya?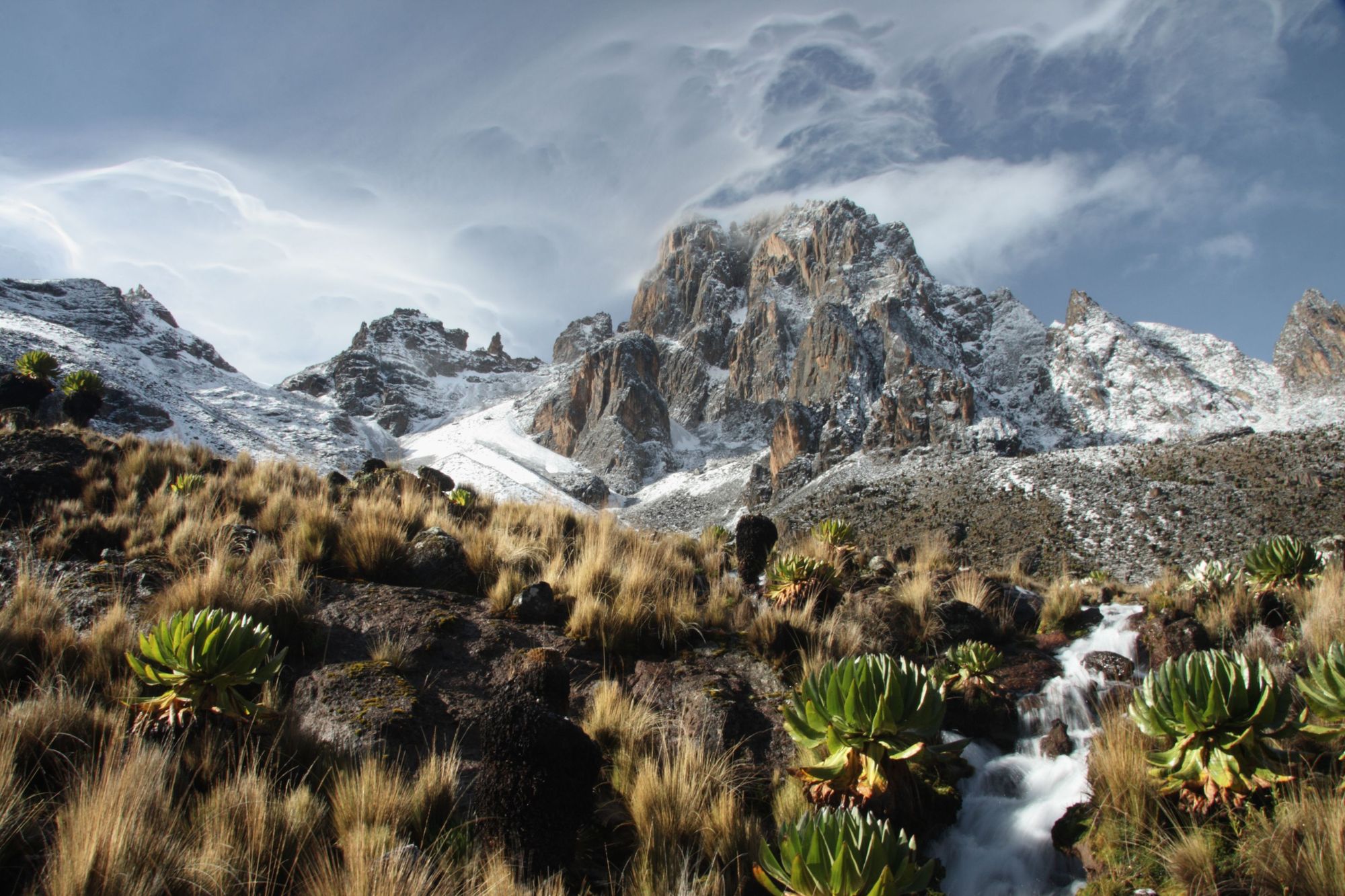 Mount Kenya is 5,199m (17,057ft) high, making it Africa's second highest mountain behind only Kilimanjaro. Though Kili is higher, Mount Kenya is considered a more interesting climb - owing to the more demanding mountain faces, which provide challenging rock and even ice climbing routes. That's despite the proximity of the equator, which sits just 12 miles (20km) south.
The elevation of the mountain from the surrounding plains at 800m is huge, and adds to the perceived height. Though the approach may be gentle in places, the summit peaks sit amidst a collection of sharp cliffs and jagged rock formations.
As aforementioned, the highest peaks of Mount Kenya - Batian, Nelion and Point Lenana - were named by the English geographer Halford Mackinder, who became the first recorded person to summit Mount Kenya in 1899, after Maasai laibons - spiritual tribe leaders at the top of the social hierarchy.
Where is Mount Kenya?
Mount Kenya sits on the eastern edge of the Central Highlands of Kenya. That puts it around 120 miles (193km) northeast of Nairobi and 298 miles (480km) from the Kenyan Coast. There is a good road from Nairobi to the mountain. Driving from the Kenyan capital takes four hours.
Mount Kenya National Park: Park Fees, Entry and Guides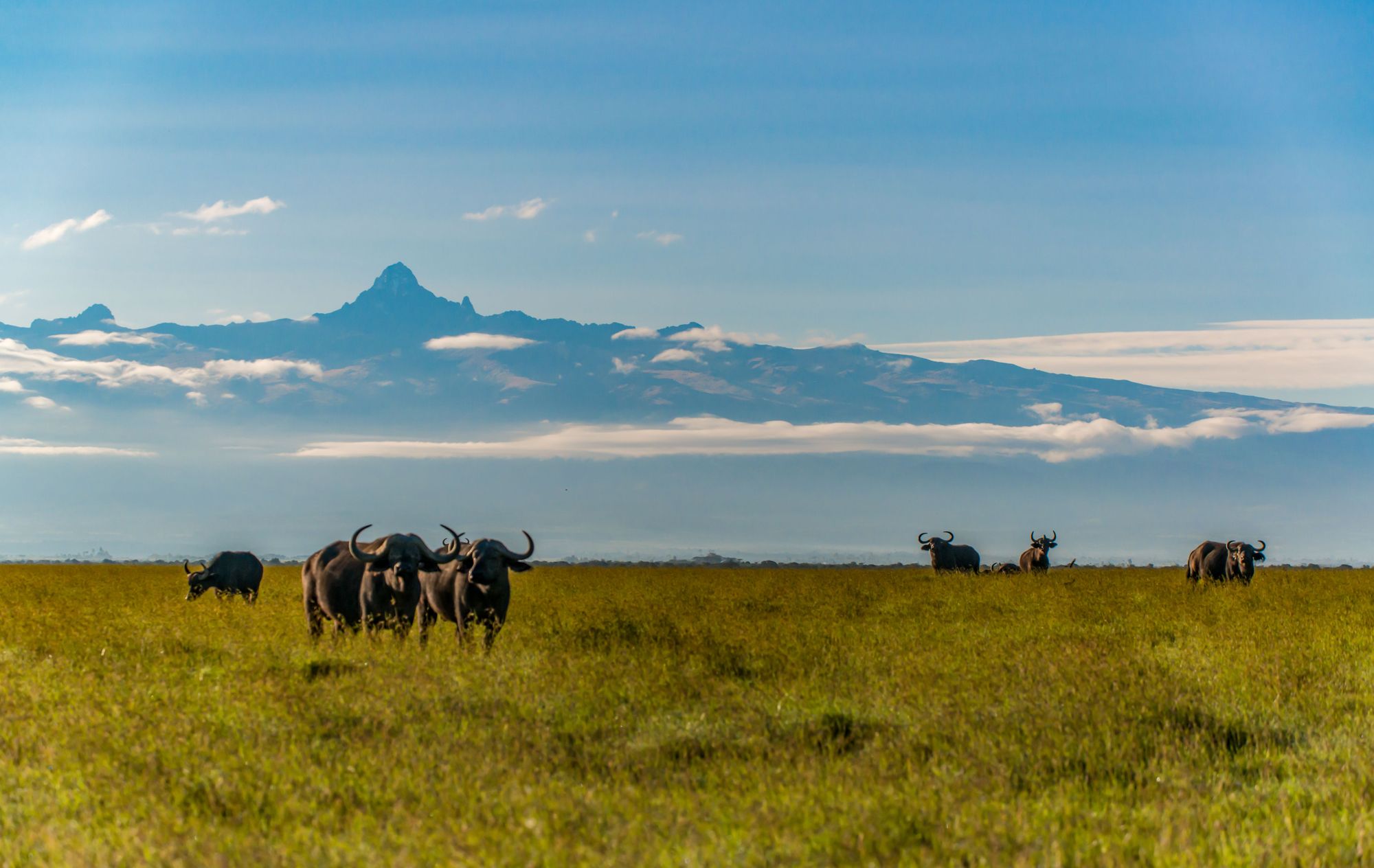 There are daily park fees for entering Mount Kenya National Park, which differ depending on how long you'll be in the park and what you're doing there. You can make reservations at huts and pay for certain items in advance by e-mailing [email protected], or pay at one of the various park gates, which you'll bypass on your way to your trailhead of choice.
Entry to and exit from Mount Kenya can only be made during daylight hours, before 6pm. This is, in part, because of the dangers from wildlife like buffalo and elephants at night.
Hiking alone on Mount Kenya is not permitted. Sort a guide before you go, and ensure that all guides and porters have a valid KWS (Kenya Wildlife Services) card. The huts on the mountain are privately owned. Contact the respective huts in advance to ensure a booking. Get the right guide and they will usually sort all your permits, entry fees and accommodation for you in advance.
What Clothing and Kit Do I Need to Climb Mount Kenya?
Please see the full recommended kit list on our summit, safari and rafting adventure in Kenya.
Mount Kenya: Routes to the Summit Path and Point Lenana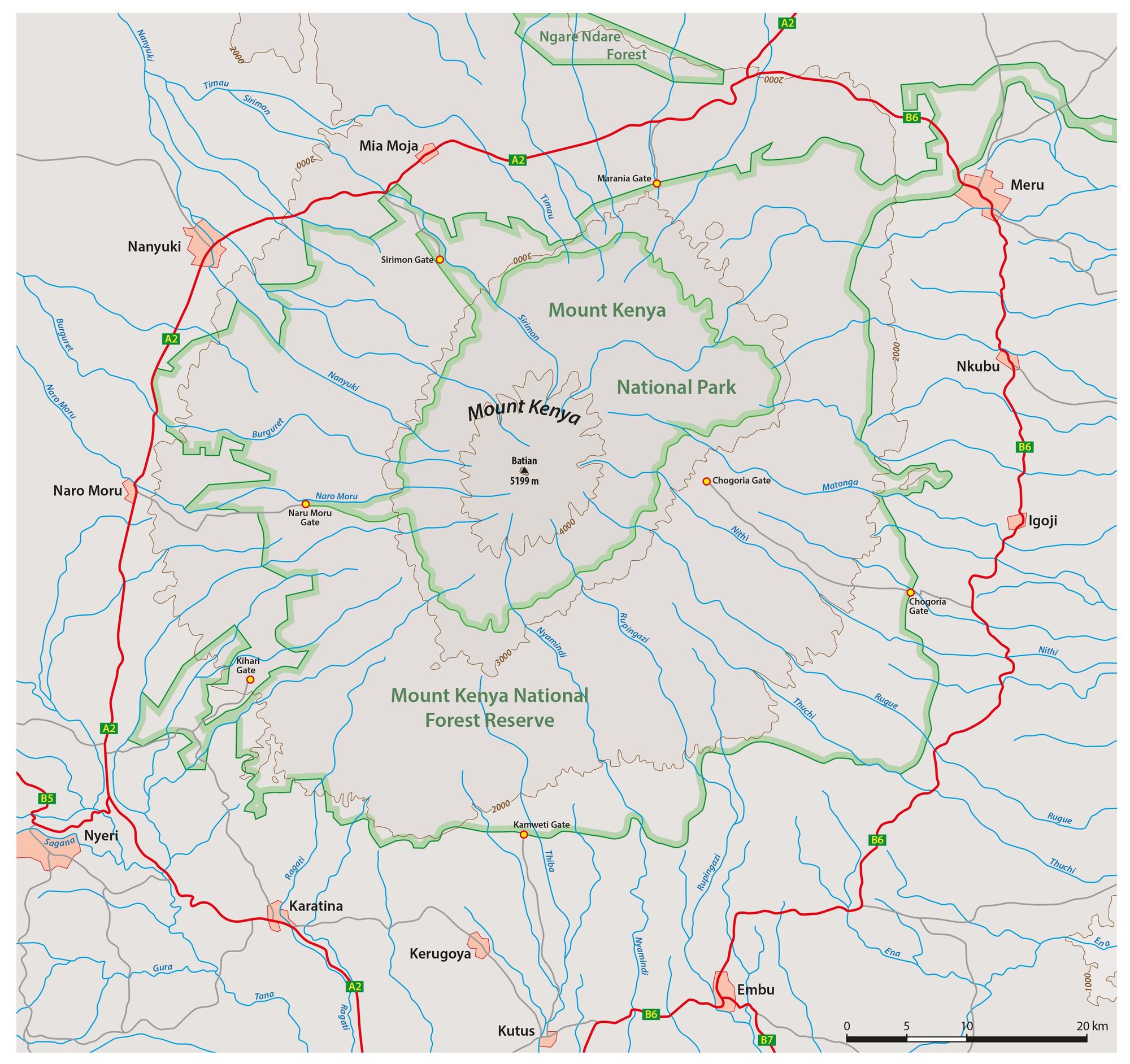 The two highest points on Mount Kenya, Batian and Nelion, sit just 140 metres apart, and are often referred to as the "Gates of Mist". The Normal Route on both is a Grade IV climb, and was first ascended in 1929. Batian is climbed in two days, and Nelion in one. The route begins above the Lewis Glacier, which can be reached from the Austrian Hut, and today, it's usually climbed in twenty roped pitches. The summit of Point Lenana is more accessible to hikers without ropes.
There are three key approach routes that you can take to reach the Teleki Valley and the Summit Circuit Path on Mount Kenya. From there, you can then go on to trek to Point Lenana or if you're more of a mountaineer, to climb Nelion or Batian. Below, we've provided a brief description of each of these three ascent routes - Naro Moru, Chogoria and Sirimon.
Naro Moru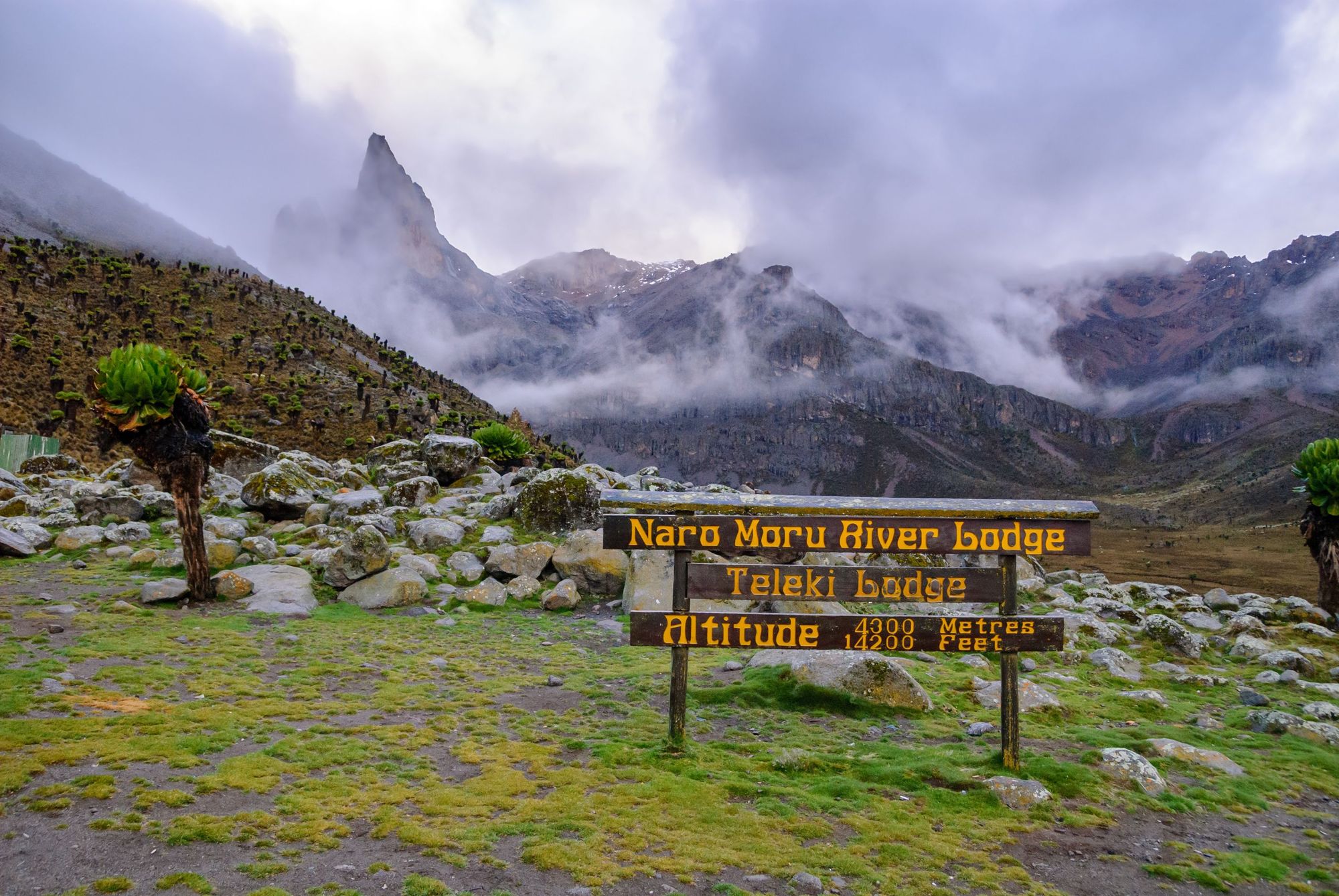 Best for: the quickest ascent to Point Lenana.
This is the quickest and the most commonly trekked path up to the higher parts of the mountain. Though not the most scenic, it's often the one chosen by tour operators due to ease of access.
Starting from the string of shops that form Naro Moru, a well signposted path will take you, via Percival's Bridge, 17km to the entrance to the Park, at 2,400m. From here, you head up on a paved road to the Meteorological Station (known as the Met Station, and a good accommodation option) at 3,050m. You could drive this section, but for acclimatisation purposes, it's recommended that you walk.
From the Met Station, you'll head on to find a narrow footpath which leads to a forest and the wet moorland known as the "vertical bog" - a marshy section of trail. After a period in open moorland, you'll reach the south side of the Teleki Valley, and descend to Mackinder's Camp (where there is a hut accommodating 66 people) at 4,200m, looking onto the south side of Mount Kenya. The walk from the Met Station to Mackinder's Camp takes around six hours.
After an overnight stay, it's an early rise to reach Point Lenana, via the Austrian Hut, on the Summit Circuit Path. If you want to see the sunrise, you'll have to get up and get going at around 3am - with the walk to Point Lenana from Mackinder's Camp taking around five hours with 800m elevation gain, on loose gravel. It's a tough ascent, but no mountaineering experience is required.
If you are mountaineering, you may head on to the Austrian Hut (which sleeps 30), climbing along the Teleki Valley and  via the lateral moraine of the Lewis Glacier.
Chogoria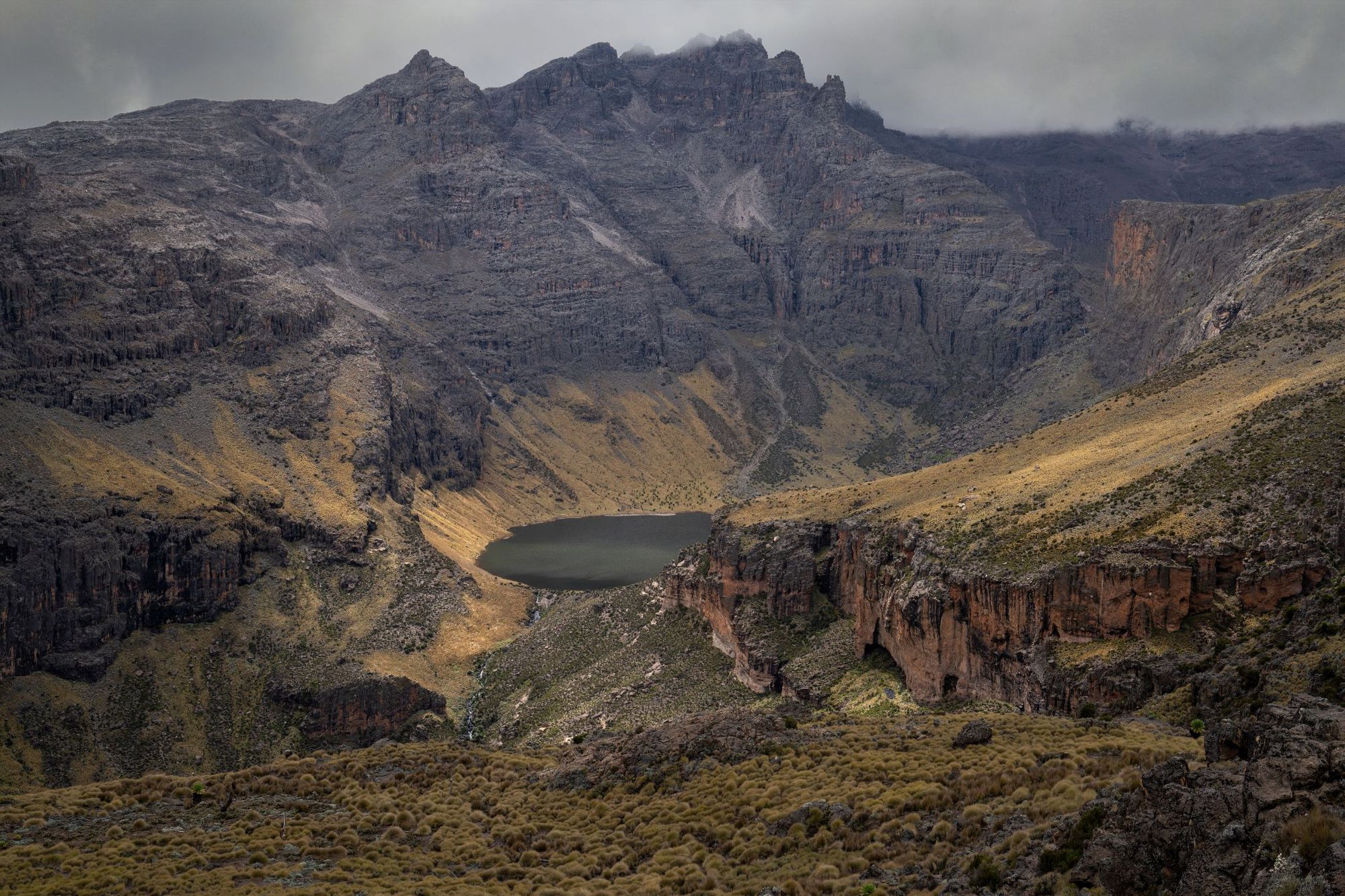 Best for: a self-sufficient adventure and the best possible views.
The most important thing to note about the Chogoria route is that there are no huts along the way, and so climbers need to be self-sufficient, with their own tents for camping and everything that they will need in order to sustain themselves on the route. In return, hikers get a quieter path up the mountain - and without a doubt, the most scenic ascent route possible on Mount Kenya.
From the Park Gate at 3,000m, you will pass Urumandi Falls after hiking through tussock grass and moorland. A stretch of higher moorland, with low tree cover, will then take you on to Lake Ellis, at 3,390m. This is a remarkably tranquil location - with a panorama of the imperfect spikes of Mount Kenya on the horizon beyond and the sparkling stars bouncing off the glimmering water of the lake.
From here, you can continue on, looking at the Gorges Valley, to reach Hall Tarn, a scenic, rocky camping ground above Lake Michaelson, and Mintos Camp at 4,230m. An early rise the next morning - around 2am - will allow you to grab the head torch and head up to Point Lenana for sunrise via the Simba Col. You can then descend to Shipton's Camp (which sleeps 30 people), and continue down the descent, back to Judmaier Camp at around 3,350m. This is a beautiful route.
Sirimon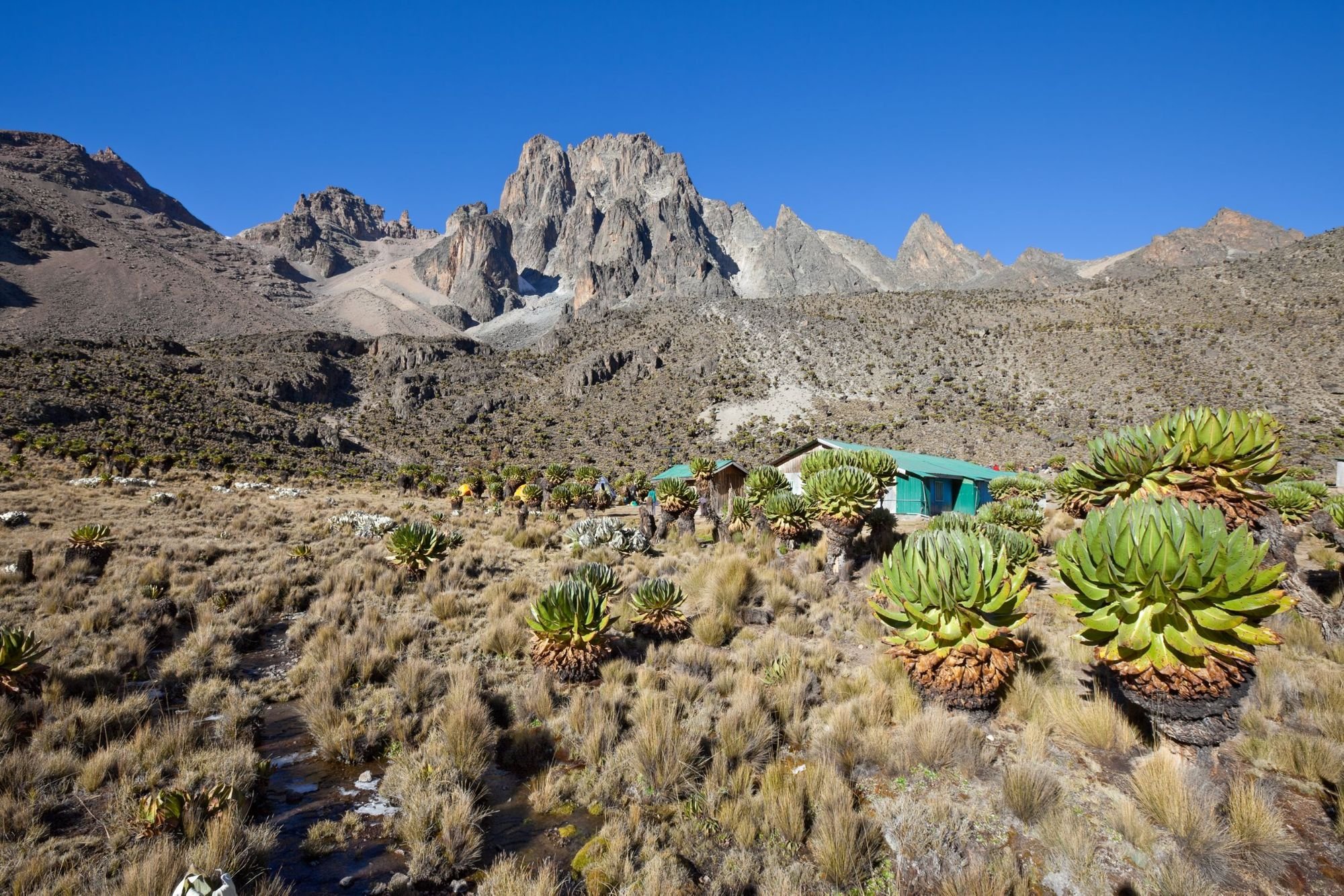 Best for: accessing Batian.
This route will take you from the Sirimon River to a Park Gate leading to the Old Moses Hut (which offers self-service accommodation) and Judmaier Camp. Again, you could drive this road, but for acclimatisation purposes, it is recommended to walk it, which takes around four hours for most.
Another route, meanwhile, leads to Point Lenana, through a narrow chasm, with steep gravel switchbacks.
You'll then climb to a communications station and head on to the Mackinder Valley, via moorland, the Liki North River and a ridge climb, eventually coming out at Shipton's Camp after a hike of around seven hours. Another split in the trail at the aforementioned station will take you up to the Liki North Hut at 3,990m instead. The hut isn't active but there is a campsite in the area and this is a great place to stop if you want to climb Sendeo or Terere, two other outlying peaks of Mount Kenya. From here, a ridgeline and a drop into Mackinder Valley will take you to Shipton's Camp.
From Shipton's Camp, there's a path to the Hausberg Col via Kami Tarn, which is close to the North Face Standard route of Batian. Climbers ahoy. Another route, meanwhile, leads to Point Lenana, through a narrow chasm, with steep gravel switchbacks, leading to a scramble up to Lenana.
Other Routes
You may have seen other approach routes mentioned in older guides to Mount Kenya, including Timau, Burguret, Kamweti and Meru, but these are now in various states of disrepair and, the Mountain Club of Kenya note, require "considerable navigation skill and physical strength and stamina."
How Long Does it Take to Climb Mount Kenya?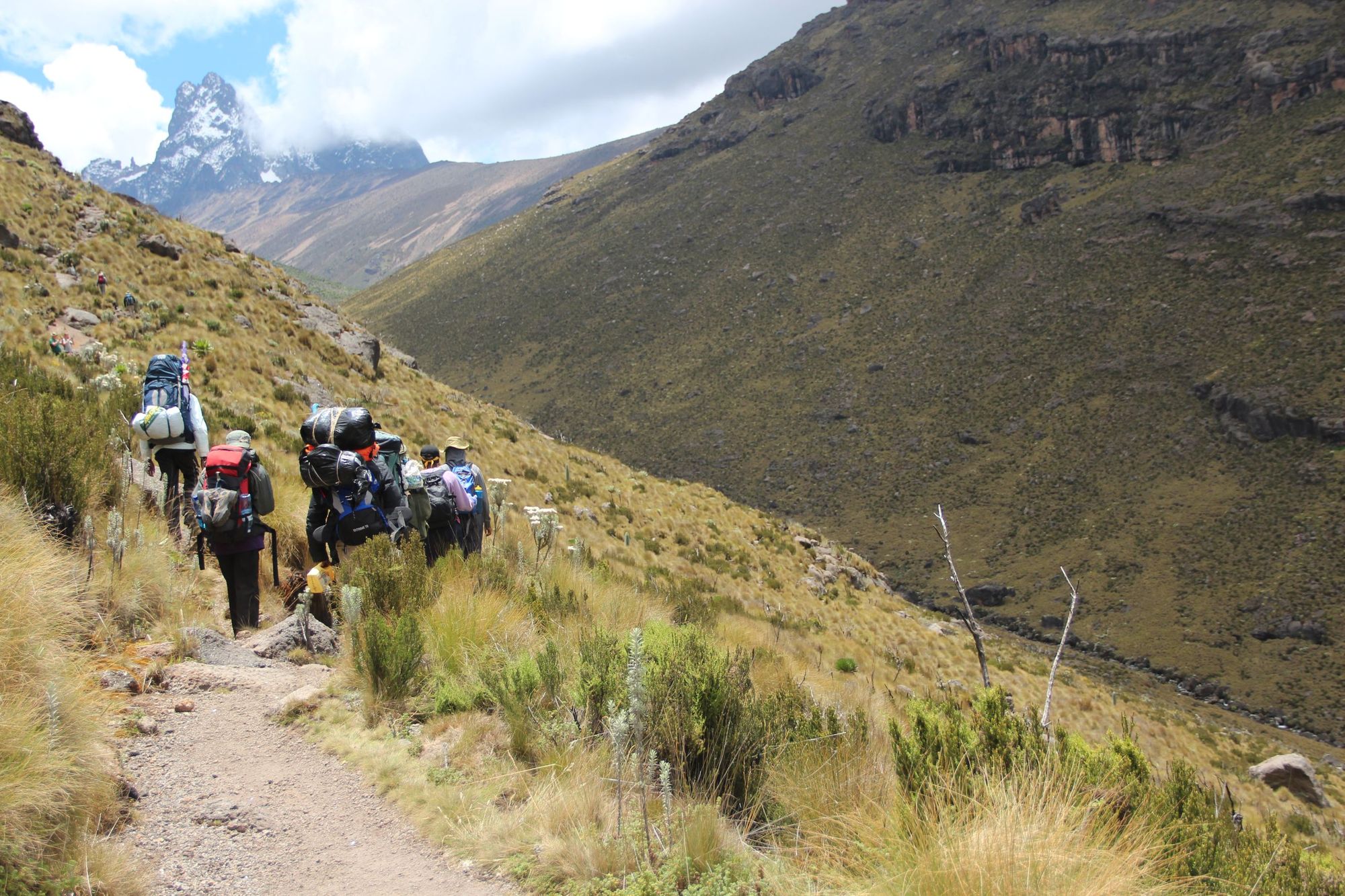 How long it takes to climb Mount Kenya entirely depends on what route you take and how long you take to acclimatise. The range is around three to eight days, with most people taking somewhere between five and six days to climb the mountain. Take it "pole pole" as the locals say - going at your own pace and enjoying the views- and you'll have the best time.
When is the Best Time to Climb Mount Kenya?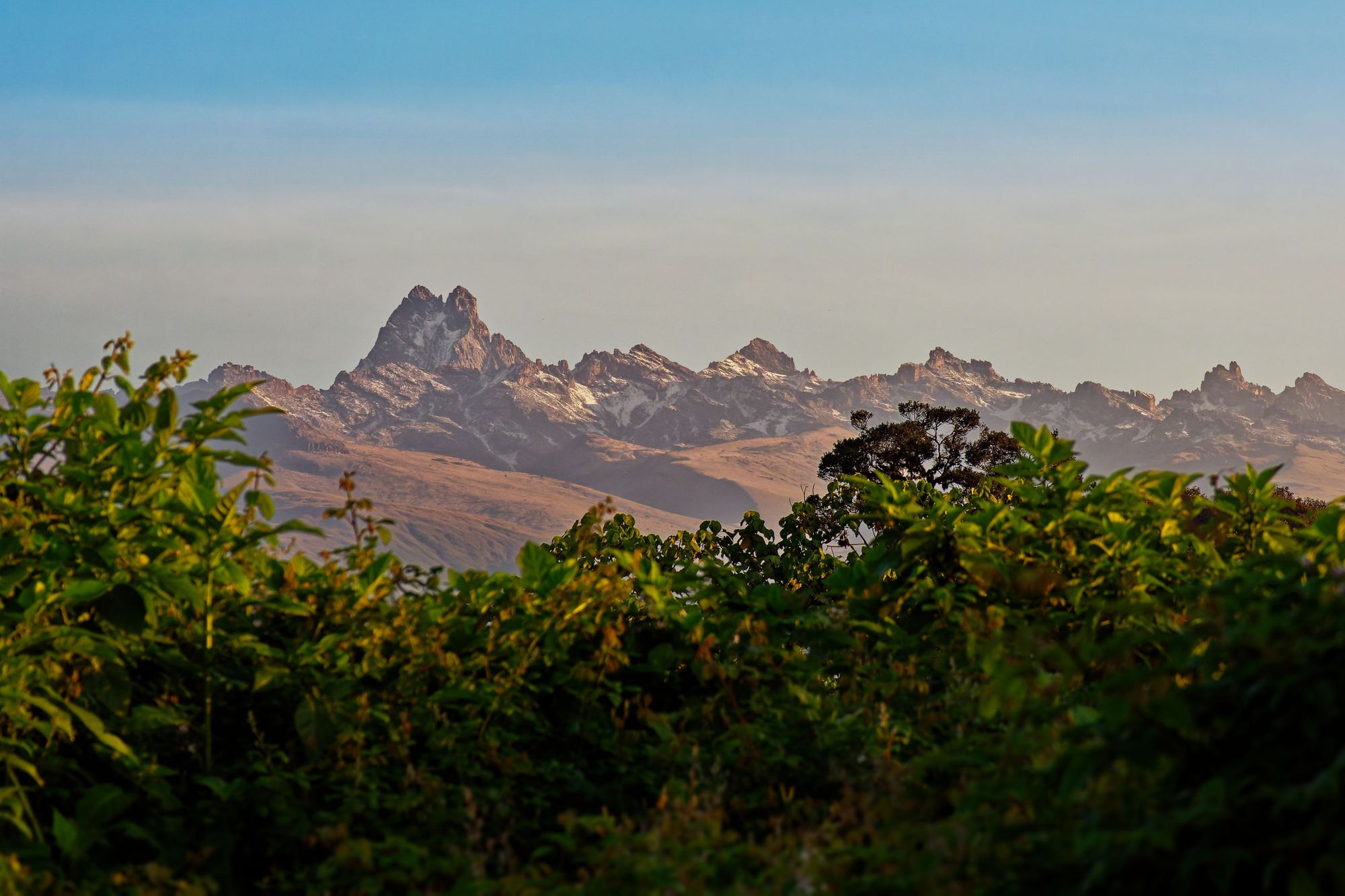 The best times to climb Mount Kenya is in the clearer parts of the dry season, meaning January, February, early March and August, but September-December are also excellent options.
How Busy is it on Mount Kenya?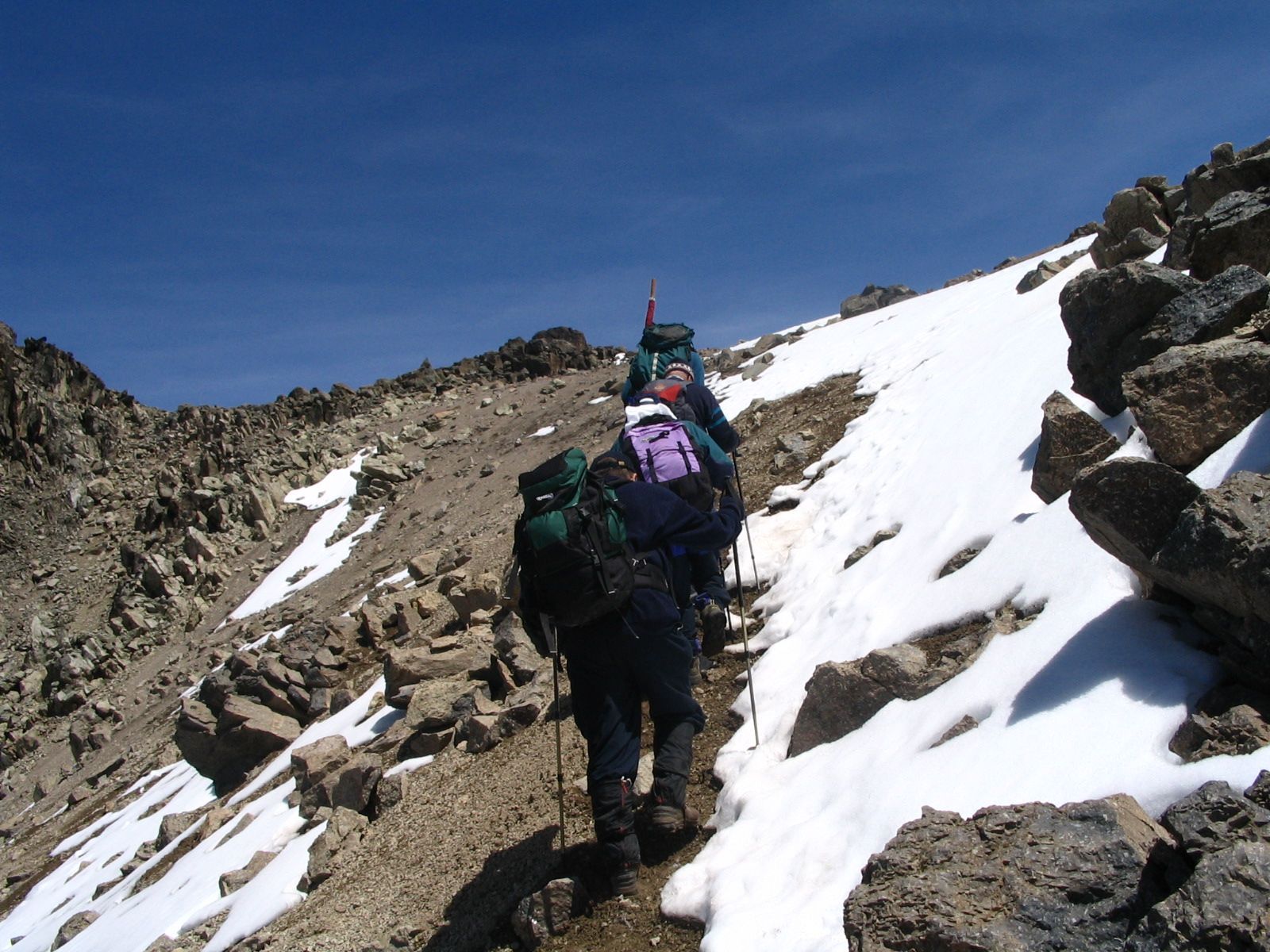 Around 15,000 people ascend Mount Kenya each year, with around 60% of those trekkers successfully making the hike to the top. That usually means Point Lenana, with significantly fewer numbers summiting Nelion (about 200) and Batian (about 50) each year. Part of the beauty of climbing Batian for mountaineers is that, if you leave yourself a few spare days, there's a good chance that you and your team will be able to summit Mount Kenya alone.
On the standard trails on Mount Kenya, you will likely see other hikers - though not nearly as many as you would see on Kilimanjaro, which has twice the annual footfall of Mount Kenya.
How Dangerous is it to Climb Mount Kenya?
As we've mentioned above, the peaks of Batian and Nelion require mountaineering skills and equipment to reach. Both are required to ascend those peaks safely. It's also worth noting that because of the close proximity to the equator, night can draw in rapidly on Mount Kenya.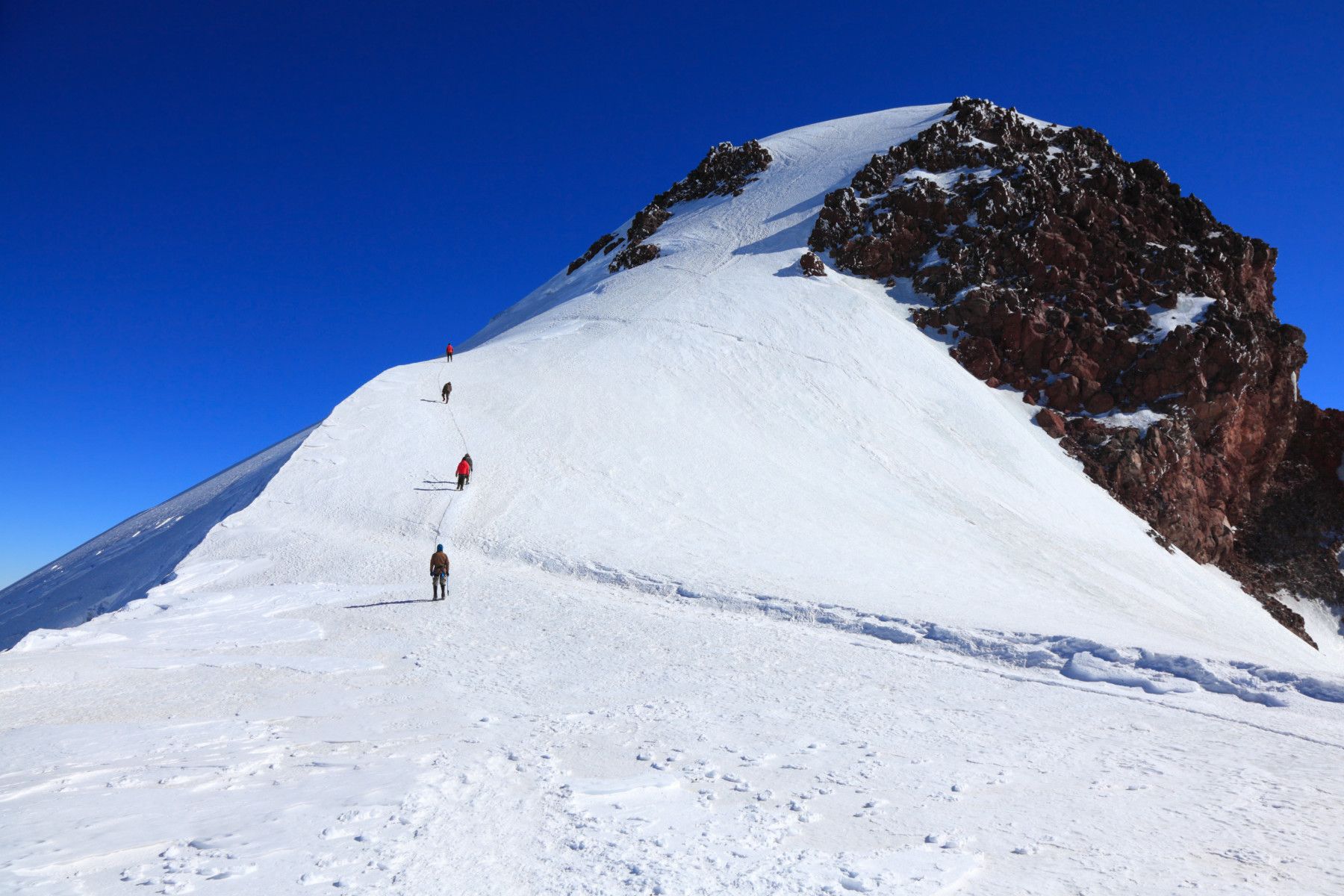 Perhaps the most common safety concern on a standard ascent of Mount Kenya is the possibility of high altitude sickness. The Mountain Club of Kenya write that "despite its size, it is possible to gain altitude rapidly on Mt. Kenya and overzealous climbers run the risk of high altitude sickness. Mt. Kenya is responsible for a large proportion of the world's high altitude pulmonary oedema cases (a potentially fatal form of high altitude sickness). This can be prevented (and the experience made more enjoyable) if a sensibly slow approach is made."
It's recommended to spend one night or more at the roadhead for acclimatisation purposes. There are inherent dangers to climbing any mountain, and appropriate care should be taken.
Inspired? Climb to Point Lenana on our summit, safari and rafting adventure in Kenya - ascending the mountain on the Chogoria route!