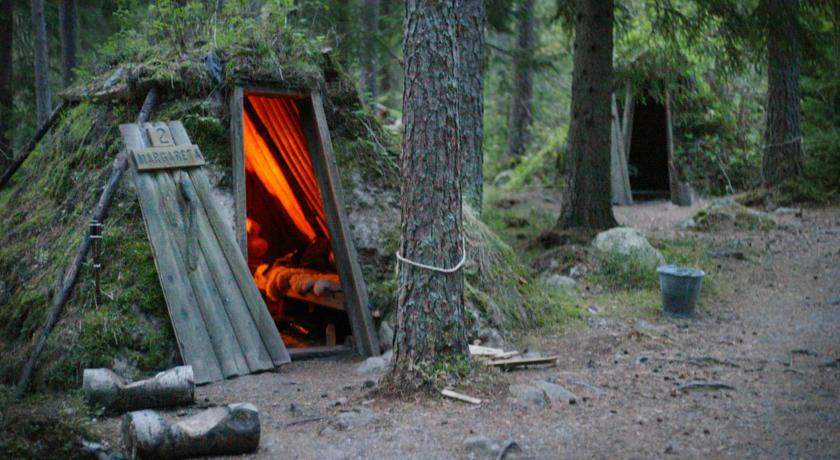 Much Better Adventurer, Deborah Whitaker, tells us all about her weekend dusting for wolf tracks, learning how to start fires, and listening to the frozen lakes in Sweden's Bergslagen forest. Bergslagen is a historically, culturally, and linguistically distinct district north of Lake Mälaren in northern Svealand in Sweden. The dense forests of the region are a remarkable getaway from city life, with wildlife from moose to beavers to bears, lynx, owls and wolves all dwelling in the trees.
Hi Deborah. Thanks for your time. So firstly, how was your trip?
It was wonderful. It was really a great trip. It was really well organised, and the folks who organised it were fantastic people. But what really made it was the other people we were with, who were really very nice.
That's great to hear. What persuaded you to go on the trip in the first place?
You know what, I've never been to Scandinavia and I've never seen a wolf. So it just sounded like something fun to do, something adventurous. *Laughs.*
I didn't end up seeing a wolf, as we learnt that they generally travel only in pairs in the winter, and are less active in winter. However what we did see was a lot of wolf tracks.
We not only learnt how to identify wolf-tracks, but the tracks of deer, moose, and beavers. Our guide also did a great job of teaching us how to take great photographs of the tracks. We also learnt how to identify various types of plants and bird calls. That was really very nice.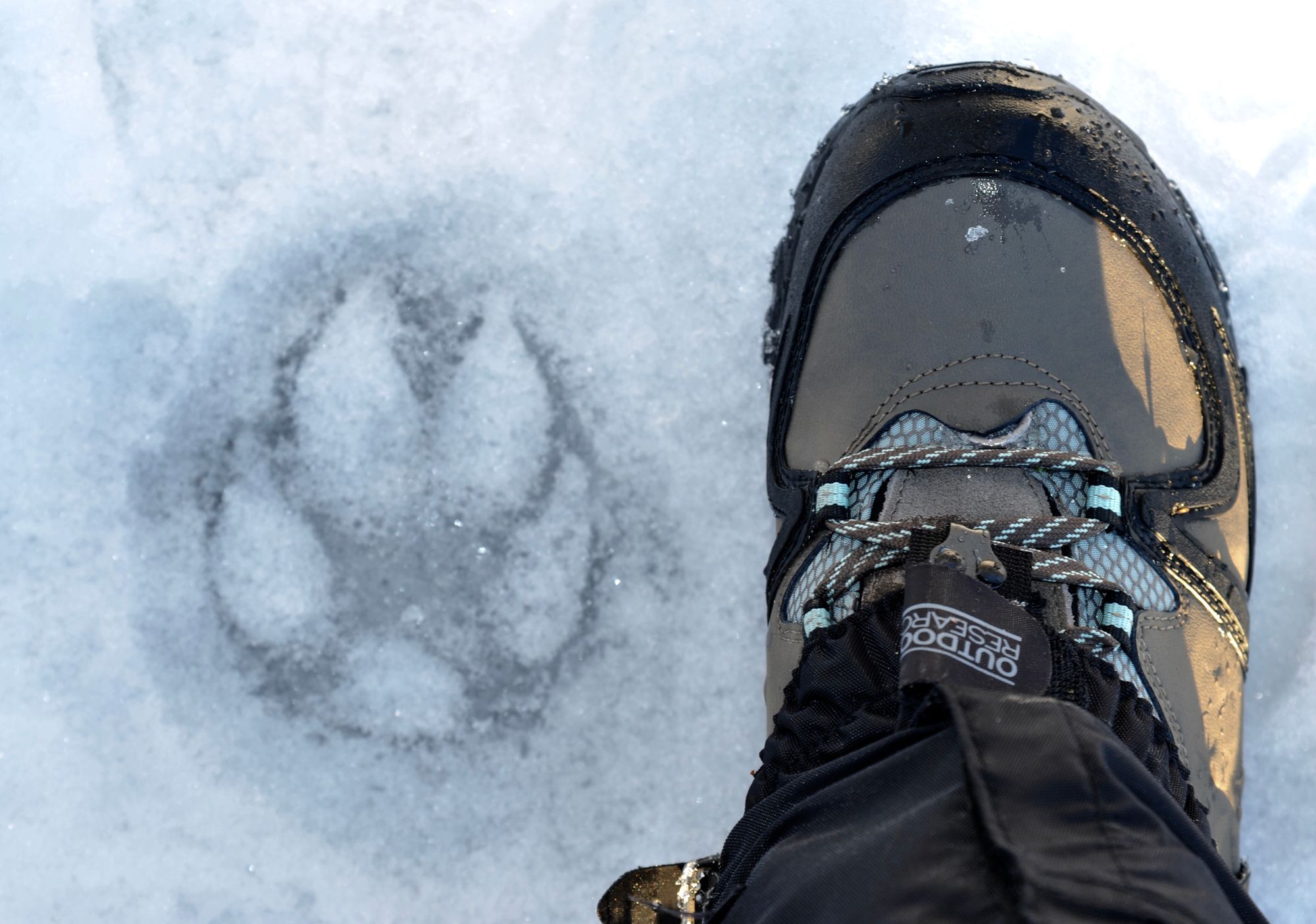 I'm going to add one other thing that they did which was amazing. They taught us how to start a fire! That was so cool. In all my life, I've always wanted to learn. I'm now confident that if I was out in the forest and needed to start a fire, that I actually could do that. I mean, we started one out in the middle of a frozen lake, so I'm pretty confident!
Did that ever get frustrating?
Of course! *laughs*
You could sometimes hear cursing, but everyone managed to get a fire started. But we all learned from it.
Can you remember the moment you started your first fire?
Oh yes, that was on the very first night. We all got a fire started on the Friday night. The guides were very patient, and they all made sure we got it started and worked with us.
The first time it happened it was like 'wow', I can actua

lly do this!
Did you expect to pick up that skill over the weekend?
I had actually not expected to pick up that skill over the weekend. Maybe I didn't read the trip description, or if I did, I didn't pay attention. But that was definitely a big accomplishment and confidence booster.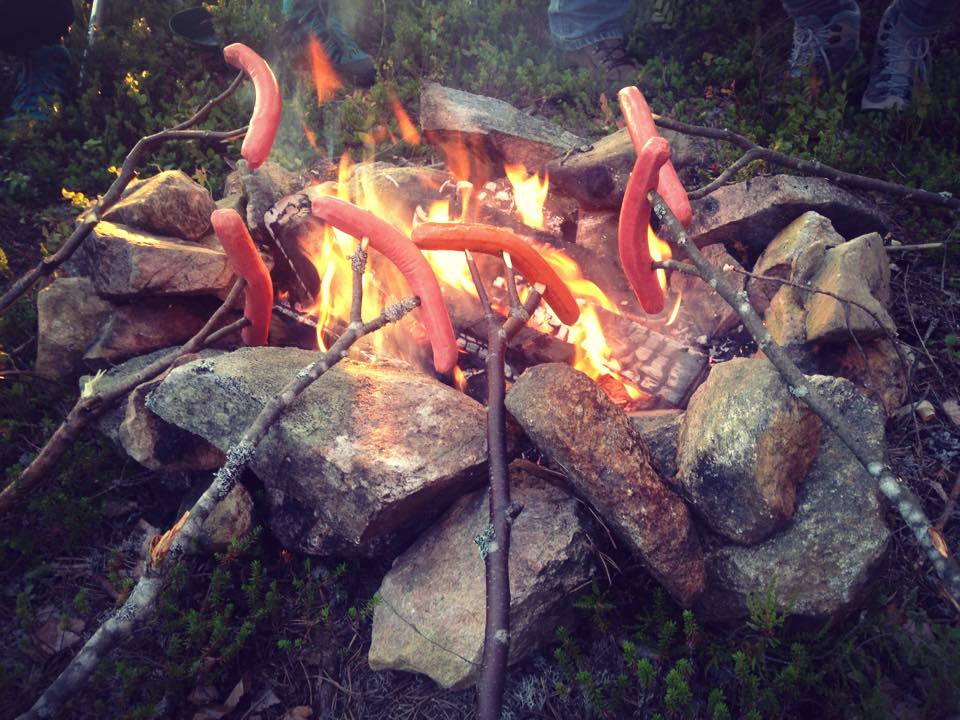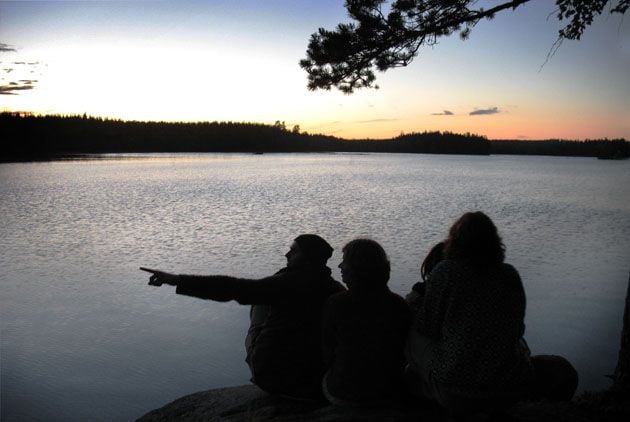 What did you make of the accommodation?
Those huts? They were great fun. They were surprisingly warm and snug. I slept very well. The sleeping bags were very good.
It was especially interesting when we were told about the history of the huts, and that we were staying in a charcoal makers region. Especially as we come from Virginia, and we have hiked through the charcoal making regions in Virginia many times, so it was nice to have that personal connection with the story.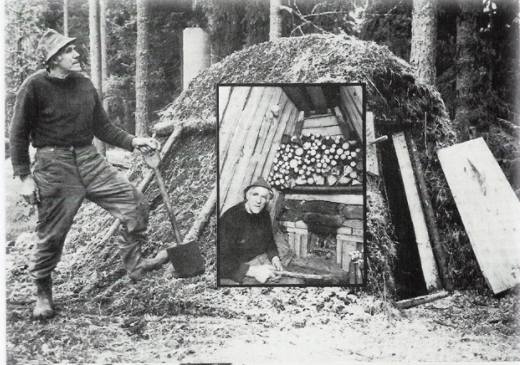 So did you have a go on the floating sauna?
We actually didn't, we were tired that night and so retired to our kolarbyn. However many of the others did. But our hosts had really done a lot to set everything up. They had cut the wood to get the sauna going, and had cut a hole in the ice in case anyone wanted to hop in.
Everyone who did it really enjoyed it. In fact, two members of our group actually hopped into the freezing cold lake!
Amazing. Brave people!
Braver than us, certainly. *Laughs.*
So how would you say your mood differed from when you arrived and when you left?
I was very relaxed when I left. It was everything I had hoped for. I have actually been encouraging other people in my office to try it out. Two of them are now thinking about taking their sons and doing a father-son trip.
And I have to say that the soup we had was delicious. Everybody said they loved the soup. Especially Alan's chicken soup on Saturday afternoon.
That's the recipe we need to track down is it?
Yes absolutely. *Laughs.*
What would you say was the most memorable moment of the trip?
Well, One thing I have to say is that our guide, Jan, paced the tour very well, and had a very easy going approach. He paced Saturday, our main day, very well.
We woke up, hiked out into the forest whilst tracking for wolf prints. Then we came back and ate lunch. He had found a very scenic spot for us to eat lunch, looking out onto the lake. He took us out on a walk onto the lake, and showed us how to look for beaver activity.
He then put us to work setting up a fire so we could have tea and coffee. So we were sitting there, with our drinks, and the sun was going down. We just relaxed. He talked to us a little bit about what we were hearing. We heard owls hooting.
What we heard next was magical. We heard the sound of the ice contracting on the lake. It sounded like a whale under the ice.
Just to be in the middle of this quiet, and to hear this groaning, oh, it was absolutely amazing.
Some people were sitting and talking, some people were quiet, and we were just watching the sun go down. It was the most beautiful sunset. It was a magical moment.
He then drove us out to some other lakes, where we had found some wolf tracks. We followed the tracks, then we just stopped in the middle of the lake. We turned off our lights, and just looked up at the stars. Perfect.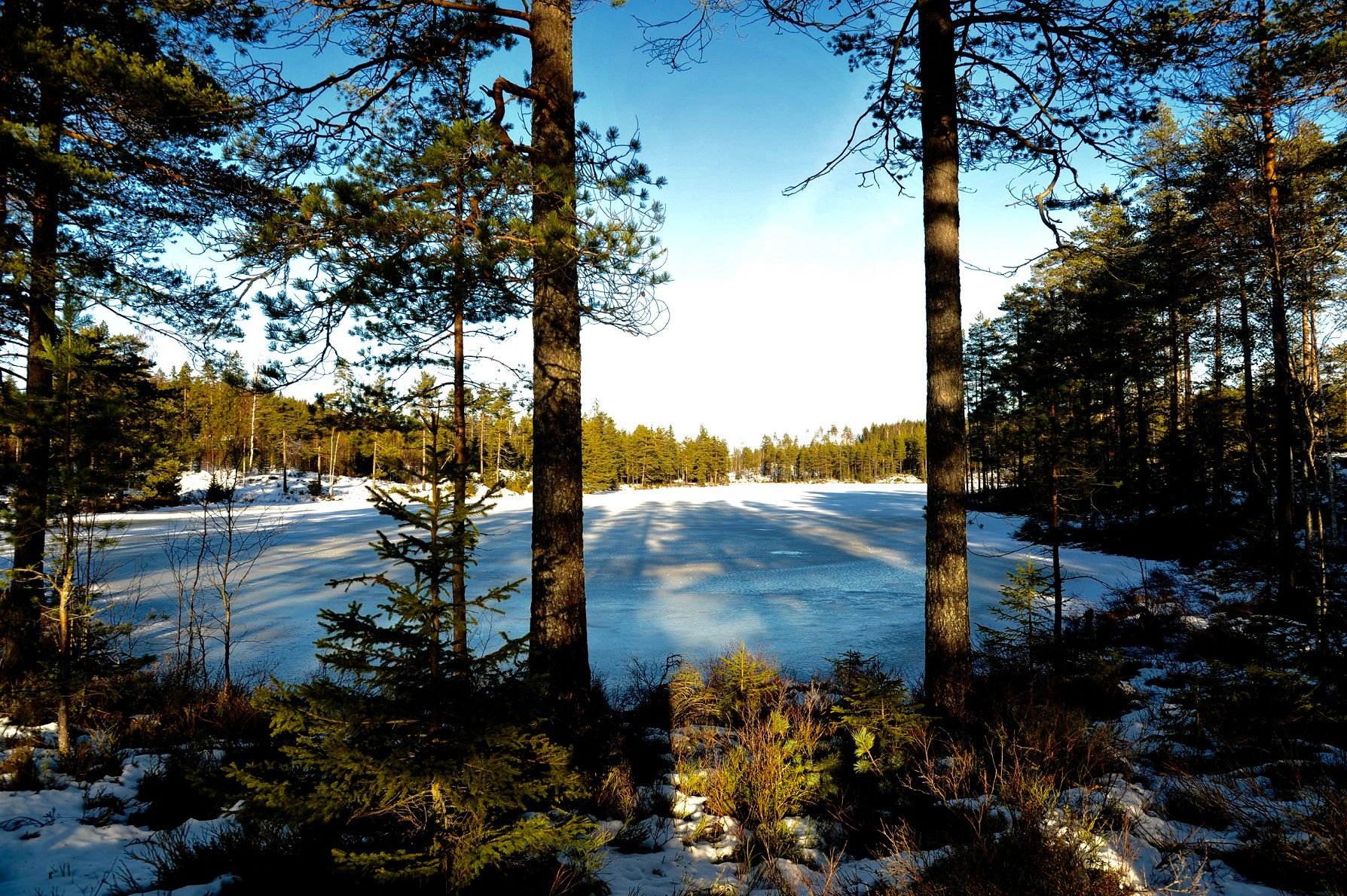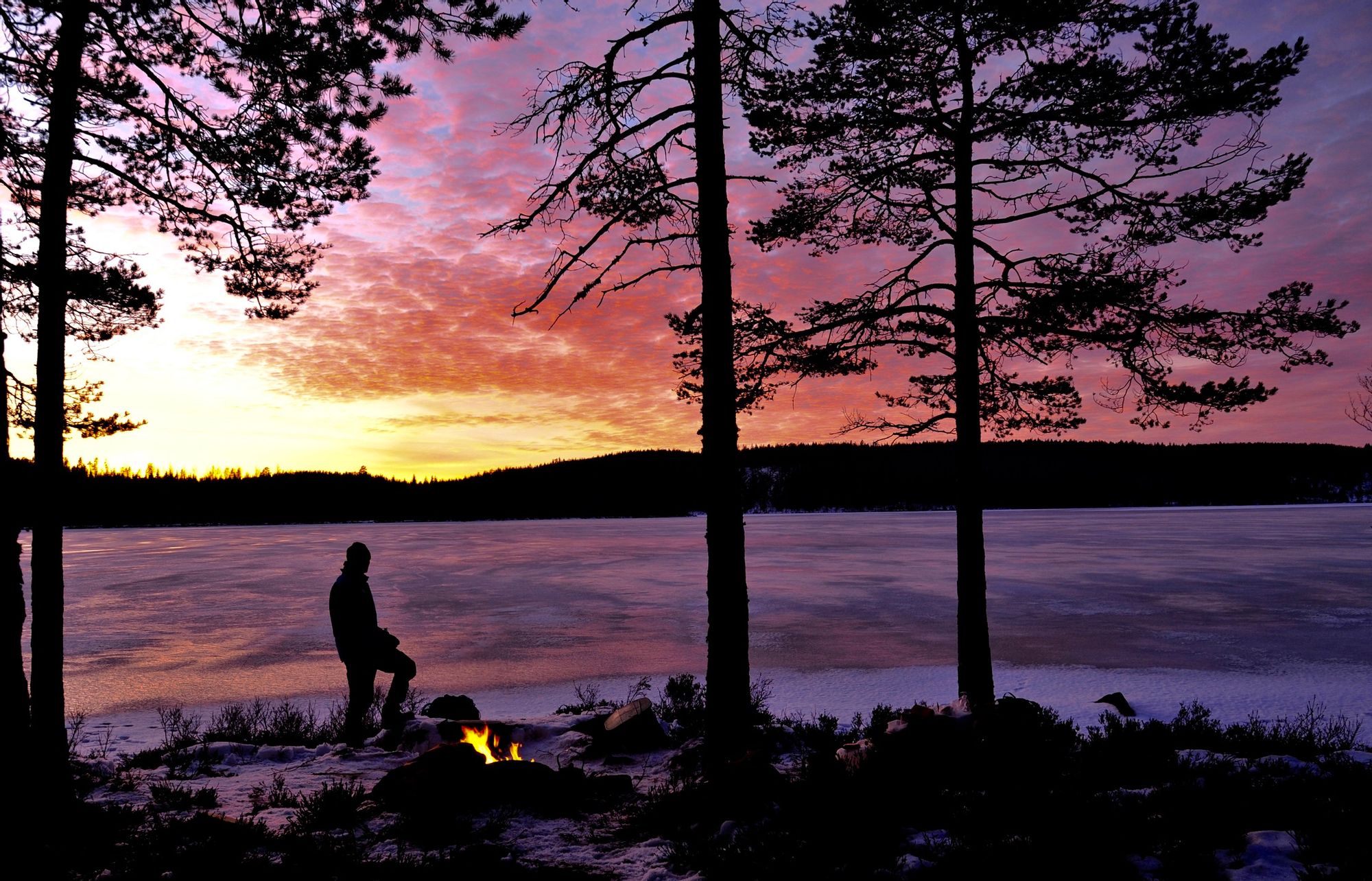 Thanks very much for telling us about your trip Deborah, and we're pleased you had a great time!
That's no problem at all, you can expect to hear from me again, as I like the sound of kayaking the Norwegian fjords…
All images courtesy of Deborah Whitaker.