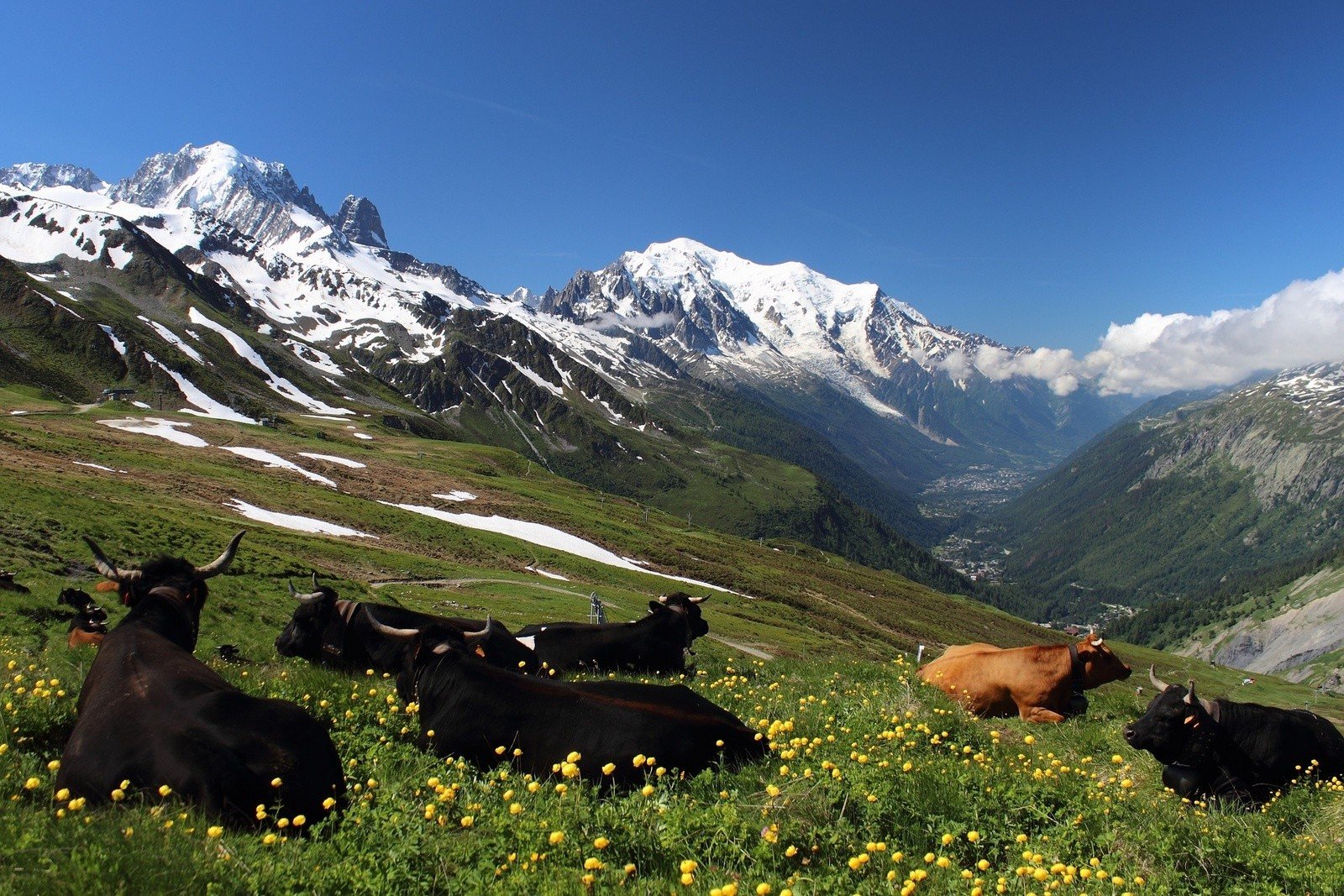 The Haute Route is a long distance hiking route. Actually, it's at least two completely different hiking routes, but we'll come to that in a minute. It's also not to be confused with 'Haute Route', the cycling event. This Haute Route goes where bicycles cannot – and that is not a challenge (unless you're Danny McAskill). So why so many things with the same name? Let's explain.
What is the Haute Route?
Even if you spent French lessons sitting at the back playing cards (like me!) you can probably guess what Haute Route means. "Haute" is French for "high" and "route" is French for "route". Thank heavens for those Norman invaders… Of course, calling something "the High Route" is about as vague as you can get. It tells you literally nothing except that you went uphill at some point. You need to clarify it with a where.
The two most famous Haute Routes are the Haute Route Pyrenees, along the length of the French/Spanish border, and the Walker's Haute Route between Zermatt (Switzerland) and Chamonix (France).
Haute Route Pyrenees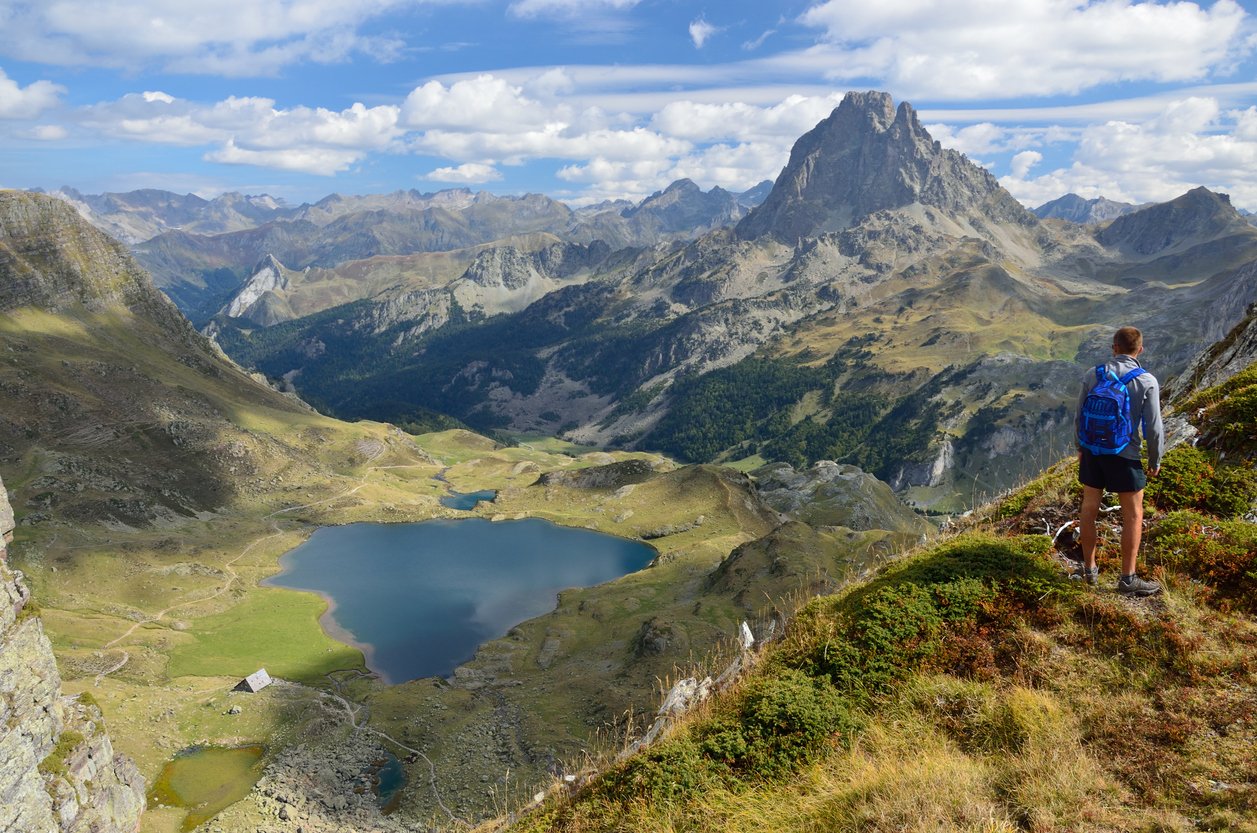 This is the highest route across the Pyrenees, taking in the peaks and ridges of the mountains. The name Haute Route makes more sense when you know that there are two other routes that traverse the same mountain range. The GR 10 is in France, the GR 11 is in Spain and the HRP (as the Haute Route is affectionately known) wiggles along the border.
Although specific choice of routes can vary, the Haute Route Pyrenees is roughly 497 miles (800 km) long. That's a big old walk!
Where does the Haut Route Pyrenees Pass Through?
Unlike the two GR routes, the HRP is not waymarked and is very much an involved mountain route. Expect scrambling and the chance of snow even in high summer. There is a bit of overlap in places between it and the two GR routes, but generally if the HRP can take in a peak, it will.
The Haute Route spans the Pyrenees from the Atlantic Ocean to the Mediterranean Sea. People tend to walk it in this direction (roughly from West to East) because you start on the flatter bits. Always best to get a warm up in before you hit the serious mountains. Plus the prevailing wind tends to be from the West, so by walking East you should spend less time with horizontal rain in the face.
That brings us nicely on to…
When is it best to walk the Haute Route Pyrenees?
The best time to do the HRP is in the summer months, typically July or August. Well actually both, because it takes most people more than a month to complete. In the months either side of this, June and September, you are far more likely to encounter snow and ice en route. High passes can still be blocked with snow in June.
On the flip side of this, the weather in July and August is hot during the day. Hot plus mountains tends to equal one thing: thunderstorms. They are not uncommon and can come as regularly as every afternoon. This small weather window can mean that popular sections of the hike are very busy in high season.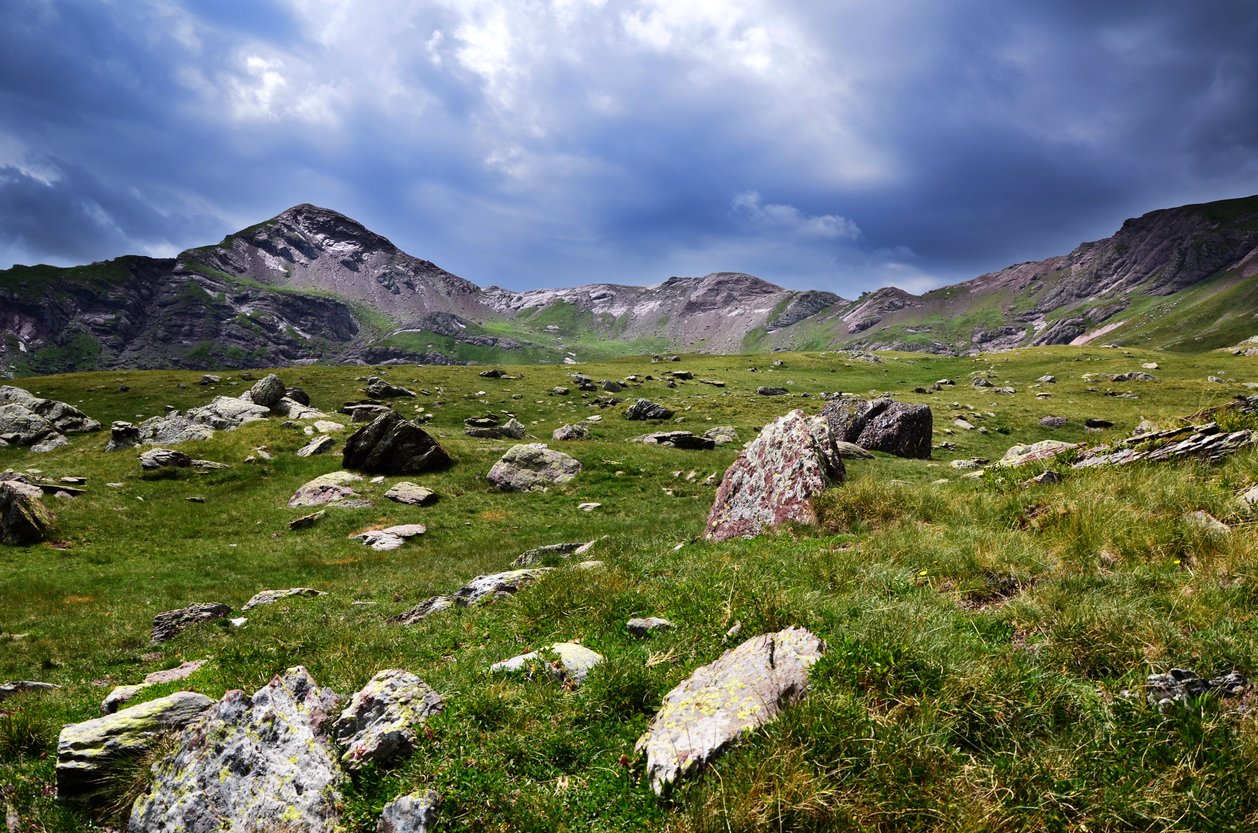 What to take?
Most people need 45 to 50 days to complete the HRP. With that in mind, it's important to pack light enough you can carry your bag, but heavy enough that you've got eventualities covered!
The big question then: to tent or not to tent? There is an extensive coverage of mountain huts along the HPR. If you really wanted you could stay indoors every night of your trip. That might feel less flexible and less adventurous, but it sure is convenient. Particularly since you can get fed and watered there too! However, these mountain huts do get busy and booked up in high season. It's always advisable to take a tent, just in case.
Not all huts are "serviced" – i.e. offer you full board accommodation – some are more similar to bothies in the UK. Although you definitely can resupply food and water (or other beverage of your choice) at serviced huts, you can't depend on it. Luckily you can buy food in the villages that the route passes through. You shouldn't need to have more than a couple of days' supplies in your rucksack. Although be warned – food is very expensive!
Why should I hike the Haute Route?
The Haute Route Pyrenees is a long distance hike for people who want to spend extended time away in the mountains. If you love the simplicity of living out of a backpack and like the idea of 'Eat, Walk, Sleep, Repeat' – this might be one for you. Channel your inner mountain goat, be comfortable with carrying a heavy bag over several days, moving on rock and navigating alpine terrain. And you get to splosh in the ocean at either end!
Useful resources
There are a number of really good resources for the Haute Route Pyrenees. Many people recommend the Cicerone guidebook and of course you'll be wanting some maps.
For a mix of other people's stories and practical advice have a look at Alex Roddie's account of his HPR through hike and Rosie Watson's failed attempt to run the route.
Walkers' Haute Route (Alps)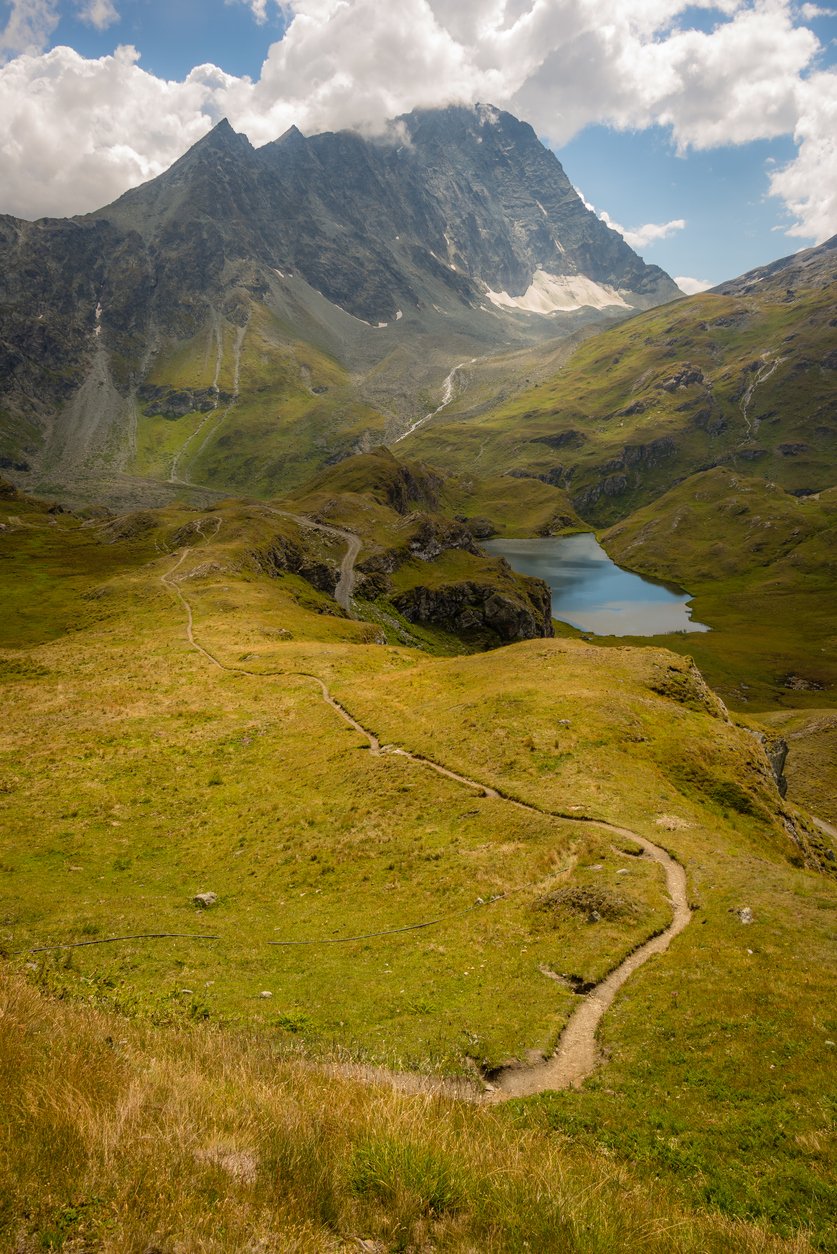 The Walkers' Haute Route takes you from Chamonix to Zermatt across the Alps. So, we're still in the general vicinity of France, just on another border. This time we're walking across it not along it: out of France and into Switzerland.
This is a lower level variation of a ski touring and summer mountaineering route between the same two places. Yes, that does indeed mean there's a higher Haute Route, known as the Classic Haute Route (with several variations thereof). But we're just going to ignore those pesky ski tourers and focus on the hiking.
It takes most people 10 to 12 days to hike the 200km of the Walker's Haute Route.
Where does it go?
As we've already said, the Walker's Haute Route runs between Chamonix and Zermatt. It doesn't seem to matter which direction you do it in, but people tend to go from Chamonix to Zermatt. If we're going by the same weather logic as the HRP, then that's walking West to East. Public transport is good to either end, so it's very much of a muchness. Although if you did choose to go Zermatt to Chamonix, you'd probably get loads of high-fives passing other hikers…
The route is well marked all the way, taking in alpine passes but not peaks. The mountaineering or ski touring route takes in the peaks. On the Walker's Haute Route you avoid going up them, but get great views of them as you go by. Plus that makes the hike completely non-technical. No need for ropes, ice axes or crampons.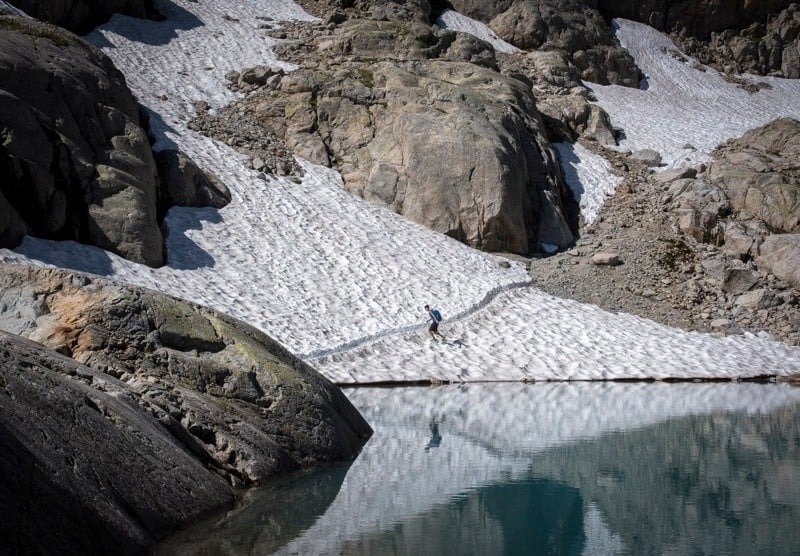 When is it best to walk the Walker's Haute Route?
Like the HPR, the Walker's Haute Route is best done in the alpine summer walking season. That's high season in July and August, with June and September still a good possibility. Snow could remain on higher passes well into July. As with the HPR, watch out for those thunderstorms.
What to take?
As with the Pyrenees, there are plenty of mountain huts in the area. Since you're only walking for a couple of weeks (not a couple of months!) this is not such an extreme undertaking as the HPR. You're also a lot lower – remember mountain passes not mountain tops. There's no need to carry lots of days' worth of food unless you want to. It's easy to resupply in the villages that the trail passes through, or just eat in the mountain huts.
No crampons are necessary either – some people hike it in trail shoes, but be aware there could be snow up top.
Why should I hike it?
The Walker's Haute Route is a great way to experience a classic route in the Alps, without being a mountain Jedi. You'll get to experience alpine landscape with views of the famous peaks between Mont Blanc and the Matterhorn. Compared to a long distance walking path in the UK, for example, you will have a shorter distance day but way more uphill. Don't be fooled by the shorter stages – it's just as hard work, if not more.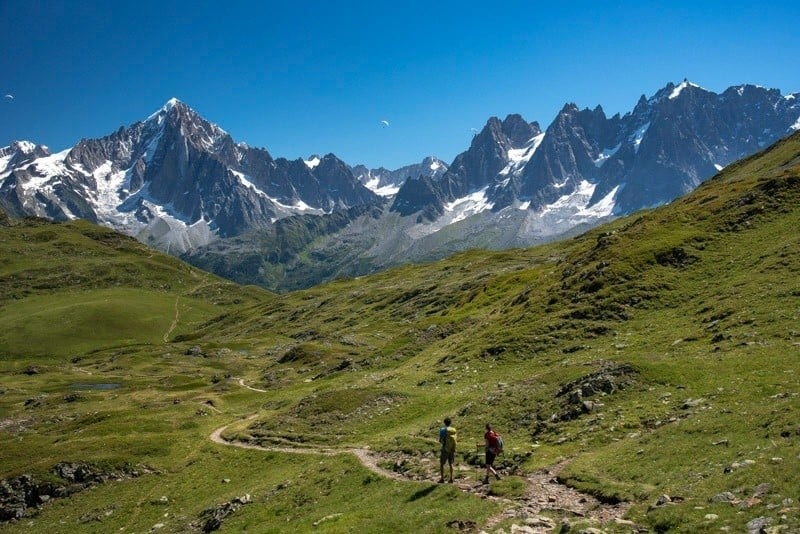 Useful resources
There is a Cicerone guidebook to the route (other publishers are available!) and maps are plentiful for the area. Despite being a waymarked path, it's a good idea to have a back up in case of bad weather. Those markers are no good if you can't see them through the cloud.
For practical and anecdotal advice, have a look at The Hiking Life's guide to the route.
Ready to hike the Haute Route from Chamonix to Zermatt? There are so many great hiking trips in both these mountain ranges.