Reef Conservation International are one of the hosts from our Adventures for Good Collection. Here we find out about their mission and how your adventure helps.
Please tell us a bit more about Reef CI, what's your mission?
Our mission is to preserve and manage the Belize Barrier Reef for generations to come by inspiring, educating, and encouraging change via our volunteer citizen-scientists. Not many people know it's the second largest Barrier Reef in the world.
In the developing world, environmental challenges often take a back seat to seemingly more pressing social and economic development issues — but they are undoubtedly linked. Preserving and protecting the environment is necessary for improved quality of life and can contribute to economic and social development in places like Belize.
What are the biggest challenges facing the Barrier Reef in Belize?
You may be surprised to hear that the invasive lionfish is one of the greatest threats to the sustainability of coral reefs and fisheries habitat throughout the Caribbean. Scientists are predicting that lionfish will have a grave impact on Belize's already stressed stocks of fish and lobster and could spell potential disaster to our marine habitats.
This non-native species was inadvertently released into the Atlantic-Caribbean oceans back in the mid 1980's: probably from personal aquarium releases in Florida by people whose lionfish were getting too big for the tank or eating the other fish. Lionfish are indigenous to the Pacific and Indian oceans and the Red Sea but not the Atlantic-Caribbean belt. In their natural habitat, they have a diet that is not a threat to the environment; there are many more varieties of species and they have natural predators to keep their numbers in check. However, in the Atlantic-Caribbean oceans they are a highly invasive predator, feeding on species that are key to our healthy reef environment such as juvenile groupers, parrotfish and crustaceans. These native species have no evolutionary defence mechanism against the invasive lionfish.
So how to do 'Citizen Scientists' volunteers help?
Calling all apex predators! One of the ways our volunteers help to protect the reef is by hunting, spearing, and eradicating this invasive species. Reef CI staff and guests are on target to remove over 7,000 lionfish this year alone and dissect 1,585 for research purpose. In fact, Reef CI is removing more lionfish and collecting more data on lionfish than any other organisation in the country of Belize. This is an ethical, approved way of removing this dangerous threat to our reef.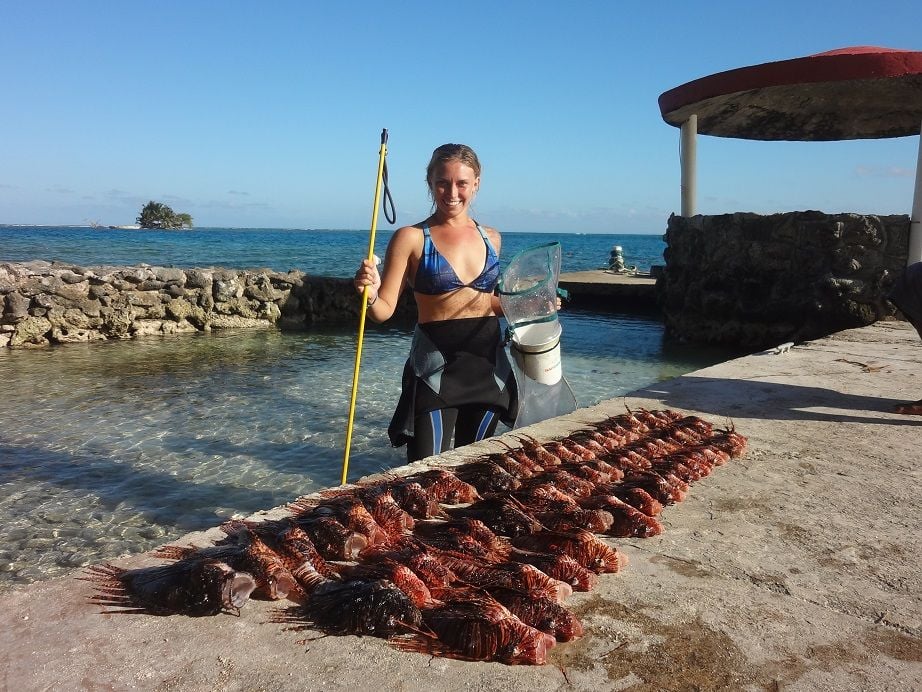 What other ways do Reef CI protect and conserve the reef?
We focus our marine conservation work across several programmes including:
Queen Conch surveys
Lobster surveys
Commercial fish surveys
Reef health surveys – Reef CI check & Coral watch
Whale shark monitoring
Coral reef bleaching and bio-diversity dives
Tell us about how someone visiting Belize can get involved?
Reef CI volunteer trips are a unique opportunity to learn about the marine environment and to help protect and conserve this precious resource while having an amazing diving holiday. You can combine learning to dive or further your dive qualifications; everyone contributes regardless of their experience. All the profits from your visit go directly back into supporting our mission.  Through our citizen-scientist programs, we empower everyday global citizens to take an active role in directly protecting and conserving the marine environment. Our goal is to encourage everyone to become a part of our community of people who care about the future of our planet's oceans.
Inspired? Get involved, and every single pair of hands will make an impact.