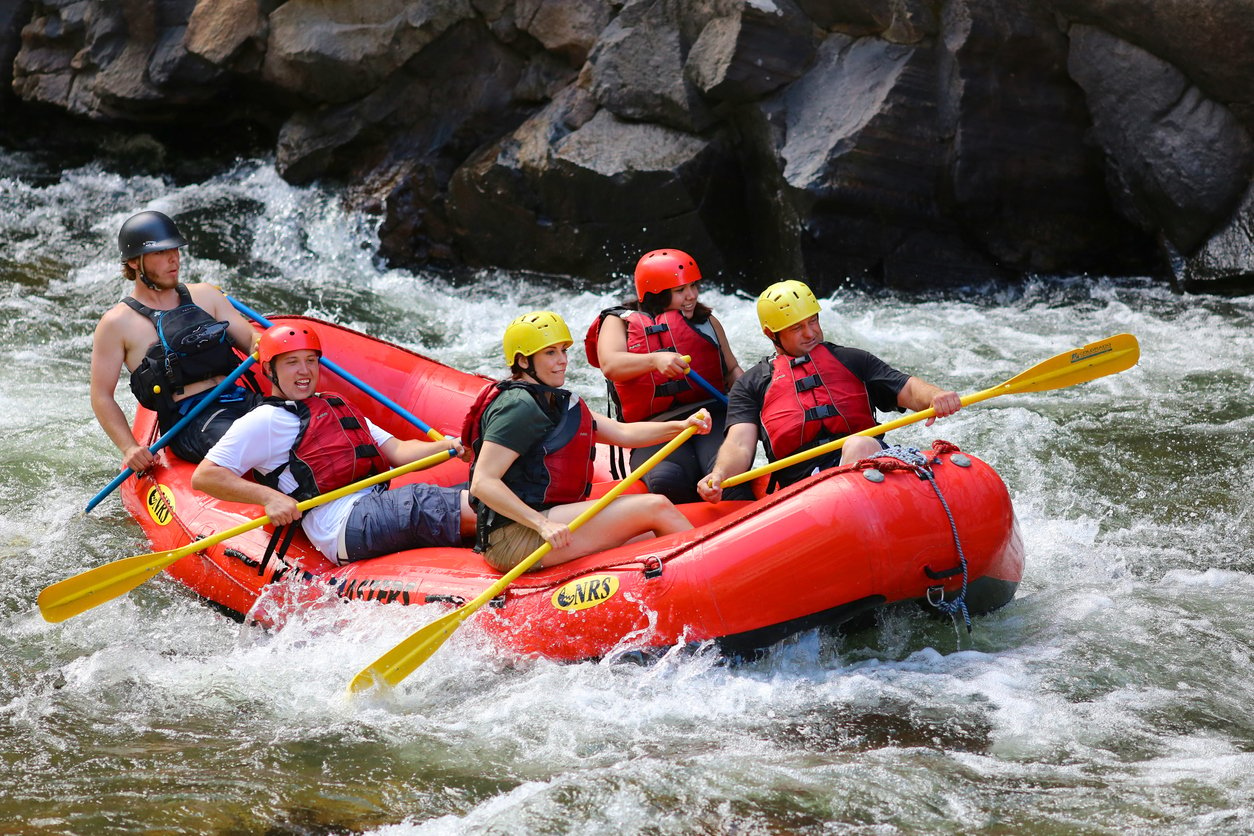 White water rafting in the UK is possible more or less year round. Due to the patterns of the rainfall (the main pattern being, it's nearly always raining somewhere or other in Great Britain), the rivers tend to hold their water well. Naturally, they tend to be a bit more reliable for rafting once summer has passed.
That makes the UK a genuinely great spot for white water rafting. The UK may not have the highest mountains in the world but we've certainly got a lot of stunning valleys, hills, canyons, beautiful rivers and the rainfall to fill them. So where do you start with white water rafting in the UK? And what exactly is white water rafting?
Here's our entry level guide to white water rafting in the UK - and to some of the best spots to experience rafting in Scotland, England, Northern Ireland and Wales.
What is White Water Rafting?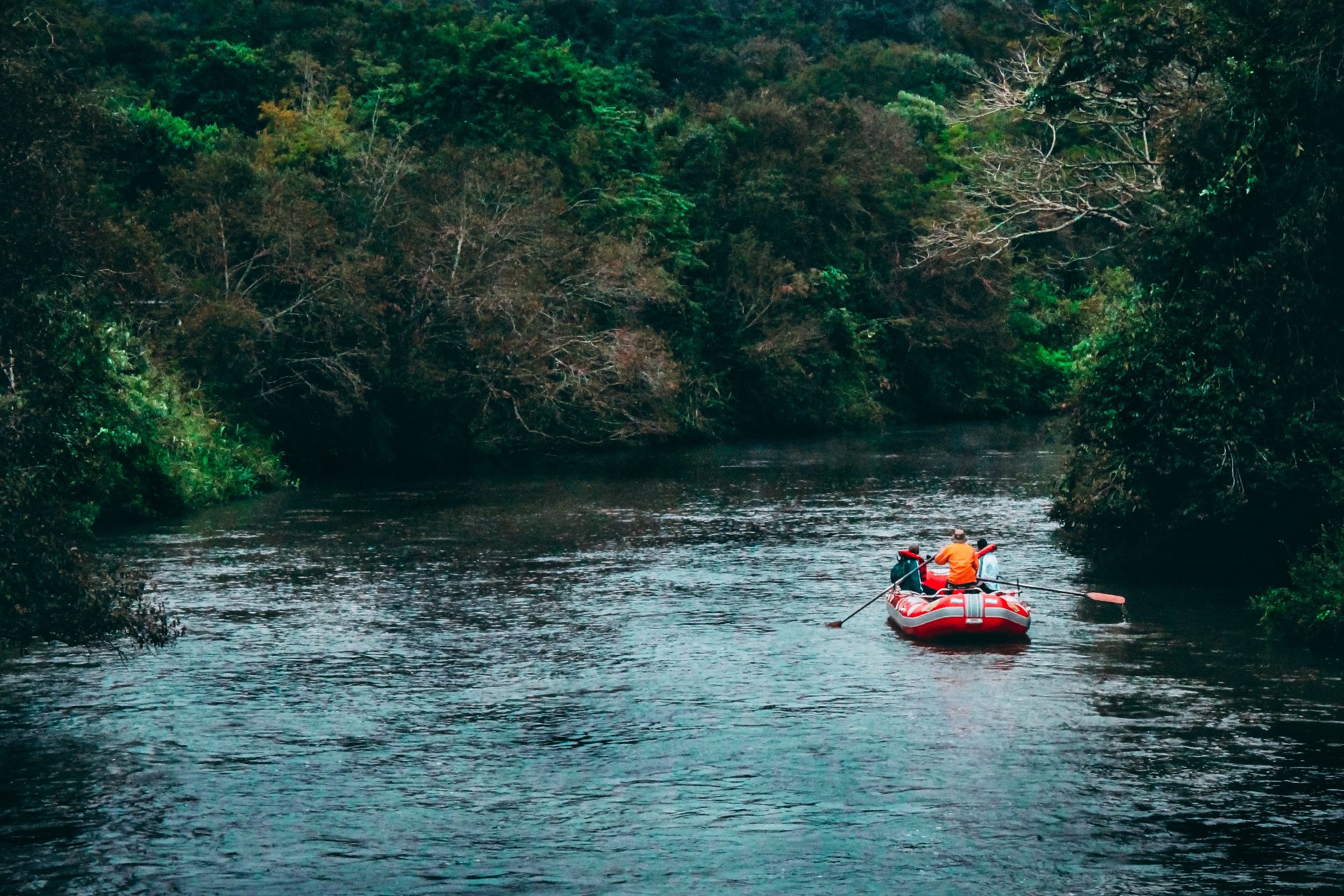 White water rafting, or river rafting as it is sometimes known, is a simple concept. It's basically just a bunch of people sticking on buoyancy aids, helmets and – in the UK in particular – wetsuits to keep warm, and then jumping in a custom-built raft to sail down some white water rapids. Expect bumps, waves, sharp turns and a good bit of adrenaline on the way.
Nowadays, the rafts themselves are more resilient than ever. They now tend to be self-bailing, which means that it's incredibly unlikely that the rafts will sink. That said, you'll find out quickly that just because your boat makes it out of the river rapid, doesn't mean you will. Often you'll get chucked out the boat and into the rapid, which is all part of the fun. Your guide will keep you safe by telling you what you need to do if/when that happens before you begin your journey.
As you can imagine, rapids are, well, pretty rapid. The white water gushes quickly and relentlessly, and rapids often tend to be rocky as well. As long as you listen to your guide though, you'll be absolutely fine. There will always be a basic safety briefing before you get in the raft. Ultimately, getting wet is part of the rafting experience. At the end of the day, white water rafting is effectively throwing a boat down an assault course with a crew inside. So you're probably going to get wet.
The intensity of your trip depends largely on what grade of rapids you'll be taking on. Rivers in the UK are graded on a scale of I-VI, with grade I being moving water which is unobstructed, without any technical difficulties or notable obstacles, and grade VI being extremely challenging (often impossible) to navigate. You'll likely end up rafting a grade somewhere in between. With a good guide, you'll be able to take on rivers graded anywhere from II-IV, even without prior experience.
A raft typically holds eight to nine people, including the instructor. You don't have to have a group of that size to book yourself onto a trip, though. You'll often just be mixed with some other adventurous strangers, which again, is all part of the fun!
Do I Need Safety Equipment to Go White Water Rafting?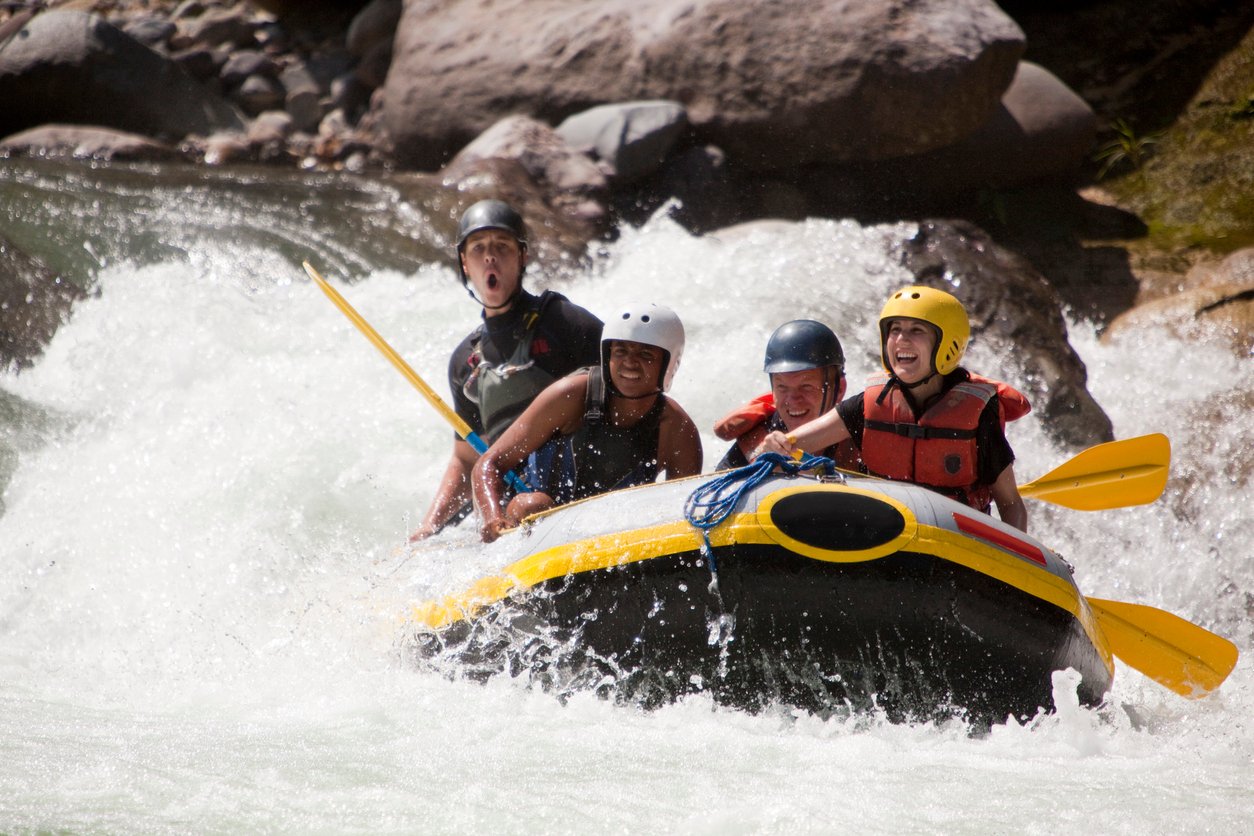 As we mentioned above, the main thing that you need to go white water rafting is a professional, experienced guide. You don't need any experience or specialist equipment, as you should be supplied with a wetsuit, helmet, buoyancy aid and paddle by the company you're going white water rafting in the UK with. Your guide will have an abundance of experience running rafting sessions and getting people down the river safely. Your whole rafting experience is really in the trusty hands of your raft guides, and they'll have all the gear (and knowhow) to make it a good one. There are still some items you need to remember though:
A towel
Shoes and clothes you don't mind getting wet
A change of clothes for after
Your world-famous can-do attitude and all-round affinity for life
White Water Rafting UK: Locations & Where is Best to Start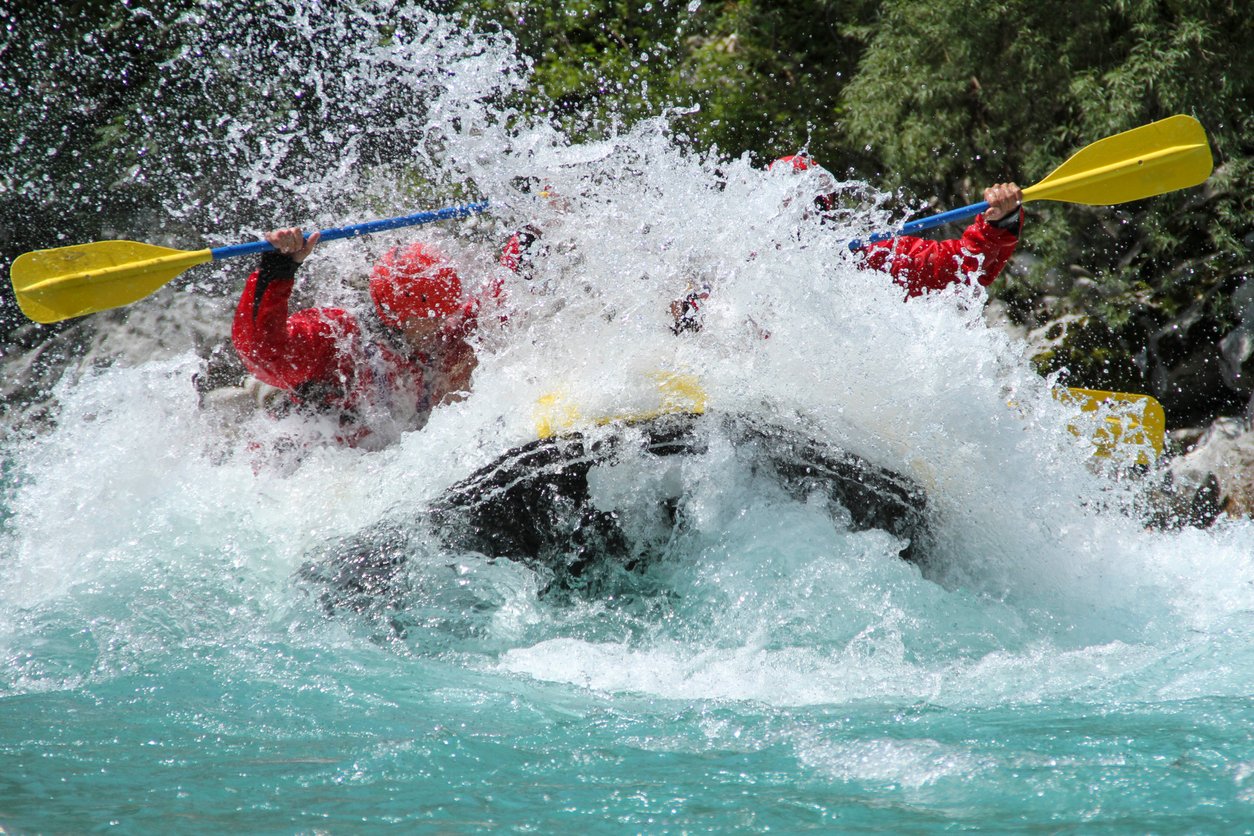 White water rafting happens all over the United Kingdom. There are great opportunities in all of Scotland, Northern Ireland, England and Wales. So rather than listing off a random spread of UK-based white water rafting options, we thought we would break it down and provide a few options country by country. Of course, these lists are just a taster of what each country has to offer. There are plenty more rivers in the UK out there if you have a look!
The Best Places to Go White Water Rafting in Scotland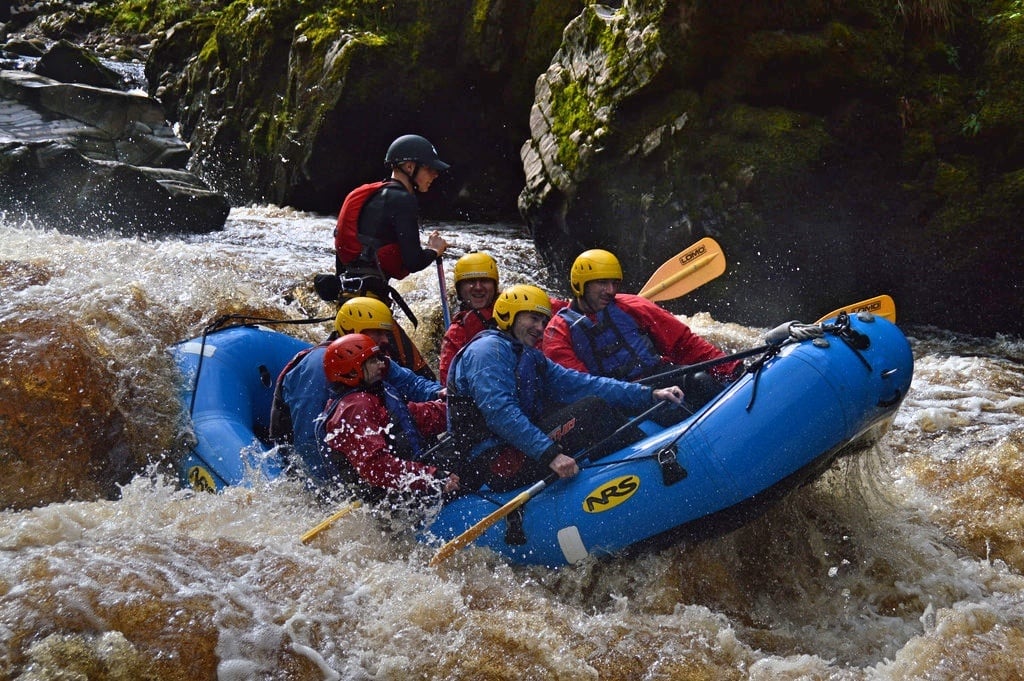 As far as white water rafting in the UK goes, it's tough to look past Scotland for wet and wild rivers with rugged Highland views. Like a lot of the adventure opportunities in Scotland, you need to look north to get the best of it. Here are some of the best places to go white water rafting in Scotland:
1. Fort William: The River Garry
Fort William is home to Ben Nevis, the highest mountain in the UK. It's also home to some of the best mountain biking trails in the world. So it feels almost a bit selfish that it has great white water rafting, too? And yet here we are. The River Garry is one of the best spots in Scotland, with grade III and IV water. Scheduled dam releases mean you can get guaranteed water levels here from April until October each week, so it's super consistent, and when there's been rain or snow, the white water rafting scene expands even further into the nearby rivers Roy and Arkaig.
2. Cairngorms National Park: River Findhorn and River Tummel
The Cairngorms National Park includes 55 Munros, five of the UK's six highest mountains and measures twice the size of the Lake District. It should be no surprise then that there's as much fun to be had in the waters as there is on the mountain peaks. Both the River Tummel and River Findhorn offer great white water rafting opportunities.
The River Findhorn includes a journey through 'Randolph's Leap' into the stunning Lower Findhorn Gorge, where you'll meet rapids, waterfalls and ferocious whitewater. The river is graded IV, so perfect for enthusiasts looking for a proper adventure!
3. Aberfeldy & Grandtully: River Tay
You'll find Grandtully in Perthshire, north east of Aberfeldy and right on the River Tay. Rafting from Aberfeldy to Grandtully, you'll cover about six miles. In the summers, the river is lower and so great for beginners or those looking for a calmer experience, while in the winter, the rain and snow means that the rapids pick up, and gain speed as they do so.
The Best Places to Go White Water Rafting in Wales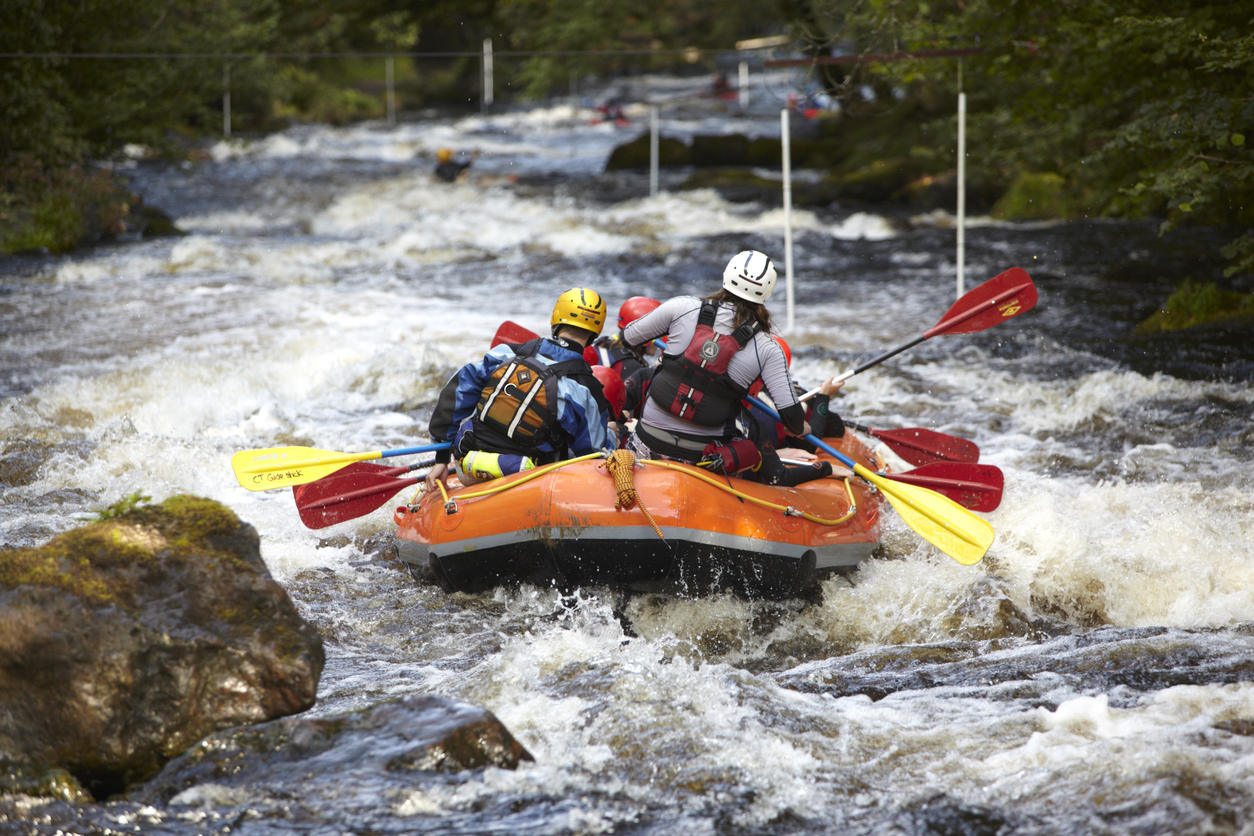 It's no secret that Wales is an adventure playground and that's no different when it comes to white water rafting. Snowdonia National Park – covering 837 square miles – is home to the River Tryweryn, and on that river in particular, the white water runs fast…
1. National White Water Centre, Bala: River Tryweryn
With over 30 years of experience in providing adventurers with white water action, The National White Water Centre has justification behind its claim to be "the best summer white water facility in the UK".
Centred in Bala in the heart of the stunning Snowdonia National Park, the rafting takes place on the River Tryweryn. The dam-controlled river is reliable, consistent and has high flows throughout the year. The most popular route sees you take in four runs on the one-mile rafting section. The Afon Tryweryn is split into two sections, with the upper being 2km of grade III-IV rapids running alongside the centre and the lower, grade II-III running 6km down to Bala car park.
2. Llangollen: River Dee
The River Dee runs through Wales and England, even forming part of the border between the two countries. The river rises in Snowdonia, and if you jump on a raft in Llangollen, you'll be able to take on a range of rapids, grading two to three, while also passing local highlights like Serpents Tail and Town Falls along the way.
The Best Places to Go White Water Rafting in England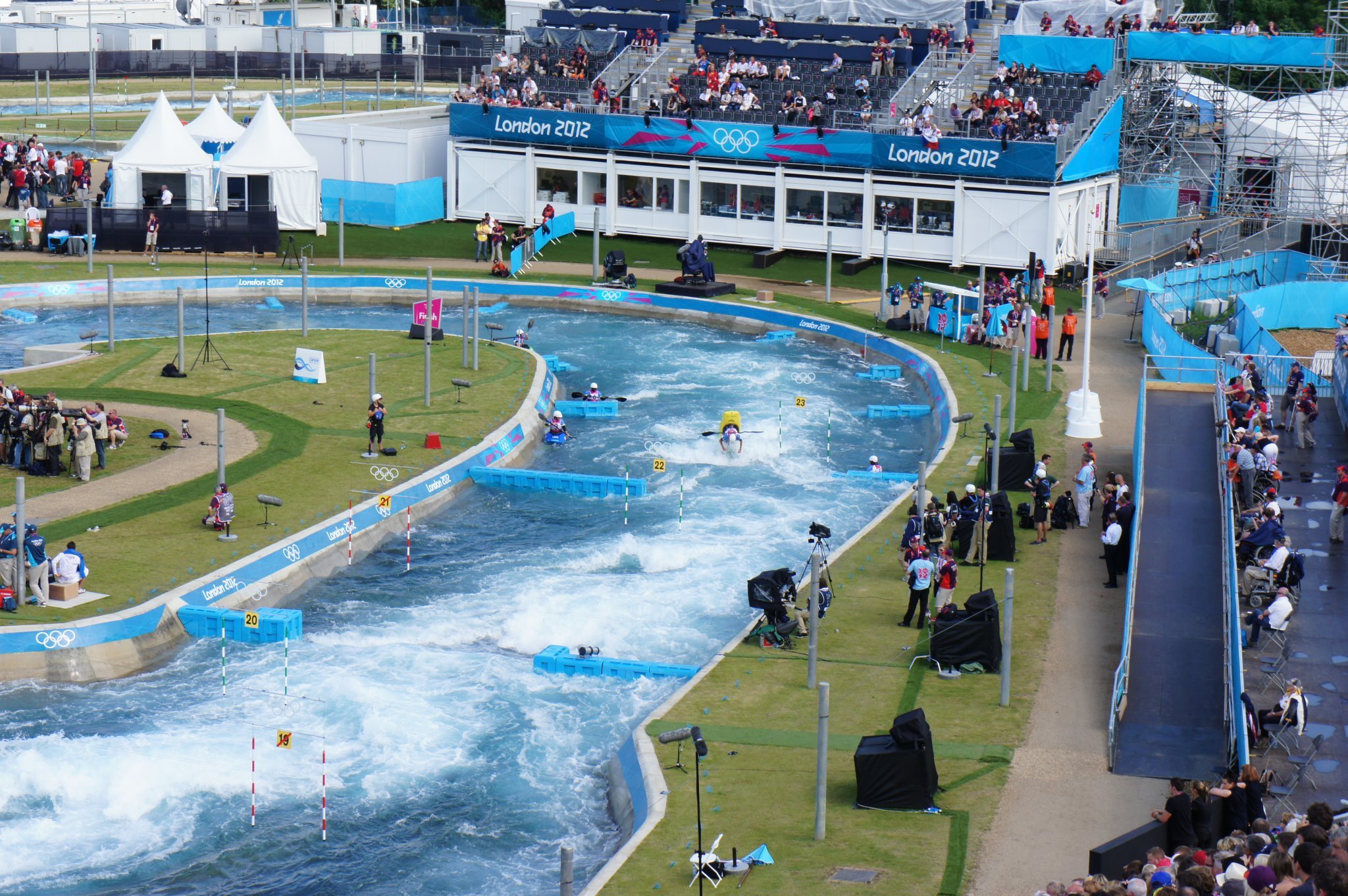 As well as the big hilly areas, and the famous rivers that run through them, England actually has some great options when it comes to man made white water rafting options. Here are a few more details on what exactly that means…
1. Lee Valley: Man Made White Water Centre
Not all white water rafting rivers are natural. You can go white water rafting in the UK in man made locations too – most famously at Lee Valley in Waltham Cross. Not only is this an adventure near London, just outside the English capital in Hertfordshire, but it was built for the 2012 Olympics (and cost £31 million!), so you know it's good. The benefits are that the 300m course is consistent no matter what the weather or rainfall, while the obvious drawback is that the views perhaps aren't quite as scenic as in Snowdonia or the Cairngorms.
2. Peak District: River Derwent
The River Derwent runs for a full 66 miles through the Peak District. Needless to say you won't be rafting all of that, or you'd need some serious food supplies with you, but there are sections – a 4.5 mile stretch between Darley Dale and Matlock Bath to be specific – that are great for beginners getting into white water rafting.
3. Northants: River Nene
Another artificial option, the Nene Whitewater Centre is an artificial course on the banks of the river Nene. The centre was actually the UK's first pumped artificial white water course and is 300m long. Again, that comes with the benefits of consistent, predictable conditions for the rapids and being able to run the course as many times as you want.
The Best Places to Go White Water Rafting in Northern Ireland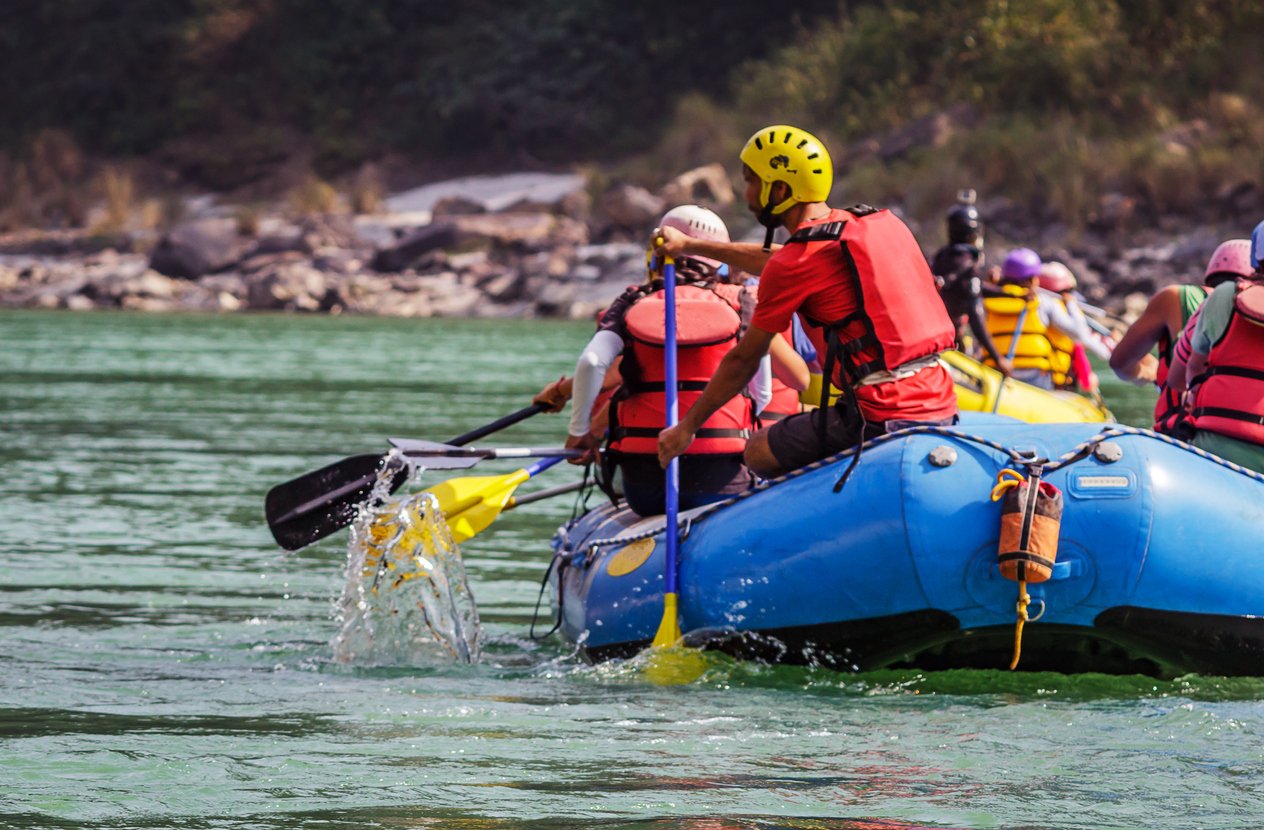 Northern Ireland is more known for its stunning coastline than its rivers, but you can still get yourself down some rapids in the country. Your best bet is heading to the Blackwater…
1. River Blackwater
The Blackwater River is a grade II, but is great for white water rafting because it holds its levels for longer than a lot of other rivers in Northern Ireland. Don't let the low-level grading put you off on this one, either. It's a playground of a river, with lots of little drops and white water fun to be had.
2. The River Bann
The Bann is full of rapids, from small to large, but mostly around the grade II mark. Though the river levels are quite unpredictable during the summer months, there tends to be a more reliable flow in winter. This tends to be a favourite of white water canoeists as well.
Inspired to get on the UK's white water rivers? Check out our adventures in the UK, right here.