La Plagne Ski Holiday Guide
As 'built for purpose' ski resorts go, none come as varied or accessible as La Plagne. The resort is made up of 10 smaller villages, each offering a unique ski holiday experience.
Higher up the mountain you'll find the villages of Plagne Aime 2000 (2100m, confusingly), Belle Plagne (2050m), Plagne Villages (2050m), Plagne Centre (1970m, the main hub of the resort as the name suggests) Plagne Bellecote (1930m), and Plagne 1800 (1800, unsurprisingly). These villages are pretty much above the treeline and offer snow sure skiing throughout the winter season. Further down the mountain are the villages of Montalbert (1350m), Montchavin (1250m), Les Choces (1450m) and Champagne en Vanoise (1250m), which offer perhaps more charm and character than their higher altitude neighbours.
Beginner
Higher villages connect to excellent, wide beginner slopes with great piste grooming
Intermediate
The piste map is made up of mainly blue and red runs, as are the links between the resort and neighbouring Les Arcs
Advanced
Some great off-piste areas and some steep blacks, but advanced skiers will be hungry for more
Snowboarders
Five snow parks across the area, including a super pipe, and some great tree runs, which are loads of fun in powder!
Families
In resort convenience is excellent, lots of good ski schools
High Altitude
1250m – 3250m with the majority of skiing between 1600m and 2400m
Nightlife
10 different villages, but no huge party scen
Pretty Village
The advantages of being purpose built means the resort lacks charm and character
Cheap
Reasonably priced all round when compared to the Three Valleys and Espace Killy resorts
Large Ski Area
225km of pistes in La Plagne, combined with Les Arcs giving 425km of slopes
Close to airport
2 ½ hours from Chambery, 3 ½ hours from Geneva and Grenoble airports
In resort convenience
Everything has been built with the skier In mind. Which means you'll never have to walk very far!
So in summary then
La Plagne ski holidays are great for:
Ski-in, ski-out accommodation
Intermediate skiers, with miles and miles of blue and red runs to cover each day
Good value accommodation options
La Plagne ski holidays are not great for:
A traditional Alpine village feel as most buildings are 1960s in style
Skiing during school holidays, when queues can be enormous
Advanced and expert skiers looking for challenging terrain
Skiing
When La Plagne opened in 1961, there were just two draglifts and four slopes. The area now offers 220km of marked pistes in addition to some great off-piste skiing too. In 2003 the resort of La Plagne was linked via the Vanoise Express to its neighbour Les Arcs, creating the huge Paradiski ski area and 420km of linked skiing. It's worth mentioning that the lift system outside of the Montchavin and Les Coches sectors includes lots of old chairlifts and drag lifts, which can result in long queues during school holiday times and at the end of each day.
Beginners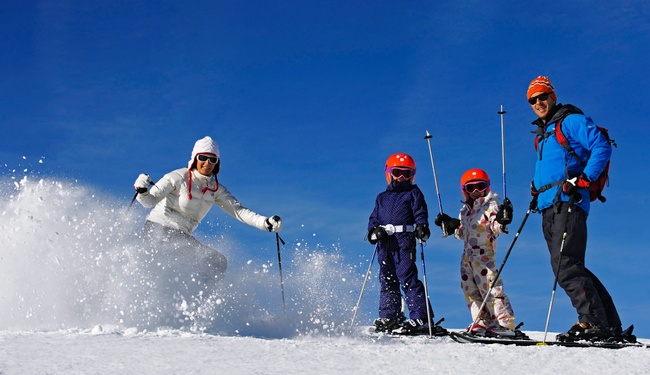 La Plagne is a very popular family ski resort and has some great tree lined beginner slopes. A word of warning though – the beginner areas and the ski schools get packed out during school holidays. If you're thinking of learning to ski as a family in La Plagne, book your ski school early to avoid disappointment!
La Plagne also has 17 free lifts across the area, which is perhaps the largest number of free beginner lifts we've ever come across in one ski area. Free ski lifts mean you can practise your ski skills and introduce young kids to skiing without forking out for a lift pass.
On the piste, beginners in La Plagne will find that many of the blue runs, particularly those in Montchavin and Les Coches are perhaps over-classified and mainly manageable for new skiers. We really like the Arnica run in Plagne Bellecote, which is a fun blue with little jumps and berms to play on.
Intermediates
The main La Plagne bowl is a dream for intermediate or progressing skiers, with long, wide blue pistes which tend to be North facing and so in good condition. Our favourite descent is to Belle Plagne using the run from Roche de Mio. There are also lots of red runs to try and if you're a fan of moguls, you won't be disappointed! Just a word here about the La Plagne piste map. It's not all that accurate unfortunately, and we've encountered quite a few questionable runs, particularly of the blue variety. Good intermediate skiers and snowboarders shouldn't have a problem with then, but our advice to progressing skiers is pick your blue run with caution!
Experts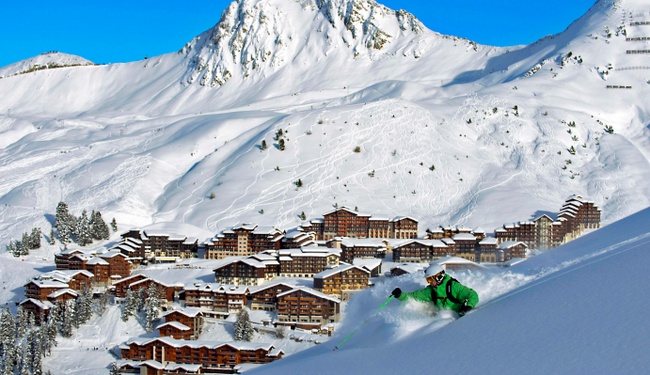 There's plenty of challenging and adventurous skiing in La Plagne, but don't expect to be thrilled by something new and exciting every day of your holiday. The best off-piste area in our opinion is Bellecote's North face, which with fresh powder is a dream descent of nearly 2000m verical. Without fresh snow, the black run between Bellecote and the Chalet chairlift can also be fun if you're a fan of the bumps. And while we're on the subject of moguls, there's a cracking 200m field of them just off the Traversee chairlift.
There's one thing better than a ski resort on a powder day, and that's a ski resort on a powder day that doesn't have an 'extreme' reputation. The off-piste in La Plagne can often stay fresh and untouched for days after a snow fall, which is particularly satisfying for the adventurers out there, even if you do have to book the kids into a crèche for the morning!
Freestyle
There are five freestyle terrain parks in La Plagne, and they more than make up for the large number of (and sometimes wholly unexpected) flats, much detested by snowboarders. The area above Belle-Plagne is to be avoided if you're travelling on one stick! Instead, drop into Belle-Plagne proper and you'll be rewarded with La Plagne's biggest snow park. The '7 Cube' park is 1km long and has 3 different routes for park beginners, intermediates and advanced skiers and snowboarders.
In Plagne Bellecote you'll find a 90m long half-pipe sitting temptingly close to the World Cup super-pipe, which is only open for competitions.
Snow Conditions
La Plagne is pretty high altitude when compared to come of the other ski resorts in the French Alps, and as you'd expect, it has a pretty good snow record. The higher villages of the resort are snow sure throughout the winter season, while the lower villages often need artificial snow making to see them through the spring months.
A snow history of La Plagne is coming soon!
La Plagne Resort Facts
Resort altitude: 1250m – 3250m
Highest lift: 3250m
Lifts/Drags: 109 in La Plagne, 141 in Paradiski
Total km of slopes: 220km in La Plagne, 425km in Paradiski
Paradiski
22 green
257 blue
127 red
29 black
5 snowparks
La Plagne Ski Area
10 green
72 blue
30 red
15 black
3 snowpark
Open: 15th December – 28th April
Cost of lift pass:
Day
Adult: La Plagne = €48.00 / Paradiski = €53.50 Child: La Plagne = €36.00 / Paradiski = €40.50
Week (6 Day)
Adult: La Plagne = €235.00 / Paradiski = €277.00 Child: La Plagne = €176.50 / Paradiski = €208.00
Piste map
Dowload your La Plagne and Paradiski piste map here - http://www.laplagnet.com/item_files/paradiski_piste_map.pdf
Ski Schools
If you're thinking of learning to ski as a family in La Plagne, book your ski school with a company such as Oxygene (oxygene-ski.com) early to avoid disappointment!
Other La Plagne Activities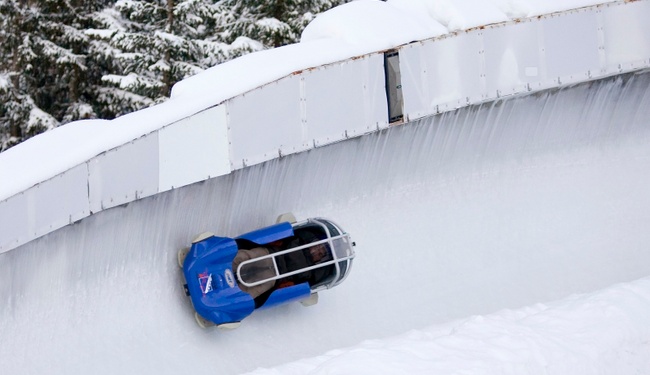 Although La Plagne is staggered, using the free bus service, which between resorts between 8am and midnight, is a really excellent way to explore. Although there aren't any of the historical aspects you might find in other older French ski resorts, La Plagne does offer lots to keep both families and groups entertained, off the piste.
All the regular snow activities that you might find in a ski resort, such as skidooing, showshoeing and husky riding are available in La Plagne. But the resort also prides itself of offering the unusual. Night sledging with local company Takamaka (takamaka.fr) is a great way to explore the local pistes after dark. A sledge, a head torch and a guide are provided!
One unmissable is the La Plagne bobsleigh and luge track, that was built for the 1992 Albertville winter Olympics. The track is 1500m long and has 19 bends and although it's usually used as a training track for sports teams from all over the world, it is now open to the public! There are two self-piloted 'bob-rafts', which seat four people and whizz you down the track at 80km/h, or you can choose a solo ride in a 'Speed-Luge' if you dare! But if you don't have the nerves of a winter sports athlete, it's worth heading down to the bobsleigh track just to spectate!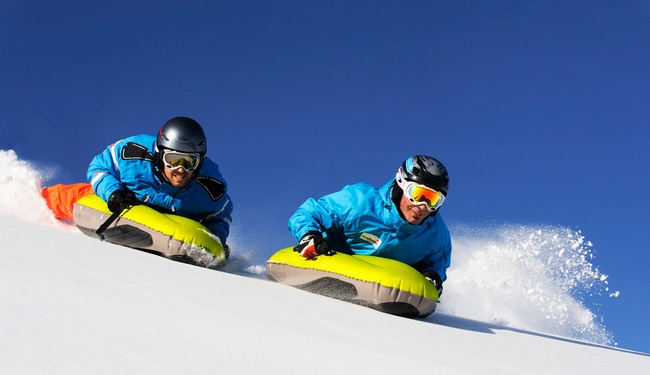 On Thursday and Friday evenings you can also get involved in last track airboarding. Once the ski runs have closed for the day, the local ESF guide you down the homerun on an airboard, which is basically like a snow bodyboard. Take our word for it... it's fun and exhilarating, and pretty scary at times, and you should totally try it.
Another worthwhile resort feature is the Ice Tower. It's open every afternoon during the winter season and everyone can have a go at trying to ice climb, with or without ice axes.
Pamper Yourself
If you're after some pampering and relaxation after a steep day on the La Plagne slopes, there are a few spa options within the resort. Probably the largest and most varied is the Spa Bellecote (spa-bellecote.fr), which has a sauna and hammam and offers a range of beauty treatments including manicures, pedicures and waxing as well as massage, lymphatic drainage and endermology. It's an all singing, all dancing spa basically, and if you book one of their treatment packages you're likely to leave feeling (and looking...) life a different person.
Childcare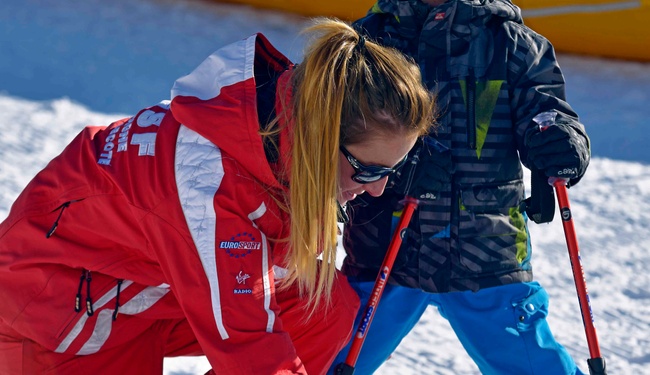 Many of the childcare options in La Plagne are including within package holidays from tour operators. There are a couple of independent childcare companies though, if you're planning your own thing. Zealous Care (zealous.eu) offer holiday nannies with lots of experience and they have flexible childcare packages available to suit your holiday plans. The nannies work across the resort so it doesn't matter where your accommodation is situated. Alpine Child Care (alpine-child-care.co.uk) are another larger company who offer childcare services across the Alps.
Eating Out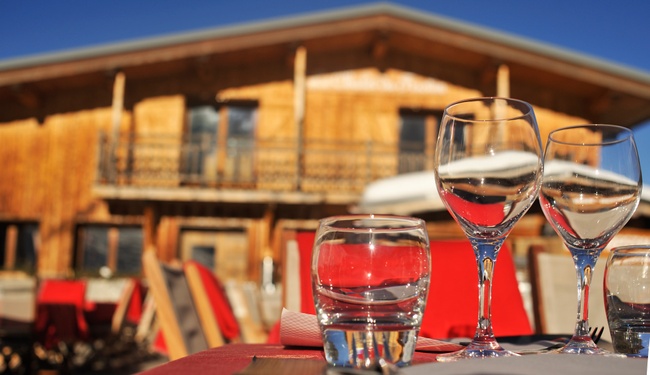 The different villages of La Plagne all offer a good selection of restaurants, mostly of the Savoyarde and pizzeria variety, and typically you'll find something for all budgets.
In Plagne-Villages, we like the steaks at the Casa de l'Ours, which has a great reputation locally and has a nice cosy ambience. It does get busy in peak season though, so we'd recommend booking a table in advance to avoid disappointment.
Plagne 1800 offers something slightly different to the traditional Savoyarde faire. The Loup Blanc includes Asian inspired ingredients and dishes on his menu, which makes for a real treat indeed. All the cheesy dishes you enjoy on holiday are there too!
Scotty's Bar in Plagne Centre is right at the bottom of the Stade Olympic piste and serves good value dishes such as nachos, wedges, burgers and pizzas until 8pm each evening. Which is conveniently timed as the bar then turns into one of the best party venues in La Plagne. More on that below!
In Aime La Plagne, a really nice restaurant is L'Arlequin. It's slightly more up market than the surrounding pizzerias, but the menu is certainly memorable, even though it changes every year!
Drinking and Dancing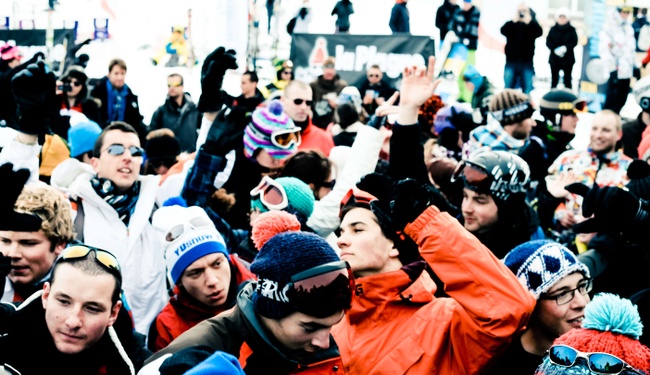 There's an apres scene of varying degrees in each part of La Plagne, but without a doubt Belle Plagne is the liveliest sector of the resort. The Spitting Feathers bar is where holidaymakers stomp around in ski boots during apres parties, usually to the sounds of an immense rock band, whilst drinking strong larger and shots. They do theme nights too, which are a right laugh if you're in a large group, and they also show live sport too. You simply must do apres at 'the Feathers' at least once during your La Plagne ski holiday. And now you've got no excuse, as they've started a free minibus service to pick you up and take you home.
Meanwhile, over in Plagne Centre, Scotty's Bar always has some great happy hour drinks offers and the crowd is usually young and large. Also in Plagne Centre, The Mouth also gets pretty lively, even though it's not your typical apres party on snow... the bar is pretty much underground!
Travel
Getting to and from La Plagne
Chambery is the closest airport to La Plagne, and it's served by quite a few UK airlines including BA and Jet2. It's a 2 hour journey from Chambery airport to La Plagne, and most people book an airport transfer with one of many local companies. Cool Bus Airport Transfers (thecoolbus.co.uk) offer both shared and private transfers to all La Plagne resorts from around €60 per person. Also within sensible travelling distance of La Plagne are the airports of Geneva (3 hours) and Grenoble (2 1/2 hours).
Getting Around La Plagne You won't have too much trouble getting around La Plagne on foot, which is another advantage of staying in a purpose built resort! Exploring the other villages of the resort is also relatively simple using the free local shuttle bus, which is timely and well organised in our experience. Of course it's also nice to ski to the other villages both above and below you using the lift system.
Green La Plagne
The resort is working towards its ISO14001 accreditation for environmental certification, demonstrating the area's management and awareness of it's natural resources.

Only 100% sustainable energy sources are used to power the lift system across the entire Paradiski lift network. It's a bold claim but it happens to be true!

Six of the 10 villages that make up La Plagne are car free.

Last year more than 30% of all used ski passes were recycled following the placement of collection points around the resort.

Pocket ashtrays are distributed to all skiers and snowboarders across the Paradiski.