La Tania Ski Holiday Guide
Nestled within a pine forest at 1400m, between the super-sized ski resorts of Meribel and Courchevel, La Tania offers a different kind of ski holiday experience. You'll find more reasonably priced accommodation, fantastic family facilities and efficient links into the wider Three Valleys ski area.
La Tania, previously known as 'the bear's dwelling', came to life in the late 1980's when nearby Alberville was selected to host the 1992 winter Olympic games. The resort opened in December 1990 to accommodate the many journalists reporting on the games, with a direct lift link to the top of the Col de la Loze, at the heart of the Three Valleys. La Tania has a reputation as a quiet, well located ski resort offering good value for money and a family friendly ski holiday atmosphere.
Beginner There's a well located beginner slope in centre of the village, which has a free drag lift. Excellent ski schools too
Intermediate The neighboring resorts of Meribel and Courchevel are an intermediate skier or snowboarders idea of paradise
Advanced The local pistes of La Tania may be tree-lined and sedate, but the rest of the Three Valleys offers up many challenges indeed
Snowboarders There's a nice rail park in Courchevel and the surrounding tress are great fun on a powder day
Families Everything from the layout of the resort, the beginners area and pistes, and the resort facilities make La Tania a great family resort
High Altitude 1350m at resort level with skiing up to 3230m
Nightlife Only a few restaurants and bars, but what is available can be lots of fun
Pretty Village La Tania is more attractive than many purpose built resorts
Cheap The lowest prices in the Three Valleys by far
Large Ski Area The wider Three Valleys is the largest connected ski area in the world with 600km of linked piste
Close to Airport Chambery airport is 2 1/2 hours by road, Geneva and Lyon are 3 1/4 hours
In Resort Convenience Lots of ski in, ski out options and an easy resort to navigate on foot
In short then:
La Tania ski holidays are great for:
Family ski holidays with young beginner skiers
Skiing in low visability through tree-lined runs
A quieter, cheaper alternative to the larger Three Valleys ski resorts
Links into the enormous Three Valleys ski area
La Tania ski holidays are not great for:
Wild nightlife
Holiday makers who like to dine in a range of restaurants
Authenticity - the resort is purpose built, all be it tastefully so!
La Tania Skiing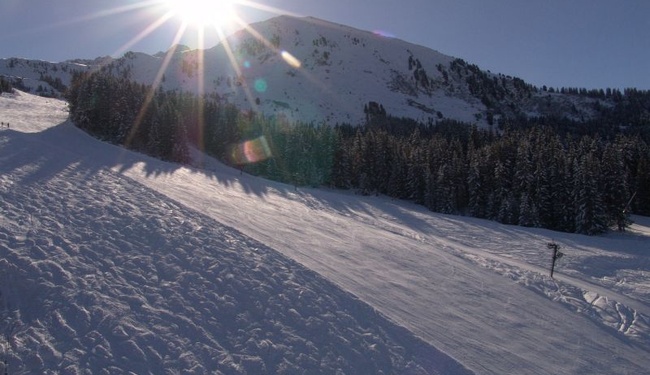 La Tania itself has a varied ski terrain, with three routes back into the resort. La Plan Fontaine is an easy green piste, popular with beginners. Les Foyeres is a tree lined run which ends at La Tania's most popular apres bar, Le Ski Lodge (more on that later!). Moretta Blanche is a red option which leads to many of the ski in, ski out chalets above the resort. All are North facing, and the blue and green options have snow canon coverage to ensure beginner skiers can always ski back to the resort.
The immediate ski area in La Tania takes in the Courchevel valley, covering 150km of piste within the local area lift pass. The majority of skiers in La Tania choose the full area, Three Valleys lift pass, giving them access to 600km of linked ski pistes.
From La Tania, a 12 person gondola lift ascends to the Col de la Loze, just above Courchevel 1850 and links the resort to the wider ski network. At the top you'll find Courchevel to the left and the Meribel valley, leading to Les Menuires and Val Thorens to the right. Both options have a selection of wide blues and more challenging red runs on offer.
Beginners Beginner skiers and snowboarders are very well catered for in La Tania. There's a beginners slope in the centre of the resort, with nearby cafes and bars from which keen parents watch over their children's ski lessons. The beginner's area also has a free drag lift, which means absolute newbies don't need to shell out for a lift pass until they've found their ski legs.
There are also a number of progression slopes immediately above the resort and over into the Courchevel sector. Most of them are tree-lined, which makes learning to see in adverse weather conditions, far easier! Beginners will also find the runs back into the resort at the end of each day very satisfying without being too challenging.
Intermediates
The Three Valleys is the ultimate intermediate ski area, and it's possible to cover ever resort in the area using only blue runs. For this reason, the main resorts do get exceptionally busy during the school holiday periods.
Some of the best intermediate skiing on the local area La Tania / Courchevel piste map can be found over towards Courchevel Moriond. When the snow is in good condition, the red runs from the top of Chapaletes can be very rewarding, as can the super long Ariondaz blue run from the top of the Signal chairlift into Moriond. These runs don't get too clogged up during the holiday weeks and you're never too far from home, should the weather turn.
Experts
There are a great selection of black pistes, mogul runs and off-piste areas to choose from in the Three Valleys and let's face it, if you're an expert skier in La Tania, you'll have the full area pass. The Jockeys run into Le Praz is one of our favourites, as it never fails to get those thighs burning first thing in the morning. If snow conditions allow, and you're lucky enough to have some freshies during your holiday, the Dou des Lanches area can stay untouched for days. Mont Vallon and the Col du Fruit also present some nice, tricky lines too.
Freestyle
La Tania doesn't have any snow parks or freeride areas for trick-tastic skiers and snowboarders. Over in neighboring Courchevel however, there's a rail park under the Plantrey chairlift, which is well maintained and lots of fun. In the other direction, Meribel has a couple of huge snow parks including the Meribel Moonpark and Area 43.
Snow Conditions
La Tania sits at a respectable altitude and is generally snow sure until the end of the ski season. It may be one of the smallest resorts in the Three Valleys but this doesn't mean that it hasn't benefited from the huge spend on the snow making infrastructure in recent years. Many of the pistes in La Tania, and the links into the larger resorts are covered by snow canons.
A snow history of La Tania is coming soon!
La Tania Resort Facts
Resort altitude: 1350m
Highest lift: 2738m (Saulire). Skiing to 3230m in Three Valleys.
Lifts/Drags: 7 in La Tania / 67 in whole area
Total km of slopes: 150km in the La Tania / Courchevel Valley area, 600km across the Three Valleys area
La Tania / Courchevel Valley
15 green
34 blue
35 red
9 black
1 snowpark
Three Valleys
66 green
207 blue
175 red
49 black
5 snowparks
Open: 8th December to 26th April
Cost of lift pass:
Day
Adult: La Tania / Courchevel = €48.00 / Three Valleys = €57.00 Child: La Tania / Courchevel = €38.40 / Three Valleys = €45.60
Week (6 Days)
Adult: La Tania / Courchevel = €234.00 / Three Valleys = €277.00 Child: La Tania / Courchevel = €187.20 / Three Valleys = €221.60
Piste map
You'll find the piste map for the La Tania and Courchevel ski area here - http://www.latania.co.uk/photos/2013/info/PisteMaps2013/CourchevelValley2103.pdf
Amenities
La Tania may be a small ski resort, but it's well served with everything you need for your ski holiday. The majority of La Tania's self catered accommodation is in the very centre of the resort, within close proximity to the local supermarket. There's also a cinema in the resort, which shows English speaking movies, which are perfect family entertainment on bad weather days!
Pamper Yourself
There isn't currently a spa in La Tania, but there are several in nearby Courchevel, which can be easily accessed using the local free bus service. There is a small gym in the resort, along with a splash pool and sauna within the Hotel Montana which is open to the public.
Three Valleys based mobile massage company Massage Me (massage-me.co.uk) offer sports massages and luxury treatments such as hot stone messages in the comfort of your own holiday accommodation.
Other La Tania Activities
The apres ski activities for families with young children are plentiful in La Tania, making it a great family ski holiday choice. Husky sledding is a great way to entertain the kids after a tiring day on the mountain. It's also a great way to explore the local area too. Snoescape (snoescape.com) offer husky rides in La Tania and over in Courchevel too.
Paragliding is also very popular in La Tania and there are two paragliding schools offering tandem flights during the winter season. Craig's Paragliding (paraglide-alps.com) provide qualified English instructors and pilots - you'll be soaring over those Alps in no time.
Childcare
SnowBugs nannies (snowbugs.co.uk) provide fully qualified childcare services across the Three Valleys, including in La Tania, where their services are pretty popular! SnowBugs nannies offer age appropriate activities for kids to enjoy, which in turn offers guilt free days on the piste for parents!
The ESF in La Tania (ski-school-la-tania.co.uk) also offer a Piou Piou club for smaller children who are desperate to strap skis to their little feet. Kids are introduced to skiing in a small, dedicated zone with lots of ski instructors and two magic carpets.
Eating out
At the last count, there were eight restaurants and six bars in La Tania. That's relatively few when you compare the resort to somewhere like Meribel, which has many more restaurants to choose from. What we can assure you is that you'll still find a great variety of dining options, and something to suit all budgets. We'd just recommend booking a table in advance, especially during the school holiday weeks.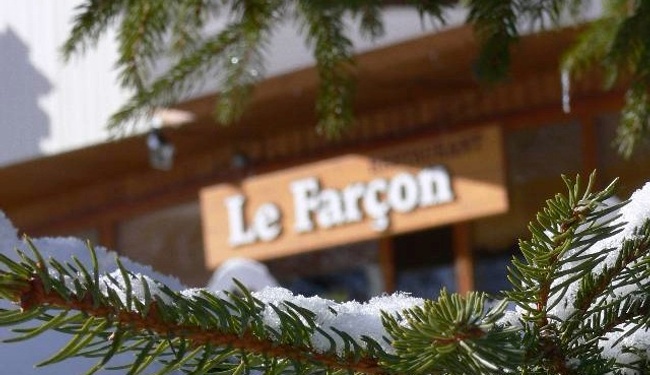 Fine Dining
If there are eight restaurants in one ski resort, you wouldn't usually expect one of them to hold a Michelin star would you? Le Farcon (lefarcon.fr), which translates to 'stuffing', has held it's coveted Michelin star since 2006, and a great way to dine is to choose their five course tasting menu for €80 per person. Chef Julien Machet produces innovative, modern cuisine using lots of local ingredients. Expect to eat stuffed rabbit with Beaufort cheese, or oysters served with almond sauce.
Local Food
Restaurant La Ferme de La Tania is a beautiful, traditional Savoyarde restaurant with a menu to match. You'll find the restaurant at the bottom of the Folyeres blue run back into the resort, which also makes it a perfect lunch stop on sunny spring afternoons when you want to avoid the hoards, queues and expense of dining above the resort in Courchevel. The restaurant's local specialities include fondue and raclette, and meat dishes start from €15. There's also a large range of delicious local wines and La Ferme is open between 10am and midnight throughout the winter season.
Pizzas, Pasta and Grills
Restaurant Les Chanterelles is famous for its 'cripites' - very thin pizzas, which are the chef's speciality here. The menu also includes omlettes, pasta dishes and grilled meats, and there's a lovely sunny terrace from which you can watch the world of La Tania go by. Les Chanterelles is probably one of the best value restaurants in La Tania.
Drinking and Dancing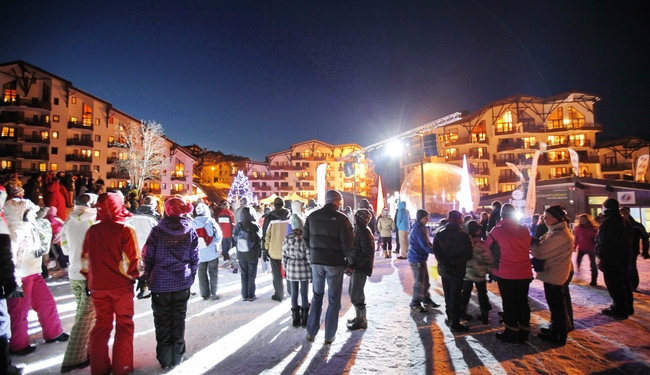 La Tania isn't famed for its wild apres scene or bouncing after hours parties. Le Ski Lodge bar at the bottom of the Folyeres blue piste is the main watering hole of choice for many, especially when its terrace is bathed in sunshine. Happy hours drinks are served between 4pm and 6pm to the accompaniment of live bands and theme parties. The bar is also open until 2am, providing a late night boozing option too. Le Ski Lodge also show a load of live sport and their menu includes burgers, ribs, curry, chilli and sandwiches.
The Taiga Bar is another option, the difference being its modern cocktail bar and a slightly more sophisticated apres drinking vibe. Taiga is directly opposite the beginners ski area in the centre of La Tania, and it's also open for lunch and dinner where fish, meat and salad dishes are served starting from €16.50.
If that all sounds a bit too tame for your ski holiday, there's also a nightly opportunity to jump on the local free ski bus to Meribel, which runs until midnight. Dicks Tea Bar beckons, hours of drinking ensure, and an expensive taxi ride back to La Tania at the end of the night is likely to set you back a few bob.
Travel
Getting to and from La Tania
La Tania is 25 minutes by road from the town of Moutiers, which sits at the bottom of the valley. Moutiers has a very handy TGV stain station, which means you can take the snow train from London. There's a regular shuttle bus which runs throughout the day between Moutiers and La Tania, or you'll usually find a queue of taxis just outside the train station.
The resort is 2 hours 15 minutes from Chambery airport, a journey best completed using one of the local airport transfer companies. The average price for a shared return transfer between Chambery and La Tania is €71 per person using a company such as Snowbound Transfers (snowboundtransfers.co.uk). Grenoble and Lyon airports, both around 3 hours 15 minutes from La Tania are also options too.
If you decide to drive to La Tania, it is possible to access the resort in your car, but remember, the resort centre is pedestrianised. Free open air car parking is available, while a covered car parking space costs €45 per week.
Getting Around La Tania
La Tania is so small, and much of the accommodation is ski in, ski out. This means you'll rarely have problems getting around the resort, either on foot or on skis. If you'd like to explore further afield, there's also a free ski bus which links La Tania to Courchevel, 1 mile away, and Meribel, 4 miles in the opposite direction. The buses run until midnight.
Green La Tania
The whole resort is supplied with electric powder from a nearby hydro-electric powder station, reducing the usage of fossil fuels

All resort buildings are modern in design and therefore feature efficient insulation

Recycling points can be found across the resort for plastic, glass and paper