Meribel Ski Holiday Guide
Meribel is one of the most popular ski resorts in the Alps, if not the world. It sits in the centre of the enormous Three Valleys ski area and is a great base for families of skiers and snowboarders of all abilities. But this isn't the feature that makes Meribel such a popular ski holiday destination amongst Brits. Once you've experienced the legend that is Meribel après ski, most other ski resorts will seem very tame by comparison.
Meribel as a ski resort was founded by Peter Lindsay, a British Colonel, back in 1938. Perhaps because of this, the resort is exceptionally popular with British ex-pats and season workers, which means you'll rarely struggle to communicate.
Beginner
Lots of excellent ski schools and some ski-in, ski-out accommodation options suitable for beginners
Intermediate
Links into the neighbouring resorts of Courchevel and Val Thorens are great for progressing skiers
Advanced
Some high and challenging peaks can be accessed from the lift system
Snowboarders
The Moonpark on Tougnete covers 25 acres and is very popular with snowboarders. There's a P'tit Moonpark for mini shredders too!
Families
Various family friendly accommodation options and lots of nanny service options too. Families with young children may find the neighbouring resort of La Tania better equipped
High Altitude
1450m - 2952m. An excellent snow record usually keeps the whole area open all season long
Nightlife
Some of the best parties, venues and après ski you'll find in the Alps
Pretty Village
Many pretty purpose built chalets mix with traditional architecture around one main street
Cheap
Expensive when compared to other French ski resorts, but not as expensive as neighbouring Courchevel
Large Ski Area
600km of linked pistes connect the resorts of Meribel, Courchevel, La Tania, Les Menuires, St Martin de Belleville and Val Thorens.
Close to airport
2.30hrs from Chambery, 3.30 hrs from Geneva and Grenoble
In resort convenience
Free, regular and well-organised ski bus running into the evening.
So in summary,
Meribel ski holidays are great for:
In the middle of the world's largest ski area
Wide range of accommodation options
Fantastic night life if you want it
Meribel ski holidays are not great for:
Nervous skiers - easier slopes can get very busy
Village slopes affected by sun in spring
Skiing in Meribel
The Three Valleys is regularly referred to as the largest linked ski area in the world and Meribel lies at the heart of this huge ski area. There's been a lot of investment in the ski infrastructure in recent years, which has improved the size and speed of many key ski lifts.
The central lift station in Meribel is called Le Chaudanne. From here you can hop on one of three lifts towards the neighbouring resorts of Les Menuires and St Martin de Belleville. In the other direction, the Rhodos bubble heads towards the beginner areas of the Altiport, while the super quick, two part Saulire Express arrives at the peak of Saulire at 2738m, from which the descent into Courchevel is a great way to warm up those morning legs.
Beginners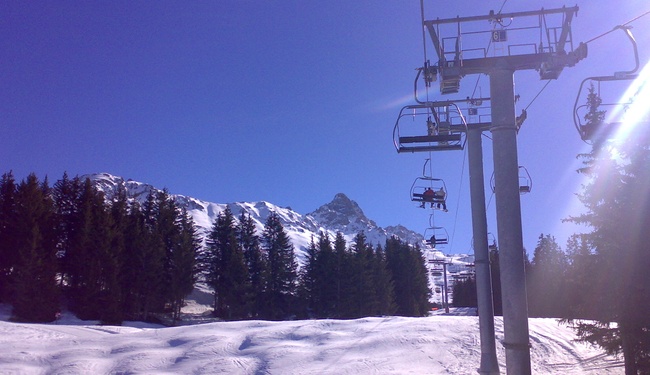 Meribel is a popular resort for beginner skiers, particularly adult beginners who tend to call it a day at 2pm and head to the Ronnie for pre après drinks (more on the Ronnie later). The Altiport is a large, wide, south facing, tree-lined beginner skier area at the top of the Rhodos bubble lift. The descent back into Meribel is via a couple of very manageable blue runs. You'll find there are lots of very good ski schools in Meribel for both children and adult groups, and it's always worth booking your lessons in advance to guarantee availability.
Intermediates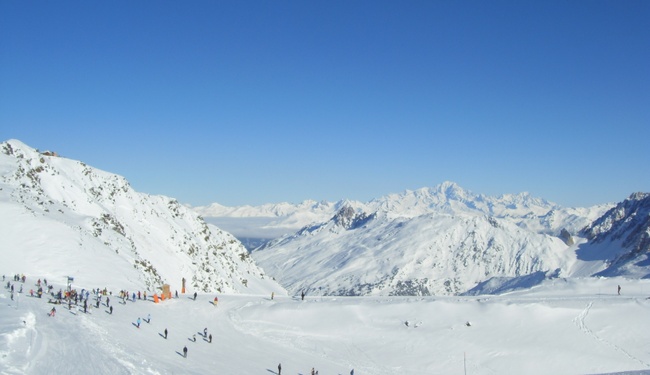 On first appearance, the Meribel piste map may appear to be littered with lots of red runs and very few blue. From our own experience, these run classifications aren't very accurate! Many of the red runs will be more than manageable for progressing and intermediate skiers and snowboarders, particularly the ones coming down from the top of Tougnete. If you're accommodation happens to be in the village of Les Allues, the 'villages' piste from the top of Cherferie is a fantastic way to end the day.
Experts
While it would be irresponsible of us to recommend the oodles and oodles of backcountry skiing on offer across the Three Valleys ski area, we'd be doing you a disservice if we didn't make you aware of its existence! There are loads of expert, well experienced local ski guides in Meribel, so if you're after skiing that's a bit more thrilling, ask the local Office de Tourisme for a list of their recommended off-piste ski guides.
Sticking to the piste, you'll find the most challenging runs are from the top of the Roc de Fer. 'Le Face' may be the name of the piste, but it's also a pretty strong clue as to its gradient too. On the Saulire side, the 'grande rosiere' black run cuts off from a fairly steep red run and descends into the centre of Mottaret village.
If you're feeling bold and brave at the end of a great day riding around Meribel, the legendary 'stade' run is a must-do. The setting for many a slalom and downhill competition, the Stade is a black run, usually streaked with moguls, that descends right into the centre of the Chaudanne. You'll deserve a vin chaud or five after that.
Freestyle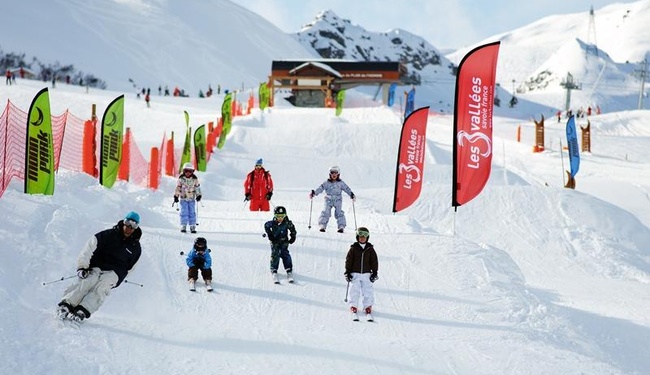 There are essentially two freestyle ski and snowboard parks in Meribel and both are very popular, especially with the local seasonaire community who like to hang out in the 'chill and grill' BBQ zone.
The Meribel Moon Park, half way down the Tougnete, is accessed using the Arpasson lift. There you'll find 25 acres of kickers, tables, rails and boxes of varying degrees of difficulty. Regardless of your abilities, your run through the Moonpark can be filmed and you can watch your performance on a big screen at the bottom. The Moon Park runs into Moon Ride, a very fun tree-lined run back into the resort.
Higher up the valley you'll also find Area 43, a DC sponsored snow park under the new Plattieres gondola lift. The longest run in Area 43 is 1200m and includes loads of fun features, 200m of rails, a half-pipe, a brilliant boardercross and an airbag for those who can't quite land the big kickers yet.
Snow Conditions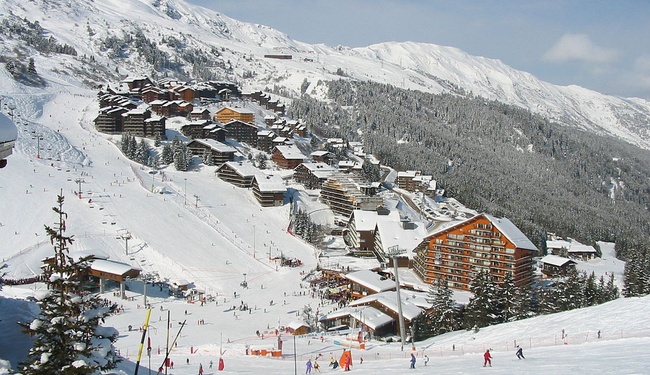 Meribel doesn't have the best snow record in the Three Valleys, but the snow it does get usually lasts all season long. 80% of the Meribel ski area is above 1800m and there are over 700 snow canons in the area. On the flip side of the coin, many of Meribel's ski slopes are west or east facing, which means they're exposed to the sun in the afternoon. This can be a recipe for slushy times during springtime. During the rest of the season the resort is pretty snow sure.
A snow history of Meribel is coming soon!
Just the Facts
Resort altitude: 1450m
Highest lift: 2952m (Mont du Vallon)
Lifts/Drags: 57 in Meribel, 198 in Three Valleys area
Total km of slopes: 150km in Meribel, 600km in Three Valleys area
The Three Valleys
66 green
207 blue
175 red
49 black
5 snowparks
Meribel Ski Area
10 green
34 blue
24 red
9 black
3 snowparks
Open: 8th December to 26th April
Cost of lift pass:
Day
Adult: Meribel = €47.50 / Three Valleys = €57.00 Child: Meribel = €38.00 / Three Valleys = €42.40
Week (6 Days)
Adult: Meribel = €227.00 / Three Valleys = €277.00 Child: Meribel = €181.60 / Portes du Soleil = €221.60
Piste map
Meribel and the Three Valleys Piste Map is downloadable here - http://ski-area.meribel.net/fileadmin/RM/Plan_des_pistes/plan_meribel.pdf
Ski Schools
You'll find there are lots of very good ski schools in Meribel for both children and adult groups, and it's always worth booking your lessons in advance to guarantee availability.
Parallel Lines (parallel-lines.com) ski school is one of the most popular ski schools in the valley, offering both adult and children's lessons throughout the winter season.
The British Alpine Ski School - BASS (britishskischool.com/meribel) are another very popular choice for ski lessons in Meribel. Their fully qualified, English speaking instructors offer both morning and afternoon group ski lessons for all ages, and private tuition.
Amenities
Shopping is quite a big deal in Meribel, and range of shops on offer in the centre of the village is truly representative of the holidaymakers who ski in the resort. You'll find labels like Prada and Dolce & Gabbana if your style is less piste, more pose. For the mountain hardy, there's plenty of North Face and Patagonia to go round, and if you've taken a fancy to the snow park, you'll find Volcom, Quicksilver and Ripcurl. Traditional wooden souvenirs and local produce can be found at the tice weekly market in the centre of the resort.
The Olympic Centre, built for the 1992 winter Olympics, is home to the resort's ice hockey team and the ice rink is open to the public during the week. The centre also has a bowling alley, a gym, a climbing wall and a large public swimming pool with spa facilities.
Pamper Yourself
Now, unless you're a very regular skier, or you have the fitness levels of an Olympian, all of those downhill runs are bound to take their toll on your limbs. Apres-ski massages and pampering have grown in popularity over the last few years, and no where more so than in Meribel. The resort has no fewer than nine spas or treatment centres, all of which are open throughout the winter season. Take a look at the Deep Nature Spa at Les Fermes de Meribel (deepnature.fr/index.php/en/our-spas/mountainuk/item/meribel-les-fermes-de-meribel) which offers body treatments, facials and massages. Or, for a massage in the comfort of your own accommodation, contact Ski Physique (skiphysique.com)
Other Meribel Activities
The resort of Meribel offers far more than just skiing and snowboarding to its winter visitors. Husky sledging is very popular and provides an excellent opportunity to check out the local scenery, as does an activity such as snowshoeing. Meribel also has a very popular flying school, with a runway based on the Altiport. The Aero Club Meribel offer flying tours of the surrounding area, but the budget conscious will also enjoy watching the specially adapted small planes landing on the runway, just next to the piste.
Childcare
Meribel is a popular ski resort for families, especially those with young children. Many of the large hotels offer on-site crèches and age appropriate childcare, and some even have their own ski schools too.
If your choice of Meribel chalet doesn't come with a childcare option, there are a number of local crèches and nanny companies designed specifically for English children of all ages. Snow Angel Nannies (snowangelnannies.co.uk) for example, offer private nannies for individual or group bookings for children aged 3 months and over.
The ESF in Meribel (esf-meribel.com) also run their own day nursery called Les Saturnins, where activities include sledging, reading, singing and crafts. You can book spaces for your children for either half days or full days, with or without lunch.
The British Alpine Ski School (or BASS - britishskischool.com/meribel) are a very popular choice for children's ski lessons in Meribel. Their fully qualified, English speaking instructors offer both morning and afternoon ski lessons for children aged 4 and above in group lessons.
Eating Out
If you're considering Meribel as the desination for your next ski holiday, it's very likely that you've already heard about its legendary après scene. We'll come to that in a moment! What you might not have considered is the resort's reputation for outstanding culinary treats.
Because Meribel has its fair share of season workers to feed, in addition to the uber-rich, you'll find a fairly varied range of dining options across the resort.
Fine Dining
At the top end of the dining scale, many of the smart hotels in the centre of Meribel have very smart restaurants to accompany them. The Savoy Hotel for example, has a beautiful fine dining restaurant where main courses start at €40.
Local Food
A popular mid-range restaurant is Aux Petits Oignons, which has a reparation for tasty food and a nice relaxed atmosphere. Here a main course will set you back a more reasonable €18.
Pizzas, Pasta and Grills
Jacks Bar is a favoured haunt of young folk, where the menu includes pizzas, nachos and wraps priced around the €11 mark.
Drinking and Dancing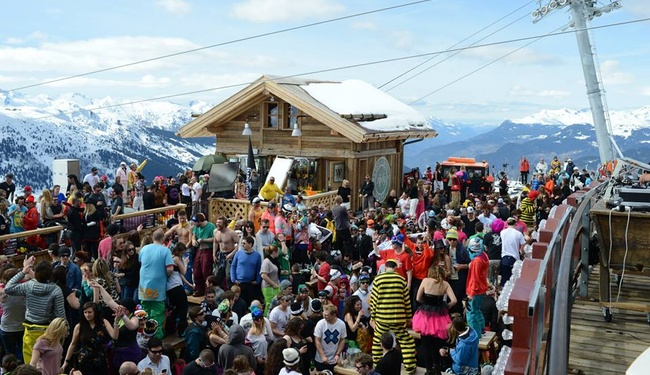 Anyone who's experienced après drinks in Meribel will have one word for you. The Ronnie. OK, that's two words but you won't care when you're chugging back the cheapest booze you'll drink all holiday, on a sunny terrace, with the prospect of an alcohol fuelled ski or snowboard home to look forward to. The Rond Point, to give the bar it's formal title, is at the heart of the après scene in Meribel and it's an official ski holiday right of passage to dance to Meribel rockers The Cheerleaders on their tables in your ski boots. Though don't tell them we told you that… Happy hour kicks off at 4pm.
And now there's a new après venue bidding for the title 'craziest après party in Meribel'. If you've been to Val d'Isere, you'll be aware of La Folie Douce. Now Meribel has its very own terrace shaking, piste side party venue at the mid-station of the Saulire lift. They call this 'high altitude clubbing' and 'ibiza on snow' and it's sure to be one of the most memorable après sessions of your holiday.
Another really great, if a bit more sedate (by comparison…) après venue include Jacks Bar, a fun and friendly bar in the centre of the resort, which gets pretty packed and has a great atmosphere each evening. Another local favourite is Barometer, where the crowd is young and the Mutzig flows plentifully.
If live music is more your thing, then we recommend La Taverne, right on the main village square. The bar hosts some of the most established and up and coming live bands and their food menu is pretty special too!
Of course, like we said, the scene is continually changing, so check out our blog for the latest local word on where good nights out are to be found.
Travel
Getting to and from Meribel
Meribel is 2 ½ hours by road from Champery Airport, which is serviced by many UK flight operators including BA and Jet2. The resort is 3 ½ hours from Geneva Airport, where flights to and from the UK are more frequent. Most holidaymakers in Meribel book an airport transfer to complete the journey (and its famous 21 hairpin road). A return airport transfer between Champery and Meribel is likely to cost you around €70.
Both Champery and Geneva airports have a wide range of car hire companies. We can book your Meribel car hire for you with a discount if you book your Meribel ski holiday through out website.
Getting to and from Meribel by train is also an option. The super quick TGV arrives in Moutiers, which is just a short journey from Meribel. You can then complete the journey using the local bus, or using a local taxi service.
Getting Around Meribel
Many people often consider driving to Meribel. As tempting as that may sound, we'd strongly recommend that you don't travel to Meribel by car. Ski resorts don't often have a huge amount of covered parking space, and this can be a real hassle when it comes to parking up and unloading at the end of a long drive. Meribel has an excellent free bus service, which runs until midnight. You don't need your car once you arrive!
Green Meribel
The resort of Meribel is working towards its ISO14001 certification, which will acknowledge its environmental management commitments and plans.

Meribel operates a manditory recycling scheme and there are both glass and plastic recycling bins at almost every turn.

The resort's architectural policy means that only buildings of stone, wood and slate can be constructed and the maximum built height is 30 metres for individual chalets and 19 metres for apartment buildings and hotels.

Snow-making facilities are fed from the Ariondaz Dam, which is located on a hilltop position and has minimal topographic impact on the countryside.