Tignes Ski Holidays Guide
Tignes is one of those 'love it or hate it' ski resorts, but at the end of the day, skiers and snowboarders go on holiday to Tignes for the terrain. Let us get its appearance out of the way first. The original mountain village of Tignes was submerged in 1952 when the hydro-electric Tignes Dam was built. The Tignes that we see today was largely constructed in the 1960s, and this is still obvious throughout. Investment has been made in improvements to the architecture and appearance of the resort in recent years, and this has made things marginally better.
Beginner
A couple of good beginner areas and lots of ski schools to accommodation little learners.
Intermediate
More terrain that you can probably cover in a week's holiday.
Advanced
More off-piste action than you can shake a stick at, and the snow stays in great shape too.
Snowboarders
Tignes plays host to the European Winter X Games. Say no more...
Families
Lots of resort facilities for families and excellent convenience too.
High Altitude
1550m to 3455m of snow sure skiing.
Nightlife
Can be excellent, but you need to go hunting for it.
Pretty Village
It's ugly. But it's improving.
Cheap
About mid range for prices as far as ski resorts go.
Large Ski Area
A large ski area if you have the full area Espace Killy pass. Relatively small if you don't.
Close to airport
2 1/2 hours from Chambery, 4 hours from Geneva and Grenoble.
In resort convenience
Piste access is excellent, as is 24 hour free shuttle bus
So in sum,
Tignes ski holidays are great for:
High altitude, snow sure skiing and snowboarding
In resort convenience and access to ski lifts from all sectors
A large community of snowboarders who live there all year round
Tignes ski holidays are not great for:
Aesthetics. There's no denying, Tignes is an ugly resort.
Luxury accommodation options
Bad weather skiing as there's no a tree in sight!
Skiing in Tignes
As you may have gathered by now, skiers and snowboarders come to Tignes for the terrain, not the accommodation. And that's fair enough when you consider that the resort is widely regarded as the best Alpine resort for snow in Europe, and until recent years offered year-round skiing on it's glacier. The ski area in Tignes is split into four naturally occurring and quite distinct sections - La Trande Motte Massif, La Palet, Le Toviere and Les Brevieres. Usually you'll find that fast lifts connect the four different sub-areas, but there are still some slow, old lifts that missed the last round of upgrades.
Beginners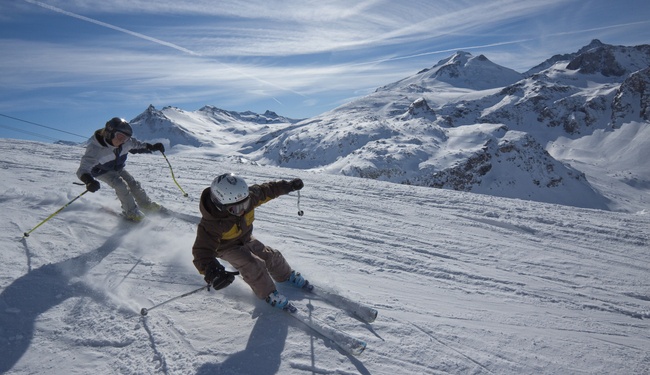 Beginner skiers will find the best learning terrain in Tignes Le Lac and Le Lavachet, where the green runs are often quiet and easily accessed from most of the accommodation. Here the lifts (1 drag and one slow chair) are easy to use and there's hardly any through traffic from further up the piste. The same cannot be said for the beginners area in Val Claret however, which is probably steep enough to put a nervous beginner off for life!
The best green slopes for progression are found towards the Val d'Isere sector, from where beginners can descend back into Tignes on either a blue run or in a cable car.
The only thing really going against Tignes as a beginners resort is the lift pass price. In many ski resorts, beginner skiers are able to access either free lifts, or buy a reduced price pass for just the beginners areas. In Tignes, there's no such thing as a 'beginners lift pass' unfortunately. It's also worth mentioning that because of it's altitude, the wind can be a bit nippy, so first timers will need extra layers!
Intermediates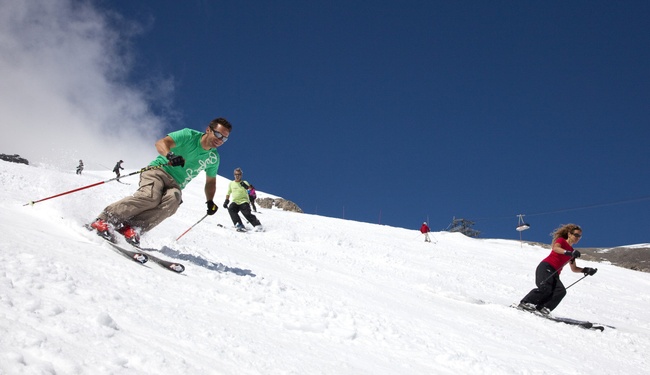 There are so many wide and crusy red and blue runs in the Espace Killy piste map, you'd be hard pushed to cover them all in a week. Yes, that does sound like a challenge! One of our favourite runs is from the top of the Grande Motte underground funicular (which ascents 3000m in seven minutes, for your info) on a selection of blue, red and black runs. There are enough to keep you busy all day long.
Intermediate skiers are also likely to enjoy some of the less intensive 'naturide' areas, which are like off-piste, but with piste markers and patrollers. Because there is usually snow much snow in Tignes each winter, intermediates will also probably find lots of nice fresh powder between the runs too.
Experts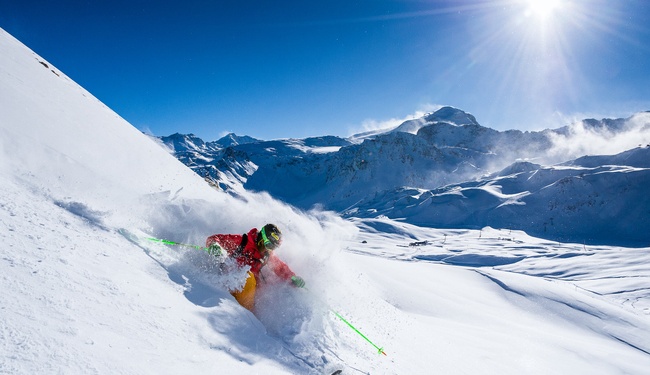 As mentioned above, many of the Espace Killy's black runs have become 'naturides' and therefore aren't groomed. These present a nice challenge for expert skiers, especially when they are covered in moguls. And speaking of moguls, fans of the bumps should head for the run between Toviere and Tignes Le Lac to feel the burn.
Tignes is also popular with expert skiers as much of the off-piste areas can be accessed by the lift system, meaning it's not always necessary to earn your turns in Tignes.
Freestyle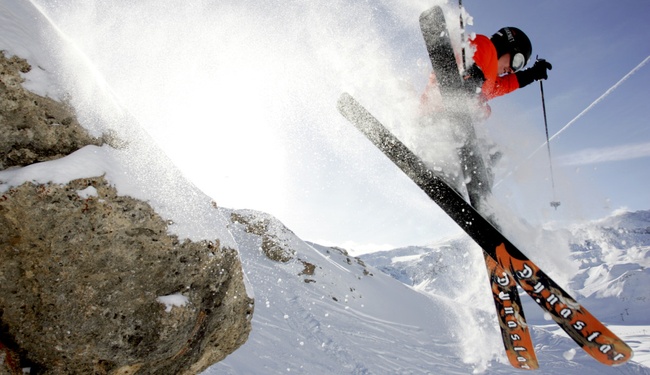 Tignes describes itself as a 'freestyle resort' and it's certainly true that lots of professional freestyle skiers and snowboarders base themselves in the resort all year round. Tignes also hosts a number of freestyle summer camps on its glacier each year.
In 2014 Tignes will host the European Winter X Games for the fifth time. The X Games are the mecca of everything freeride and all the big names from across the globe turn up for this massive event. The 120m half pipe in Val Claret is a particularly entertaining place to hang out in the spring sunshine, while the Swatch Snowpark under the Grattalu chair on the Col du Palet includes green, blue and red kickers, a boardercoss course and a free airbag.
Snow Conditions
Tignes is probably one of the most snow sure resorts in Europe. Even in the spring months, the lower pistes are well served by snow cannons, of which there are 113 across the whole area.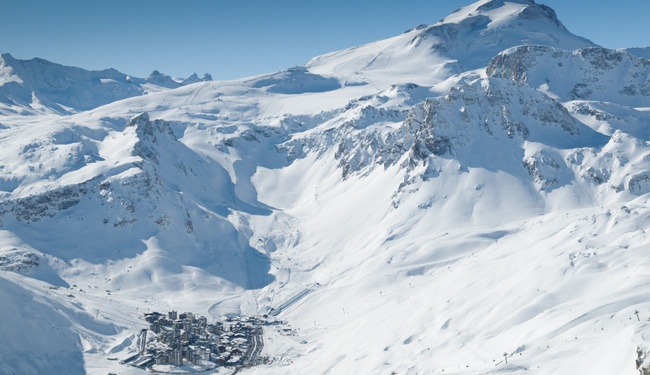 A snow history of Tignes is coming soon!
Tignes Resort Facts
Resort altitude: 2100m
Highest lift: 3456m - Grande Motte
Lifts/Drags: 47 in Tignes, 97 in Espace Killy
Total km of slopes: 150km in Tignes, 300km in Espace Killy
Espace Killy
44 green
122 blue
92 red
50 black
1 snowpark
Tignes
22 green
61 blue
46 red
25 black
1 snowpark
Open: 1st December to 5th May
Cost of lift pass:
Day
Adult: Tignes = €34.00 / Espace Killy = €50.50 Child: Tignes = €27.00 / Espace Killy = €40.50
Week (6 Days)
Adult: Tignes = €170.00 / Espace Killy = €252.50 Child: Tignes = €124.00 / Espace Killy = €202.00
Piste map
You'll find both the Tignes and Espace Killy piste map to download here - http://www.tignes.net/en/skiing-in-tignes/ski-run-map-28.html
Ski Schools
The Development Centre (tdcski.com) offer adult and beginner lessons across Tignes.
As with all ski resorts in France, the local ESF has centers throughout the main areas of Tignes. The ESF are the main French ski school operation, and tend to have English speaking instructors available.
Amenities
A purpose built ski resort like Tignes will always offer convenient resort amenities, especially when there's a lot of self catered accommodation on offer. You'll find the shops, bus stops and local Office de Tourisme very quickly.
If you're after a little cultural addition to your holiday in Tignes, why not head for Tignes Les Boisses? It's one of the oldest villages in the area, and they were skiing here back in the 1930s, long before to construction of the main resort. Tignes Les Boisses has been somewhat neglected in recent years, but it's not enjoying a rebirth/ It's worth a ski over to the traditional mountain village to check out the beautiful renovations.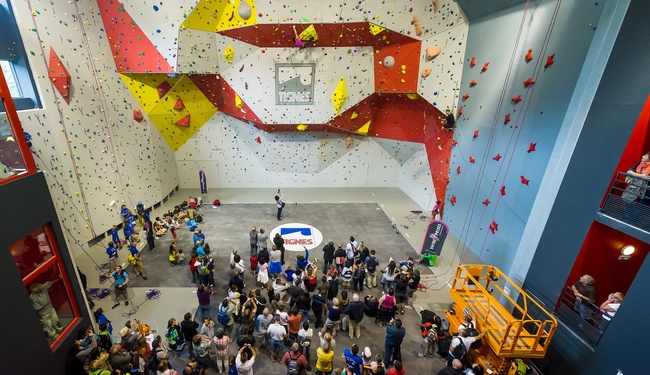 And even more investment has been ploughed into Tignespace. The original Tignespace activity centre was built in the 1980s and recent redevelopment means you can now enjoy athletics facilities, a fitness suite, squash courts and a climbing wall.
Pamper Yourself
In Tignes Val Claret you'll find the Suites du Navada spa, inside the Nevada Hotel (which is no where near as salubrious as it sounds). There's an indoor heated swimming pool and a range of luxury treatments to choose from.
Other Tignes Activities
Fresh Tracks is one unmissable event of your ski holiday in Tignes. Guaranteed first lines are to be had every Wednesday when the funicular opens at 8.30am to carry keen skiers and snowboarders to the top of the Grande Motte glacier. After a briefing by ski patrol, and a coffee and croissant, off you go down 900 vertical metres of groomed snow. What a way to start the day!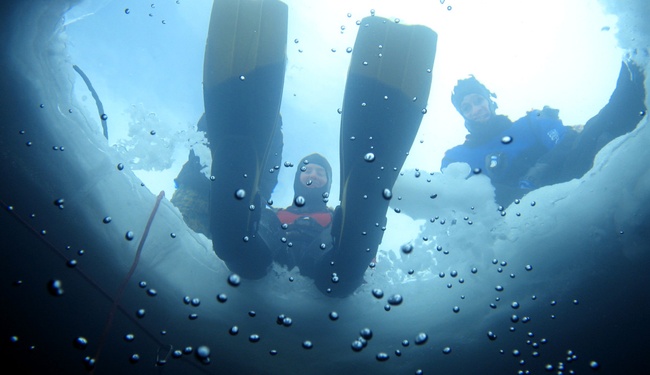 And for those for whom blasting around a glacier all day isn't enough, let's see how you deal with ice diving. Alban Michon is somewhat of a local legend, having trained polar explorers at his ice diving centre in Tignes. You can join him for a trip under the ice of Lac des Tignes, into the 'world of 1000 lights'.
Childcare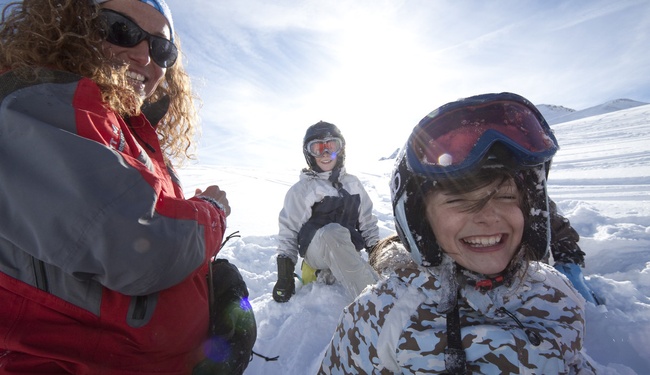 There are quite a few British owned and operated childcare options in Tignes, alongside the excellent courses run by the local ESF. Snow Angel Nannies (snowangelnannies.co.uk) offer a mobile childcare service across the area, and they have a load of local knowledge to make sure that children have as much fun on holiday as their parents. Jelly and Ice-Cream (jellyandice-cream.com) offer a similar service, offering flexible childcare options.
Eating out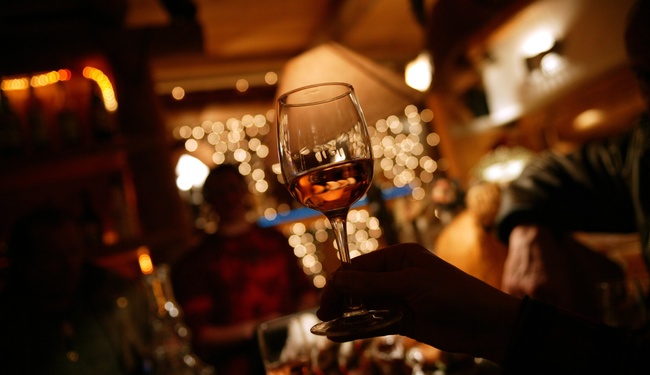 There are a lot of dining options across Tignes, and on the whole, restaurants offer traditional Savoyarde dishes such as fondue, raclette and tartiflette. As in every holiday resort in the land, the menu prices will reflect the quality of the food and the service, and it's using this principle that we recommend you determine the good from the bad in Tignes. There are a few stand-put restaurants though.
Something Different
Tignes Cuisine (tignescuisine.com) service delicious Asian food during lunchtimes in their restaurant on the piste in Tignes Le Lac. Now this is outstanding food, the like you don't find very often on a ski holiday. In the evening, Tignes Cuisine delivery food to your accommodation between 7pm and 10pm.
The Best of Local
Le Clin d'Oeil is one of the best traditional restaurants in the whole resort. It is owner run, and they create a lovely altmosphere that makes it popular for celebration dinners and large groups.
Great Value
We're also a fan of the food at the Loop Bar. It might be one of Tignes' most raucous apres watering holes, but they make a pretty mean burger too. The menu is good value, the quality is great, and ultimately, once you've finished, you're in Le Lac, which is where is party happens.
Drinking and Dancing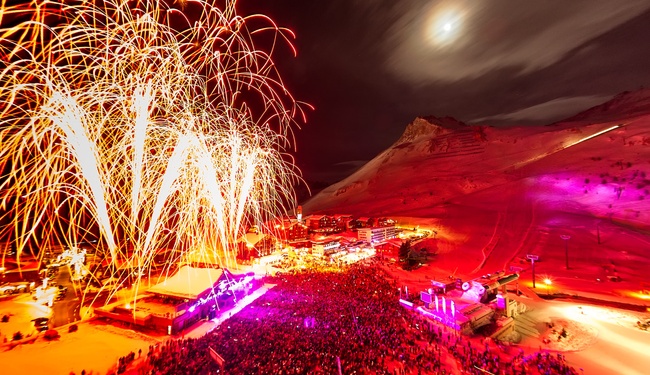 Tignes isn't widely known for its apres scene, in the way that maybe Meribel or neighbouring Val d'Isere are. But that doesn't mean it doesn't exist - it can be all the more rewarding to find a party when you've had to hunt for it.
We'd recommend doing your apres venue research before you head to Tignes, as there isn't a great deal of local information available when you arrive. And once your feet are on the ground, ask around and look out for bar posters promoting happy hour drinks and live music. The majority of apres shenanigans take place in Tignes Le Lac, from where a 24 hour free bus service connects the villages of Val Claret and La Lavanchet.
You'll find that The Loop, Alpaka Lodge and Jacks have a great atmosphere night after night and they have some great drinks promotions to get you in the spirit. Drop Zone, Grizzlys and the Melting Pot offer fun times too.
Travel
Getting to and from Tignes
Because of the sheer volume of skiers and snowboarders heading in and out of Tignes each week during the winter season, transport links have opened up and it's now surprisingly easy to get to this super high resort.
From Chambery Airport, Tignes is 2 1/2 hours by road and a local airport transfer company such as Cool Bus (thecoolbus.co.uk) can arrange your travel for you. Alternatively, Lyon Airport is 3 hours by road, and Geneva 3 1/2 hours.
Getting Around Tignes
You wont find it difficult to negotiate your way around Tignes, even when you're laden with ski kit and a couple of kids. The resort was designed for skiers and most of the accommodation buildings have excellent access to the slopes.
Green Tignes
When Tignes was purpose built in the 1960s, it was with the environment in mind. Consequently, the resort layout centres around the lake, rather than sporadically across the valley.

Many ski resorts have a free shuttle bus to reduce the use of individual cars on the mountain roads, but Tignes' free shuttle bus runs 24 hours a day, which we think is very cool indeed!

A long term project to reduce power usage is underway and involves lots of different parties and committees in the resort, with the aim of using as many renewable fuel sources as possible within the resort.

New lift infrastructure uses more economical and efficient power supplies