Val d'Isere Ski Holiday Guide
Val d'Isere buzzs with energy, sitting in the midst of some of the most sought after and mythical big mountain ski terrain in the Alps. It is one of the most popular ski holiday destinations among British ski holiday-makers, as anyone who's ever watched Patsy and Eddy on their annual ski jaunt in Absolutely Fabulous will know.
The resort consists of a beautifully designed central village and lots of small, outlying villages. While most of the architecture is traditional in style, there will be a few surprises as you pass through the 1960's village of La Daille, on the outskirts of Val d'Isere.
The resort is one half of the Espace Killy, a huge 300km ski area shared by the neighbouring resort of Tignes. Fact hunters will enjoy knowing that the Espace Killy was named after Jean-Claude Killy, the French Olympic hero, who grew up in the village.
Beginner
Lots of excellent ski schools and beginner area in the centre of the resort
Intermediate
More terrain than you can possibly ski in a week
Advanced
A paradise for off-piste bashers and thrill seekers
Snowboarders
One brilliantly huge terrain park and very few drag lifts
Families
Great resort amenities and a very family friendly atmosphere
High Altitude
1550m - 3455m of snow sure skiing, all winter long
Nightlife
Infamous apres and club scene with a very British vibe
Pretty Village
Central buildings are beautifully designed, some of the outlying villages less so
Cheap
One of the most expensive ski resorts in Europe
Large Ski Area
300k of piste between Val d'Isere and Tignes with a great variety
Close to airport
2 hours by road from Chambery, 3 1/2 hours from Geneva and Lyon
In resort convenience
A free bus service connects all of the villages and runs regularly during the day
So to sum it up,
Val d'Isere ski holidays are great for:
Off-piste fiends
Vibrant village atmosphere
Ski school accessibility
Val d'Isere ski holidays are not great for:
Skiers on a budget
Nervous or cautious skiers
Skiing Val d'Isere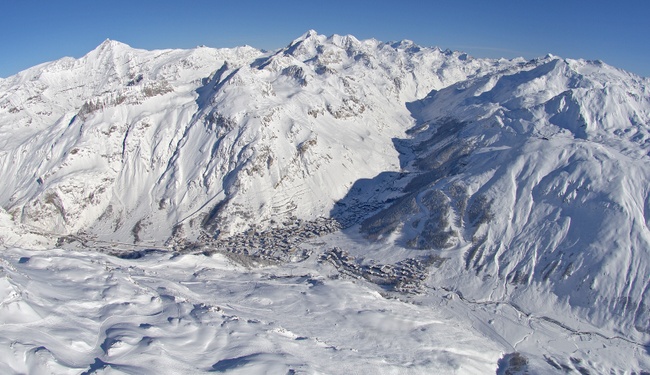 The terrain in Val d'Isere is generally quite steep and some of the blue and red runs can take intermediate skiers by surprise. This is bad news if you are a cautious or nervous skier, but good news if you want to make lots of progression during your holiday. Val d'Isere, and to a certain extent the rest of the Espace Killy network, is notorious for having under-classified runs. Some green pistes would definitely be classified as blues in other resorts, while blues and reds might be considered to be as steep and difficult as blacks.
Beginners
Beginners in Val d'Isere get to learn on a large, open, gentle area that sits slap bang in the centre of the resort. It's really convenient for parents picking and dropping kids at ski school. For progression there are a number of marked 'quiet ski zones' on the piste map, and we'd recommend the Madeleine green run on the Solaise, which is often bathed in sunshine. Be aware though, that unless you've progressed quickly, you'll need to take the cable car back into the resort at the end of the day.
Intermediates
There are more than enough intermediate runs to keep intermediate skiers busy in Val d'Isere, but remember that lots of red and blue runs are seriously under-classified. The Le Laisanant area offers some nice tree-lined runs for intermediates, which are great in bad weather. The Col de L'Iseran has some nice steady slopes too, but progressing skiers are likely to find the runs back into the resort quite difficult at the beginning of their holiday.
Experts
Expert skiers flock to Val d'Isere because of the proximity between the existing lift system and some extremely challenging off-piste runs. Not a lot of hiking is involved at all! It's maybe because of this that mountain guides are plentiful in the resort and we'd honestly recommend hiring a guide to get the most out of Val d'Isere's back country.
Bragging rights are also sought on the are's more challenging pisted runs. The Face in Bellevarde was used when Val d'Isere hosted the skiing World Championships, and it's often a mogul field from top to bottom. Also in the Bellevarde area you'll find the downhill run that was created for the 1992 winter Olympics. It has 63% angle over a 915m drop, so it's not for the feint of heart!
Freestyle
Val d'Isere is home to one of the largest freestyle parks in Europe. The DC Valpark sits above the La Daille gondola, and it's 35,000 square metres of terrain include 18 tables, 25 boxes, a load of rails, a large hip, four kicker lines and two boardercross runs. That's more than enough to keep the most enthusiastic freestyler busy for a day or two!
Snow Conditions
Val d'Isere is a snow sure ski holiday destination, mainly because of its super high altitude. Even in the less snowy winters, the resort manages to keep it's home runs and connection links open using artificial snow.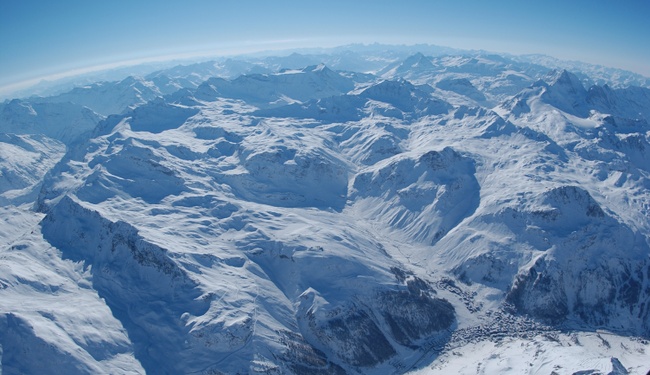 A snow history of Val d'Isere is coming soon!
Val d'Isere Resort Facts
Resort altitude: 1850m
Highest lift: 3400m (Pointe du Montet)
Lifts/Drags: 97
Total km of slopes: 150km in Val d'Isere, 300km in Espace Killy
Espace Killy
22 green
61 blue
46 red
25 black
2 snowparks
Val d'Isere Ski Area
15 green
28 blue
18 red
7 black
1 snowpark
Open: 1st December to 5th May
Cost of lift pass:
Day
Adult: Val d'Isere = €48.50 / Espace Killy = €50.50 Child: Val d'Isere = €30.00 / Espace Killy = €40.50
Week (6 Days)
Adult: Val d'Isere = €242.50 / Espace Killy = €252.50 Child: Val d'Isere = €194.00 / Espace Killy = €202.00
Piste map
You'll find both the Val d'Isere and Espace Killy piste map to download here - http://www.valdisere.com/valdisere/en/glisse/domaine_skiable/plan_des_pistes
Ski Schools
Companies such as New Generation (www.skinewgen.com) Ski School offer lessons for both adults and children in Val d'Isere.
Amenities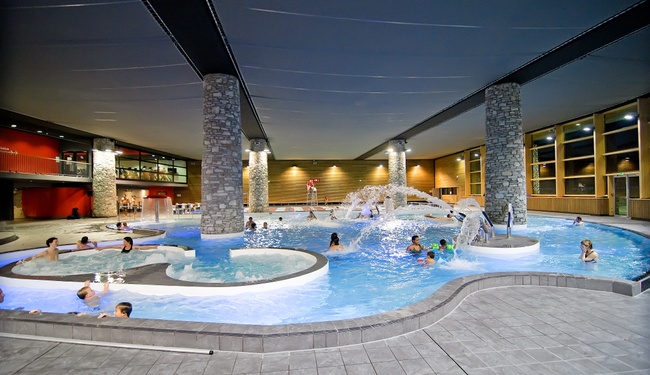 Val d'Isere may only have 1800 permanent residents, but the village really does set itself up as an all singing, all dancing town during the winter season. Most of the resort's amenities are based along the main street, and this is where you'll find supermarkets and convenience stores as well as sports shops and clothing boutiques. On Tuesdays there's a great local market in Val d'Isere, selling everything from jambon and fromage, to jewellery and clothing and lots of local souvenirs.
The resort also as a very frequent free bus service, which connects all of the outlying villages to the centre of the village. It's worth noting though - although the service is frequent during the day, it is less so in the evening. So choose your apres spot wisely!
Over the last couple of years the main resort centre has become semi-pedestrianised and on Thursday evenings street performers and live music bands take to the stage to entertain families.
Val d'Isere's sport and leisure centre is modern, high tech, and offers something for everyone, including a 25 metre swimming pool, a kids pool, three saunas, a steam bath, climbing wall, squash and badminton courts in addition to a 200 metre sq gym. Espace Killy lift pass holders get one free entry to the centre with every 2 - 15 day lift pass.
Another great activity for children is the ice rink in the centre of the village, which is open between 2pm and 7pm throughout the winter season. Kids can practice their 'dancing on ice' skills while proud parents watch on with a tasty vin chaud. The Savonette slope is also floodlit in the evenings or sledging and snowball fights!
Pamper Yourself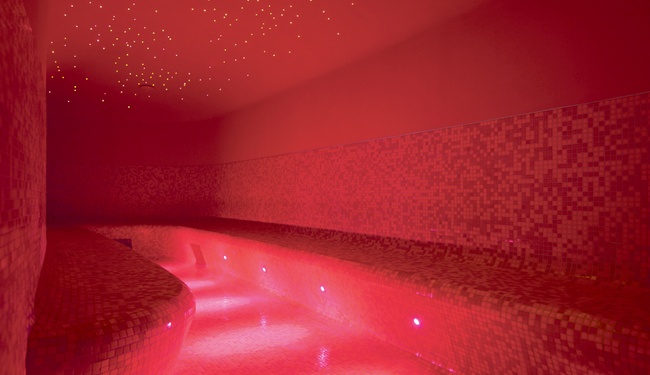 The prospect of a blissful, relaxing rub down after a day on the mountain is a staple part of a ski holiday for some. You need never go without in Val d'Isere as the resort now has ten different spas offering everything from massage and beauty treatments to anti-aging procedures. You'll go home feeling like a different person.
Mountain Equilibre Massage, based at the English medical centre in the centre of the resort offer occupational therapists trained in massage, reflexology and pilates. For more luxurious beauty treatments, the Comfort Zone Spa inside the Hotel les Barmes de l'Ours includes an indoor swimming pool and spa, plus lots of treatment rooms.
Other Val d'Isere Activities
The Pissaillas Glacier offers a really unique way to explore the mountains, and the views are incredible. Many of the mountain guiding companies in Val d'Isere offer glacier walking, and they'll have the crampons and poles you'll need for the adventure.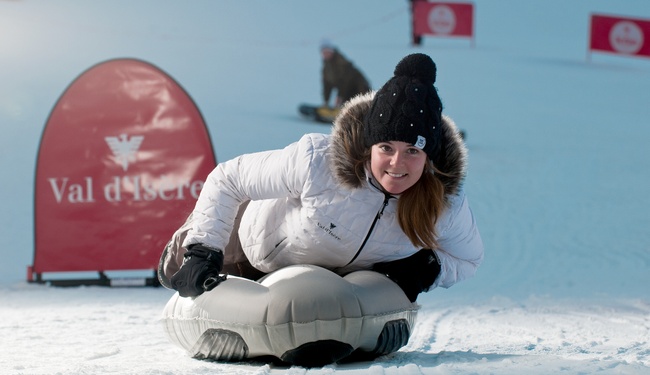 Other winter activities on offer in the resort include sledging, snowmobile rides, snowshoe walking and husky sledding.
Childcare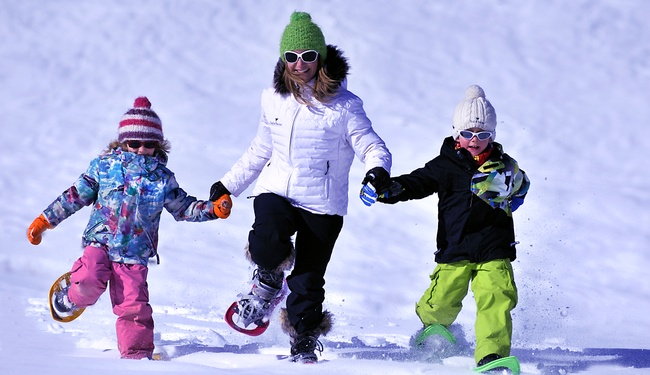 Many of the tour operators in Val d'Isere have their own kids club, which includes childcare as well as ski or snowboard lessons. If you're planning your own holiday, T4 (www.t4nanny.com) private nanny services offer qualified and experienced nannies that can care for your children, drop them at their ski lessons or keep them entertained in the comfort of your own accommodation.
Eating out
There are lots of great restaurants in Val d'Isere, from the spendy variety to the snack bar. From personal experience, we've had a couple of bad meals in Val d'Isere, especially at the start of the winter season when the restaurants are just getting into the swing of things. It seems that the price of the menu isn't always an indication of quality when dining in Val d'Isere.
Fine Dining
La Table des Neiges, inside the high end Hotel Tsanteleina is one of the most high end restaurants in the resort and offers occasion dining at its very best. The menu is an innovative take on local ingredients and the tasting menu is a dining experience in itself. On Friday evenings they offer a seafood buffet, which is really popular so we'd recommend booking to avoid being disappointed! The Pier Paul Jack Restaurant is another option, which offers three individual styles of food withing one very smart, sexy restaurant environment.
Local Food
La Grande Ourse Restaurant is one of the most original, authentic Savoyarde restaurants in Val d'Isere, if not the Alps! Located in the old part of the village in one of the beautiful Val d'Isere ski chalets, the restaurant first opened in 1936 and very little has changed internally since then!
Pizzas, Pasta and Grills
Quite a few pizza and pasta restaurants have popped up in Val d'Isere in recent years, probably because of the resort's proximity to the Italian boarder. One reliable favorite is the Flash Pizza Restaurant, where locals go for late night dining in the cozy little restaurant.
Cheap
The seasonaire population is on the rise in Val d'Isere, and consequently the number of cheap dining options such as burger bars is on the up too. Delicious snack style food, including full English breakfasts and burgers can be found in the cafe that hides inside the Roxy shop on Val d'Isere's main shopping drag.
Drinking and Dancing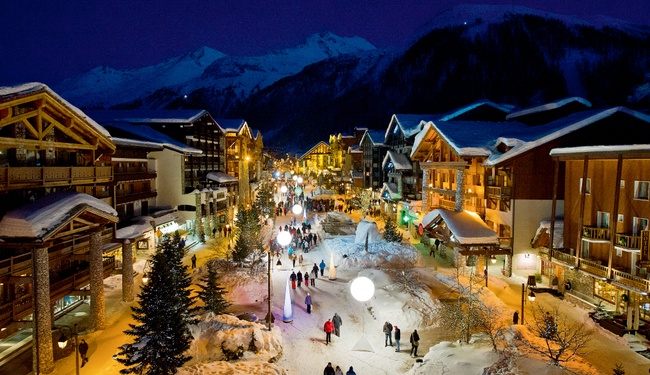 The apres scene in Val d'Isere is pretty good indeed, and you'll find that a lot of the bars and restaurants offer a very British style of party, with happy hours, UK and international DJs and a raucous party spirit.
Val d'Isere is the home of Le Folie Douce, a huge open air apres party at the top of the OK run, every day during the winter season between 3pm and 5pm. A band or live DJ play on the roof while the crowd swells to hundreds of skiers and snowboarders.
Apres drinks in the resort itself are most frequently had at the Moris Pub, where a live band plays between 5pm and 7pm each evening and the discounted drinks flow.
Bananas bar and club was Val d'Isere's most notable apres and club venue until it was razed to the ground by a fire at the start of the 2011 winter season. It's argued that La Doudoune has taken its place as the resort's biggest apres venue, and it has a very line up including Pete Tong and Ministry of Sound DJ. Entry costs €15 after midnight.
Travel
Getting to and from Val d'Isere
Val d'Isere sits at the end of a valley and most people travel to the resort using one of many local airport transfer companies. The drive takes around two hours from Chambery airport, or three hours from Geneva or Lyon.
Getting Around Val d'Isere
Although the centre of the resort is pretty much car free, taxis are frequently used to get around Val d'Isere in the evening. The local free ski bus is really useful, but it can be really busy at the beginning and end of each day.
Green Val d'Isere
The resort works closely with the National Forrestry Office to plan reforestation activities in the local area.