Zermatt Ski Holiday Guide
Zermatt is the preferred ski holiday destination for hardcore skiers, snowboarders, and the uber rich. It may be described as an 'adventurers resort' but we're pretty sure there's something for everyone in Zermatt.
The resort is in the German speaking part of Switzerland, just 10 miles from the Italian boarder, and the larger ski area crosses into the Italian ski resort of Cervinia. Zermatt is also home to the longest on-piste vertical descent in the world - 2279m from the top of the Klein Matterhown, back into the village in case you're wondering!
Beginner
There are some green runs but beginner skiers will find progression difficult
Intermediate
Lots of wide, fun runs in all sections of the ski area, put they're particularly fun on the glacier!
Advanced
Zermatt is most famous for its challenging terrain and freeride zones
Snowboarders
Few flats and one large, well kept snow park, which is also open during the summer months
Families
Resort facilities are excellent, but beginner families with small children may struggle with the steep terrain
High Altitude
Skiing between 1620m and 3899m on the glacier
Nightlife
Brilliant party atmosphere with lots of bars and clubs to suit most budgets
Pretty Village
An old mountain village with 19th century charm and architecture
Cheap
You'll need deep pockets in Zermatt, it's one of the most expensive resorts in the world
Large Ski Area
You'll find 200km of piste in the Zermatt area, and 313km in total when combined with Cervinia
Close to airport
Nearest airport is Sion at 11/2 hours distance, Zurich & Geneva are 3 hours
In resort convenience
Electric buggies are used as taxis in this car free resort but lift stations aren't particularly accessible.
So to sum it all up,
Zermatt ski holidays are great for:
High altitude skiing and snowboarding with the longest runs in the Alps.
Luxurious, chic apartments and fancy pants hotel accommodation
Shopping. Or window-shopping if you're on a budget.
Dining out, with some of the best mountain restaurants you'll find in the world.
Zermatt ski holidays are not great for:
Dedicated beginner skiers, with just small areas in each part of the resort
Bad weather snow sports, since most of the action is above the tree line at 3000m
Powder hounds as at doesn't snow all that often in Zermatt!
Skiing in Zermatt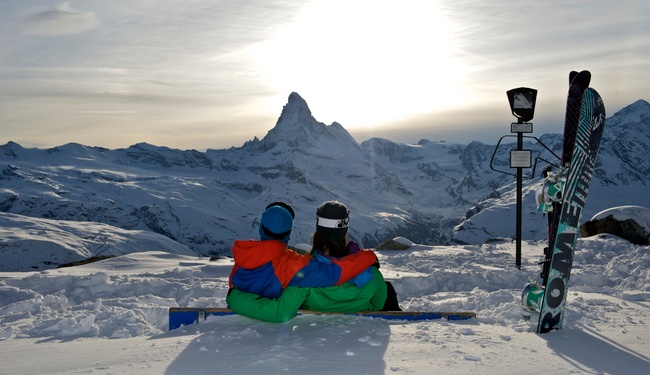 Often described as the 'Alps on steroids', the Zermatt ski area is divided into four naturally occurring but very distinct ski areas that connect together through well-planned links. Three of these four areas offer skiing over 3000m, which when compared to the rest of the European Alps, is very high indeed. The links into the Italian resort of Cervinia create a ski area that totals 313km in size.
The one fairly obviously bottleneck you should be aware of is the cable to the top of the Klein Matterhorn. This is the highest point in the Zermatt ski area and is always busy, so prepare yourself for a wait!
Beginners
We'll be honest with you. If you're a beginner skier, Zermatt probably isn't the resort for you. We'd recommend the Portes du Soleil or the Three Valleys instead. You see, because the terrain is so high, it's really difficult for beginner skiers to progress and no one wants to spend their whole ski holiday on the beginner slopes. There are dedicated beginner areas in each of the four ski areas of Zermatt, but these are small and get very busy, even out of school holiday time.
Intermediates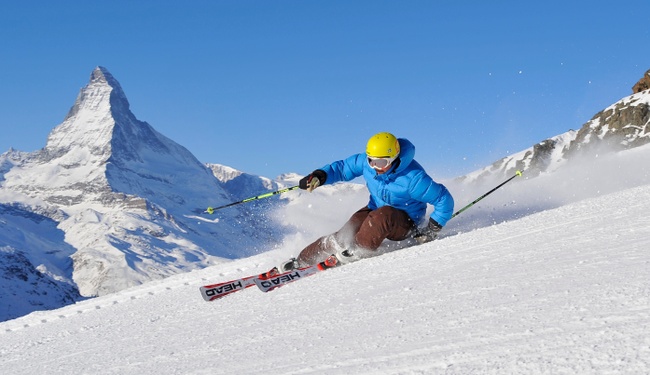 Zermatt is definitely an intermediate skier or snowboarder's resort. Both on and off the glacier you'll find wide runs, some of which are exceptionally steep, others less so. Essentially, there's something for everyone and you can be as adventurous as you like. That is until the cloud comes in. There are no trees to improve visibility and it can get exceptionally cold in mid winter, so you'll need extra layers.
Take care with the piste map though. The Swiss version doesn't include the names of lifts, which can make coordinating groups of skiers or snowboarders very difficult. Rather bizarrely, the piste map also shows ski lifts that haven't actually been built yet, which can cause a huge amount of confusion! You're also likely to spot the 'yellow' runs. These are described as 'freeride' pistes, which are essentially off-piste areas that are sometimes supervised.
Experts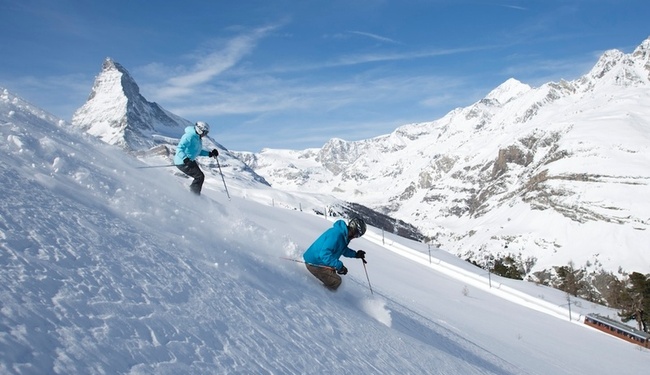 The black runs on the Zermatt piste map are consistently well categorised. They are both challenging and rewarding, but generally very wide. We've spent many a good day exploring the steep slopes between Blauherd and Patrullarve.
Most advanced skiers in Zermatt head off piste, into the freeride (or 'itineraries' as they're called locally) zones. These areas can be exceptionally tricky, as Zermatt doesn't get a huge amount of fresh snow and what snow there is sits on a bed of rock, which needs a good 2 metres of snow coverage before you can ride over it. So go carefully in early season!
Freestyle
There's a great snow park in Zermatt and because it's in operation during both the summer and winter ski season, its particularly well organised by a team of world-class park shapers. You'll find the Gravity Park next to the Furggsattel lift, although you'll spot its huge jumps, rails, rollers and half pipe from some considerable distance. During the summer months the park is moved up to the Plateau Rosa, and you'll find a huge number of professional skiers and snowboarders practising their freestyle tricks and helping out with freestyle camps, which run regularly through the summer season.
Snow Conditions
The climate in Zermatt is very dry and very cold. The lack of moisture in the local atmosphere means that it doesn't snow very often. But the snow that does fall hangs around for a long time because of the very low temperatures. And this is of course why glaciers are useful!
It's also worth pointing out that the resort has spent extensively on snow making facilities in recent years to counterbalance the amount of real stuff that falls from the sky. Over 90% of the runs on the Zermatt piste map are covered by snow canons and the resort has an excellent reputation for piste grooming too.
A snow history of Zermatt is coming soon!
Zermatt Resort Facts
Resort altitude: 1620m
Highest lift: 3899m - the highest lift assisted skiing in Europe
Lifts/Drags: 40 in Zermatt, 71 in Zermatt / Cervinia combined
Total km of slopes: 200km in Zermatt, 313km Zermatt / Cervivia combined
Zermatt / Cervinia Combined
4 learner areas
22 blue
70 red
28 black
1 snowparks
Zermatt Ski Area
4 learner areas
12 blue
41 red
21 black
1 park
Open: End of October to beginning of May
Cost of lift pass:
Day
Adult: Zermatt = CHF 75.00 / Zermatt / Cervinia combined = CHF 86.00 Child: Zermatt = CHF 38.00 / Zermatt / Cervinia combined = CHF 43.00
Week (6 Days)
Adult: Zermatt = CHF 371.00 / Zermatt / Cervinia combined = CHF 423.00 Child: Zermatt = CHF 186.00 / Zermatt / Cervinia combined = CHF 212.00
Piste map
The Zermatt and Cervinia combined piste map is available to download here - http://www.zermatt.ch/en/page.cfm/lifts_and_pistes/piste_map
Ski Schools
The resort has some really excellent ski schools such as Summit (summitskischool.com), but unfortunately even they can't do anything about the lack of beginner terrain.
Amenities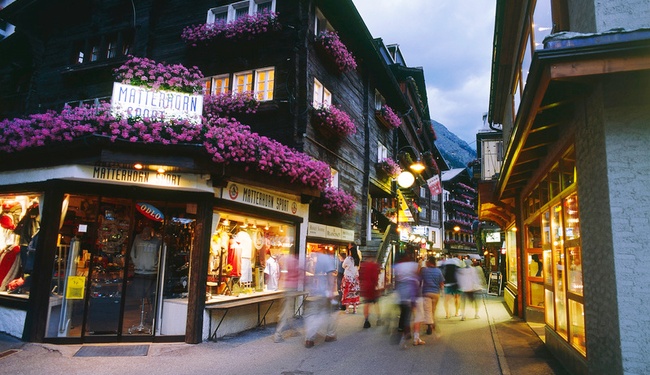 It's fair to say that folk usually head to a ski resort to ski. Or snowboard. Zermatt is the exception to this rule. The resort has a distinct village feel to it, probably because it has over 6000 year round, local inhabitants, which by ski resort standards is very populous! Consequently the resort has lots of excellent facilities for when you're not on the snow. Shopping is a big deal in Zermatt and if your wallet can support it, hours and hours of fun can be found in the resort's chic, expensive, designer boutiques. Think Rodeo Drive on snow.
The resort is also very proud of its heritage and you'll find a number of museums dedicated to Alpinism, the environment and of course the famous Matterhorn itself.
Pamper Yourself
In that distinctly Swiss way, spas, beauty treatments and wellness are also a big deal in Zermatt. You can expect every one of the several high-end hotels to have their own spa facilities including treatment rooms, indoor and outdoor swimming pools, saunas and steam rooms to name just a few.
Pampering yourself doesn't come cheap in Zermatt (as you've probably gathered by now, not much comes cheap in Zermatt) but if you're going to push the boat out, the Hotel Berghof (berghof-zermatt.ch/en/wellness) is just one of many that specialise in relaxation and rejuvenation treatments that are sure to see off those aching ski legs.
Other Zermatt Activities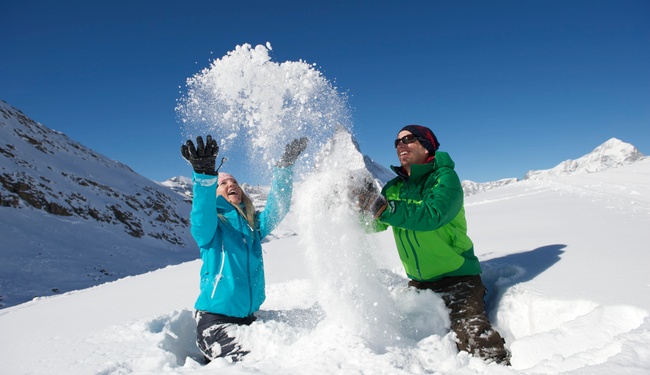 Ski resorts across the Alps now offer snowshoeing, husky rides, cross country skiing, skidooing and the like. Of course, these are all available in Zermatt, but the resort also offers some unique activities too.
At the Zermatt Alpin Centre you can give ice climbing a go. It's not for the faint hearted as you'll need some climbing experience, a head for heights and some serious fitness and stamina, but with an experienced guide you can discover frozen waterfalls, and caves that would otherwise be completed inaccessible.
If you're not so brave, don't worry. Zermatt has 16 ice rinks where you can try your hand at curling and ice-stick shooting at the Zermatt Curling Club in the centre of the resort.
Childcare
As we've previously mentioned, Zermatt isn't the ultimate family ski resort, especially if you have youngsters who are new on skis. Despite this, there are a number of well-recommended ski schools for children of all ages in the resort.
KidActive (kidactivezermatt.com) is a cross between a ski school and a crèche for children aged between 4 and 6 years. Their ski instructors are from the Swiss Ski School and group sizes are always very small. After ski lessons, qualified nannies take children ice skating, sledging and generally having loads of fun in the snow.
The Snowli-Club Kids Village (grindelwaldsports.ch/en/snowli-kids-club-bodmi) is another good option, located in Riffelberg. It covers 3,500 square metres and has a magic carpet, ski lifts adapted especially for children and lots of fun characters too.
Eating Out
From what we've told you so far about the ski resort of Zermatt, you'd be forgiven for thinking that après drinking and general evening shenanigans are reserved for royalty and the odd lottery winner. From personal experience, we promise that it is possible to have a good night out in Zermatt without Price Harry's trust fund.
There are a huge variety of restaurant options and food styles available in Zermatt, from roast beef Sunday lunches to sushi.
Cheerful and a bit cheaper
A trip to Zermatt isn't complete until you've been to the very popular Sparky's Bar & Restaurant, which you'll find on the road towards to Matterhorn Glacier Paradise cable car, just off the church square. Not only do they have free Wifi and show loads of live sport, they also have a superb food menu with main courses starting from CHF 19, which in this resort is very reasonable indeed. The bar has a great atmosphere every evening and you're likely to meet some real characters as the night progresses.
Break the bank
The Showboat Restaurant at the Zermatt Yacht Club takes things up a notch and their CHF 74 six course tasting menu is a very smart experience, especially when it's served to the accompaniment of a live jazz band. The restaurant and bar is on the riverside in the centre of the resort and since it's shaped like boat, you'll find it hard to miss.
Something Different
Another favourite of ours is Myoko, perhaps one of the most unique Japanese restaurants you'll find anywhere near the Alps. It's not cheap, but neither are the squid, prawns and tuna that they serve on the menu. Myoko is great if you fancy something different during your ski holiday.
Cheap It's also worth paying a visit to the Cade du Pont, Zermatt's oldest restaurant in a traditional wooden building. It's a bold claim, but they believe theirs is the best fondue in Zermatt and the prices are pretty reasonable too.
Drinking and Dancing
Zermatt has over 50 bars, and it's perhaps for this reason that it has an outstanding reputation for après parties. Hennu Stall is large and loud après bar, and you'll find it at the bottom of the Schwarzsee. The Papperla Pub is also really popular and has a quirky 'pull your own pint' system where punters buy pre-pay tokens and the floor gets a bit messy. The bar also hosts a genuinely decent selection of local live bands and the après hours quickly disappear once you've sampled some of their legendary shots.
Taking things up market considerably, the Hotel Post offers five après drinking hot spots all under one roof. The Papa Caesar Lounge Bar is a very chic affair where smart waiters serve cocktails and rich folk puff on cigars. We don't know this for a fact but there's probably a dress code and we're guessing it doesn't include ski boots. The Pink Live Music Bar, also within the Hotel Post plays soul, funk, jazz and R&B. There's also regular live bands and the atmosphere is a lot more relaxed and informal. Meanwhile, in the Loft Lounge Club, the minimum age is 28 years old. Yes, you read that correctly. You must prove that you are over 28 years of age to experience the Loft Lounge Club's eclectic mash up of 70s, 80s and 90s chart music. And there's yet another variant to Zermatt's après offering at the Hotel Post. The Broken Disco Bar, which claims to be Zermatt's oldest nightclub, is open between 10pm and 3.30am and has a relaxed, young vibe.
Finally we have the Brown Cow Pub, which is best described as a manufactured, 'rustic' pub with a large choice of bottled and draught beers. Think of your local Harvester pub, but in the Alps. There isn't much of an atmosphere in our experience, but they do often show sports events on their large TVs, if that's your bag.
With so many bars spread across the resort of Zermatt, you won't struggle to find a laugh, reasonably priced drinks and a decent band too.
Travel
Getting to and from Zermatt
The closest airport to Zermatt is Sion, and it's also the home of private jets, helicopter transfers and lots of money. If your wallet doesn't stretch to such modes of transport, Geneva airport is 3 hours by road from Zermatt, as is Zurich airport.
If you decide to drive to Zermatt, you'll probably regret it once you get near to the resort. Cars are required to park further down the mountain in Tasch, from where the train to Zermatt leaves every 20 minutes. Luggage trolleys are available however, and the journey takes 15 minutes. At the other end you can take one of the electric buggy taxis to your accommodation.
Getting Around Zermatt
Zermatt is a tricky resort to navigate when you're carrying a pair of skies and your feet have been tucked into ski boots all day. And as we've mentioned, the ski lift departure points in the resort aren't very accessible from the majority of the resort's accommodation options and it's for this reason that the electric buggy exists. Some people find the buggies annoying within the pedestrian confines of the resort, but we applaud the idea as it keeps the air fresh and pure, and it keeps that grand old glacier white.
Green Zermatt
The resort of Zermatt has been car free since 1947, which means the air is probably the cleanest you'll find anywhere in the Alps.

Solar panels have been very cleverly installed in an unobtrusive way on key resort buildings to harvest energy during the resorts 200 sunny days per year.

The resort has ISO14001 accreditation for its environmental planning initiatives.