It's the night before your hike. There are piles of kit everywhere: on your bed, on the floor, in your kitchen. You're running around your house trying to get it all together. All you need to do is work out if you've got everything. Preferably before midnight, in time to unceremoniously stuff it into a bag and dive under the covers, in time for your inevitable early morning start.
Packing for hiking should not be this stressful, although that story of pre-trip chaos is a common one. That's why we thought we'd give you a friendly list to work through that contains everything you need to be packing for hiking. Of course, exactly what you pack depends on a few things about your hike, like how many days you're going for, which country you're hiking in and the kind of weather you're expecting.
Hiking Essentials List: What to take hiking?
Here is a comprehensive list of 35 things you probably want to take hiking with you. We've split it into helpful sections so you can pack all the similar bits together. Or at least keep them together until you're ready to pack. We're not saying you have to pack all of these things either. It's up to you to decide what to take, in the context of the hike you're doing - and how heavy your bag might be!
We've also assumed that you'll be on a day hike and won't be expecting snow on the ground. If you're camping, have a look at our Camping Essentials Checklist on top of this list.
Containers (aka things to put things in)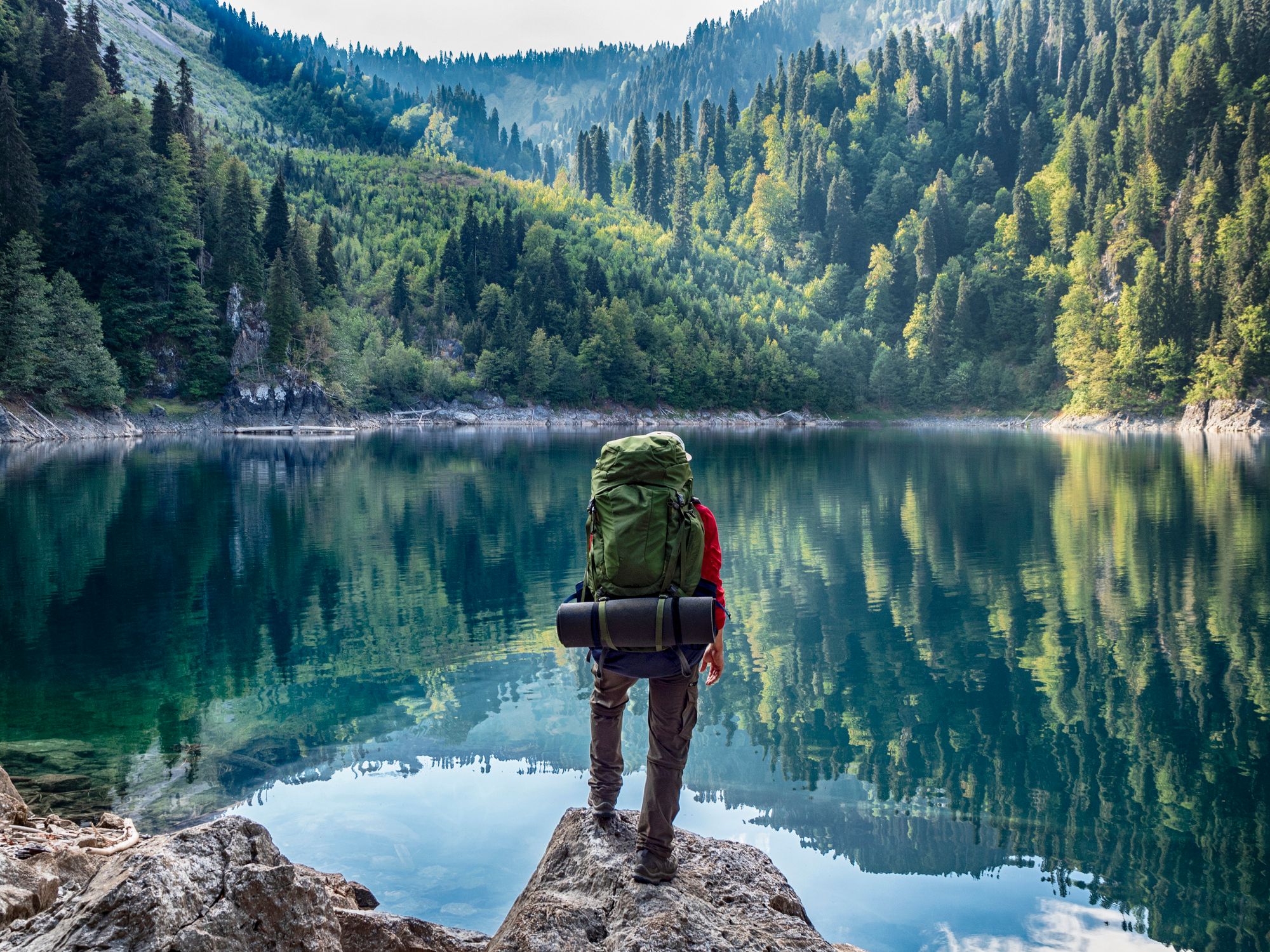 First things first, let's start with what you're going to carry everything in on your hike.
1. Rucksack - Not something many people ever forget, but a complete game changer (read: hike wrecker) if you do. Imagine trying to climb a mountain with arm-fulls of clothing and sandwiches. Sounds like an extreme version of Double or Drop, minus the cabbages. Important things to think about are the size and whether it's comfortable to wear. Because you're going to have to put up with it. If it's new, wait until you've packed everything into your bag to adjust all the straps.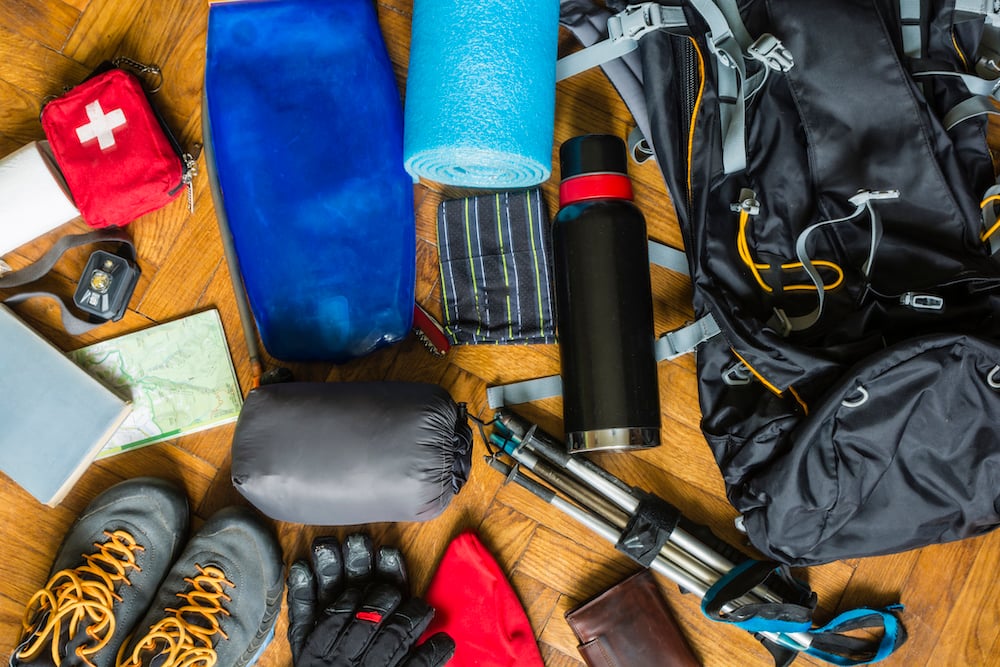 2. Dry bag(s) - Unless you're going somewhere very warm and dry, like indoors, then you'll probably need at least one dry bag. Most rucksacks aren't really waterproof and most built in rain covers are more like wind socks than something that'll keep keep your bag dry. Dry bags are well worth it to have the peace of mind that all your gear is safe and dry, whatever the weather. Here's everything you need to know about dry bags.
Clothing to Wear and Carry
Next up, let's talk about what you'll be wearing. Although you might not start with all of it on, there's a chance you could wear it. The aim is absolutely not to wear all of it during your hike, it's about knowing you've got it in case you need it. How much clothing you take is very tied up with the weather too.
3. Footwear - First up, footwear. For hiking, you are going to need a good pair of boots. Yes, some people do wear trail running trainers or hiking shoes in the mountains, but that doesn't mean you should. If you're not used to walking on uneven ground, you'll appreciate the ankle support a boot will give you. What you're looking for is comfortable, sturdy footwear with good grip.
4. Socks - You should already know which socks to pack because you were wearing them when you bought your boots. Hiking specific socks are well worth the money to keep your feet nicely cushioned. One pair of socks should be fine - although some people do wear a thin liner sock under a thicker sock to try to prevent blisters. If you're not sure, try with just the one thick pair first and see how you go.
5. Trousers - Your trousers should be lightweight, quick drying and easy to move in. Jeans, being the opposite of all these things - are an absolute no. Leggings which aren't specifically designed for running or cycling outdoors probably aren't great either. You could go for shorts if the weather's warm enough, but check the area you'll be hiking in isn't full of ticks, midges or other leg-biting nasties.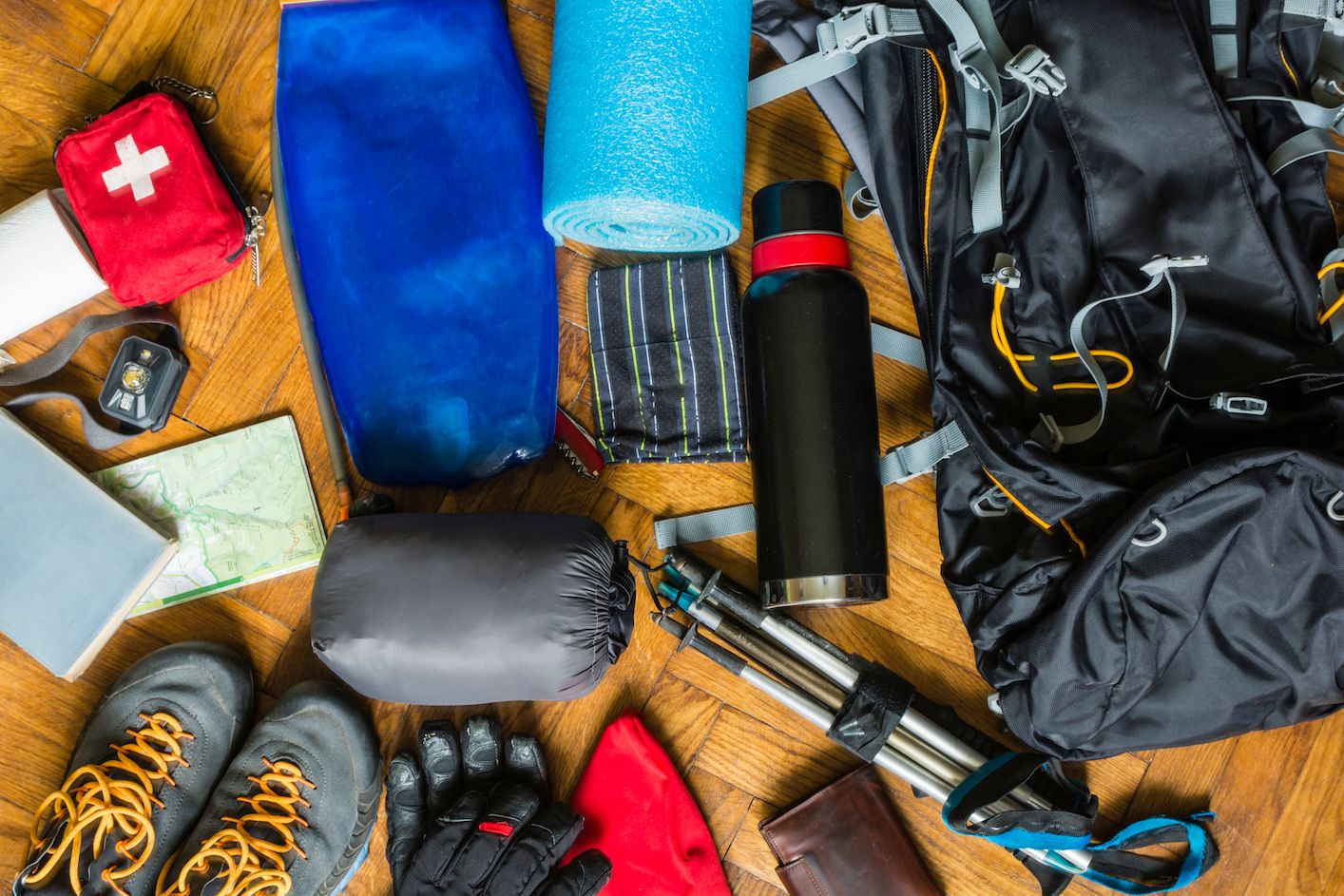 6. Underwear - Underwear for hiking is not something that many people talk about, but we're not scared. If it's your first time hiking we'd recommend just wearing what you'd normally wear and see how it goes. You can always try special "active underwear" later. Comfort is key and what this is will be different for everyone.
7. Baselayer - A baselayer is a fancy word for the thing you put on first on your top half, either a short or long sleeved top. Like trousers, you want something quick drying and easy to move in. How thick or warm it is will depend on the weather you're expecting. Avoid cotton fabrics and choose something that will wick sweat away, whether synthetic or merino.
8. Fleece - Fleeces are the perfect mid-layer for hiking (aka thing you put over your baselayer). Take a micro-fleece for warmer weather or thicker fleeces in colder weather.
9. Waterproof jacket - Unless you have a reliable forecast of sunshine for the week, it's always worth packing a waterproof jacket just in case. Because you never know when it might start raining on you.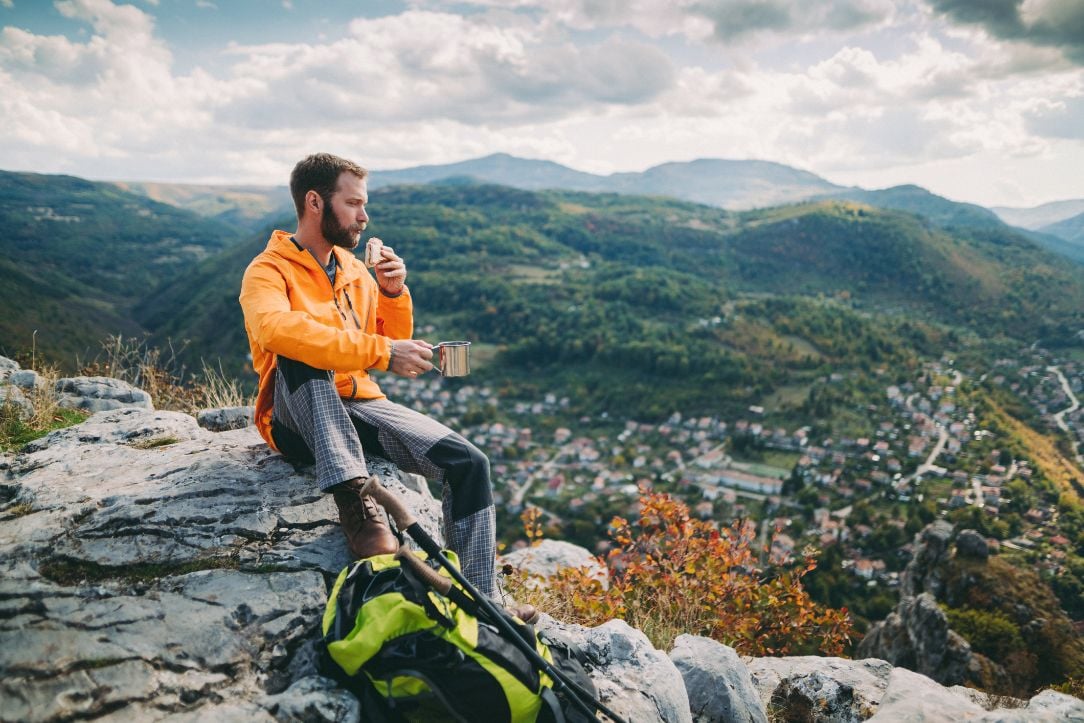 10. Waterproof trousers - Waterproof trousers are especially important if you are spending multiple days hiking back to back. Because there's nothing quite as grim as putting clammy, wet trousers back on the next morning. Look for waterproof trousers with a long leg zip so they're easy to get on and off over your hiking boots.
11. Hat - Some sort of a hat is always worth packing, either a warm one or a peaked sun hat depending on the weather. Warm hats should cover your ears to keep you nice and toasty. Both types should be snug enough to not get blown off your head in a strong wind.
12. Gloves - Even if it's not technically winter, gloves can be very useful when out hiking. Whether the wind had picked up, its got colder at the top of a mountain or the day is cooling down for evening.
13. Buff - If you wear everything we've listed so far, the only thing left exposed to the elements is your face. Which can be fine unless it gets so cold your face goes numb and you can't talk properly. A buff - a stretchy fabric tube - is an easy way to keep your neck and face warm. Think of it as like a scarf that can't get blown away.
14. Gaiters - Gaiters are a bit of an optional extra, depending on where you'll be hiking. They're a must for anywhere very boggy, for that moment your foot plunges knee deep into peat. With gaiters on, you'll get your boot back and it won't be full of mud. The same goes for snow or even crossing small rivers: they act as water resistant cuffs for your boots.
Vital Hiking Equipment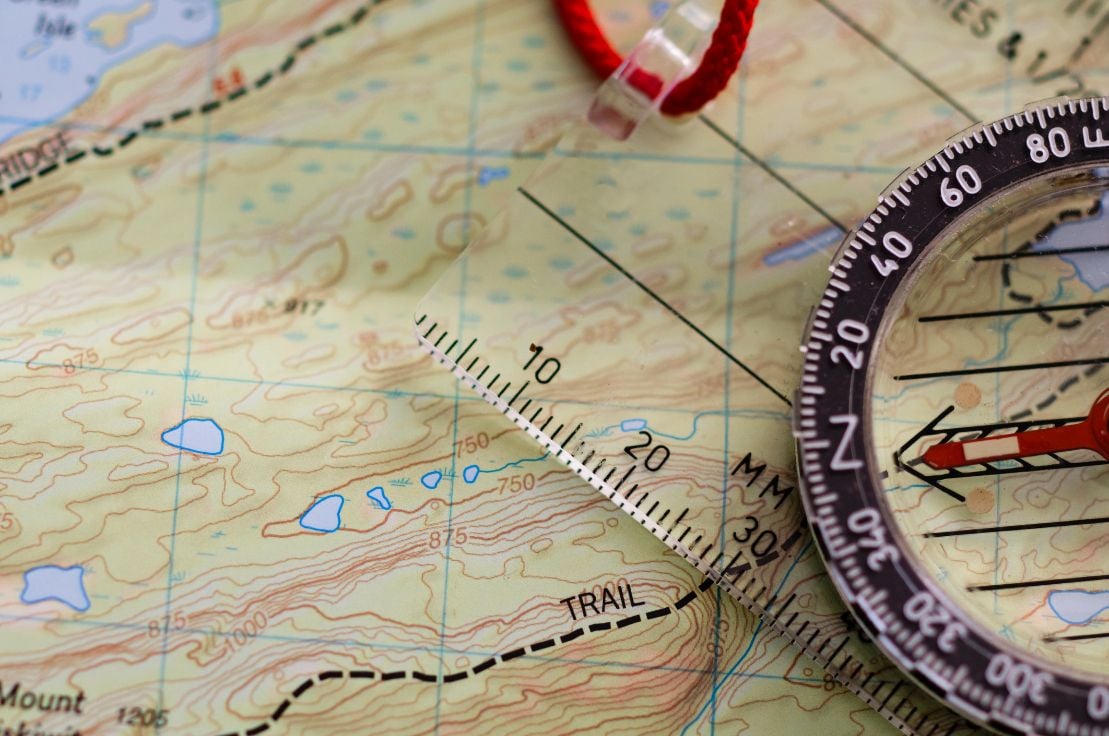 This is a short but crucial section: fuel, water and a way to know both where you are and where you're going.
15. Map - Unless you are with a guide, it's a good idea to have a map. Even then, it could be worth bringing one along to learn some navigation skills. Some parts of the world, like the UK and Western Europe, have very comprehensive mapping that are easy to find and buy.
16. Compass - The compass is a key companion to a decent map. As a way to know where you're going, you cannot beat this, even with a GPS. They key thing is to know even vaguely how to use it though!
17. Food - If there's anything you need to pack for hiking, it's food. Without energy to hike, things are going to get a bit miserable. For a full day's hiking, you'll want at least lunch and snacks. For the kinds of food you might want to bring, take a look at our guide to hiking snacks.
18. Water bottle or reservoir - And just like food, you won't last very long on a hike without water. You could pack a reusable bottle or a water reservoir like a Camelbak. The reservoir has a tube that allows you to sip as you hike, but it's hard to tell when you're about to run out of water.
Even More Hiking Equipment!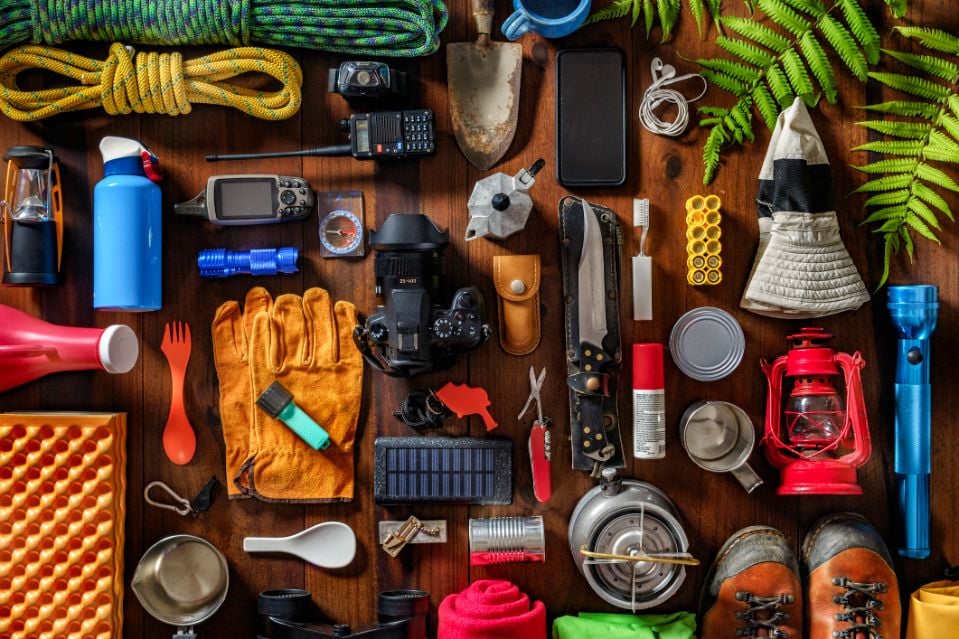 You can pick and choose what you think is most important from this section. How much of it you pack will really be a balance of how long you're hiking for and how much you're willing to carry. It's probably not a game-breaker if you don't bring them, but you might be glad of them if you do.
19. Trekking poles - These almost went into optional extras - you certainly don't need them to go on a hike. But some people won't go hiking without them, so here they are! You can use these to take the pressure off your knees, especially on steep descents.
20. Sterilisation tablets or water filter - If you think you might run out of water, say it's a really hot day or you're on a multi-day hike, definitely pack some form of water purification. It'll come in very handy when you want a top up.
21. Tracker - Less important with a guided group, but you might like to have a tracker with you if you're on a solo hiking adventure. Some sort of GPS tracking will help people back home know where you are. Some of them even come with an SOS button, so you can call out a rescue team if you really need help.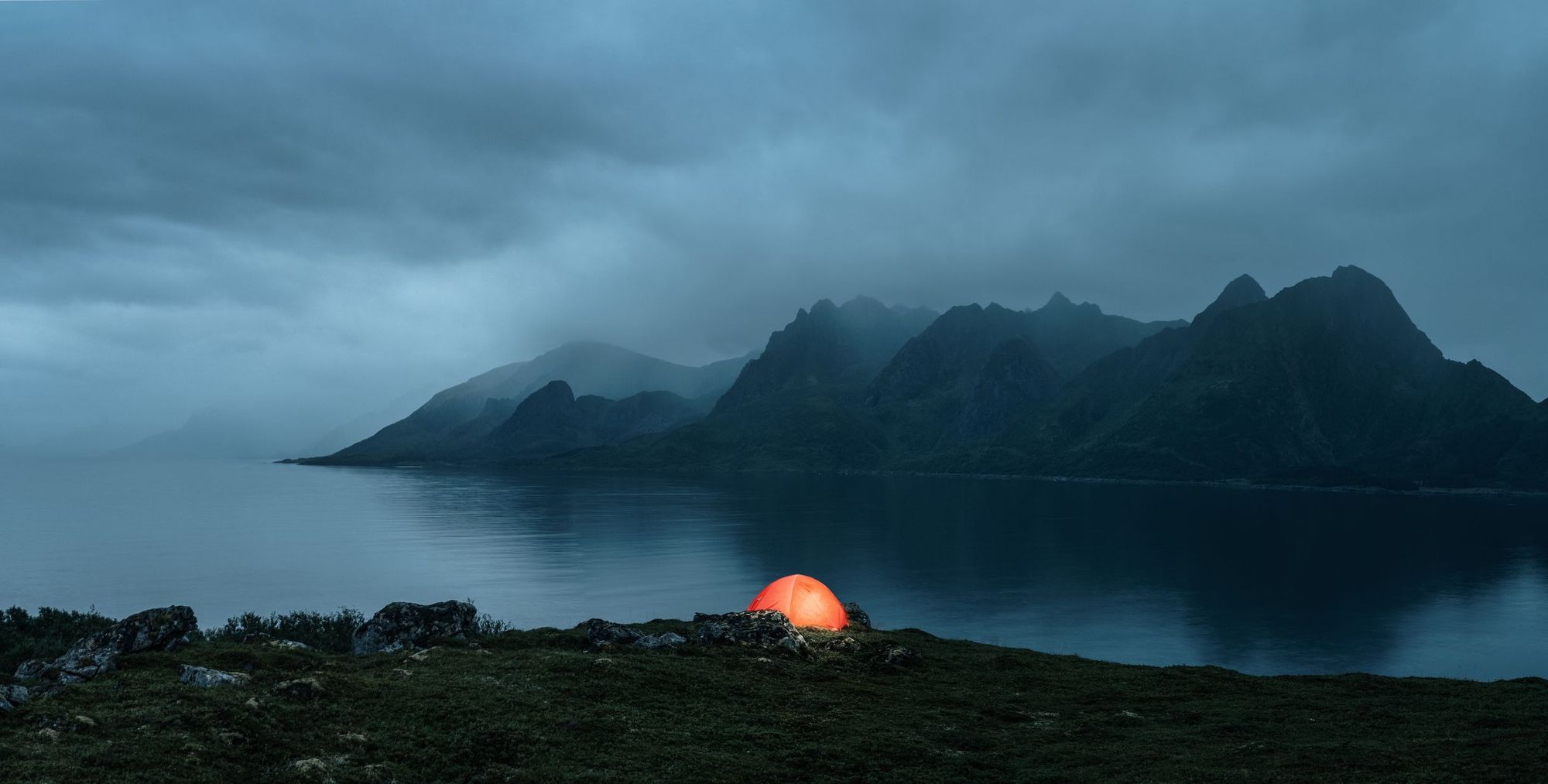 22. Money - It's a good idea to pack some way of paying for things. Cash or card, it can come in handy for more than just emergency situations. Unless you consider passing an ice cream van, post-hike, an emergency that needs to be instantly resolved.
23. Torch - Most day hikes don't intend to start or finish in the dark, but some do intentionally. Maybe you're having an alpine start before the heat of the day, or off on a night hike to see the stars. Others accidentally finish in the dark, after an ambitious route that was a bit too far for the group. In winter months particularly, it pays to be prepared.
24. Phone - It's worth taking some way to contact the outside world on your hike. Even if you keep it switched off in a top pocket of your rucksack. Realistically, you're probably going to have it out, taking photos of your trip. But make sure at least one person has enough battery to make an emergency call all day.
25. Pencil and paper - This could be a simple notebook, with a pen or pencil for journalling at the end of the day. Other people might take a tiny sketchbook for a quick bit of lunchtime art. It's a good idea to slip a few sheets of paper and a pencil into your first aid kit too, to make notes about the casualty if something goes wrong.
Emergency Kit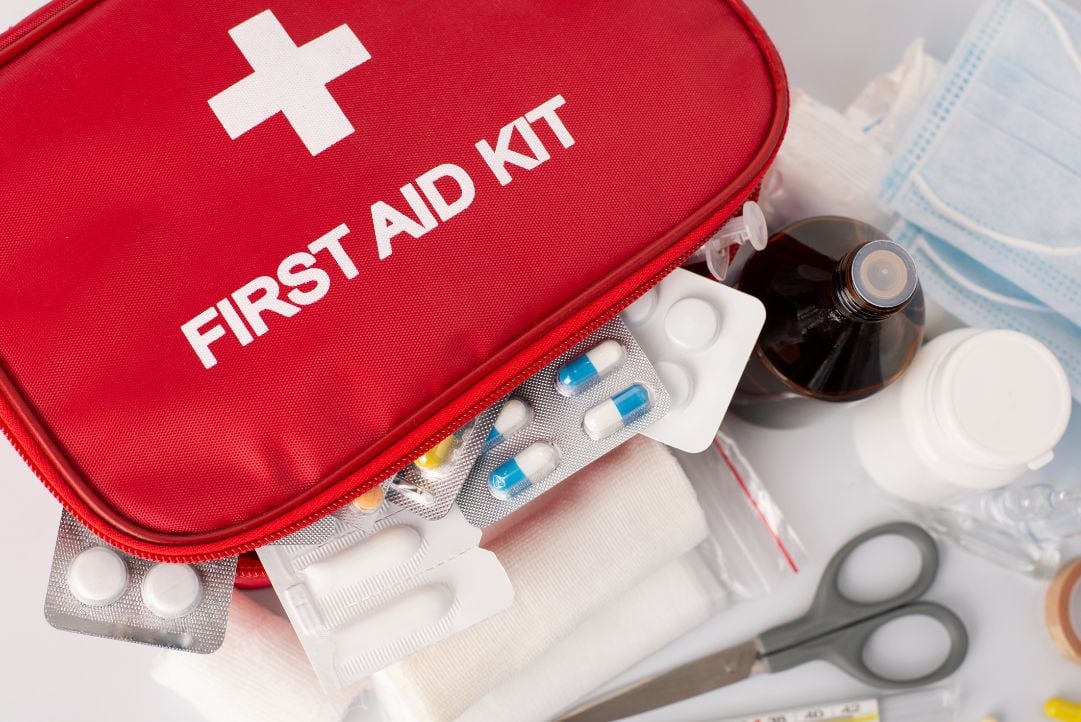 This section are all the things that you bring along, hoping to never use. They're things that will catch you out if everything hits the fan and your fun hike turns into a world class drama.
26. First aid kit - Even if you're in a guided group, a small personal first aid kit is a good idea. Fill it with blister plasters, pain relief and any personal medication that you're already taking. A few normal plasters are a good idea too, just in case. You can buy pre-packed first aid kits specifically for hiking in different sizes if you'd rather have something more comprehensive.
27. Storm shelter or survival bag - If your day takes a turn for the worse, you're likely to need to spend a long time sitting in one place while you deal with your casualty or wait for help. A group shelter, usually carried by a leader, or an individual survival bag is good to have with you just in case.
28. Emergency snacks - While you're waiting around for help, you might be out far longer than you intended to be and get quite hungry. Take extra snacks: either just more than you intend to eat, or a few that never get unpacked. I keep a bag of emergency jelly babies in with my first aid kit for low moments.
29. Whistle - Many rucksacks have built in whistles now (in the buckle on the chest strap). But these whistles aren't very loud if you want to be able to attract attention. Look for a plastic or metal whistle without a ball inside.
30. Spare clothes - If you somehow get soaked or rip a fleece in half on a barbed wire fence, it's good to have at least a spare top and bottoms, plus socks. Many people won't carry these if they're going ultralight, but if you're on a multi-day hike you might be very glad of them.
Optional Extras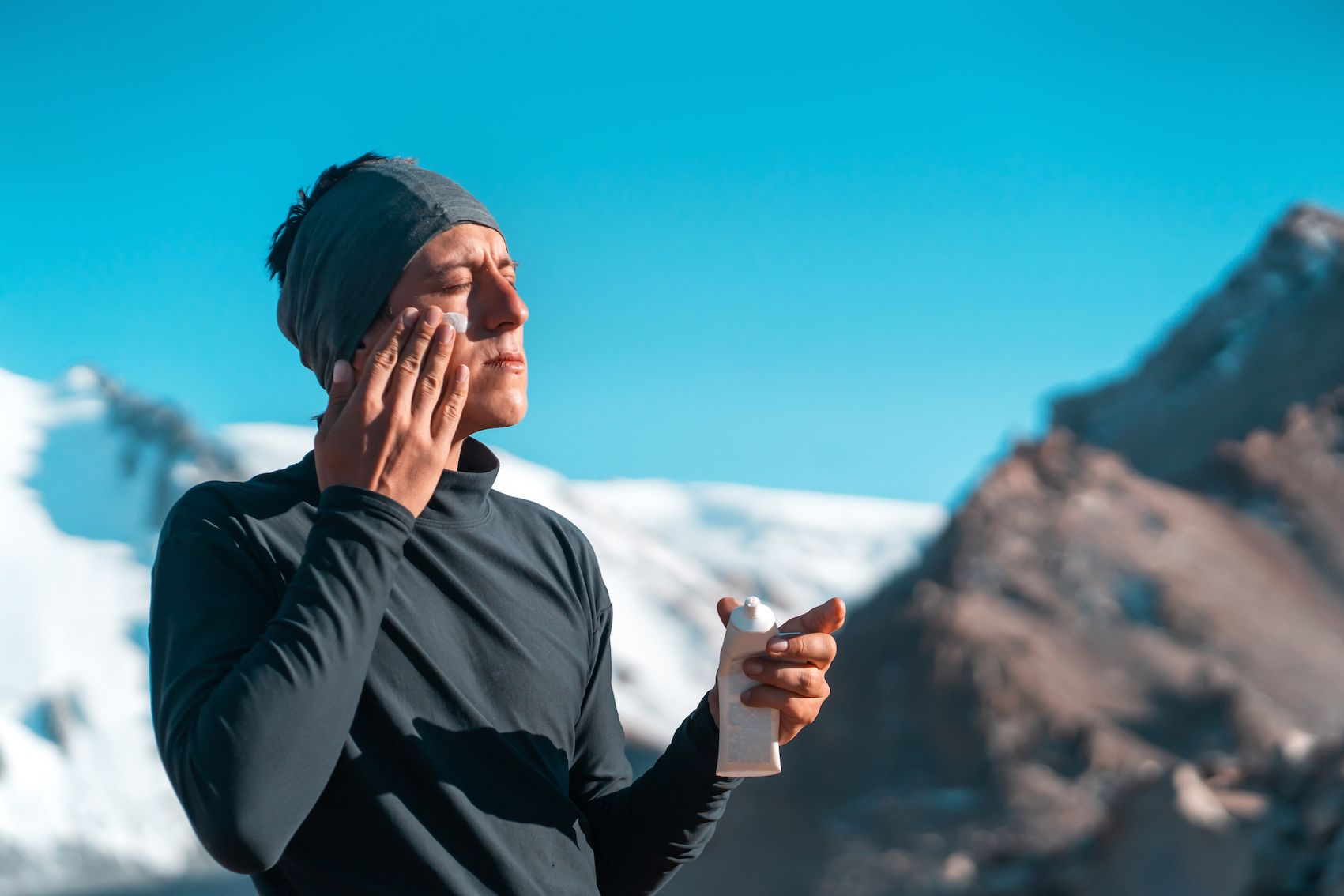 Finally, before we hit the magic 35, here are a few extra items you might like to carry. You can definitely get away without them, but they might make your hike a whole lot more pleasant.
31. Sun glasses or snow googles - Being able to see on a hike is really useful. Packing some sort of eye protection appropriate to the weather means you can enjoy the hike and the views without stumbling around, squinting into the distance.
32. Lip salve - It's surprising how dry lips can get in the wind and cold. A tiny tube of lip salve can solve that problem easily. For the summer, you can even get lip salve with sun protection in it - great if you're up high or on snow.
33. Sun cream - Most of the time on a hike, there isn't much between you and the elements. Which is to say, in good weather you can get very sunburnt very quickly. Save yourself the pain later and pack a high-factor sun cream. The brands that last for several hours are particularly good for hiking.
34. Insect repellant - For deterring any nasty biting insects, you can get insect repellant in sprays or wipes.
35. Pen knife - Something like a Swiss Army Knife is endlessly handy in ways you're not expecting. Snipping plasters to size, slicing fruit, fixing sun glasses or opening bottles... you'll be surprised how often you use it if you keep it in your pocket. They come in a range of sizes, from Fits in Hand Luggage to Zombie Apocalypse.
Ready to pack up your rucksack and head on a hiking adventure? Check out our trekking and hiking holidays with local hosts across the globe.