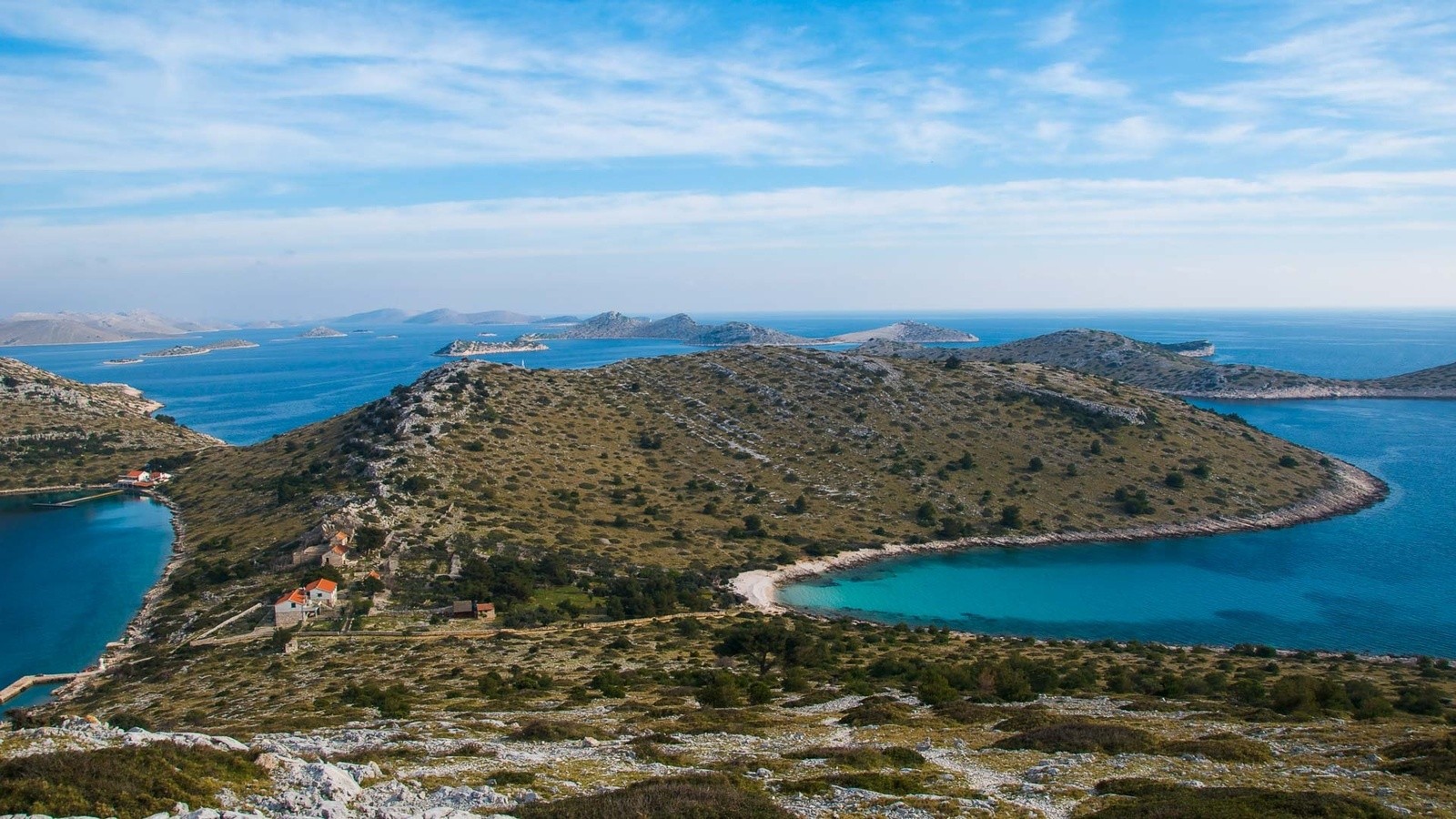 Island hopping in Croatia can be proper adventurous. Whether you're kayaking from beach to beach, meditating on a stand-up paddleboard, sailing round the 200+ uninhabited islands of the Šibenik archipelago or putting your front crawl to the test in the Adriatic Sea, island hopping is an excellent way to immerse yourself in the nature and elements of the country.
Just picture the scene. You're out on a sailing boat, wind in your hair, the ever-present option of jumping in the warm water of the ocean at your fingertips and the Dinaric Alps forming the backdrop on the mainland. Sounds good right? Of course it does. Island hopping is great and as far as we're concerned, if you disagree, you don't have a leg to stand on. We're putting our foot down on this one. Which we know, is slightly ironic, given you typically need at least one foot in the air if you're going to hop anywhere.
So without further ado, here are some of the best ways to island-hop in Croatia – specifically, from a base along the beautiful Dalmatian Coast of Croatia.
Where is the Dalmatian Coast?
We said we'd get onto the island hopping 'without further ado' at the end of the last paragraph. So apologies for what can only be described as further ado, here. But we're just going to give you a quick crash course in Croatian geography. As you can see from the map above Croatia is situated right on the coast of the Adriatic Sea. The Dalmatian Coast makes up much of this, and adventures in the Dalmatian Coast are probably what you think of when you think of adventure in Croatia. The Dalmatian Coast includes the likes of Dubrovnik, Šibenik, Split and Zadar.
Split is the Adriatic Sea's largest ferry port. It serves the islands of Šolta, Hvar, Brač, Korčula and Vis. Dubrovnik meanwhile runs catamarans to Mljet, Lastovo, Korčula and Hvar. So both cities are perfectly set up to serve island hoppers of all sorts. The port of Zadar on the Dalmatian Coast also has plenty of islands to visit.
Rijeka, further north, is also a place name worth knowing (although it's not on the Dalmatian Coast), as it's also a gateway to the Croatian islands. You can get from there to Lošinj easily, a great spot for mountain biking and hiking.
So, without further ado (promise this time)…
1. Take public transport!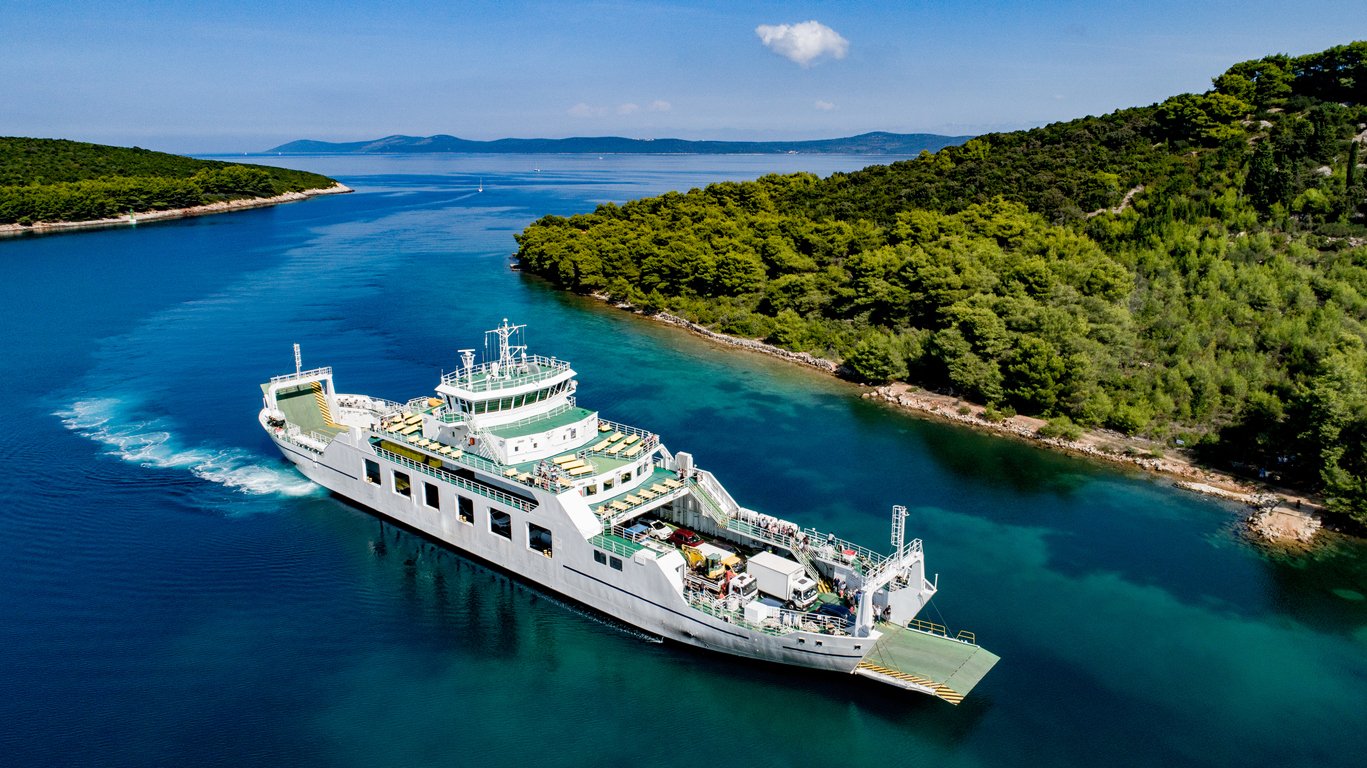 There's a state-run ferry company in Croatia called Jadrolinija. So if you're pitching up in Croatia on a tight budget, this is possibly your best bet. These services are designed to keep tourism operating around the inhabited islands of Croatia. They also serve as crucial local transport for those who live or work on the islands.
Jadrolinija operates in the districts of Dubrovnik, Split, Šibenik, Zadar and Rijeka. They are the cheapest option when it comes to getting around. You can find their island-hopping routes online, so you can plan out your journey in advance. The ferries visit a really wide range of islands. You can take routes like Valbiska-Lopar, Dubrovnik-Lokrum and Split-Hvar.
Of course, the downside of the ferries is they tend to be busy. And if you're on public transport, you have to abide by public transport's timetable and routes. So you do have a bit less freedom than other options.
Jadrolinija also run catamarans to certain islands which are slightly more expensive than the car ferries. There are taxi boats all over the place that will take you wherever you want to go, too. These are primarily used for shorter journeys.
2. Get a skipper and set sail on the archipelagos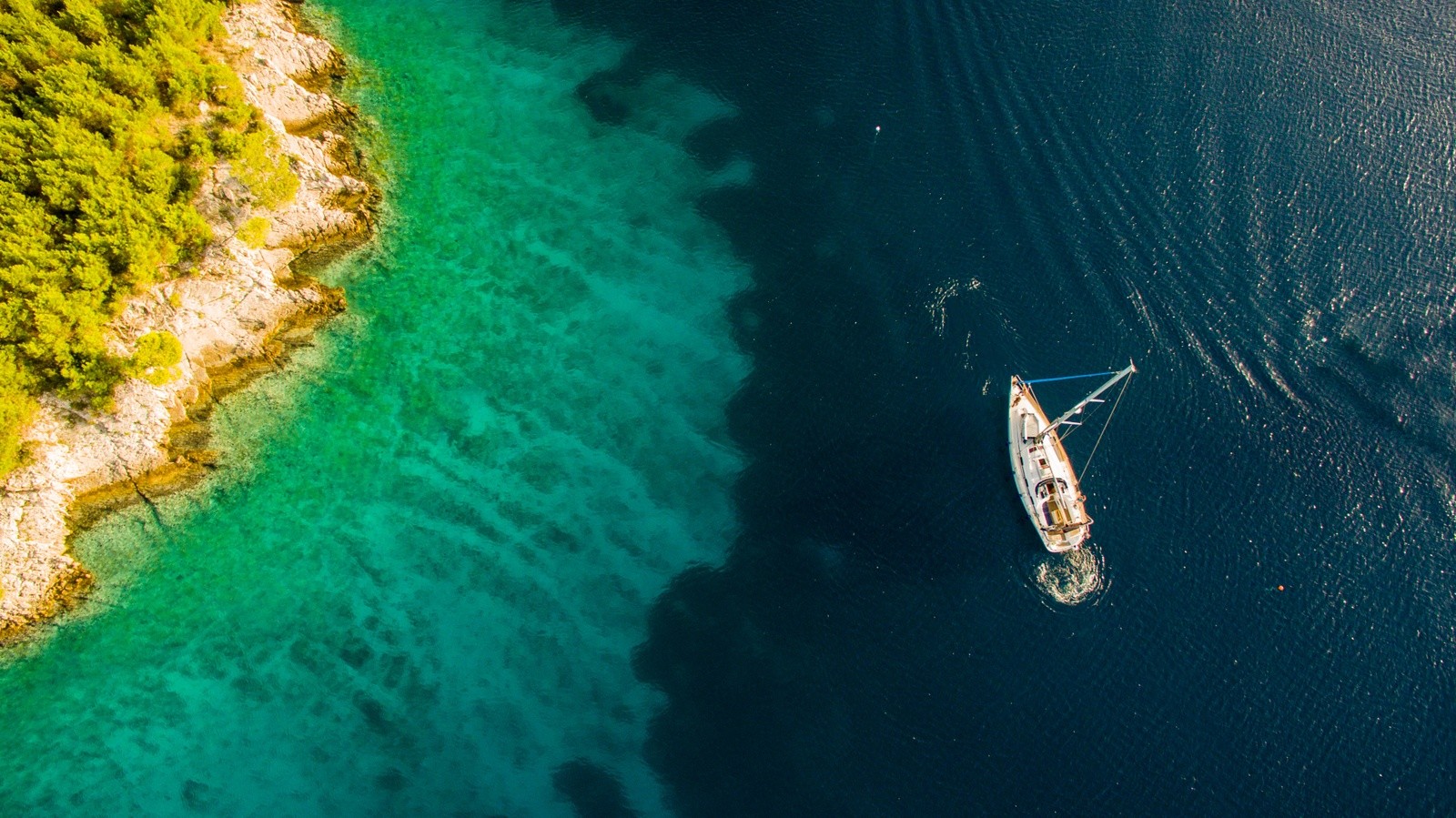 There are a lot of islands off the Croatian coast. Like, seriously. A lot. There's nearly 400 just between the Kornati archipelago and the Šibenik archipelago.
The Kornati archipelago is made up of 140 islands and 114 square miles, much of which float in the Kornati National Park. There are no roads, and therefore no cars, in the Kornati islands. None of the islands are permanently inhabited, and you can only reach the islands by sailing there. Or by heading there with the specific intent of seeing them on some sort of vessel, at least. There's no public transport routes, so the area is a lot less busy than certain other, more popular islands.
"If you want uninhabited views, you can have them…"
The Šibenik archipelago is even bigger than the Kornati archipelago. It's a group of 249 islands off the south-west coast. Only six of these islands are permanently inhabited. This means that much the same applies as if you're sailing round the Kornati, and any life that does happen on these islands happens at a much slower pace than the mainland. That said, there are some public routes around the area. The good thing about having a skipper, though, is that you can go where the wind takes you and explore the islands as you wish.
Sailing around these islands is a rare chance to experience some truly rustic Croatian culture. There's Mediterranean vegetation growing – grapes, olives, plums and figs – and the best way to see as much of it as you possibly can is by boat. You can stop off to explore as many or as few of the islands as your heart desires.
If you want uninhabited views, you can have them. Or if you want some socialising, that can be done too. If you fancy a paddle in the water, or a secluded beach to relax at for the afternoon, all you have to do is ask. You'll get a much more remote experience than if you go island-hopping in Croatia on the public ferries.
3. Take a serene SUP on the Adriatic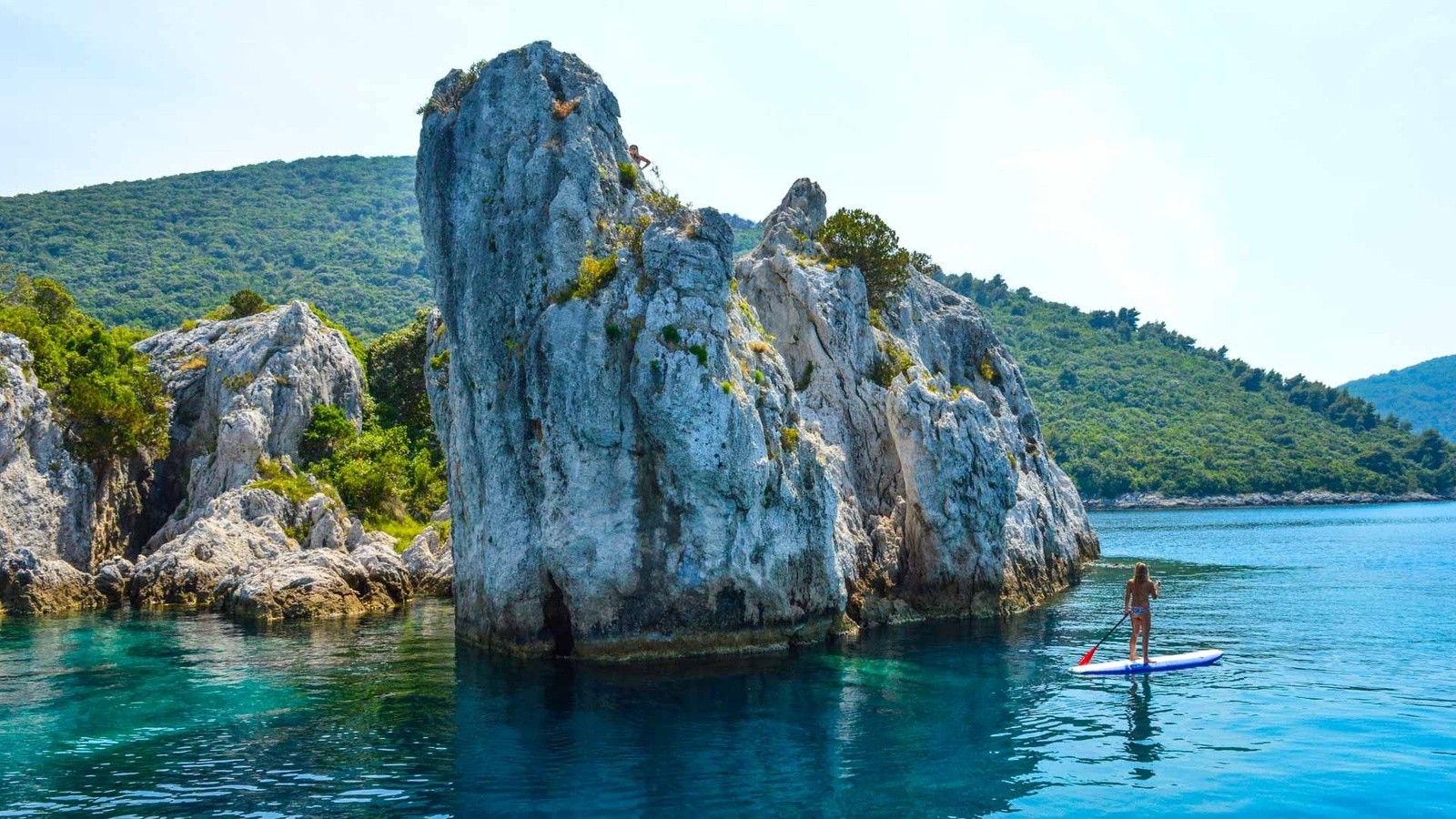 How's your balance? If it's not great, don't worry. Most people pick up stand-up paddleboarding pretty quickly. The boards are so wide and so long they're actually quite hard to fall off – though we know there are some folks out there who could trip themselves up while standing still. And if you are one of them, that's just fine too. If you do end up falling into the water in Croatia, it'll probably be quite a pleasant experience. It can get up to 27 degrees in August. So even if you're a yoga master busting out some Warrior III poses on the board, you'll probably fancy a jump into the beautiful Adriatic at some point, anyway.
You won't cover as much ground if you choose this option, of course. SUP boards are big and heavy, so they're hard to transport. And the going is peaceful, but it's not fast. That means the best way to try out SUP while you're island hopping in Croatia is often to take an island-hopping sailing tour that includes SUP. If they have the boards on the boat you're on anyway, for example, you can get away from the crowds and popular bays, into the remote areas, and then get the SUP out.
It's much more relaxing and memorable that way than navigating your way around the bay on a SUP, anyway. This island-hopping mini-adventure in Croatia gives you the chance to SUP in the serenity of the Kornati National Park, for example.
4. Jump in a sea kayak
Where there's water there's always the option to kayak. And on the Dalmatian Coast in particular, that can prove an amazing option. Hire a kayak for a day and you'll be able to get out and visit some islands, have a great day of cliff jumping and island exploration, and then get back to shore in time for dinner. You can even take a half-day trip out at sunset and get in the water when it's at its quietest, and arguably at its most beautiful. Island hopping in Croatia via kayak is truly adventurous.
Popular day routes include paddling from Dubrovnik to Lokrum Island, from Split around the Korcula archipelago and from Jakiruša Bay to Vrulja Bay, a route of sandy beaches and mountain views. Croatia may not have the highest mountains in the world, but the Bioko mountain range, the second highest range in Croatia, make a stunning backdrop.
Hire a kayak for a weekend meanwhile and you could even set off yourself and camp on a range of the islands in question – exploring as you go. Obviously, if you're going to do this, you should be an experienced kayaker, camper and have a deep understanding of the route, be confident in nautical navigation and you should have consulted a local expert as well. But what a way to see the islands of Croatia – with only yourself, your companions and the water for company! Just make sure whatever kayaking trip you go for, you know your route, or are with a local guide who will keep you right and make sure you're safe as you go.
5. Grab a seaplane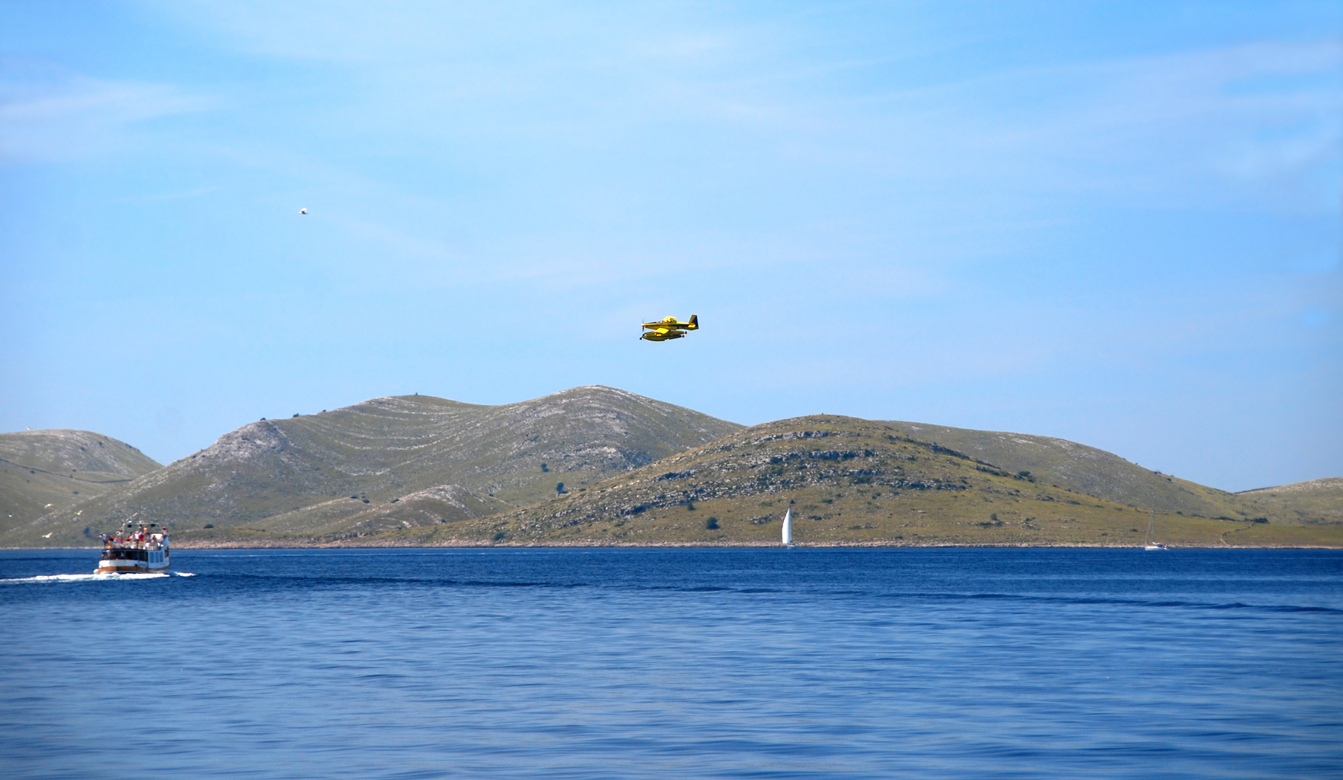 If stand-up paddleboarding and kayaking aren't quite niche enough for you, then you might be interested in going full Hollywood adventure flick and jumping on a seaplane instead. Though unfortunately, at the moment, that's easier said than done.
A fleet of European Coastal Airlines (ECA) seaplanes began to operate back in 2014. At the time it meant Croatia was the first country in modern European aviation to run a scheduled seaplane service. The idea is that eventually, the planes would connect all of the inhabited islands. You could go from the likes of Split, Pula or Rijeka to the islands of Lošinj, Hvar, Korčula, Lastovo and more. However, the ECA then ceased operations in 2016, and since then, seaplanes have been less common on the water in Croatia.
There have been fairly regular rumours that other seaplane operations are going to open up again (primarily for tourism purposes, rather than to serve locals) since then, but as of yet, nothing has come to fruition. If you're interested, though, check for the latest before you go! And if worst comes to worst, you'll just have to enjoy the beautiful turquoise blues and mountain views from the water itself… oh well.
Inspired? Check out our collection of adventures in Croatia.