Alleppey is the gateway to the idyllic backwaters of Kerala. Head over to the jetty, walking past the houseboats, and snub the larger vessel for a kayak, for now at least. You'll find yourself looking out at the Indian sun, sitting low on the horizon, and as you paddle inland, you'll soon reach stretches of water too narrow for the famous houseboats to reach. The gentle sound of the paddle cutting through the water will begin to take over as the towns fade away, to be replaced by lush greenery on the river banks. This is the Kerala dream.
The southern state of Kerala feels a world away from the frenetic megacities of Mumbai and Delhi. And that's exactly why people visit it - to catch their breath and relax after the chaotic, exciting assault on the senses they might experience in other parts of the country. Kerala lies along India's Malabar coast in the southwest; hundreds of miles of tropical coastline sloping up to the emerald tea plantations and misty blue peaks of the Western Ghats. Between the mountains and the sea you'll find the state's most famous landscape: the Kerala backwaters.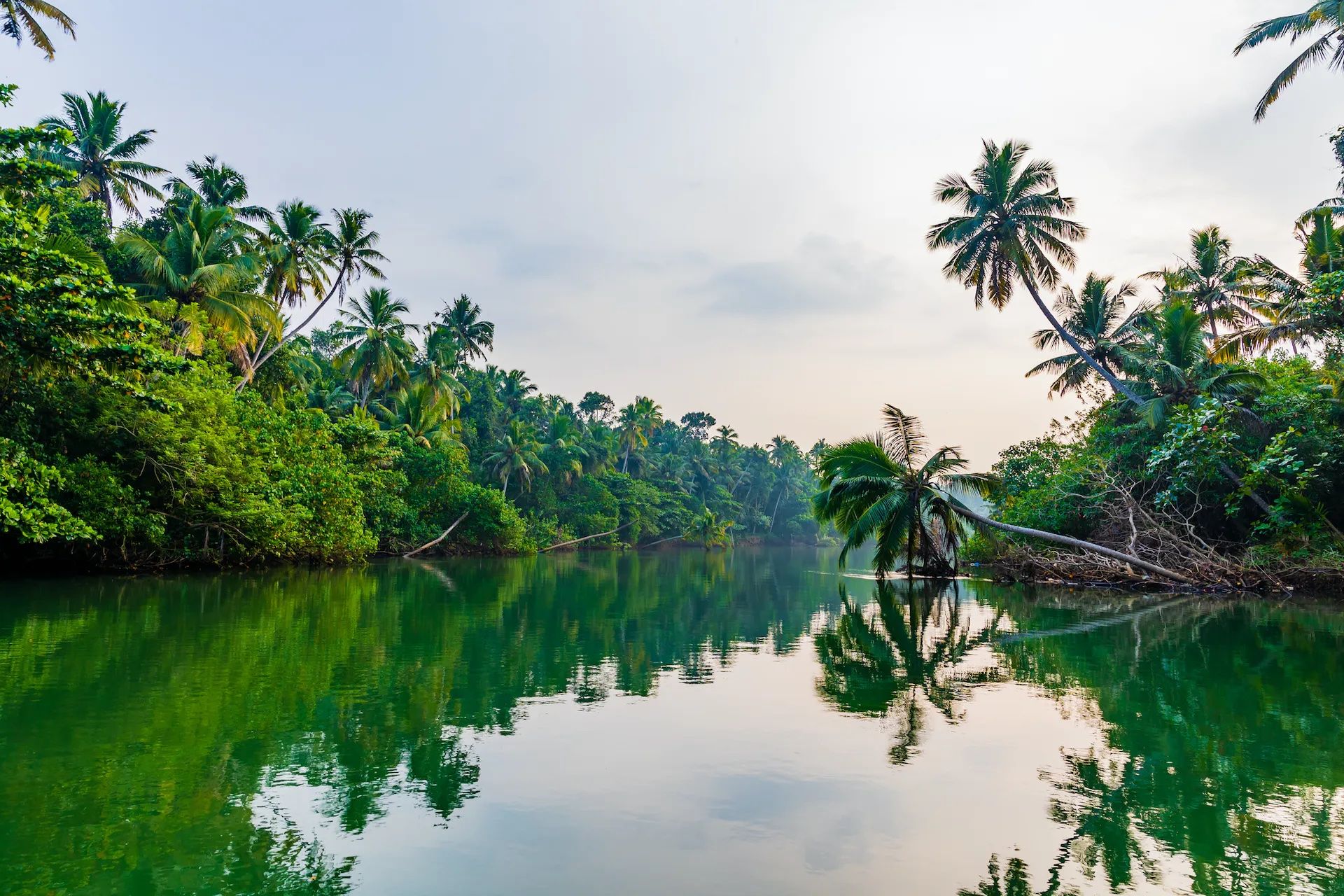 The backwaters are a vast network of lagoons and narrow canals, lined with coconut palms and surrounded by emerald paddy fields. Small villages are nestled among this green landscape - you'll see people out fishing, walking to school or waiting for water taxis. The fiery sunsets, reflected by the water, are glorious.
With beauty comes popularity. Millions of tourists visit Kerala every year - popular hotspots include the capital, Cochin, and the hill station Munnar among others. Luckily, you can find serenity on the backwaters, especially away from the busiest areas such as Vembanad Lake. Still, we couldn't help but wonder - what is the impact of tourism upon the local environment? And is there a way to enjoy the backwaters while giving back, rather than taking away?
The Environmental Impact of Tourism on the Backwaters
On the Kerala backwaters, houseboat cruises are one of the most popular tourist activities. Known locally as kettuvallam, they were formerly rice barges and are made without a single nail - the hull is fastened together with ropes made of coconut fibre (coir). These days, they've been converted into luxury, air-conditioned boats. There's something very special about gliding down the backwaters, watching the paddy fields and coconut palms drift by.
We would always say that the best way to explore the backwaters is from the seat of a kayak, where you can get the best view, and make your way down canals too narrow for larger boats to be able to access. But it's special to be able to sample a houseboat too - to be able to lie back and relax as scenes of backwaters life float past, to be lulled to sleep by the gentle rocking of the water. Houseboats are a unique way to experience Keralan culture, and a stay on one tops many a bucket list.
Such is the popularity of houseboats that there are thousands of them in operation across the backwaters. According to Josekutty Joseph, former President of the All Kerala Houseboat Owners' Association, there are around 1,200 houseboats operating in the Alleppey backwaters (which cover around 300 square kilometres) and only around 730 of them are registered.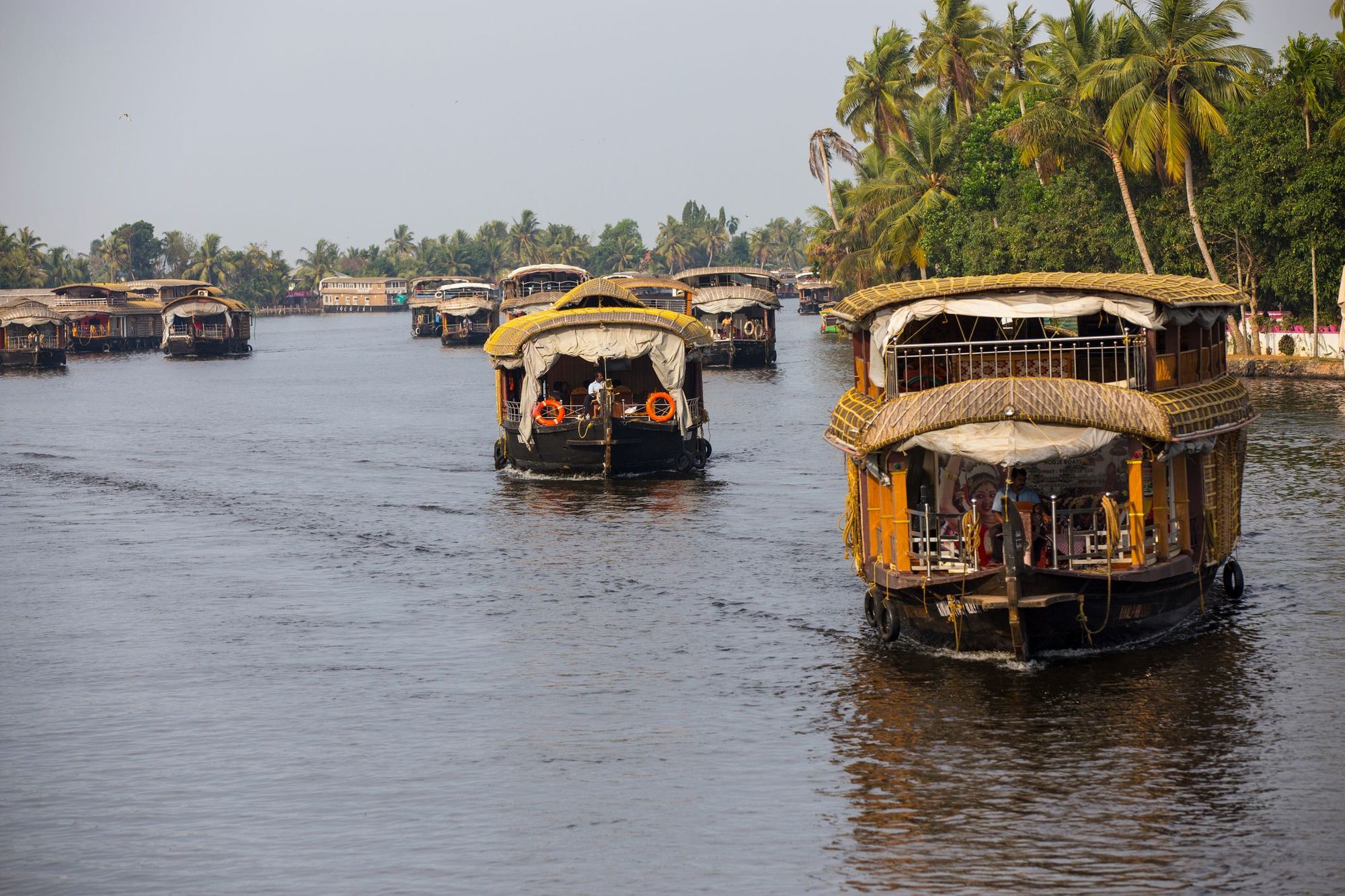 Aside from overcrowding on the waterways in peak season, this creates problems. In 2012, a law was passed that all houseboats were to have bio-toilets with outlet pipes above the waterline, which are to be emptied regularly at a septic treatment plant (STP). However, visits to STPs aren't regulated and some boats have had their bio tank outlet pipes fitted below the waterline. Furthermore, oil from engines and kerosene from generators can sometimes leak into the water.
If you're interested in visiting Kerala's backwaters, there are plenty of easy ways to ensure you do so as sustainably as possible
However, it would be reductive to suggest that tourism has a solely negative impact on the region. According to a European Science study, tourism accounts for around 10% of Kerala's GDP, and employs roughly 23.5% of the local population.
The Kerala tourism board are early adopters of a responsible tourism initiative, which has an emphasis on female empowerment and uplifting marginalised communities, helping them become self-sufficient through activities ranging from selling handicrafts to converting their houses into homestays. Many farmers who left the industry have been encouraged to return - they now offer farm and spice plantation visits.
And you can make a difference too. If you're interested in visiting Kerala's backwaters, there are plenty of easy ways to ensure you do so as sustainably as possible, from choosing a more environmentally friendly houseboat to swapping taxis for a bicycle. Here are our top tips.
The Responsible Way to Visit the Backwaters
Choose an Environmentally Friendly Houseboat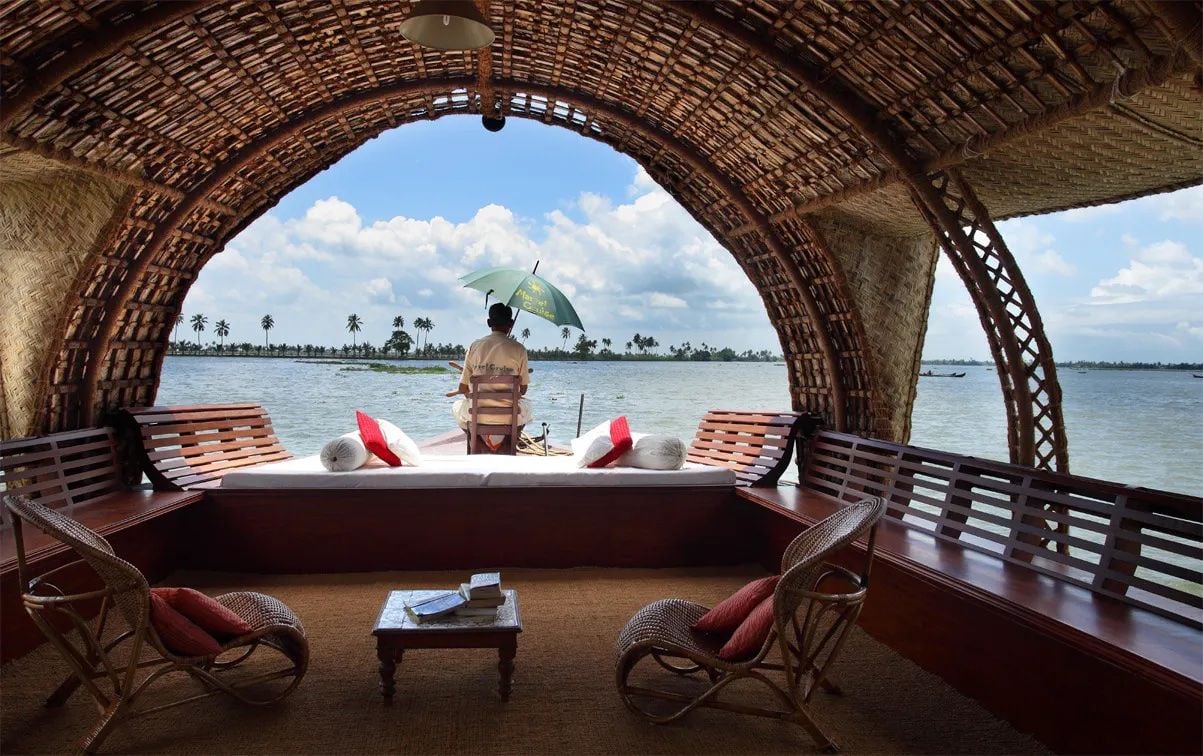 There are plenty of houseboat operators who adhere diligently to regulations, and do their best to be environmentally friendly. Kerala's Department of Tourism classifies boats as 'diamond', 'gold' and 'silver', depending on their quality and the number of environmental criteria that they meet. These include essential criteria - such as having a properly designed septic tank - to optional criteria, such as incorporating the use of solar panels.
One example is Marvel Cruises, whose gold standard houseboats use natural, sustainably harvested construction materials (coir bed frames, areca nut wood and bamboo mats for roofing). They also have solar powered fans and lights.
Explore the Backwaters on a Kayak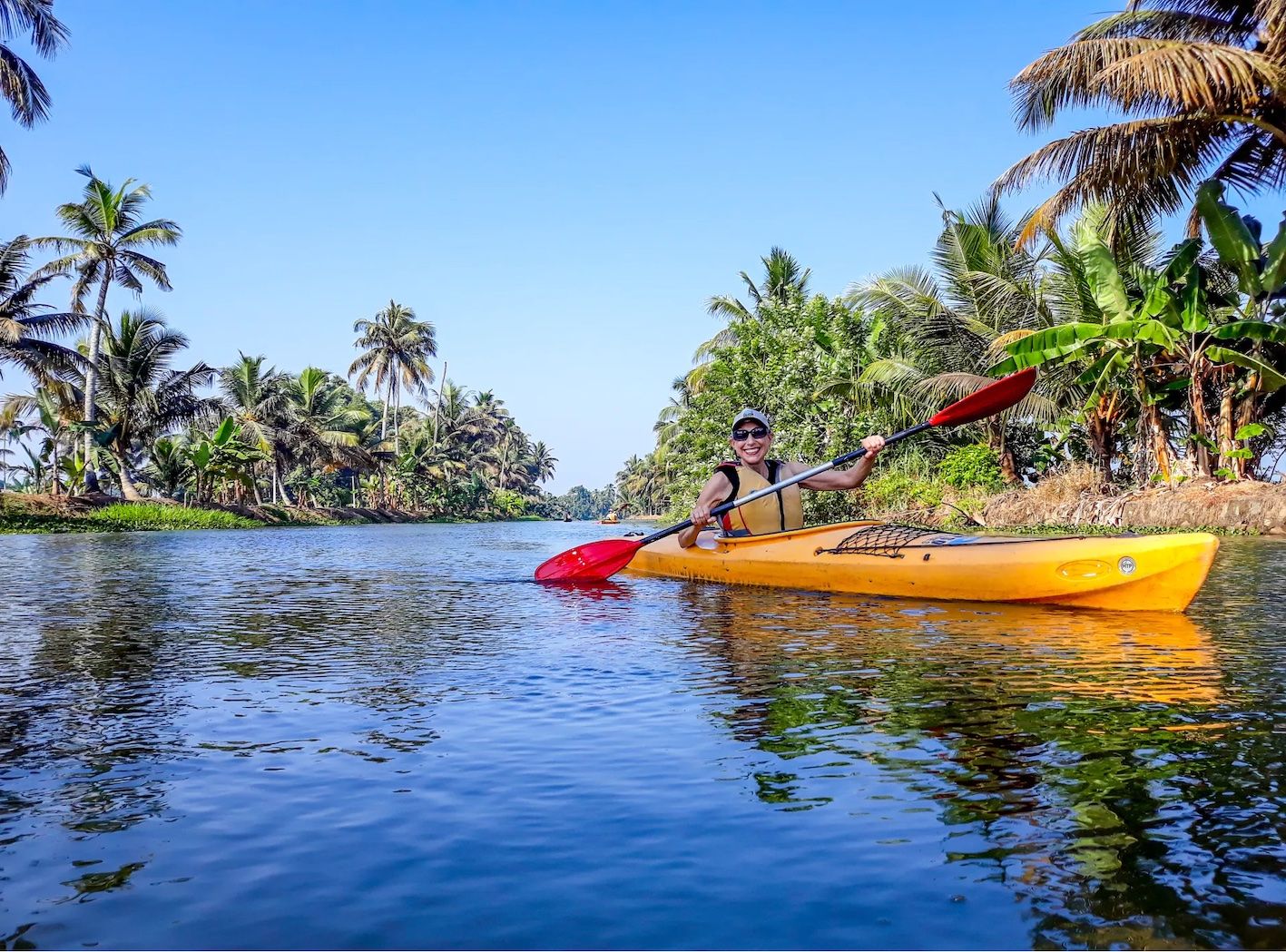 One of our favourite ways to explore the backwaters is by kayak. Not only is it a less carbon-intensive form of travel than motorised boats, but it also enables you to visit the smaller waterways that the houseboats can't fit down. Going off the beaten track like this will enable you to visit the villages that line the banks, mooring up if you want to explore. Put in at quiet Chennamkary and you'll find yourself in a network of canals rarely visited by tourists.
Hundreds of migratory and endemic bird species live in the backwaters. The best time to spot them is while out kayaking, as they won't be scared away by the noise of a boat motor. Keep an eye out for whiskered terns, kingfishers, Asian paradise flycatchers and many more.
…Or On Your Bike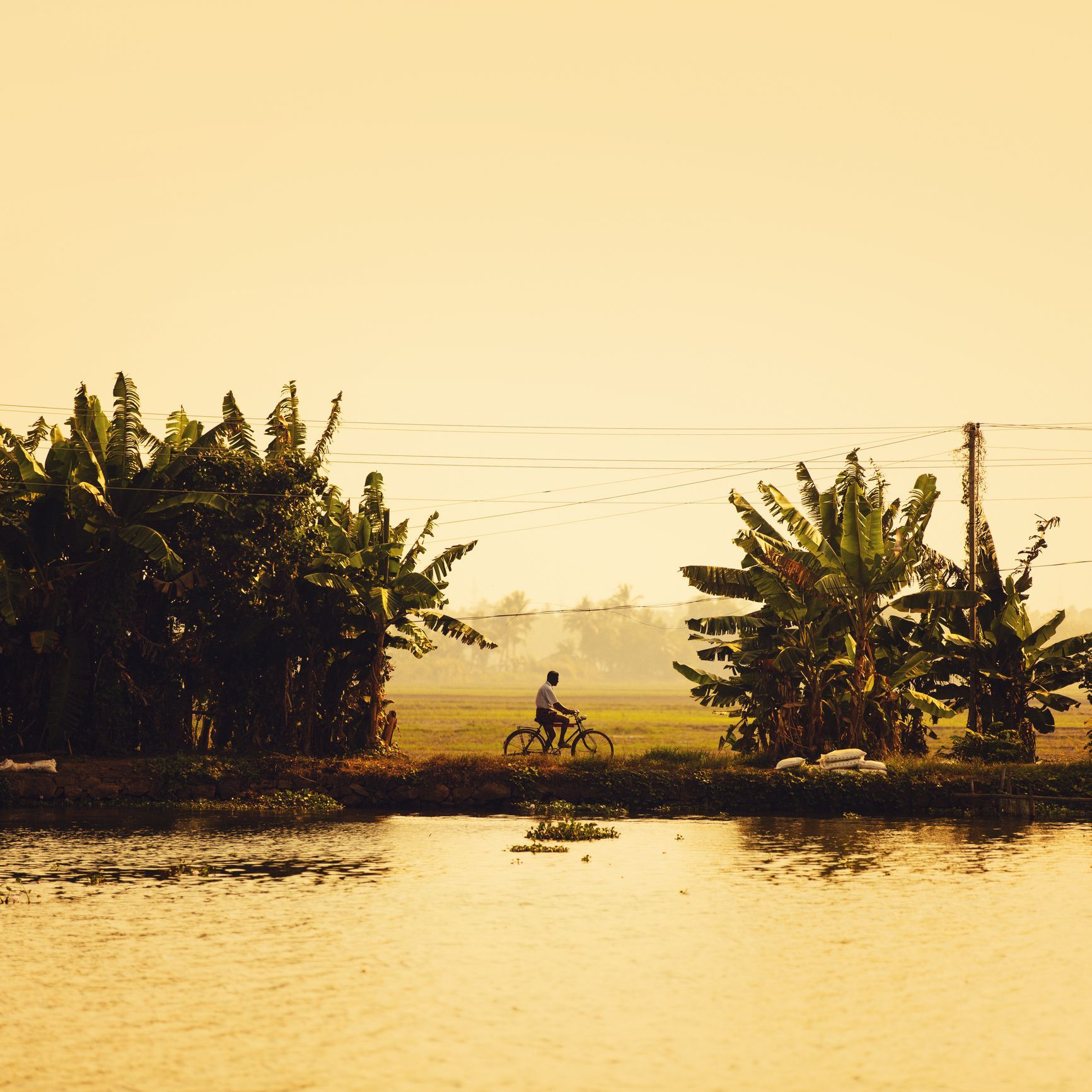 The word 'backwaters' evokes a watery environment, but there's a lot to see on land, too. While Kerala's highways might be busy, its backroads - which trace the lakes and lagoons of the backwaters - are gloriously quiet. You'll be able to immerse yourself in the landscape and enjoy the scenery as you pedal.
You'll cruise down sandy tracks shaded by coconut palms, passing through villages with bustling tea stands and brightly coloured churches. Keep your eyes peeled for traditional toddy shops, which sell locally sourced and fermented coconut palm liquor.
Another bonus of exploring by bike is its portability - you can load it onto a canoe or one of the local ferries if you fancy a shore excursion. The backwaters are a short distance from the coast, so you can also select a route that will lead you to the ocean for a welcome dip.
Choose a Hotel That Gives Back to the Community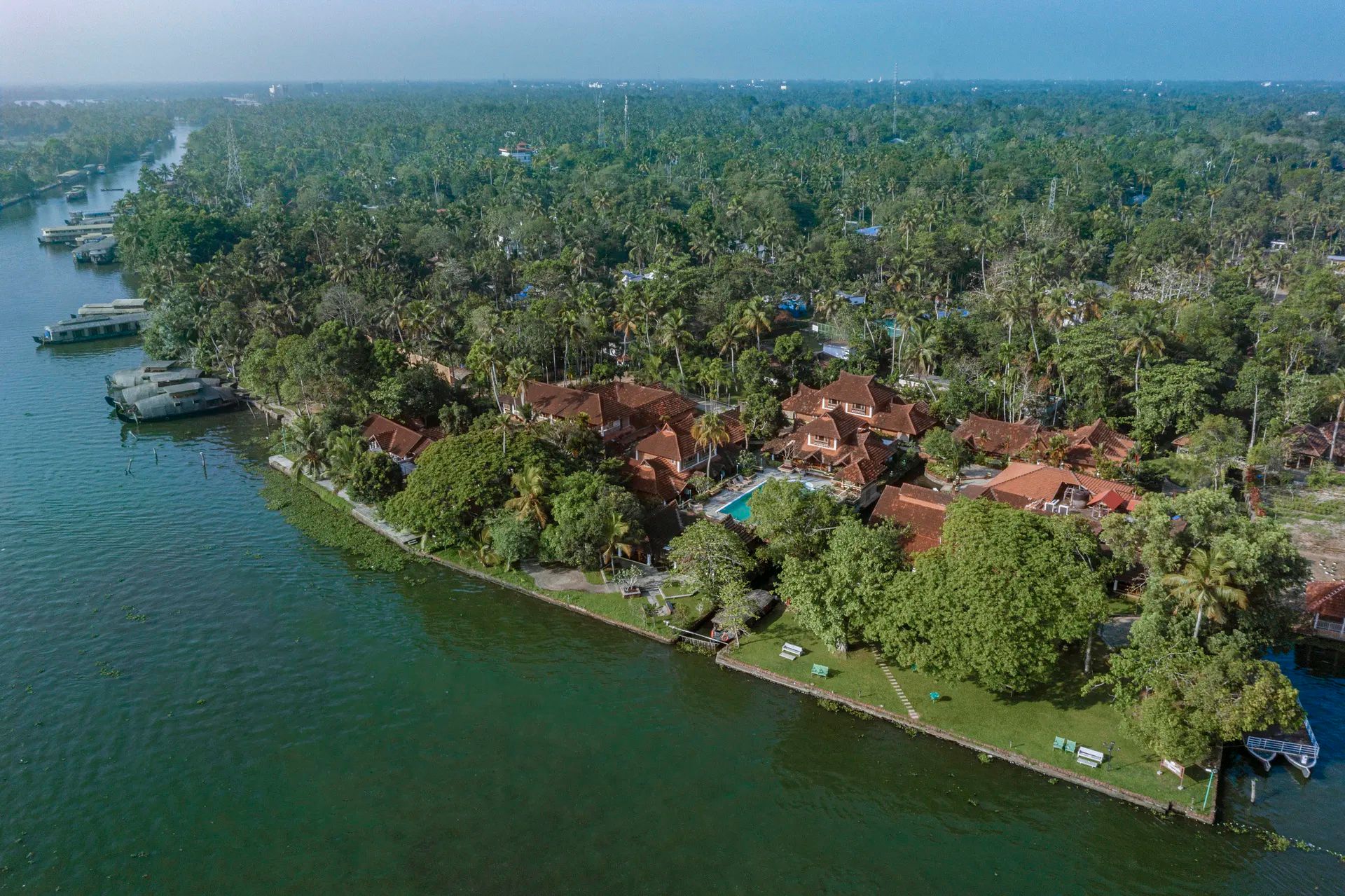 It can be tempting to choose the cheapest or most convenient place to stay when you're out adventuring. But we recommend doing a little bit more research to find a hotel with some decent environmental initiatives. There are plenty such options in Kerala, as the state has been encouraging responsible tourism for several decades.
Take Punnamada Resort, for example. It has a water recycling and conservation programme - where greywater is used in the garden - composting, a biogas plant and follows a policy never to cut down trees onsite. It also employs locally - all support and managerial staff come from the nearby towns and villages.
Stay at Local Homestays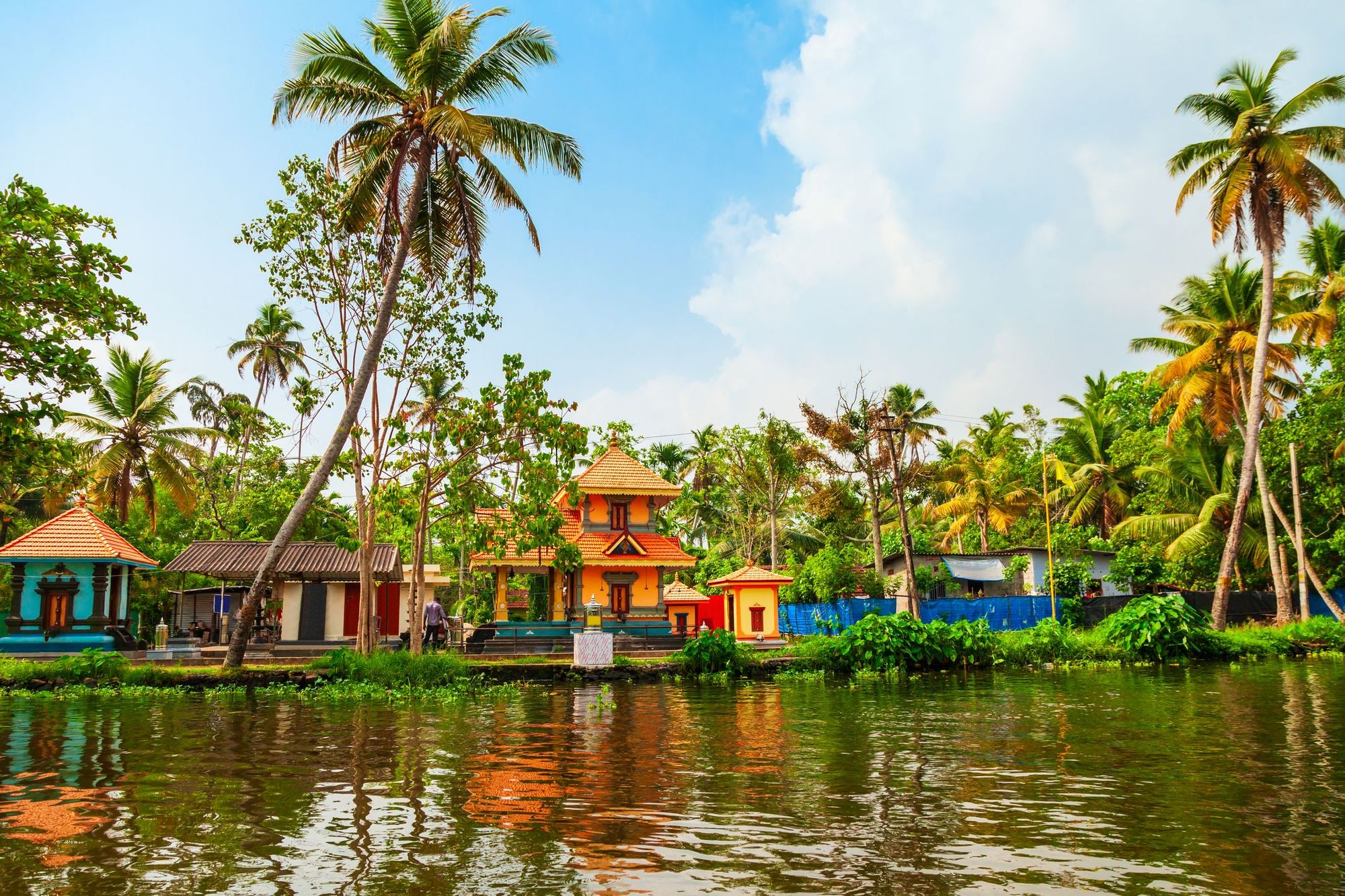 Staying in local homestays is a great option when you're in Kerala. It gives you a unique opportunity to get to know a local family. You'll get to try delectable home-cooked food - often made with spices, fruit and vegetables from your hosts' own garden - at communal meals with the family and other guests. And what's more, your money will be going directly into the local community.
Staying in a homestay in Kerala, you can be treated to cooking classes, or walks around the local community - to the sort of places you may completely bypass on a larger tour. You'll learn about agriculture and social practices, and chat to villagers.
Many homestays will also help organise kayak trips, walking tours and cycle hire. They'll give you suggestions on what routes to follow that get you truly off the beaten path.
Eat Locally Sourced Food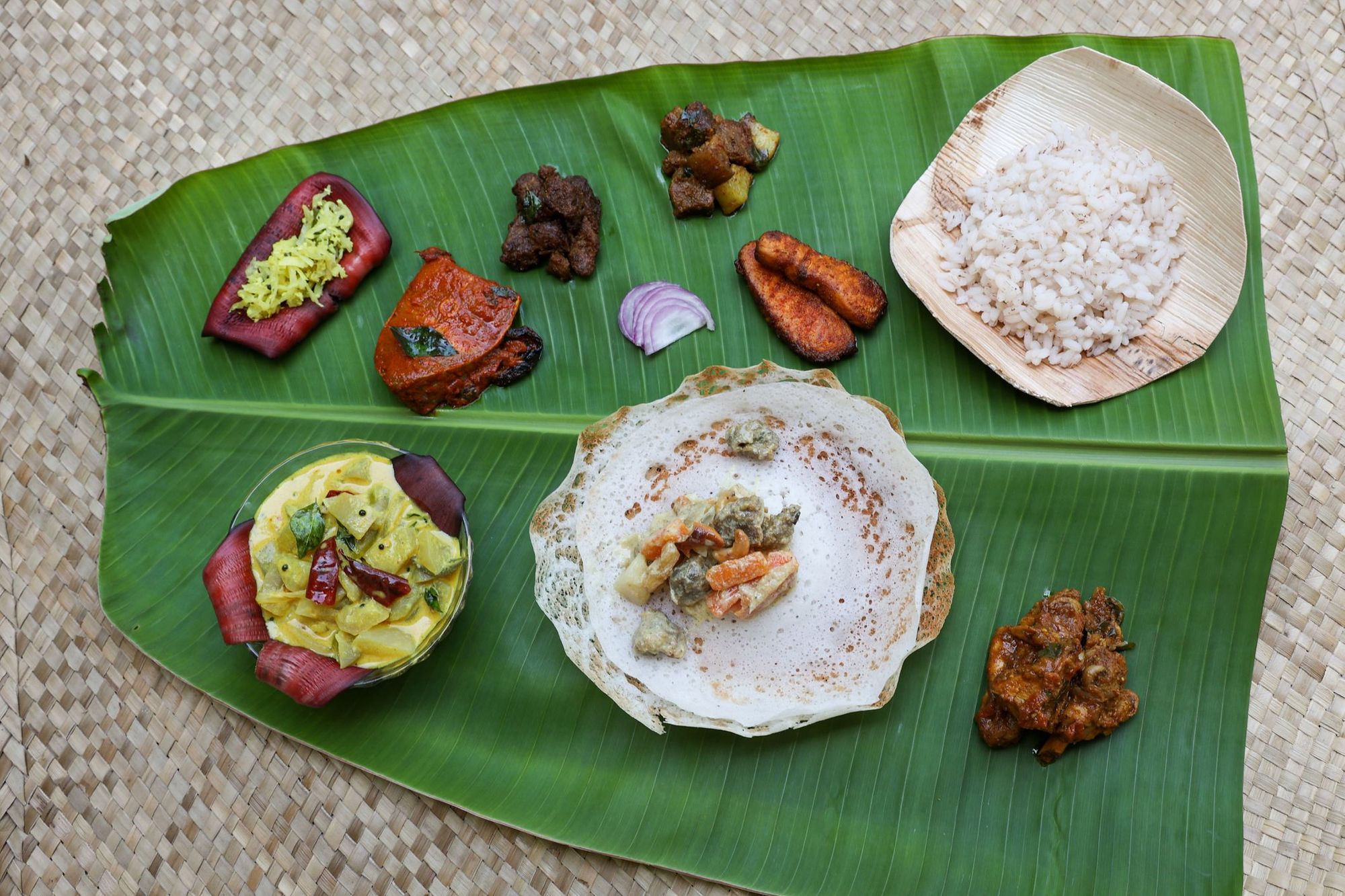 One way to reduce the carbon footprint of your trip is to eat dishes made from locally sourced ingredients. Menus will be clearly marked (and if there are no menus, you're definitely eating local). Eating locally is easy, because Keralan cuisine is delicious. It's also very suitable for vegans, vegetarians and coeliacs.
Try appams (fluffy pancakes with crispy edges, made from rice flour and coconut milk) served with ishtu, a coconut milk stew laced with whole spices that grow in the region. Fish is smeared with masala and grilled or steamed in banana leaves, while Kerala fish curries are richly spiced, laced with tamarind and coconut milk.
There are plenty of vegetable dishes too, such as thoran (a kind of stir fry) and avial, vegetables cooked with fresh grated coconut and curry leaves. For certain festivals and special occasions, sadya is served - it's a traditional feast served on a banana leaf, and can contain up to 26 different dishes.
Feeling inspired? Then check out our epic hike, kayak and cycle in Kerala adventure, an introduction to the backwaters and beyond!