The word Alaska comes from 'Aleyska', an old Aleut word which means "that which the sea breaks against". Vast, raw and untrammelled, the state of Alaska is surrounded on all sides by elemental ocean. Its coastline is crenellated with frozen fjords and scattered with hundreds of tiny islands. Inland, it's threaded with 487,400 kilometres of waterways, from small mountain streams to fast-flowing glacial rivers.
"You can spend a week quietly paddling and portaging between lakes and lily pads on the Kenai Peninsula, or ride the silver-gray glacial meltwater of the Nenana River past tourists as you disappear into the Nenana Gorge," writes Karen Jettmar in her Alaska River Guide.
"You can parallel the ancient path of great caribou migrations, from high in the mountains to the boreal forest, or eat ice from calving glaciers as you float down the Copper River to Cordova."
It is through kayaking in Alaska that you can explore the state to its fullest, and immerse yourself in its elemental natural spaces. There's something wonderfully meditative about gliding across the water under the luminous glow of Alaska's midnight sun. Conversely, your pulse will race as you navigate the churning whitewater rapids of the state's fast-flowing glacial rivers.
Kayaking in Alaska might evoke images of freedom, but we must stress that being well prepared and doing your research is very important. You'll need to build up strength and endurance to spend long days on the water.  You'll need resilience to pitch a tent and camp in the wilderness. And you'll need to find a good guide, who'll bring expert local knowledge of the terrain and the waterways.
We sought advice from Kristina Duffy, who works for Alaskan adventure company Pangaea Adventures, about getting started kayaking in Alaska. Our Alaska kayaking guide covers where and when to go, how to prepare and some of the top paddling spots. Kristina's also given her top tips for glacier kayaking and navigating bear encounters safely.
Where To Kayak in Alaska
"We are biased, but Eastern Prince William Sound is our go-to," Kristina says. "There are a world of bays, inlets, coves and islands to explore and the coastline is dramatic. The mountains rise steeply from the ocean, the wildlife is abundant and the beaches are untrammeled - the pristine waters are irresistible."
We've compiled a list of five of our top kayaking destinations in Alaska, including several of Kristina's top spots. The list is by no means exhaustive - Karen's Jettmar's Alaska River Guide: Canoeing, Kayaking, and Rafting in the Last Frontier lists numerous, well-researched options.
1. Colombia Bay, Prince William Sound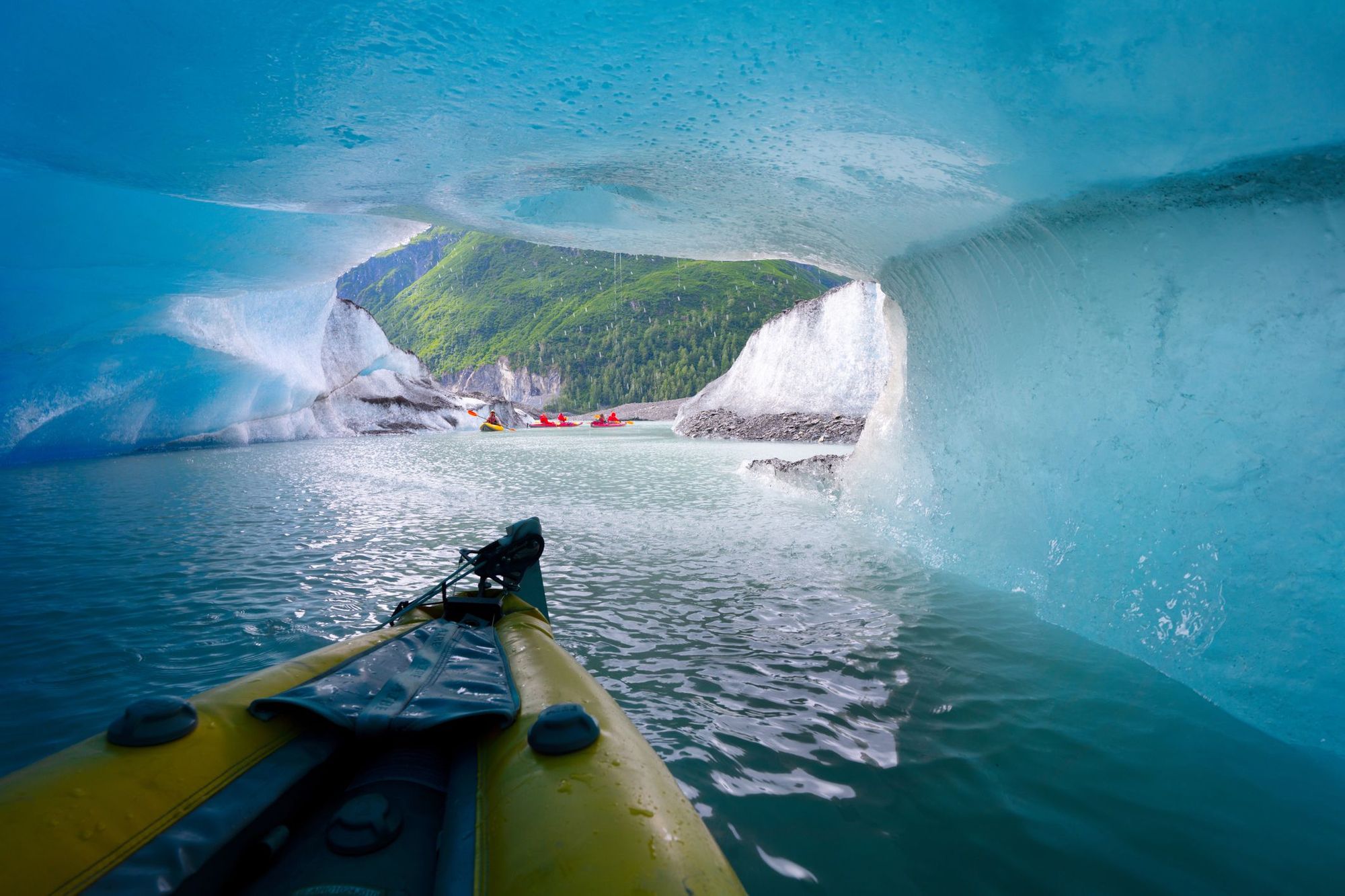 Perfect for: Experiencing glacier kayaking in Alaska.
As you paddle across Colombia Bay, you'll be gliding through glassy waters surrounded by high, forested mountains. Travelling north up Colombia Bay will involve several days of paddling, getting slowly further from civilization. As you travel north, you'll encounter larger and larger icebergs drifting towards you. You'll be sharing the water with a wide variety of marine life, including leaping orcas, humpback whales, sea otters and more.
"Imagine paddling along, listening to the ice chunks crackle and pop as they float by," Kristina says. "Just when you think you're alone out there, you hear the spout of a humpback whale as it comes up for air, and you turn to see this majestic beast just metres away. It's magical."
At the very top of the bay is Colombia Glacier, one of the fastest-moving glaciers in the world. Paddling where the glacier meets the sea is a surreal experience. There are thunderous cracks each time the glaciers calve into the water, causing wide ripples across the glassy surface. The creaking of the icebergs echoes around the bay. Colombia Bay is believed by many to be one of the best spots for glacier kayaking in Alaska.
2. Shoup Glacier Marine State Park, Prince William Sound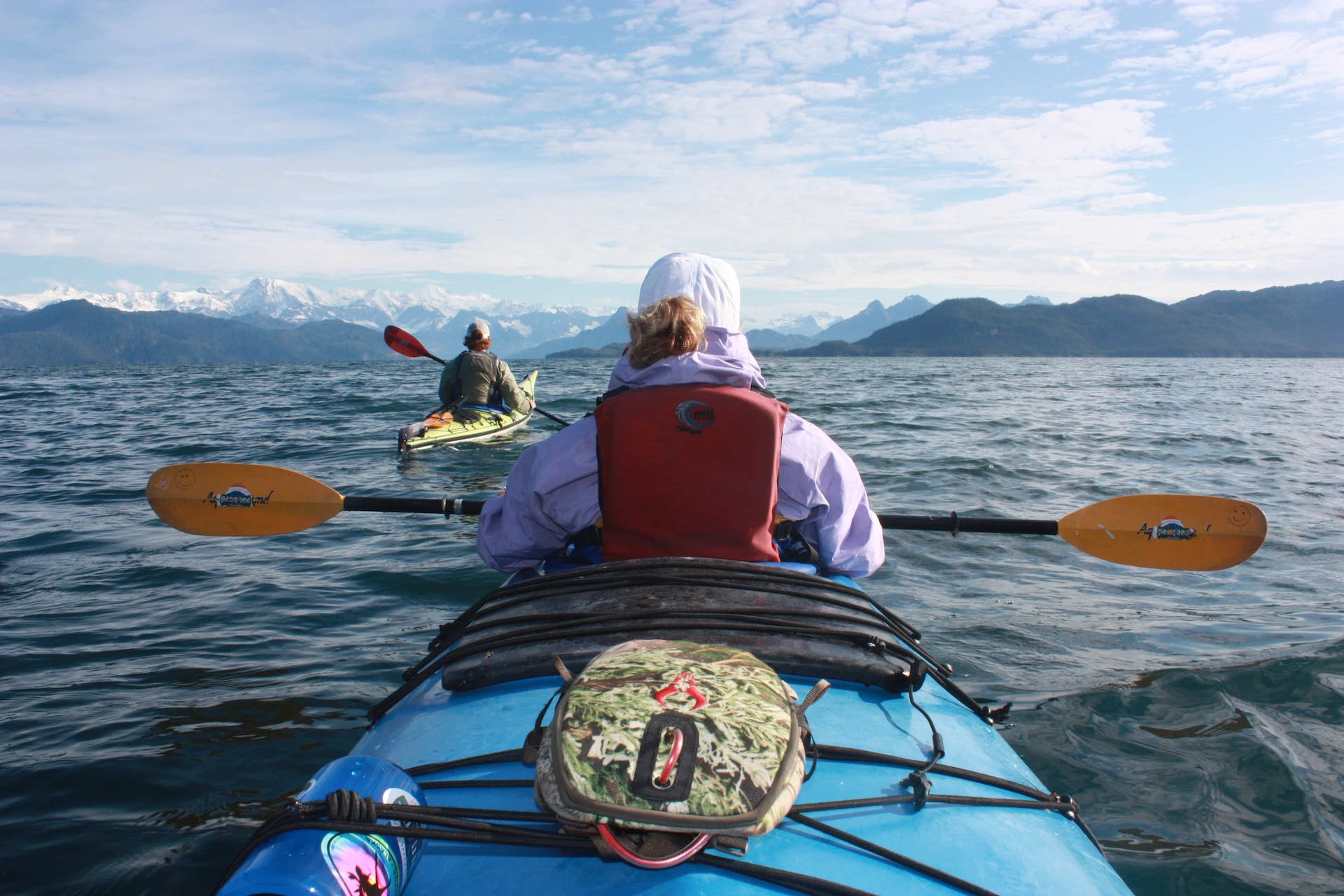 Perfect for: an introduction to Alaska sea kayaking.
Kristina also recommends Shoup Glacier Marine State Park for a kayaking trip. Despite being only five miles by water taxi from the town of Valdez, Shoup Glacier Marine State Park gives you the impression of being much more remote than this. As you explore the quiet bays and inlets, you'll likely see more seals, Arctic terns, kittiwakes and sea otters than you will other paddlers. You'll also be able to get up close and personal to Shoup Glacier.
There are three public use cabins in Shoup Bay, which can be reserved from Valdez Adventure Alliance. These cosy huts are great bases to spend a few days exploring the area, although wild camping is also allowed. It helps to travel with a knowledgeable guide, who will help you plan expeditions according to the tide times.
3. Chichagof Island, Juneau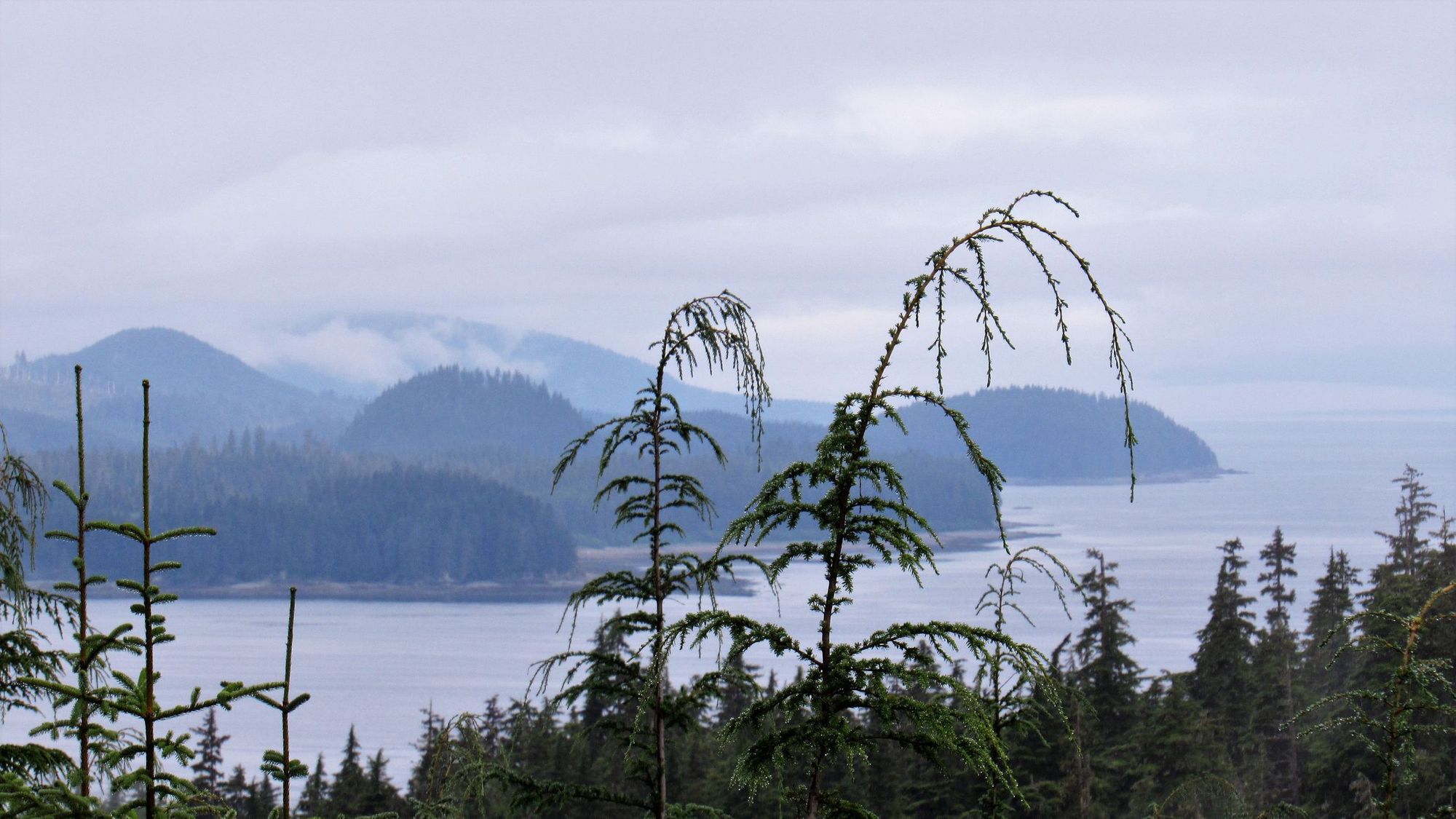 Perfect for: whale watching in Alaska.
Chichagof Island is well known for having one of the highest concentrations of brown bears in the world (one to two per square metre), and its Icy Strait Point is an ideal spot for bear spotting. You'll be able to kayak across the glassy waters of the strait in search of them, exploring hidden bays and tracing forested shorelines. You can also see whales for around half the year in this area, thanks to the high nutrient content of the water.
Icy Strait Point is entirely Alaska Native owned and operated. All the profits made from tourism are given to support Hoonah, Alaska's largest Native Tlingit village, on Chichagof Island. Your Tlingit guide will be able to tell you more about Alaska Native culture as they lead you on a kayak trip into this unspoilt environment.
4. Kenai Fjords, Kenai Peninsula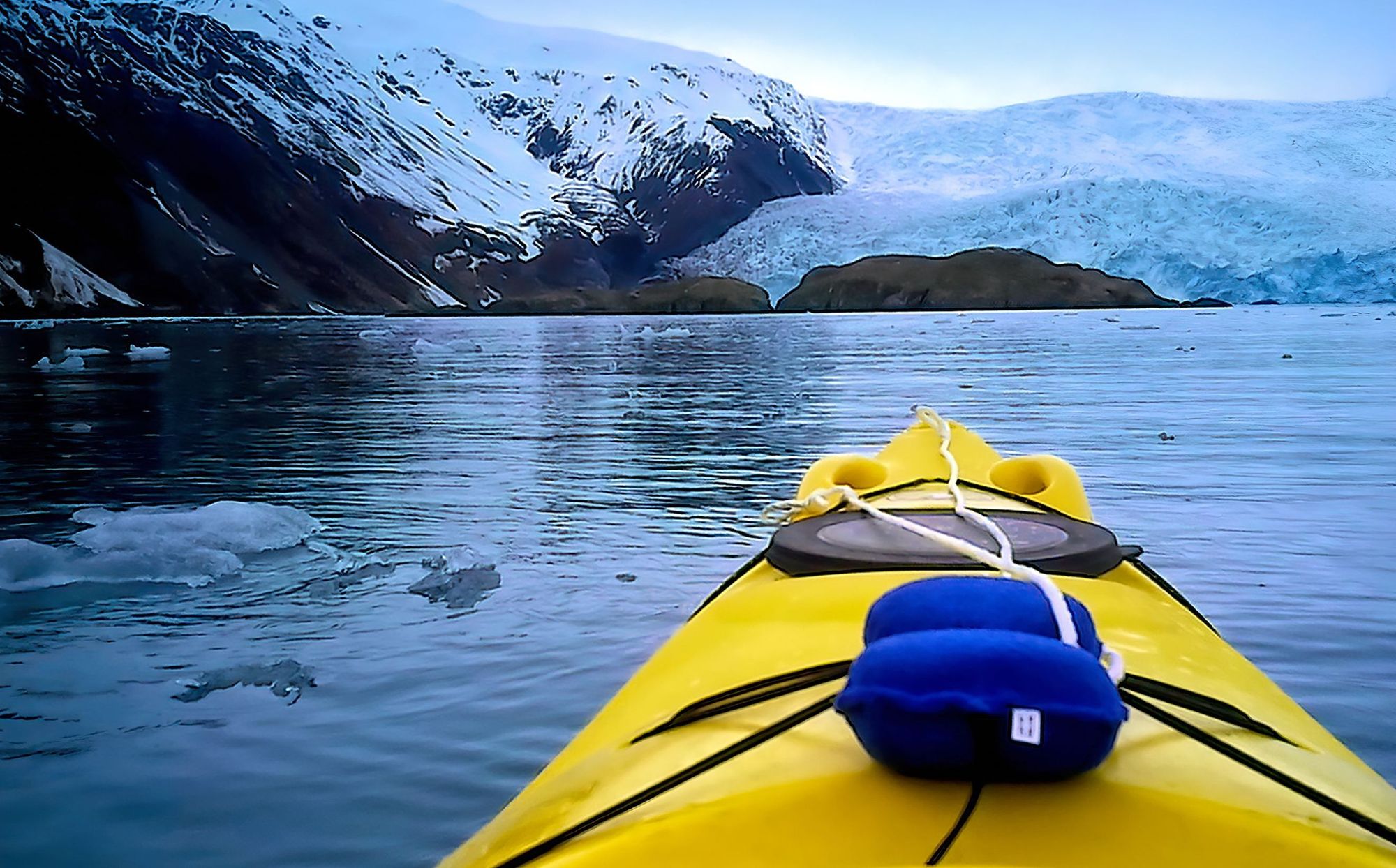 Perfect for: Frozen fjords and wildlife watching.
From glacial peaks to boreal forest and rocky coastline, Kenai Fjords National Park is a rugged wilderness of 607,805 acres on the Kenai Peninsula. Moose, bears, mountain goats, puffins and more occupy this shifting, elemental landscape. Most interesting of all to intrepid kayakers are the huge fjords of rock and ice rising majestically from the water.
There are plenty of places to kayak with the Kenai Fjords National Park. We recommend Ailik Bay, where you can paddle past Alaska's largest glacier and take in the views of the surrounding fjords and mountains.
5. Nenana River Gorge, Denali National Park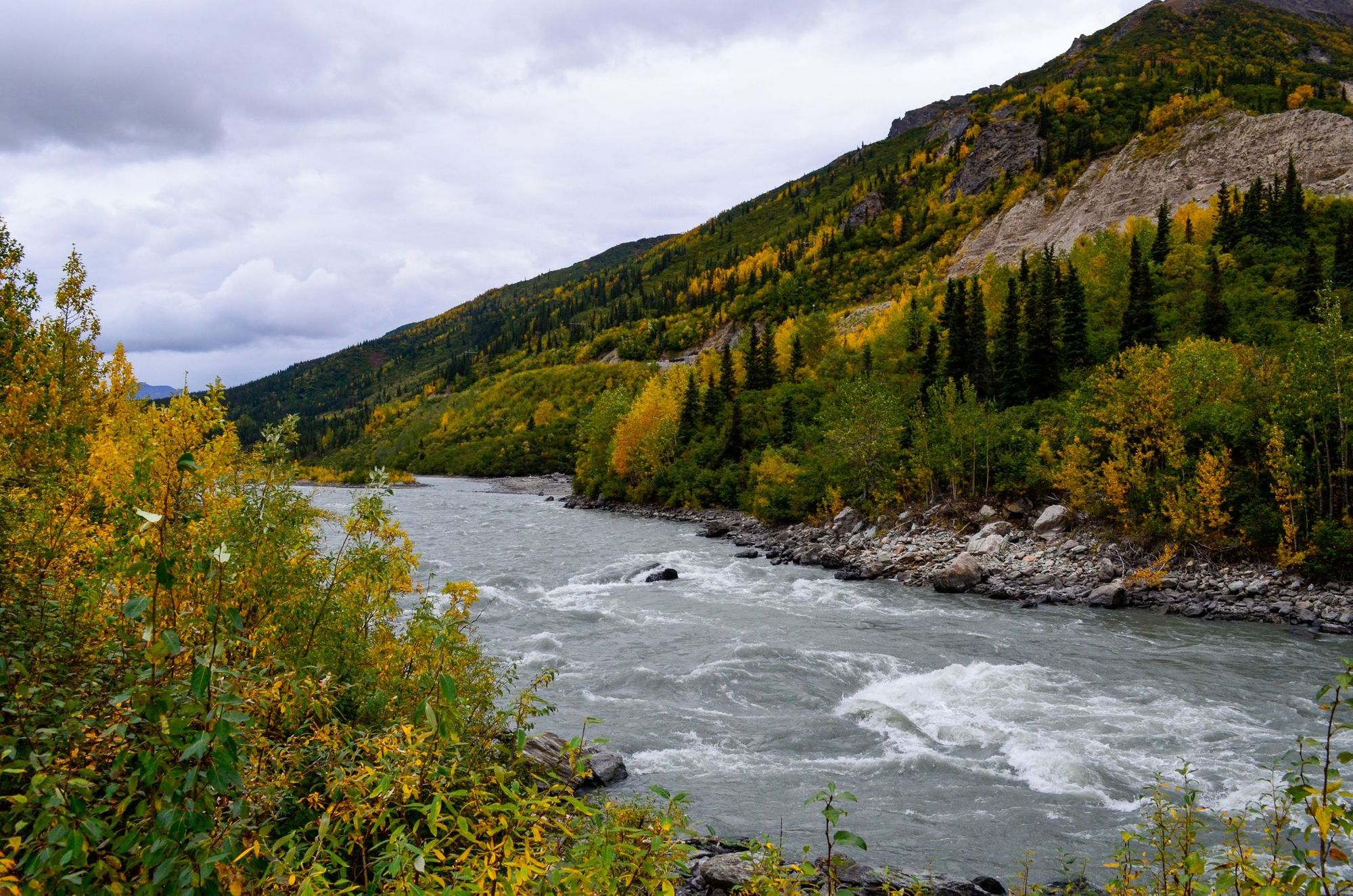 Perfect for: pulse-raising white water rafting.
The Nenana River is an ideal spot for whitewater kayaking in Alaska; it's a fast flowing glacial river with some winding bends and some pulse-raising rapids with names such as Ovary Crusher and Terror Corner. A guide is definitely required here, however experienced you might be, as they'll have expert local knowledge of the river.
The Nenana River Gorge is particularly popular, as it serves up 10 miles of solid Class III to IV whitewater. You'll travel down the steep-walled canyon, passing nesting golden eagles and wild sheep perching precipitously on the rocks. At the headwaters of the river the landscape opens out into a gorgeous wilderness, encircled by the rugged Alaska Range Mountains. There are plenty of beginner runs on the Nenana River too, where you'll get to experience gentler stretches of water coupled with some exciting patches of white water.
When Should I Go Kayaking in Alaska?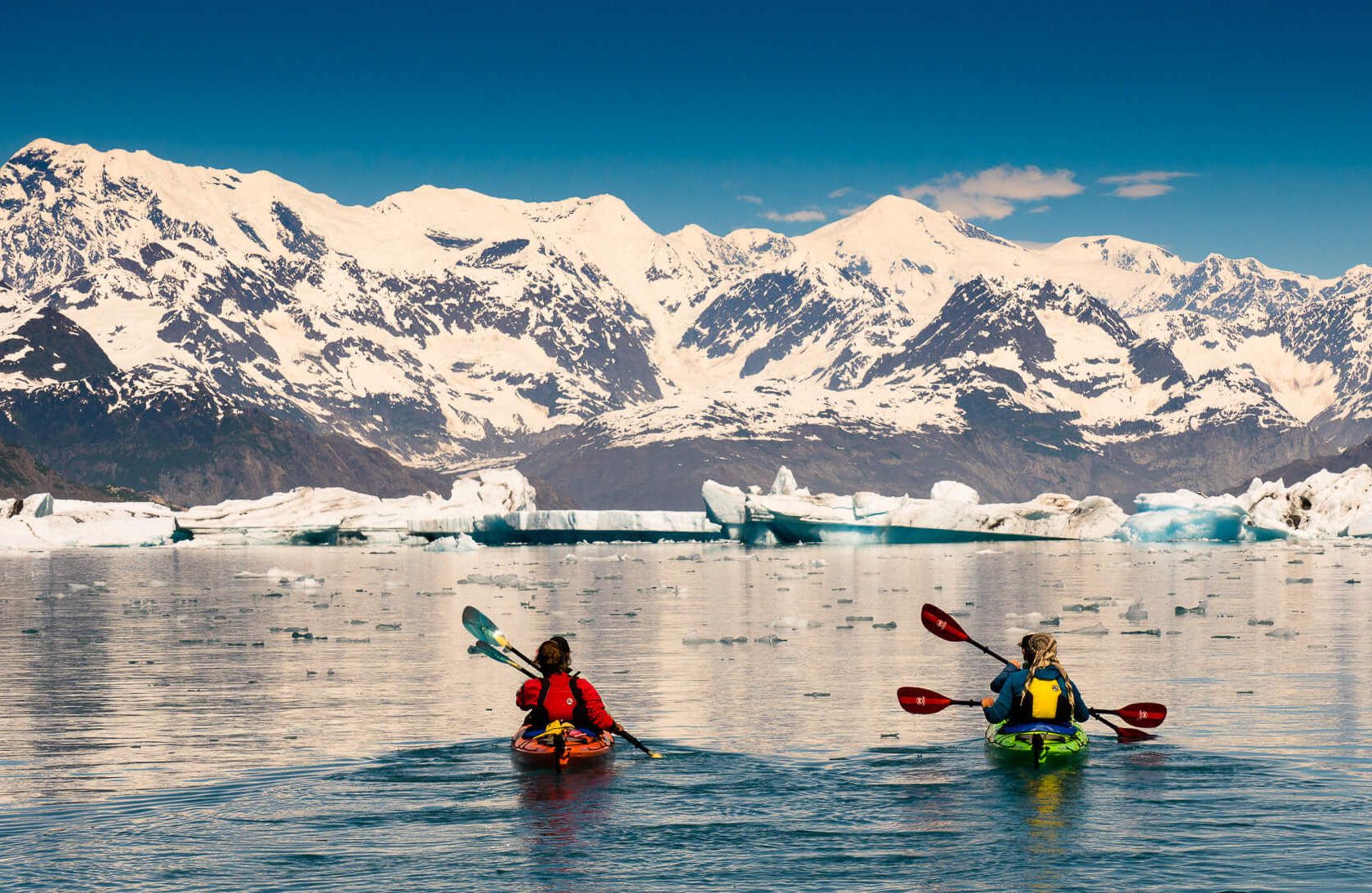 The kayaking season in Alaska is short, lasting from May to September. This is summer time, but not as you know it. Nudging up against the Arctic Circle, Alaska summers might include almost twenty-four hours of daylight, but it's rarely shorts and t-shirts weather.
"It can definitely be cold in summer, especially when paddling around ice and glaciers," Kristina says.
Within the short paddling season there are several different mini-seasons, each with its own pros and cons.
Early Season (Beginning of May to mid-June)
At this time of year, you'll encounter fewer tourists on the water. You'll also encounter fewer mosquitos, which is always a bonus. The weather is relatively stable - although this is Alaska, it's never constant sun - and the flatwater paddling conditions are pretty good.
It is, however, pretty damn cold. The shorelines and river banks are still going to be carpeted in ice, especially if they're north-facing. So if you're camping, a warm sleeping bag and mat is a must.
Peak Season (mid-June to mid-August)
During high season you'll have the best chance of decent weather, and the snow will have melted, making camping more comfortable. There will be more paddlers around, but in Alaska it's pretty easy to get off the beaten track. The long hours of daylight mean you have plenty of time on expeditions to get where you need to be, allowing time to stop and take in the view, or explore on land.
You might find flights and accommodation more expensive during the high season, or that it's a little harder to find a spot on a kayaking expedition. This, however, can be partly mitigated by booking your trip in advance. The chief nuisance of peak season is actually the mosquitos, which sometimes swarm at dawn and dusk. Make sure you pack lots of mosquito repellent!
Late Season (mid-August to mid-September)
The number of mosquitos and other tourists have dwindled, meaning it's easier to bag a space in campsites and cabins. But the nights are beginning to draw in and the weather and sea conditions become more unpredictable.
If you're going to be making a late season trip, we recommend adding a couple of days onto your planned excursion to account for bad weather, or have an alternative activity prepared in case conditions don't allow for paddling.
How to Prepare for a Kayak Trip in Alaska
Physical Preparation
When it comes to physical training programmes, one size does not fit all. People have different time constraints and different fitness levels. We would always recommend seeking the advice of a medical or health and fitness professional when planning your training schedule.
One of the most important principles to bear in mind when designing a training programme is specificity - you must train your body to experience the same stresses it will undergo while doing your chosen activity. So the best thing you could do to train for kayaking, is, well, kayaking. Plan some short paddling trips in your local area - even in cities you'll find rivers, harbours or lakes where you can hire a kayak or go out with a guide.
You can also make sure that any gym or home workout target the key muscle groups used in kayaking - your abdominals, lats, biceps and forearms. Good exercises include push ups, kettle bell swings and overhead presses (talk to your doctor first).
Mental Preparation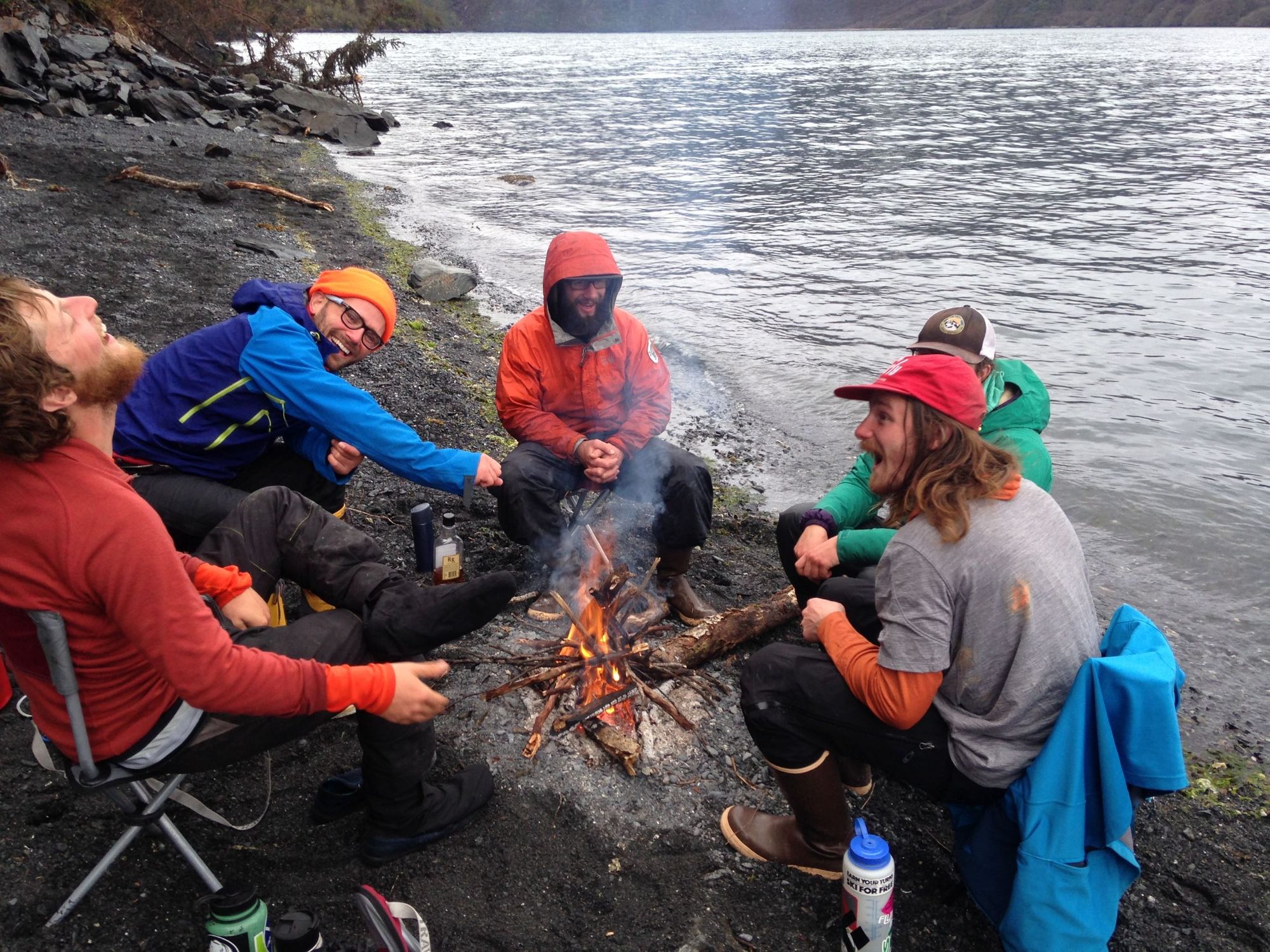 Expedition medic Dr Sophie Redlin believes that while many people prepare physically for a big trip, getting mentally prepared is often forgotten about. But however fun and exciting an expedition is, there are also likely going to be some challenges. You might get cold, or wet, or fatigued. You'll be spending a concentrated amount of time with complete strangers.
"My advice would be to think ahead as much as possible, and then put in place strategies for yourself to cope with these challenges," Dr Redlin advises. "We can't foresee everything, but in a similar way to packing your raincoat and waterproof trousers, think about what you could take with you to help in a situation where you're feeling homesick. Or, if you tend to get angry, think about the strategies that can work for you at home, and how you could apply them to an expedition environment," she adds.
Alaska Safety Tips
Brown bears, icebergs - is kayaking in Alaska safe? Any wilderness experience will have a degree of risk associated with it. But you'll increase that risk by being an idiot, and reduce it by following the correct safety guidelines. Always listen to your guide - they're not being a killjoy, they're just trying to keep you safe.
How to Deal with Bears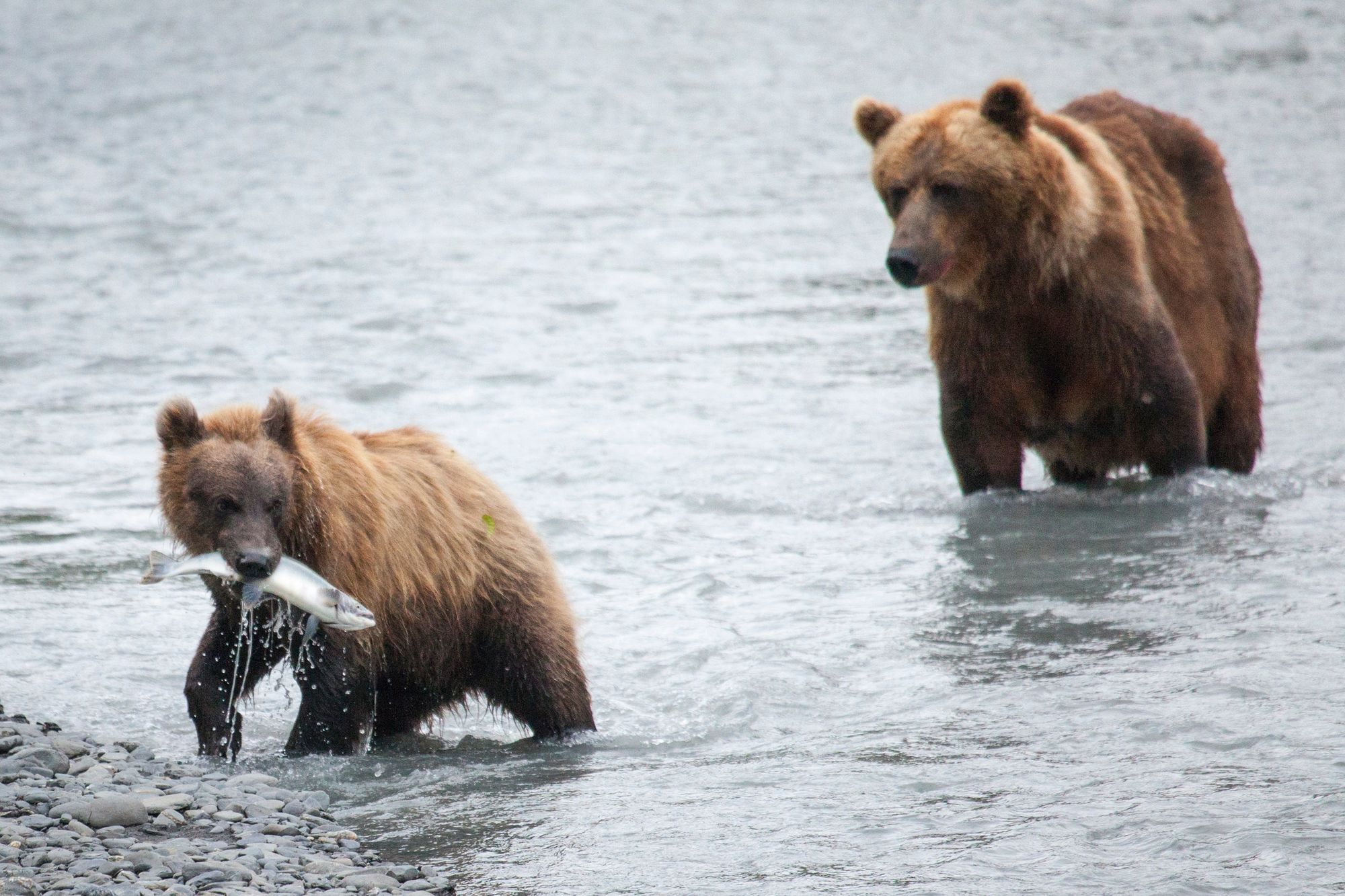 "If you encounter a black bear on your trip, do not run," Kristina says. "Make loud noises and try to appear large. Bears typically don't want anything to do with humans unless they feel encroached upon or food is made available to them.
"If it's a brown bear, how you act depends on the situation. If it takes an interest in you, back away slowly (never run), looking down and talking softly to it. You could say something like, 'it's ok bear, I'm going to continue on my way now.' If it decides to charge, against all your better instincts, hold your ground because there's a good chance it's just a bluff and they'll stop short.
"Should the brown bear plough over you or swat you down, place your hands behind your head to protect yourself, play dead so you are proving you are not a threat. If the bear continues to maul you, it's time to fight for your life. Try punching it as hard as you can in the snout."
We would like to reassure you that engaging in hand to hand combat with a bear is very much a last resort, and highly unlikely to take place. For a start, you'll be spending most of your time on the water, so bear encounters will occur at a distance. When you're camping onshore, your guide will make sure your camp is properly bear proofed, which will help keep wild animals at bay. You can ask your guide for expert advice on dealing with bears.
How to Glacier Kayak Safely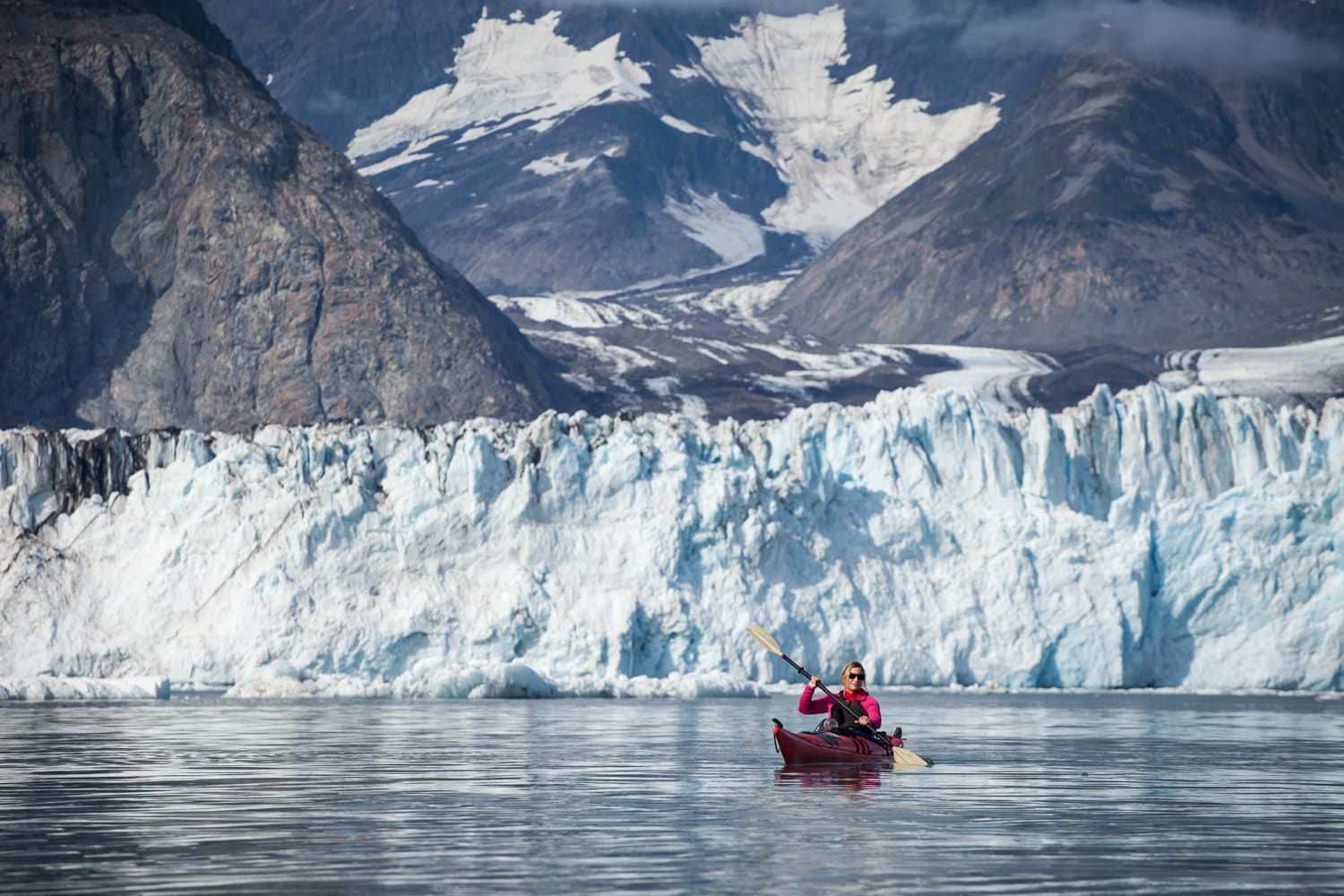 Glacier kayaking, unlike bear encounters, is something that people visit Alaska to seek out. But paddling so close to glaciers and icebergs has several risks that you may be unaware of. Your guide will be well-versed in managing these risks, and will brief you on the safety guidelines for glacier kayaking beforehand.
"We like to say that for every foot of ice sticking out of the water, you need to stay at least two feet away from the iceberg," Kristina says. "This is because icebergs can crack and roll unexpectedly, creating a large wave."
Alaska's National Parks Service provides additional safety tips. These include not paddling between two large icebergs, and staying at least half a mile away from the glacier terminus (where the glacier touches the water). This is because large chunks of falling ice can also create large waves. And make sure you camp at least two miles from a glacier, storing kayaks and gear above the high tide line so they don't get swept away.
Eating and Sleeping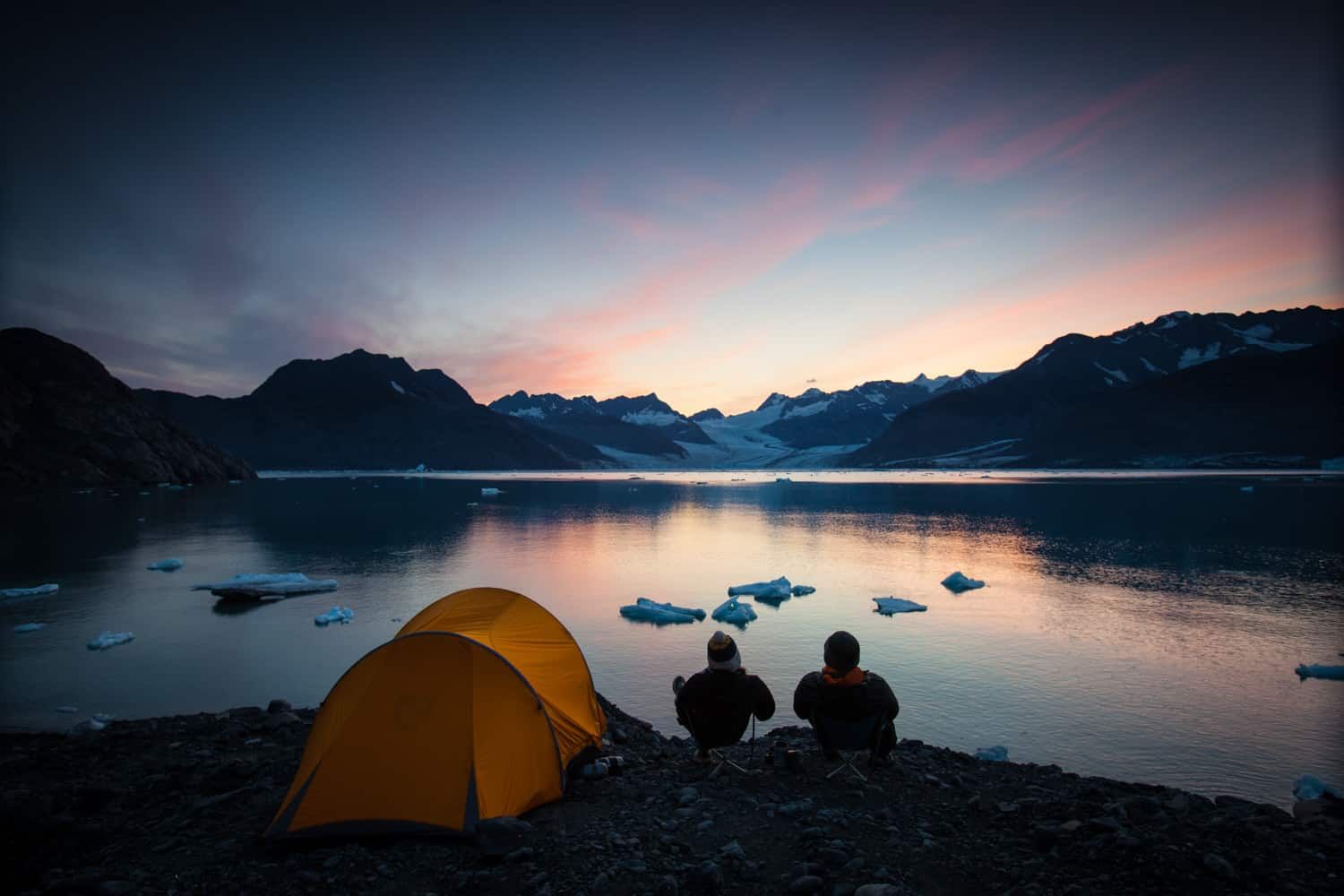 There are several options for your Alaska kayaking adventure. Choose a town as your base and find a hotel there, taking day trips into the wilderness and returning to your room in the evening. Juneau, Seward and Valdez all make for good bases - staying in Valdez gives you easy access to Prince William Sound.
If you want to immerse yourself in Alaska's wilderness on a multi day kayak trip, there are three different options: staying in a public use cabin; a public campsite; or wild camping. The Alaska State Parks Department has 80 cabins across its national parks which can be rented by the public. In general, they sleep three to eight people and are equipped with wooden sleeping platforms, a nearby (long drop) latrine and sometimes a stove for heating and cooking. You'll need to bring or boil your own water and carry your own supplies. Cabins can, and should, be reserved in advance.
There are plenty of campsites in Alaska, each offering a different range of facilities. But wild camping will give you more privacy and a complete immersion into the wilderness. Choosing the ideal wild campsite is something your guide will be well practiced in.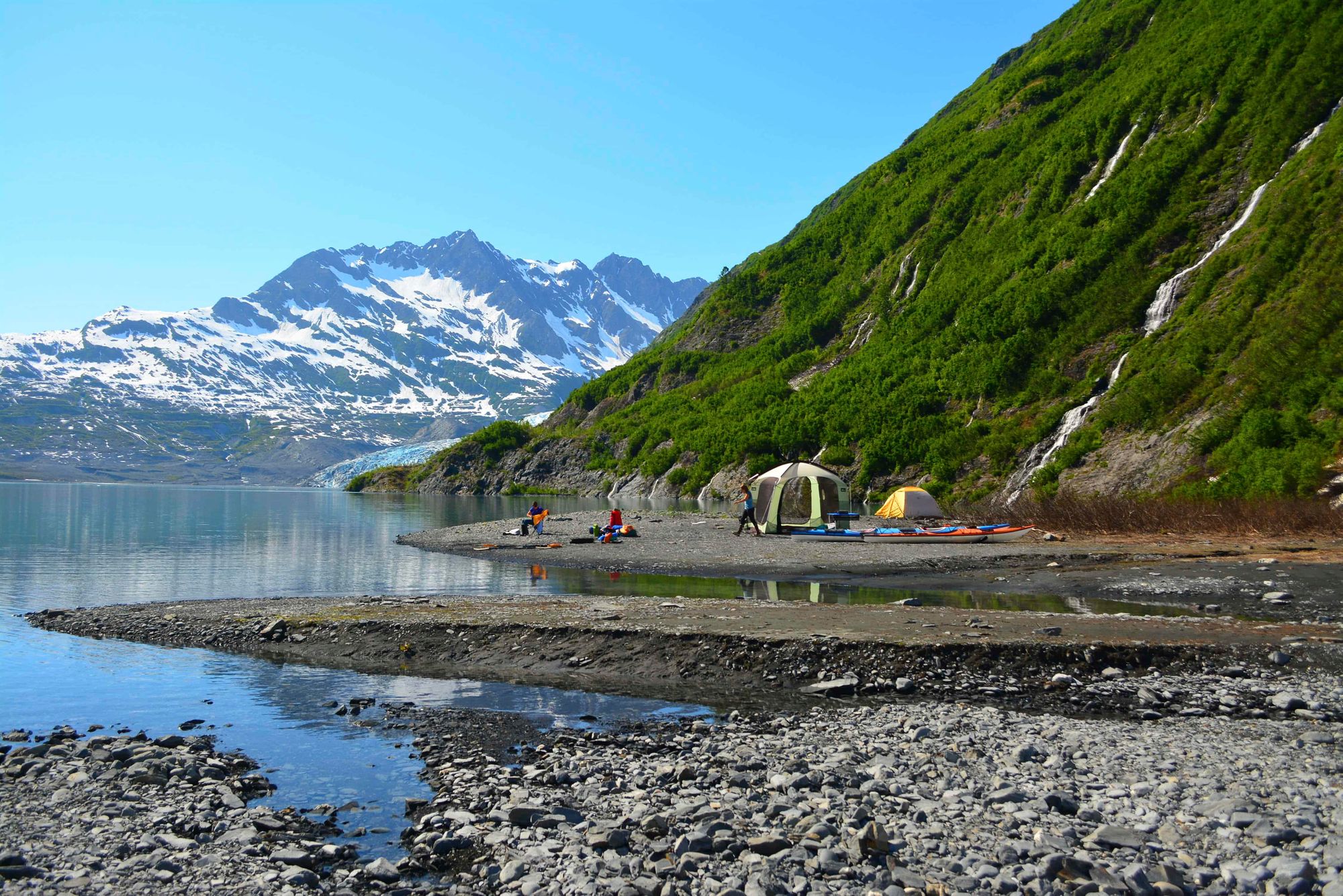 "When choosing a campsite, you have to follow the weather advisories and look at the tide book. Beaches can disappear overnight, depending on what the tides are doing," Kristina explains.
"It's also important to maintain a smart, well-managed campsite. Make sure you are following 'leave no trace' and 'bear aware' principles," she adds.
The latter includes making sure that any food and other attractants (basically, anything with a smell such as toothpaste and perfumed toiletries) is stored in bear proof containers. Rubbish also needs to be stored in bear-proof receptacles.
Food and Foraging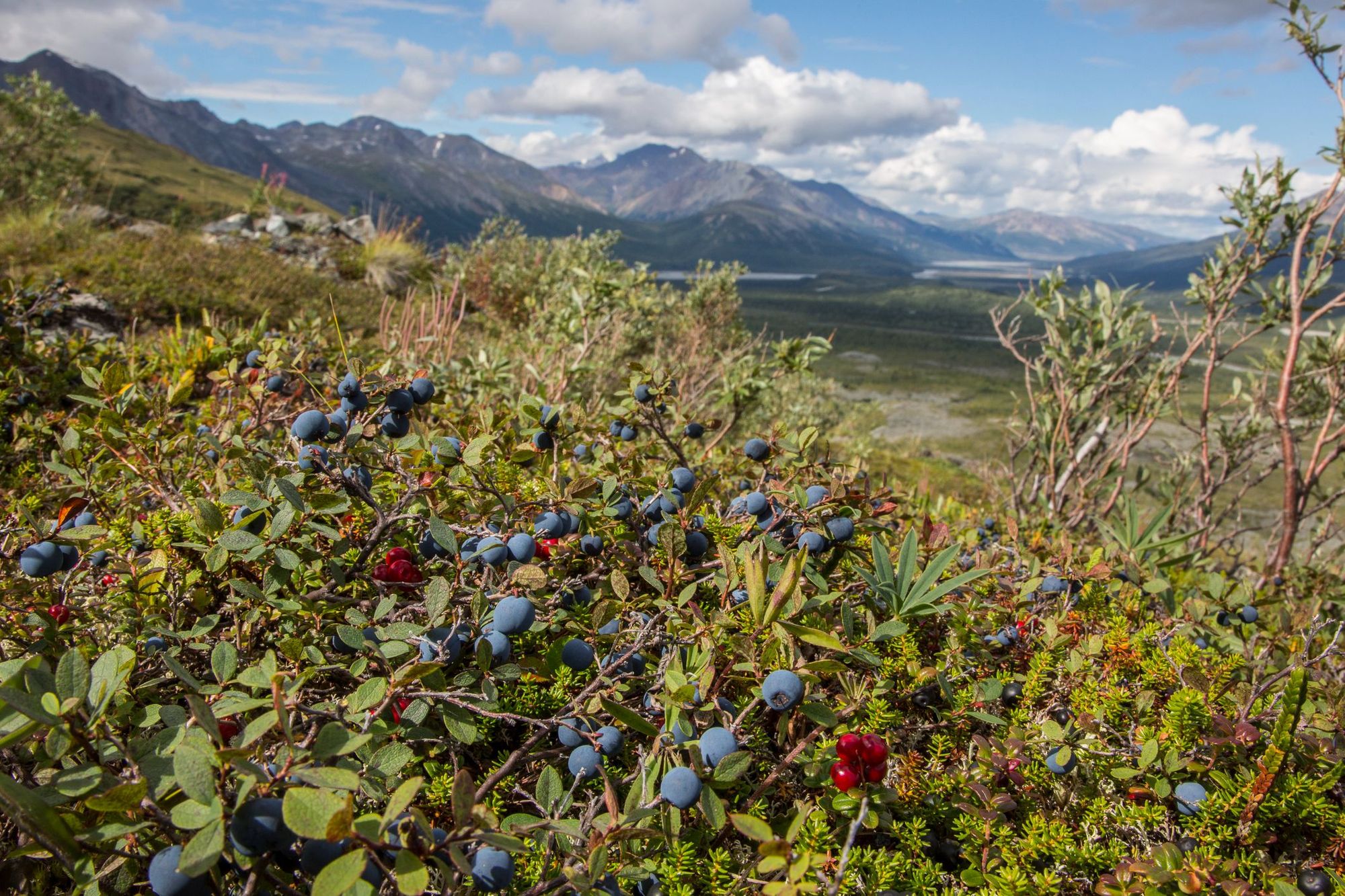 During the summer, there are wild food sources available in Alaska.
"Fishing is possible, just be careful not to tip your kayak," Kristina says. "Depending on the time of year and the area you are in, you could drop a line from the kayak or from the shore."
"Alaska has plentiful berries, plants and seaweed to be foraged at most times of year. But be careful when foraging - pick up a local identification guide to help distinguish edibles from non-edibles. Don't eat what you've picked if you feel unsure."
Your guide may have a knowledge of local flora, and might help you discover edible plants and berries. But it's important to state that foraging is just a bit of fun - you shouldn't rely on it for food. Make sure you bring (more than enough) food to eat on your kayak expedition, and look up the towns where you can resupply in advance.
Kit you Need for Kayaking in Alaska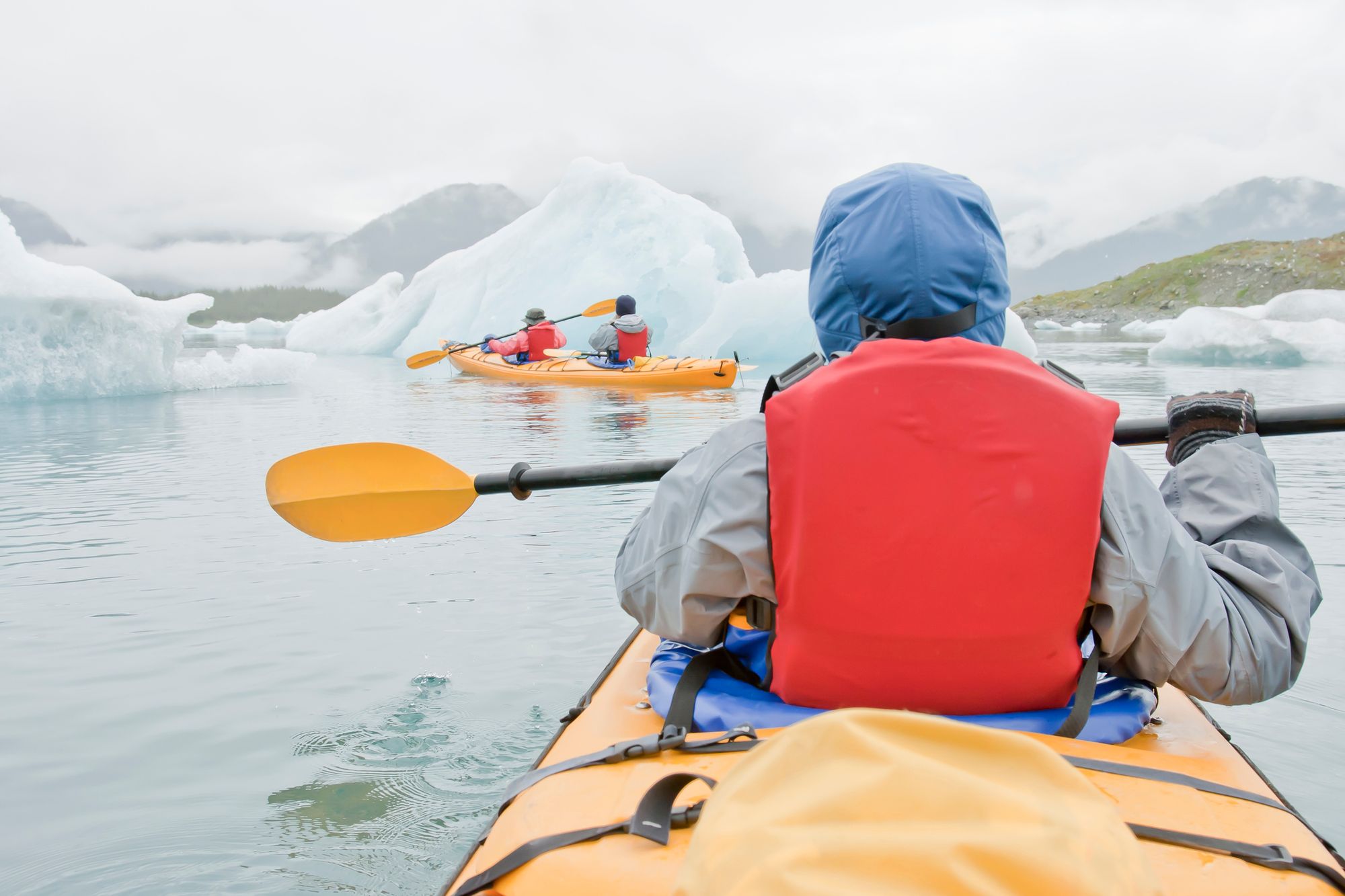 When you go kayaking in Alaska, your trip provider should provide you with the specialist equipment you need for the paddling trip. This includes the kayak itself, spray skirts (these go round your waist and fit round the kayak hole to prevent water from entering), paddles, life jackets and rubber boots. If you are on a multi-day trip, chances are that your tour operator will provide all the camping and cooking equipment you need - do check with them to make sure.
Aside from camping and kayaking equipment, we recommend you pack the following items:
Sunglasses
Sun cream
Water bottle
Biodegradable toiletries
Microfibre travel towel
Personal first aid kit
Headtorch (for trips from mid-July onwards)
Eye mask (if travelling between June and mid-July)
Soft overnight duffel bag or rucksack
Bug repellent
Binoculars (for wildlife spotting)
A compact fishing rod (should you want to fish)
Check with your tour operator for a full and detailed kit list.
What to Wear When Kayaking in Alaska

It's important to ensure you're as warm and dry as possible when kayaking in Alaska.
"Synthetic layers are key - think wool, fleece and polyester," Kristina says. "Be prepared with spare clothes and always avoid cotton. Bombproof rain gear (both tops and bottoms), is also a must."
Kristina recommends bringing the following items of clothing:
Good quality, dependable waterproof jacket and trousers
Warm, comfortable layers for evenings at the camps
Comfortable hiking trousers
Lightweight hiking shoes
A pair of wool or synthetic socks for each day
Buff or headscarf
Light, packable synthetic jacket (no down as it doesn't perform well if it gets wet)
Light, packable fleece jacket
2 pairs of wool or synthetic gloves
Warm winter hat
At least 2 full sets of thermal layers (tops and bottoms) for any cold nights out camping
Inspired? Check out our epic Alaskan Wilderness Kayak Expedition, through Prince William Sound's most dramatic landscapes