The Canadian Rockies are one of the world's great landscapes, home to the startling glacial blue waters of Lake Louise and Peyto Lake and to sharp, powerful mountain peaks punctuated by glistening glaciers. Beneath the peaks, scree slopes slide downwards, fir and spruce forests sprawl and wildflower alpine meadows add a touch of colour. Wildlife roams - from the marmots and moose dotted around the hiking trails to the bears rooting around the trees. The best hikes in the Canadian Rockies showcase that beauty.
The Canadian Rocky Mountains are home to world famous national parks. Banff National Park is the oldest and Jasper National Park, which is connected to Lake Louise by the 232km Icefields Parkway (one of the most scenic drives on the planet) is the largest, but Yoho, Kootenay and Glacier National Parks are equally as remarkable. So, if you're hiking in the Canadian Rockies, where do you start?
We've picked out 11 hiking trails, spread around the Canadian Rockies, to get you started. Some of the walks are popular classics and some are lesser known.
It's important to note that these route descriptions are only short summaries, designed to inspire but not to serve any navigational purpose. They are not intended to guide you on the route and further mapping and planning (or a local guide!) will be required if you want to safely walk any of the trails featured.
Bare with us: Bear safety in the Canadian Rockies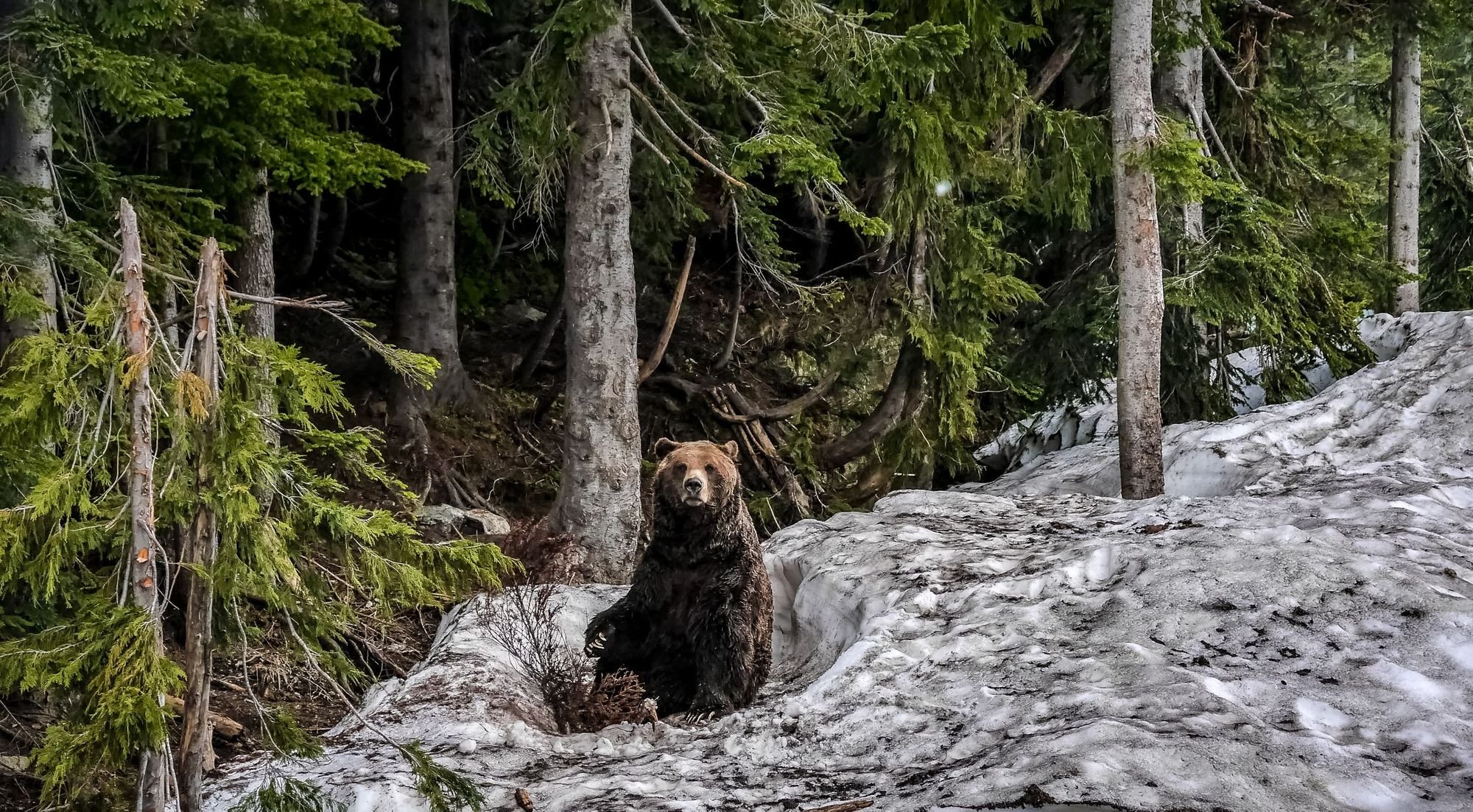 The Canadian Rockies are bear country. That means that on many of the hikes included in this list, there is a decent chance that you may spot a grizzly or a black bear. The official website of the Government of Canada has an excellent guide to travelling safely in bear country, which we would strongly advise reading in full before embarking on any of these hikes. Some of these trails require you to be in a group of four or six while hiking, for safety reasons, and some can even close from time to time due to bear activity, so check for updates before you travel.
Otherwise, familiarise yourself with bear best practices in the official guide, which include making noise, walking in groups and carrying bear spray.
11 of the Best Hikes in the Canadian Rockies
The best hikes in the Canadian Rockies is always bound to be a matter of opinion. Here, we've aimed to pick 11 hikes which showcase different parts of the territory and - barring a couple of classics like the Skyline Trail below - we've aimed for trails which are also a little lesser known. So, in no particular order...
1. The Skyline Trail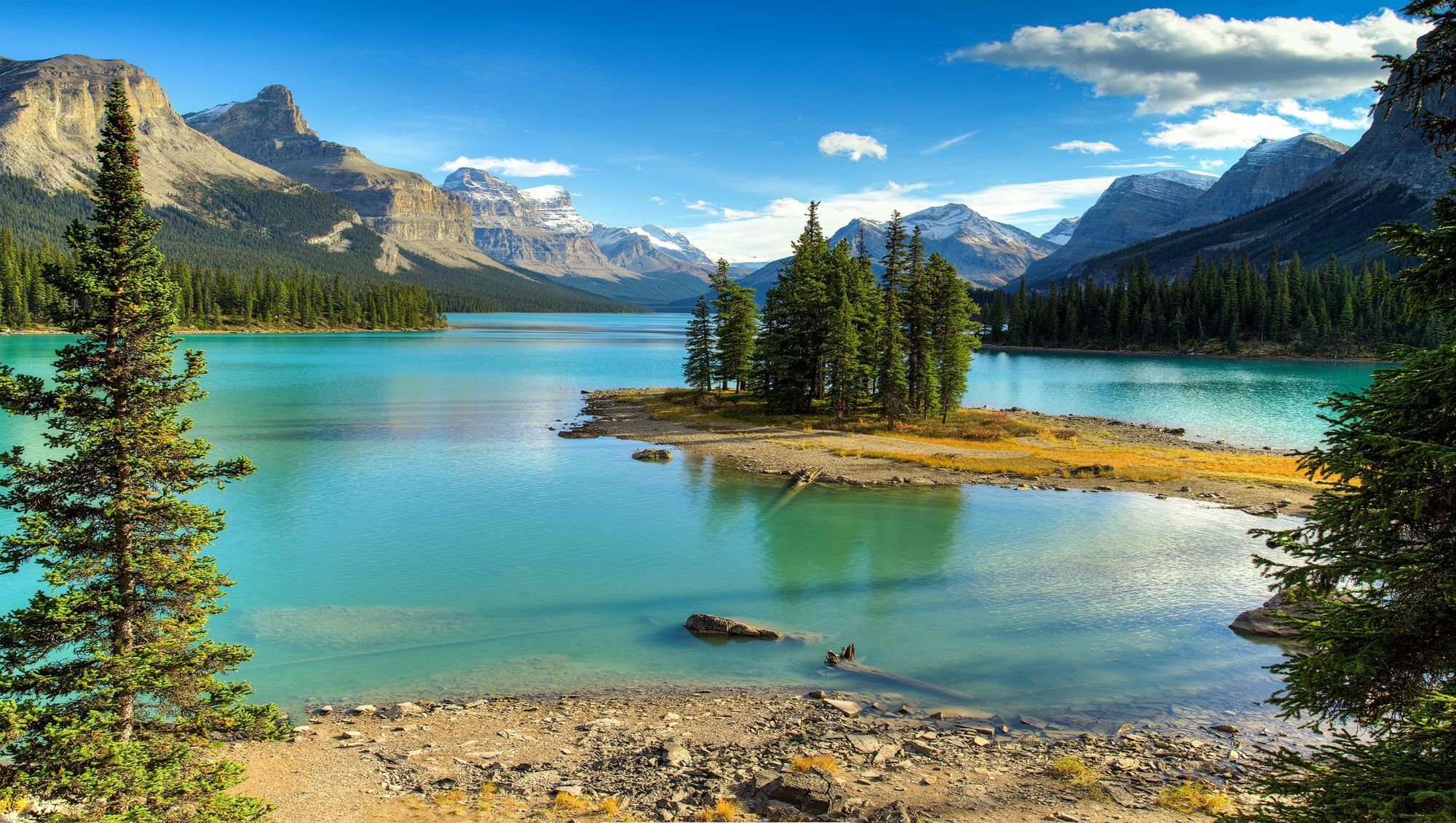 Distance: 44km
Location: Jasper National Park
Time to hike: 2-4 days
Best for: Big ridgelines with big views.
The Skyline Trail is a legendary backpacking trail in Jasper National Park, more than half of which (around 25km) takes place above the treeline. That means that there are a whole lot of rugged mountain views, winding, windy trails and far-reaching, sweeping panoramas featured on this walk.
If you were to walk the trail in three days, your route would likely see you start at Maligne Lake and ascend through forest to the Little Shovel Campsite, after which you'll come to Little Shovel Pass, the first (and lowest) of three notable mountain passes that you'll walk on the route. You'll already be at 2,200m here and walking through a sparse mountain landscape most likely coated in snow.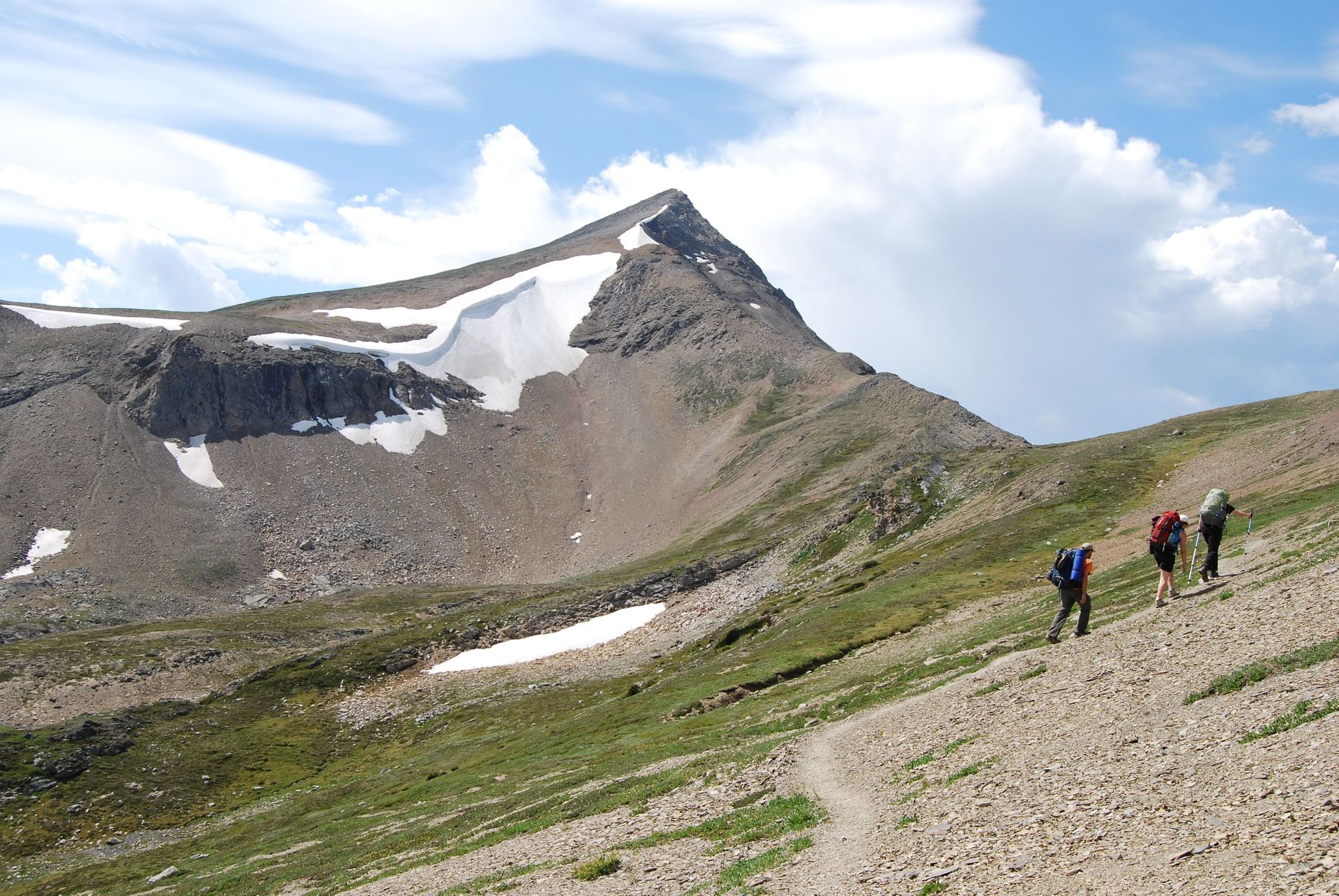 After an overnight at Snowbowl Campsite, a 20km day awaits. You'll cross Big Shovel Pass - where you can regularly see marmots - then get your first view of The Notch, a high pass you'll soon reach, after visiting the scenic Curator Lake and Mountain. The Notch holds snow long into the summer, and marks both the halfway point on the Skyline Trail and the high point, at 2,510m.
The beautiful Tekarra Campsite is another nine km from here - along a scenic, exposed ridgeline void of any and all vegetation. Your views will include Excelsior Creek, Centre Mountain and The Watchtower. From Tekarra Campsite, which sits in a forest in the shadow of Mount Tekarra, you'll then ascend Signal Mountain, cross a colourful shoulder of wildflower meadows and descend.
The Sentinel Pass Hike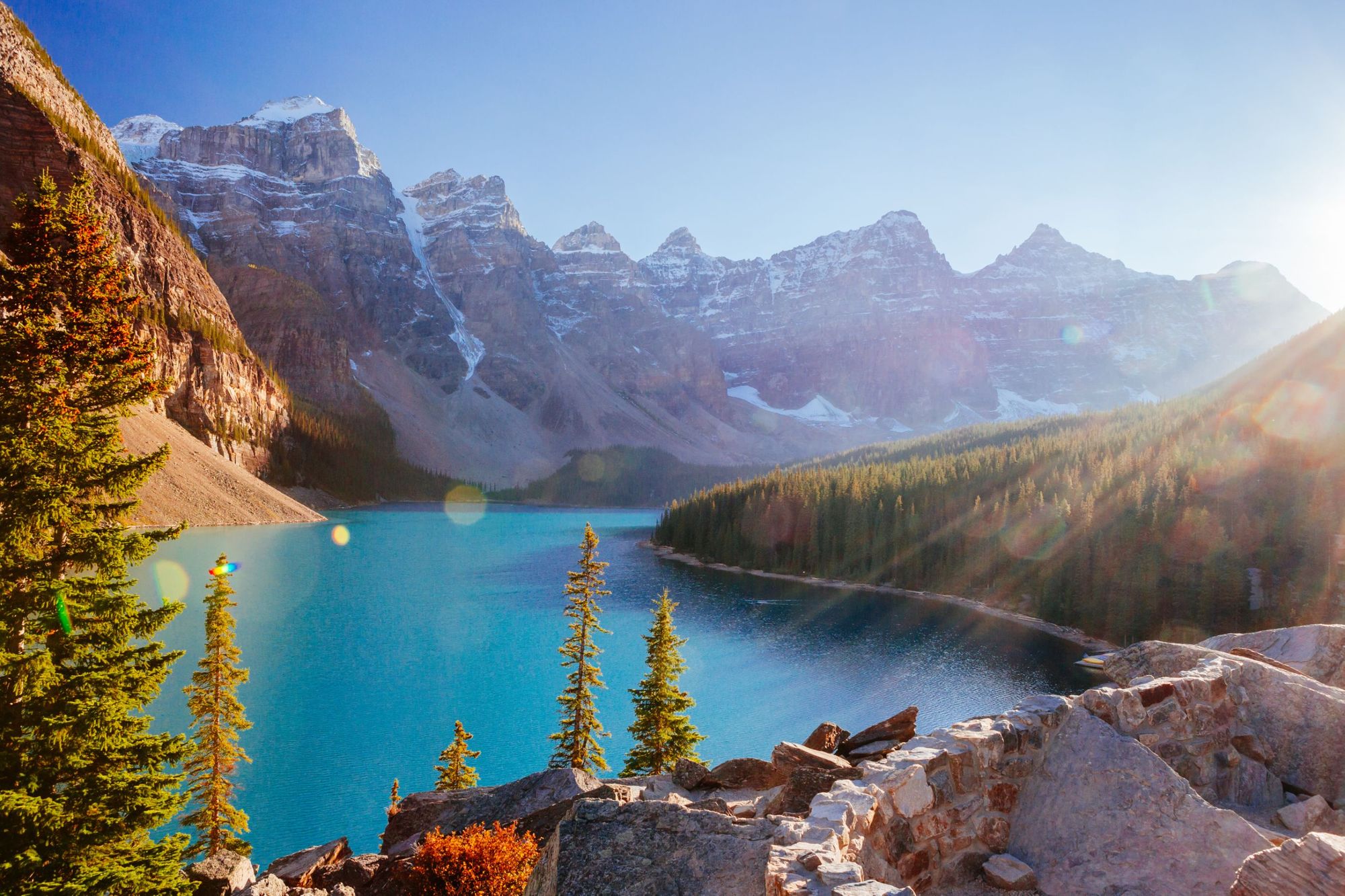 Distance: 11.5km
Location: Banff National Park
Time to hike: 4-6 hours
Best for: Views of the Ten Peaks and Lake Moraine.
There are few lakes in the world better known for their beauty than Lake Louise and Lake Moraine, both of which are located within 10km of one another in Banff National Park. The Sentinel Pass Hike is one of the best ways to explore the former - and to earn a classic view of the Ten Peaks above Moraine which adorn the fridge magnets and postcards back in town.
This route starts from the northwest shores of Moraine Lake and heads along the Larch Valley trail, into the trees above and out the other side to a brilliant panorama of the peaks. You'll then nip back in and out of similar flora before coming out to the Larch Valley meadows, where the colourful trees and green of the grass sit in stark contrast to the almighty 3,000m peaks behind - notably Eiffel Peak and Pinnacle Mountain. The final prize is yet to come though. You'll soon get a stony stare down Paradise Valley, another of Banff's ( many) world-renowned landscapes.
This is a beautiful out-and-back, tying together the glacial blue of the lakes with the greens and yellows of meadows punctuated with ponds - plus, the rugged greys of those mighty mountains.
Kindersley Pass and Sinclair Creek Loop
Distance: 17km
Location: Kootenay National Park
Time to hike: 6-8 hours hours
Best for: A full day of hiking in Kootenay.
This challenging route through Kootenay National Park is a classic for good reason. It's not actually a "loop" though. It doesn't start and finish in the same place - with most people starting off in Kindersley Pass parking lot and finishing up at Sinclair Creek. There's 1.2km of highway to complete the loop.
There's over 1,000m of elevation on this route, which kicks off with dense forest, and passes through lush, green glades. Above the treeline, the vegetation ceases and the rocky peaks pierce the sky.
You'll soon reach the Kindersley-Sinclair Col, which is the high point of the trek at 2,395m and the best viewpoint on the route - with far-off ranges in full sight, divided by deep, wide valleys. From the summit saddle, those who wish to do so can scramble up higher yet, with a couple of nearby sub-peaks offering vistas out to Mount Assiniboine. You'll head down through wildflower meadows and forest.
It's worth checking the park bulletins for updates before heading out on this route, as it's been known to shut due to bear activity. There's a minimum group size of four in place for walking this route because of grizzlies in the area.
The Fairview Mountain Trail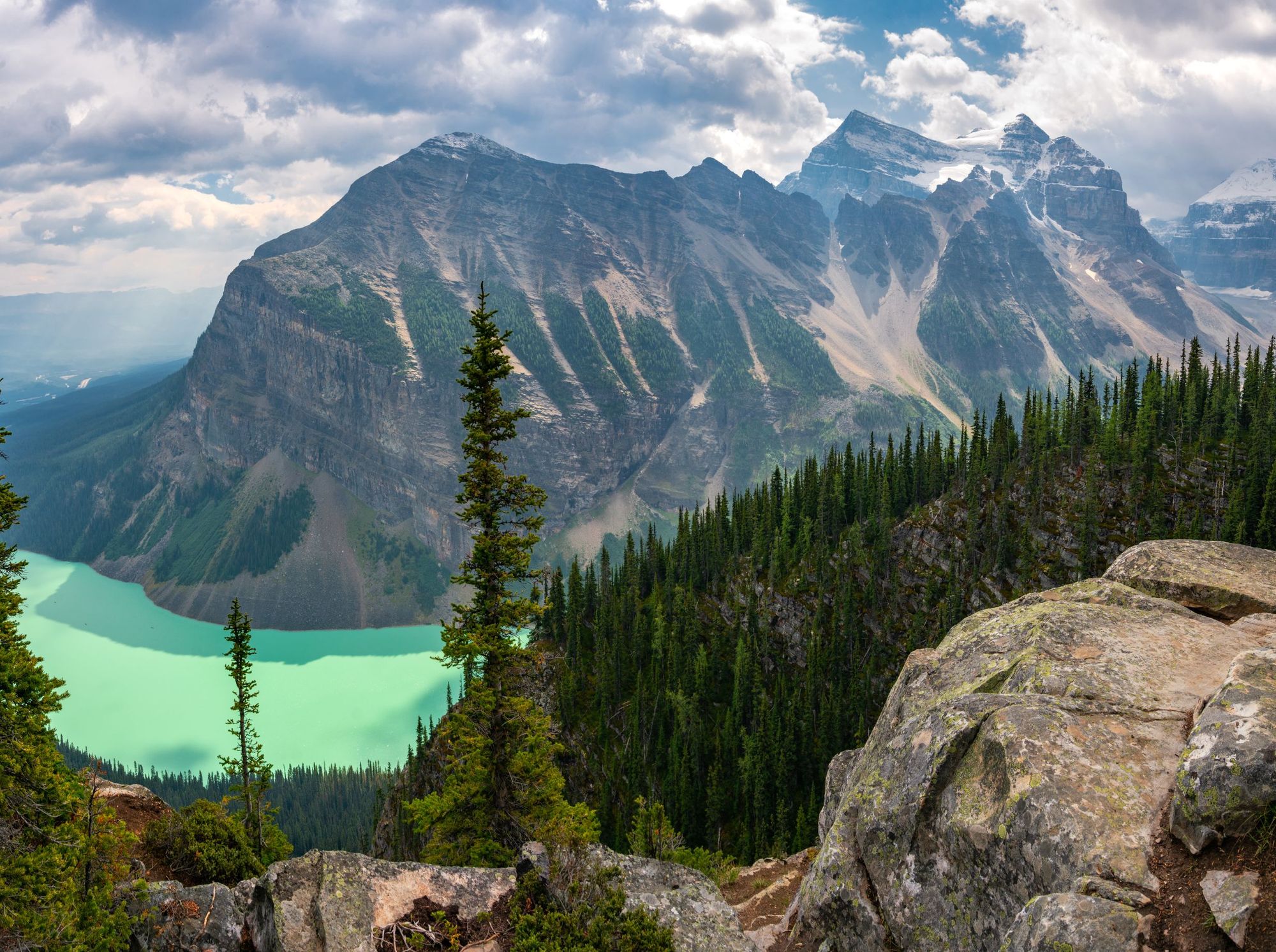 Distance: 9.3km
Location: Banff National Park
Time to hike: 4-6 hours
Best for: Avoiding the crowds at Lake Louise.
The out-and-back route from Lake Louise up to the 2,744m Mount Fairview will see you climb over 1000m - on a trail that is often overlooked by many. From Lake Louise, Fairview - a huge, spiky bulk of a mountain in the backdrop - looks all but unclimbable without ropes and chalk, but in actuality, while you're definitely going to need a good level of fitness, the trail isn't overly technical or steep.
You'll ascend through some dense forest, switchbacking your way up the mountain, before emerging out to a stunning composition of jagged mountain peaks, beneath with trees layer. Saddleback Mountain and indeed Fairview await above, with views back down to Bow Valley. This trail supports ascents to both Saddleback and Fairview, splitting left and right, with a third option down the middle leading to Paradise Valley.
The most challenging part of this climb is the final ascent to Fairview, which can verge on scrambling, but your reward is an outstanding view in every angle from the top, out over the Bow Valley, to the spear of Haddo Peak and Lake Louise.
The real beauty of this trail is that, however crowded Lake Louise itself is - and it usually is busy - you'll often find that you have this route all to yourself.
The Bald Hills Trail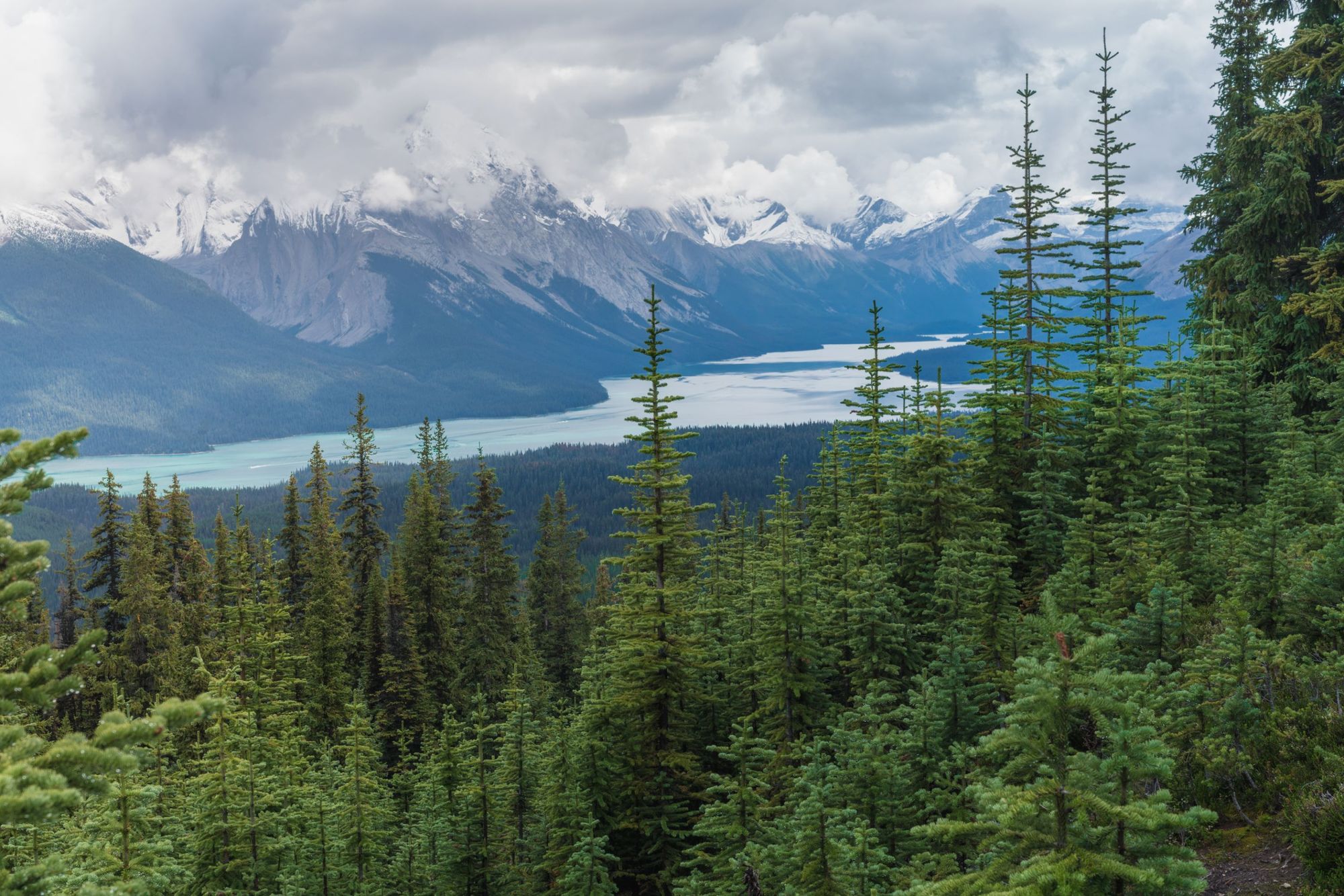 Distance: 13.4km
Location: Jasper National Park
Time to hike: 4-6 hours
Best for: Views of Maligne Lake.
Not everyone has the time (or is lucky enough to get the reservations) to walk the Skyline Trail. This trek in the Bald Hills, which also starts by Maligne Lake, offers a great way to see the beauty of Jasper National Park in one day.
The route to the top is mostly a forest fire road (with a more scrambly option also available if you're feeling adventurous), but when you're up there, the views of the glacial-blue Lake Maligne are simply magnificent.
Your first sight of Maligne from the top of the mountain comes on a beautiful trail weaving between lines of green trees, with the typical light grey spikes of the Rockies behind. You can go directly to the summit of Bald Hill from here, but we'd recommend taking a longer loop around the ridgeline to maximise viewing time.
From the top of Bald Hill, the views of Maligne, with Leah Peak, Samson Peak, and Maligne Mountain behind, are stunning - particularly when the sun shines on the glaciers on the slopes.
The Hamilton Lake Trail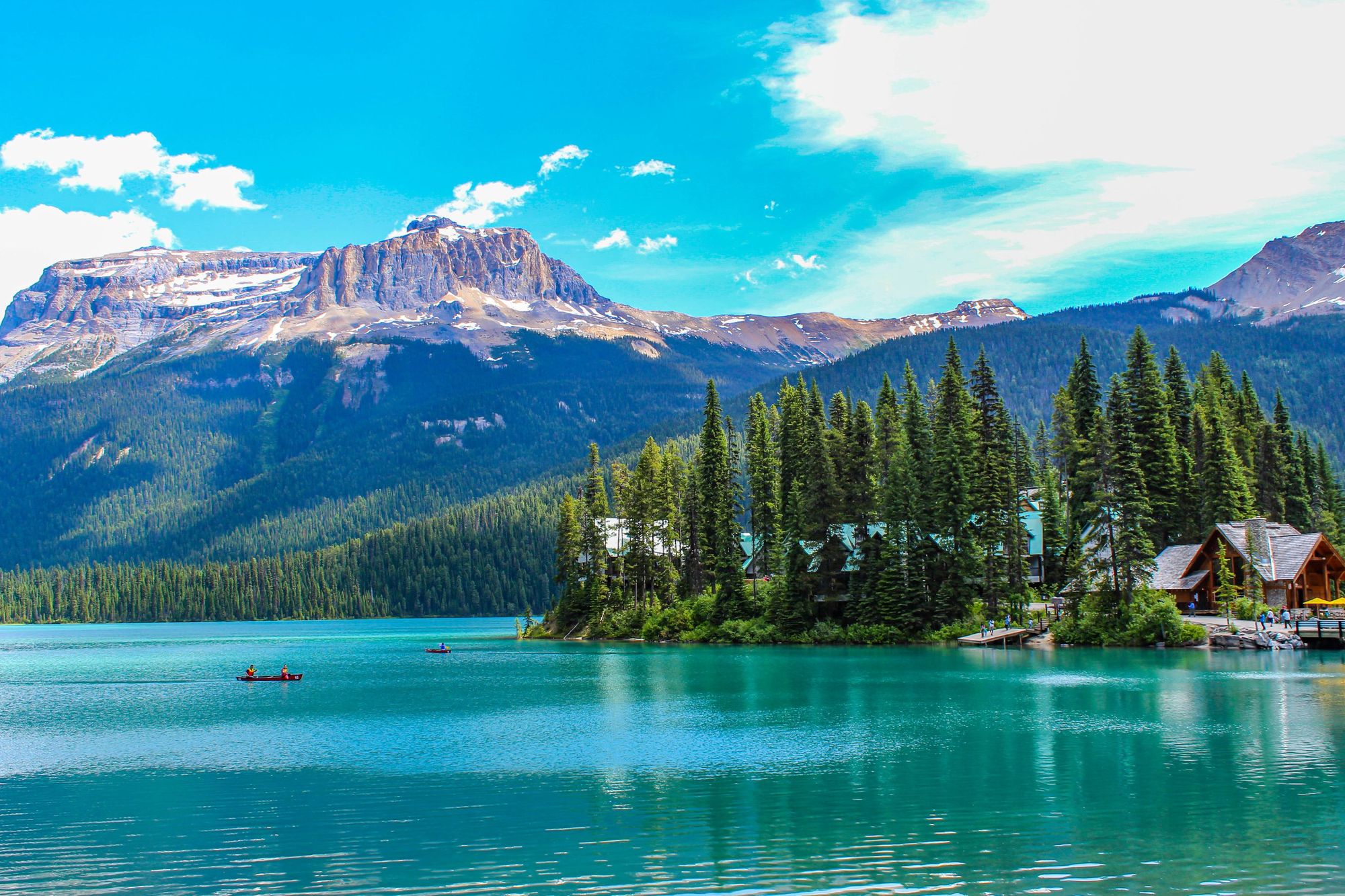 Distance: 11.9km
Location: Yoho National Park
Time to hike: 5-6 hours
Best for: A secret challenge.
The route to Hamilton Lake is a tough one. You hike up from 1,300m to 2,150m on a path that rarely relents. But your reward is reaching a serene, high-alpine lake in a hanging valley - and the difficulty of the trail means that this route is often a lot emptier than many others on this list.
Starting at the southern end of the postcard-perfect Emerald Lake, you'll head through the forest to Hamilton Falls. This is as far as most visitors get. Beyond lies the trail to Hamilton Lake, which switchbacks from the canyon to spruce and fir forests and up the mountain. Your highlight views will include great vistas back to Emerald Lake, as well as far-reaching views out to the Kicking Horse Valley, the Ottertail Range and the highest peak in Yoho, Mount Goodsir.
After a good 40 or so switchbacks the trail finally relents, and the final stretch to Hamilton Lake is a little more gentle. The lake is backdropped by Mount Carnarvon, with scree slopes leading down to the water and Emerald Peak, at 2,566m, just above. This is a steep, remote hike.
The Balu Pass Trail via Connaught Creek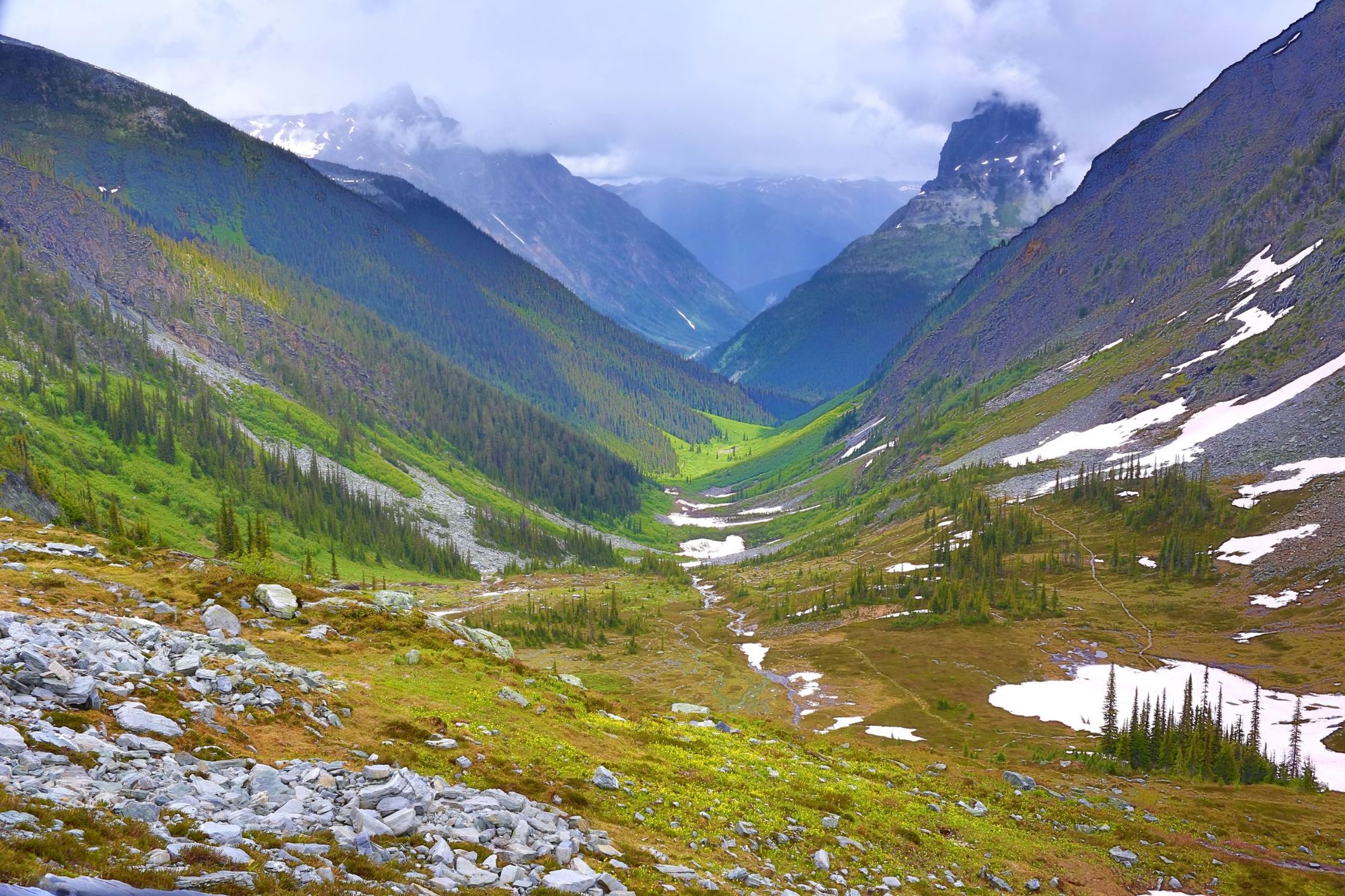 Distance: 12.8km
Location: Glacier National Park
Time to hike: 4-5 hours
Best for: A beautiful walk through prime bear habitat.
This lesser-known out-and-back route from the Rogers Pass Center sees you ascend from 1,300m to 2,100m along Connaught Creek, geographically between Cheops Mountain to the east and Grizzly Mountain to the north. You'll be climbing through forests to reach lush alpine meadows and the rugged, big mountain panoramas so typical of the Rockies.
This is another trail which flies under the radar, so you can expect to have the trail to yourself for large periods, as you walk past vibrant meadows and look out at the Cheops and Grizzly Mountain, as well as over to Cougar and Bagheera mountains, which sit to the west, and across the Bonney Range.
The word 'balu' actually means 'bear' (Jungle Book anyone?) and grizzly bears are commonly sighted in this area, so be informed and prepared, and travel in groups, in case an encounter does take place. Check at the ranger station before heading out on the trail, as it's sometimes closed due to bear activity.
Assiniboine Lodge to Nub Peak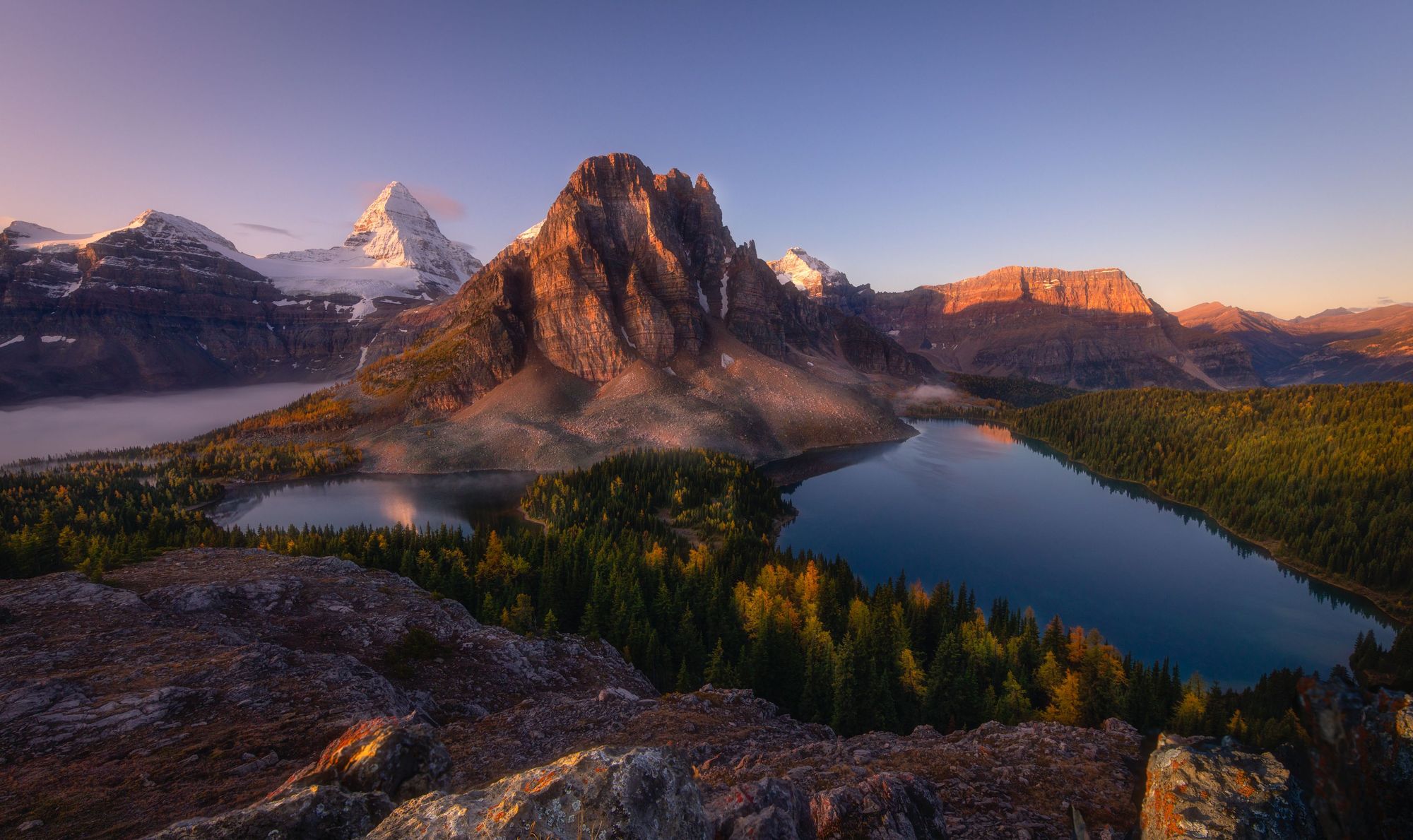 Distance: 9.5km
Location: Mount Assiniboine Provincial Park
Time to hike: 3-5 hours.
Best for: Incredible views of Assiniboine.
Mount Assiniboine (3,618m) is the highest peak in the Canadian Rockie, and is often compared to the Matterhorn in Switzerland, due to its distinctive ridgeline and towering, powerful beauty.
From that summit, you'll be looking out at one of the great panoramas in the Canadian Rockies.
The actual ascent of Assiniboine is a demanding mountaineering route that should not be undertaken by inexperienced climbers - but you can take in the beauty of the famous peak on this route, which starts from the popular Assiniboine Lodge (which itself is reachable only by a substantial hike or short helicopter trip). This route takes you to the summit of Nub Peak at 2,746m via a scenic ridge.
From that summit, you'll be looking out at one of the great panoramas in the Canadian Rockies, where the glimmering, forest-lined lakes of Cerulean, Sunburst and Magog are all visible, and surrounded on every side by craggy mountains with huge elevation, from the 2,849m Sunburst Peaks and 3,024m Wedgewood Peak to the mighty Mount Assiniboine behind.
Wilcox Pass Trail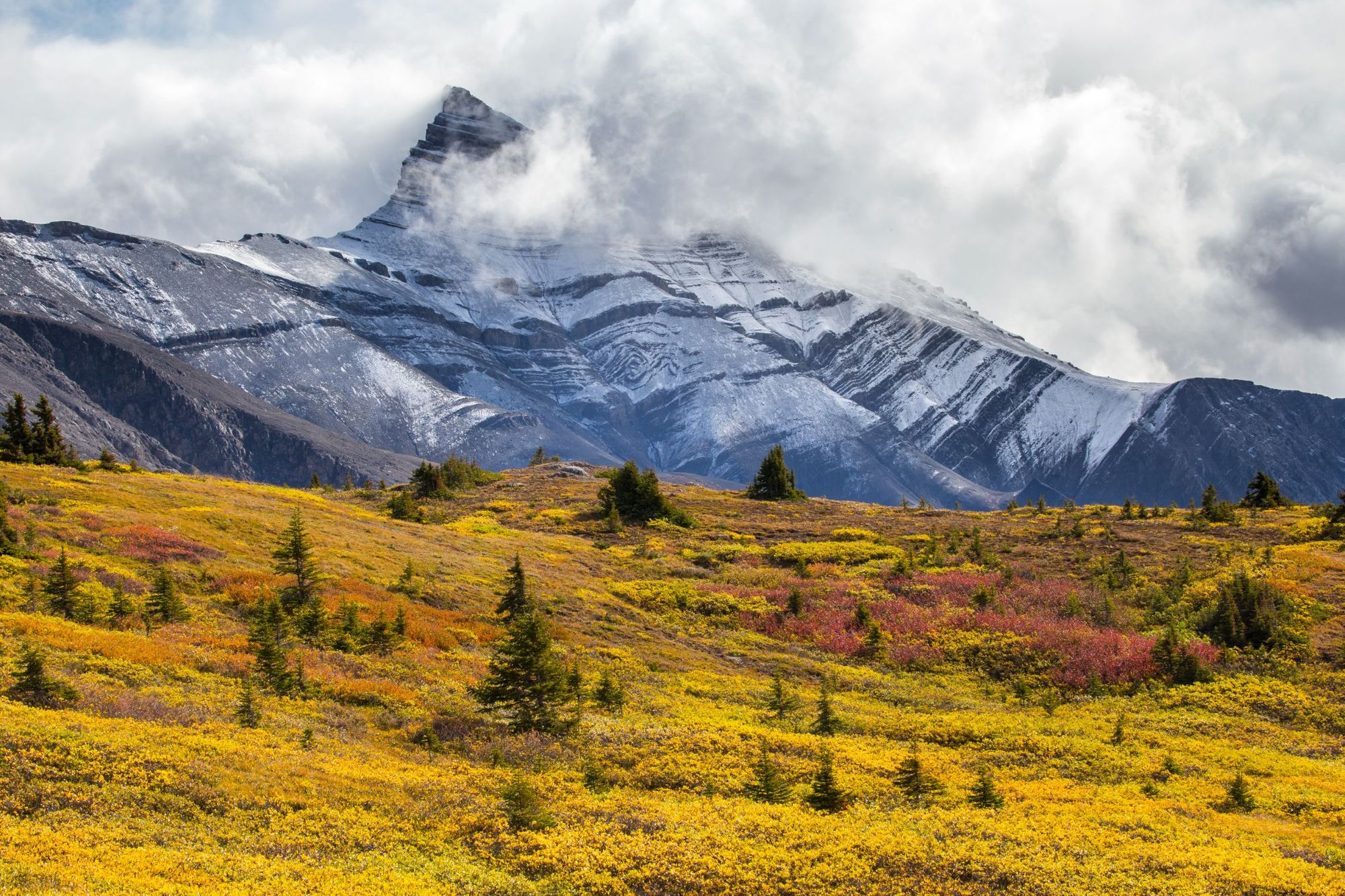 Distance: 9.8km
Location: Jasper National Park
Time to hike: 3-4 hours
Best for: A little bit of everything.
Make a day of this one, and it can be a hike you'll remember for a long time.
On your way to Wilcox Pass, you'll drive along the Icefields Parkway, a 232km stretch of double-lane highway linking Lake Louise with Jasper, Alberta, and surely one of the most beautiful roads in the world. You can then stop to look out over the picturesque Peyto Lake, backdropped by Caldron Peak and Mount Patterson, and visit the Athabasca Glacier, part of the Columbia Icefield.
Wilcox Pass itself offers further views of the icefield, on a beautiful trail winding through a wide, glacial valley sculpted over millions of years. You'll climb through spruce and fir forests, walk wildflower meadows and have far-reaching views of rugged grey mountains. Sound familiar? Yup. This is a Rockies highlights reel.
The Cory Pass and Edith Pass Loop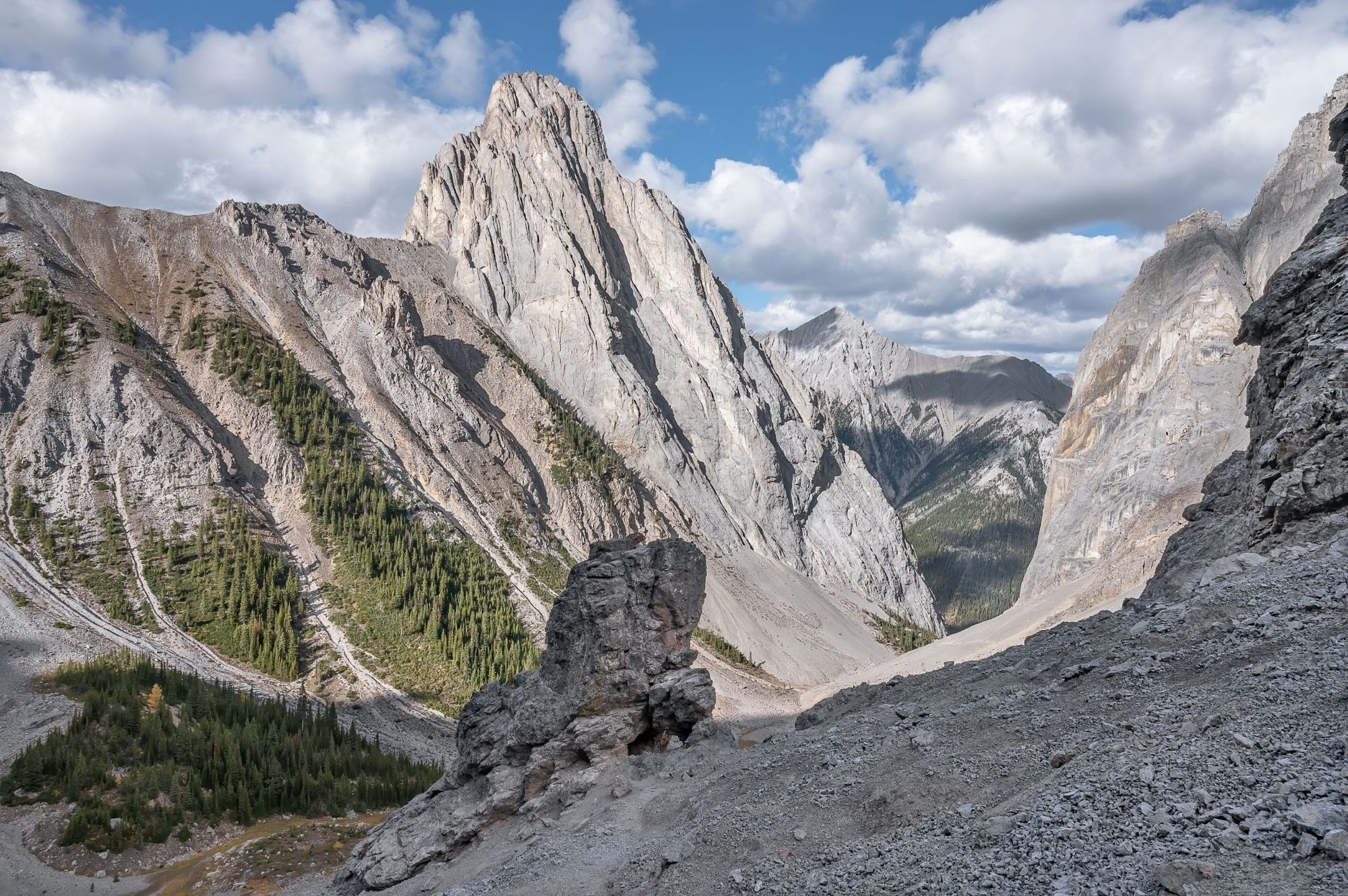 Distance: 14.5km
Location: Banff National Park
Time to hike: 5-8 hours
Best for: Varied terrain, near Banff.
This is a challenging day hike, but it's also one of the more popular hikes on this list. Starting off on a gentle forest path at the Corry Pass trailhead, near Banff, the first half of this route soon spikes steeply upwards, with a gain of around 1,100m over the first seven or eight kilometres.
In return, you get some great views back to Banff and over the Bow Valley, as well as out to Mount Cory and Mount Louis, along the climb. You will eventually exit the forest to a more exposed, rocky section of climbing to reach Cory Pass.
Stop to breathe in the daunting views of the steep scree slopes and rock spears of the Gargoyle Valley, then walk on to hit your high point at 2,350m, before descending via Edith Pass. The loop element of this tiring but scenic walk means you never double back on yourself.
When to visit the Canadian Rockies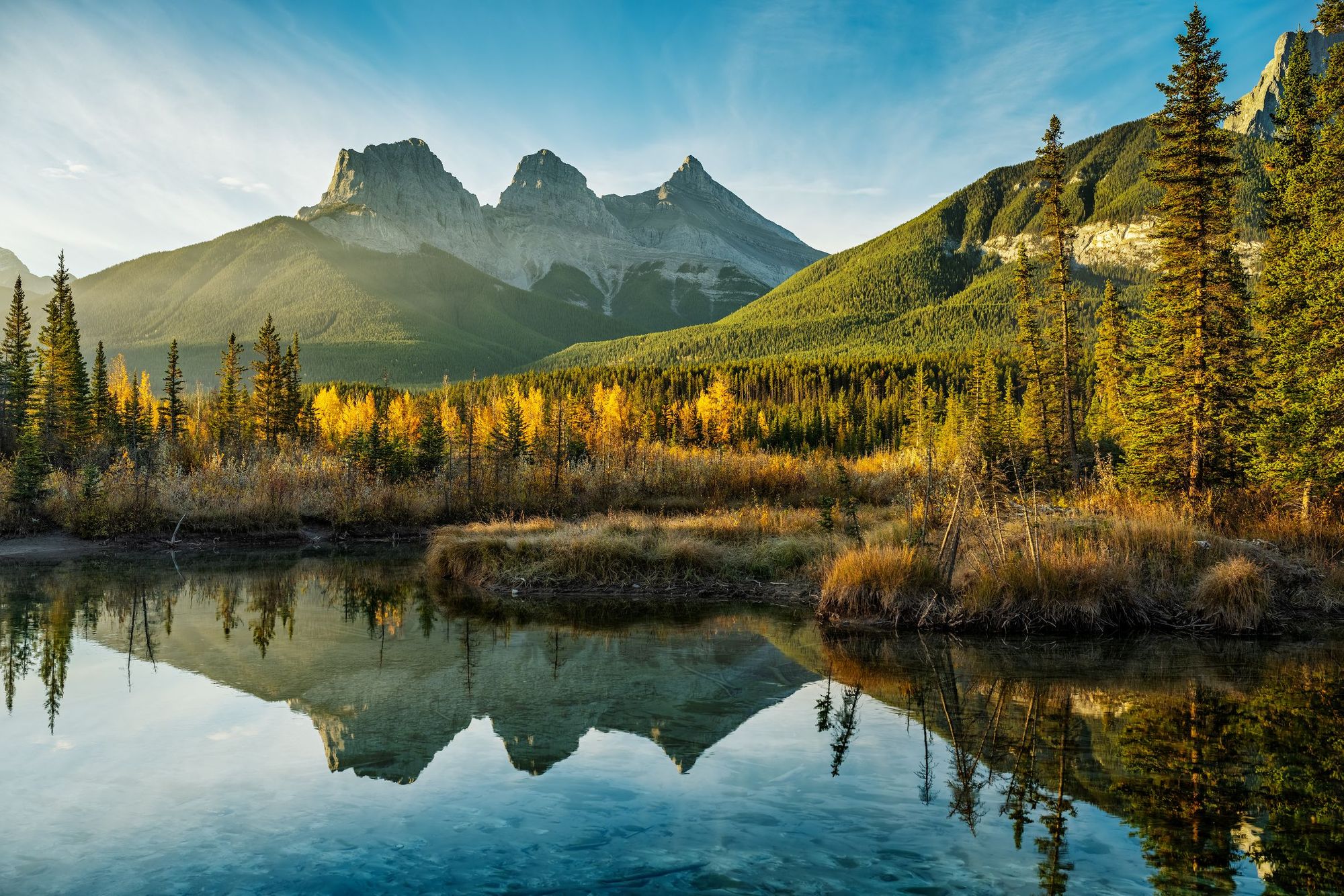 Hiking season in the Canadian Rockies isn't long, lasting roughly from May to early October - it depends on snowfall, and how much comes down. Prime hiking season is from June-August but the Autumn months are truly spectacular.
Reservation Systems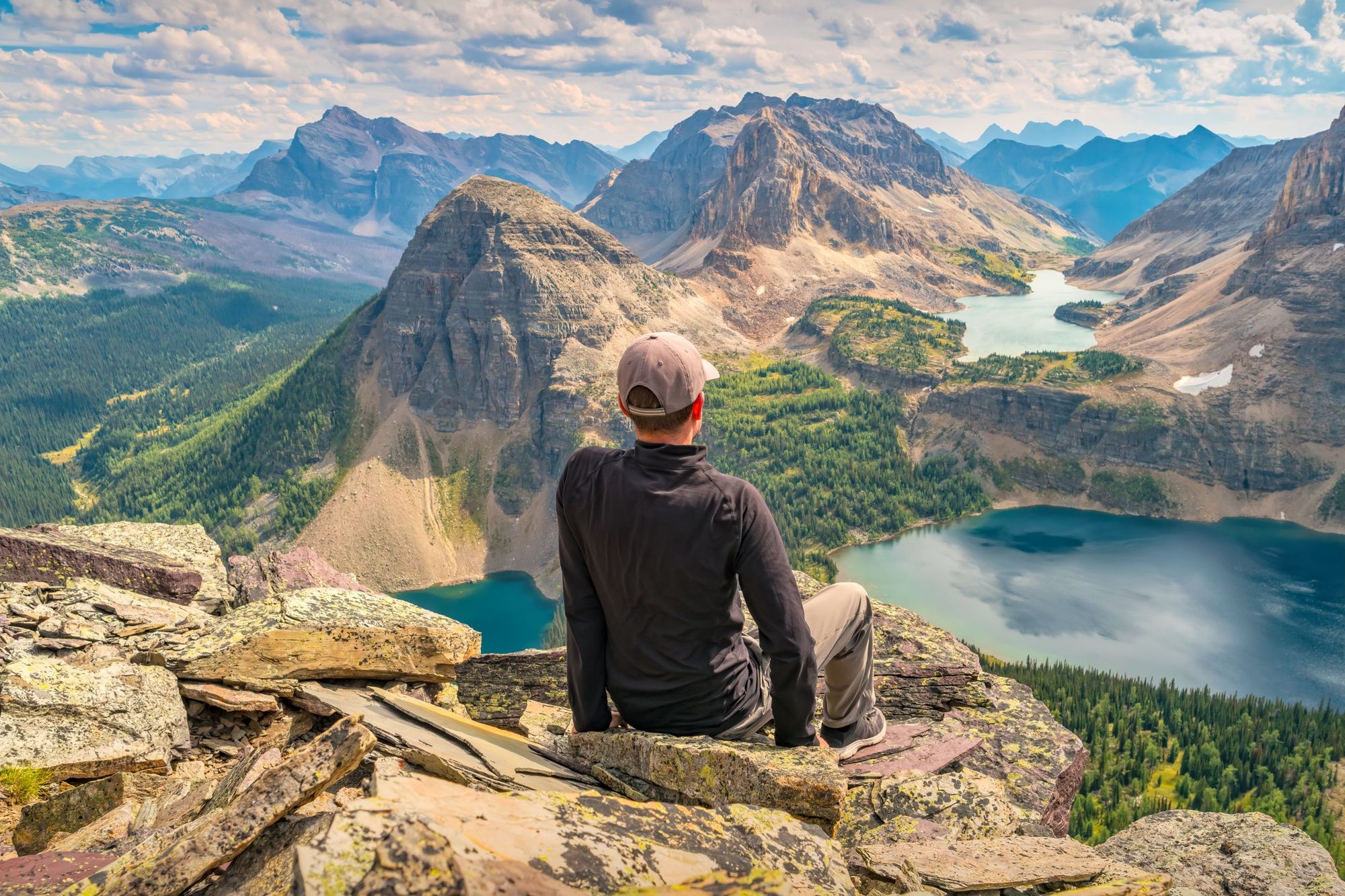 Permits and reservations are needed to hike in certain spots in the Canadian Rockies. They're aimed at controlling numbers on the hiking trails and in the camps - and keeping these wild places beautiful.
For popular multi-day trails, the reservation spots available for each campsite disappear fast. Elsewhere, you may need a backcountry permit to visit a specific location, or - as is the case with the popular Lake O'Hara hike - there may be shuttle bus which runs to the location, the spots on which are extremely limited. To get a reservation for any of the above, find out when bookings open, have your laptop ready - and your lucky charms. It's a bit like trying to get Beyonce tickets.
If all of this makes your headache, ask a local guide. They're the experts.
Inspired? Walk several of these routes in our Hiking in the Canadian Rockies trip, which is led by an expert local guide!