The best hikes in New York State are proof that there's so much more to New York than Niagara Falls and the world's most famous city. Of course, there's no doubting New York City is special. The Statue of Liberty is stunning, the history of the place, and the energy around it is like nowhere else on the globe and in terms of culture, if you can think it up, you can probably find it happening that same night somewhere or other in NYC.
What really makes New York State so special, though, is the fact that it's able to offer everything you could ever dream of in a city, but at the same time, it also boasts access to truly wild hikes and mountainous viewpoints just a few hours north. That's where you'll find the Adirondack Mountain Range, home to many of the best hikes in New York State, and the Catskill Mountains, even closer to New York. The state is also home to around 90 miles of the Appalachian Trail.
We've put together a short guide to some of the best hikes in New York State:
1. Summit the highest point in New York State on the Great Range Traverse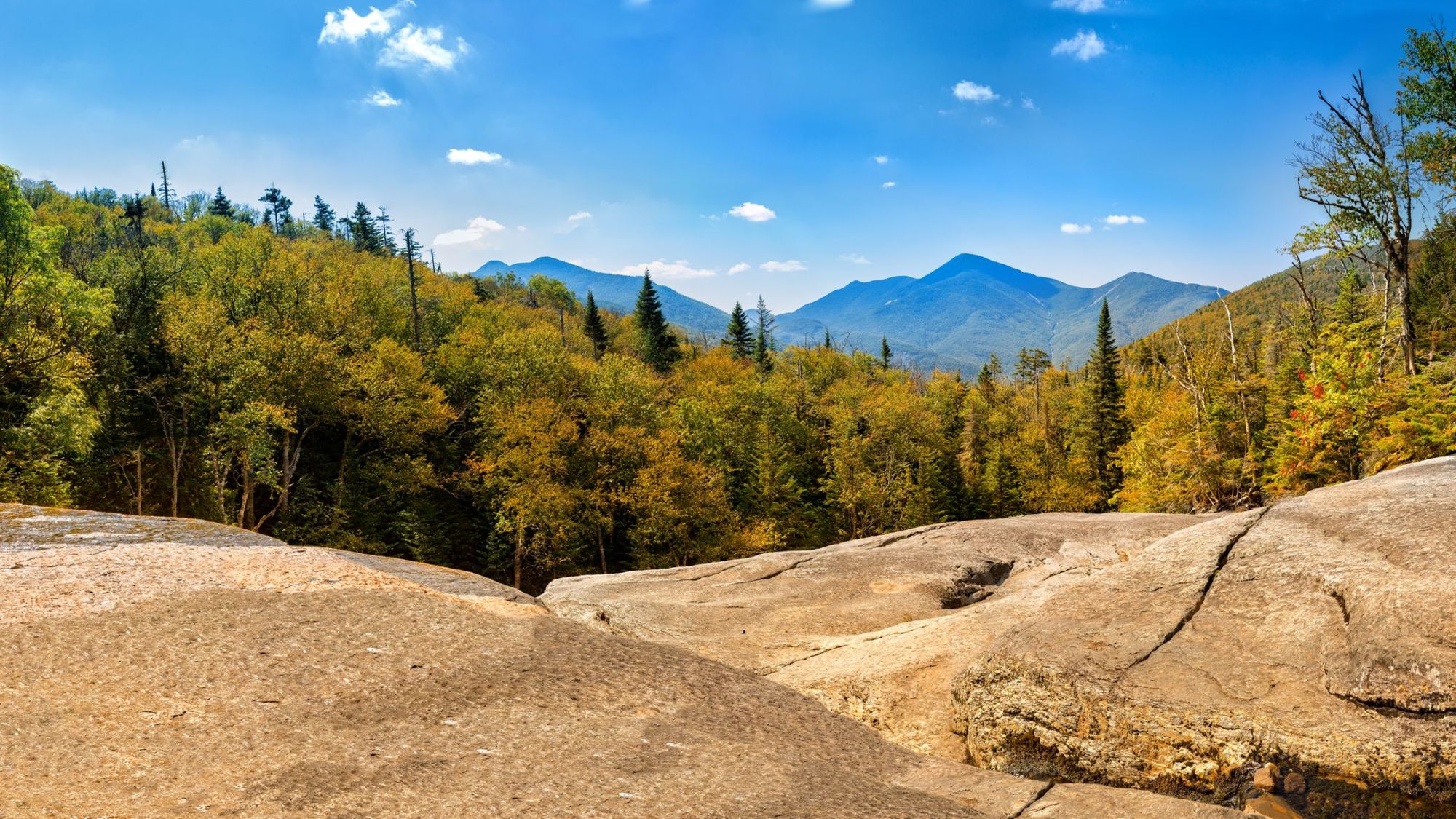 Approx length: 21 miles
Starting Point: Roostercomb Trailhead, Keene Valley
The Great Range Traverse is renowned as one of the most iconic, and definitely one of the most challenging, hikes in the northeast of America.
Not only does the route take you up Mount Marcy, which at 1,629 m / 5,344ft is the highest point in all of New York State, it also takes you up seven other peaks above 4000ft in the Adirondack Mountains (and a couple of other, smaller summits). All in all, expect to be on the go for around 21 miles and 12 hours in one day, with 9000ft up and down. Mount Marcy is actually the last of the peaks you'll reach on this trek, and you're in for a good 13-14 miles before you get there.
From the Roostercomb Trailhead, this route climbs from the get-go, the benefits of which are that you very quickly get up to amazing viewpoints of the area, flushed with trees and with rolling, spiking, rugged hills both up close and on the skyline. The ridgelines and mountain slopes are really packed with forests throughout, which both creates incredibly dramatic views, especially when a grey mountain face appears exposed, and it also means the mountains are alive with wildlife too.
Before Marcy, you'll summit the Lower and Upper Wolfjaw mountains, Armstrong, Gothics - which offers truly incredibly panoramic views - Saddleback, Basin and Haystack. From here it's 7-8 miles down on a route which will leave you a couple of miles from the trailhead where you started. The path is rocky, often steep and occasionally requires a good scramble, but the views along the way, and the high summits, undoubtedly make this one of the best hikes in New York State.
2. Hike the Devil's Trail in the Catskill Mountains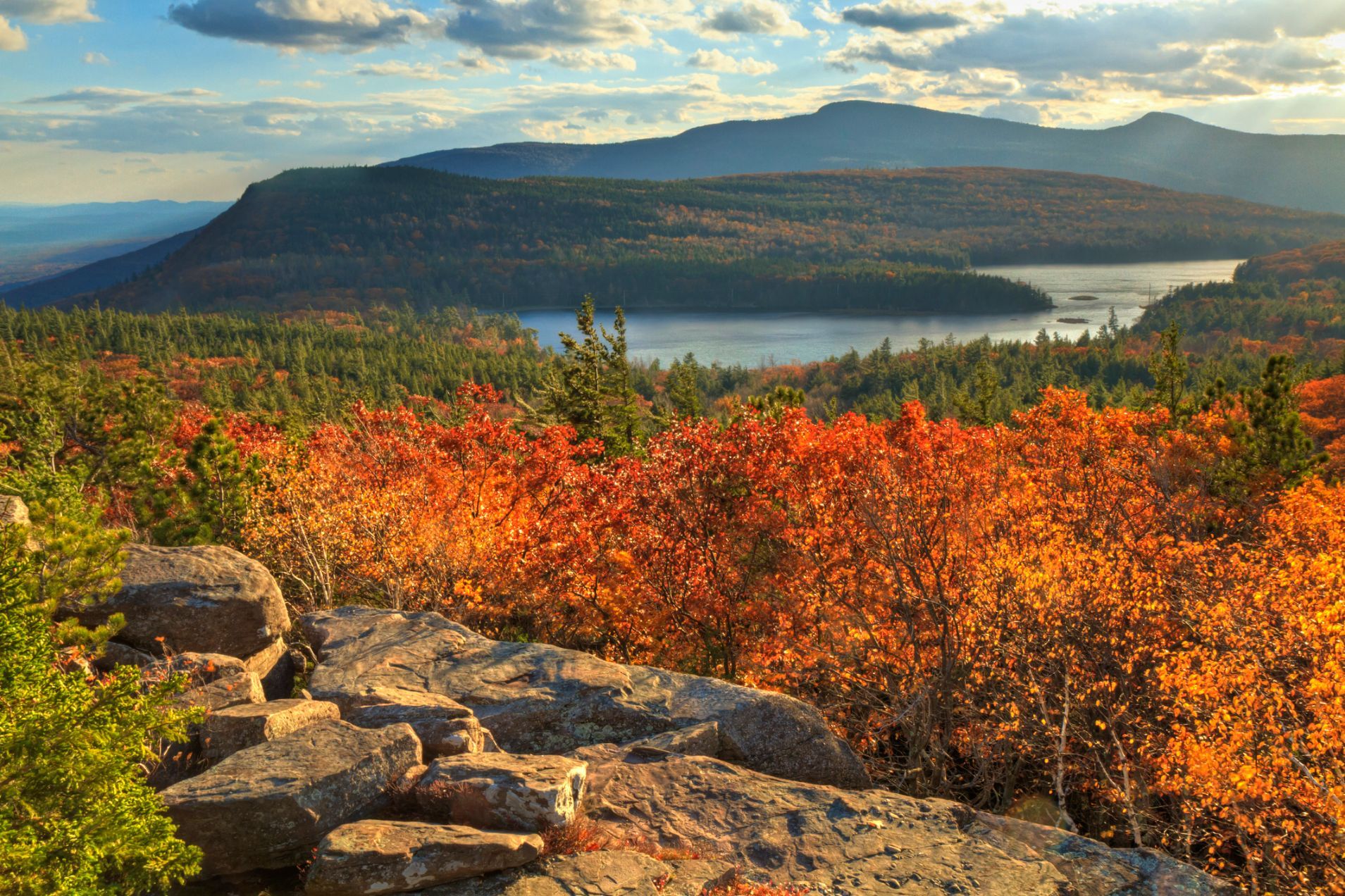 Approx length: 25 miles
Starting Point: Prediger Road trailhead, Elka Park
Wow, we're really not taking it easy on you here, are we? The best hikes in New York State can be pretty demanding, and the Devil's Trail fits that bill exactly. What we're trying to do here though is really to give you an idea of the sort of terrain you can visit in New York State. There are actually all sorts of trails available from the Prediger Road trailhead which this hike starts at.
First of all, it's worth noting that this is a thru-hike. So you're not going to be returning to your car at the end, and you'll need transport sorted either end. It it usually hiked over a few days and will take you up about 2500m and over five high peaks of the Catskills; Indian Head, Twin, Sugarloaf, Plateau and West Kill Mountains. What really makes this hike so difficult though is the terrain. Expect gravel, small rocks and often loose paths which really demand your attention. It's not the kind of hike where when you reach the ridgeline, the job is done, either. Each peak is followed by a big, steep descent, and then requires you to climb way back up to the next peak. Because of this, the hike is usually done in a weekend rather than in a singular day.
We've not put you off yet? Well, then this is the hike for you. Your reward for all the ups, downs and sketchy trails along the way are views of the rolling hills layering into the horizon and beautiful forest trails which are thriving habitats for all sorts of animals. You're only a couple of hour's drive north of New York City, but this feels a whole lot more removed than that, and if you're a busy worker in NYC, then the weekend camping is sure to reset your stress levels.
After an epic adventure with views to last a lifetime, you'll come out at the parking area on Spruceton Road, from where you have hopefully arranged a shuttle or a pick up!
3. Summit Wright Peak, Algonquin Peak and Iroquois Peak in the MacIntyre Range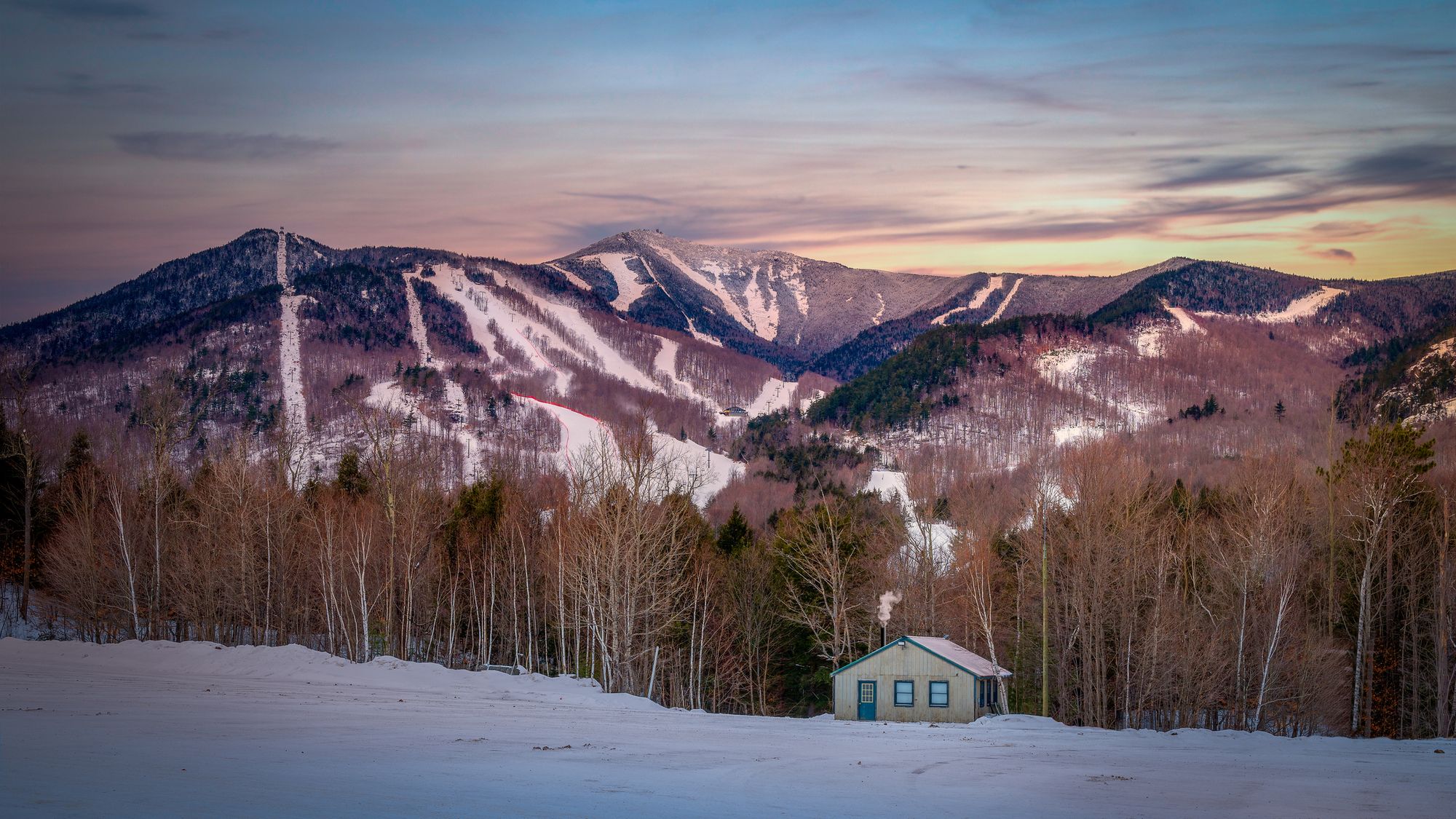 Approx length: 15 miles
Starting Point: Adirondack Loj, North Elba
This is one for those who like a challenge and don't mind an early morning. You'll want to be on the trail before light as you head off for Wright Peak (4,587ft / 1398m), Algonquin Peak (1559m / 5,115ft), the second highest peak in New York State, and the trailless Iroquois Peak (1476m / 4,843ft).
You'll walk a short path to Marcy Dam, from where you'll begin to see signposts pointing up to Wright Peak, the first summit of your day. You'll find the route to be pretty rocky, and pass through lovely forests before you get up to the ridgeline - where the views are spectacular. Keep an eye open for the turn off for Wright Peak, as it's a little bit of a detour off the trail, and then you'll need to backtrack and return to the trail for a short period to head on to Algonquin Peak.
The route on from here to Iroquois is unmarked and also relatively easy to miss, so come prepared with your map, and then it'll be another backtrack after Iroquois to get back to the trail. Once you've summited all three, you've got the choice of returning the way you came or making it a loop hike, with a return which passes by the beautiful Avalanche Lake.
Go in winter, headlamps and all, with the added challenge of winter conditions and navigating on sheets of ice or deep snow and you'll give yourself an outdoor adventure you'll be talking about for some time to come. Of course, you'll need the gear - crampons, or even snowshoes depending on the conditions - and the expertise for how to use it all properly.
4. The Saranac Lake Sixer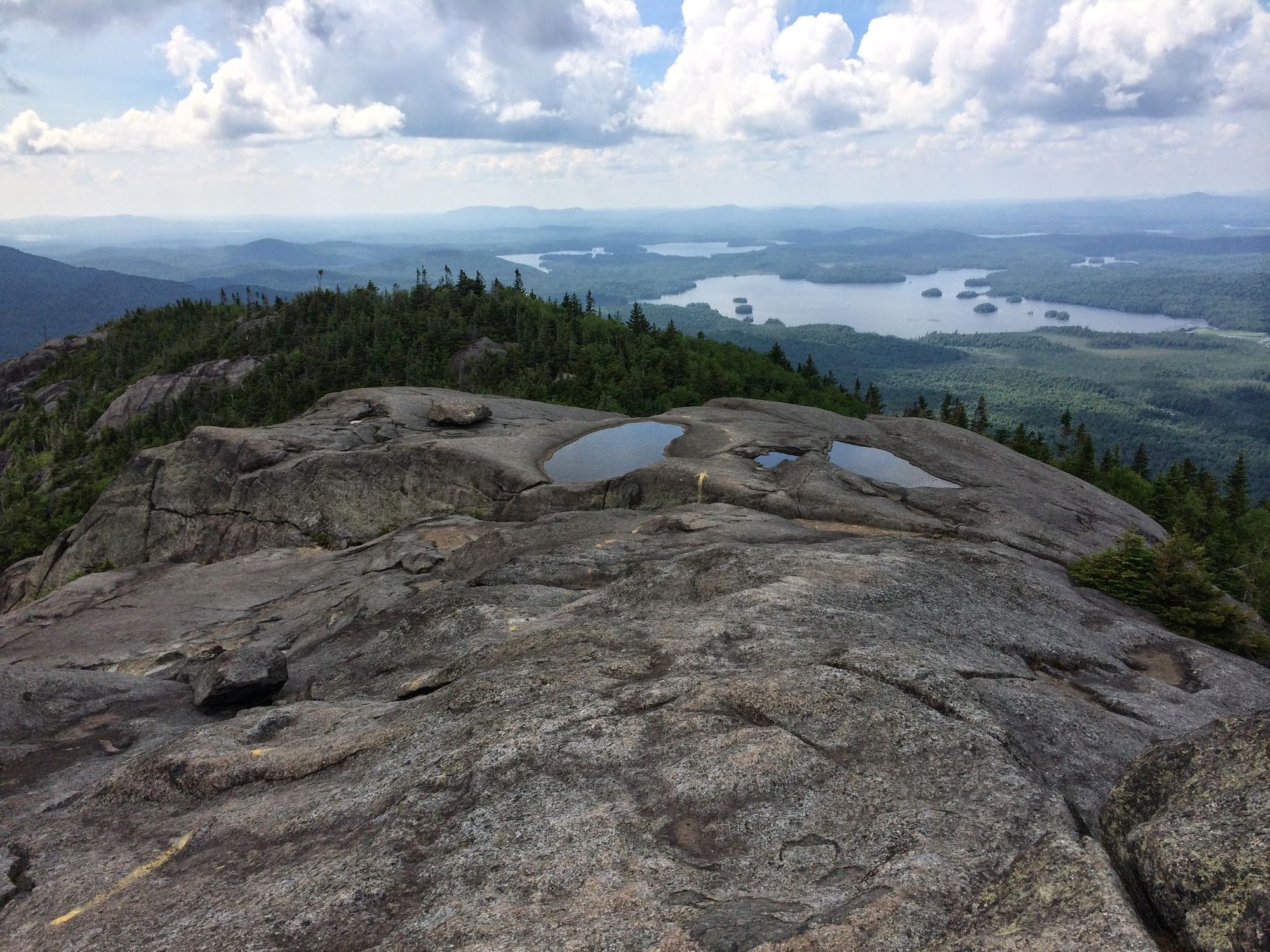 Approx length: 33 miles
Starting Point: Downtown Saranac Lake
Just up the road from Lake Placid, you'll find the Saranac Lake, home to another one of the best hikes in New York State, and another demanding challenge. The Saranac Sixer calls for you to summit the six "hikeable" mountains that surround Saranac in one day.
Those peaks are Baker (2,452ft / 747m), St. Regis (2,874ft / 875m), Scarface (3,054ft / 930m), Ampersand (3,353ft / 1021m), Haystack (2,878ft / 877m) and McKenzie (3,822ft / 1164m).
Along the way you'll see all sorts. There are gently rolling hills, wetlands perfect for birdwatching, beautiful pine forests and of course, those big steep ascents and mountain tops and ridgelines, looking over the rugged nature of the Adirondack which layers into the horizon.
Make no mistake, to achieve all this in one day is demanding, but if you do it, you become an "Ultra 6er" and get to ring the bell in Berkeley Green. Of course, if you don't fancy rushing through all that, then why not just take on one or a couple of the climbs? There are options available for all kinds of hikers around this area.
5. Hike the Mount Jo Loop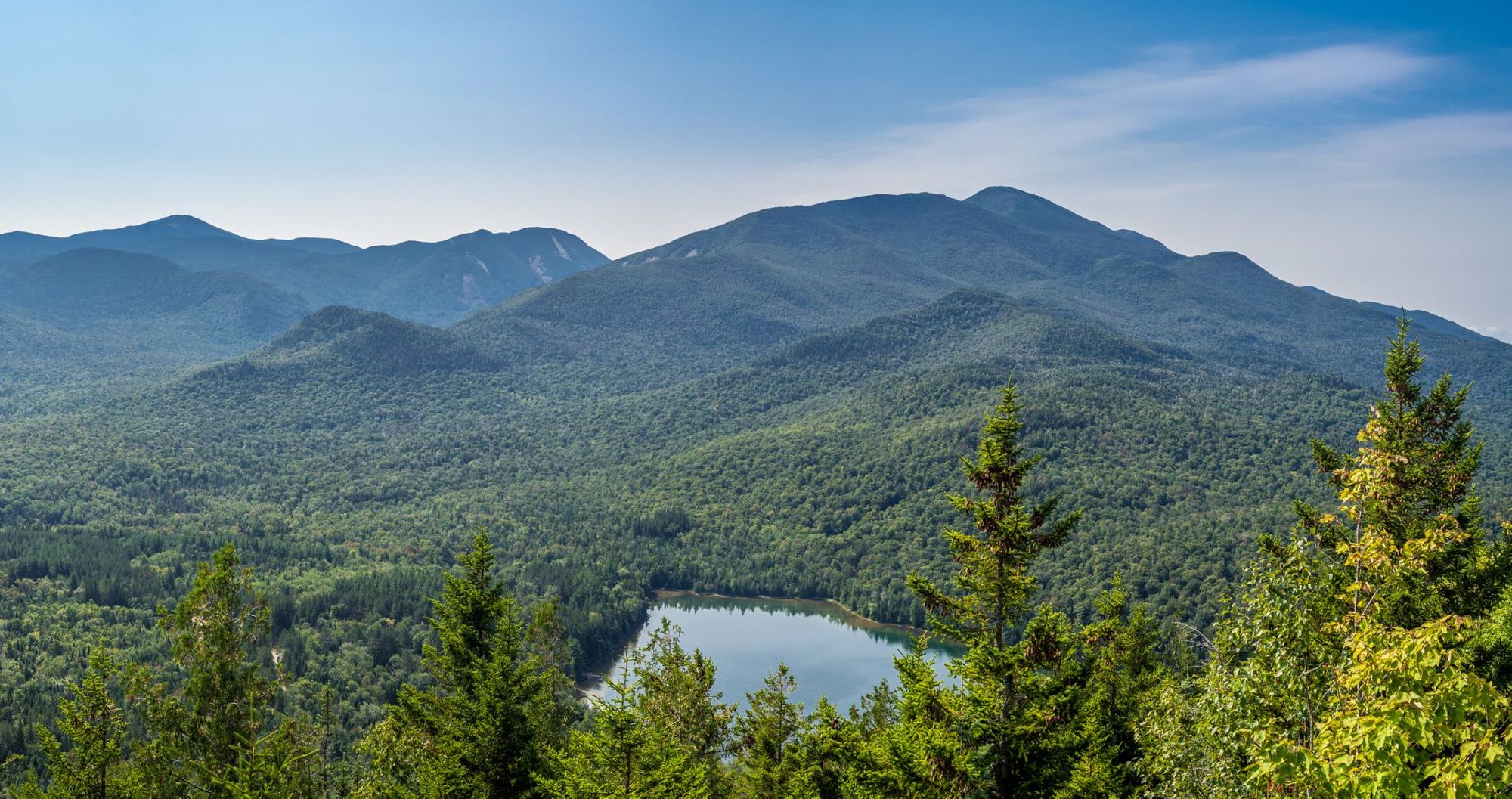 Approx length: 2 miles
Starting Point: Adirondack Loj, North Elba
Gosh. Anyone else need a breather? There are - as you've now seen - a whole lot of incredibly demanding, physical and beautiful hikes in New York State. We hope these give you an idea of just what's possible in the state, but of course, you're not always going to want such intensity.
Often used as a warm-up climb in the Adirondacks ahead of a few days climbing more challenging peaks, the hike up Mount Jo is a beauty in its own right and is one of the best hikes in New York State for families, or those looking for great views without a full day of hiking.
We'd recommend combining it with a morning spent at Lake Placid. The Mirror Lake Loop is a 2.6-mile route round Lake Placid which is often quite busy, but for good reason - it's a beautiful spot. Mount Jo is a 15 minute drive from there. Standing at only 265m / 869ft, Mount Jo is certainly not a hefty, mountainous summit, but the couple of miles it takes to get to the summit do offer great views of the high peaks of the 'dacks to the south, and also back down to the picturesque Heart Lake, from where you begin your steep ascent up the mountain.
For those looking for more of a challenge in the area, there are plenty of bigger mountains around, including the nearby Nye Mountain, Street Mountain and Mount Van Hoevenberg.
Inspired? Check out our multi-day hiking adventures in New York State and beyond, many leaving from central Manhattan.