How do you pick the best waterproof jacket? The type that will not only keep you dry in wild weather conditions but is also breathable enough to stop you sweating buckets while you hike? And how do you make sure it's going to last, too?
Picking the right waterproof jacket is one of the most important things you will do when it comes to equipping yourself for the great outdoors. If you're going to be out exploring our world's wild places, you simply must have a rain jacket you can rely on. It's no exaggeration to say that this is a bit of kit that can be the difference between an all-time adventure high and a nightmare time outside.
The best waterproof jackets will last you a long old time - and just the fact you have it in your pack becomes a reassurance...
I've done my time reviewing outdoor jackets (so have seen a fair few, from those that keep you warm and happy to others that leave you looking like a dog which just jumped back out of a river - but without the spritely attitude). The best waterproof jackets I've used have kept me dry and happy in the worst weather: the sideways rain of the Scottish Highlands, the winds and snow of alpine blizzards and during torrential downpours in Colombian rainforests. The best rain jackets also dry off quickly after use - and barely add any weight to your pack.
A few old jackets that have stuck with me are the Berghaus GR20 Storm, a light, super breathable three-layer jacket with a great hood, the Outdoor Research Interstellar, a light waterproof which packs into its own pocket, and Helly Hansen's Odin Mountain Infinity Pro shell, a bomb-proof ski touring jacket developed in such a way that the yarns themselves are waterproof - so re-proofing is never required. I also like the Rab Flashpoint 2, an ultra lightweight option.
We're not going to review specific waterproof jackets in this guide, but the point is: I've had each of these jackets for between two and 10 years now (hence why most are no longer on sale direct from the supplier), including lending them out to pals when needed, and each of them is still serving me well. So, while the best waterproof jackets might be a little pricey, the good news is that if you do the research and find the waterproof that's right for you, sure, it might cost a bit more than a tourist poncho with a picture of Nessie one it, but it will last you - and just the fact you have it in your pack becomes a reassurance.
Here are some key things to think about when buying a waterproof jacket:
Waterproofing
Breathability
Weight
Layers of jacket (two or three?)
Functionality (pockets, hoods, packability etc.)
The importance that each of these factors takes on will ultimately depend on what you're going to be using your jacket for, and how often. Owing to the wide range of outdoor activities people get up to, the best waterproof jackets usually sit between a few categories. For example:
Waterproof running jacket: ultra light and super breathable.
Mountaineering (or ski touring etc.) jacket: tech-heavy and tough.
All-rounder: somewhere between the two.
Now, let's get into the details (and demystify the lingo) in our guide to how to pick the best waterproof jacket - one that's breathable, light, reliable and long-lasting.
Waterproofing & Hydrostatic Head: ensuring your rain jacket will keep you dry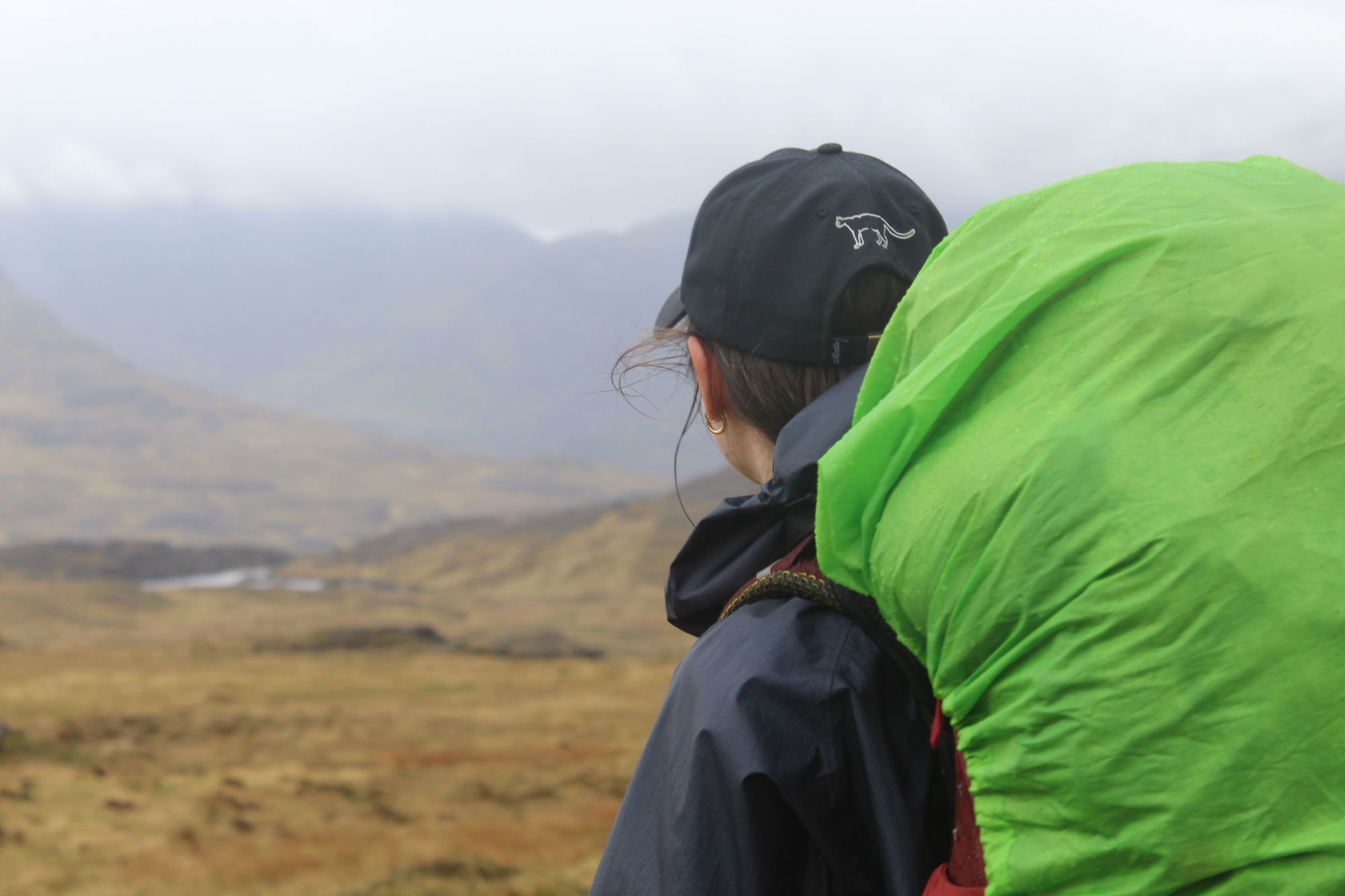 We begin by talking about hydrostatic head figures. Yup, this is going to be that kind of guide. In the details or 'tech' section of all the best waterproof jackets, if not in the front-facing description of the coat itself, you'll see a hydrostatic head (HH) figure - for example, 10,000mm, 20,000mm and so on. It's important.
This is the industry standard figure used to judge how waterproof a rain jacket (or anything else) is, and it's a key figure when buying a waterproof jacket.
The HH test is carried out using a machine which presses water against a fabric, until that water is visible on the other side. This test was traditionally done using a physical column of water. If the water showed on the fabric once that physical column was 5,000mm (five metres) high, then 5,000mm would be the HH rating of the garment in question. Today, fabrics can get up to 30,000mm, so a machine is generally used instead of a column, to avoid having to build a 30 metre column of water for testing. The machine generates an equivalent amount of pressure, then converts the results to the millimetre format in order to provide a HH rating.
The important bit: the higher the HH figure on a rain jacket, the more waterproof an item is, and so the longer it will keep you dry in the rain:
1,500mm: The level at which a product is 'waterproof'.
5,000mm: Can deal with light or average rain.
10,000mm: Suitable for moderate and periodical heavy rain.
20,000mm: Capable of keeping you dry in unrelenting, day-long rain.
30,000mm: Built for storms, with breathability often sacrificed as a result.
So, 20,000mm plus will cover you for all conditions, but for many people, a 10,000mm waterproof jacket can be more than enough to suffice.
What is the difference between a waterproof and water resistant jacket?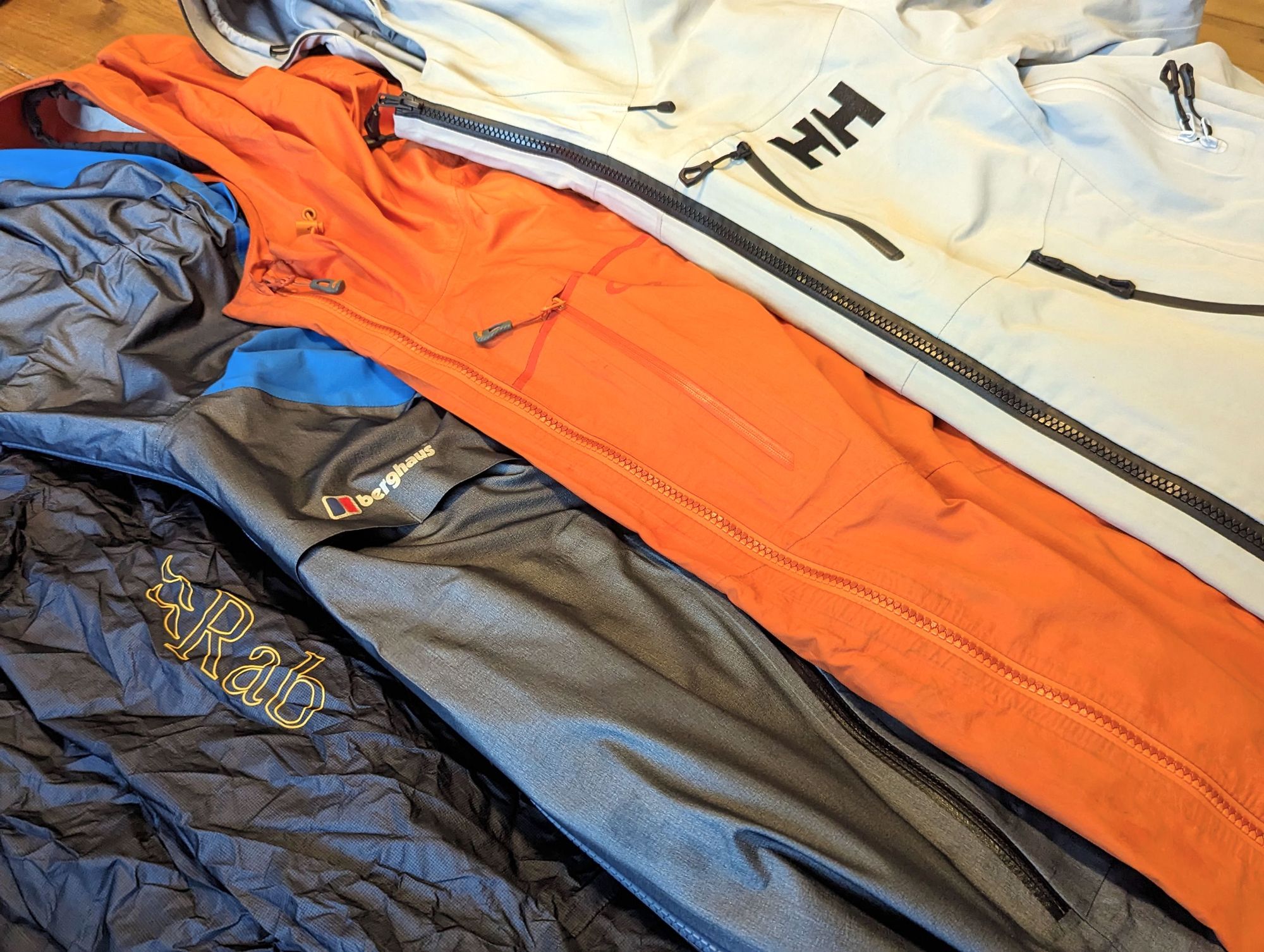 A water-resistant jacket will likely have an HH rating of under 1,500mm, and it will often have been treated with an ultra-thin durable water repellent (DWR) - a hydrophobic coating which is applied to the outer layer of the gear, causing water to bead rather than wet through. This will work for a limited period. A water-resistant jacket does not provide a barrier, and water will eventually come through.
On the flip side, a waterproof jacket (like those pictured above) does provide that barrier to the rain, at varying levels depending on the HH rating. Other factors also contribute, including whether the jacket is a two layer, three layer or two point five layer waterproof jacket - a topic which we'll now explain in a bit more detail.
Should I pick a two layer (2L) or three layer (3L) waterproof jacket?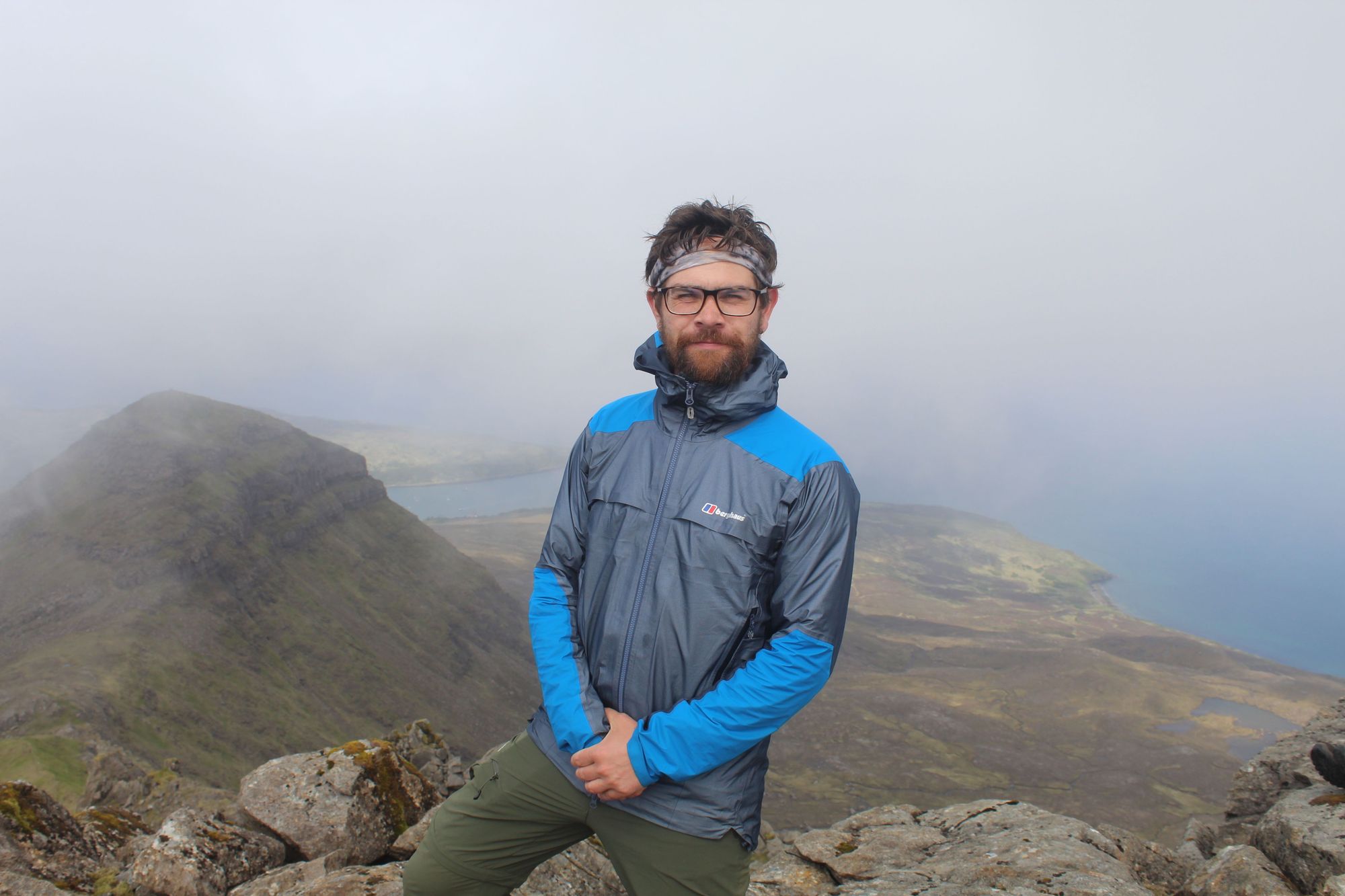 While hunting for a jacket you may notice that some waterproof jackets are described as 2L, while others are described as 2.5L or 3L. The 'L' here means layer. Here's the difference between those three categories of jacket. Each can be a valid option for a waterproof jacket. Generally, two layers is great for light exploration or for running, while three-layers is best for extreme conditions.
2 Layer: reliable, mid-weight and affordable
A two-layer waterproof jacket bonds two layers of fabric - an outer shell and an inner membrane which makes it waterproof and breathable. This system is the norm for outdoor jackets. Most waterproof jackets that you own, and have ever worn, are probably two layers. They are generally cheaper than three-layer equivalents, as the material is less technical. Added inner linings (typically made from mesh or nylon), make the jacket more comfortable and longer-lasting, can also make it heavier.
While three-layer jackets tend to be more technical, you can still get excellent two-layer coats. They may be heavier than equivalents, but it can be a matter of grams.
2.5 Layer: light and most affordable, but less breathable and durable
A two point five-layer waterproof jacket usually adds a super thin laminate to the inner lining of the outer shell, and then prints another half layer on top of that. This makes the coat lighter than a two or three-layer equivalent, but it's also less breathable. Over time, oils and dirts can increasingly impact the functionality of the waterproof membrane too. These are typically very affordable, though.
3 Layer: most breathable, durable, waterproof and expensive
A three-layer waterproof jacket bonds three layers of fabric - usually that outer shell and an inner waterproof membrane, while also bonding the membrane to an interior fabric layer. The bonded nature of these three layers makes this jacket as lightweight and breathable as possible, but typically, three-layer waterproof jackets do tend to be more expensive as a result. They do also last a long time, though. That third layer helping to prevent oils or dirt from interfering with the waterproof membrane on the coat. The wind resistance is also excellent. Three-layer jackets are my personal favourite for long-distance hikes, but each coat has its place.
Breathability & MVTR: How do I know if a waterproof jacket is breathable?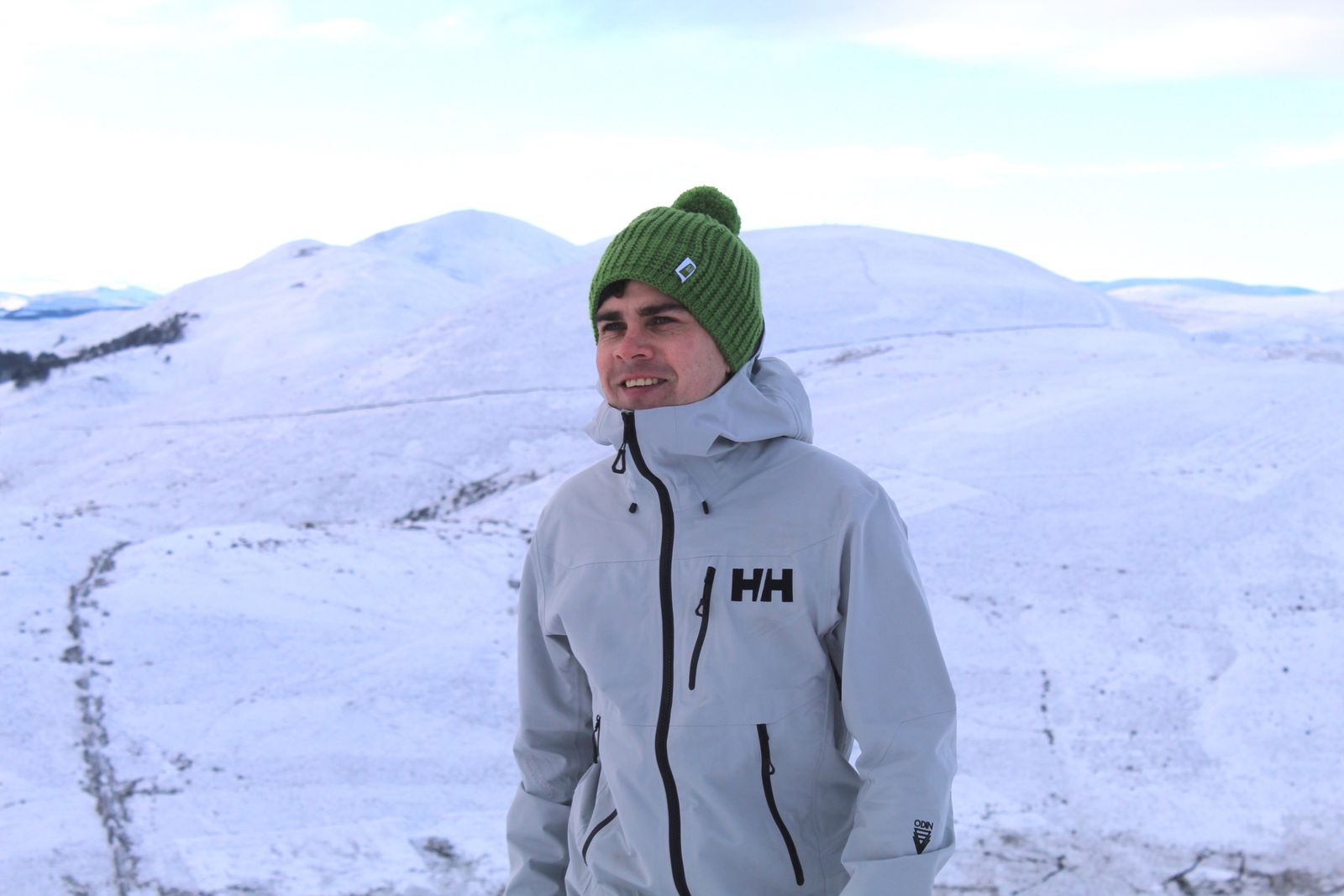 If you thought that the waterproofing section of the article was complicated, then apologies: the breathability section is even more niche! Breathability is crucial, ensuring you don't get too damp and humid while you're hiking in a waterproof jacket. The breathability of a waterproof jacket is measured by its Moisture Vapour Transmission Rating (MVTR) - typically using the 'g/m2/24hrs' method.
This represents the amount of moisture, in terms of weight, that can pass through a square metre of fabric over a 24-hour period. The higher the number the better, and often, the waterproofing and breathability ratings on jackets are very similar.
Of course, if you sweat a lot, there's only so much a jacket can do, but a breathable fabric will always allow more sweat to escape from the inside of the fabric in the form of water vapour - allowing you to stay more comfortable on the trails.
Below 10,000g/m2: Casual outdoor wear. Fine for short outings but get clammy on long hikes.
10,000g/m2-20,000g/m2: Standard. Good, but may get clammy during uphill/stressful efforts.
20,000g/m2 and above: Excellent breathability. Will stop you getting clammy during long-distance hikes and serious exercise, short of really pushing your limits.
Functionality: What features to look for on the best waterproof jackets?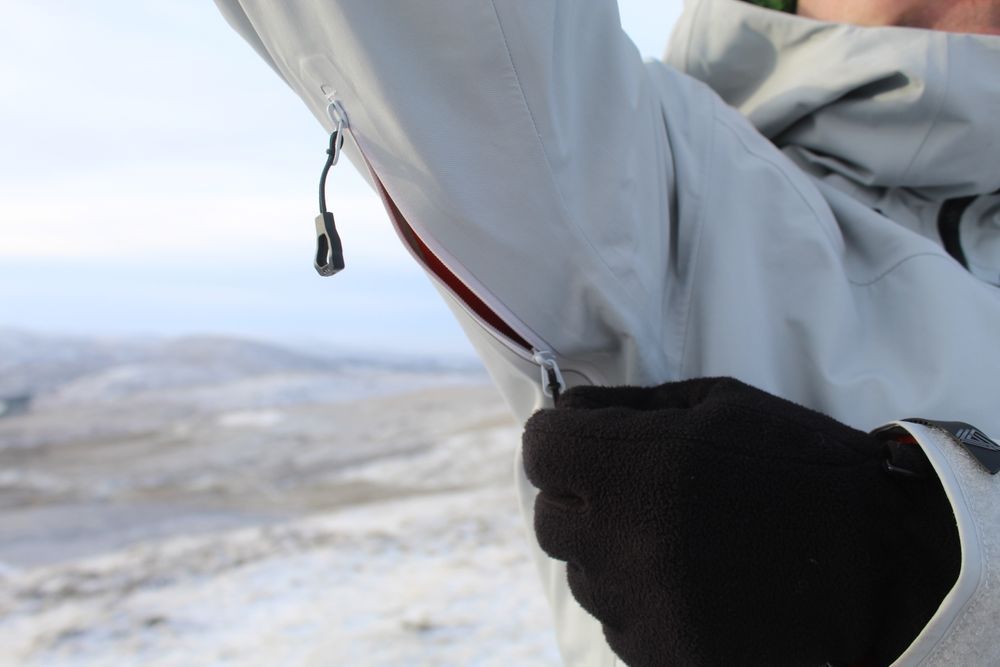 Beyond waterproofing, breathability and the weight of your rain coat, you're also going to want to look out for the following features when you're buying a waterproof jacket:
Packability: How easy can you stuff your waterproof jacket away? Does it come with a stuff sack or is it a little bulky? This is crucial, as a properly packable, lightweight jacket means you won't think twice about sticking your waterproof jacket into your pack, even if you might not end up using it.
Pockets: How many pockets does your jacket have, and can you still use them if you're wearing a backpack with chest and hip straps? A lot of the best waterproof jackets put the hand pockets higher than average, so you can easily use them with your pack on. Pockets inside the jacket can also be useful.
Hood: The best waterproof jackets will have a hood with an adjustable tog for tightness, and a strong peak or visor too, to help you keep the rain our your eyes. If you'll be wearing a helmet while in the jacket, make sure it'll fit, too.
Vents: Well placed vents can prevent overheating, and prevent you having to stop to put your waterproof jacket on and off and on and off as you hike.
Adjustable cuffs: Super simple, but these can add to comfort while hiking.
Taped seams: Seals the inside seams and adds protection for the waterproofing. Particularly useful if you'll be in rain for a long time.
Eco tech: Increasingly, brands are developing ways to waterproof items without DWR, which harms the environment. On the best examples, the yarns repel the water, meaning no water repellency treatments are needed.
How do I reproof a waterproof jacket or rain jacket?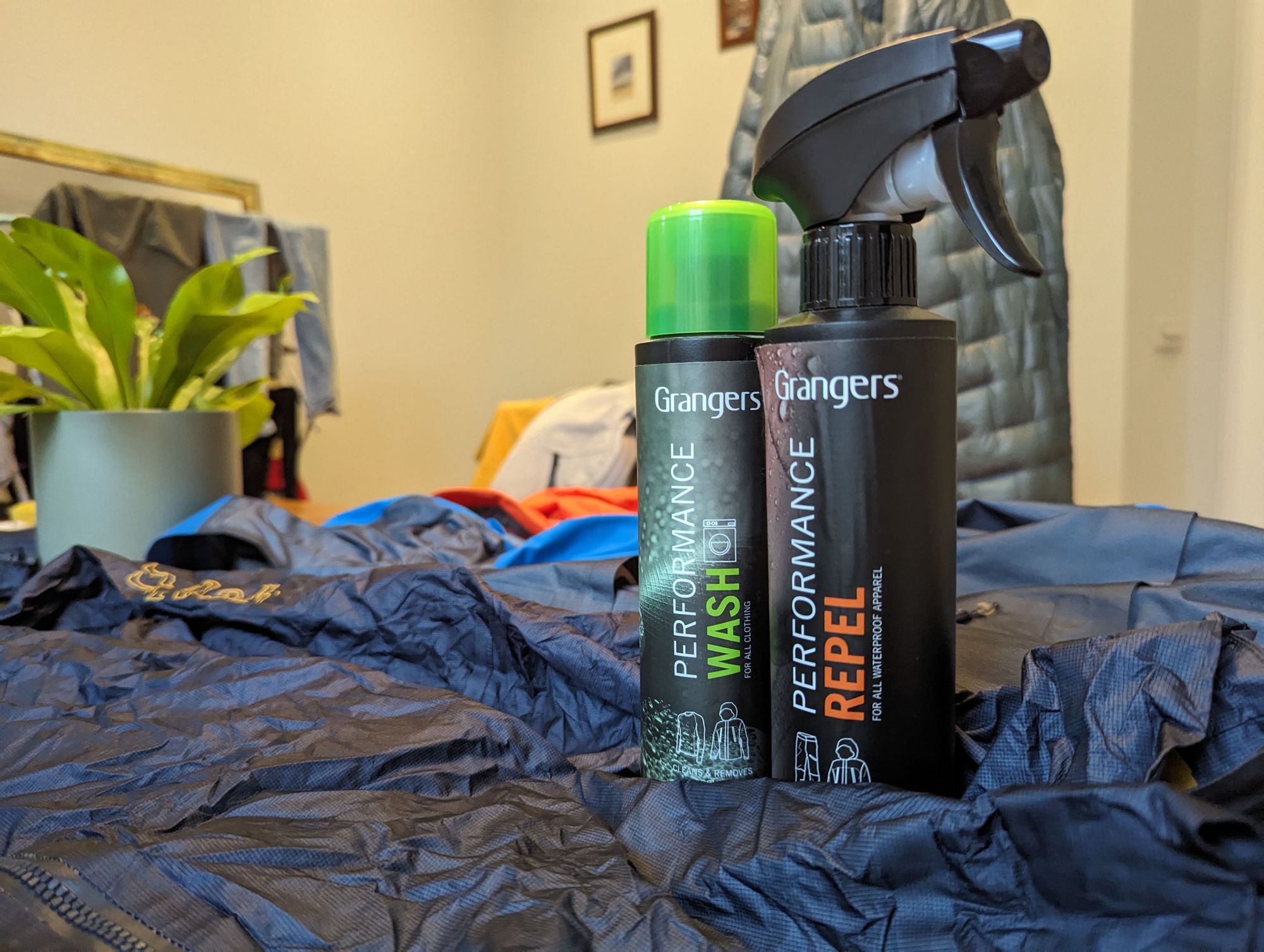 If your waterproof jacket relies on a water repellency treatment/DWR, then you will need to re-proof the jacket every four-to-six months to ensure it stays effective. The common way to reproof a waterproof jacket is to clean the jacket of dirt, ensure zips are fully zipped, and then put it in the washing machine with a wash-in product - the most popular being Nikwax or Grangers.
It's important to ensure that you don't use fabric softener and don't have any washing detergent left in your machine tray when you put on this wash, as this can interfere with the waterproofing membrane of a jacket.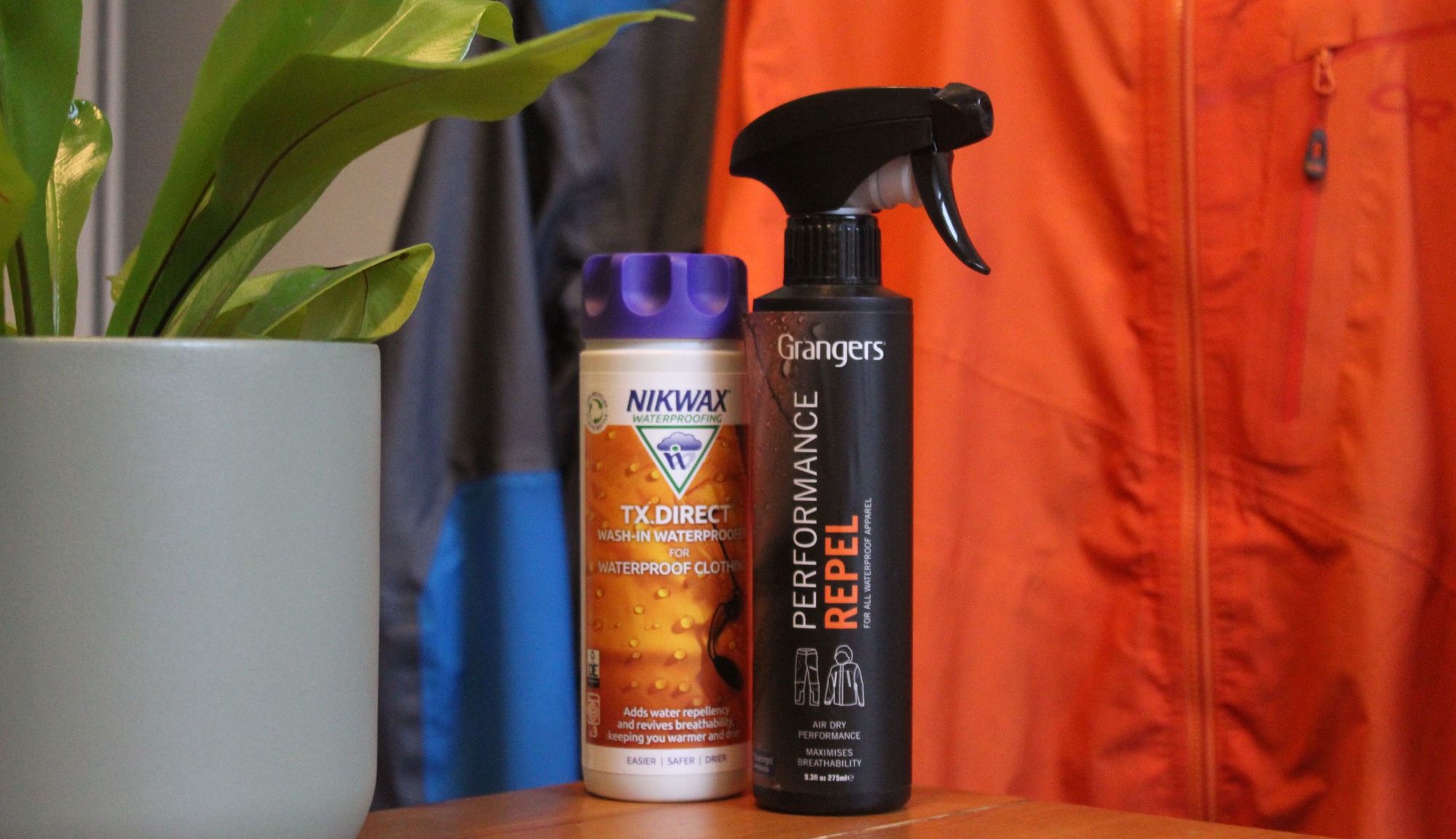 Read the instructions on the bottle to ensure you use the correct amount of product, but typically, it's just like putting on a normal wash, but with wash-in instead of washing detergent. You then need to dry the jacket to activate it.
There are also waterproof sprays available to reproof a jacket, though if using a spray, you have to be careful to ensure that you evenly distribute the spray, so you waterproof the entire jacket. And that's the school bell! Thanks for joining our comprehensive class on waterproof jackets. Now go outside and play in the rain.
Inspired? Check out our full range of adventure holidays now!