The glacial, imposing peak of Mont Blanc has long inspired artists and mountain climbers. The poet Byron referred to it as the 'Monarch of mountains'. John Auldjo, who braved an ascent in 1827, wrote compellingly of the view from the summit as "a scene of dazzling brilliancy, too much almost for the eye to encounter."
But the steep, snow-covered sides of the mountain are as dangerous as they are beautiful. Sudden storms and high winds batter the weatherbeaten surfaces. Auldjo writes of the "excessive cold" - he suffered snow blindness, hypothermia and altitude sickness on his ascent. Even today, the success rate on Mont Blanc is said to be around 65%. According to expedition leader Quentin Beauvy, who leads groups in the French Alps, there are several reasons for this. Changeable weather conditions is one, and lack of experience is another.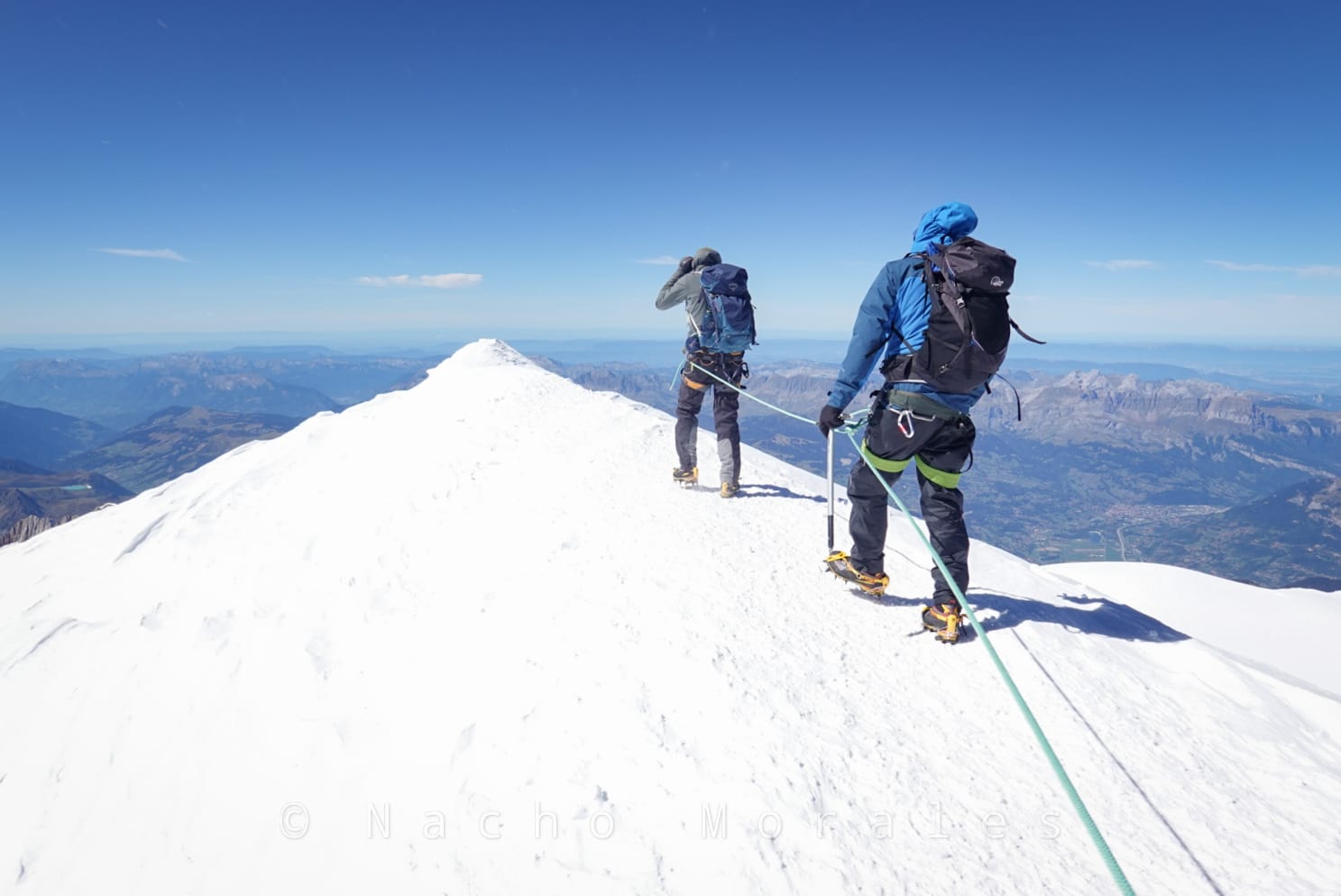 "Most of the customers who want to try the ascent are not mountaineers. For many of them, it's the first time they have been up high mountains," he says. "Sometimes people aren't adequately prepared to do the trip - they do not have the fitness level to be able to go up. If they aren't able to express this, it's the job of the guide to say when it's time to stop.
"The thing is that it's one guide for two customers - you are roped up together. So if one person cannot go up, both of you have to descend."
We spoke to Quentin to find out how you can improve your chances of a successful ascent. These are his top five tips for climbing Mont Blanc.
1. Make Sure You're Physically Prepared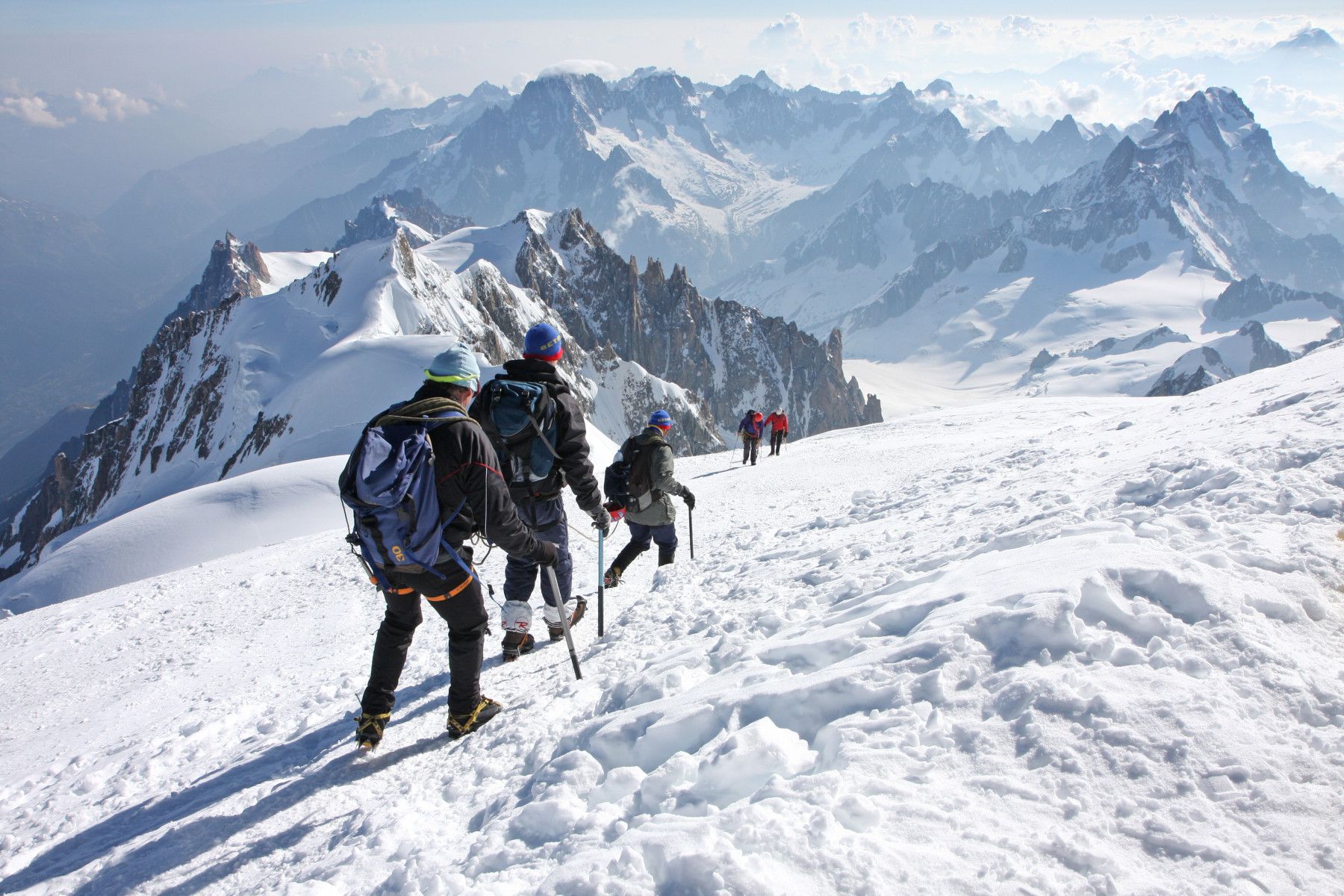 Climbing Mont Blanc is not a walk in the park. While you don't require extensive mountaineering experience, you will need a high level of physical fitness.
"You don't need to be a super athlete to go there, but you need to start training well before the trip starts," Quentin explains. "Several months before the trip you need to be preparing yourself with physical activity every day."
Expedition leader and ex-Commando Ian Finch suggests preparing for a multi-day trek by setting achievable goals, and slowly increasing the lengths of your hike until you're used to a long day on the trails. He also recommends increasing cardio capability with interval training, and by building leg strengthening exercises into your weekly workout.
Several months before the trip you need to be preparing yourself with physical activity every day
Think of climbing Mont Blanc as an endurance event, and train to build strength and stamina. There are plenty of resources available to help you, from apps such as Training Peaks to the trainers at your local gym. We'd recommend seeking professional advice if you're still unsure.
2. Gain Some Winter Mountaineering Experience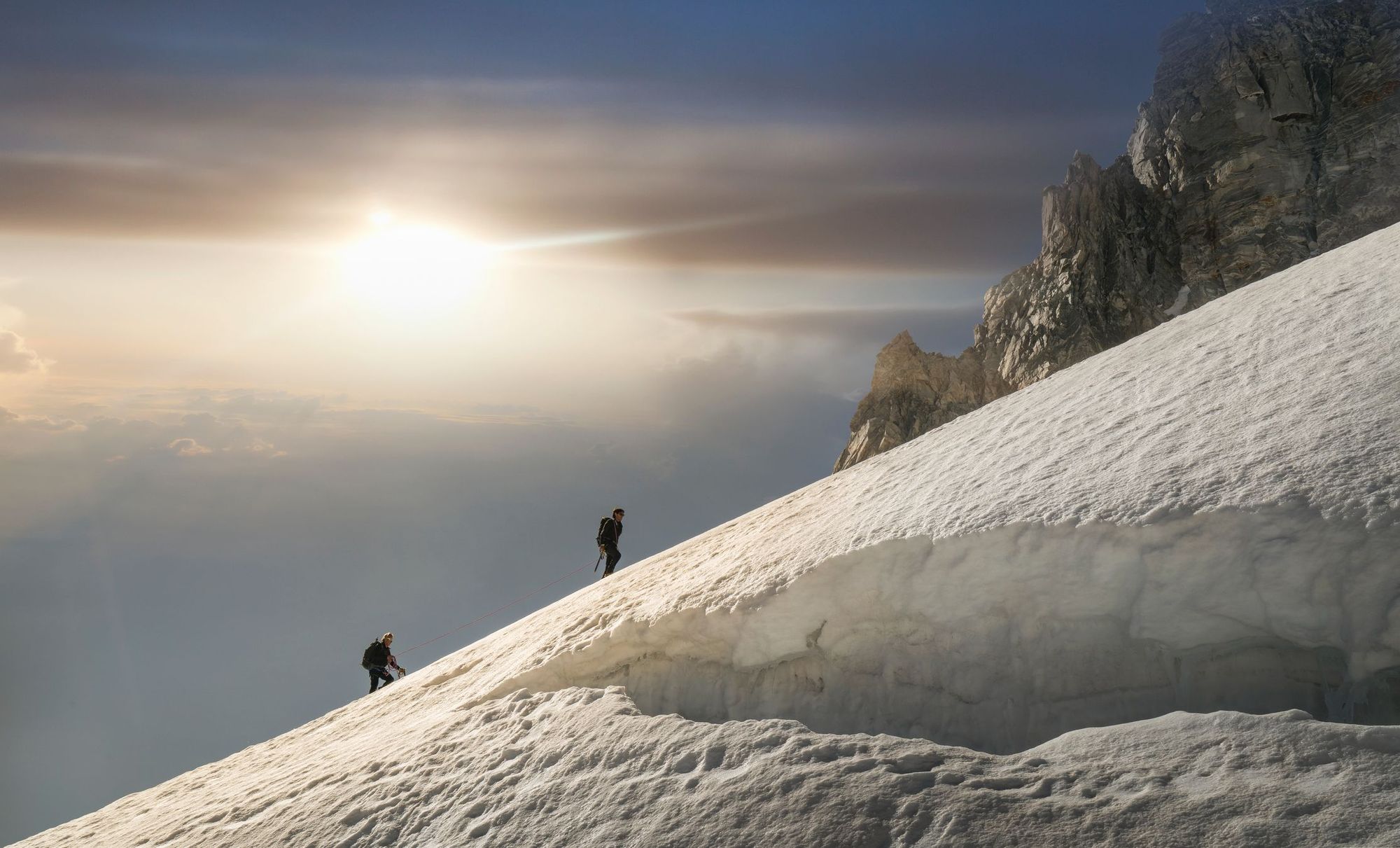 Quentin recommends learning some winter mountaineering skills before embarking on the ascent of Mont Blanc. This includes using crampons, and navigating icy environments. There are plenty of courses available to suit all types of budgets. You can also choose a Mont Blanc expedition that includes some preliminary mountaineering training.
"On the first three days we have an ice school programme. We stay in a mountain hut, close to Chamonix," Quentin says. "The guide will teach you how to use crampons and wear a harness, and how to progress on the glacier. They'll teach you how to cross crevasses and how to use an ice axe. The idea is at the end of the three days, you're familiar enough with these skills to apply them on Mont Blanc mountain.
"Those first days will help people feel more comfortable in the mountains. It helps the guide too - he can see whether there is anyone who will need more help than usual."
3. Spend Time Acclimatising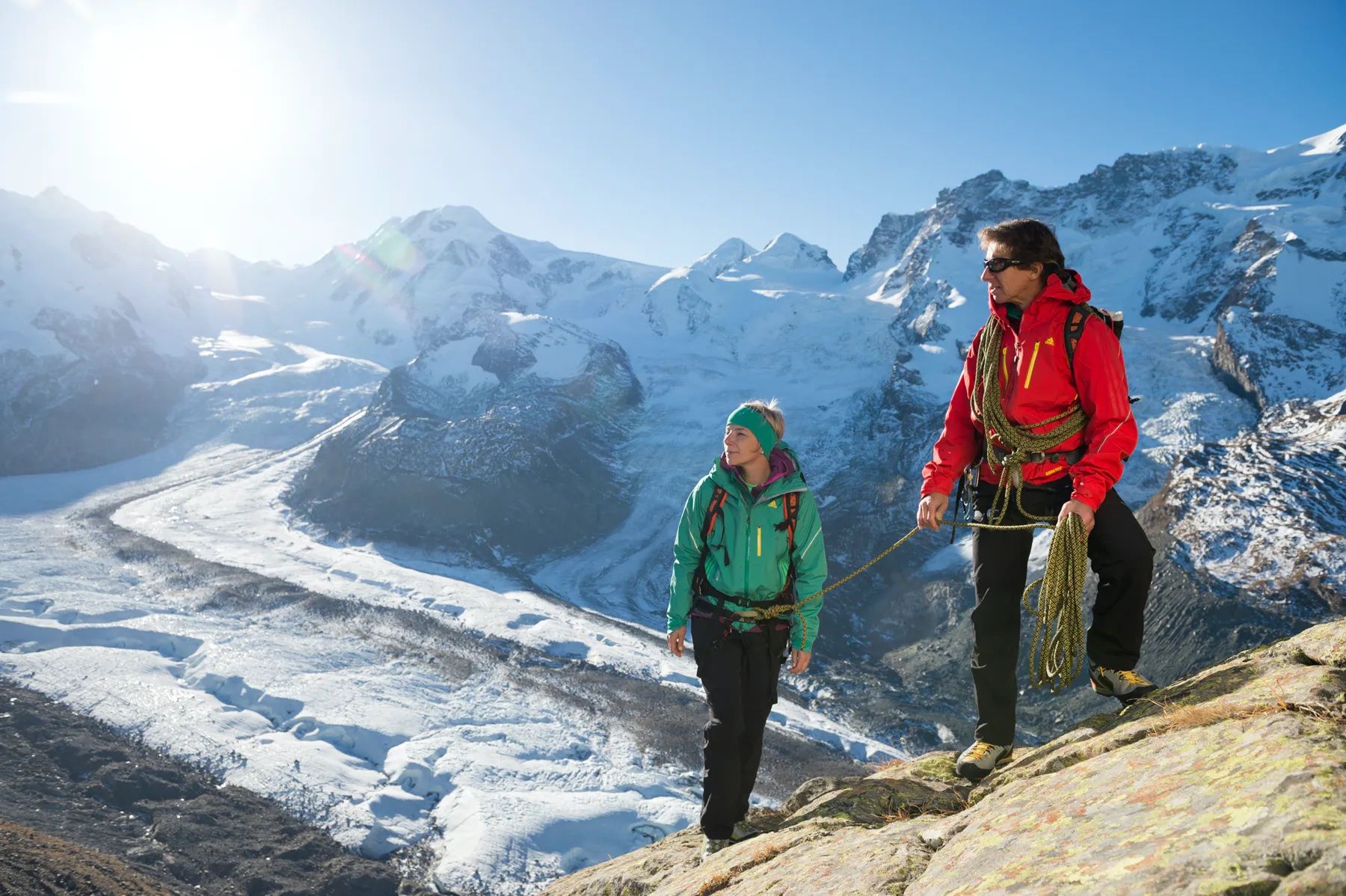 One thing that might get in the way of you reaching the top of Mont Blanc is altitude sickness. You're putting yourself at risk of it when you ascend to a height of 2,500 metres or over, as there is reduced oxygen in the air. Mild symptoms include breathlessness or a headache; vomiting, disorientation and difficulty walking are more acute symptoms.
"It's very difficult to anticipate it; there's not much preparation you can do in order to avoid it. You need to be aware of it - the guide will be, and will be able to take care of you," Quentin says.
The chance of getting altitude sickness increases when you ascend too quickly. The Center for Disease Control and Prevention provides the following guidance:
"Avoid going directly from low elevation to more than 9,000 ft (2,750 m) sleeping elevation in one day. Once above 9,000 ft (2,750 m), move sleeping elevation no higher than 1,600 ft (500 m) per day, and plan an extra day for acclimatisation every 3,300 ft (1,000 m).
A slower ascent gives your body time to acclimatise to the thinning atmosphere. Acclimatisation hikes up smaller summits in advance of the Mont Blanc climb are also recommended.
"It's possible to climb Mont Blanc in two days. But if we do that, we go up quite fast and it's not so good for acclimatisation," Quentin says. "So we built our trip over three days in order to limit the risk of altitude sickness as much as we can."
4. Choose the Right Month to Climb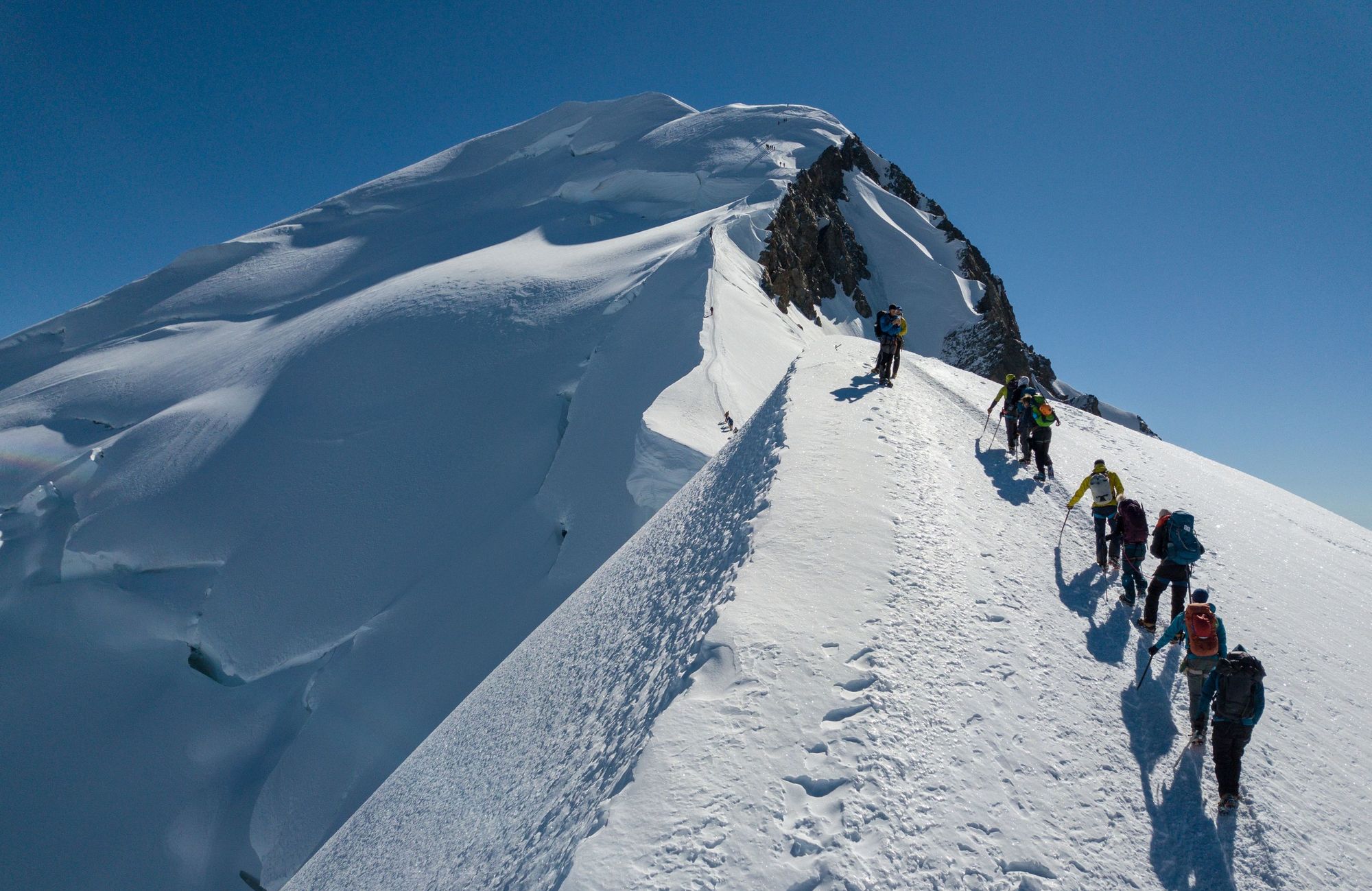 The summit of Mont Blanc is accessible year round, but during the winter months it can only be accessed via a mixture of mountaineering and ski touring. This makes it a more difficult ascent, which isn't suitable for beginners. If you'd like to reach the summit using crampons, not skis, you can only do so between June and the end of September, which is climbing season.
"We do not provide this trip during August, because it is one of the warmest months of the year and we have some positive temperatures in the mountains. We have rock falling quite often in this period of the year," Quentin says.
"The best time is the beginning of the season, June, and in September. July is okay but starts to be a little warm, so sometimes we start to have some rock falling in in July as well."
5. Adopt a Resilient Mindset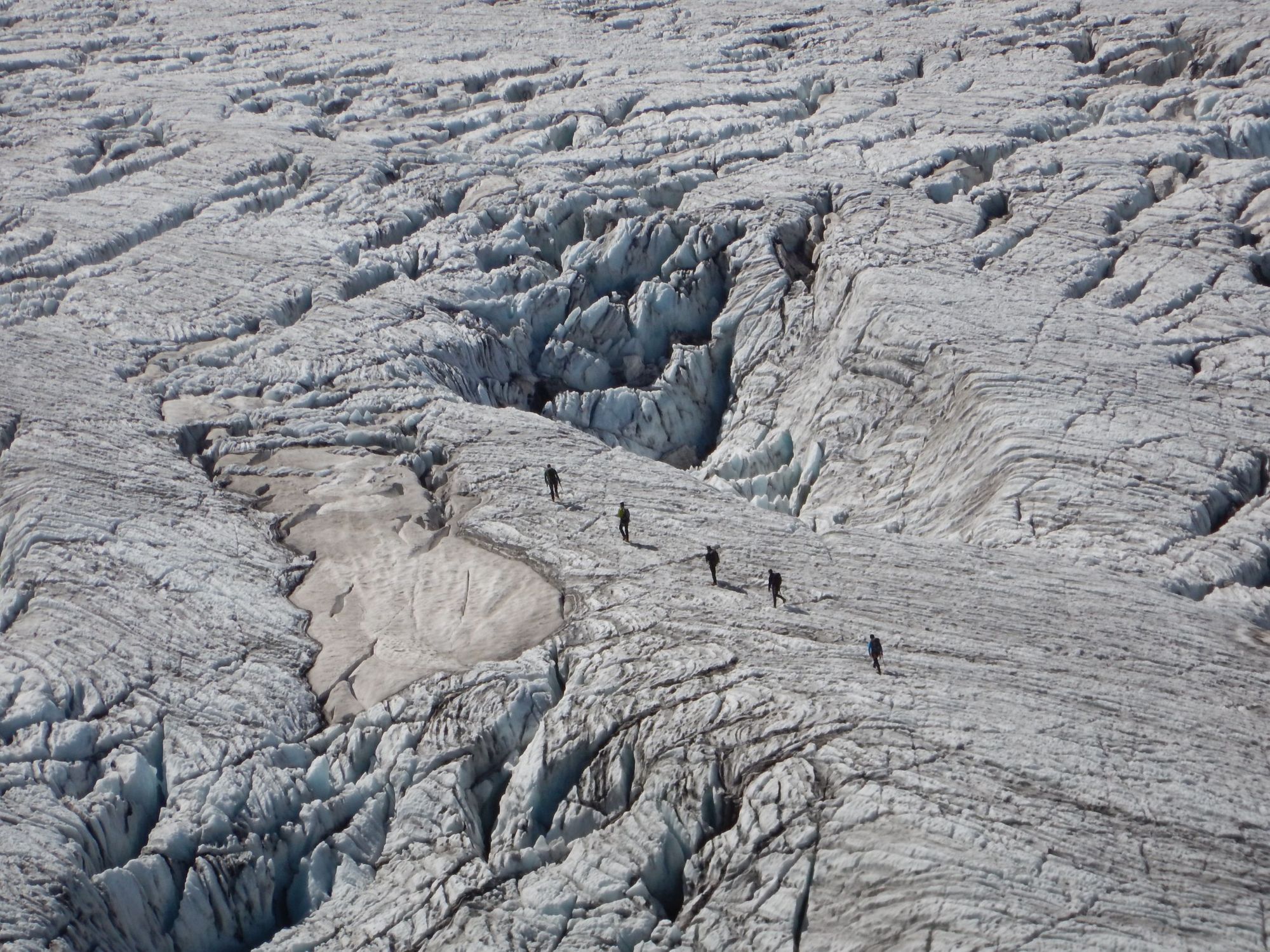 Mental resilience is a key quality that mountaineers and adventures need, and the Mont Blanc summit is no exception.
"The higher you climb, the more difficulties you will encounter. You need a strong mind to accept these difficulties and to overcome them," Quentin says. "The first thing is to be aware that you'll be confronted with some difficulties. You have to anticipate that and not be surprised by it. When these difficulties arise, take it easy, try to stay calm. The guide will be with you during the ascent."
The higher you climb, the more difficulties you will encounter
Quentin has another tip for maintaining a positive attitude en route: bring earplugs.
"For the accommodation you sleep in mountain huts, in big dormitories with a lot of people. Ear plugs will block out the noise - sleeping well will help you stay positive," he says.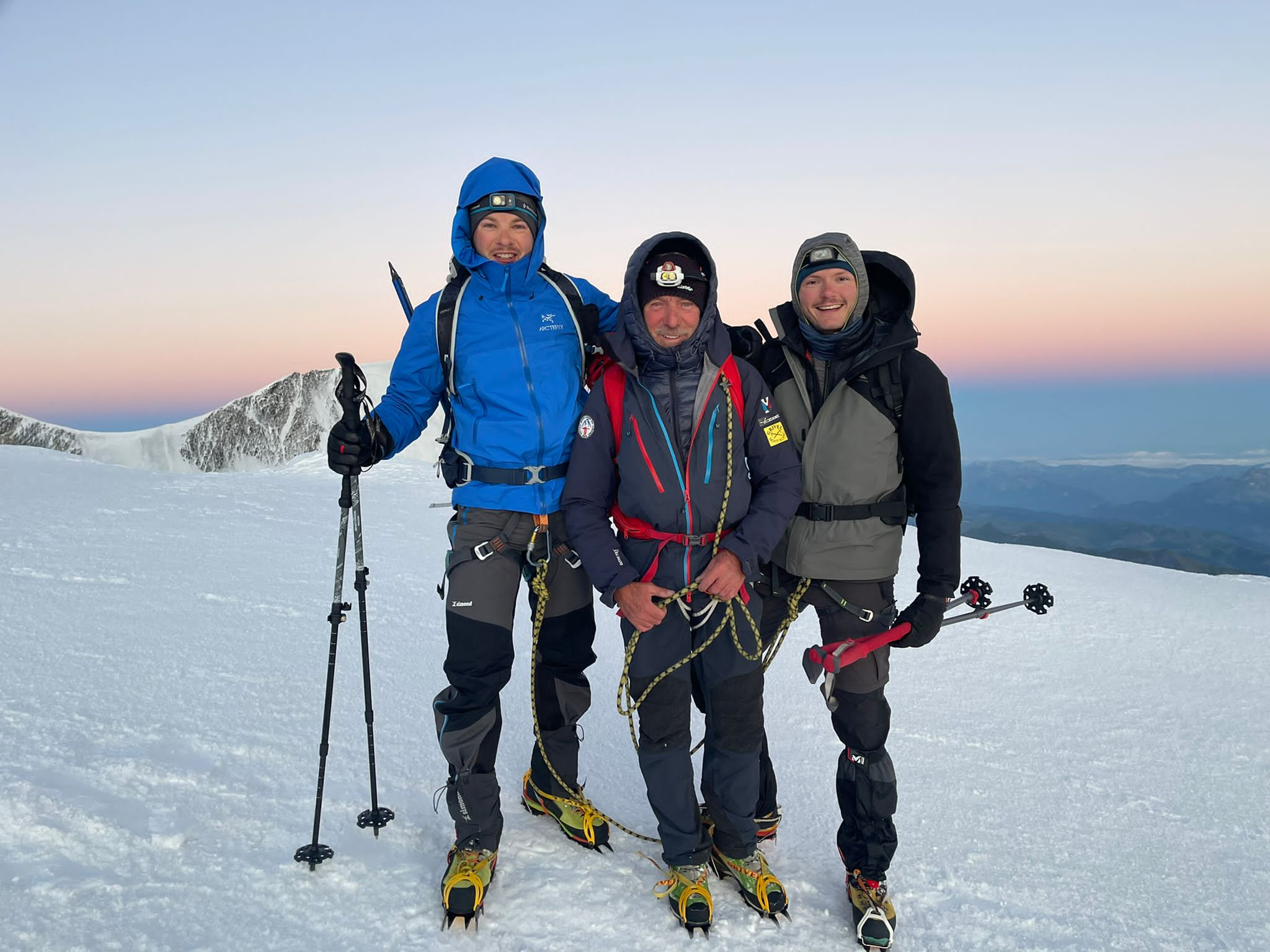 Aside from snoring in the huts, difficulties you might encounter include bad weather, injuries such as a sprained ankle, and the challenge of the terrain itself. The Couloir du Goûter, on the second day of the hike, is one of the trickiest parts of the route.
"It's a small pass which sometimes has a lot of rock falling in July and August. It's quite steep and we have to cross it quickly, but cautiously. It's around 100 metres long but you have to go straight across this pass in order to avoid any danger. After that, there's a small climb. It's a mix between climbing and hiking - sometimes you need to use your hands," Quentin says.
The summit day itself is also a challenge. The final ascent, from the Goûter Hut to the summit, is only around 1000 metres. But you'll be setting out before dawn, and navigating the glacier field in darkness, using equipment you might be unfamiliar with. You'll need to draw on all your mental and physical reserves. But imagine the sense of achievement when you reach the top, and the view you'll have as you watch the sun rise over the French Alps.
Feeling inspired? Check out our climb Mont Blanc adventure and the less challenging Tour de Mont Blanc trek.