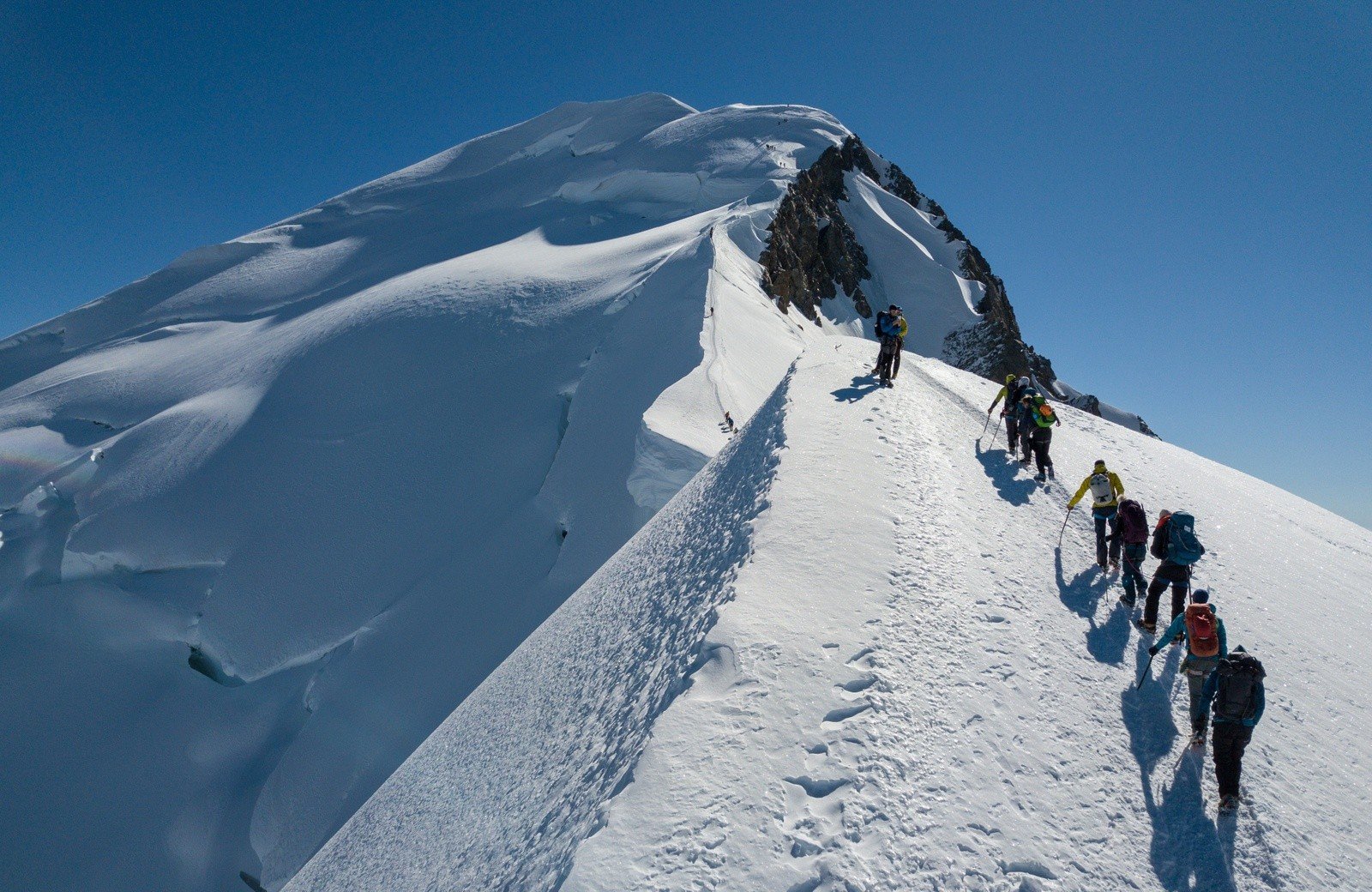 So, you want to climb Mont Blanc? Then read on, here's everything you need to know.
First, a bit of background. Mont Blanc sits on the border between France and Italy in the Alps and, since the first Mont Blanc ascent in 1786 by local mountaineers Jacques Balmat and Dr Michel-Gabriel Paccard, is widely considered to be the birthplace of modern mountaineering.
Looming large over the mountain town of Chamonix, it's incredible beauty and relative accessibility make it a challenge any wannabe mountaineer can realistically aspire to.  That's probably why you are reading this.
Basic Requirements for Climbing Mont Blanc
Climbing Mont Blanc typically takes around three days. It is possible to summit with no technical mountaineering experience, but a very good level of fitness, strength and mental resilience is required - as is an expert local guide (unless you have extensive mountaineering experience). Only IFMGA (International Federation of Mountain Guides Association) mountain guides are allowed to guide paying customers on Mont Blanc, so you know you'll be in safe hands.
How high is Mont Blanc?
The height of Mont Blanc is 4810 metres ( or approximately 15,780 ft), or it was when last measured in 2013. That's 0.38 metres less than 2011, and 3 metres more than the 4807 metres originally recorded back in 1863.  
As the highest point in Western Europe, it's by no means a walk in the park though, and remains a right of passage for many alpinists worldwide. With an experienced mountain guide, a good level of fitness and the right mindset it is certainly achievable for most.
Mont Blanc: Routes to the summit
There are many many ways to climb Mont Blanc. The difficulty of ascent varies across the various Mont Blanc routes but the most common route is manageable with some previous trekking and/or mountaineering experience, a good head for heights, a willingness to learn new skills, a decent level of fitness and a heavy dose of determination. Here's a round up of the most popular routes: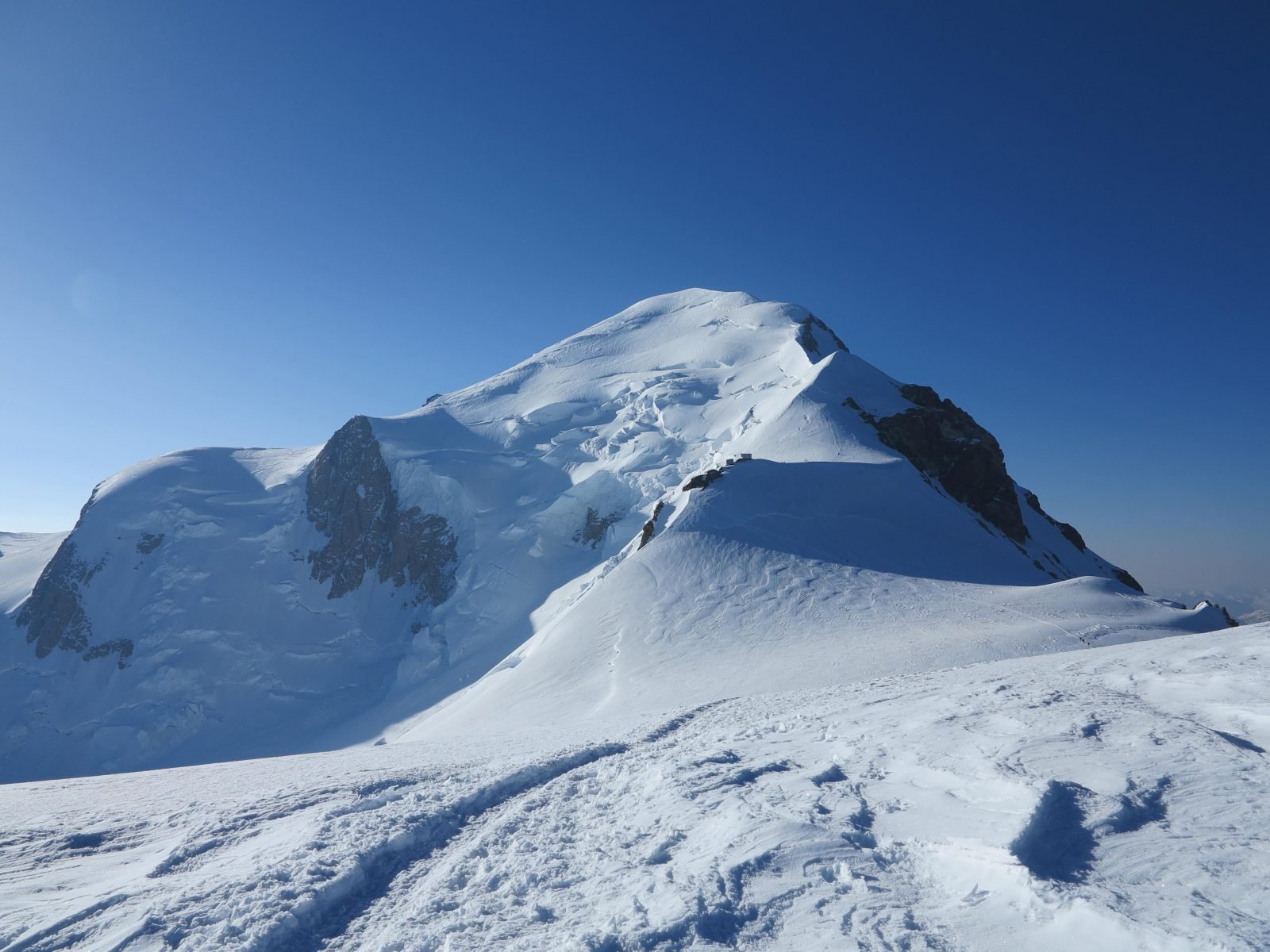 Gouter Route via the Dome du Gouter
This has become the 'voie normale' route summit Mont Blanc, even though the first ascent took a very different path back in 1786. Starting from Les Houches and going via the Refuge de Tete Rousse and Refuge du Gouter, this is considered to be the least technical route to the summit. For that reason, it's also the route used on our classic Climb Mont Blanc trip. We'll focus in on the detail of this route, and give you a quicker summary of the other main options below.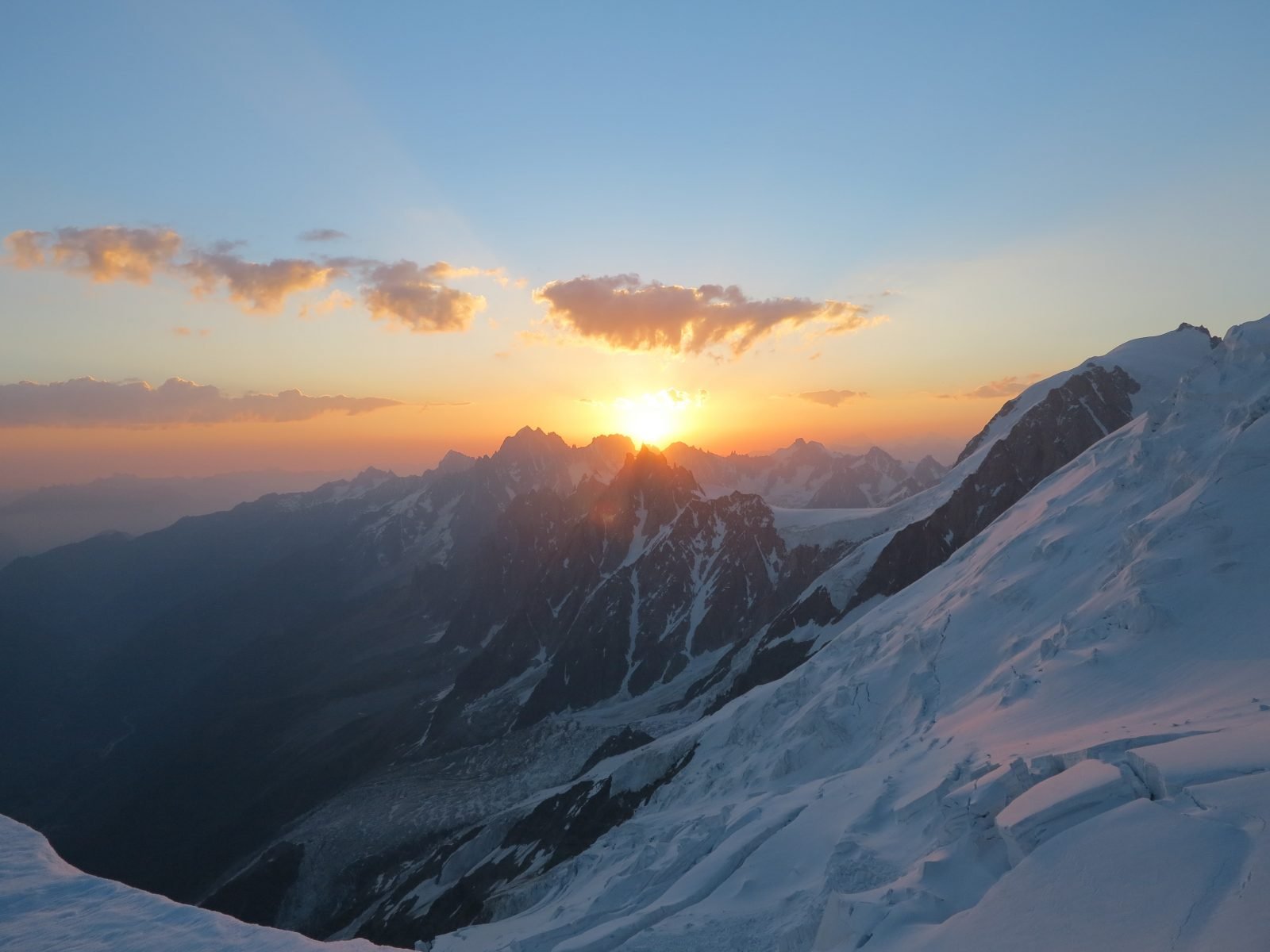 Starting in the village of Les Houches, 8km from Chamonix, you take the Bellevue cable car up to 1800m. From here you take the old Tramway du Mont Blanc train up to the Nid d'Aigle at 2372m where the hike begins to one of the two huts en route to the summit. The Refuge de Tete Rousse sits at 3167m and is a popular choice for the first night of the ascent. Hiking here takes between 2 and 3 hours over fairly easy terrain with beautiful views down to the Chamonix Valley and the Aravis mountain range in the distance.
An early departure the next morning from Refuge de Tete Rousse sees you climb up to the Refuge du Gouter via a 700m high rock face that ascends next to the Gouter grand couloir, notorious for rock fall in warm temperatures. This section requires good scrambling techniques and rope work with your guide as well as prudence.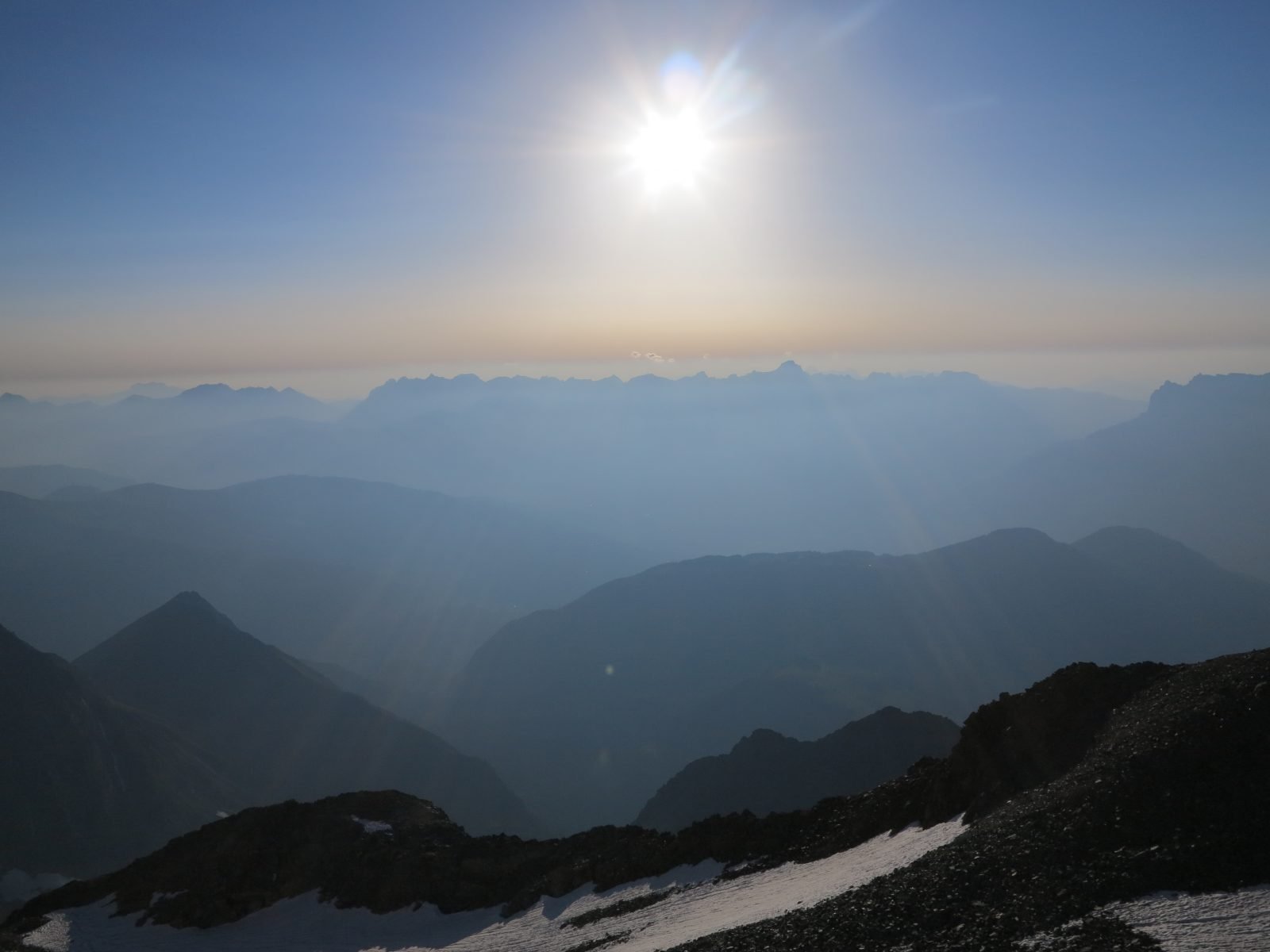 Once at the Refuge du Gouter at 3835m you reach the mellower upper snow slopes of Mont Blanc, where crampons are required for the rest of the ascent on the glaciated slopes towards the summit. Continuing from the Refuge du Gouter you ascend the Dome du Gouter to 4304m before reaching the Vallot emergency shelter at 4362m. From here the ascent takes the Bosses ridge to the summit with spectacular views in all directions. The ridge can be narrow and very exposed at times, requiring total concentration and skill to ascend and, more importantly, to descend soon after.
At the summit, depending on the weather, you can normally stay there for a few minutes before starting the descent. The view is simply breathtaking. You can see deep into the Italian, Swiss and French Alps and a never-ending horizon greets you in all directions. It's been known that on a very clear day you can even see the Mediterranean in the distance. You truly feel like you're on top of the world and it is a feeling that will stay with you for a lifetime.
Normally people will either descend to the Refuge du Gouter, or to the Refuge de Tete Rousse for a particularly long day. Some may wish to descend all the way to the Nid d'Aigle train and make it down in a full day, although a high level of fitness and skill is required for this. It is also possible to descend to the Aiguille du Midi via the Trois Monts Route although this is technically more difficult than the ascent via the Gouter Route so is not usually done.
Trois Monts Route
Starting from the Aiguille du Midi station at 3842m, you climb via Mont Blanc du Tacul and Mont Maudit to the summit. This is more technical than the Gouter Route and requires 1:1 guiding. The descent can be done the same way or via the Refuge du Gouter and down the Gouter Route to Les Houches.
Italian Route via the Gonella Hut
This is a spectacular and quieter alternative to the Gouter Route although it is normally only in condition in the early summer months of May, June and July. Starting in the Val Veny, you ascend the Miage Glacier to the Gonella Hut and on summit day you ascend to the Col de Bionnassay and then join the normal Gouter Route to the summit.
Grand Mulets Route
This is the original route taken by Jacques Balmat and Dr Michel Paccard in 1786, which takes the most direct line up to the summit as viewed from Chamonix. Nowadays people will start by taking the cable car to the Plan de l'Aiguille station and cross the Bossons Glacier to the Grand Mulets Hut which sits at 3051m. From here you ascend to the Col du Dome which is exposed to crevasses and serac fall, before joining the Bosses ridge to the summit. This route is commonly used for ski touring in spring for those aiming to ski from the summit of Mont Blanc.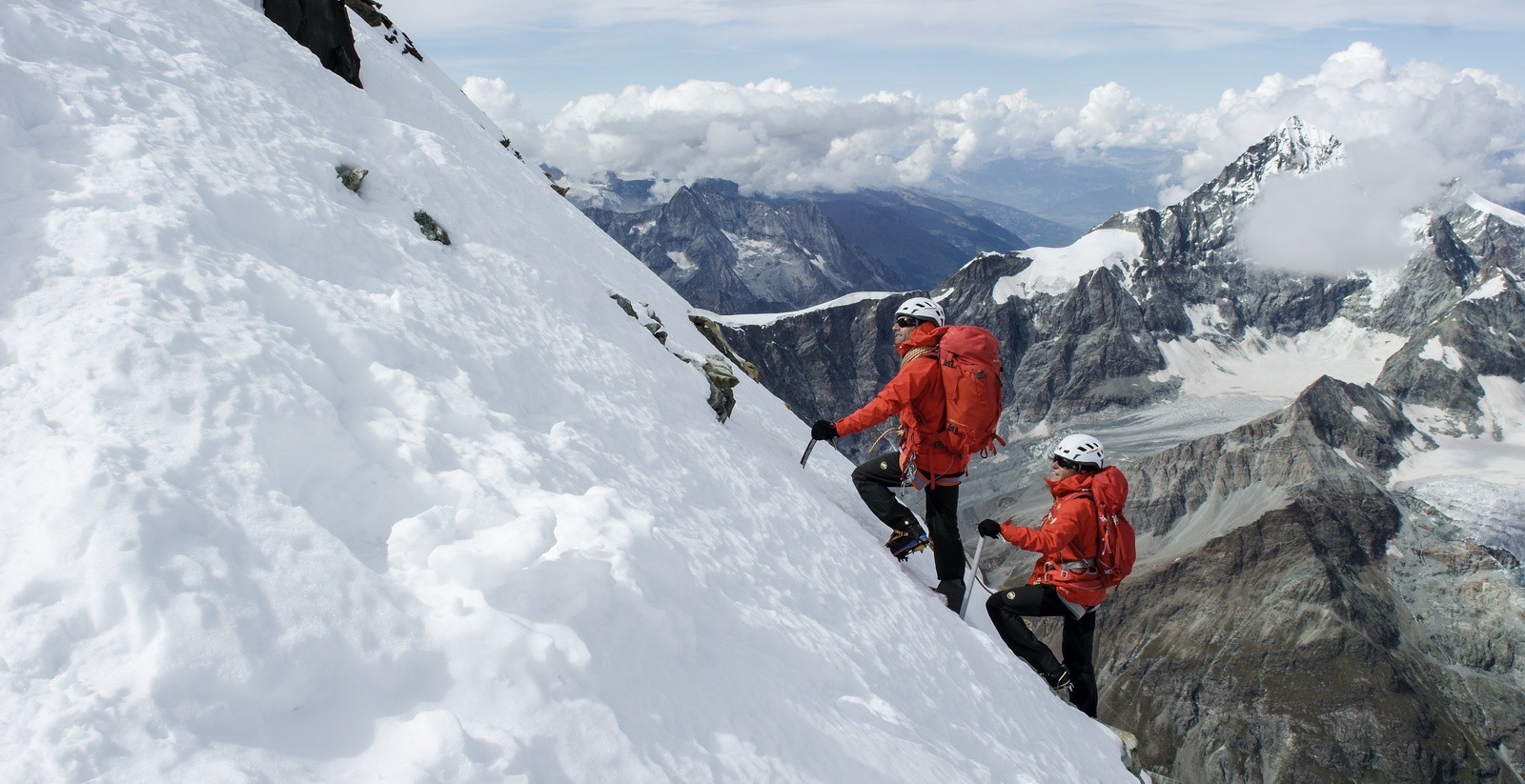 How fit do I need to be to climb Mont Blanc?
Climbing Mont Blanc is not easy. People often ask if climber Mont Blanc is harder than climbing Mount Kilimanjaro, the highest mountain in Africa. While Kilimanjaro might be higher at 5,895m, make no mistake, climbing Mont Blanc is significantly more difficult.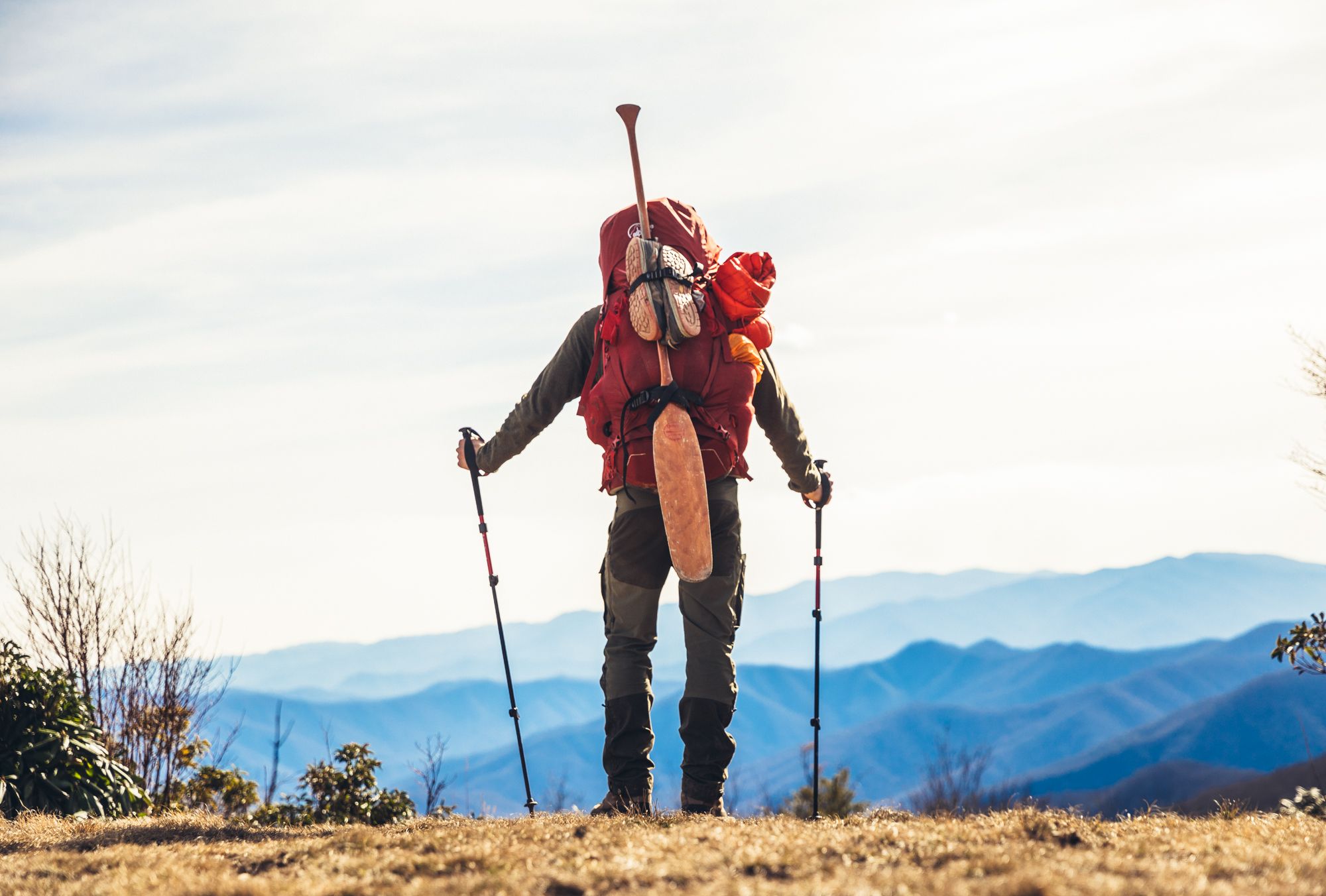 You will need to be extremely fit to climb Mont Blanc. Many guides recommend training in the hills and mountains for months before climbing - hiking with a backpack for hours at a time, attempting steep climbs, and climbs at altitude, when possible, and making sure you're able to spend 10-15 hours on your feet, hiking.
You'll want to do endurance training, while also working on your strength.
So, is mont blanc beginner-friendly? It may not sound like it from all that, but actually, you do not require any mountaineering experience to get up Mont Blanc - as long as you've got the strength and fitness. Just don't underestimate it.
Can you climb Mont Blanc yourself?
You are technically allowed to climb Mont Blanc without a guide, but doing so without extensive alpine mountaineering experience would be a bad, even potentially fatal, decision. All guides on Mont Blanc will be members of the IFMGA (International Federation of Mountain Guides Association), and so when you do hire an accredited guide, you'll be in safe hands. It's strongly recommended.
Mont Blanc may not be the most technical climb in the world, but it's still the tallest in the Alps, and one of the most dangerous in the area. This isn't a mountain you should climb at a few days notice. Prepare properly, train, and follow the advice of an expert guide. Then you'll have a good shot at making it to the summit - and back down safely.
How long does it take to climb Mont Blanc?
While a few people have been known to run up it in a day(!) a guided Mont Blanc summit hike typically takes 3 days. The first day for the ascent to the first hut (3-4hrs), the second day for the summit attempt and descent to the second hut (8-10hrs), and the third day for the descent back to the valley (4-6hrs).
It's common to do a 6 or 7-day Mont Blanc package to include training and acclimatisation before a 3-day ascent to the summit. It's a brilliant week packed full of amazing trekking and climbing on top of Mont Blanc itself, while learning or refreshing all sorts of skills.
When is the best time to climb Mont Blanc?
The best time to climb Mont Blanc is from late May to the end of September. This is the climbing season, in large part due to the favourable summer weather, and as such, it also correlates with the opening times of the Refuge de Tete Rousse, Refuge du Gouter and Refuge des Cosmiques. There is no better or worse time to attempt the climb during this period, however early and late summer can mean cooler temperatures, whilst mid-summer can be particularly warm.
A successful attempt is based on many factors coming together; stable weather, safe conditions and managing to get hut reservations (which won't be a problem if you take the hassle-free route of joining a guided trip). Trying to get a booking in the huts, especially the Gouter hut, can be very difficult and turning up without a reservation is strictly prohibited.
How busy is it on Mont Blanc?
If you have visions of standing alone atop Europe's highest peak, sadly you may need to let go of that pipe dream unless you plan a midwinter, midnight ascent. It is estimated about 30,000 people summit each year. Thats an average of 82 per day, but with the vast majority in the summer season, you are looking at approx. 200/day in peak season.
Don't let that put you off though, Mont Blanc is still a spectacular experience, and it's probably still way less people than you share your morning commute with.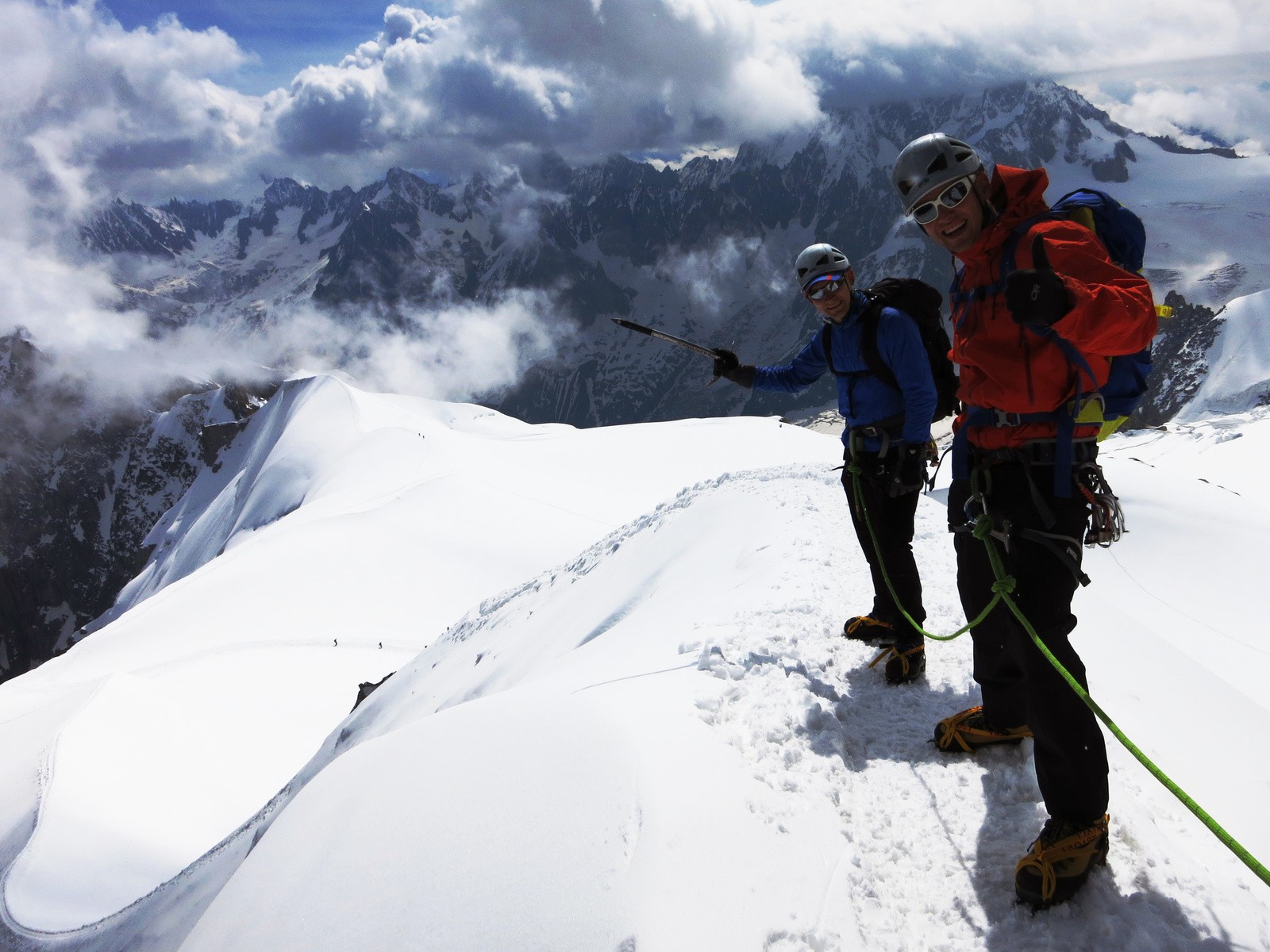 How dangerous is it to climb Mont Blanc?
Be under no illusions. While many people successfully summit every day, this is still a serious mountain, with very real dangers. All routes have their own unique threats, with even the classic Gouter route exposing climbers to rockfall in the Grand Couloir. Other dangers present across all routes include serac falls (falling chunks of ice), falling into crevasses (cracks in the glacier), fast changing weather and avalanches. Being with an experienced guide significantly improves your safety levels, but no-one should ever think they are immune from the dangers of mountain climbing. It comes with the territory.
But before you close this window and start looking for holidays on the beach in Greece, remember the odds we just looked at are good, and that with a little risk, comes great reward.
Accidents tend to happen when care isn't taken and this can often sadly happen in un-guided parties. Therefore, it is highly recommended to climb Mont Blanc with a guide to get the most out of the experience. It is a once in a lifetime climb for some, and it is an achievement that everyone will be proud of.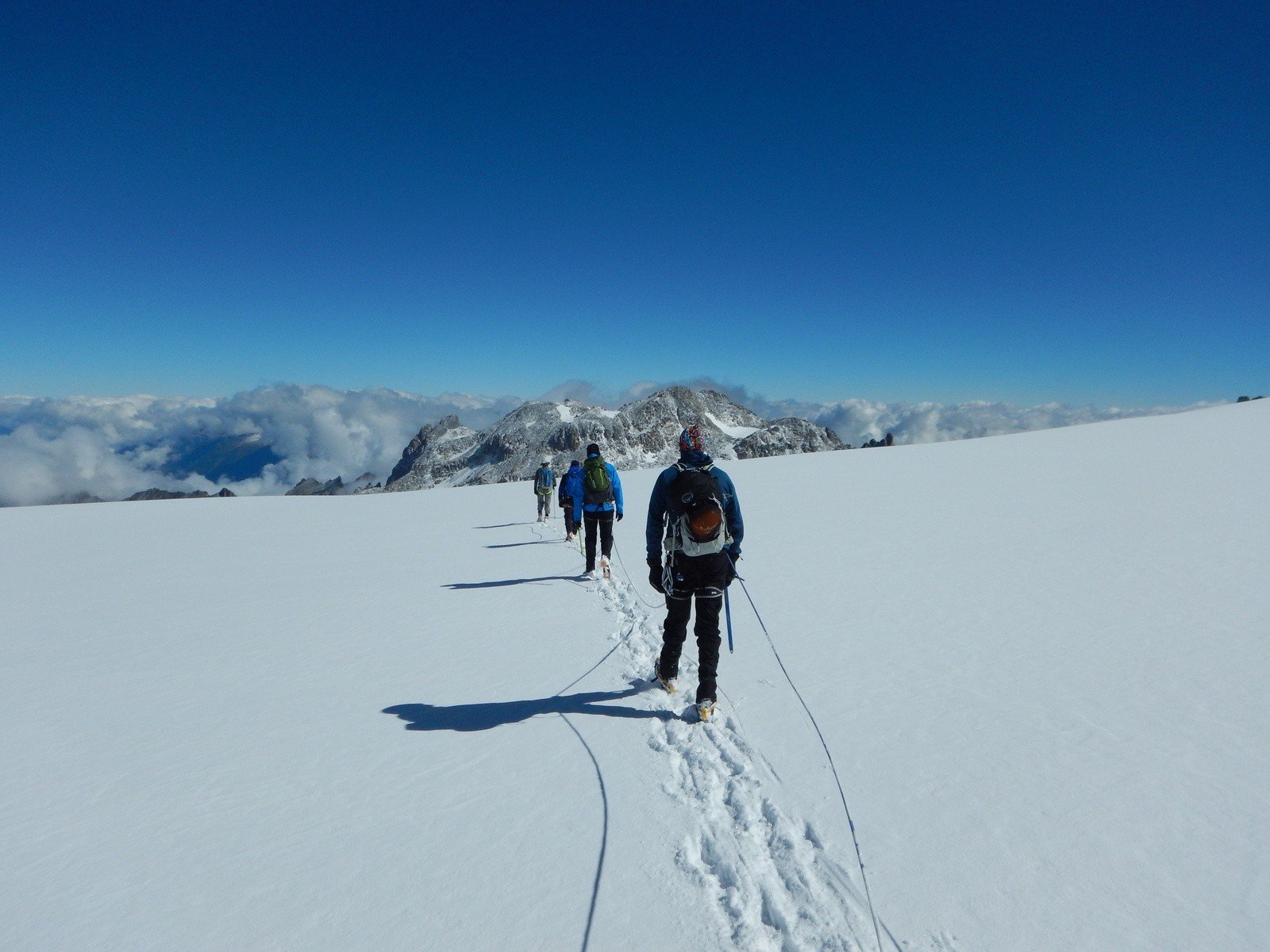 Where should I start from?
Most Mont Blanc trips begin from either Chamonix (France) or Courmayeur (Italy). Most guides operate out of Chamonix, which is easiest to get to from Geneva Airport via shuttle bus or transfer (1hr).
What clothing and kit do I need to climb Mont Blanc?
A range of good quality mountaineering clothing is required, including protective hardshell and soft shell pants and jackets, thermal layers and strong sun protection. The technical items that are required include mountaineering boots, crampons, ice axe, hiking poles, harness and helmet. These items can be rented locally and full kit lists will be provided by your guide. Still, here's a sample list:
Equipment
Ice axe for general mountaineering (between 50-70cm depending on height)
Standard, steel mountaineering crampons
Hard plastic climbing helmet
Climbing harness (adjustable, to fit over layers), with two screw-gate carabiners
Foldable trekking poles
Rucksack – Mountaineering specific (ice axe strap, rainproof cover), 30-50L
Clothing
Mountaineering B2 or B3 boots and gaiters, compatible with crampons
Socks and thermal tops
Lightweight hardshell hooded top and bottoms
Warm hat
Gloves (one pair of thick mountaineering gloves and one thinner pair)
Insulating layers: a lightweight fleece and a synthetic or down jacket
Mountaineering trousers
Shorts, hiking shoes and trainers (to wear around town pre/post-hike)
Other
Earplugs
Water bottles, up to 2L
Sun protection: sunglasses (category 4), goggles, sun hat, factor 30-50 high mountain sunscreen, lip salve/block
Head torch and spare batteries
Sleeping bag silk liner (sleeping bag and blankets/duvets provided in huts)
Personal first aid – blister kit, aspirin, or paracetamol
Cash for extra drinks/snacks in huts
As they say in Chamonix, it is impossible to take a bad photo in these beautiful mountains, so don't forget your camera! You're sure to have a camera stacked full of impressive photos to share with your friends and family when you get back.
How much does it cost to summit Mont Blanc?
The cost of climbing Mont Blanc can vary quite considerably based on the number of days in the summit program and what that cost includes. If you decide to go with a guided package, you are looking at between £2,000 - £2,500, but do check the small print to see what that price includes as they all differ substantially. Things to look out for include; accommodation on the valley floor, accommodation in the mountain huts, guide fees and expenses, lift to the Aiguille du Midi, kit rental, tram fees, airport transfers and meals.  
Fancy it? Check out our seven-night itinerary to ascend Mont Blanc from Chamonix, France, running regularly throughout the season.
If you don't feel the need to hit the peak, but want to get close, the Tour de Mont Blanc and Haute Route treks are great alternatives.