Mount Toubkal (4167m) is the highest mountain in Morocco's High Atlas, a range of jagged peaks running diagonally across Morocco. This bare, rocky mountain is surrounded by lush valleys, its foothills scattered with juniper trees and Berber villages.
Mount Toubkal has one main summit, which is connected by a saddle (Tizi 'n Toubkal) to Toubkal West (4040m), which can be easily climbed via a short detour. From the top you'll see the surrounding Atlas Mountains wreathed in wisps of cloud. On a clear day, you might even be able to see the undulating sands of the Sahara Desert.
There are several reasons why climbing Toubkal is popular. For a start, no mountaineering experience is required to ascend up to a high altitude. It's also easy to reach the trailhead at Imlil - it's a short drive from Marrakech, a city with a well-served international airport - and is cheaper to climb than many mountains in Europe. An added bonus is the immersion into Moroccan culture; you'll pass through remote Berber villages and feast on delicious meals of tagine and couscous.
Interested? If so, this is what you need to know before you climb Mount Toubkal.
Where is Mount Toubkal?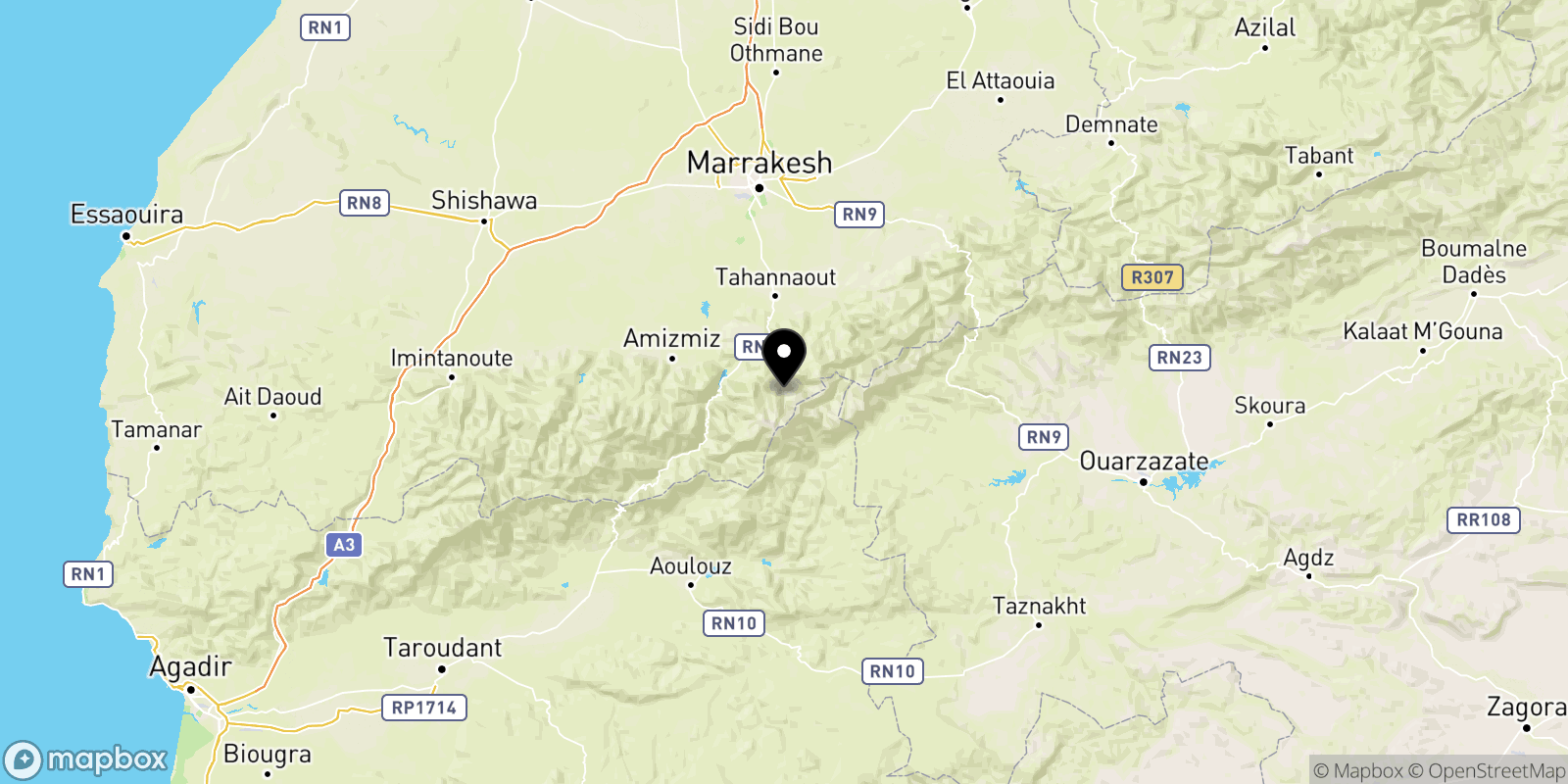 Mount Toubkal is located in the heart of the High Atlas Mountains, around 60 kilometres south of Marrakech. In fact, you can see the peaks of the High Atlas from the city. It's just a 90-minute drive to Imlil, the trek's starting point.
When is the Best Time of Year to Climb Toubkal?
Mount Toubkal can be climbed year-round. Summer (between June and August) is the busiest climbing season. Temperatures in Marrakech can reach 40°C, so people are eager to head to the mountains, where it's much cooler. The summit can be up to 30°C cooler than sea level. However, you might get hot hiking at lower altitudes, so make sure you bring adequate sun protection.
In springtime (April and May) and Autumn (September and October), you won't have the summer heat to contend with, and there'll be fewer people on the trail. However, you will experience greater extremes of temperature - it might be near freezing at the summit - and more unpredictable weather.
Climbing Mount Toubkal in winter (November to March) is a different experience to the summer and shoulder seasons. You'll be using crampons and an ice axe to navigate the snowy slopes; it'll be much colder and the likelihood of bad weather, such as blizzards and high winds, also increases. The people who climb Toubkal in winter are looking for a real type two fun adventure.
How Difficult is Climbing Mount Toubkal?
As you will know, difficulty is subjective. If you've never set foot on a mountain before, let alone been on a day hike, you're naturally going to struggle to climb a 4,000m mountain - certainly more than an experienced trekker. Toubkal is a non-technical peak, which means you don't need any mountain climbing experience. But you definitely need to be fit, and capable of walking for up to ten hours a day.
You'll have to dig deep on summit day itself, when you'll be hiking from your refuge at 3200m to the peak at 4167m, and then all the way back down to Imlil. It's a 10 hour slog that includes almost 1000 metres of ascent and over 2000 metres of descent. Most groups leave before dawn so they can catch the sunrise from the summit. When you add in the cold temperatures and the high altitude - which will make you breathless more easily - you can see why it's a challenge. However, it's definitely achievable. In fact, some people use Mount Toubkal as a way to train for climbing higher summits, such as Mount Kilimanjaro (5895m).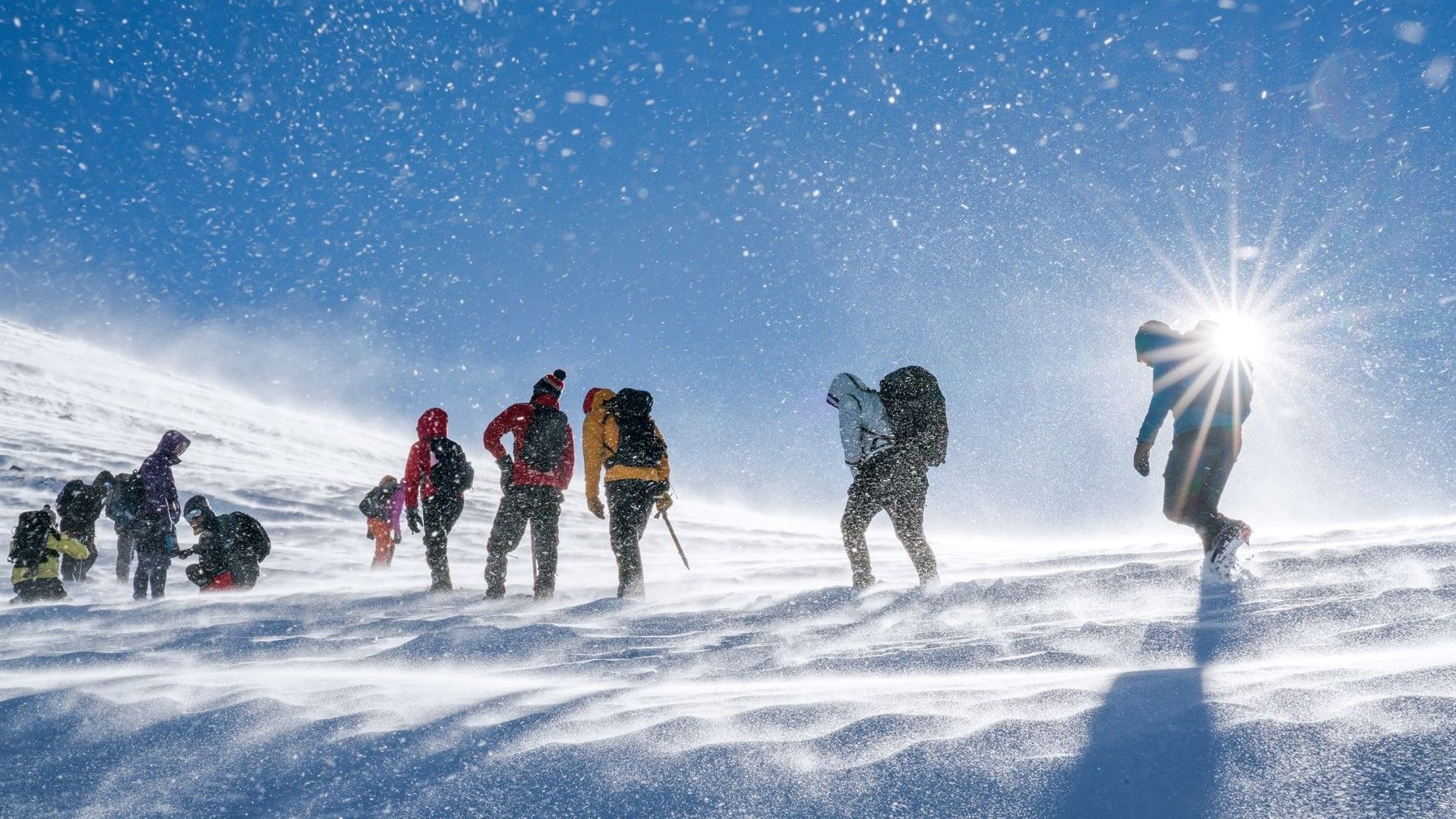 Climbing Mount Toubkal in winter is even tougher than in the summer. This is because above 3000 metres the mountainside is carpeted in snow and ice. The loose, slippery scree on the summit slope becomes even tougher to negotiate, and you'll really be battling the elements.
In order to increase your chances of a successful climb during the winter months, it's recommended that you spend an extra day acclimatising at the Toubkal refuges (where climbers stay before summit day). Use it to go on a short hike in Toubkal Valley, where your guide can show you how to use your crampons and ice axe.
Climbing Toubkal: Route Options and Difficulty Levels
The route up Mount Toubkal is relatively straightforward - the most common itinerary is to complete the climb within two days. On the first day, you'll start off at the Berber town of Imlil, following a clearly demarcated trail into the rocky foothills of the Atlas Mountains. After five to six hours, you'll arrive at base camp, which consists of two rustic mountain refuges and a campsite. Day two is a ten-hour trek to the summit, and back down to Imlil.
There are several variations to the route. From Imlil, there are two different ways to reach the refuges - the 'main' route via the Mizane Valley, and a more circuitous route via the Azzaden Valley (which takes an extra day). When travelling from the refuge to the summit, you can approach via the south side or the north side - the former is much more common as it's less challenging. However, some groups climb up via the south side and descend via the north side for a little variety. These variations are detailed below.
From Imlil to Toubkal Refuge
Via Sidi Charmouch and the Mizane Valley (10km)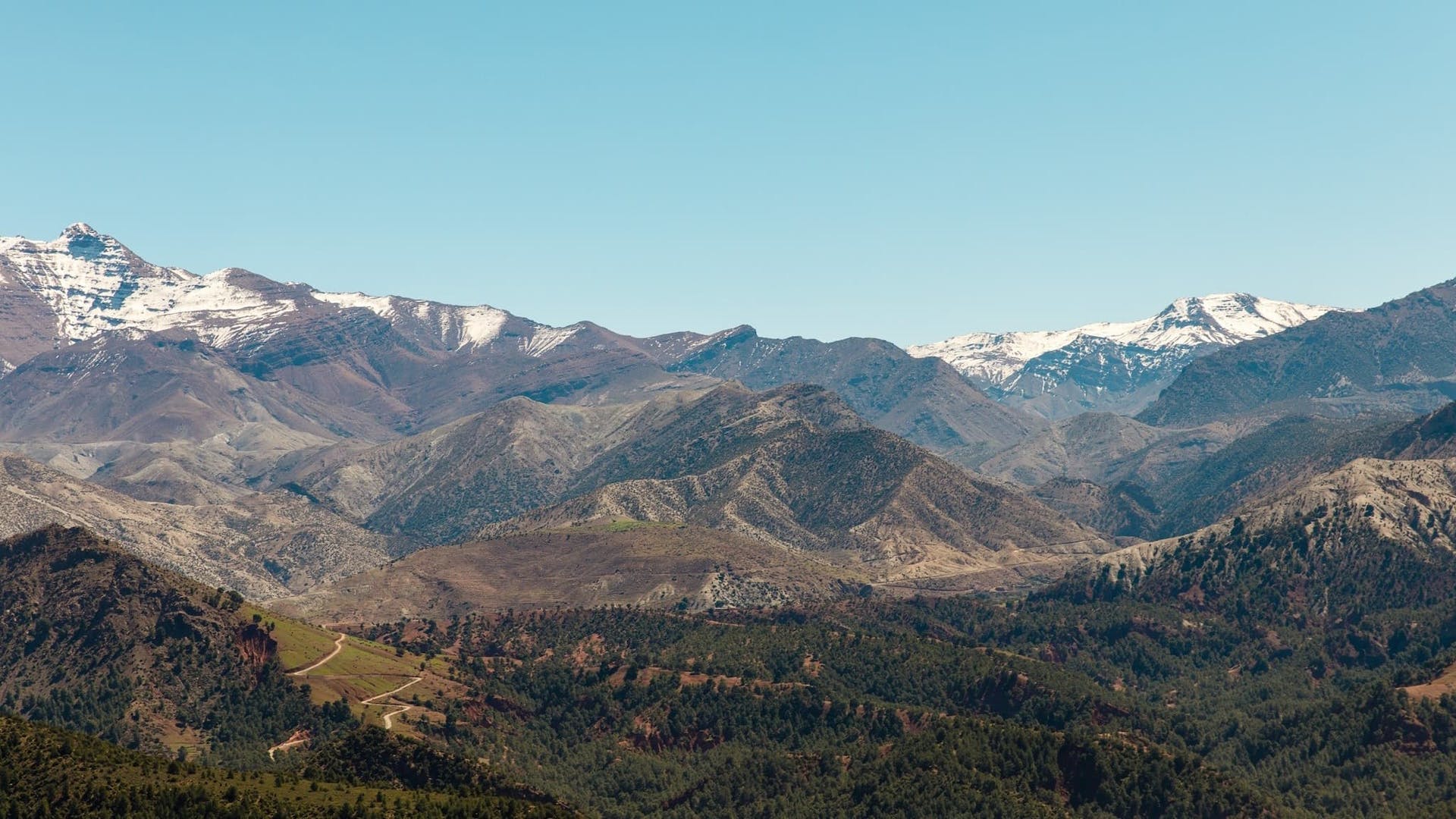 You'll head on a dusty trail out of Imlil, and along the Mizane Valley. The valley floor is carpeted with greenery, including apple, cherry and walnut trees, alongside small terraces of crops - all cultivated by the local Berbers. You'll pass their villages too, small clusters of mud houses perched on the rocky mountain slopes. The largest of these is Aremd, where you'll see terraced fields, gites and narrow streets gridlocked with livestock.
From Aremd you'll travel east across the flood plain, eventually following a mule track up into the high rocky cliffs above the valley. You'll cross a river where you'll catch sight of Sidi Chamarouch, a pre-Islamic shrine and pilgrimage site. A small village has grown up around it, next to a small waterfall.
After this, the trail continues to ascend. It zig zags up the lower slopes surrounding Toubkal, steadily climbing higher until it reaches the snowline. By now, the arid peaks around you will have a dusting of snow. The trail takes you up to the refuge (3206m), where you'll break for the night.
Via the Azzaden Valley (19km)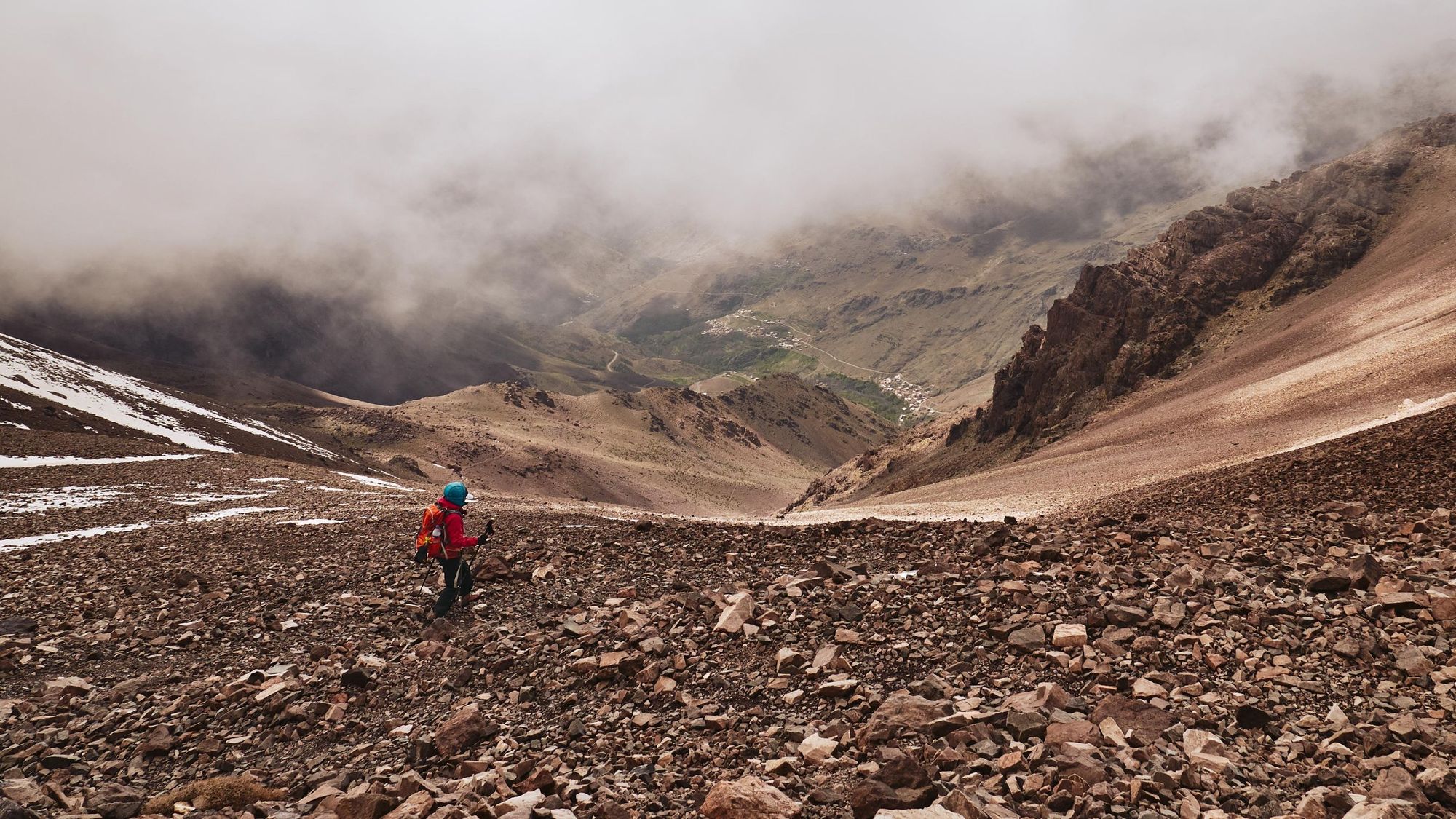 You'll begin your trek with a pretty steep climb taking you out of the Imlil Valley and up the Tizi n Mzik pass (2489m) where you'll have dramatic views of the High Atlas Peaks and the valleys between them. After that, you'll descend into the Azzaden Valley, where juniper trees dot the arid red slopes. You'll pass small Berber villages and the Cascade d'Irhouliden, a waterfall flowing year round. Spend the night at Tazaghart Hut (3000m), a much quieter mountain hut than those on Toubkal.
On the second day you'll climb the Aguelzim Mountain pass (3560m), which will give you more stunning views over the Atlas Mountains (and also help acclimate you to the altitude). From here you'll descend to the Toubkal refuges, and begin your summit climb early the next day. You can then return to Imlil via the Mizane Valley.
From Toubkal Refuge to the Summit
Via the South Side
This is the main route up to the summit, and is followed by the vast majority of hikers. This is because it's easier, and requires little technical experience (don't worry, it'll still challenge you). When you look up towards Toubkal from the refuges, the peak itself is out of sight, and instead you'll see a saddle between two mountains. Follow the path that zig zags steeply up it - after around 45 minutes you'll reach the top of the saddle and get your first glimpse of Toubkal summit.
Head up the west face of Toubkal towards Tizi 'n Toubkal (the saddle between Toubkal West and the main peak). From here, you'll have a view of the Sahara Desert for the first time - sand all the way to the horizon. Follow the trail from the saddle over the south face along a ridge - it'll become steeper here, and you'll have to scramble over several patches of scree. After 30 minutes or so, you'll begin your ascent up to the pyramid-shaped summit, hopefully in time to watch the sun rise. After you've admired the view, it's time for the long, steep descent back to Imlil.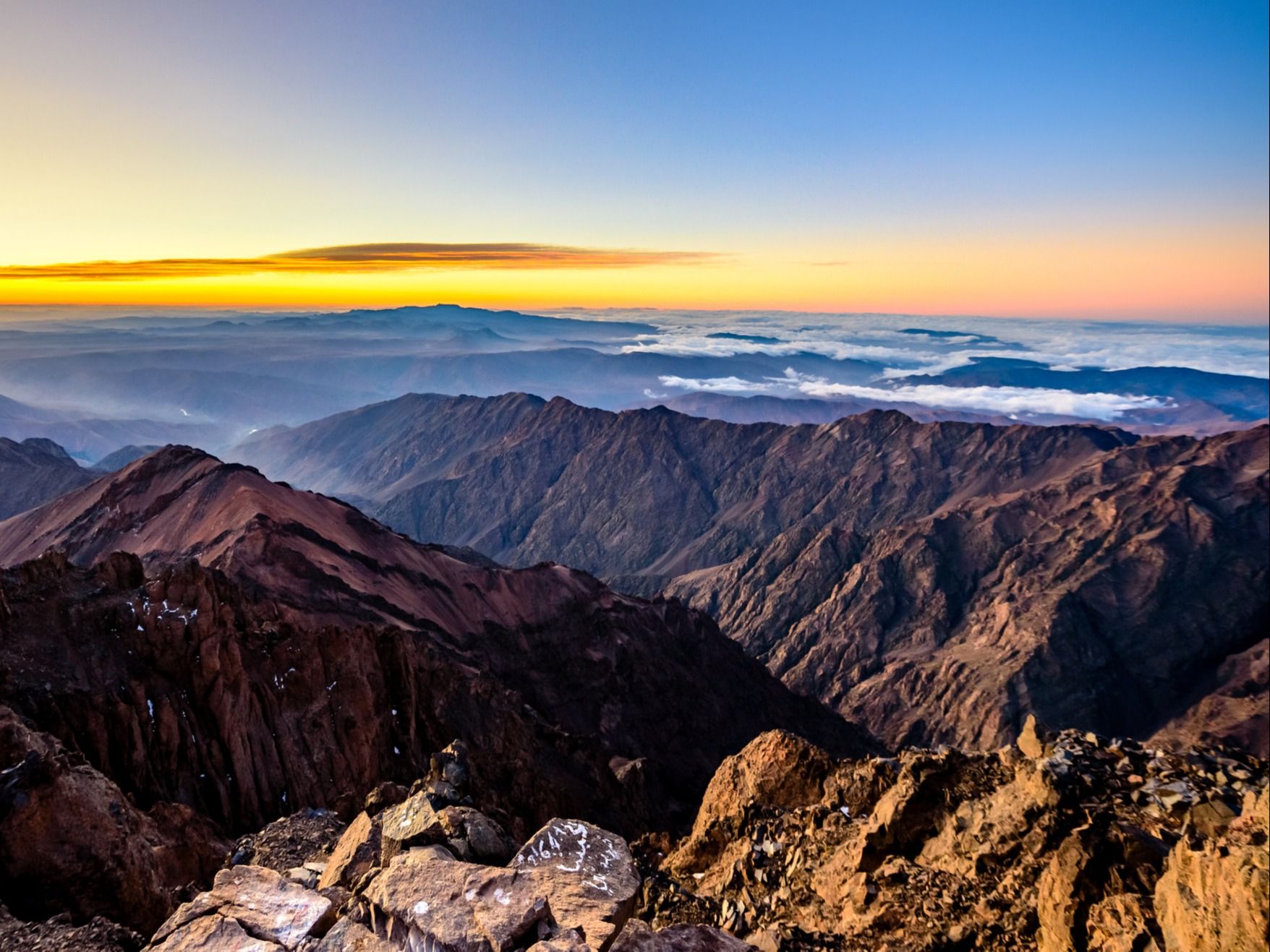 Via the North Side
Toubkal's north side route (also known as the north col/north cwm route) is steeper and more difficult, taking you along a u-shaped valley. It's only used by very experienced hikers, and there's barely a soul on the trail - guided groups tend to use the southern col, although some descend by the northern route. Due to a lack of waymarking, carrying a decent map is a necessity.
You'll head northwards along a rising traverse, until the north col becomes visible. Pick out a route across the valley towards the north col, passing the wreckage of a crashed plane. Keep left until you reach the headwall, and scramble up this steep slope to reach the ridgeline. From here, follow the rocky ridge south until you reach the summit.
Extending your Hike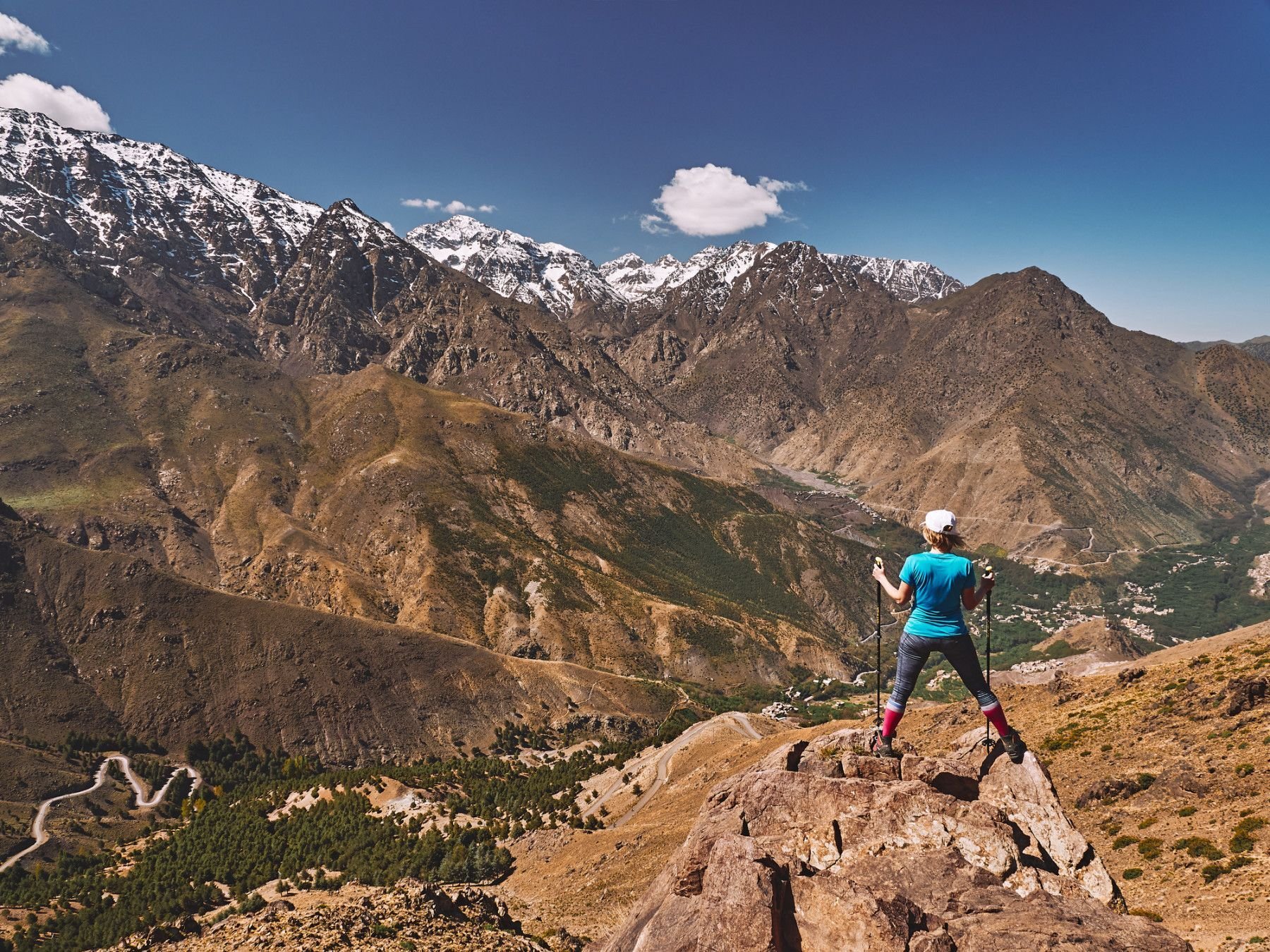 One of the attractions of climbing Mount Toubkal is that it can be done over a long weekend - Marrakech is close enough that you can return to the city on summit day. However, not everyone wants to rush their trip. There are plenty of things to do if you want to extend your trip in Morocco.
You can extend your hike by climbing Mount Toubkal as part of the Morocco Three Peaks challenge. Tackle the dual summits of Mount Ouanoukrim, Timzguida (4089m) and Ras (4083m). These can be reached from the Mount Toubkal refuge, via the Tizi n Ouagane Pass. Another option is to trek the Toubkal Circuit, which takes you on a loop around Mount Toubkal - it's 72 kilometres including the ascent.
Of course, extending your trip in Morocco doesn't have to include more hiking. You could spend some time relaxing in Marrakech (a hammam to soothe sore limbs is highly recommended) or head to the coast for some surfing. You could even take a road trip to the Sahara Desert.
Accommodation on Mount Toubkal: Refuges vs. Camping
You might end up spending a night in Imlil before or after your Mount Toubkal climb. There are plenty of accommodation options, ranging from rustic lodges to more upmarket riads. However, options for the night before the summit are limited to the two Toubkal refuges - Les Mouflons and Cabine Alpine Fancais (CAF), also known as Neltner - or camping.
The Toubkal refuges are located next to one another. Les Mouflons is more modern with better facilities - including a basic restaurant. Neltner, however, is warmer (as it doesn't have such an open plan layout) and guides are also allowed to use the kitchen for food preparation - this makes it a more popular option during the winter. Either way, you'll be sleeping in a dormitory bunk bed and using a shared bathroom.
The other option is to camp. You can camp in the grounds of either refuge, and use their facilities. By sleeping in tents you'll have more privacy than in the communal dorms - it's also cheaper. However, we'd refrain from camping during the colder months, as you'll be absolutely freezing during the night.
What to Pack for a Mount Toubkal Climb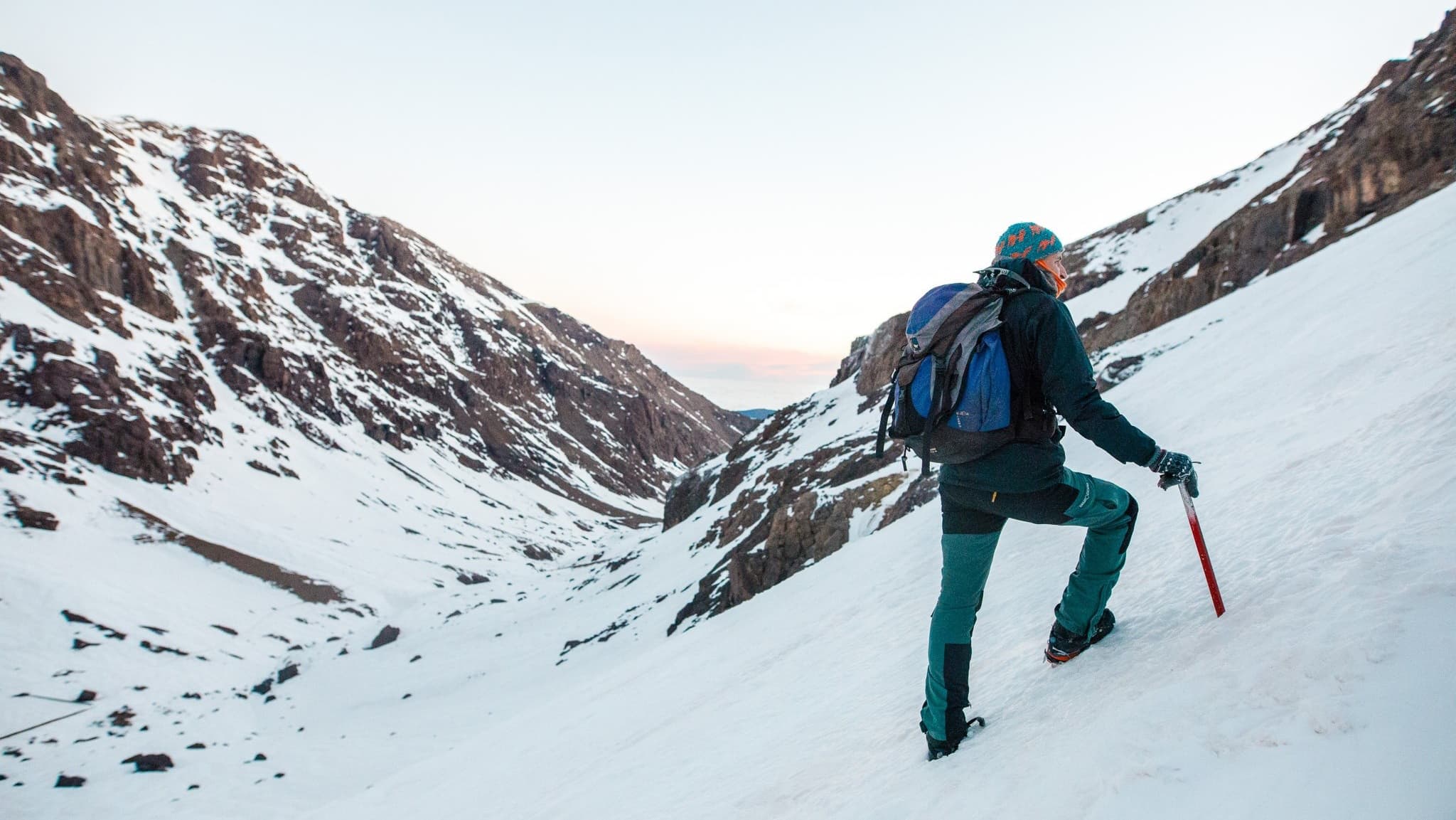 To climb Mount Toubkal during the warmer months, you will need the following:
A day pack (25-35 litres)
Rucksack or duffle bag
Warm jacket
Waterproof jacket
Lightweight, breathable hiking shirts and trousers
Hiking socks
Broken-in hiking boots or shoes
Warm hat
Light gloves or mittens
Sun protection
First aid kit
Sandals or flip flops for the refuge
Personal toiletries
High energy snacks
Sanitary supplies (toilet paper, wet wipes, and ziplock baggies to carry out)
Head torch
Water bottle
Travel towel
Sleeping bag liner
Although it might be hot in Marrakech, it's much much cooler on the summit - you'll need warm clothes even in the height of summer. In your day pack you'll be carrying food, water, sun protection and any items of clothing you need on your hike. Everything else will be loaded into a soft bag (rucksack or duffel is fine) and carried by mule. It's important that this doesn't exceed 15 kilos - an easy limit to keep to, considering the length of the trip, and that most tour operators have a place for you to store excess luggage.
You will, however, need extra gear during winter. Alongside the summer kit list, you'll need:
Large lightweight backpack liner
Small waterproof stuff sacks
Waterproof trousers
Goretex gaiters (or equivalent)
Glacier glasses or ski goggles (cat 3 UV polaroid)
Thermal pyjamas
Winter mountaineering boot, ideally B1 or B2 crampon compatible (in place of summer hiking boots).
You'll need to substitute the lightweight hiking clothes used during summer for warmer layers, including an insulated down jacket, insulated gloves or mittens, and long sleeved thermal base layers. If you have any queries about your kit - such as whether a certain jacket is warm enough - then it's best to reach out to your trip provider.
Inspired? Check out our Toubkal treks, including the classic route, the circular route via Azzaden Valley, and Climb Toubkal and Sleep in the Sahara.