Morocco Adventure Holidays
When it comes to adventure holidays, Morocco has it all. It's got sea and sand - and even more sand - plus mountains all the way up to 4167m. You could be catching surf on the Atlantic coast of North Morocco, on perfect lines of grinding right-handers. You could be climbing to the craggy summit of Mount Toubkal, Morocco's highest mountain and North Africa's highest peak. Or sleeping under the stars amongst the rolling sand dunes of the Sahara desert. In fact, you could probably do it all in one trip if you got a wiggle on.
Morocco is on the coast of North Africa. It's so close to the southern tip of Spain that atlas map makers need a tiny pencil and a magnifying glass to separate them. But culturally, Morocco is a world apart from Spain. It's an Arabic nation characterised by bright colours, exotic spices and bustling souks. Think tagine, hand-woven rugs and huge mounds of dried fruit and spice. Just being in Morocco feels like you're on an adventure.
There are plenty of adventures to have in Morocco all year around. In summer, it really hots up- regularly peaking over 30 degrees Celsius in its interior. Adventurers escape the streets of Morocco's imperial cities for the beach, surf and cool coast breezes. Or take a trekking holiday into the cooler climes of the Atlas Mountains - a range that stretches thousands of kilometres across north-west Africa. Plus there's always the Sahara desert to explore, that just slips into the bottom corner of Morocco.
Morocco's highest peaks, the High Atlas Mountains, get a good coating of snow during winter months. Toubkal becomes a serious mountaineering objective, as do many of the higher peaks in the area. You'll need crampons and ice axes (and a good sense of humour for the alpine start on summit day) to make it to the top. The surf gets big on Morocco's coast during winter months, which is fantastic for advanced or pro surfers. The summer is safer and calmer for beginners. Desert camps get below freezing in winter.
High Atlas
The High Atlas are, funnily enough, the highest range in the Atlas Mountains. These mountains are snow covered in winter and trekking peaks in summer. Home to Jebel Toubkal, the highest peak, there are plenty of other exciting routes and mountains to summit. Their lower cousins are worth a look too: the Anti-Atlas to the south and the Middle Atlas to the north.
Sahara Desert
This arid desert needs no introduction. The largest desert in the world, it stretches across most of North Africa - although only a little is in Morocco. The biggest sand dunes in Morocco can be found at Erg Chebbi. The desert is home to small Berber communities - you might get to learn about their lives first hand if you spend a night at one of their desert camps.
Draa Valley
The Draa is the longest river in Morocco, stretching over 1000 kilometres from the High Atlas to the Atlantic Ocean. The valley the river carves is an oasis of wildlife and has been inhabited by people for centuries. Petroglyphs have been found that date back to early pre-history.
Taghazout and the Atlantic Coast
Taghazout is the mecca of Moroccan surfing. This small fishing village, just north of Agadir, has the perfect coastline for a broad selection of waves - from nice, regular beginner breaks to fast 12ft right-handers. As if the surfing wasn't good enough, there's a great vibe here: think surf culture meets North African flavour. It's a far more exciting place to learn to surf than standing around in a wetsuit, shivering on a frigid beach the other side of the Atlantic.
Trekking adventures in Morocco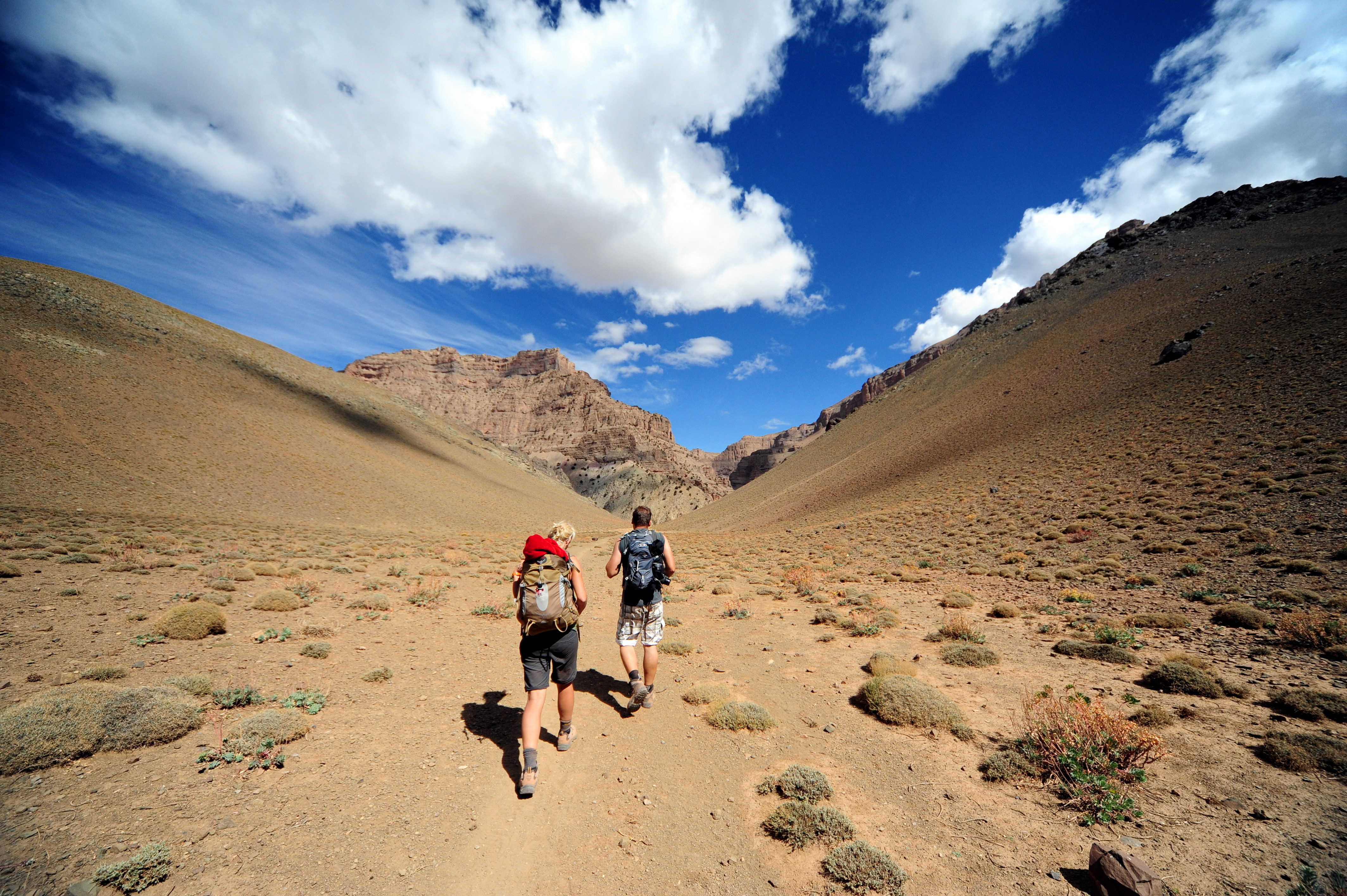 Morocco adventure travel has got to start with trekking. In this country, you can expect a walking holiday like no other. Not least because simply exploring on foot, taking it all in at 3mph, is itself a cultural adventure in Morocco. Morocco has four main mountain ranges: the High Atlas, Middle Atlas, Anti-Atlas and Rif Mountains - and 11 National Parks. You could be exploring remote and peaceful landscapes, trekking along cascading streams or ascending barren mountainsides.
April to October is the best time for hiking in Morocco. There shouldn't be any snow even on the highest peaks. Trek across the craggy landscapes of the Atlas Mountains, taking tiny paths to the summits or enjoying the valley trails. There is just so much choice when it comes to mountain hikes here. Whether you're aiming for the highest peaks of each mountain range or looking for interesting traverses or enjoyable day walks. The peaks range from around 2000m to 4000m, with the Anti-Atlas and Rif Mountains at the lower end and the Middle and High Atlas at the other. Due to the height and climate, these are generally more harsh and rocky the higher you go.
But it's not all arid and empty. Tazekka National Park, which surrounds Jebel Tazekka in the Middle Atlas, has many forested slopes. The National Park was partly set up in order to protect the old cedar grove on the mountain, and was extended to include nearby forests of cork oak and holm oak. Underground, the Friouato Caves are the most extensive known cave system in North Africa - and it is still being explored today.
While you're at it, visit colourful Marrakech for a Morocco adventure holiday in its own right. Explore its ancient kasbahs, bustling souks and hidden alleys adorned with ornate tiles. Overnight, you could be staying in luxury riads, eating tagine and drinking mint tea. Or camping in the wild with local Berbers, spotting Barbary sheep, macaques and lammergeier soaring overhead.
Check out our dedicated Trekking and Hiking Holidays in Morocco for our full spectrum of trips.
Before you go, read our guide to the Atlas Mountains to start lining up places to go hiking and Trekking in Morocco: our guide to the basics. You could also have a sneaky look at how to Trek the 7 Highest Peaks of Morocco. Which brings us nicely on to...
Climb Mount Toubkal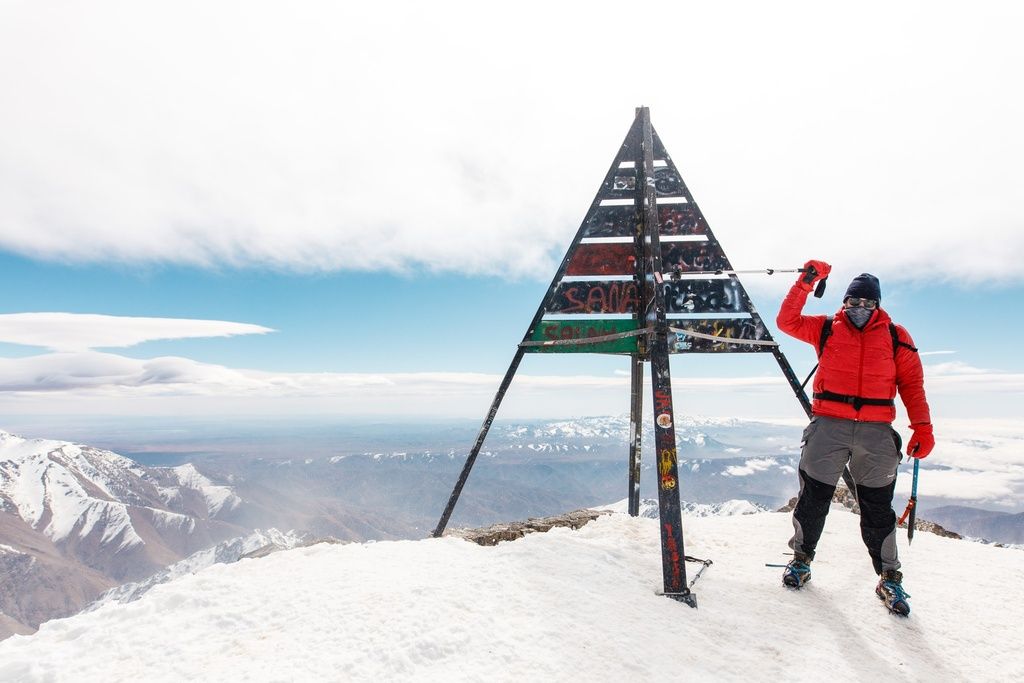 Okay, this one deserves its own section. Join a small group of adventurers to climb all the way to the top of Morocco and look out across the land as far as the Atlantic Ocean. And you'd have to go a whole lot further south to stand any higher in Africa. Mount Toubkal is 4167m above sea level - so no small feat. It takes a couple of days to reach the summit, at the very quickest, staying in the Toubkal Refuge overnight at above 3000m. Climbing Toubkal in summer, you'll need to contend with hiking at altitude.
To climb Toubkal in winter, you'll hike up high into the mountains to reach the snow level. Then you'll strap on your crampons and crunch across icy snow to the summit marker. Winter ascents of Toubkal are generally made between November and March, when you can expect a good coverage of snow. It's no walk in the park, but if you fancy a high mountain challenge, at altitude, in Africa, then it's well worth a look.
To get in the mood, read one Much Better Adventurer's story of taking on Toubkal, with plenty of photos: "If you're going to do Christmas, do it like this!"
Or here's an interview with one of our local guides in Morocco, who takes people up Mount Toubkal every year.
Surf Morocco's Atlantic Coast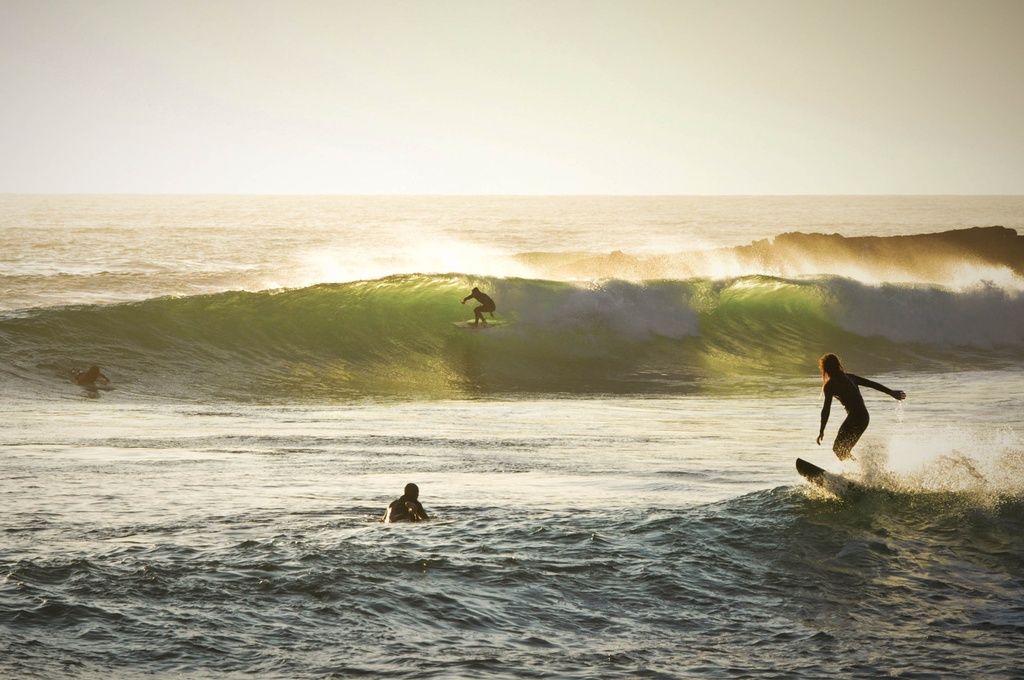 Surfing doesn't have to mean standing around in freezing waters waiting for the one good wave of the day. The laid-back fishing village of Taghazout on Morocco's west coast is a legendary spot for European surfers. There's sunshine, perfect waves and incredible ocean sunsets. You can surf in the morning, catch waves all afternoon and then watch the sun sink into the ocean from your terrace.
Never surfed before? Not a problem. Still that dude catching the wave but faffing about on your knees before nose-diving into the ocean? No worries. You can learn all the techniques you need to paddle, pop up, ride and turn on one of our surf adventures. Plus learn important skills like how to read the beach for impending waves, rip tides and currents.
Check out our six days of surfing in Morocco adventure or the shorter Surf Morocco. Or if you're being simply indecisive, like a kid in a candy store, take a peek at Morocco: Summit to Surf.
Camp in the Sahara Desert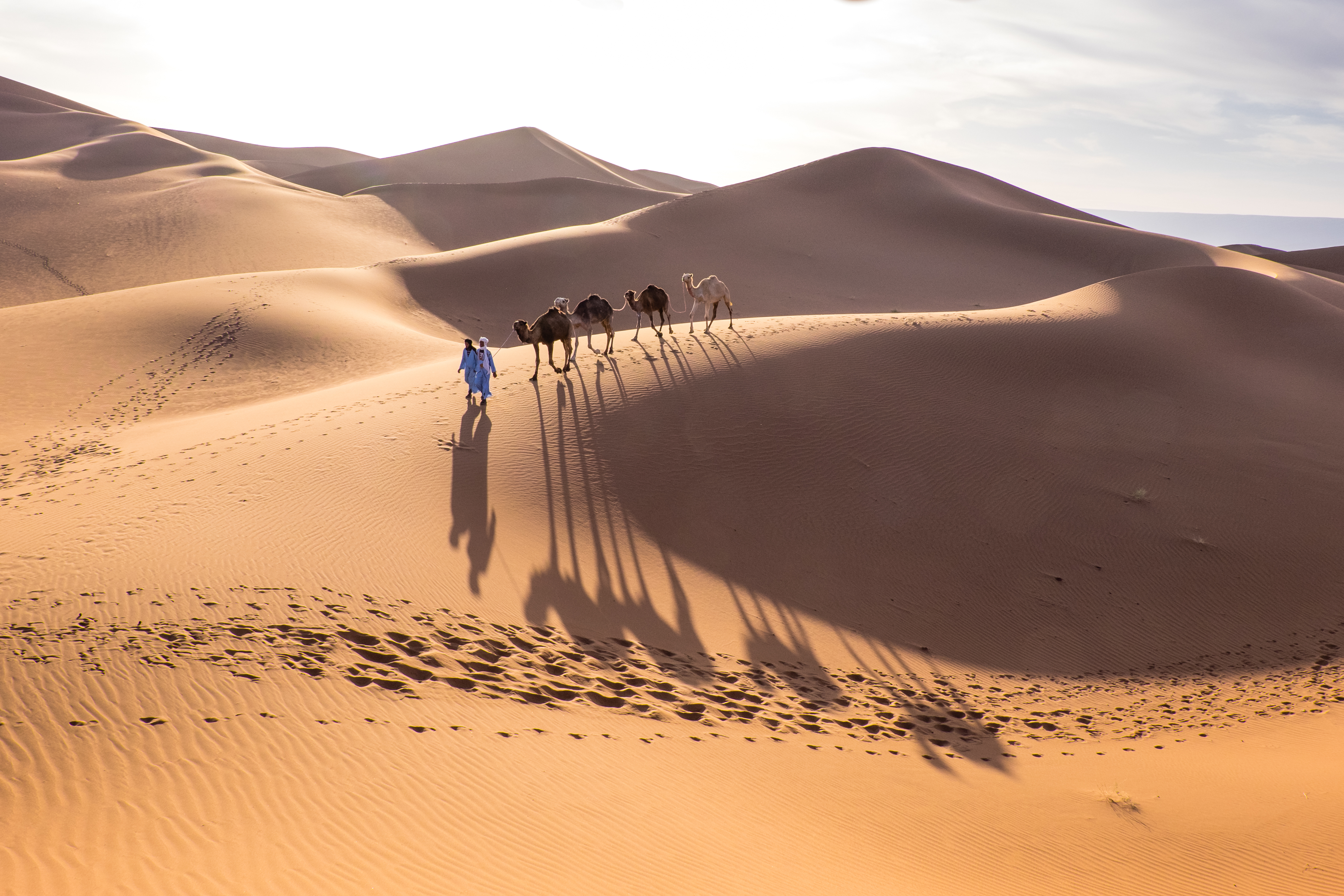 "... and I want to sleep with you in the desert tonight," sang The Eagles... and you actually can sleep in the desert during your time in Morocco. You'll be well and truly off the beaten track - in fact there won't be any track. Just rolling sand dunes into the distance. Take a road trip to the desert and trek by camel to a Berber village to sleep surrounded by rolling sand dunes. Have dinner around the fire, then spend the night in a traditional, carpeted tent under the huge desert sky, looking out for shooting stars.
If that sounds awesome, check out our Morocco adventures: Explore Moroccan Kasbahs and Camp in the Saraha and Climb Mount Toubkal and Camp in the Sahara.