Marrakech, in Morocco, is a colourful, frenetic city with a rich cultural life. It was founded by the Almoravids, a dynasty of Muslim Berbers. Monuments such as the ornate Bahia Palace and the Koutoubia Mosque are testament to its Islamic imperial past.
Crumbling red clay walls enclose the bustling old city (known as the medina), renowned for its colourful souks selling everything from handmade shoes to fragrant spices. At the centre of it all is the carnivalesque Djemaa El Fna, a large square populated with snake charmers, acrobats and street food vendors.
The city is located between the desert and the mountains. Travel south and you'll reach the snow-capped peaks of the High Atlas. The sparse Agafay Desert is 30 kilometres from the city - it's a popular area for hiking and camel rides. Get back to the city to watch the sunset from an atmospheric roof terrace.
Marrakech is a destination for sun seekers. Expect pleasantly warm temperatures in spring and autumn - during the summer months, the temperature is sometimes in excess of 40°C. During the winter months, temperatures often reach the early twenties (although the nights range between 6°C - 10°C) - it's our favourite time to visit.
The Basics:
Currency? Moroccan Dirham
Language? Modern Standard Arabic, Moroccan Arabic (Darija), Amazigh (Berber), French
Plug adapter? Europlug (Type C & E)
Do I tip? Anyone who provides you with a good service
Average beer price? £1.50
Nearest adventures? Climb Mount Toubkal and Trek the Atlas Mountains
Where to Explore in Marrakech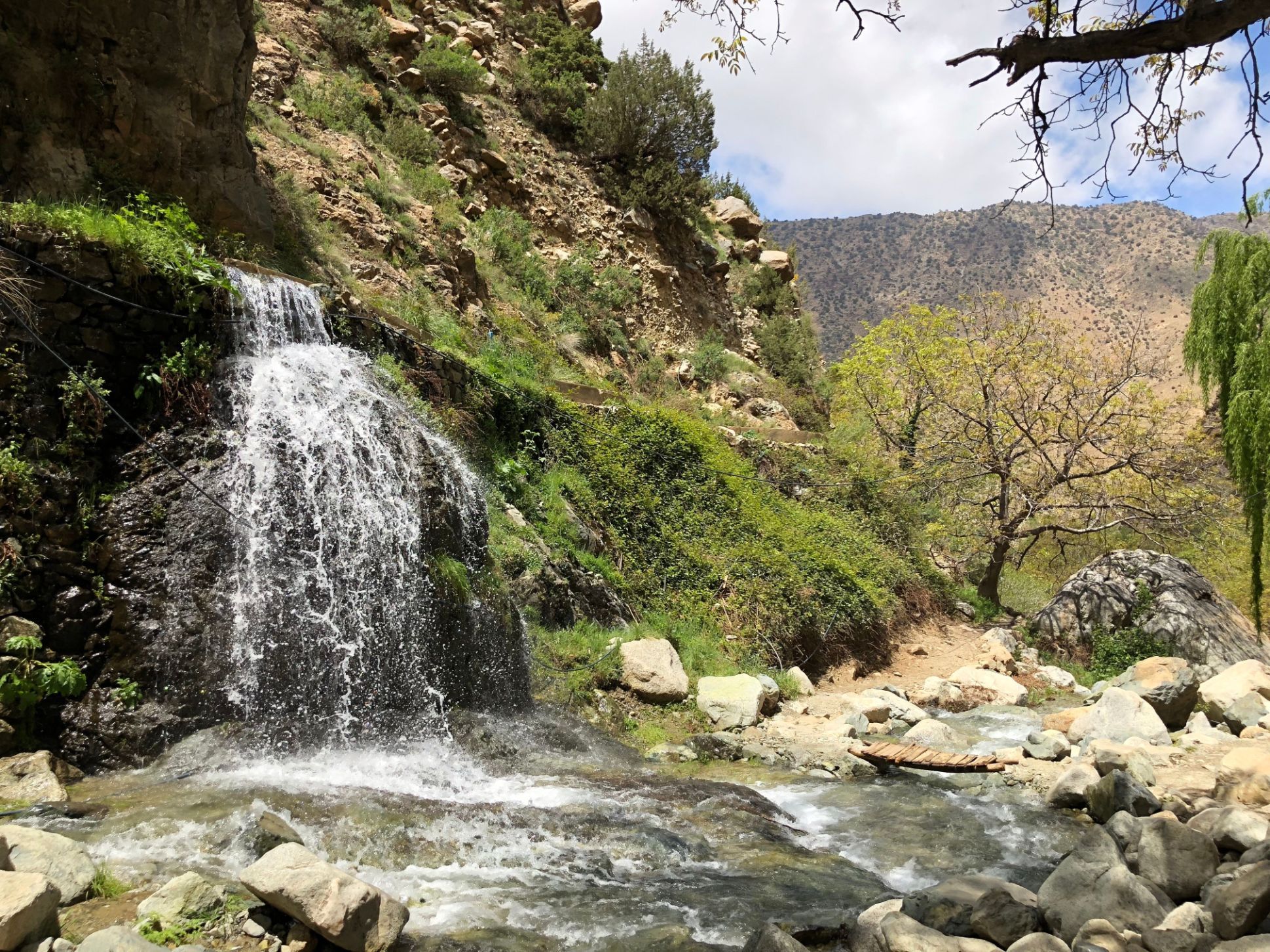 Get Lost in the Medina
The medina - the old walled city - is the beating heart of Marrakech. You'll lose your sense of direction as you explore the labyrinth of twisting alleyways, soaking up the sights, smells and sounds. Seek out a bargain in the central souks, where stalls sell colourful rugs, leather goods, Moroccan lamps and silverware. The largest is Souk Semmarine, while the area between Place Rahba Kedima and Place Ben Youssef is a great place to find artisan crafts.
Visit a Hammam
You'll find a hammam – a public bathhouse – in every neighbourhood in Marrakech. Many Moroccans visit regularly for a gommage (scrub) and steam, to purify mind and body before prayer. The hammams in the city range from cheap local places where you need to bring your own soap, mitt and bucket to high-end baths designed with tourists in mind. We recommend somewhere in the middle. Hammam Moussaine, established in 1562, provides a traditional experience but with soap and mitt included. English-speaking staff can explain the process to you. A perfect way to soothe sore limbs after a few days of hiking.
Stroll through the Mellah
Mellah, the old Jewish Quarter, was built in the 16th century to provide refuge to Jews fleeing persecution in the Iberian Peninsula. The maze of alleyways is much quieter than the central medina, with a more local feel. The Slat Al Azma Synagogue and the whitewashed Miâara Cemetery are a poignant reminder of the city's dwindling Jewish population. Mellah is located on the south side of Bahia Palace, a vast, extravagant complex of gilded ceilings and carved stucco.
Hike in the Ourika Valley
The Ourika Valley is around 45 minutes' drive from Marrakech, in the foothills of the High Atlas. Green vegetation carpets its water-sculpted valleys, rising up to rocky slopes, set against a spectacular backdrop of snowcapped mountains. Hire a local guide to take you on a day hike past terraced fields and remote villages, through olive groves and past the waterfalls the area is known for.
Best Viewpoint in Marrakech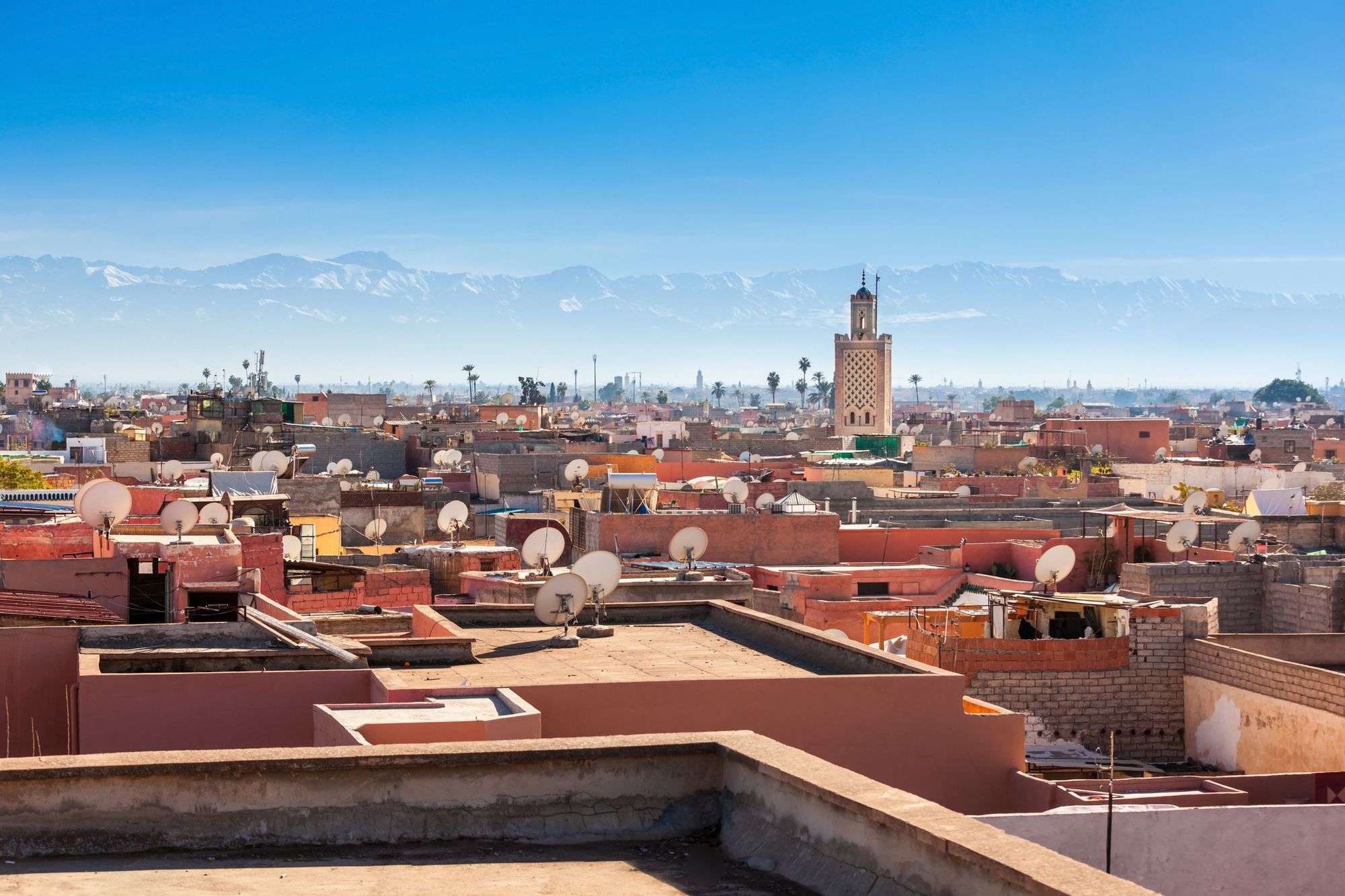 For a birds' eye view of this bustling city, your best bet is to find a rooftop terrace where you can look down over the souks and alleyways below. Cafe de France is known for having the best view over bustling Djemaa el Fnaa, and being a fantastic spot to watch the sunset. However, it can get crowded at that time, since everybody else has read about its brilliant views too.
Other options include Café des Épices in the medina (with a terrace overlooking the bustling spice market) and Cafe Kif Kif, which has a brilliant view of Koutoubia mosque. The rooftop terrace of la Maison de la Photographie de Marrakech (a Moroccan photography museum) has views over the city, extending to the Atlas Mountains on the horizon.
Adventures Near Marrakech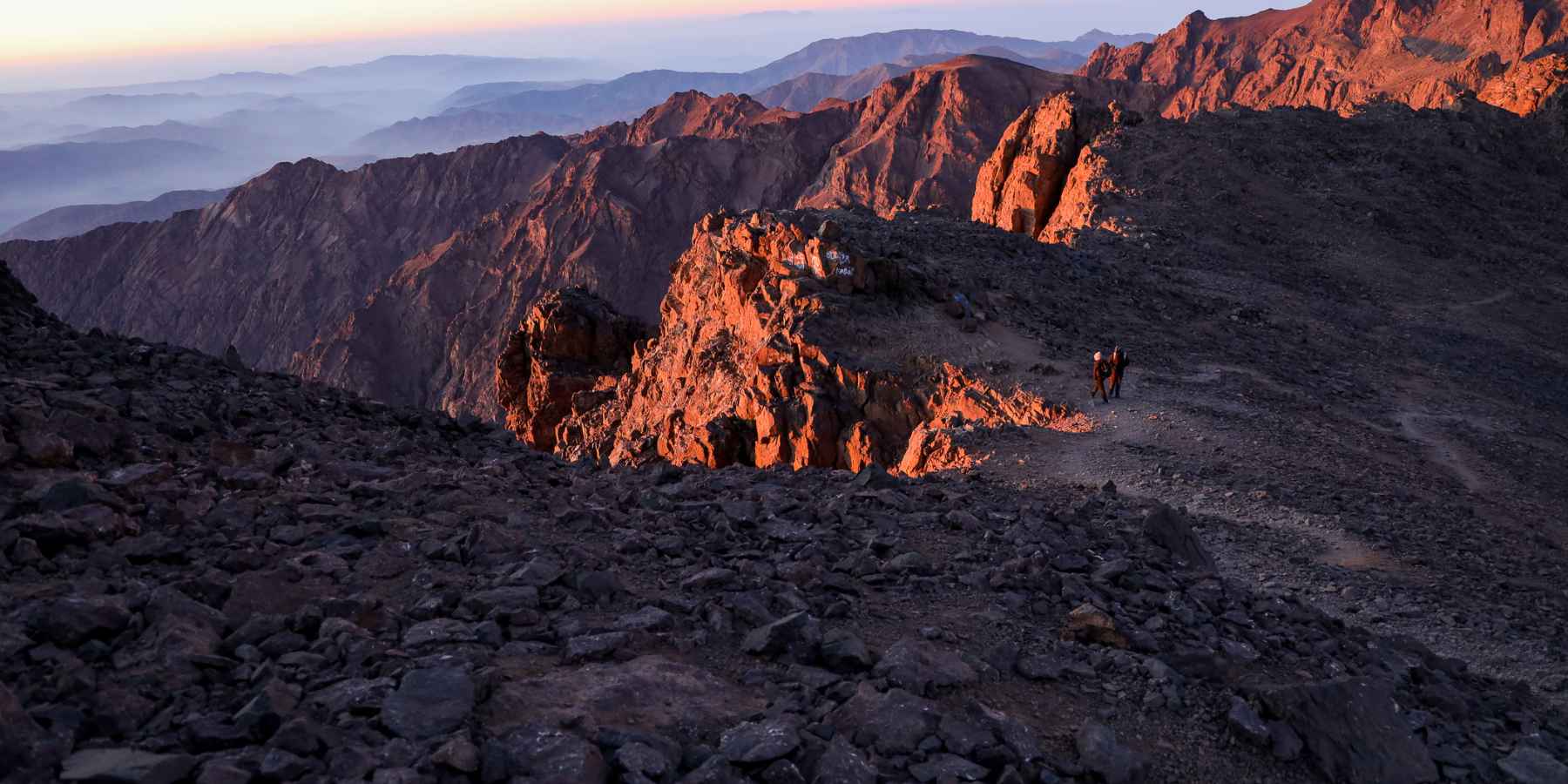 The jagged High Atlas Mountains lie just south of Marrakech. A 90-minute drive will take you to Imlil, a Berber village which is the starting point for many treks into the Atlas Mountains. One of the most iconic is an ascent of Mount Toubkal, the highest mountain in Morocco at 4,167 metres. You'll hike through the Toubkal Valley and up to a mountain refuge. Spend the night there and strike out for the summit before dawn to catch sunrise.
If Toubkal sounds too tough, there are some stunning treks at lower altitudes. Head to Imi Oughlad (75 minutes' drive from Marrakech), the start point for a trek that takes you across the High Atlas foothills. You'll pass the red clay village of Tiziane, hike through shady forests and ascend to remote Berber villages.
Where to Eat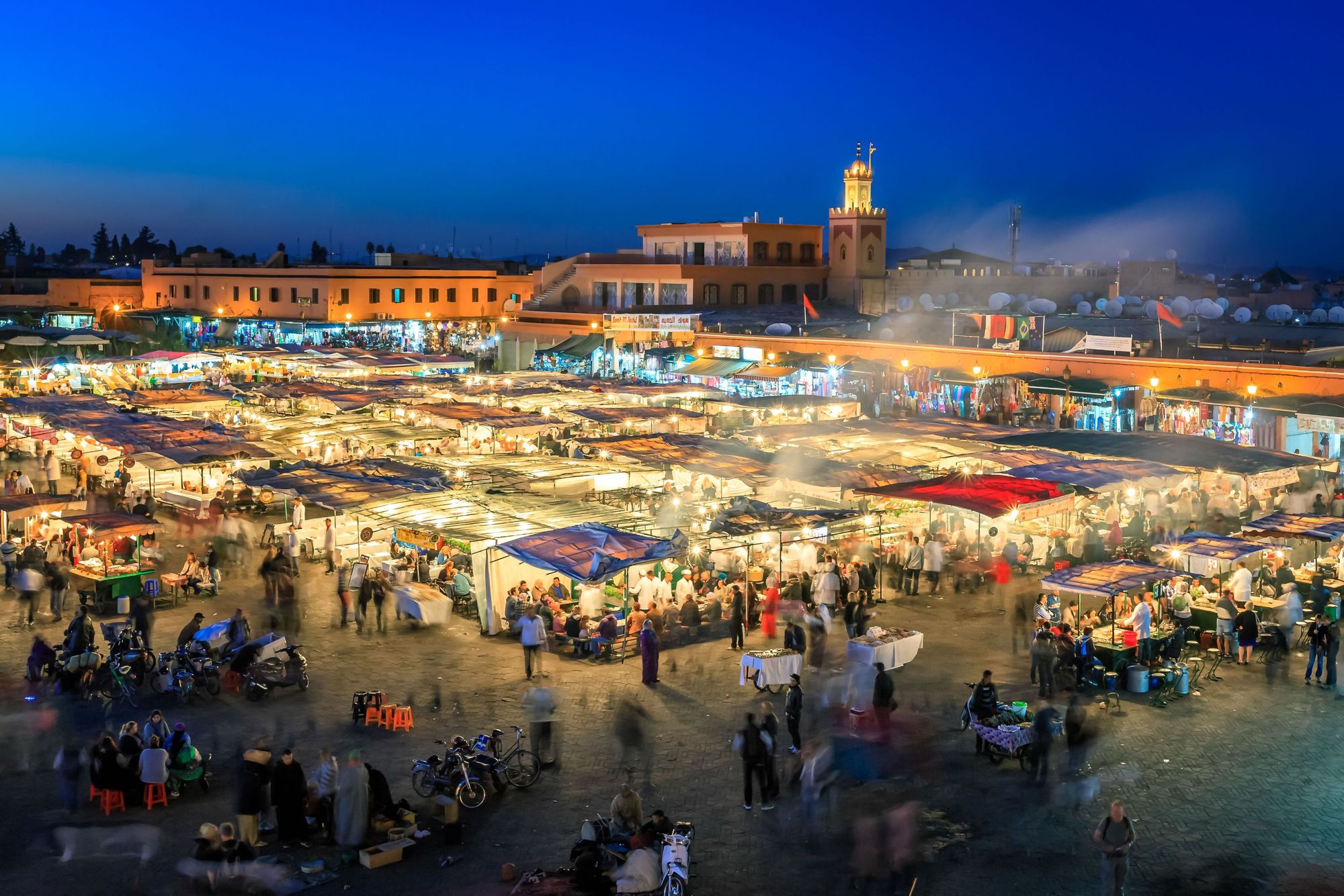 Amal Gueliz
Amal Gueliz is a restaurant owned by a social cooperative that empowers disadvantaged women through teaching them culinary skills. You'll be treated to delicious Moroccan food such as chicken and prickly pear tagine, colourful salads and homemade desserts. On Friday, only couscous is served, and during Ramadan you can book in for the Iftar buffet in the evening. Prices are low, and help fund the centre's traineeships for women - giving back never tasted so good.
Jemaa el Fna Night Market Stalls
This is the place to go if you're looking for Moroccan street food. As the sun sets, the vendors arrive with their carts and the square soon becomes a bustling hive of activity. There's all sorts on offer, from tagines to merguez sausages and babbouche (steamed snail soup). Touts with menus will try and usher you into their stalls, but take your time making a choice - look out for stalls with local families as their clientele. One of the most popular is Stall 14, which serves a menu of fresh grilled seafood. Stall 1 is also recommended for its brochettes (kebabs).
Dar Chef
This traditional restaurant in Marrakech's medina is run by the Cherif family, and serves up delicious Moroccan cuisine in colourful surroundings. Treat yourself to slow cooked tagines with meltingly tender meat, warming harira (a chickpea soup), and chicken pastilla wrapped in crunchy filo pastry. There are plenty of vegetarian options too.
Where to Drink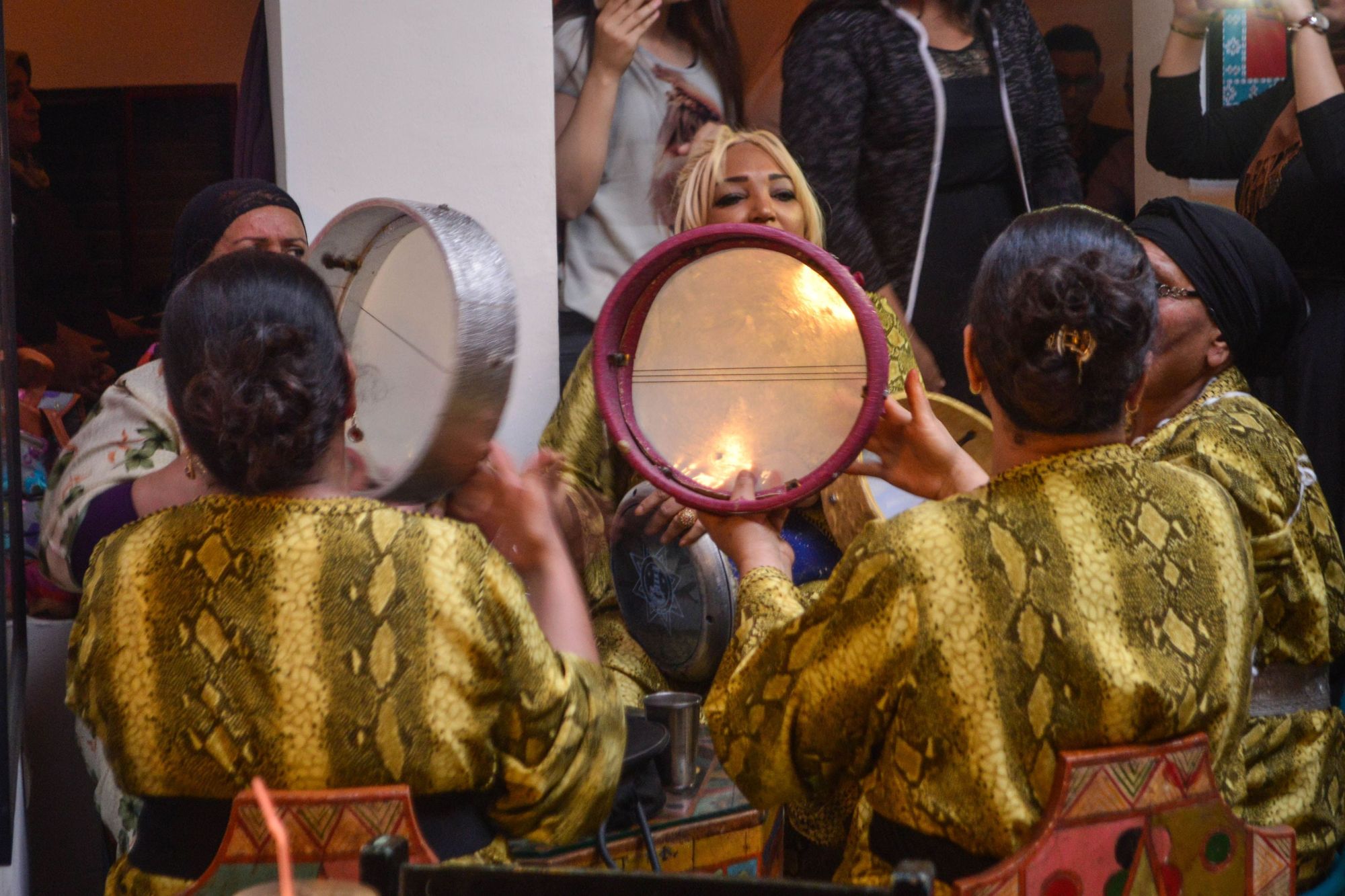 Cafe Clock
This is a cafe in Marrakech's Kasbah district, which has been set up to help visitors access Morocco's diverse art and culture scene. There are daily live events, including concerts of local oud and gnawa music, Moroccan storytelling and art exhibitions by local artists. Alcohol isn't served, but you can enjoy fragrant mint tea, hot almond milk, coffee and fruit smoothies. The food is also pretty good - and 10 dirhams from every camel burger sold is donated to a local charity.
Baromètre Marrakech
This speakeasy-inspired bar is the first in Marrakech to be completely devoted to mixology - the bar is lined with hundreds of jars of spices and liquor bottles. It's renowned for its creative cocktails, which are made with local spirits and homemade infusions. Try one of the medina-inspired cocktails, or get the bartender to mix you something in line with your tastes.
Kabana
Describing itself as 'the highest drinking hotspot of the Marrakesh medina', Kabana consists of an indoor lounge and a gorgeous outdoor roof garden. It's an ideal place for a sundowner - relax over one of the travel-themed cocktails or local wines as the candles are lit for the evening. There are DJ sets over the weekend, playing an eclectic mix of jazz, latin and soul music.
Where to Stay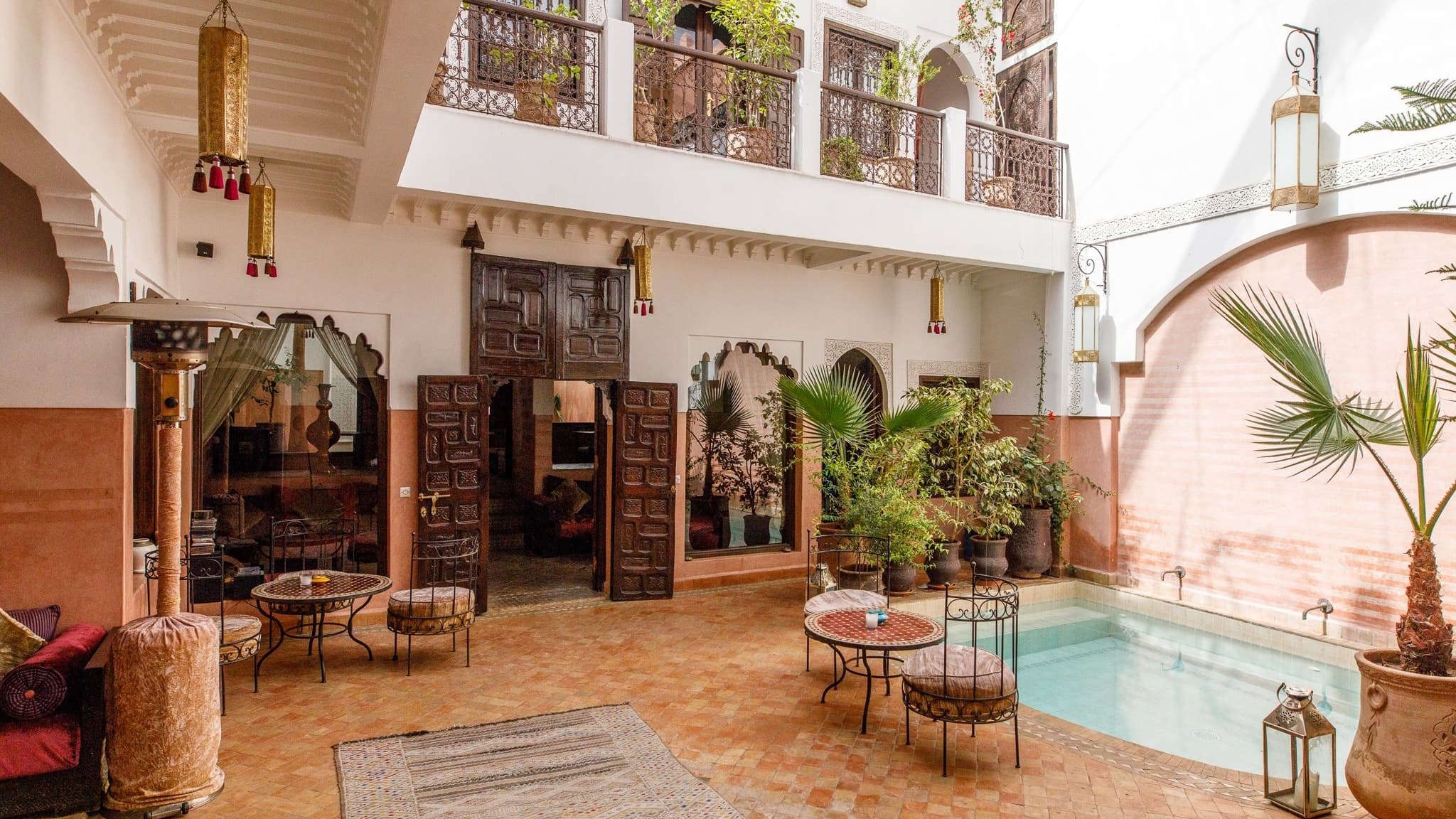 Riad Africa
Riad Africa is formed of four merchant houses fused to create a truly luxurious riad in the heart of Marrakech medina, just five minutes' walk from Djemaa el Fna. On site facilities include two pools (one is heated during winter), a rooftop restaurant, a traditional hammam and spa treatment room. ​There are a range of rooms to suit all budgets, from cosy doubles to lavish suites.
Riyad al Cadi
This 14th century riad was once home to a German ambassador, who used it to display his internationally renowned collection of Islamic artwork. It's now a sprawling guesthouse with a labyrinth of rooms, balconies and alcoves, all decorated with magnificent artworks. Enjoy relaxing in the heated plunge pool, the hammam or library. Traditional Moroccan cuisine is served on the rooftop terrace.
The Central House Marrakech
This modern, minimal hostel is located in Rodamon Riad, and offers upmarket digs for budget prices. The spacious dormitories feature privacy curtains with reading lamps, desk areas and comfortable mattresses. There are also some gorgeous ensuite private rooms. You'll love sunbathing on the terrace, using the pool or having a cocktail on the rooftop terrace.
www.thecentralhousehostels.com
How to Get Around in Marrakech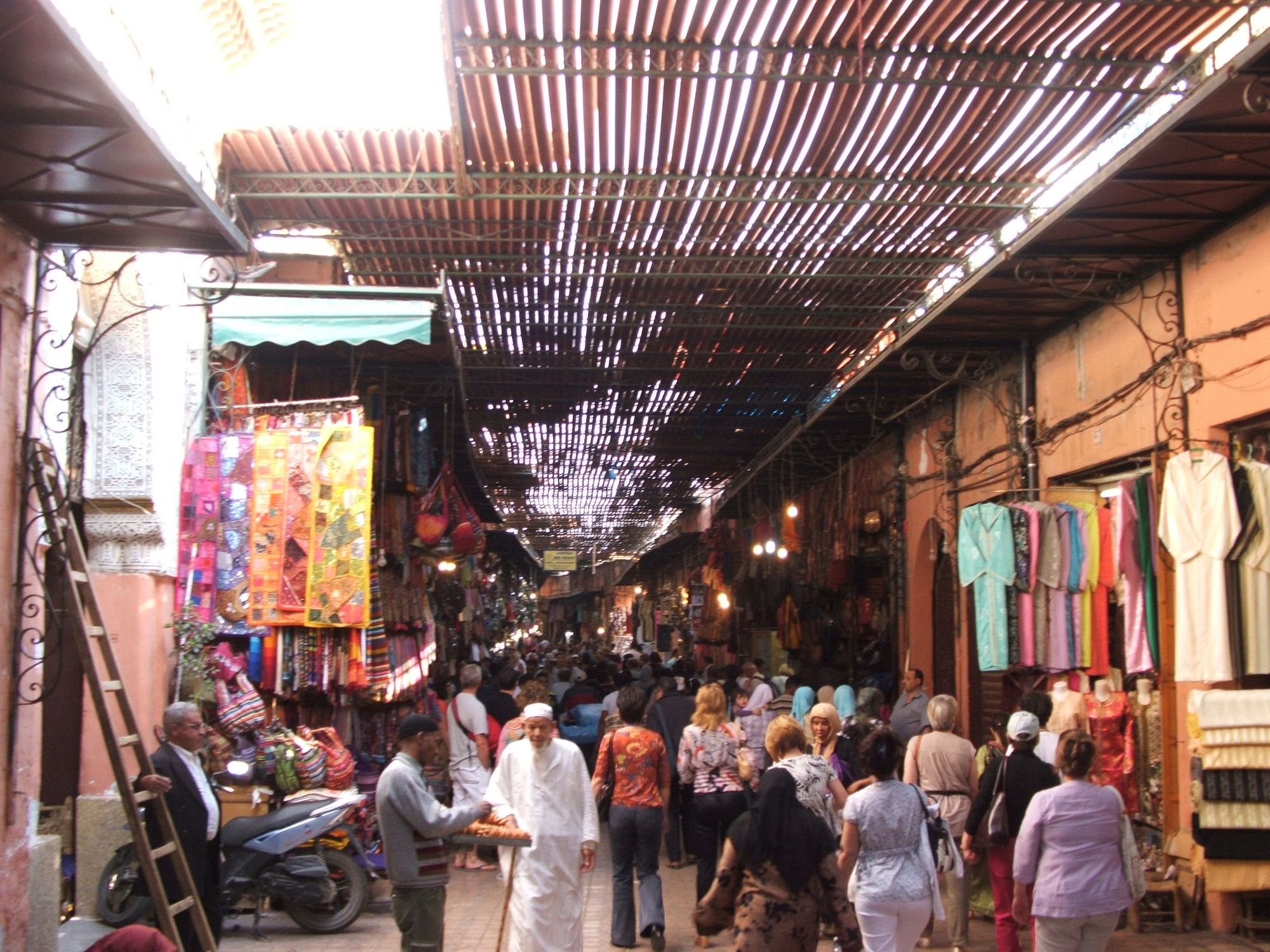 Marrakech is a compact city and easily explored on foot, especially if you stay within the medina. Petit taxis are standard metred taxis - but when you hail them, expect to be charged 'tourist rates'. Grand taxis are shared, and drive certain routes for fixed prices. ALSA public buses will take you around the modern city, and also beyond its limits.
How to Get to Marrakech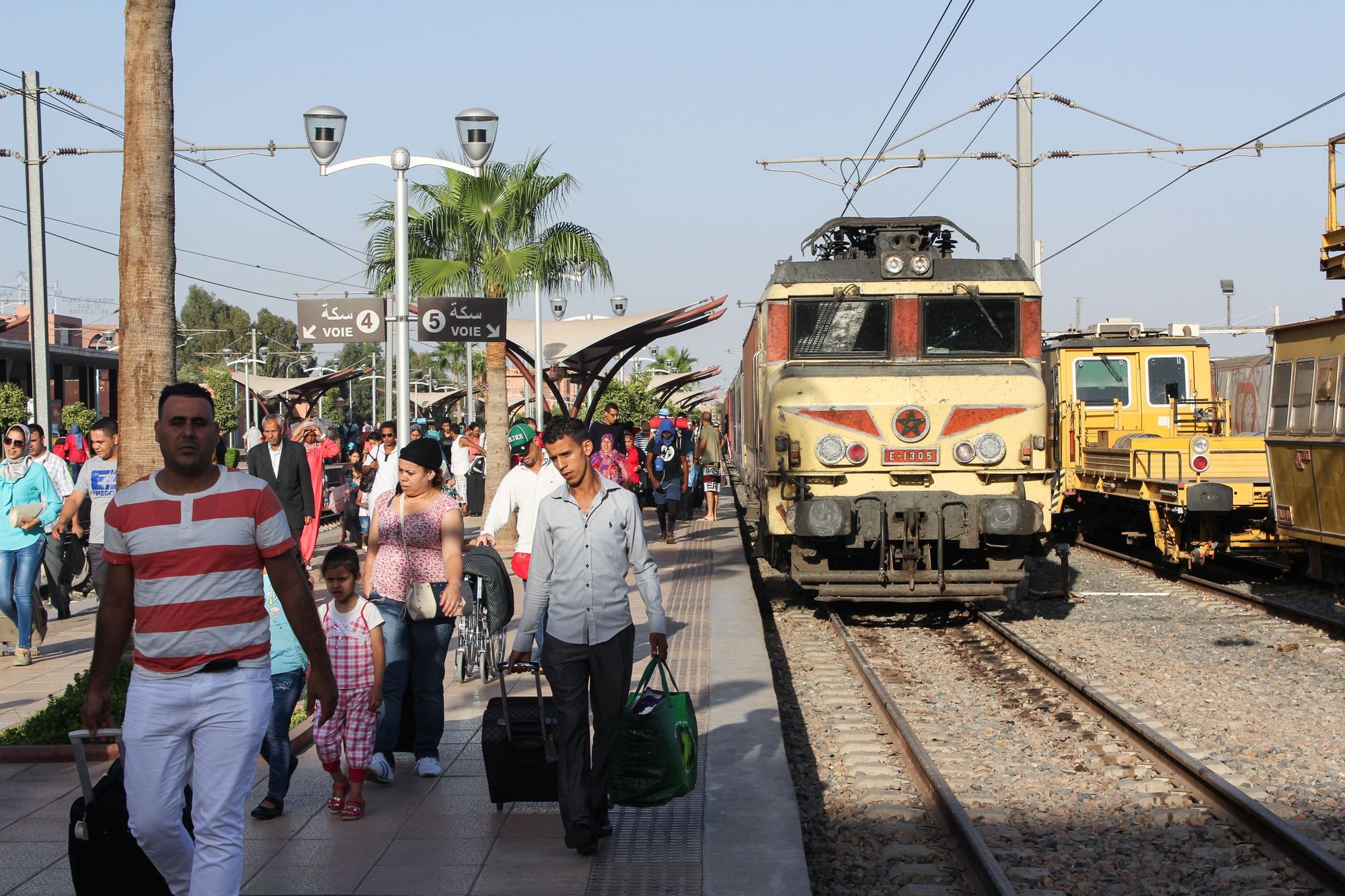 By Train
Taking the train to Marrakech is an adventure in itself. From the UK, take the Eurostar to Paris, then south through Spain. You'll need to take the ferry from Algeciras to Tangier, and hop on the Marrakech Express to reach Marrakech. It'll take you a few days!
By Bus
The national bus service, CTM, runs reliable intercity services between Marrakech and other major cities such as Agadir, Casablanca, Rabat and Fes.
By Plane
Marrakech has a well-served airport, with direct flights from London, Edinburgh, Manchester and more. If you're travelling from outside of Europe, you'll have to get a connecting flight via well-served transport hubs like Amsterdam, Paris or London.
Inspired? Check out our Morocco Adventures, many of which begin in Marrakech