Adventures in Morocco are about more than the amazing hiking and cycling trails in the country. They're also about the places that you stay. A camel ride across the Sahara Desert is made even more special by spending a night in a Berber camp, watching the stars. Bedding down in a cosy lodge after hiking in the mountains is the perfect end to the day. It's through your accommodation that you'll have a chance to meet your local hosts, and learn more about Morocco's diverse culture.
There are many different types of accommodation in Morocco, and some of the names, such as "riad" and "gîte" might be unfamiliar to you. In this article, we'll be taking a closer look at different types of Moroccan accommodation, and where you can expect to find them. If you'd like to know more about specific places to stay in Marrakech, check out our City Guide to Marrakech.
The Different Types of Accommodation in Morocco
1. Riad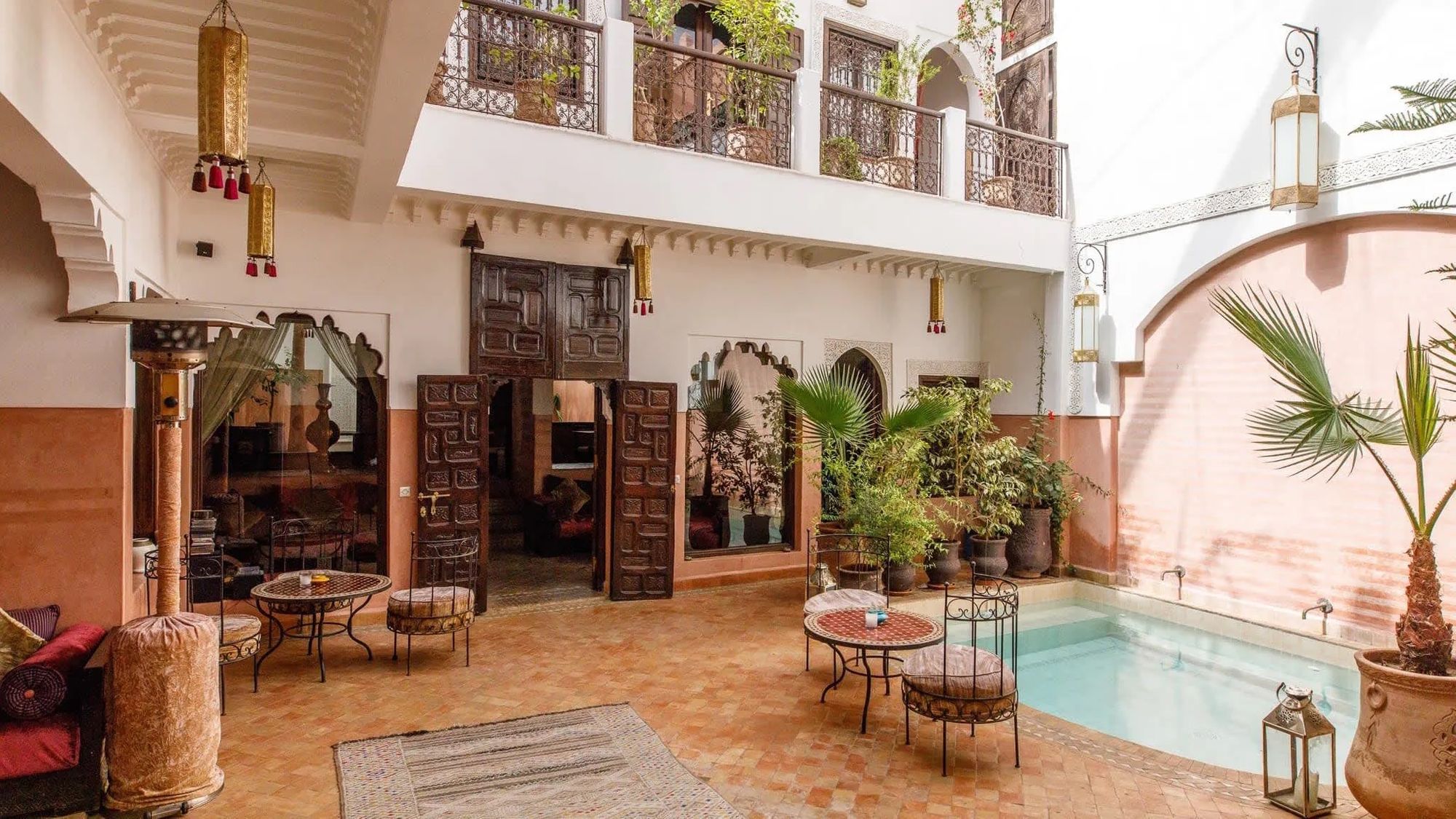 Riads were originally built as homes for the wealthiest families in Morocco - many have now been converted to boutique hotels. The word riad comes from the Arabic "ryad", which means "garden". They are called this because they are buildings with rooms built around a central garden. An open roof allows sunlight and fresh air to enter the property.
There are rarely external windows in ground floor rooms (and only smaller ones on the upper floors), which helps regulate the temperature in the riad, and allows for privacy. But there's a feeling of light and space from the open courtyard, and the high ceilings in the rooms. You'll find most rooms on the upper floors face out onto the courtyard, with a hallway or balcony so you can look down onto it.
Aside from their open structure, riads are characterised by their ornate design, from the intricate tile work in the courtyards to the lavishly decorated bathrooms. As with any accommodation, riads range in quality and price, but in general you'll find them surprisingly affordable.
Riads are found inside the medina (within the old city walls) of major cities such as Marrakech. You won't find them in the middle of the Atlas Mountains. That means you'll be staying in them before and after your adventure - they're a welcome luxury after a few nights in the mountains.
2. Dar
A dar is very similar to a riad, but smaller in size. Whilst most riads have three to four storeys, dars have one or two, and consequently far fewer rooms. Dars also have much smaller, simpler courtyards. You're more likely to find them in coastal cities, such as Tangier and Casablanca, than in inland Morocco.
3. Mountain Refuge/Hut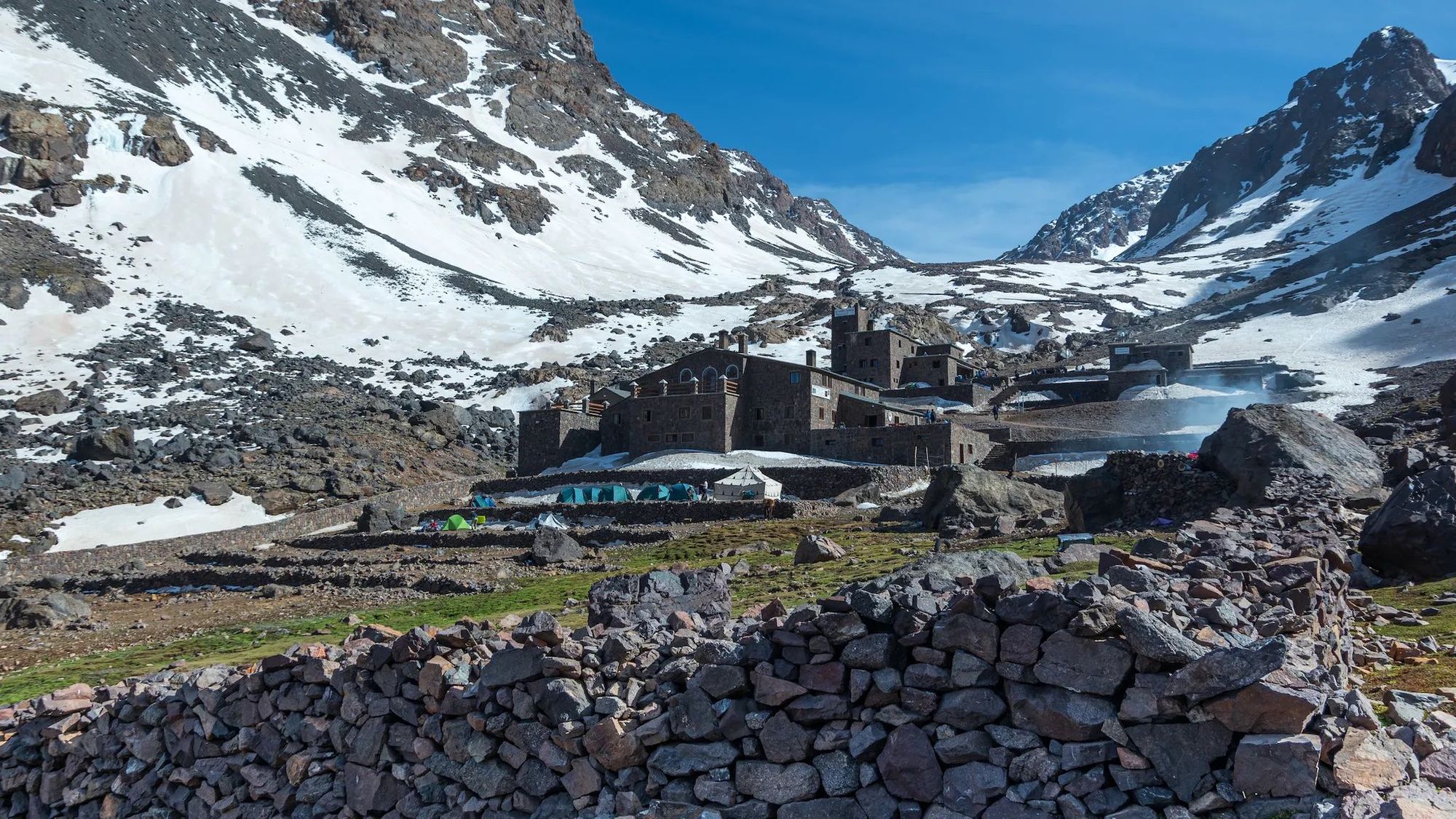 Any intrepid hiker should be familiar with mountain huts or refuges (known as refugios in Spain). You'll find them at higher elevations in the Atlas Mountains, and they've predominantly been established to cater for hikers attempting to reach the surrounding mountain summits.
For those planning on climbing Toubkal, there are two Mount Toubkal refuges, Mouflon and Neltner, located next to each other at a height of 3,207m. The latter is also known as Club Alpine Francis Toubkal Refuge. Neltner Refuge was built by French alpinists in the 1930s (and has been expanded since then), whereas Mouflons was built more recently and is privately owned. There is very little difference in facilities and atmosphere between the two - chances are you'll stay wherever there's space.
Staying in a mountain refuge is not a five star experience. You can expect to sleep in large dormitories (with 12-27 berths), so bring earplugs to drown out the snores. While the refuges are full during summer time, out of season in the winter you'll find far fewer people staying there. You'll need to bring your own sleeping bag and liner, but blankets are provided for the cold nights.
Toilet facilities are basic - several WCs, squat toilets and showers to serve all the hikers - and hot water is a luxury that's not always available. There's no WiFi, but electricity comes on in the evening for a few hours to enable you to charge phones and cameras - after that, it's lights out.
Although they might be basic, mountain refuges provide an opportunity to meet hikers from all over the world, and socialise around the cosy fires in the communal lounge. Food is hearty and plentiful, with large plates of tagine and pasta hitting the spot after a long day on the trails.
4. Berber Desert Camp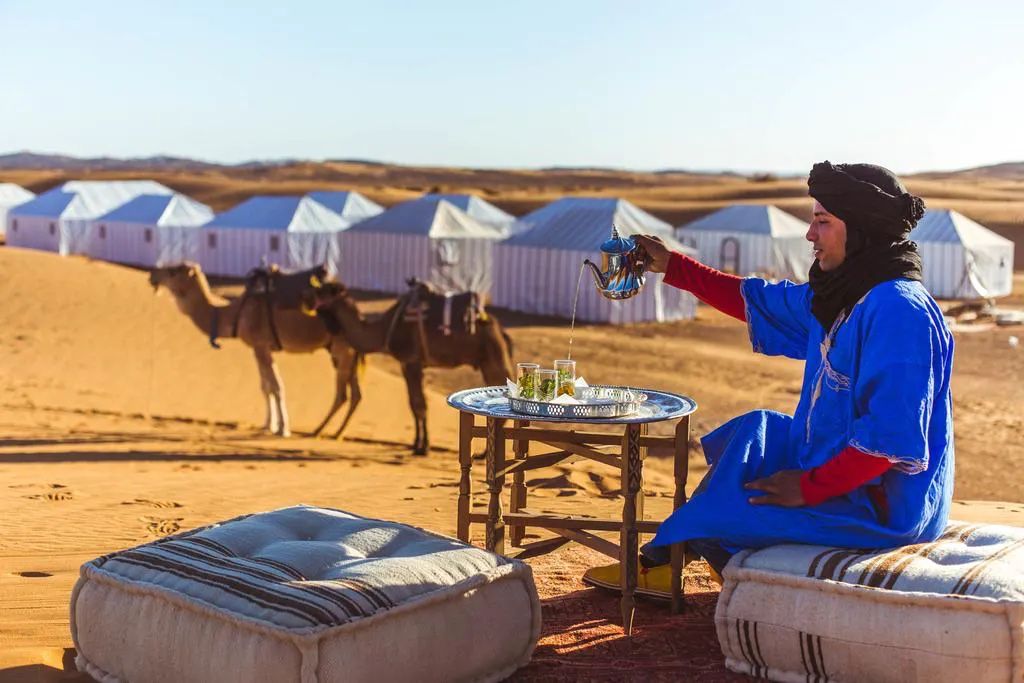 If you're adventuring in the Sahara Desert, make sure you stay in a tented Berber camp. The Berbers are an ethnic group indigenous to North Africa - some were traditionally nomadic, whereas others practise subsistence agriculture.
Berber camps are a compelling mixture of tradition and modernity. You'll be sleeping in tents made of canvas or goat and camel hair, and eating local cuisine on rugs around an open campfire. But you'll also enjoy the convenience of flushing toilets, real beds and perhaps even air-conditioning.
Staying at a Berber camp gives you an opportunity to see the way the desert changes colour at sunrise and sunset, to see stars glistening in a sky untainted by pollution. It also gives you an insight into Berber culture. You'll be entertained with music, dances and perhaps even stories.
5. Gîte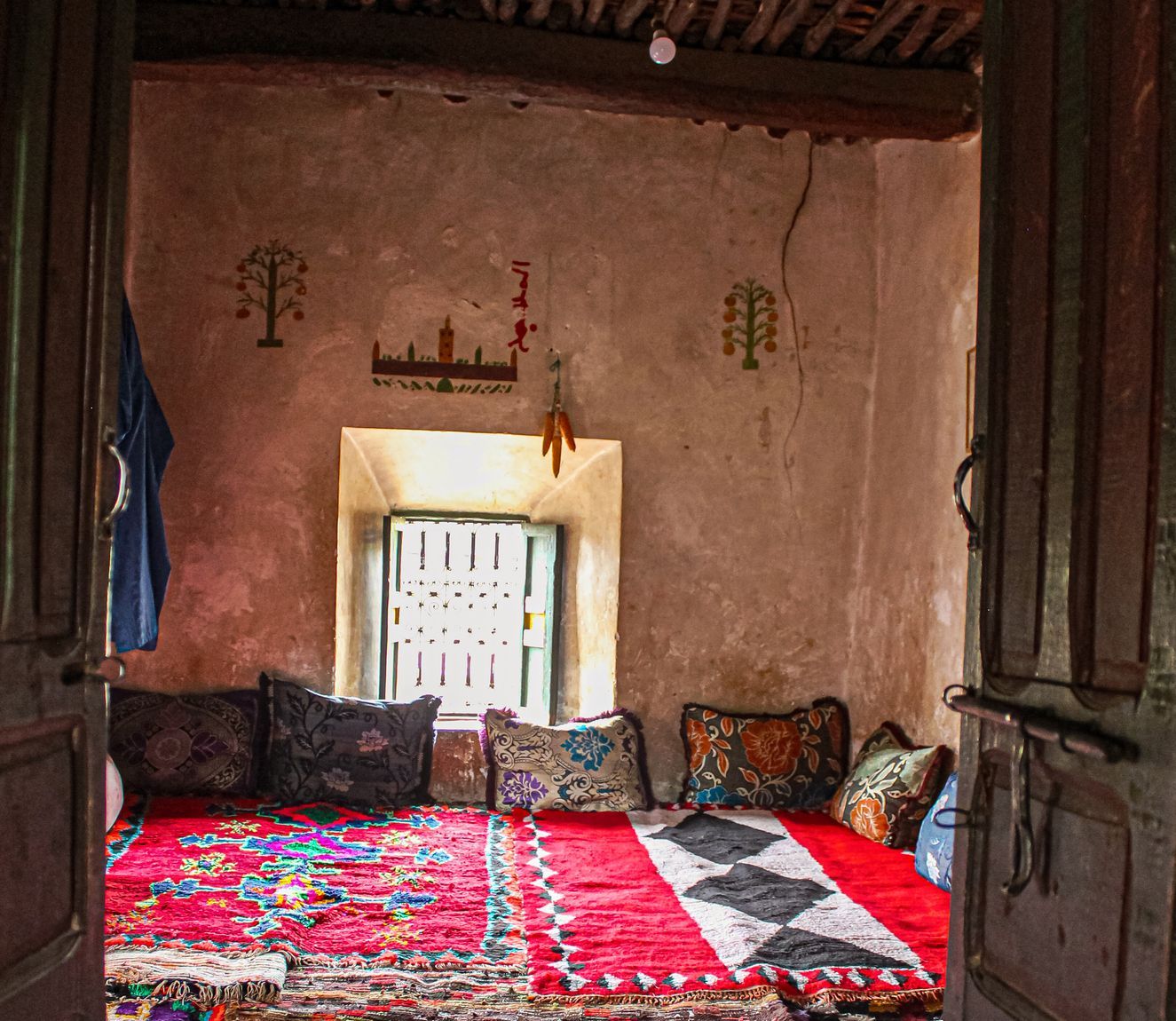 A gîte d'etape is a traditional Berber-style mud-brick building, found in the Atlas Mountains and their foothills. Once used as farm-worker's houses, many of them now function as homestays for travellers. Wondering what to expect staying in a Moroccan gîte in the atlas mountains? You'll be staying in a room of a family home, and will be treated to Moroccan hospitality in the communal living room- mint tea when you arrive, and a hearty tagine in the evenings.
While gîte accommodation might be simple, you'll get all the essentials, such as bathroom facilities (including hot water) and electricity. Some of the more upmarket gîtes even have wifi and air conditioning. Unlike the mountain refuges, you'll bed down in double or triple rooms, but you'll also be able to socialise with your host family and other travellers in the communal lounge area.
6. Campsite
We don't need to describe what a campsite is, considering you've probably stayed in them countless times before. And we don't need to describe the benefits - they're a cheap form of accommodation, one that allows you to spend a night closer to nature. If you're doing a campervan tour through Morocco, many campsites offer electricity hookups and basic toilet facilities.
You'll find campsites all over Morocco, from well-equipped spots near coastal towns like Agadir, to more rustic spots in the Atlas Mountains. Many of the mountain refuges also open campsites during the summer months, which is a useful alternative when the refuges fill up.
7. Lodge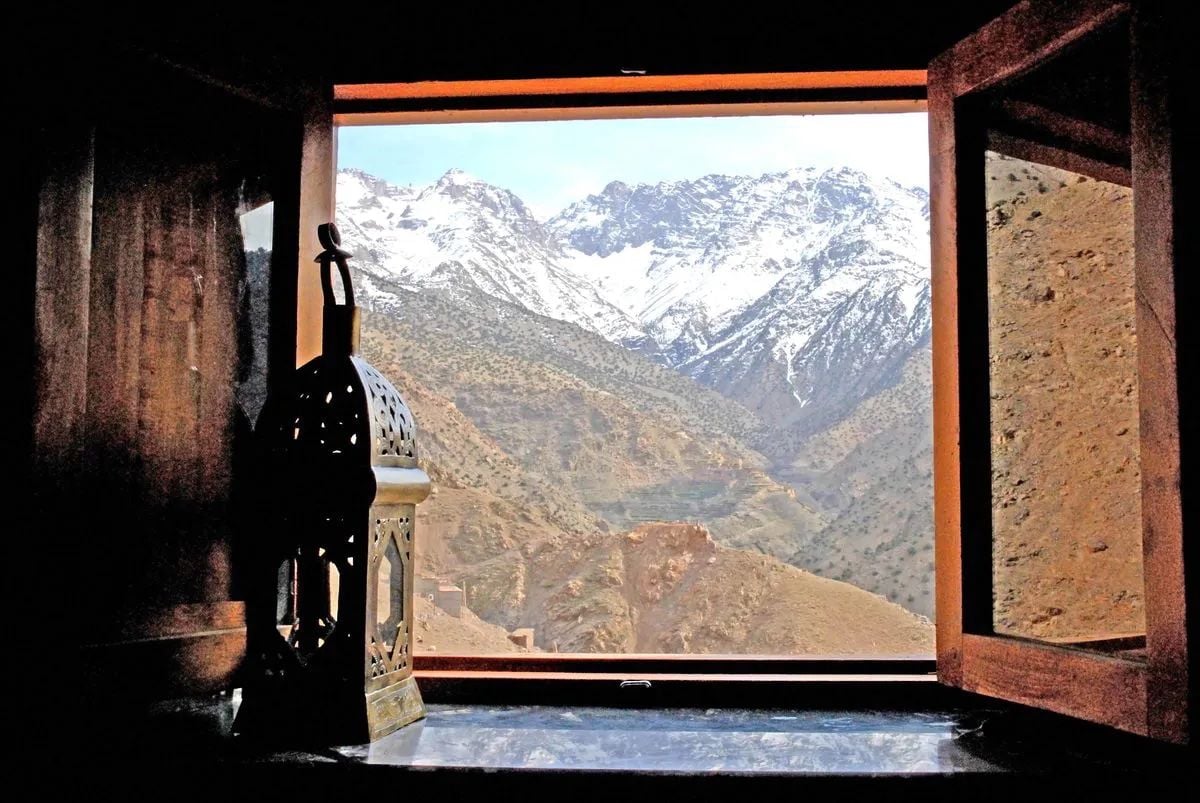 A lodge is a type of accommodation traditionally located in remote areas, such as the desert or the Atlas Mountains of Morocco. It has been built to emphasise the feeling of being closer to nature. Buildings are often designed sustainably; they're made using natural materials and decor, with some adopting the use of solar power or other renewable technologies.
Lodges are traditionally small, perhaps only featuring four or five rooms. They provide a luxurious experience, with roaring log fires and hammam baths - perfect after a long day on the trails. But although they might be luxurious, lodges are located in some of Morocco's remotest corners - they can easily be used as an upmarket alternative to mountain refuges if you're planning a trek.
8. Kasbah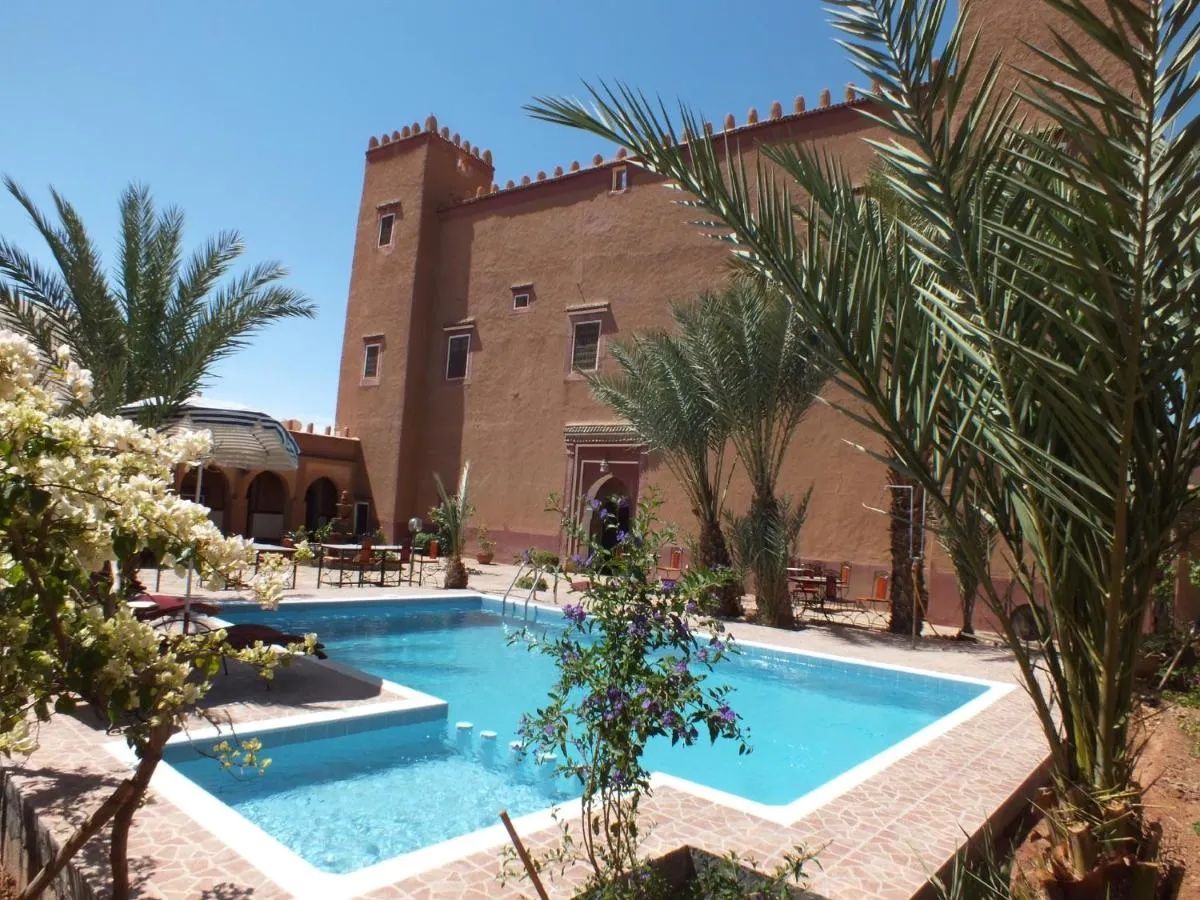 A Kasbah is a fortified citadel or fortress, where Morocco's nobility and royalty once lived. Kasbahs normally look like mud castles, and are often situated on a hill or other high vantage point for defensive purposes.
If you want to do as The Clash do and rock the kasbah (sorry), then good news - many kasbahs have now been converted into luxury hotels with lavish rooms, swimming pools, hammams and restaurants. You can find kasbahs in Morocco's towns and cities, but many of them are located in the foothills of the Atlas Mountains. This means that you can enjoy panoramic views of the peaks from your room, and there are plenty of adventurous activities available on the doorstep.
What Morocco Accommodation Should I Choose?
Your accommodation choice is going to be dictated by three main factors - what areas you plan on visiting, what time of year it is, and your budget. During the winter time, you'll want to steer clear of camping in the mountains (and a lot of the campsites will be closed for the season anyway). If you're trekking on a budget, you'll find mountain huts perfectly adequate for your needs. However, gîtes are only slightly more expensive, and a great way to learn more about Moroccan culture.
We'd recommend you try a variety of different types of accommodation on your trip. As William Cowper said all the way back in 1785, "variety is the spice of life", and we think that's true here. If you're going to be staying in the mountain huts, make sure you end your trip with a night in a riad - a long, hot shower will never feel as good. We'd also recommend splitting your time between the mountains and the desert, so you can enjoy the experience of sleeping in a Berber camp.
Feeling inspired? Check out our Morocco Adventures, where you can sleep everywhere from a kasbah to a Berber camp.