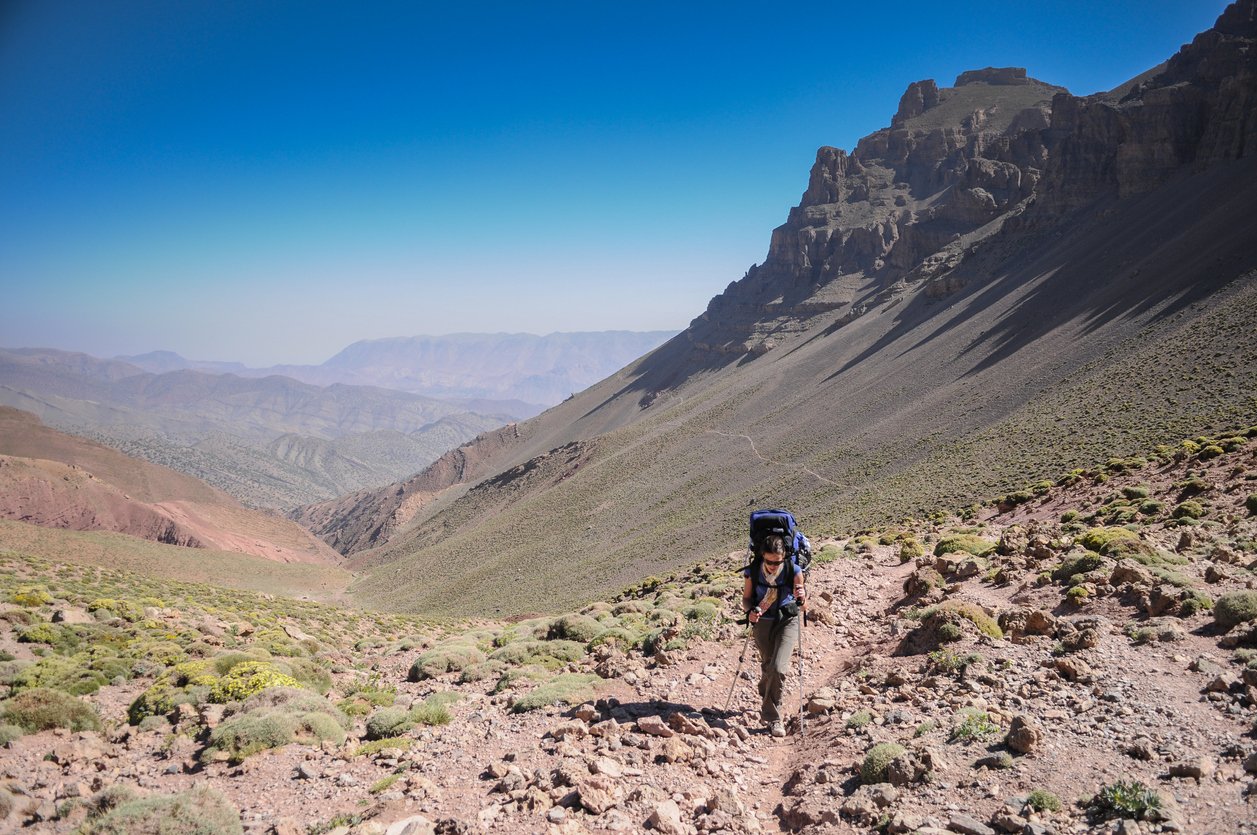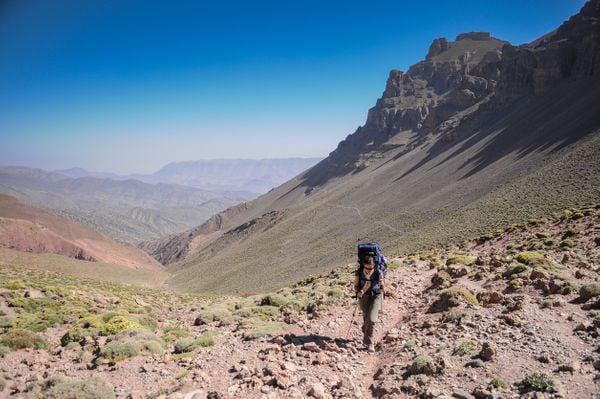 Trekking in Morocco can be anything  from far-stretching desert to dramatic mountain tops - and a whole lot in between. And yet, it's safe to say that hiking is not what Morocco is best known for. If we were to play the word association game right now and say "Morocco", you probably wouldn't say "trekking" would you? You'd be more likely to say something like "desert", "sand", "mint tea" or maybe "tagine" (yum) - but seriously, trekking in Morocco can be really quite something.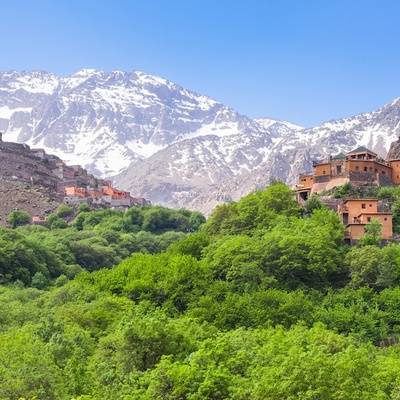 Unlike many countries, Morocco doesn't have any long distance footpaths or famous trekking trails running through it. But that doesn't mean that there aren't amazing treks which aren't quite as well known, or that there are no long treks in Morocco. They are, and they're superb. The hiking in Morocco is just largely untapped. To see what's on offer, you'll need to know where the mountains are – and in particular, where all the exciting bits are.
Step aside cities, we want wilderness. Here is a rough map for your perusal.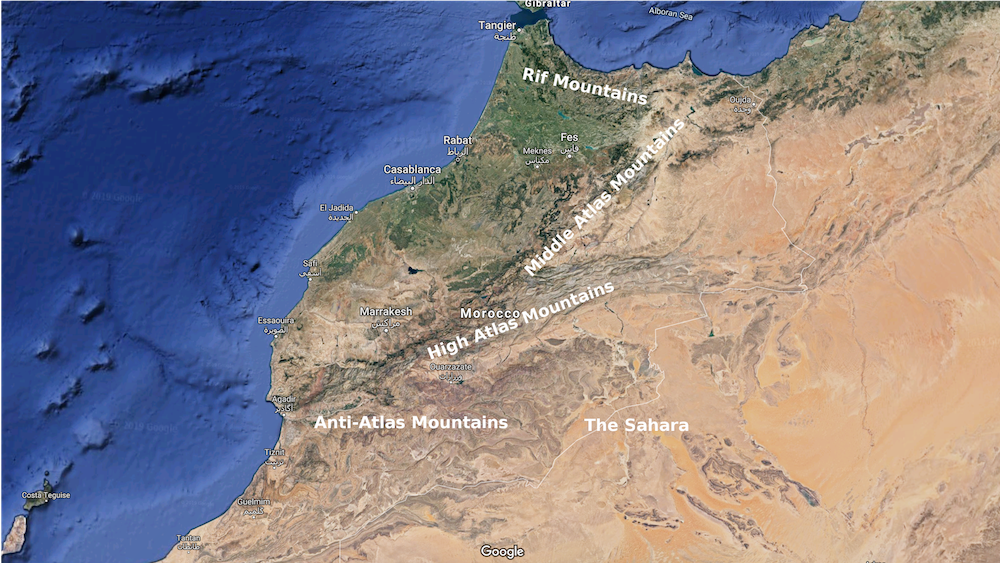 There four main mountain ranges in Morocco are:
The High Atlas
The Middle Atlas
The Anti-Atlas
The Rif Mountains
Then, just to spice things up, the edge of the Sahara desert creeps into Morocco. If you're curious about what it's like trekking on sand, there's your challenge. There are an astounding 11 National Parks in Morocco too. So, as you can tell already, the trekking in Morocco can be incredibly diverse. There are plenty of reasons to go to Morocco for hiking - but where specifically to go? Well, here are the main ranges.
The High Atlas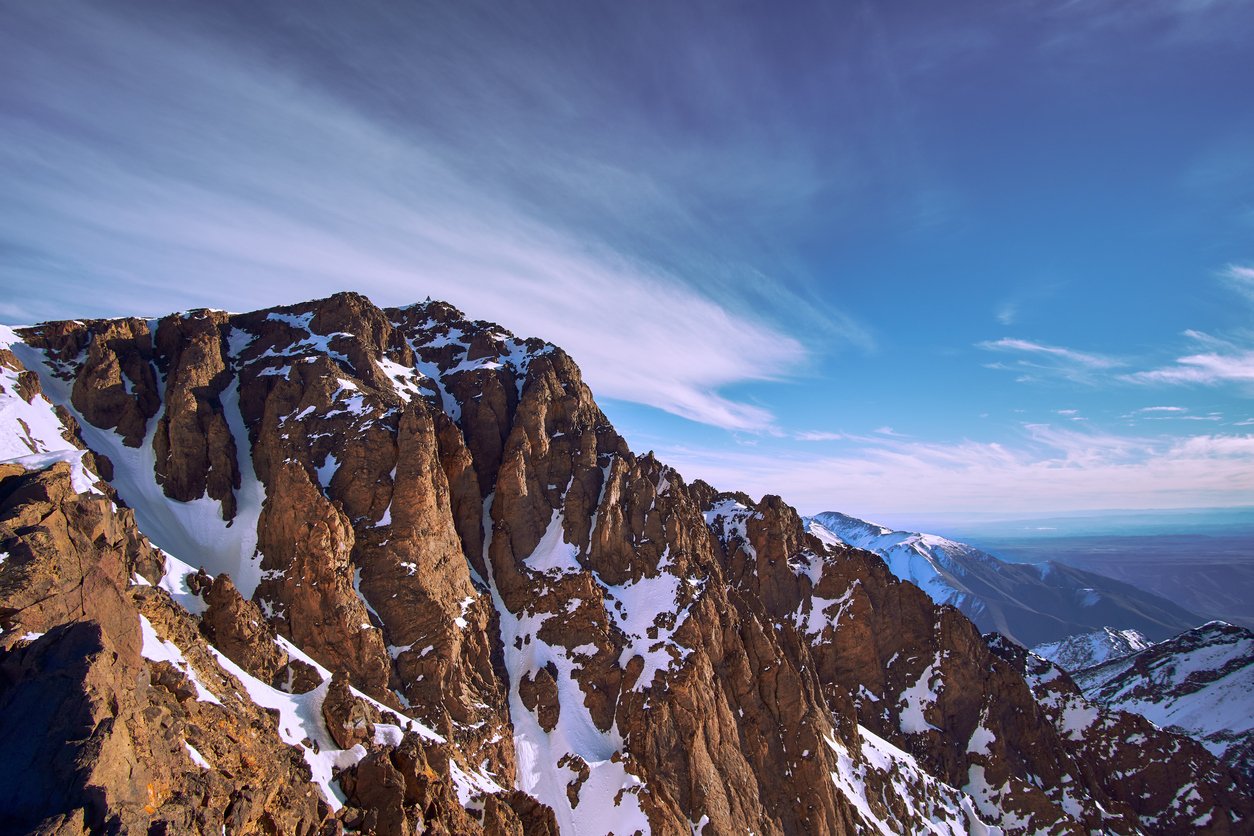 All of the big peaks in Morocco can be found in the High Atlas mountains. Morocco has five mountains above 4000m: Toubkal, Ouanoukrim, M'Goun, Afella and Akioud. Those are in height order, with Toubkal at the highest and Akioud only just making it into the 4000-ers category. Even more excitingly, these top three peaks also happen to be the highest three mountains in the whole of North Africa.
Mt Toubkal is North Africa's highest peak. At 4167m tall, reaching the summit of Toubkal is no mean feat. In winter it is definitely mountaineering, with all the associated paraphernalia needed to reach the summit safely. In summer, the weather can get extremely hot. Your best chance of a snow-free-but-not-boiling trek is in September to October, or April to May. That's when it's cool enough to hike but not so cold you need crampons. Treks are possible in high summer, but expect it to be very hot.
Toubkal is a multi-day trek rather than a day trip. Around the foot of the mountain you'll pass the Kasbah du Toubkal. Then, climbing up, you should each the refuge up the mountain on day one, and then climb to the actual peak of Toubkal the next day. Good local guides will tell you the history of the region en route - of the Berber people and Berber villages, and of the first people to make it up Toubkal in 1923.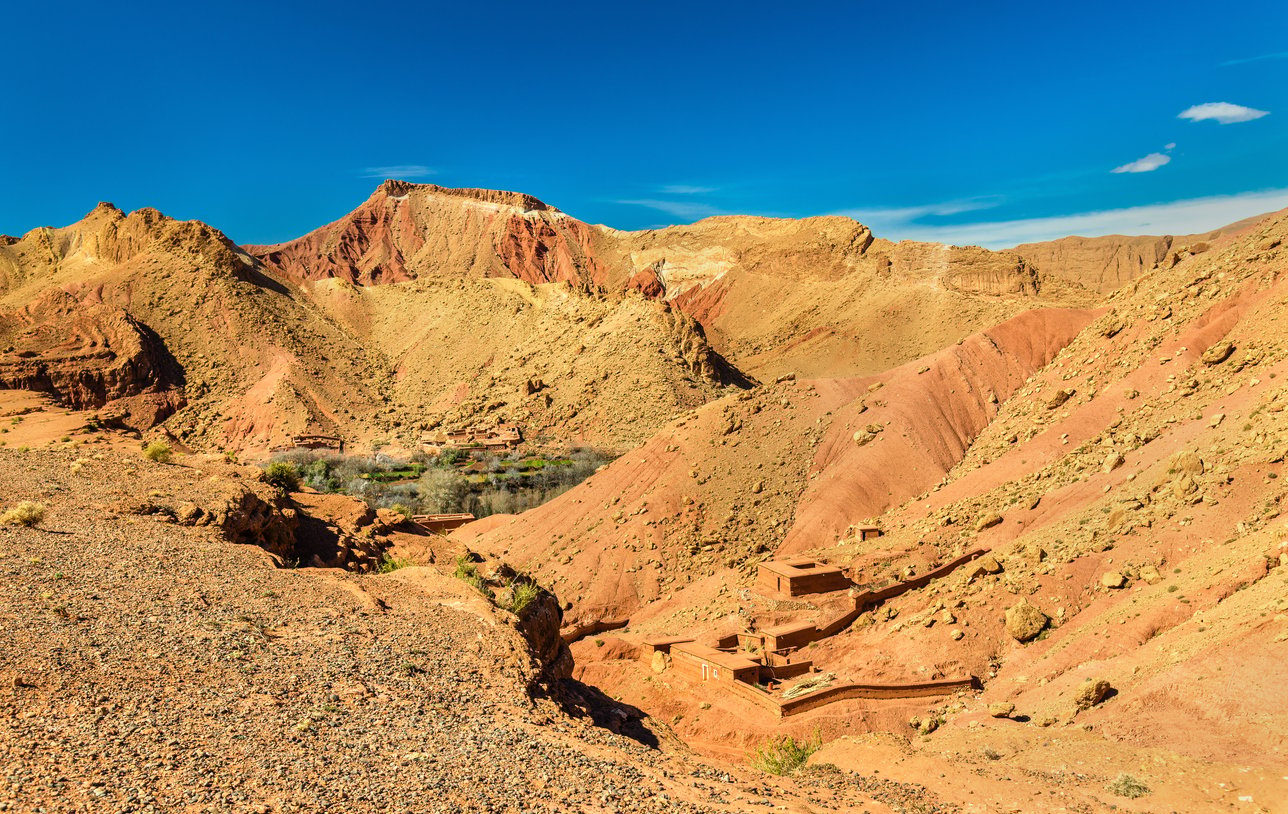 Ouanoukrim, peak number two, is very close to Toubkal – so you could do them both in the same trip. M'Goun is much further east in the High Atlas. It is part of a spectacular long ridgeline all at or above 4000m. You can pick which bit of the ridge you want to do based on your experience and the time available. Of course, there are loads more options for trekking the High Atlas.
The Middle Atlas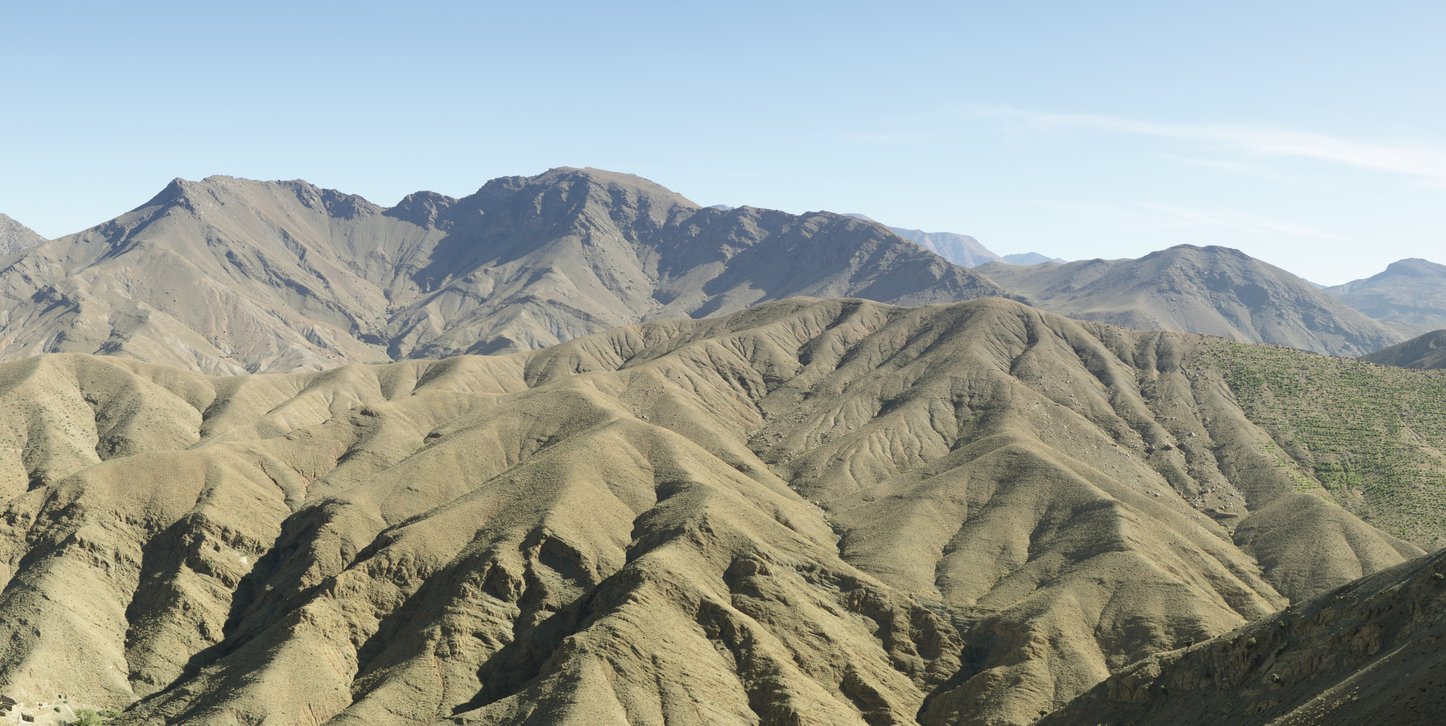 Although the peaks don't reach the lofty heights of the High Atlas, the Middle Atlas has its own charms. For example, Ifrane National Park is genuinely referred to as "Little Switzerland". It's got a ski resort and everything. The mountains are just the right height to make the climate seem alpine… and it's convincing! Not something you might've expect to find in Morocco.
In amongst this alpine terrain is an area known as the Land of the Lakes. It makes for pleasant lower-level trekking, like you might find in the alpine areas of Europe. Lake Ouiouane is a particular highlight. This artificial lake is fed by natural springs and sits at 1600m, with the Atlas Mountains as a backdrop.
The Anti Atlas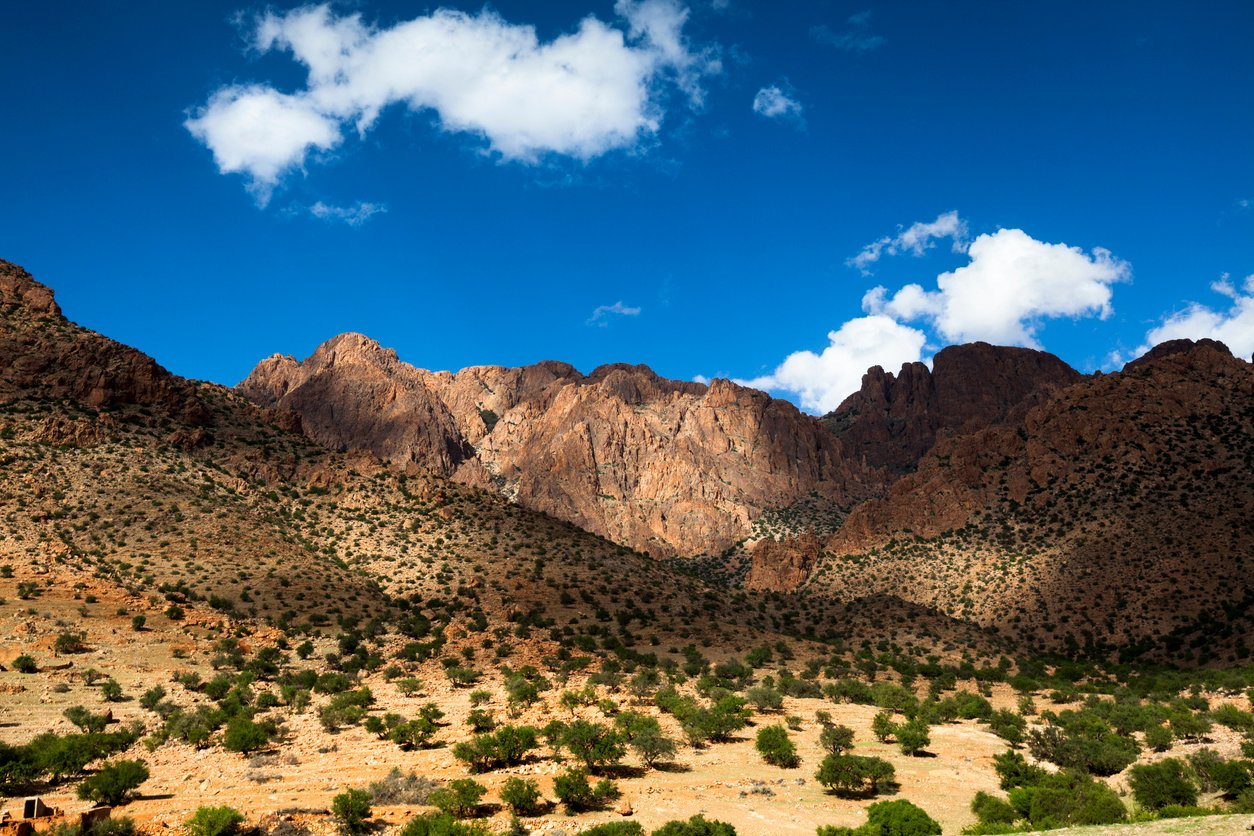 Trekking in Morocco's Anti Atlas is a completely different experience. People liken its arid and unusual terrain to walking on the moon. The Anti Atlas are much lower mountains than their counterparts, reaching 3304m at the highest. Not that that's anything to be sniffed at! Walks and scrambles in the Moroccan Anti-Atlas mountains are some of the most popular in the country.
Jebel Sirwa is that highest peak: an extinct volcano. The hike is difficult and rocky underfoot, often through boulder fields, but well worth the effort. Another interesting peak is Jebel El Kest, known as the Amethyst Mountain. It has a wonderful long quartzite ridge and a pyramidal summit that can be reached by scrambling.
If peaks aren't so much your thing, the Ait Mansour Gorge is a welcome break from the barren landscape. The gorge is often impassable in winter because of flooding – allowing a pocket of lush vegetation to grow there in summer months. You can trek the 10km valley through palm groves and and olive trees.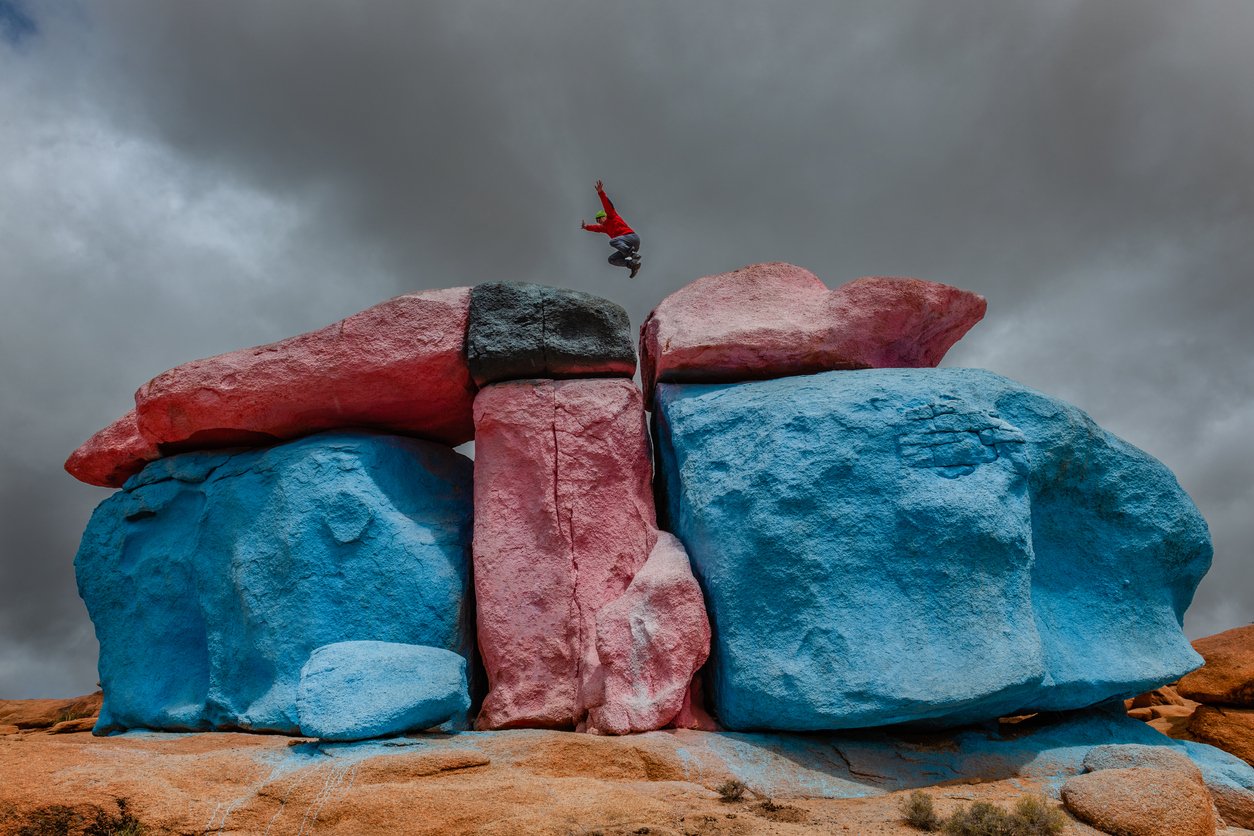 We can't talk about the Anti Atlas without mentioning the weird painted rocks. The blue painted rocks of Agard-Oudada are getting a bit famous (yes, some of them are pink too). They were first painted by Jean Verame, a Belgian artist, in 1984 as a tribute to his late wife… as you do. Luckily he had the help of a team of firemen to spray the paint through fire hoses.
Rif Mountains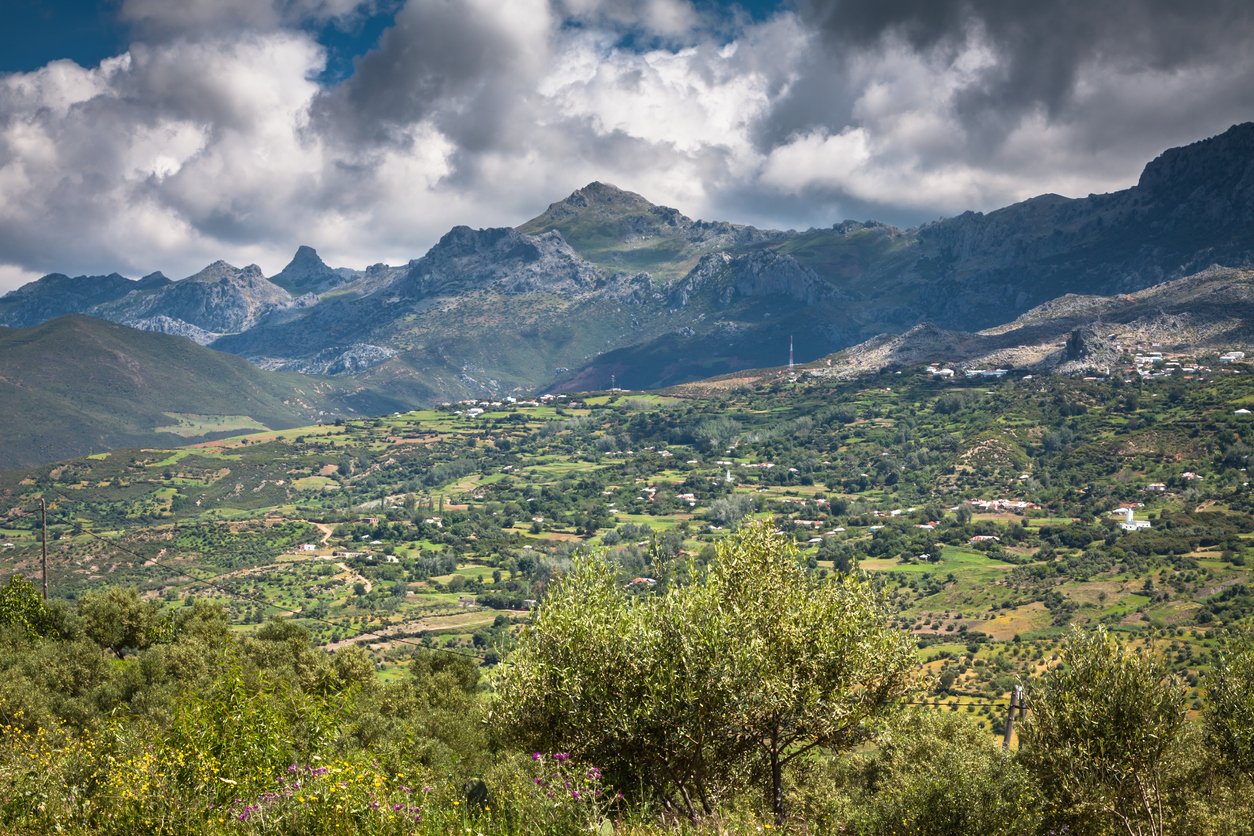 Despite its beauty, the Rif Mountains are the least well known trekking area in Morocco. The landscape is very different from the other arid mountains further south. Here, there are limestone cliff and gorges, reaching all the way out to the Mediterranean Sea. Mountains on the coast are always exciting.
The Rif Mountains are also home to Talassemtane National Park. The cedar forests there are criss-crossed with Berber mule tracks, so lots of paths to hike on! If it's a real remote experience you're looking for, trekking the Rif mountains could be for you. Er… and you're very likely to come across cultivated cannabis whilst you're there.
Sahara Treks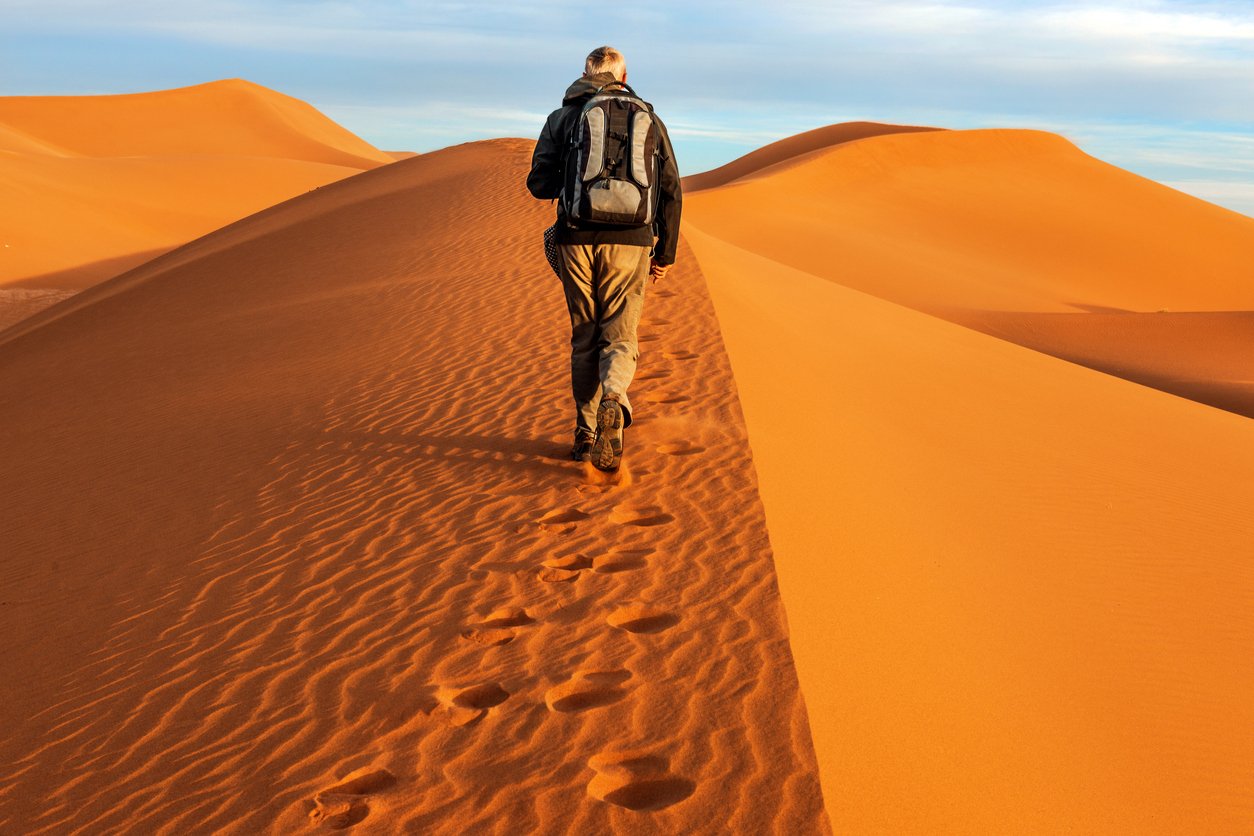 Then, of course, there's sand. If the idea of trekking across huge dunes with a camel sets off your adventure sensor, then where better than the Sahara desert? There are lots of opportunities to trek across the Sahara. Many camel treks are available from M'Hamid, the last outpost of modern civilisation before the desert. Here the road ends and the sand begins. You could trek across the Bousnaina Plain to Erg Chigaga or start at Zagora and trek across to M'Hamid.
Inspired? Check out our full range of adventure holidays in Morocco!