Europe Adventure Holidays
Despite being the second smallest continent on the planet, European adventure holidays are incredibly varied. It's got mountains, coastline and fjords (the Scandinavian answer to a bit of both). You can cross snow-covered plateaus, ride wild rivers or sleep under canvas below a canopy of stars. Europe has seas on three sides - okay, kind of four if you count the Caspian Sea - and is separated from Asia by waterways and mountain ranges. The highest peak on the continent is Elbrus at 5642m. This is the one that makes it to the Seven Summits list, but there has always been a dispute about exactly which side of the border it falls and whether it should really belong to Russia. Otherwise, Mont Blanc at 4810m is squarely inside Europe.
As anyone who's had an Interrail ticket will tell you, Europe is very well connected by train. Whether that's the highly coordinated Swiss system that syncs with the buses or the dirt-cheap Albanian trains that make a whole European adventure of their own. But getting about by public transport is generally not a problem. They're even talking about launching European sleeper trains connecting big cities via Paris, so watch this space.
And since you're clearly an adventurous soul, simply by being here, we ought to point out some other very useful long-distance routes for your European adventure. In particular, on foot and by bicycle. The EuroVelo cycle touring routes link all corners of Europe in a network of routes. Whether that's the 7500km Mediterranean Route along the coast from Spain to Cyprus, or culturally inspired like the Iron Curtain Trail and the Via Romena. You can even connect the tip of Italy to the top of Norway on the Sun Route. Similarly, the GR hiking routes form a comprehensive network of waymarked trails. They are mostly in western mainland Europe, but other long-distance trails, like the Via Dinarica, exist further east. The E-paths combine local trails across at least 3 countries, to similar effect as the EuroVelo bike routes. Pilgrimage trails like the Camino de Santiago are the popular equivalent of hiking a US national trail.
Europe has a wide mix of cultures. With over 40 countries on the continent, that's no surprise. There is a long history of classical civilisations, especially ancient Greek and Roman in the west. The east, with its proximity to Asia, has a mix of cultural influences including Ottoman, Eastern Orthodox and Byzantine. Which is great if you like your adventures with a slice of culture on the side. In terms of languages, although most countries have their own, a lot of English is spoken in western and central Europe. Plus many people speak multiple languages. There's nothing like encountering a tri-lingual local who's learning Arabic for fun while you fumble through trying to buy a baguette.
Europe is in the northern hemisphere, so summer months are roughly June to August and winter is roughly December to February. But let's not forget there's a huge spread of latitudes across the continent, from up inside the Arctic Circle to almost touching Africa. Snow boots and polar bears at one end and beach tapas at the other. It's well worth checking the best time to go to particular countries, especially if you have particular European adventure holidays in mind. For example, the Alps can be dangerous in April time as the winter snow melts and causes avalanches. But if you've got a set time of year and can be flexible with location, you can find pretty much any adventure holiday you like within Europe. Plus most countries have adventure activities all year round. Different ones, sure. But adventures nonetheless. And with lots of countries so close together, it's very easy to string together a series of trips for an extended adventure extravaganza.
With adventure holiday destinations Europe-wide, it's hard to pull out just a few specific places. But here are a few ideas of the sorts of places you could start your multi-activity holiday or adventure in Europe.
Mountains
There are lots of mountain ranges across Europe. The main ones are the Alps, Carpathians, Caucasus, Apennines and Scandinavian Mountains. But, of course, there are plenty of smaller mountainous areas too. You can experience them all year round - whether that's trekking in the foothills or scaling peaks, alpine mountaineering or a cheeky bit of via ferrata.
Arctic Circle
Norway, Sweden and Finland all spill into the Arctic Circle. The island of Svalbard is completely inside and Greenland is 80% over the line. Iceland just misses out. What makes it cool? Well, anything within the circle has one day or more each year when the Sun doesn't set. Yep: the Midnight Sun. You can feel like a polar explorer, on a cross country skiing expedition pulling a pulk behind. You could cycle where few have ever cycled before: fat biking on snow. Or chase the Northern Lights as they dance above the horizon.
Coasts and Islands
Europe has a lot of coastline, including many islands big and small. You can stick to the coast on a coasteering trip, or choose your craft of choice and head into the waves. The important part is to take note of which sea you're in. Sea kayaking in the Mediterranean is going to be a very different adventure holiday to paddling in the Atlantic.
Wild Rivers
While we're talking about bodies of water, let's give a shout out to the less salty variety. There are all sorts of rivers, canals, lakes and reservoirs to explore in Europe. You could be swimming in a natural pool or throwing yourself down river over white water rapids in your raft. Don your helmet to climb a waterfall on a canyoning trip or grab a stand up paddleboard to explore slower moving waters.
Hike Europe from valley to mountain peak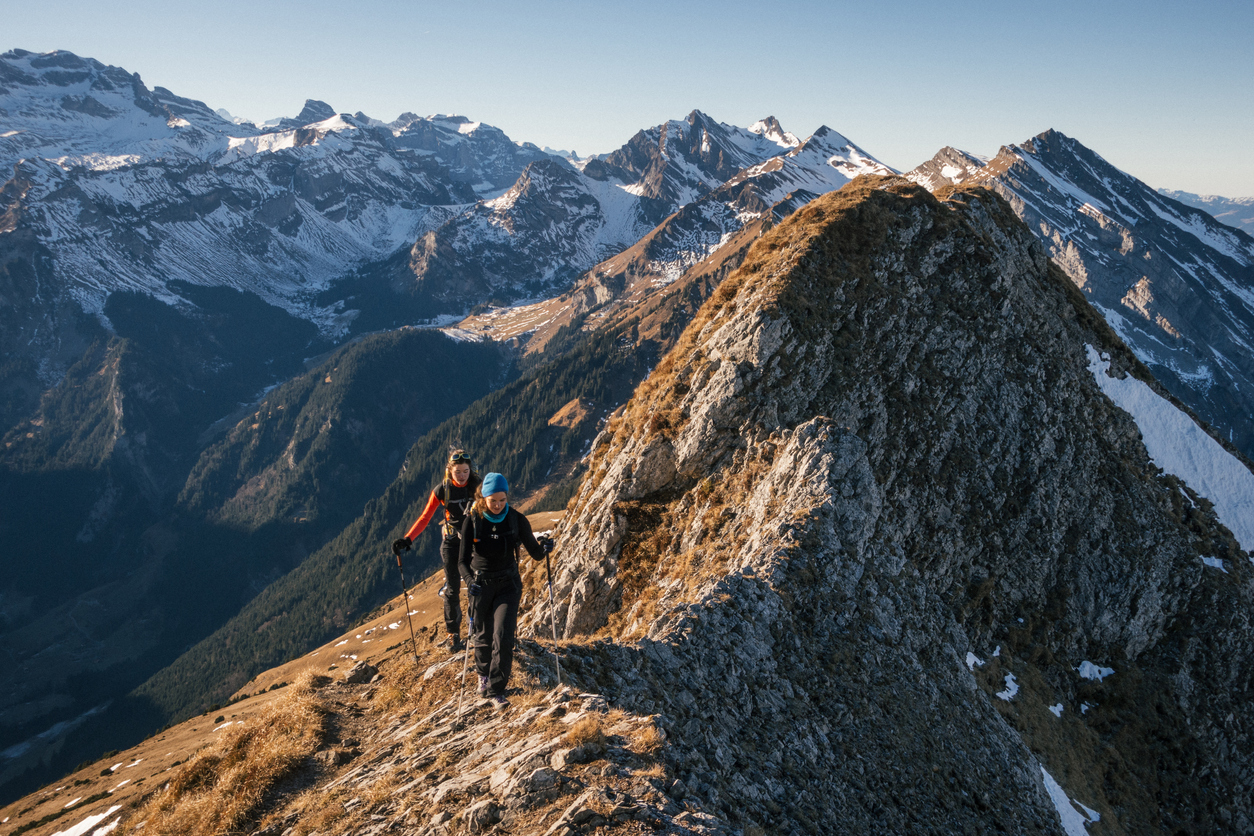 Travelling on foot is perhaps the simplest form of adventure. You see a place slowly, immersed in nature, and can reach places a standard tour never would. With over 10 million square kilometres of Europe and over 400 national parks to explore, you could spend a lifetime of adventures in Europe alone. There is great variety of landscapes too - from the deep valleys of the Dolomites, surrounded by dramatic spires of rock, to the snow-capped summit of Mont Blanc. You could be tracking wild bears in the forests of Romania or Greece, or taking a peak-bagging challenge like the Three Peaks Challenge in Spain or the Welsh 15 Peak Challenge. Or you could retrace the route of the ancient Silk Road across Armenia, stopping off to explore caves on the way.
And that's only scratched the surface of the hiking adventure trips Europe has to offer. There's hut to hut trekking, summit pushes and via ferrata. Never mind mixing it up with other adventure activities if you're a "bit of everything" sort of person. And let's not forget that winter weather can turn a walking holiday into an adventure hike through the snow. Don your snowshoes to get deep into Narnia's earthly cousins - like the Carpathian Mountains of Romania.
Cycling adventures in Europe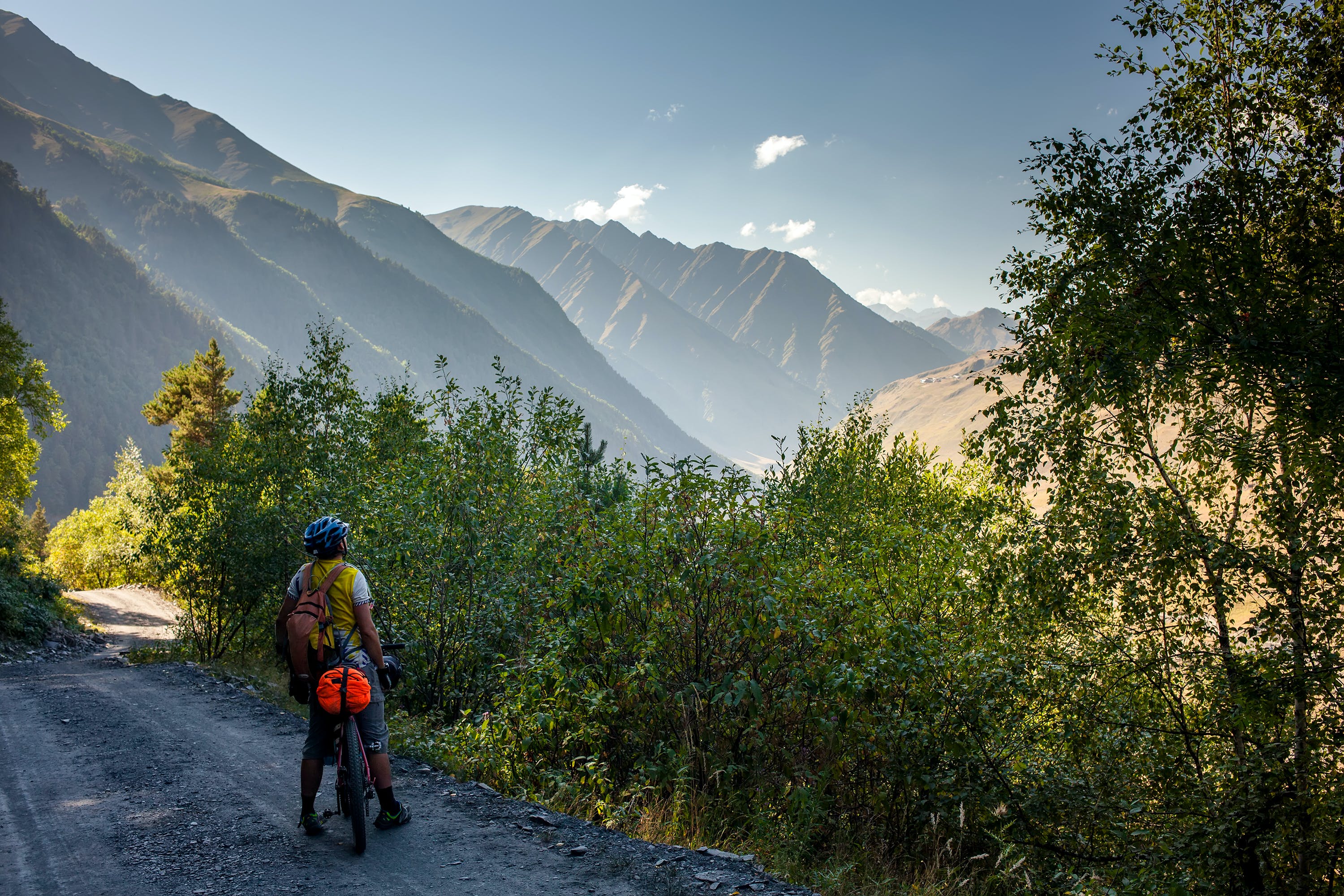 If you want a self-powered journey but hiking seems too slow, it's time to get on your bike. Cycling is the perfect speed to see lots of a country without going so fast that you miss it. There are many flavours of adventure cycling - mostly dictated by terrain and whether you're on tarmac roads, downhill trails or anything in between. Wherever you go in Europe, your trusty steed (read: bicycle) will get you there. For example, you could use a mountain bike to cross the Caucasus Mountains to the Black Sea or take adventure travel to the max on a fat biking expedition, crunching over snow across an Arctic plateau.
Kayak islands, fjords and lakes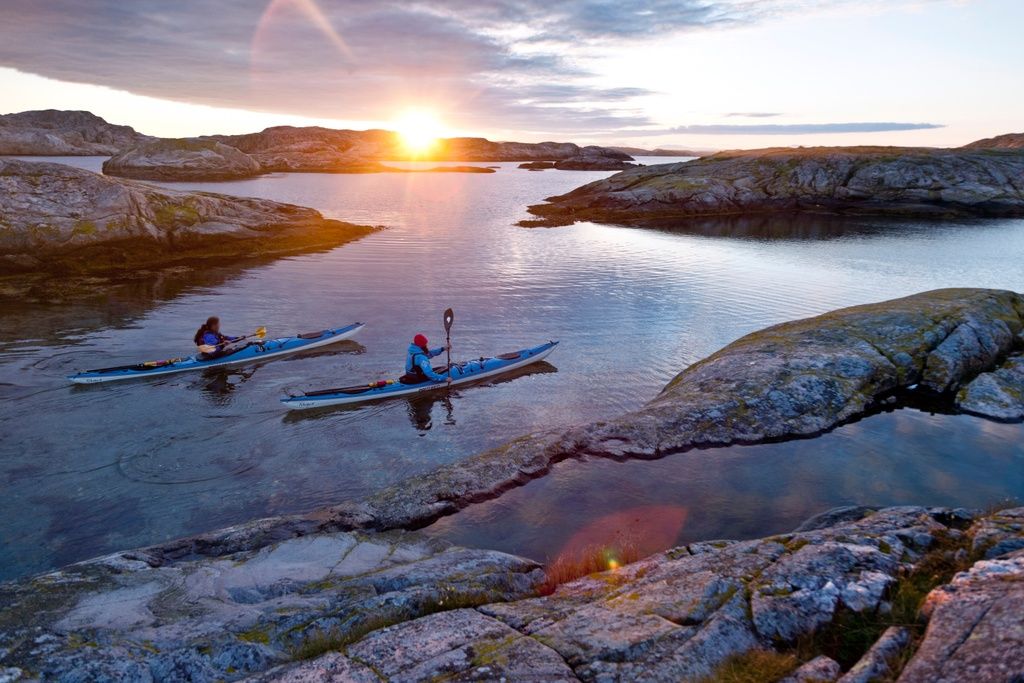 The land is pretty mainstream. Most people spend most of their time on land. So how about an adventure like hiking or cycling, but on the water? Although there are plenty of white water rivers in Europe, there are many coastlines, lakes and calmer rivers to paddle too. Beginners might like to kayak in the fjords of Norway, surrounded by dramatic cliffs on calmer waters. Or you could take on a sea kayaking expedition, paddling between uninhabited islands in the Ionian Archipelago, wild camping on the beach.
Canyoning and coasteering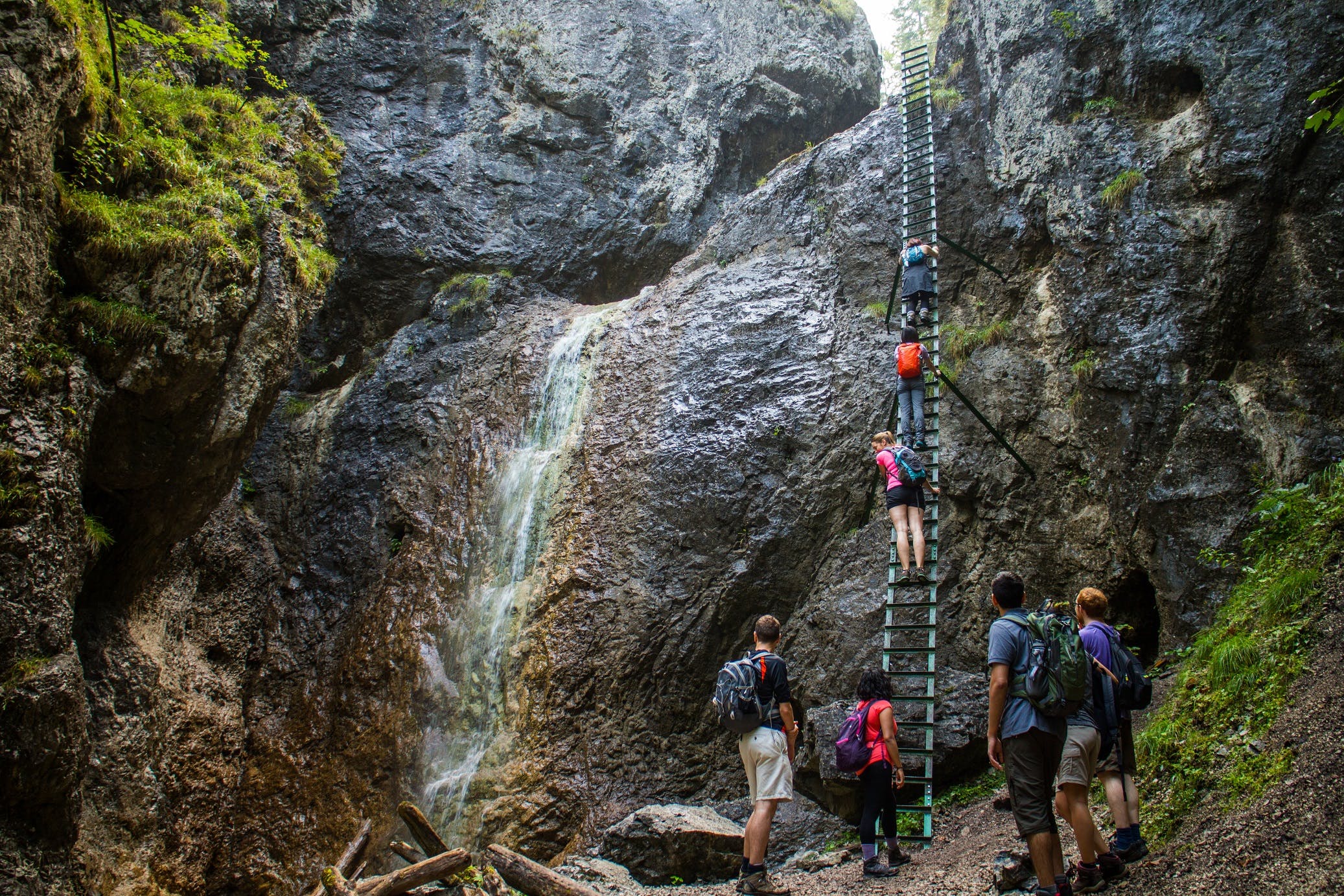 Canyoning and coasteering are a mix of both water and land. It's all about being on the edge, where these two elements meet. You'll be in a small group, geared up with wetsuits and helmets. On coasteering trips, expect to be clambering along craggy coastline, jumping into pools and being splashed by the sea. For canyoning, you'll follow the course of a gorge into places no one else could make it - wading through channels and descending waterfalls. If you want to combine it with other activity holidays, Europe is hard to beat. You could be coasteering on the Cornish coastline of the United Kingdom or canyoning in Bosnia, Albania and Montenegro.
Aurora Hunting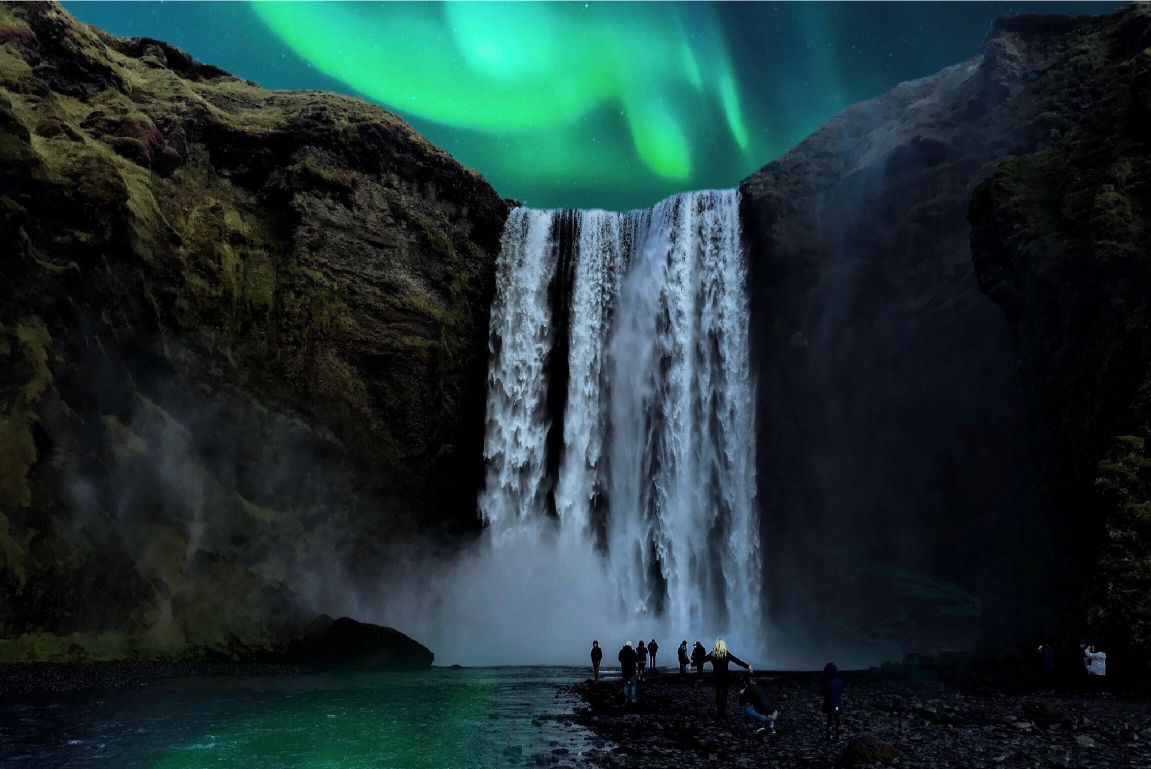 Anyone travelling to northern Europe will hope for a glimpse of the Aurora Borealis, known as the Northern Lights. These greeny-blue colours in the sky can be seen at night in high latitude areas. You're most likely to see them in places like Norway, Iceland and Finnish Lapland. Turn the whole experience into an adventure by mixing aurora hunting with winter hiking, ice climbing, sailing or cross country skiing. You might see the Northern Lights, then snuggle back into your tent for the rest of the night.
White Water Rafting on Wild Rivers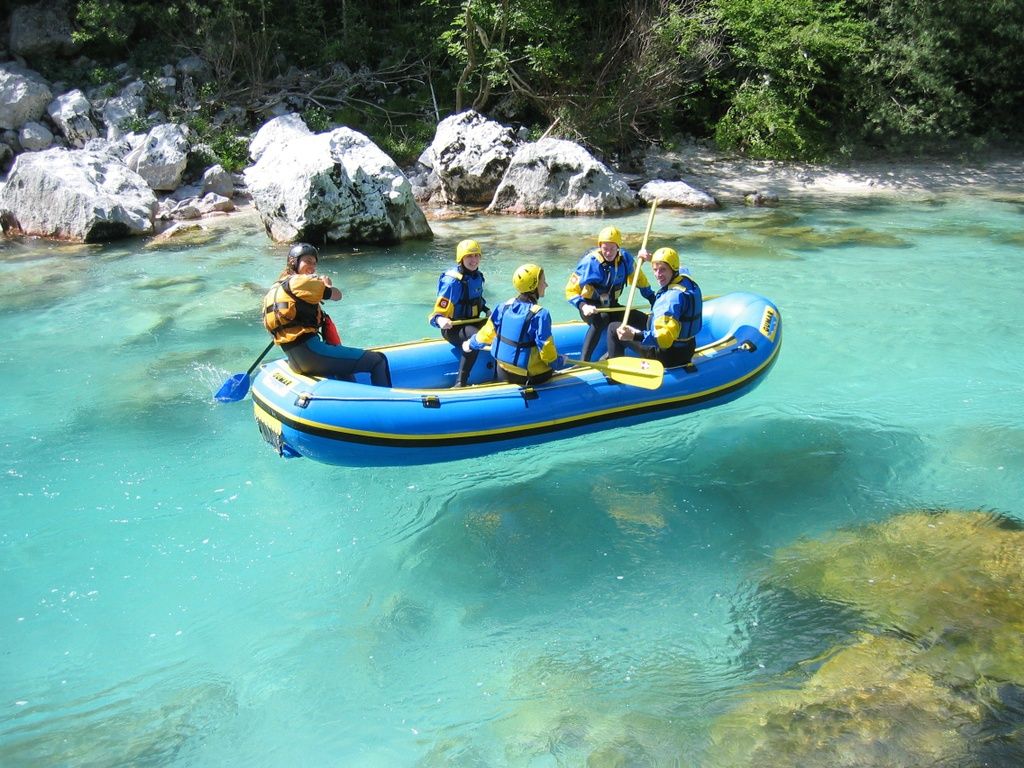 Rafting is one of the classic group adventures for adrenaline junkies - or people who like getting splashed. Join a team of ten and grab a paddle to descend a river, gently over flat water and raucous over rapids. There are many good rafting rivers in western Europe, including the Tara River Canyon of Montenegro and Bosnia, Europe's longest gorge and a UNESCO World Heritage Site. You don't need to have any rafting experience to give it a go - your guides will teach you everything you need to know on the adventure.
Stand Up Paddleboarding by day and night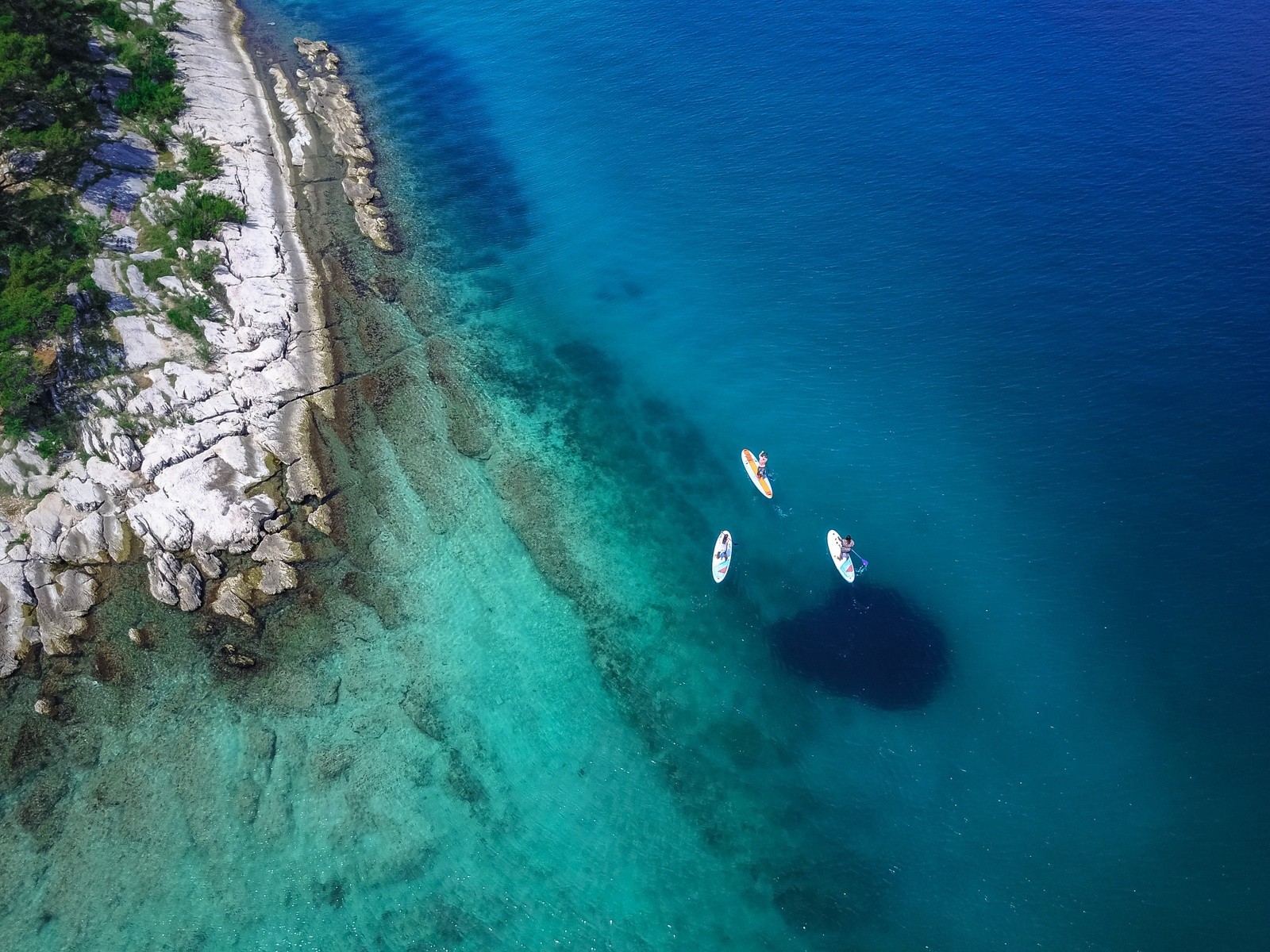 If that all sounds a bit dramatic, maybe a stand-up paddleboarding adventure would be more your thing. You can take flatter, longer routes along waterways across Europe. There are plenty of rivers, canals and lakes to choose from. You could explore the vivid waters of the Emerald River by SUP. Paddle between narrow canyon walls and float across wide-open pools. Yoga on the board is definitely an optional challenge.
You can even paddleboard off the coast of Croatia. For something really special, paddle the Dalmatian Coast at night on a glowing SUP board. Hit the water at sunset and paddle on under the moonlight.
Surf and wild swimming adventures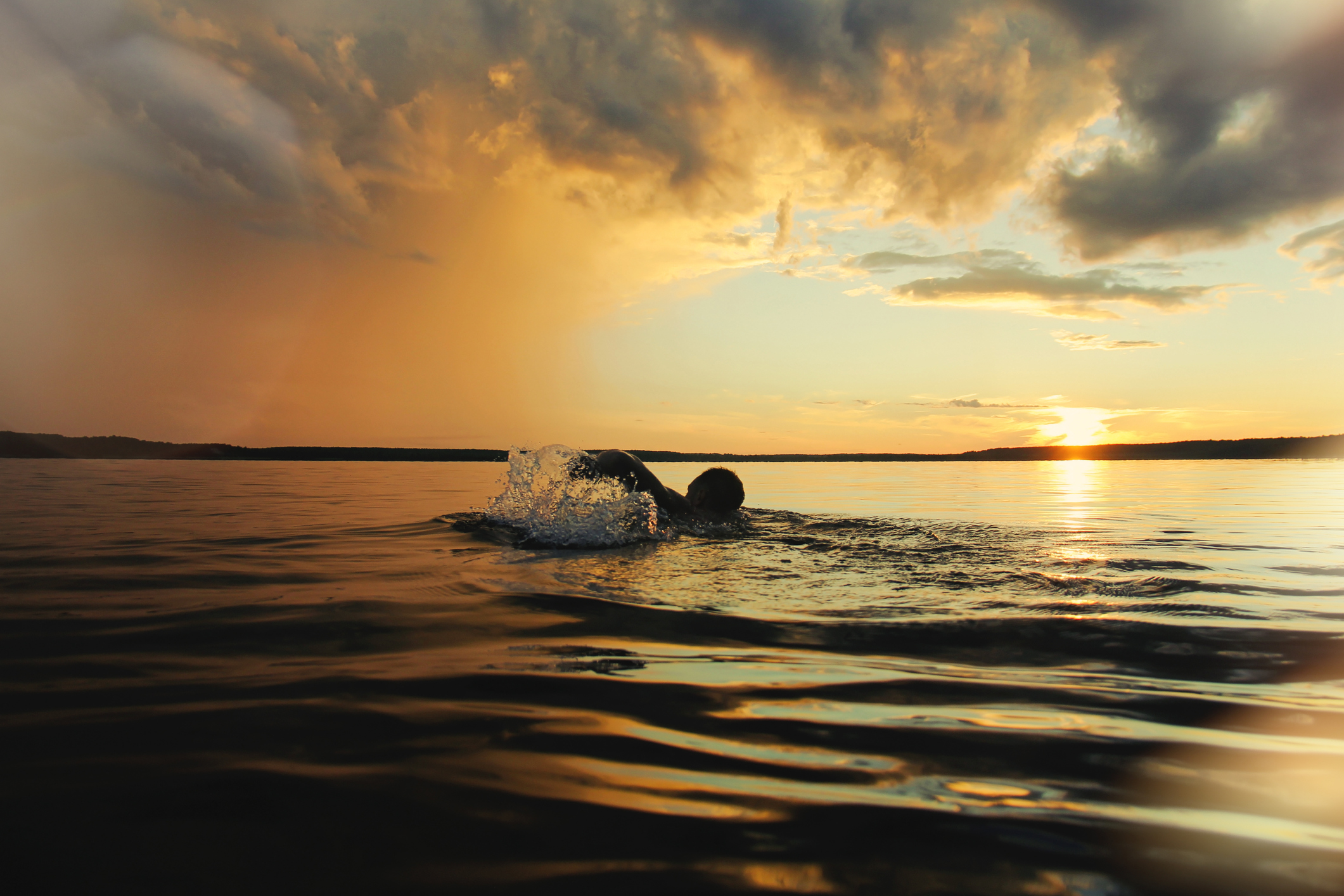 For an outdoor adventure that's more about being in the water itself, take a look at surfing or wild swimming. You could channel your inner surfer dude by learning the surfing basics off the coast of Cornwall on a short break and camping in the woods overnight. Or try a wild swimming adventure holiday, taking dips in outdoor pools across Europe. Swim in the iconic alpine lakes of Slovenia or hike through gorges to hidden wild swimming spots in Crete. Or combine hot and cold in Sweden: swim in secluded lakes surrounded by forest, then jump in the sauna to recover.
Wildlife Adventures and European Rewilding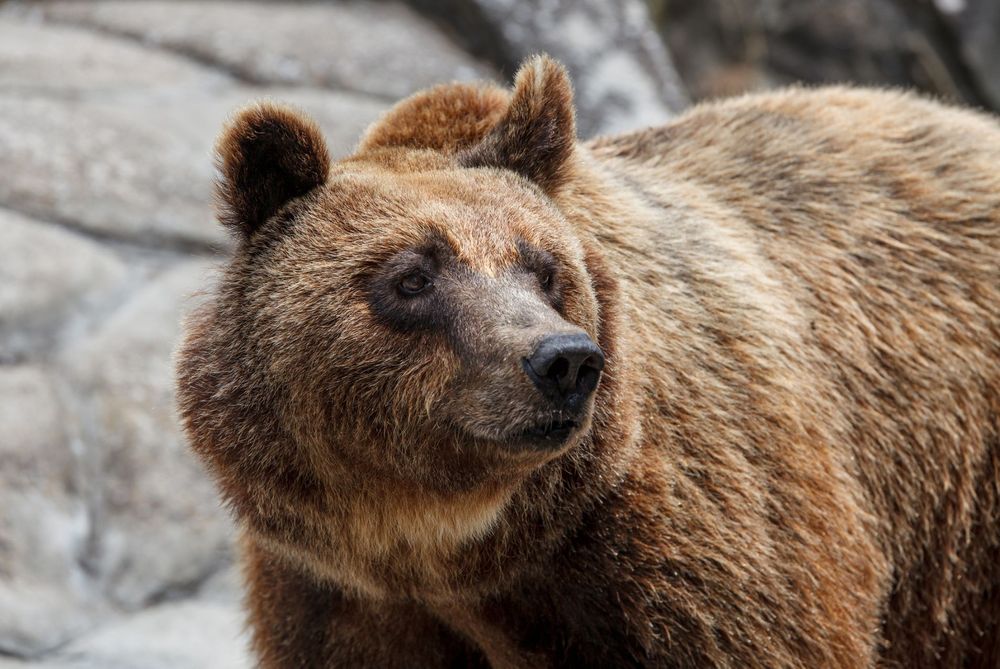 As well as having many national parks and biosphere reserves, Europe is developing rewilding schemes and conserving endangered animals. By combining your adventure with wildlife, you'll be supporting the conservation efforts and projects behind them. You could be tracking wild bears in Greece or bison in Romania's Tarcu Mountains. You could walk in the winter woods of Italy, waiting to spot a wolf. Or hone your bushcraft and tracking skills in Sweden to try to find the King of the Forest: the mighty moose.
Magazine
Read all about it