The best kayaking destinations in Europe showcase the astonishing diversity of its watery environments, from Arctic fjords to Mediterranean islands. Selecting just 20 was nigh-on impossible, especially considering Europe boasts around half a million lakes, over 150 transboundary rivers and is surrounded by four different seas. But we finally narrowed it down to the most epic options we could find.
The routes we've selected are deliberately distinct from each other, including seas, lakes, rivers and white water. They cater to a wide range of tastes and abilities. Intrepid adventurers will be drawn to the glacial fjords, volcanic peaks and midnight sun of the Lofoten Islands; those wanting to unwind might prefer the calm seas around Sardinia. Short of time? We've got options in Wales and Scotland. White water junky? It's the Class V rapids of Slovenia's River Soča for you!
This list isn't exhaustive - it's just a starting point. Of course, you'll need to do more location research and get a good local guide to stay safe.
We hope it inspires you to plan your own kayaking adventure (or canoeing or even packrafting, if that's what floats your boat). We've selected most destinations with multi-day trips in mind, but of course these can be broken down into shorter paddles. Have a scroll through the list and see what strikes your fancy.
1. Nærøyfjord, Norway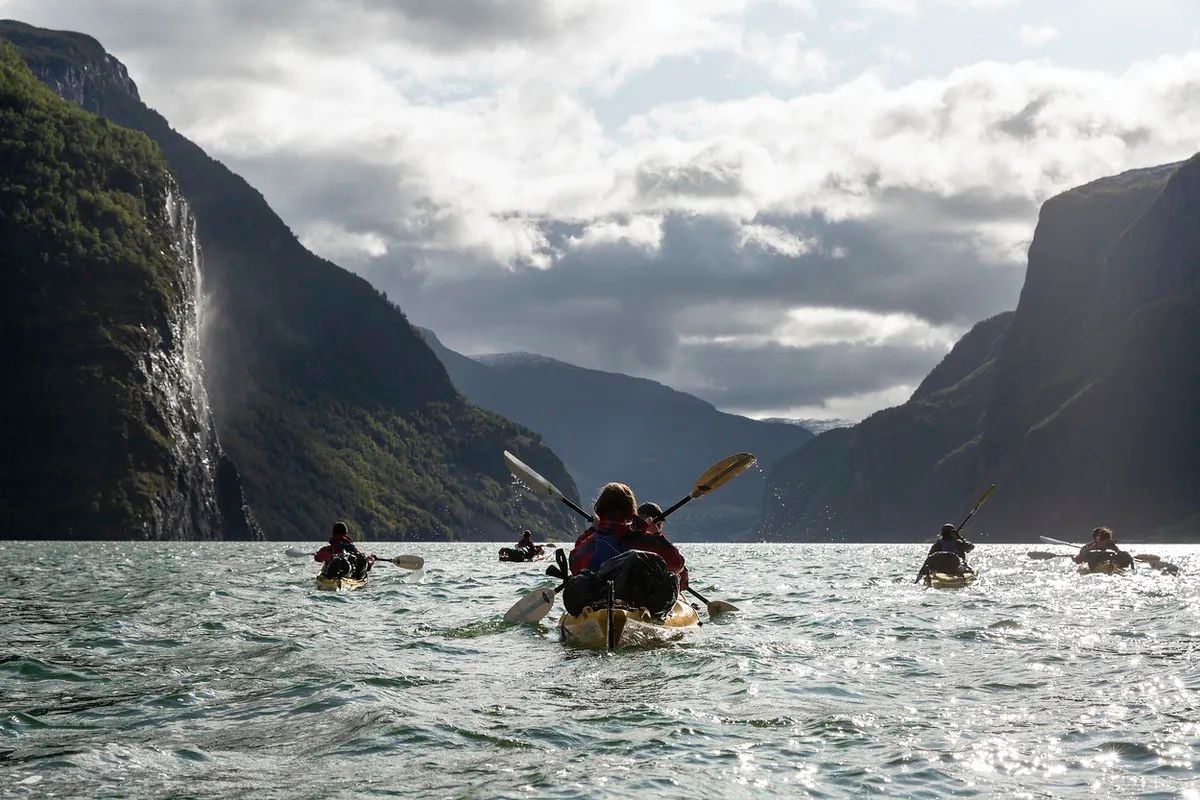 Perfect for: intrepid adventurers who want to combine paddling remote waters with mountain hikes
Sognefjorden - also known as the 'King of the Fjords' - is the largest and deepest fjord in Norway. This UNESCO-designated waterbody stretches for 127 miles from the ocean into dramatic Vestland country, and in places is 1300m deep. Nærøyfjord is one of its wildest and most remote arms - paradise for kayakers wanting to get off the beaten track.
In some places, Nærøyfjord is only 250m wide; steep mountains rise up dramatically on either side, ascending up to 1800m high. Remote farms cling to the slopes, and powerful waterfalls cascade down to the waters below.
Gudvangen, a small village at the mouth of the fjord, is the best place to enter the water. Kayaking expeditions can be as long as you'd like to make them, as Nærøyfjord is connected to hundreds of miles of waterway. If you only have several days, Nærøyfjord will more than satisfy your urge for calm water and wild scenery. Take advantage of Norway's permissive attitude to wild camping, and pitch up on the banks of the fjord. That way, you can combine kayaking with a hike in the mountains surrounding the water.
2. Porto Conte Regional Park, Sardinia
Perfect for: sun-seekers wanting a relaxed paddle in balmy weather
If cold northern waters aren't your thing, we recommend heading south to the balmy Mediterranean island of Sardinia. The Porto Conte Regional Park covers 50,000 hectares of coast and hinterland near the town of Alghero. The shoreline consists of isolated sandy bays and sheer limestone cliffs - Capo Caccia is particularly dramatic.
Spend your days kayaking the glassy waters, exploring the rugged coastline and dramatic grottoes the region is renowned for. There are plenty of beaches where you can disembark for a picnic, to swim or snorkel, such as the picturesque Cala Dragunara.
Wild camping is prohibited in Sardinia, so we'd recommend staying in one of the agriturismos (farmhouses) near the national park. There are several within walking distance of Spiaggia di Mugoni, a beach with several kayak rental options.
3.  Sound of Arisaig, Scotland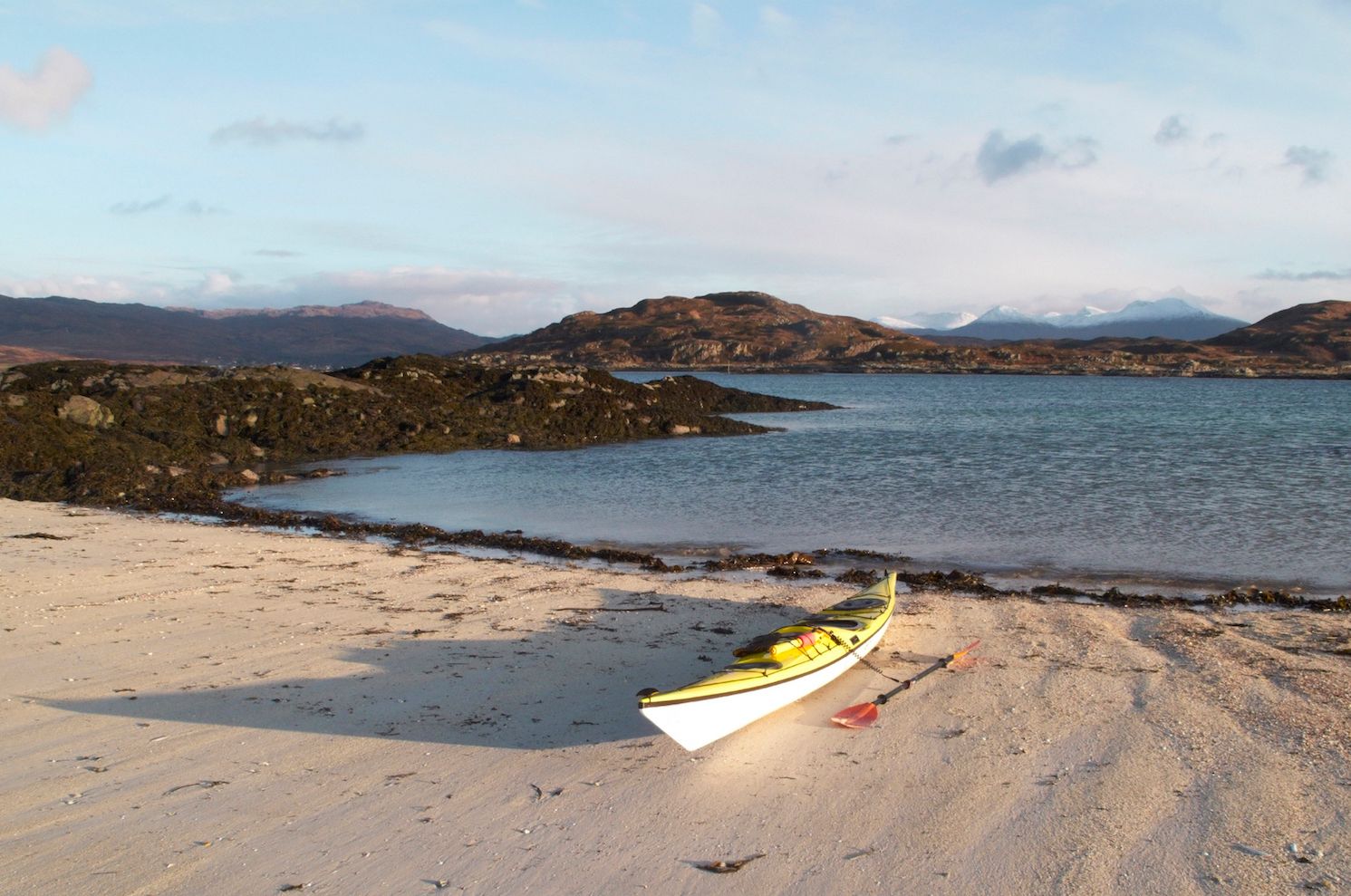 Perfect for: wildlife watching (you'll share the waters with otters, seals and sea eagles)
You'll find the poetically named Sound of Arisaig on the west coast of Scotland. It's a body of water separating the Arisaig and the Moldart peninsulas, studded with rocky islets known as skerries. It's prime kayaking territory, offering a compelling mixture of calm waters and more exposed headlands.
You'll kayak through sea lochs, passing deserted white sand beaches and rugged skerries. Keep your eyes peeled for otters, seals and seabirds such as terns, petrels and sea eagles. As wild camping is permitted in Scotland, it's possible to make this into a multi-day expedition (either independently or as part of a guided group).
4. Saint Anna Archipelago, Sweden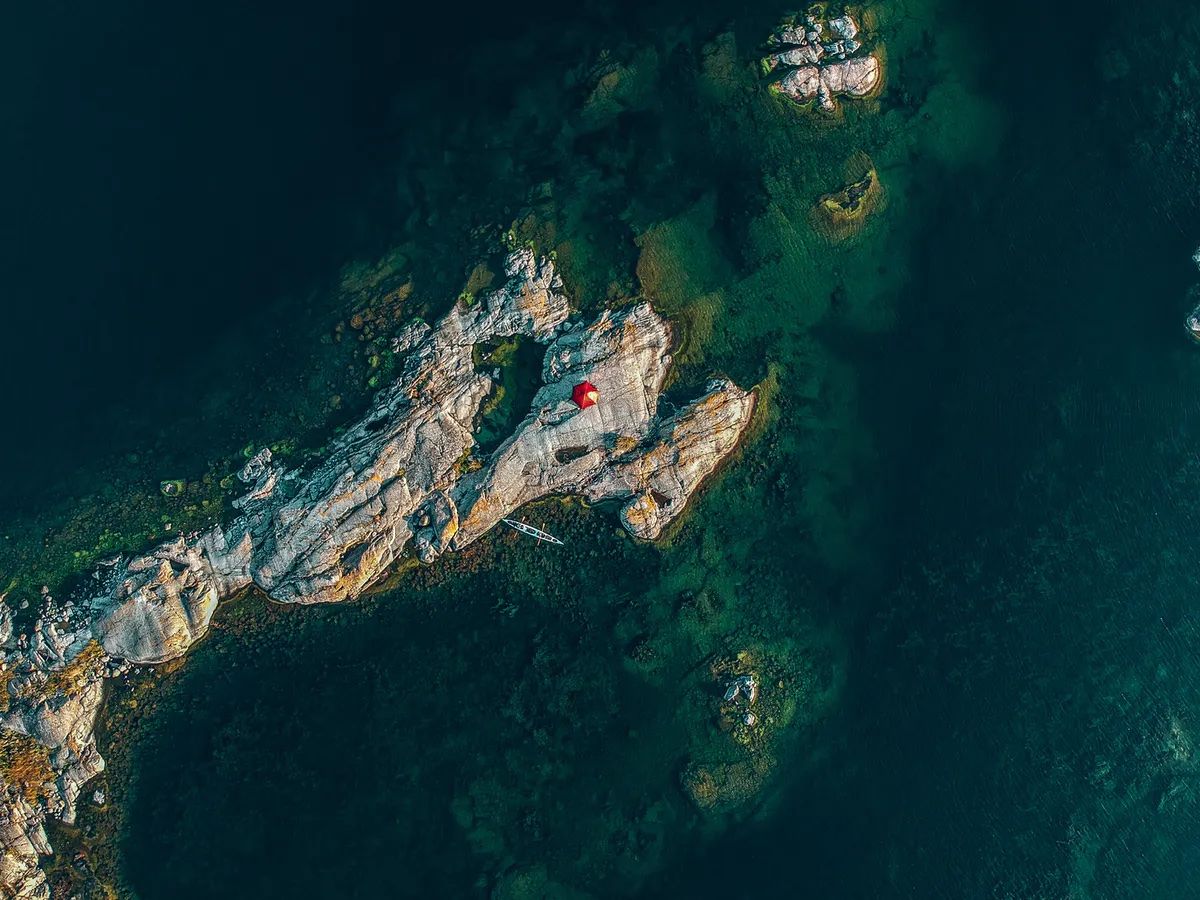 Perfect for: anyone wanting to indulge in fantasies of being a castaway
Did you know that Sweden has more islands than any other country in the world? 221,800, according to Statista. They're formed by post-glacial rebound - the country was covered by a thick ice sheet which caused parts of the landscape to sink. The ice sheet has long melted, but the islands are still rising, at the rate of a few millimetres a year.
Saint Anna Archipelago - on the east coast, south of Stockholm - is an archipelago of 6,000 islets and islands, many of which are uninhabited. It's a dream kayaking experience, as you are allowed to pull up and camp wherever you like.
The islands are astonishingly diverse too. Some are verdantly forested, others are barren outcrops; you'll find sandy beaches and rocky bays. There are several towns scattered across the archipelago, including historic Harstena, with restaurants and traditional bakeries that make for perfect pit stops.
5. Vjosa River, Albania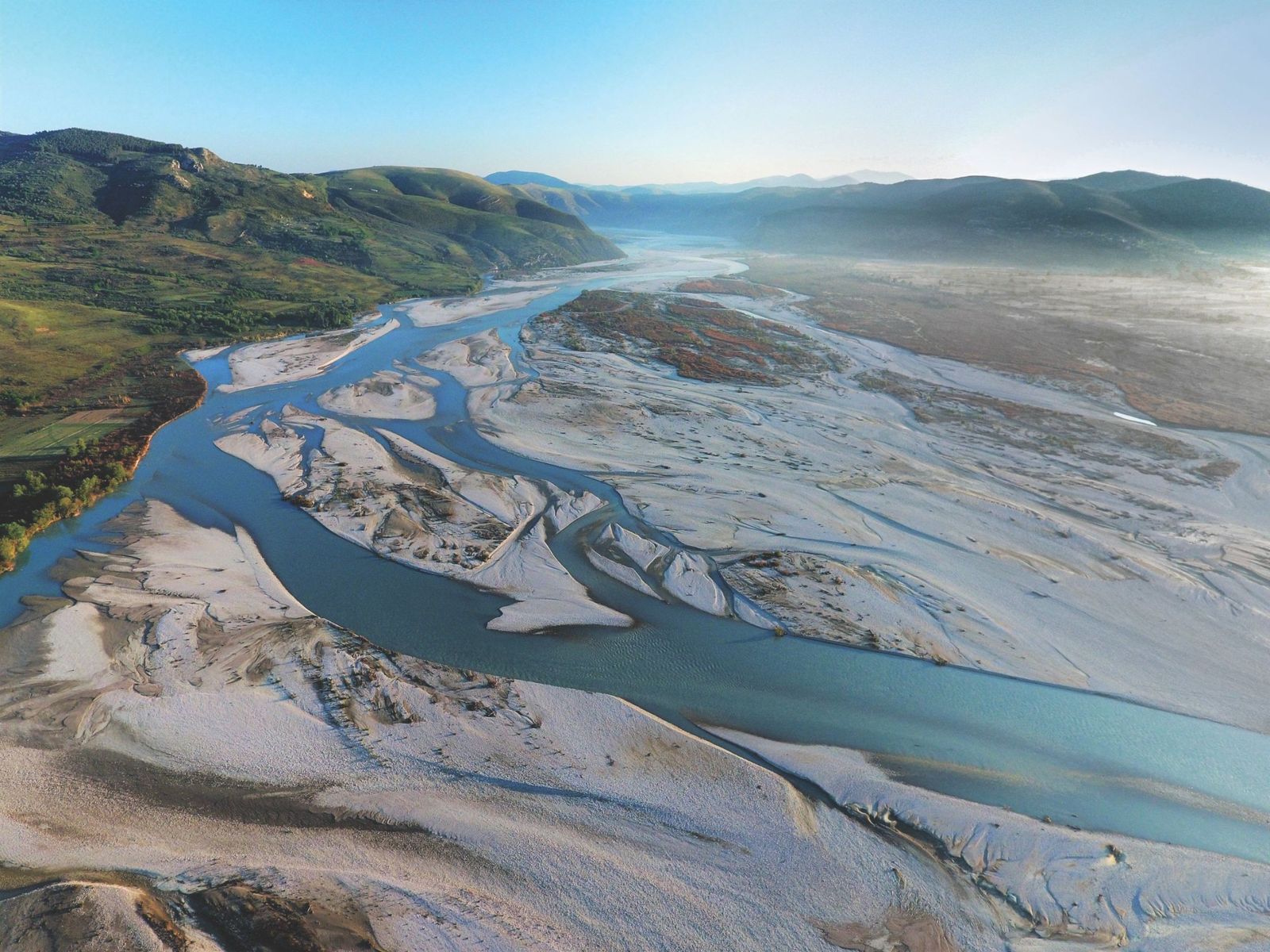 Perfect for: paddlers in search of Europe's last wild river
The Vjosa is a glorious, free-flowing 169-mile stretch of river that runs from Greece through Albania and out to the Adriatic Sea. Having never been dammed, it's a biodiversity hotspot - and one we've been helping fight to preserve for years, through our Adventures not Dams project. Environmentalists and local residents are campaigning for the creation of a Vjosa National Park. You can help simply by visiting, and highlighting the potential for adventure tourism in the region.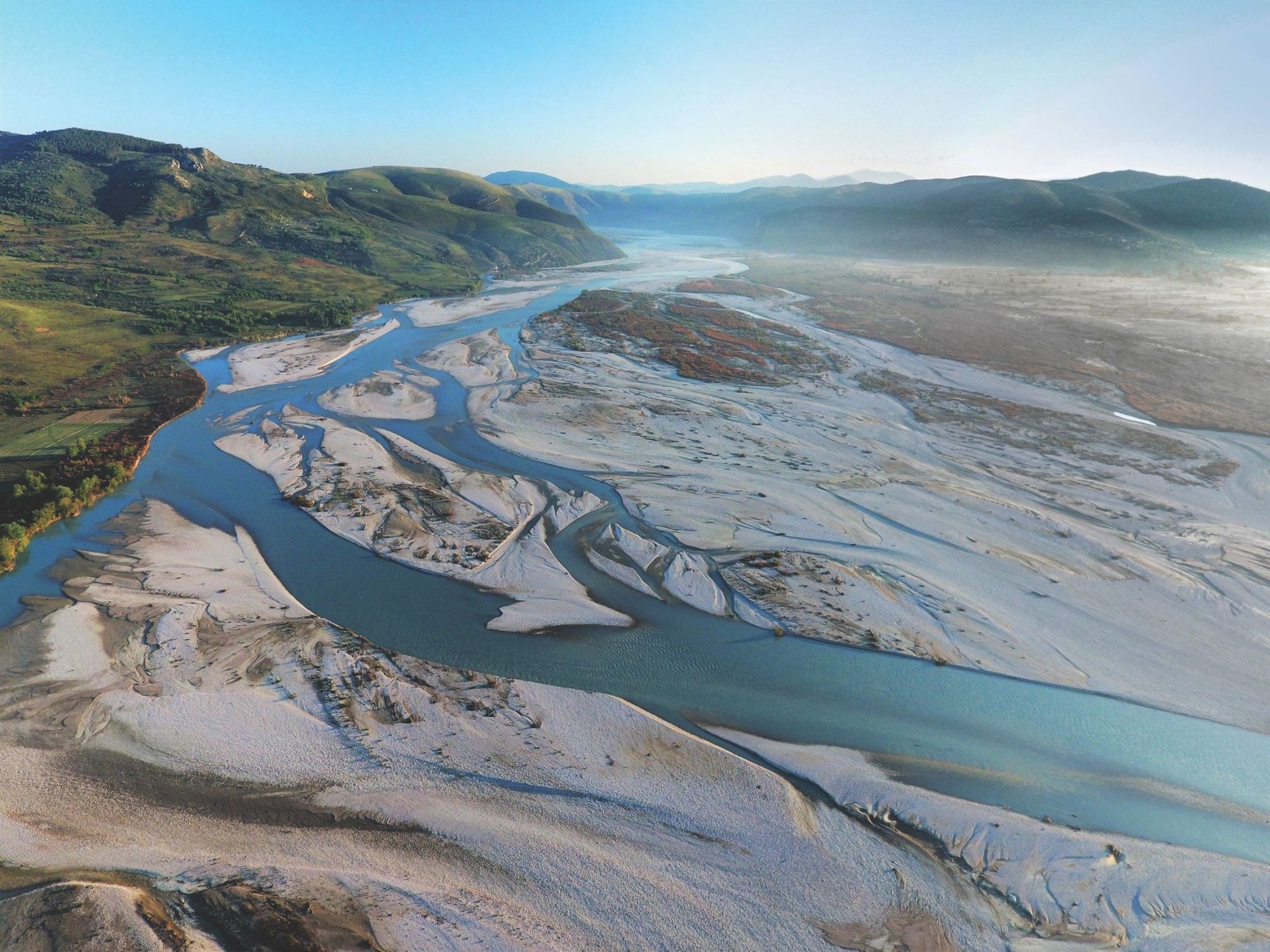 Considering the length of the river, there are plenty of kayaking spots to choose from. Several intrepid adventurers have travelled its length over several weeks of paddling, but we'd recommend beginning your journey in Përmet, where several local operators offer kayaks for rent and guided expeditions. The clear turquoise river is surrounded by rocky canyon walls and forested slopes. You'll enjoy calm stretches of river interspersed with several Grade II and Grade III rapids.
6. The Pelion Peninsula, Greece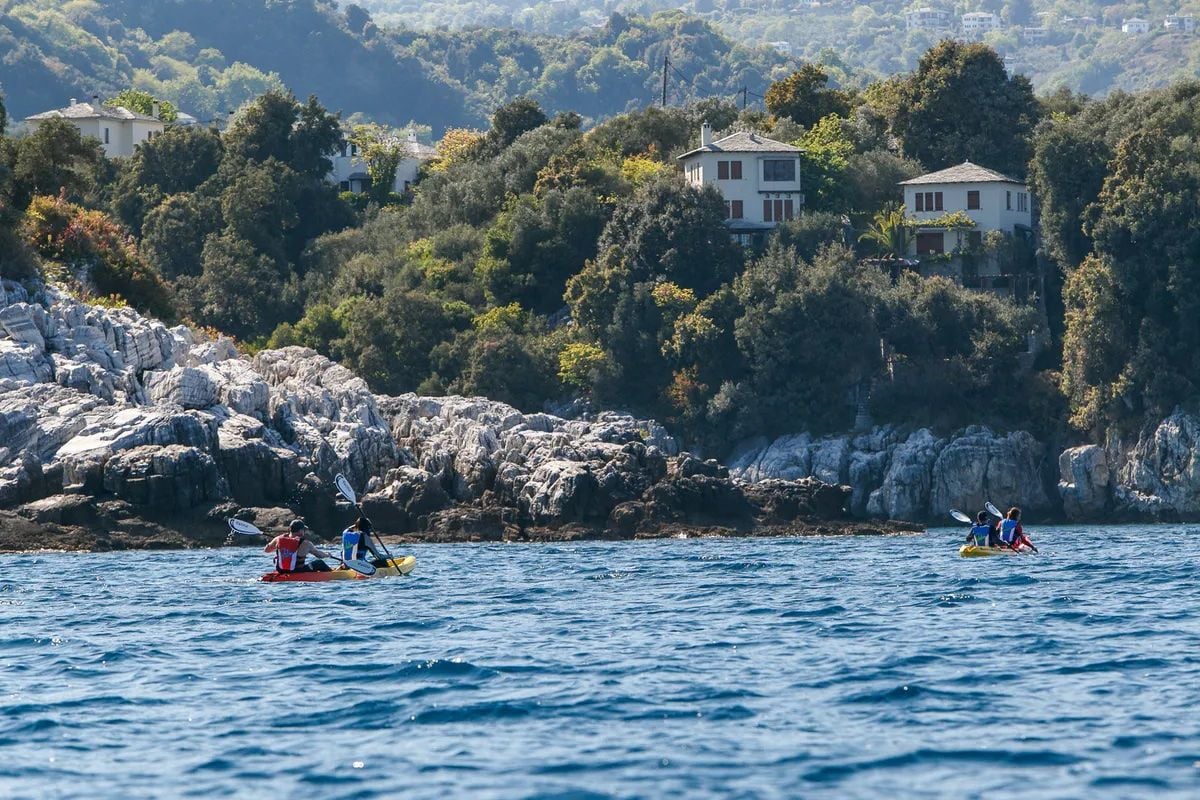 Perfect for: Grecophiles in search of new areas of the country to explore
The Pelion Peninsula is a hook-shaped spit of land in southeastern Thessaly, Greece, formed by the dramatic mountain range, Mount Pelion. The slopes are carpeted with forest, crisscrossed with hiking trails and dotted with peaceful whitewashed villages. The rocky coastline is speckled with beautiful, deserted beaches.
There are several put-in spots where you can start your journey. Damouchari Harbour - the picturesque setting of the Mamma Mia movie - comes highly recommended. Head north and you'll find the natural pools of Damouchari; the crystalline water is an ideal spot for a dip.
Head south and you'll discover the sea ​​cave of Panagia Megalomata, where you can kayak under curved walls of rock studded with stalactites. It's worth disembarking to check out the small sea shrine and the ruins of Hidden School, a cave where a hermit used to teach the local children in the 17th century.
7. Zrmanja River, Croatia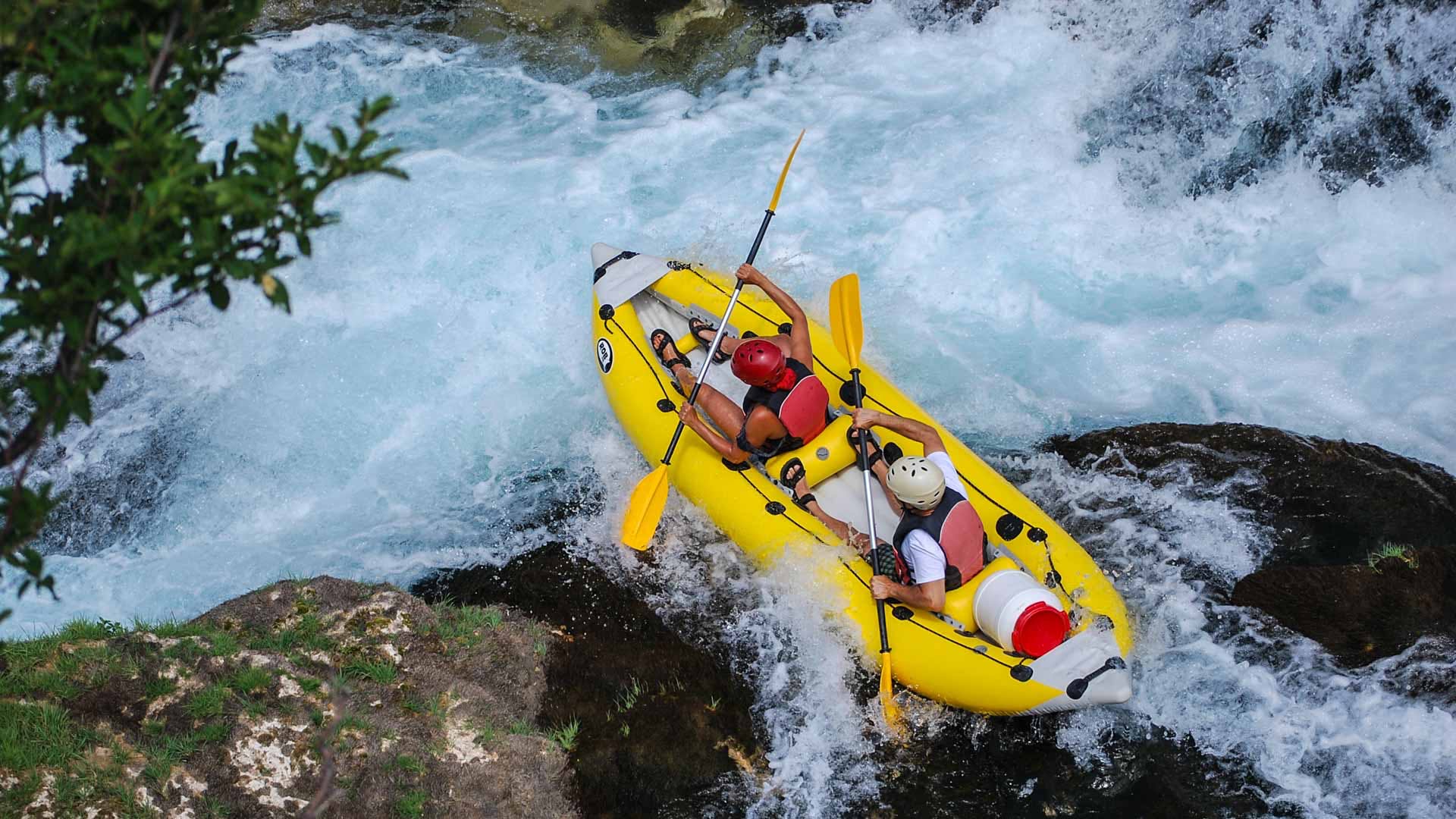 Perfect for: white water and wild camping
Croatia is known for its glassy seas and offshore islands, but for something a little more intrepid, try kayaking the Zrmanja River. It's got its fair share of rapids, but there are also stretches of calm water, where you can appreciate the scenic beauty of this limestone canyon. Combine with some swimming, waterfall jumping and a night spent wild camping on the river banks and you've got yourself a winner.
8. Pembrokeshire Coast National Park, Wales
Perfect for: those looking for intrepid paddle grounds on UK shores
It's the UK's only coastal National Park. Crenellated cliffs giving way to windswept beaches and quiet coves. The offshore islands, such as Skomer and Ramsey, are home to colonies of puffins and Manx shearwaters. The seas are home to turtles, dolphins, orcas and even basking sharks.
With hundreds of miles of coastline, there are plenty of sea kayaking routes you could take. We recommend putting in at Solva Harbour and heading northwards to explore St David's Peninsula. It's a wild, rugged headland, known for its dramatic cliffs and profusion of wildflowers. Porthmelgan Beach is a lovely spot for your lunchtime picnic.
9. Lake Lucerne, Switzerland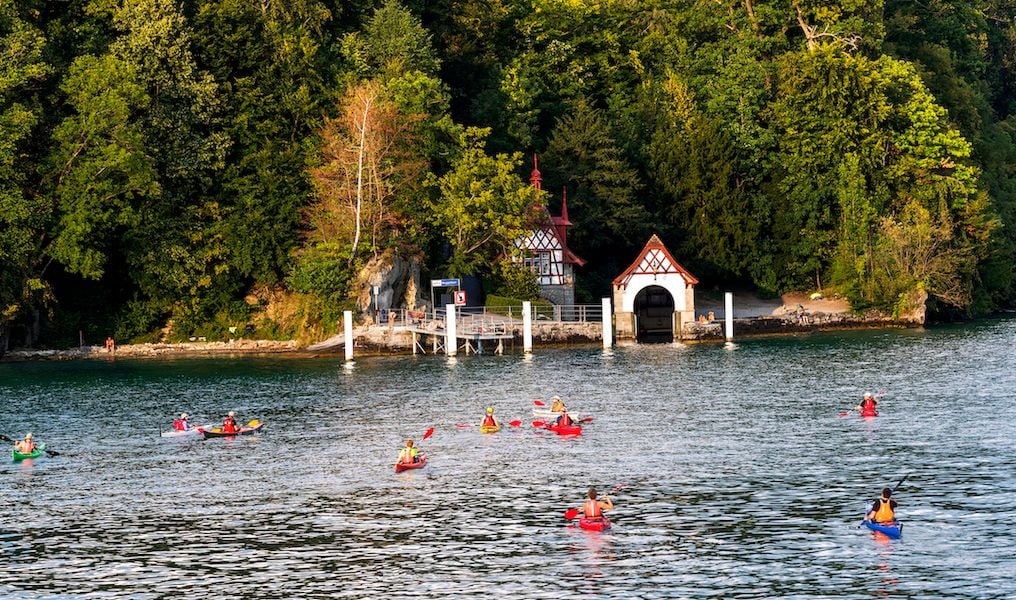 Perfect for: leisurely day trips in Alpine settings
Lake Lucerne is formed of four basins, centrally connected by a rocky strait. It's an environment of blue waters and Alpine peaks, forested hills and historic villages. The Lake Lucerne Canoe Trail consists of nine sections; each can be paddled as part of a daytrip, or strung together to create a multi-day route. Many of them start from the canoe station at Buochs, where you can hire kayaks.
We, however, recommend Canoe Route 5, a 6.5-mile train from the idyllic town of Weggis to Küssnacht, a village at the northernmost point of the lake. You'll be treated to dramatic views of Mount Rigi, one of the lake's most dramatic massifs. Meanwhile, competitive types might be interested to know that there's an annual canoe marathon at Lake Lucerne.
10. The Seven Capes, Turkey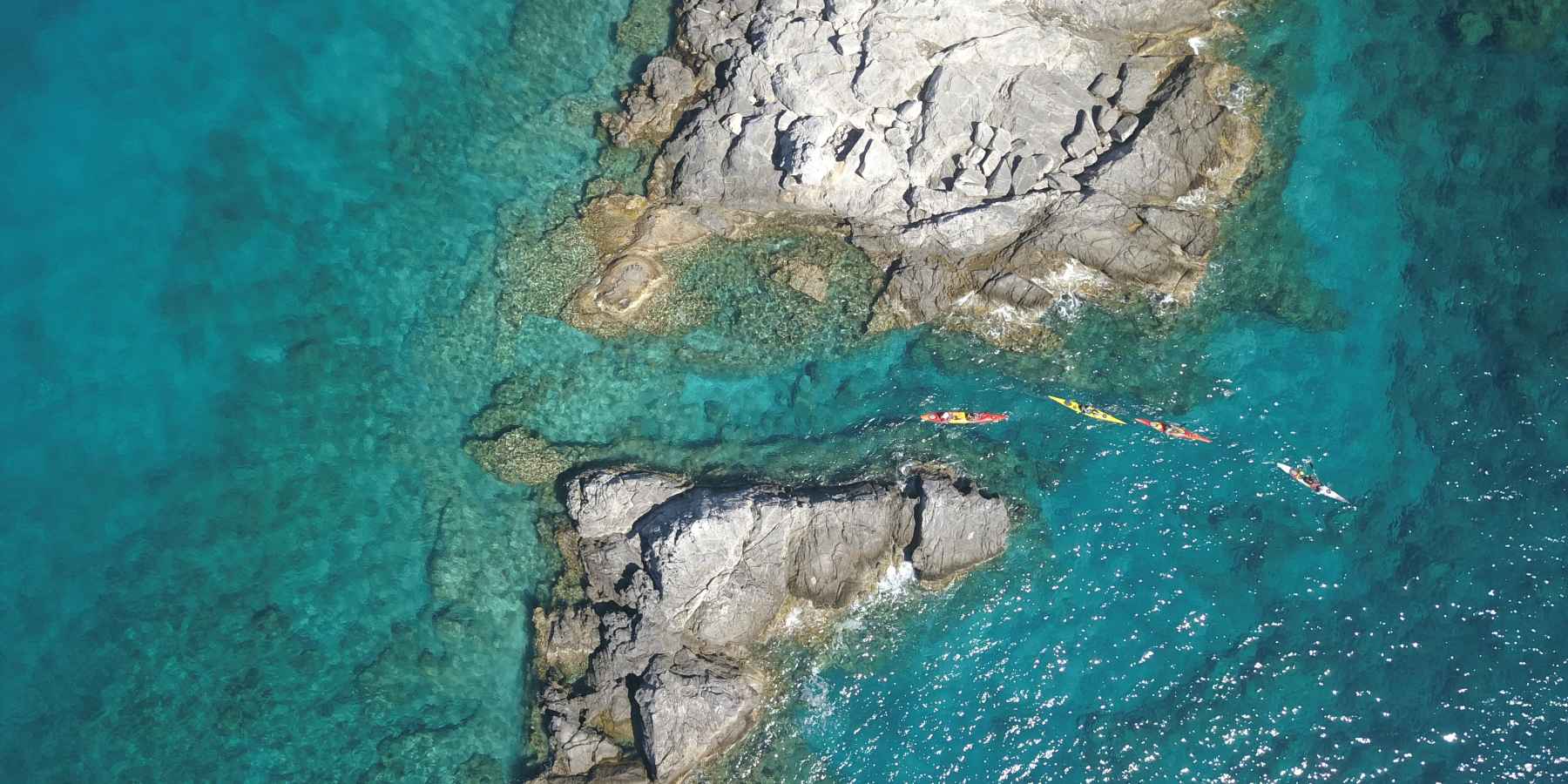 Perfect for: wild camping and sea dipping
The Seven Capes is an area of coastline in Turkey, south of Fetiye. Outside of the bustling resorts, you'll encounter deserted islands and beaches only accessible by sea. From the imposing cliffs of Iblis Cape to St. Nicholas Island (studded with the crumbling ruins of ancient monasteries), there's so much to see and experience.
You'll be able to wild camp on deserted beaches, enjoying campfire feasts and sunset swims. There'll be plenty of opportunity for wild swims and snorkelling, throughout the sun-kissed days.
11. Gulf of Valinco, Corsica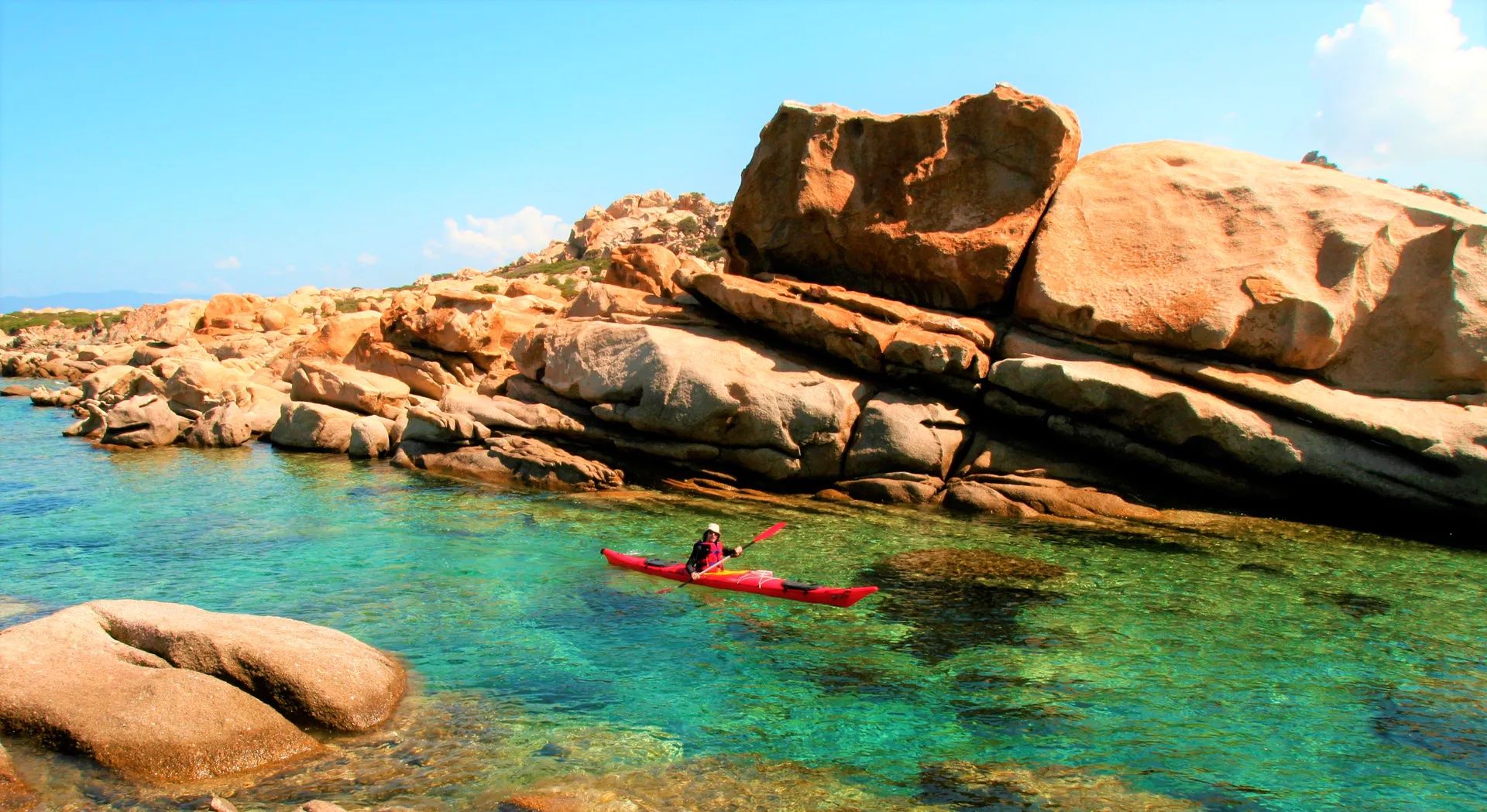 Perfect for: a leisurely, sun-drenched paddle for beginner sea kayakers
You might know Corsica as the site for the challenging GR20 trail, one of Europe's toughest treks. But it's also an excellent kayaking destination; the calm seas around the island are a counterpoint to its wild, mountainous interior.
Paddle out across the Gulf of Valinco, taking in the views of mountains carpeted in fragrant macchia, pretty harbour towns and interesting honeycombed rock formations (known as tafoni). There are some gorgeous beaches where you can pull up, such as Portigliolo, a mile-long stretch of fine sand.
12. Menorca, Spain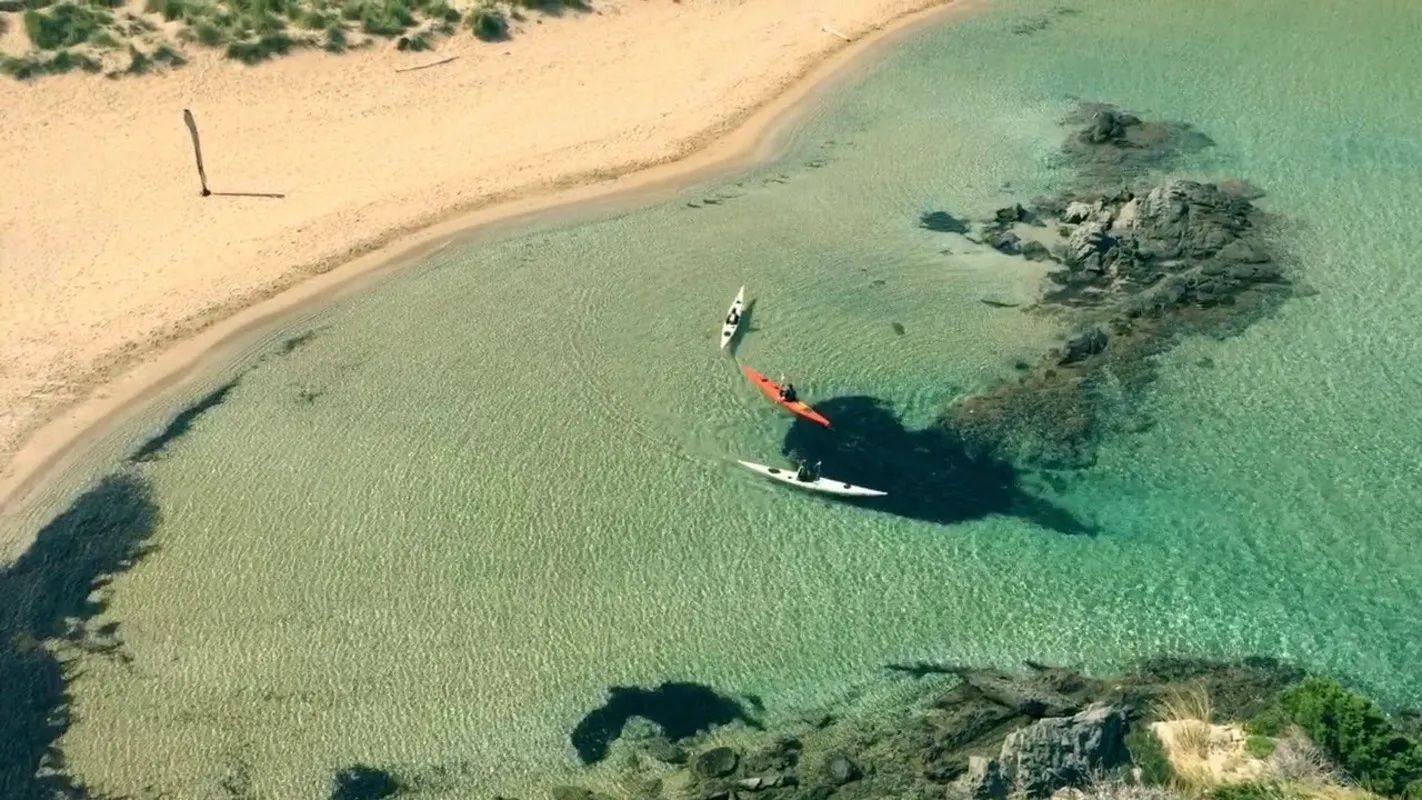 Perfect for: island lovers in search of golden sands and clear waters
Writer Lawrence Durrell coined the term 'islomania' to refer to "people who find islands somehow irresistible". If that's you, then we highly recommend circumnavigating Menorca by sea kayak for your next adventure.
This small Spanish island has around 134 miles of coastline, and there'll be plenty of highlights along your journey. Like Cales Coves, a prehistoric necropolis of caves hewn into the cliff face. Or Cap d'Artrutx Lighthouse, a striking monochromatic beacon located on a rugged headland. And of course, an endless string of beaches, from remote Cala Calderer to picturesque Es Bots. We'd recommend Cala Sant Esteve as your start and finish point, but there are lots of other suitable launch sites too.
13. The Great Glen Canoe Trail, Scotland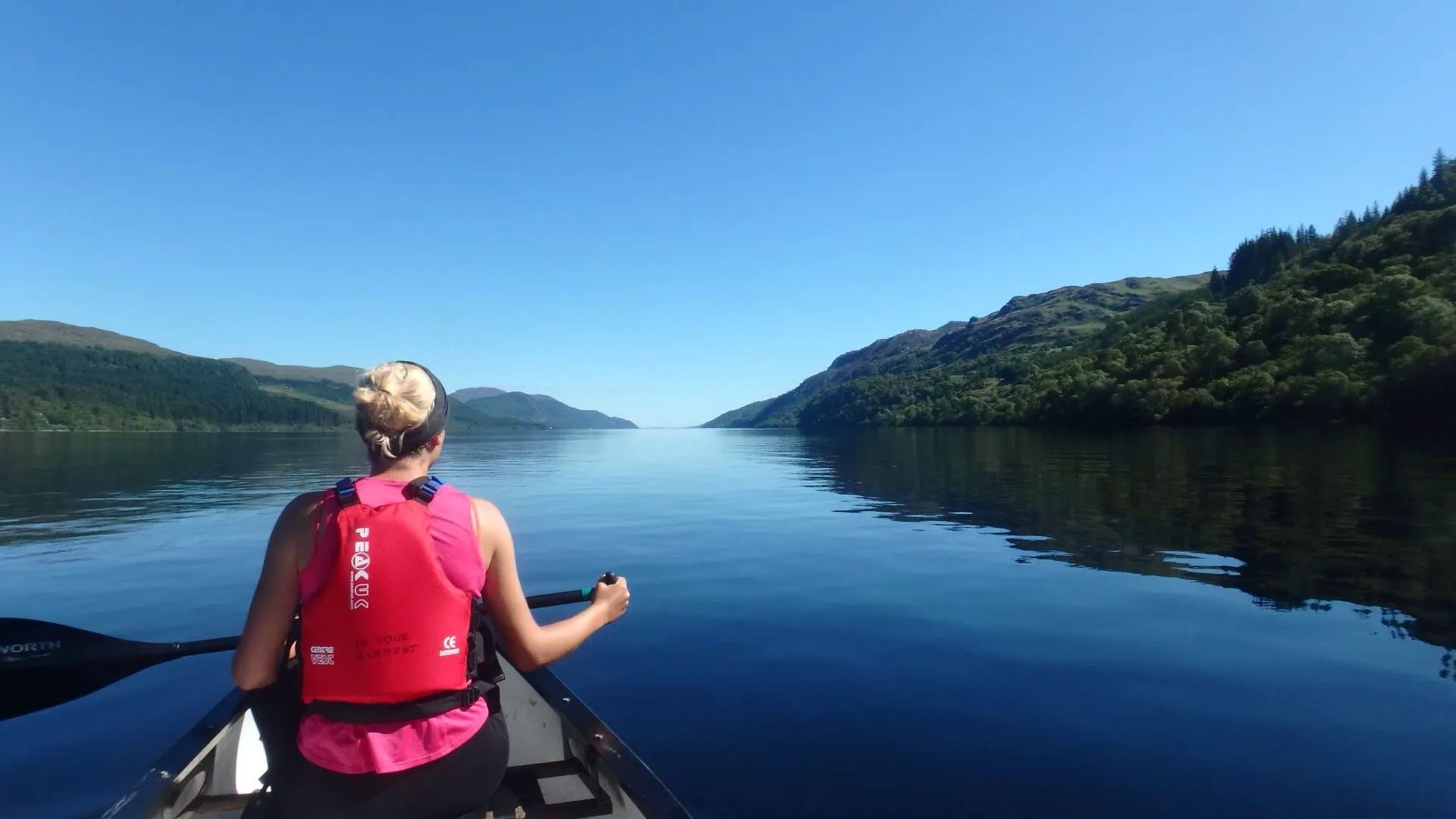 Perfect for: a multi-day adventure with a variety of white and open water
The Great Glen Canoe Trail is Scotland's first dedicated long-distance canoe trail, leading from Fort William to Inverness. It's an epic 60-mile journey along the Caledonian Canal, and across the open waters of Loch Lochy and the infamous Loch Ness.
Thrillseekers will enjoy navigating the Class II and III white water at Torcastle Rapids (which beginners should portage), while the waters can get choppy at Loch Ness - newcomers to kayaking should not embark on the journey without a guide. You'll be amply rewarded for your hard work with some stunning scenery, especially around Loch Lochy, where the silhouettes of Ben Nevis and the Grey Corries slope steeply down to the forested shoreline.
If you want to wild camp, you can do so at the lochs. It's not permitted along the canal banks - there are plenty of designated campsites to choose from. It's also worth noting that all paddlers are requested to register their journey in advance.
14. The Dordogne, France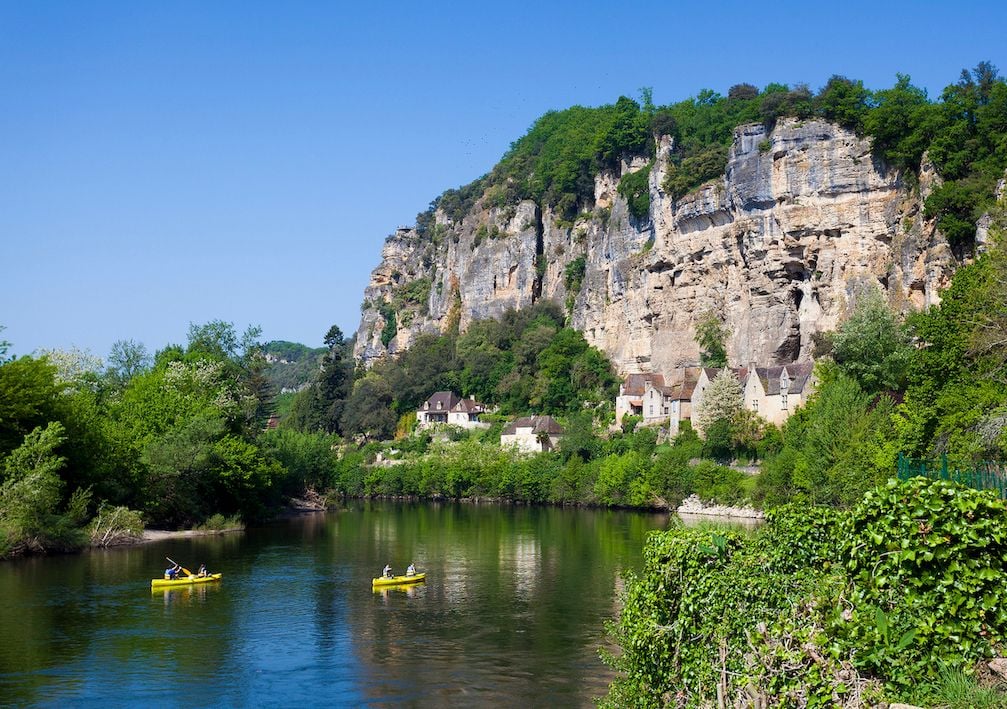 Perfect for: those in search of the French pastoral and delectable cuisine
The Dordogne River meanders its gentle way for 300 miles through south west France, with idyllic pastoral scenes unfolding along its banks. Patchwork fields and gently undulating hills; fortified mediaeval towns and elegant châteaux. Yes, we know it's a tourist hotspot, but there are plenty of quieter areas of river to be explored.
Leave the crowds behind as you embark on the 93-mile stretch from Argentat to Limeuil - a journey which takes six to seven days. You'll start off paddling through a faster flowing stretch of river, where the river banks are carpeted in forest. The landscape will become more cultivated, and the current slower as you head down river - between Souillac and Beynac you'll be treated to the sight of fortresses perched on high clifftops, honey-coloured châteaux and picturesque riverside towns.
One of our favourite things about kayaking the Dordogne is the number of gourmet destinations along the river banks. Sarlat-la-Canéda is renowned for its weekly market; in its restaurants you can sample decadent dishes using local produce, such as black truffles, chestnuts and duck.
15. Lofoten Islands, Norway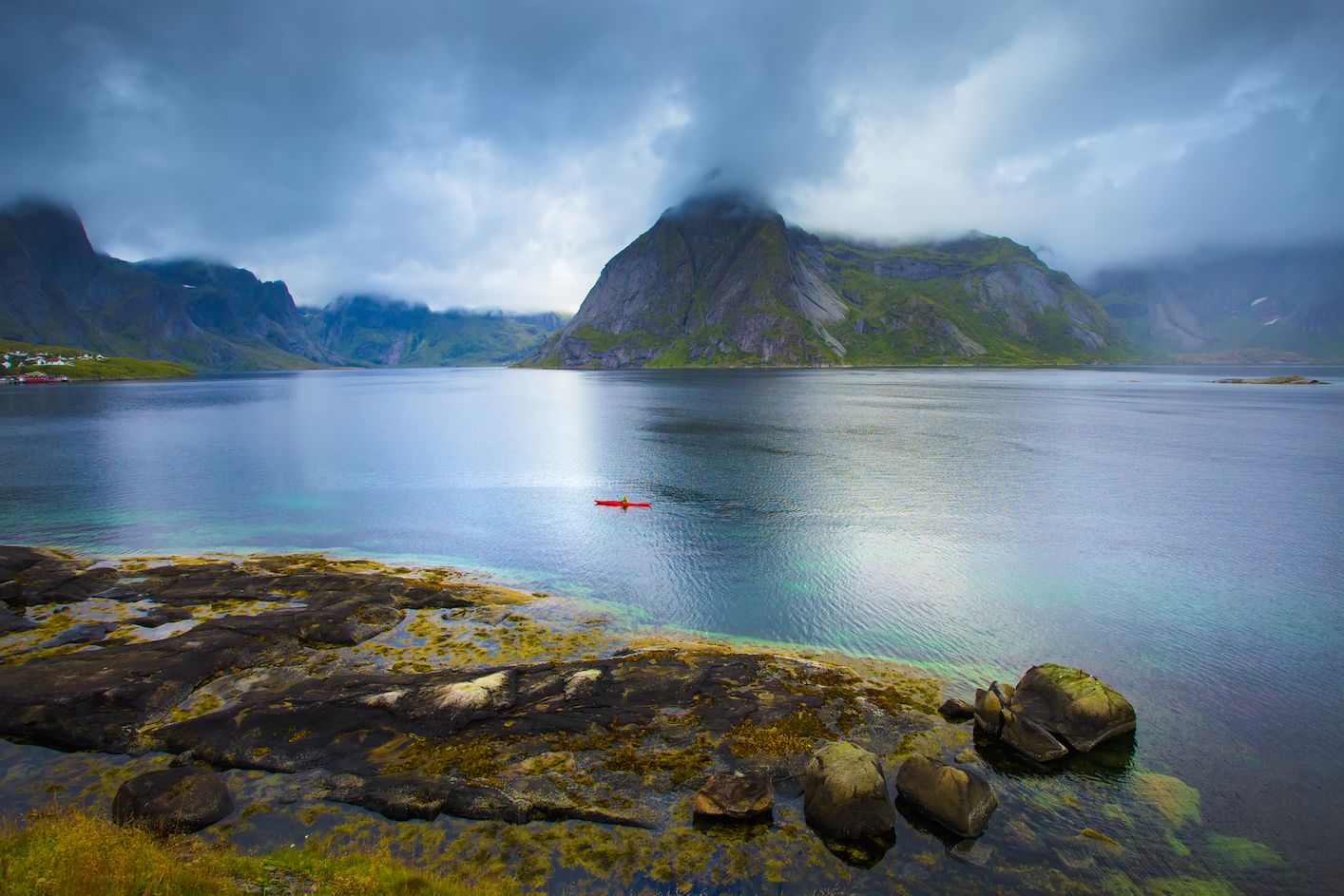 Perfect for: Arctic exploration under the midnight sun
Do you want to kayak within the Arctic Circle, under the eerie light of the midnight sun? If that's a yes, we recommend the Lofoten Islands in Norway. It's a remote archipelago of roughly-hewn volcanic peaks, glacial fjords, barren skerries and white sand beaches. We firmly believe that the best view of the islands is from the water.
There are plenty of bucket-list-worthy itineraries, but we recommend putting in at Eggum Harbour and heading for Gimsøya, an island renowned for its abundant birdlife. From there, head out across turquoise waters bordered by the steep mountains of Valberg towards the tiny fishing village of Rolvsfjord.
Navigate hundreds of tiny islets as you paddle south towards Vestvågøya island - choose one to wild camp on along the way, and play at being Robinson Crusoe. As you traverse the Vestvågøya's shore, you'll catch sight of colourful fishing villages - you might even catch a glimpse of the orcas that inhabit these waters.
16. Zrmanja River, Croatia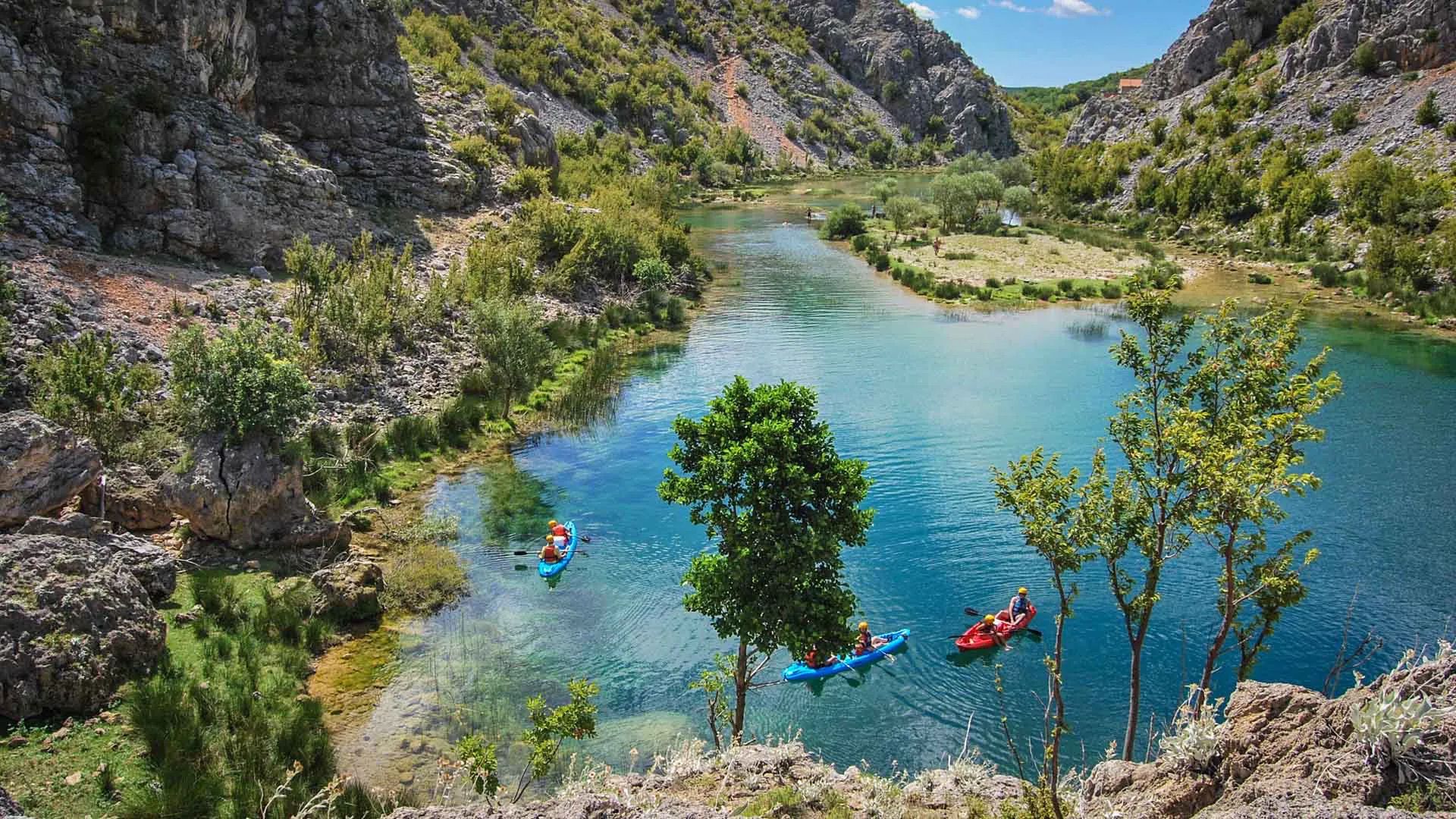 Perfect for: dramatic landscapes and white water for intrepid beginners
Croatia is renowned for its elegant Venetian cities and numerous offshores islands, but its rivers are equally worthy of notice. We're particularly enamoured with the Zrmanja, a 43-mile long ribbon of emerald water that has slowly carved a deep canyon out of the surrounding karst.
Start your journey at the small village of Kastel Zegarski and head south down the dramatic limestone canyon. You'll encounter several exciting Class II and III rapids along the route, which will set pulses racing (make sure to travel with a guide if you're a beginner). There are also several plunging waterfalls, as well as quieter stretches where you can stop for a swim.
Wild camping is prohibited in Croatia, but there are a couple of delightfully secluded campsites along the river bank. The second day's paddle will take you through the 200m deep Zrmanja Canyon, before culminating at Karinsko More, a vast lake which flows out to the Adriatic.
17. West Crete, Greece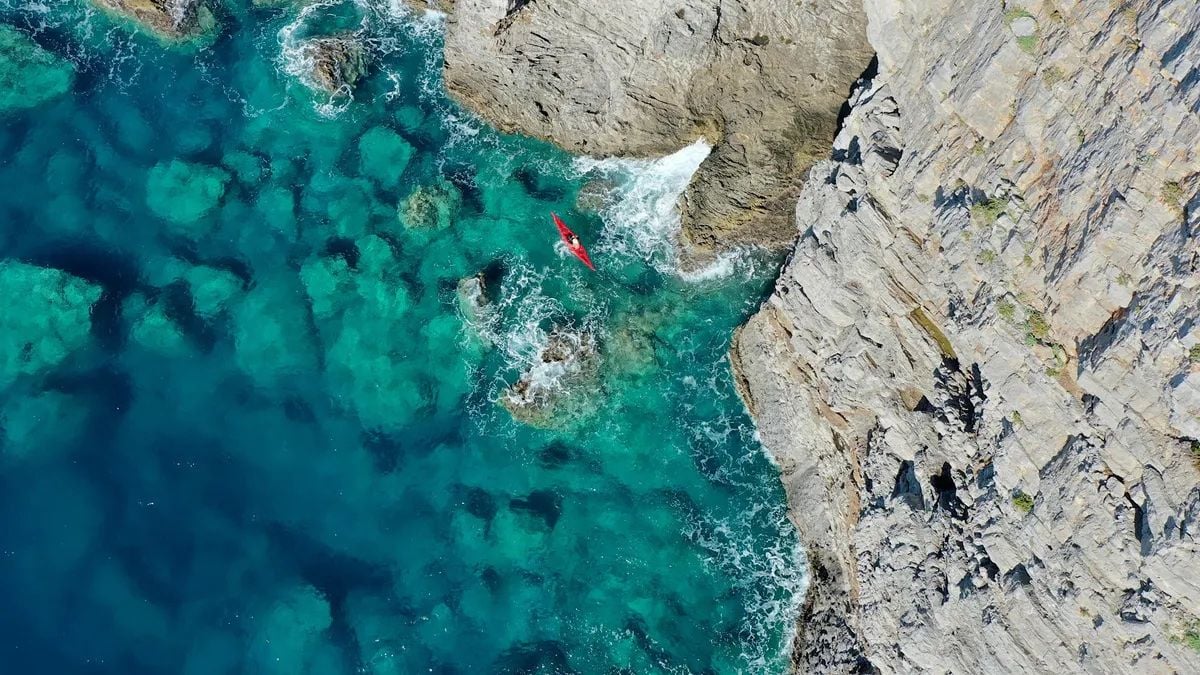 Perfect for: a feel-good kayak holiday with plenty of sun, sand, sea...and mezze
Millions of tourists descend on the Greek islands every year, but it still offers up plenty of off-the-beaten-track destinations. The island of Crete is large enough to lose the crowds - and it has almost 650 miles of coastline to explore. We recommend basing yourself in the west of the island, characterised by its pink sand beaches, craggy mountains and plunging gorges.
The coast near Chania is fairly developed, but you'll find plenty of delightfully deserted beaches if you head west, or south, of the city. Put in at the infamously beautiful Elafonisi Beach, and kayak southwards, tracing the rocky coastline. Another excellent route is from Sougia to Agia Roumelli, an isolated village accessible only by water. You'll discover sea caves, fascinating rock formations and secluded beaches - the perfect stop for a swim or snorkel.
18. Saimaa, Finland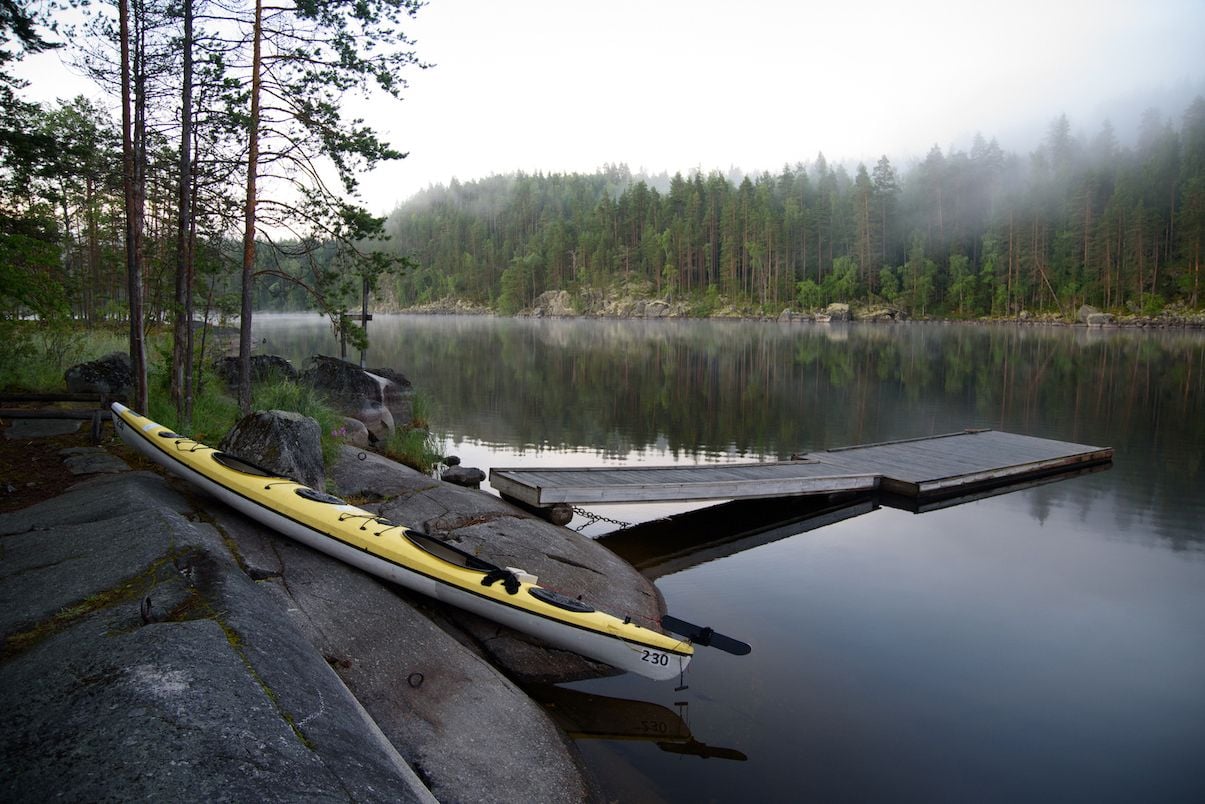 Perfect for: still, silent waters and atmospheric islands
Saimaa is a vast and labyrinthine lake in Finland. Covering an area of 1,700 square miles, it's one of the largest freshwater lakes in Europe, and an ideal spot for kayaking. The glacial waters are studded with rocky islands, some of which are carpeted in atmospheric pine forest. The lake is divided into numerous river basins, connected to each other by narrow canals.
Where to start? How about the Kolovesi National Park, which has been established to protect this enchanting environment - motor boating has been prohibited here. The Kolovesi Seal Trail is an idyllic 20-mile circular route around the park (which an opportunity to extend by another 20 miles). It's named as such because lucky paddlers might spot a rare Saimaa seal, indigenous to the area. Despite this being a protected area, wild camping is allowed, making it a perfect spot for an overnight adventure.
19. River Soča, Slovenia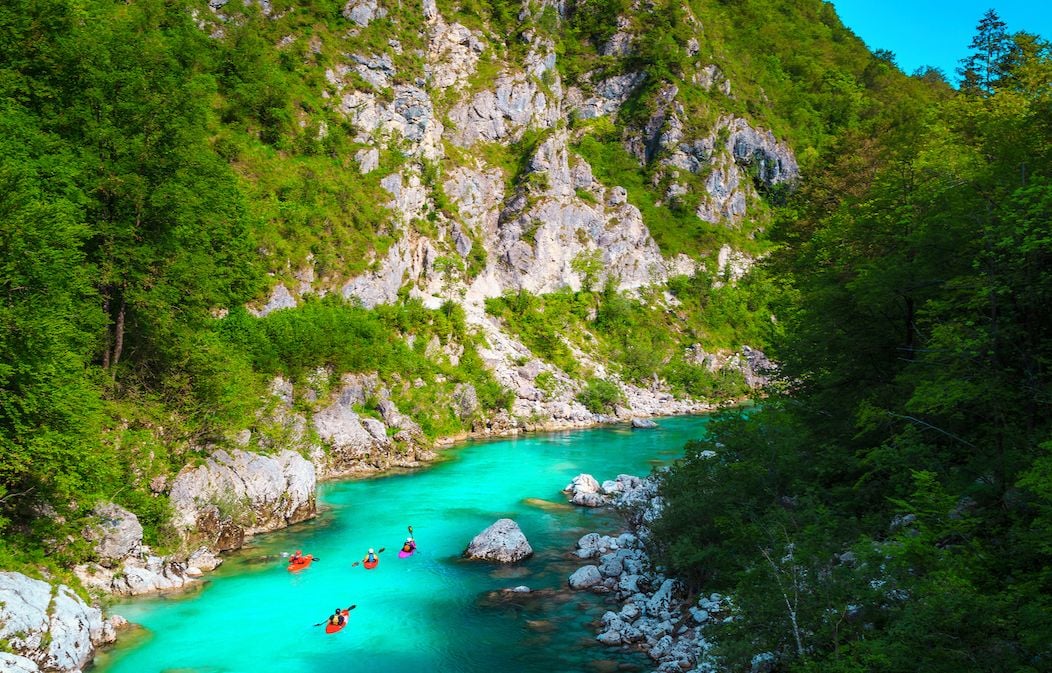 Perfect for: wild water, waterfalls and alpine views
The River Soča originates in the Julian Alps; it flows for 60 miles through Slovenia and for 27 miles through northeast Italy. It's known as the Emerald River, thanks to its striking turquoise and green colour. And it also offers some epic sections of white water, with rapids ranging from Class I to IV.
For beginner kayakers, we recommend starting at Čezsoča and travelling five miles down river to Srpenica. You'll paddle through the Bovec Basin, a river basin surrounded by forest and offering spectacular views of the Julian Alps. It's worth pulling up onto the pebbly shore for a hike up to Boka Waterfall. White water junkie? Put in at Otona and you'll encounter a succession of IV and V rapids en route to Kobarid, including the tricksy Little Cataract.
Due to the fast-flowing nature of the river, it's recommended you only attempt it with an experienced guide. It's also necessary to buy a permit to use the designated entry and exit points.
20. Tara River Canyon, Montenegro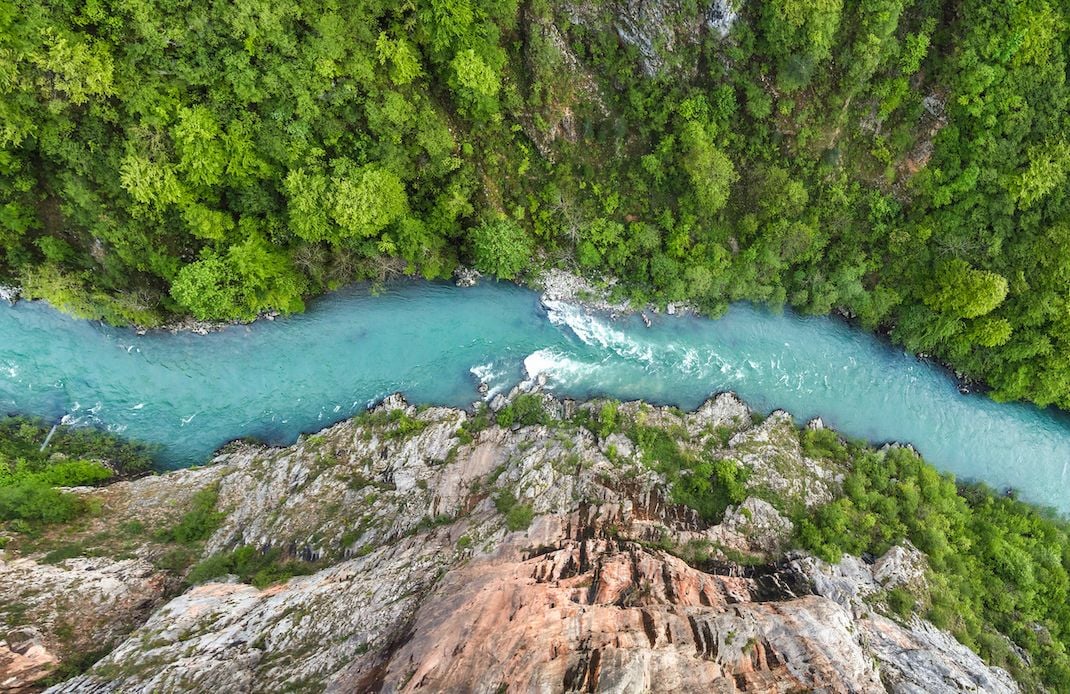 Perfect for: thrill seekers in search of a 'natural high'
The Tara River Canyon is the longest canyon in Europe, with steep cliffs rising up from the River Tara (which flows through Montenegro to Bosnia and Herzegovina). The most scenic section of the canyon is arguably located within Montenegro's Durmitor National Park - a UNESCO heritage site - where the sheer walls of the gorge are up to 1,300m high. Thrillseekers flock there to bungee jump from Tara Canyon Bridge or to white water raft down the river's fast-flowing rapids.
Kayaking down the river gives you the thrill of navigating the rapids; there are also quieter sections where you can relax, swim and enjoy the scenery. There are plenty of single and multi-day itinerary options, with kayak rental, accommodation and transportation easily arranged via one of several campsites.
One of the most scenic stretches is from Radovan Luka to Camp Encijan (where you can spend the night), a fast-flowing 16 mile stretch of river through the heart of the canyon. Meanwhile, the 10 mile stretch from Encijan to Camp Grab is packed with Class II to III rapids that will make your pulse race.
Inspired? Why not check out our kayaking holidays in Europe?