A kayak adventure combines elements of challenge with moments of serenity, as you glide through clear water, far from the crowded beaches. Perhaps it's something you've always wanted to do but stopped short of planning - it sounds like a whole lot of work to organise a kayak trip out on the water in another country, right? Actually, wrong! Your best bet, as a beginner, is to join a kayak expedition with a few other like-minded adventurers, where a local guide will lead you down rivers and around islands rarely visited by other tourists.
If you're up for a challenge, there are plenty of pretty epic kayaking holidays for beginner paddlers. You could sea kayak around the beautiful Italian island of Sardinia, stopping to swim on deserted beaches and indulging in exquisite local cuisine and wine in the evenings. Or how about taking to the water in Costa Rica, paddling through its biodiverse rainforest and keeping eyes peeled for howler monkeys? There are all sorts of options, in beautiful countries around the world.
Your first kayaking adventure truly is a bucket list moment. As friends back home scroll Insta posts and dream of adventure, you'll be too busy enjoying the freedom of the water, and the silence of nature to even remember social media exists. It doesn't get much more immersive than being out there on the water.
So, with that in mind, here are 10 awesome kayaking trips perfect for beginners, including everything from sea kayak adventures to kayaking weekend getaways...
1. Kayak the Famous Fjords of Norway
We all know the Norwegian fjords. We've all seen the photos of the Norwegian fjords. They're ridiculous. They look like something that should've been written by JRR Tolkien. But they weren't. There's no orcs. No moody hobbit having a go at their kind, loyal, patient hobbit friend for no real reason. The fjords are real, and just as stunning as you imagine they would be.
This is top of our kayaking trips for beginners list: an epic weekend of paddling through the legendary Nærøyfjord, a UNESCO World Heritage Site. It comes complete with a night camping and sparking up the BBQ by the side of the fjord. You barely need any kayaking experience, either. Does it get more bucket list than that? Take a look at our Norway fjords map for a bit of perspective, or read our guide to the Norway fjords here.
Don't Miss: The Nærøyfjord is 17km long and the narrowest point is only 250m wide. To be perfectly honest, it'd be very hard for you to miss anything on this trip, though, given you'll literally be in the middle of it all.
Fun Fact: The Nærøyfjord was used as inspiration for the city of Arendelle in Frozen. We imagine there will be one person on your trip that just won't let this go.
2. Sea Kayaking in Stunning Sardinia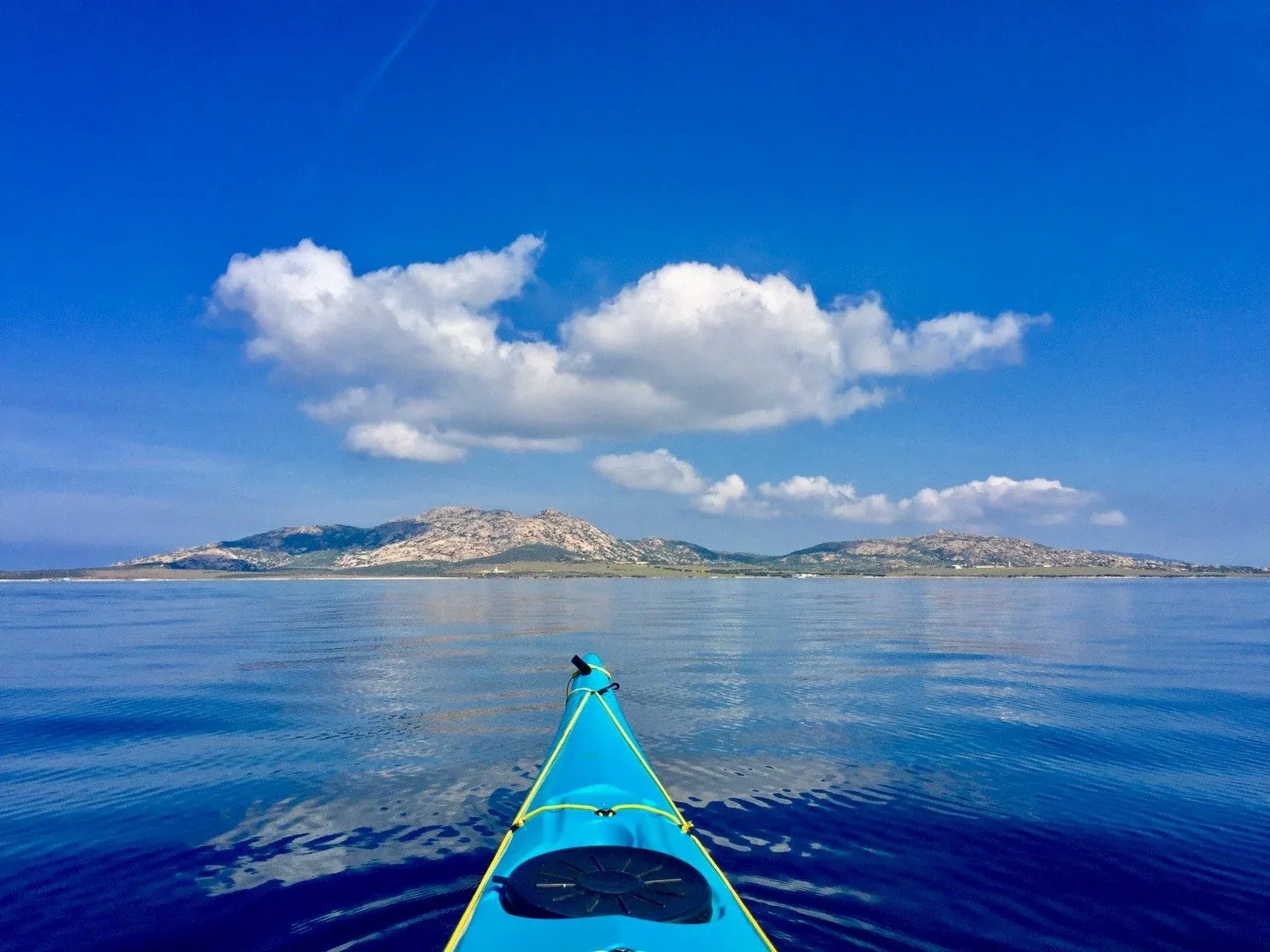 Paddle along sea cliffs under the Italian sun, passing remote, unoccupied Italian beaches, swimming in crystal-clear, beautiful blue Italian waters and spending your evenings eating mouth-watering Italian food and drinking Italian wine hard-earned through your paddling.
This is the perfect trip for anyone who loves to mix their adventure with a large pinch of relaxation and indulgent food and drink. Oh, and did we mention it's in Italy?
Don't Miss: Neptune's Grotto! Not a sea-based replacement for Santa's Grotto, but a stalactite cave near the town of Alghero on the island of Sardinia. It was discovered by local fisherman in the 18th century and is truly a place of natural beauty.
Fun Fact: Sardinia is one of only five "Blue Zones" in the world identified as having residents who often reach age 90 or older. Basically, people in Sardinia live longer than anywhere else in the world. And we're sure it won't be hard for you to see exactly why.
3. Kayak the Karavasta Lagoon in Albania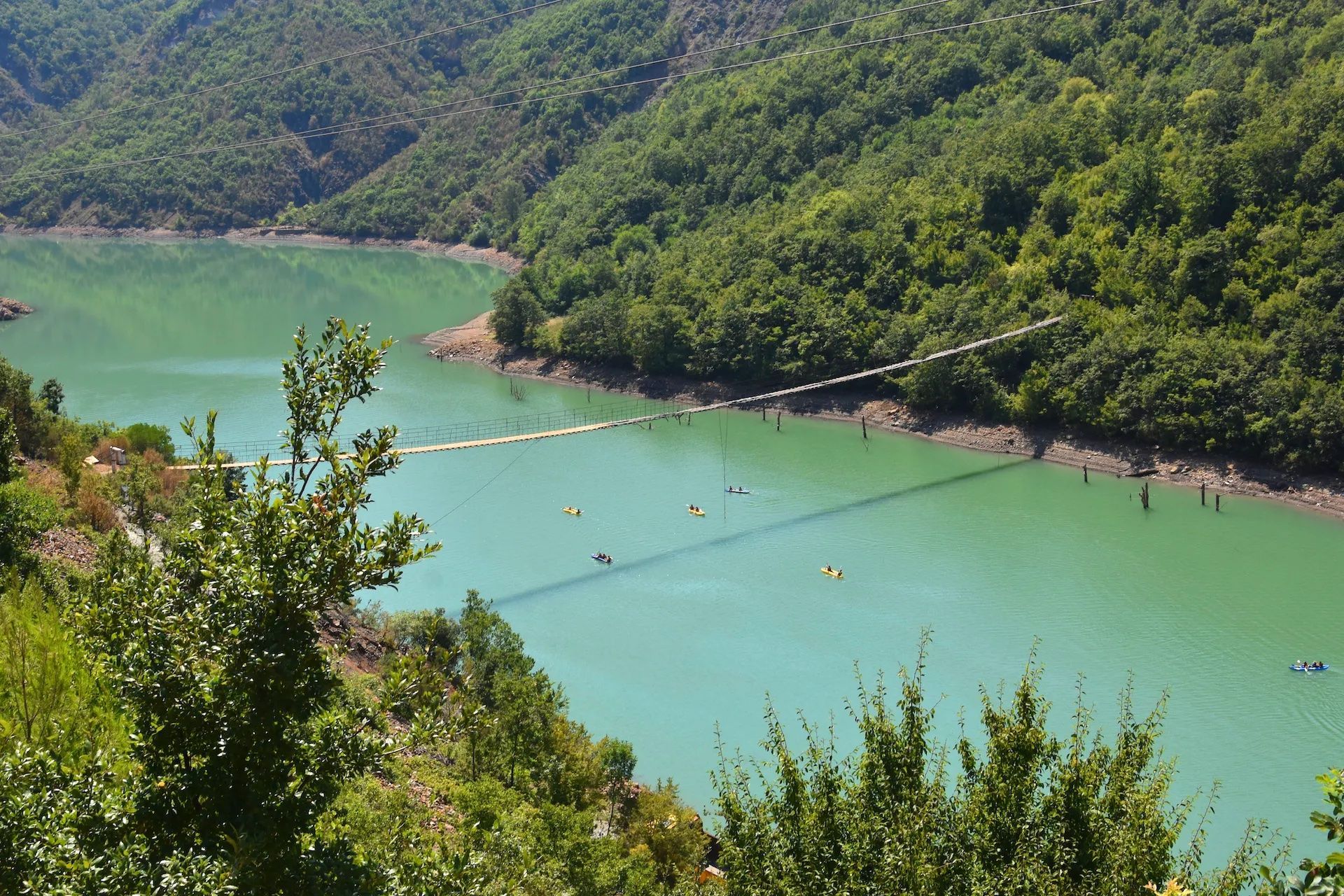 Albania might not be well-known as a kayaking destination, but that's one of the reasons we love to visit. Untouched by mass tourism, its pristine rivers and lakes are ideal spots for the beginner kayaker. We particularly recommend the Karavasta Lagoon, the largest in Albania (and, indeed, the entire Mediterranean).
This vast saltwater lagoon is home to a vast number of birds, including the rare Dalmatian pelican. Keep your eyes peeled for them as you paddle across its calm turquoise waters. Feeling tired? Pull ashore for a break. Or hot? Then refresh yourself with a swim in the lagoon.
Don't Miss: The small local restaurants on the lake shore that serve delicious fresh fish dishes!
Fun Fact: Five percent of the world's Dalmatian Pelican population makes its home in Karavasta Lagoon. It's also home to over 250 other bird, mammal and amphibian species.
4. A Paddling Adventure in Sweden's Saint Anna Archipelago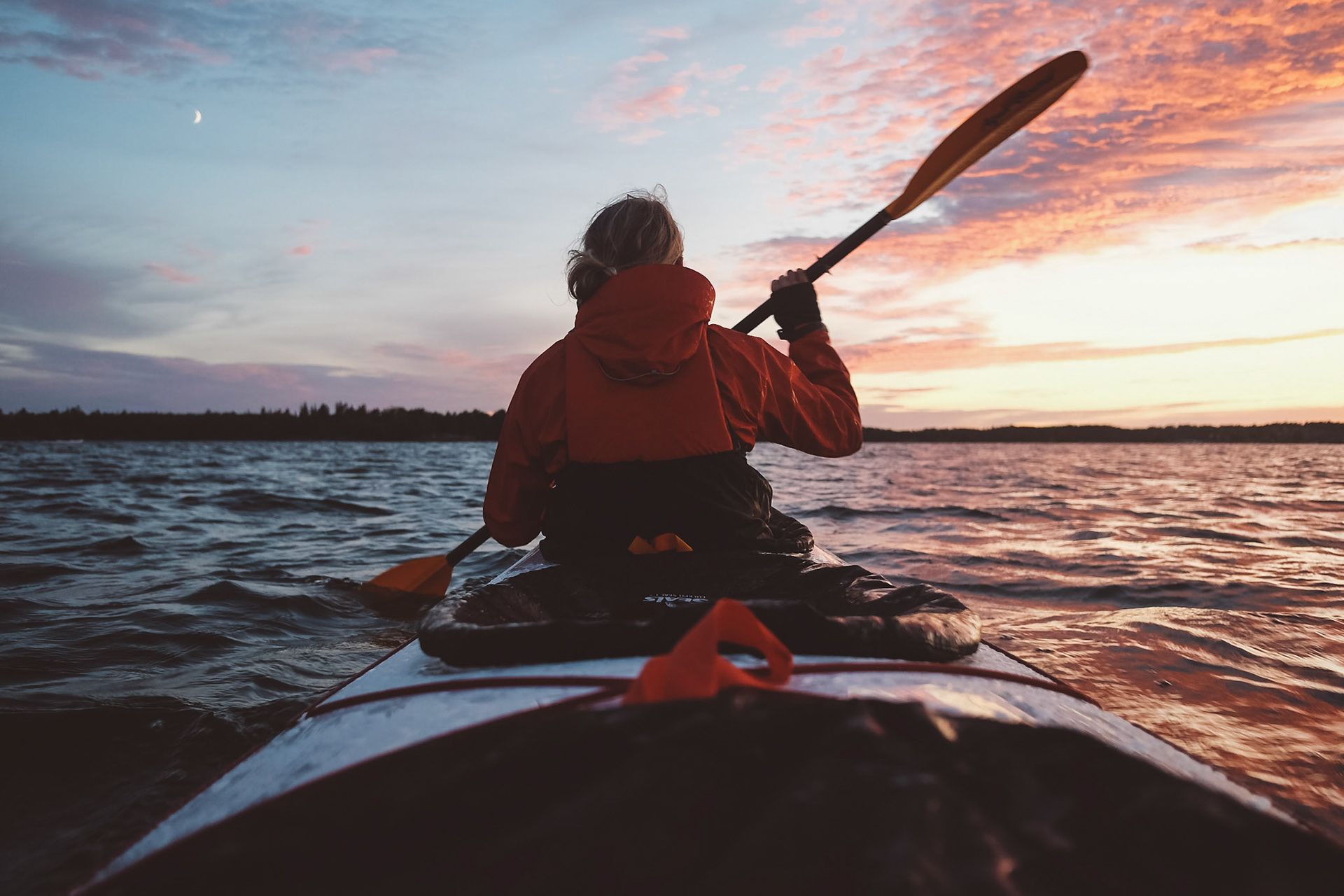 The calm water surrounding the Saint Anna archipelago in Sweden is perfect for the novice paddler. You'll glide among the 6,000 islands of the archipelago, many of which are uninhabited - granite islets dotted with pine trees. You'll be far from the crowds here; your company will be the grey seals bobbing up from the water, and the sea birds circling overhead. Wild camp on a different island every night, and enjoy a slap-up meal around the camp fire.
Don't Miss: The foraging opportunities on this gorgeous archipelago. Gather wild mushrooms and berries - your guide will help you identify them.
Fun Fact: the archipelago is known for having a large number of white-tailed eagles - eyes peeled!
5. Kayak and Wild Camp in Croatia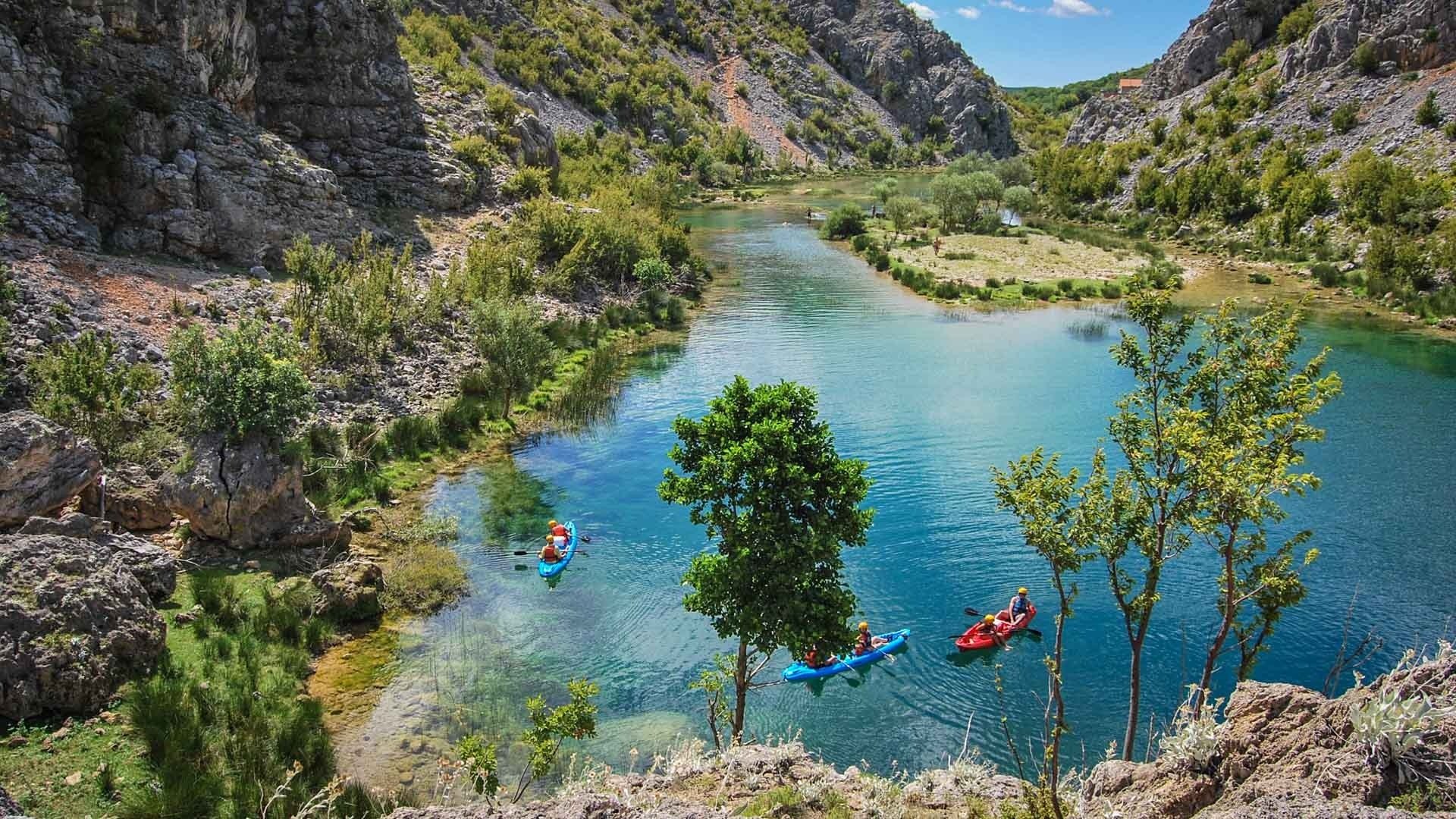 Immerse yourself in the spectacular beauty of the Zrmanja River on this epic long weekend in Croatia. Kayak turquoise waters through rugged canyons, stopping to play in waterfalls and pools on the way. At night you'll camp next to the river and relax around a campfire. All that famous Croatian beauty, without those infamous Croatian tourist crowds, seen from the middle of the water. Oh yes. Oh yes indeed.
Don't Miss: The waterfalls of the Zrmanja! They're truly beautiful. It'd be hard for you to miss them all, though. You'll be wild camping pretty near one during the trip.
Fun Fact: This trip takes place on the water of Dalmatia, which is also where the Dalmatian dog was… well, not invented, but certainly named, at least. Woof!
6. Canoe Coast to Coast Across Scotland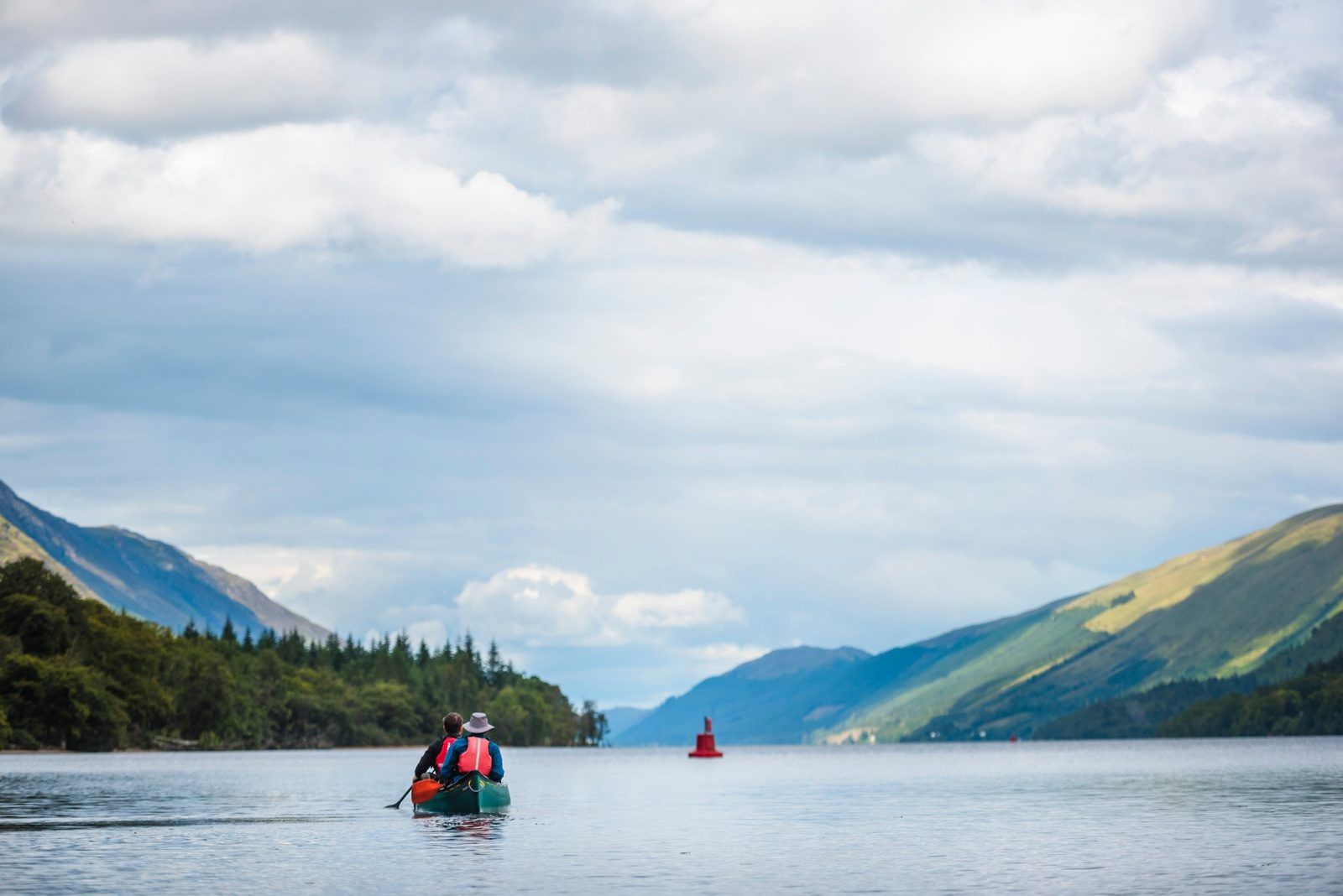 If you want to stay closer to home but not sacrifice any of the scenery, this is the trip for you. Paddling 100km of the Caledonian Canal is no simple task, and while you don't particularly need any previous experience, you will need to be fit for this five-day canoeing adventure. Okay so canoeing isn't quite kayaking - but it's essentially like kayaking Scotland for beginners.
Your reward will be the sweeping hills of the Highlands that have made oh-so-many Lonely Planet staff writers froth over the years, and you'll paddle through the likes of Loch Ness and Loch Lochy as well – the former of course known for its monster, and the latter for sounding like it was named by a three-year-old child. Both are equally beautiful.
Don't Miss: After a full day on Loch Ness, look out for Urquhart Castle, a stunning 13th-century structure built on the site of an early medieval fortification which was once one of Scotland's largest castles.
Fun Fact: The most famous photograph of Nessie, "the Surgeon's photograph", was outed as a hoax in 1975, after it was revealed that it was in fact taken with a toy submarine from Woolworths and a fake head and neck. This submarine sunk after the photograph, and so remains in the loch to this day, where Nessie presumably shouts at it for being an imposter.
7. Kayak on the Greek Coast (Pelion Peninsula)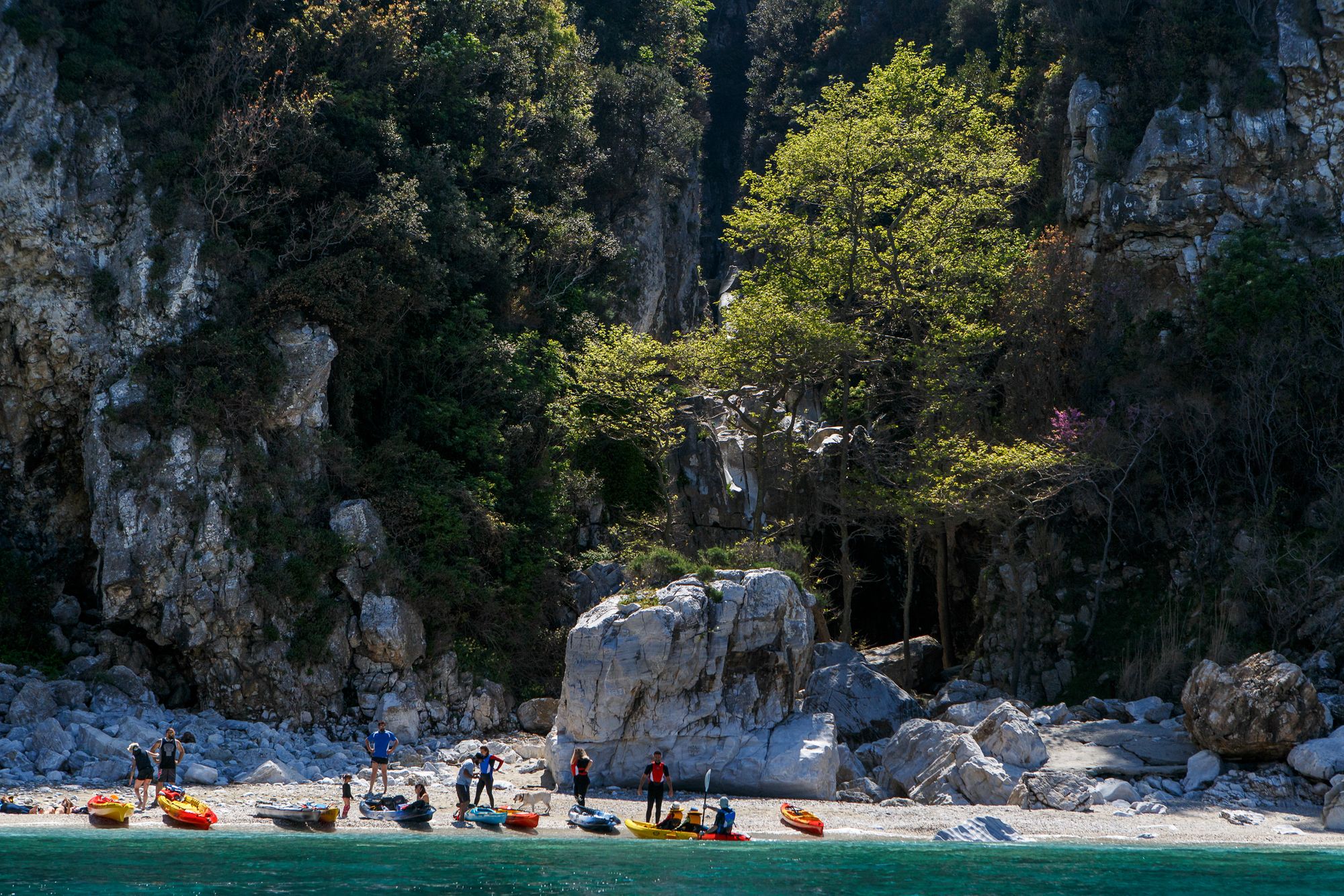 Famous Greek philosopher Plato once said, "the unexamined life is not worth living to a human."
We like to think that he said this while paddling a kayak the Pelion Peninsula of Greece, along beautiful coastline, past medieval castles (even though Plato lived about a thousand years before the medieval age…), while wearing a backwards cap and throwing up a peace sign to his fellow Greek philosophers. Maybe he even threw in a dab for good measure.
If that did happen – and let's be honest, none of you can prove it didn't – you can follow in his paddle strokes on this trip, starting at Tsagarada, one of the nicest villages in Greece.
Don't Miss: Cookie Island (aka Prasouda) is a tiny island that you'll reach by kayak and can explore on foot. Hike over to an abandoned monastery, dating back to the Byzantine era.
Fun Fact: You'll be starting some of your kayaking days from Damouchari's old harbour, made famous by the film Mamma Mia. But don't worry, no one will expect you to burst into song.
8. Glide Across Cuba's Hanabanilla Lake
Lake Hanabanilla is a serene lake of 26 square kilometres surrounded on all sides by the Escambray Mountains. It's located in the El Nicho Natural Park, a paradise of natural pools, forest trails and waterfalls. What this means is that you can combine kayaking with hiking and wild swimming to create a brilliant multi-activity day out.
The area is rich in biodiversity. Look out for the tocororo (Cuba's national bird) in the trees, alongside royal woodpeckers and colourful parrots. Pull ashore for a picnic or lunch in a traditional hacienda, and spend the night at a ranchon, a thatched-roof hut offering a unique camping experience.
Don't Miss: Pulling ashore to hike the Cascada de los Helechos. If you speak Spanish you should be able to guess what you'll see at the end - a stunning waterfall! Grab a swim in its cold, clear waters before heading back to your kayak.
Fun Fact: 'Hannabanilla' means 'small golden basket' in the indigenous language - an indication of the memories to treasure if you visit, perhaps!
9.  Take A Sea Kayak Trip in Costa Rica's Sweetest Spot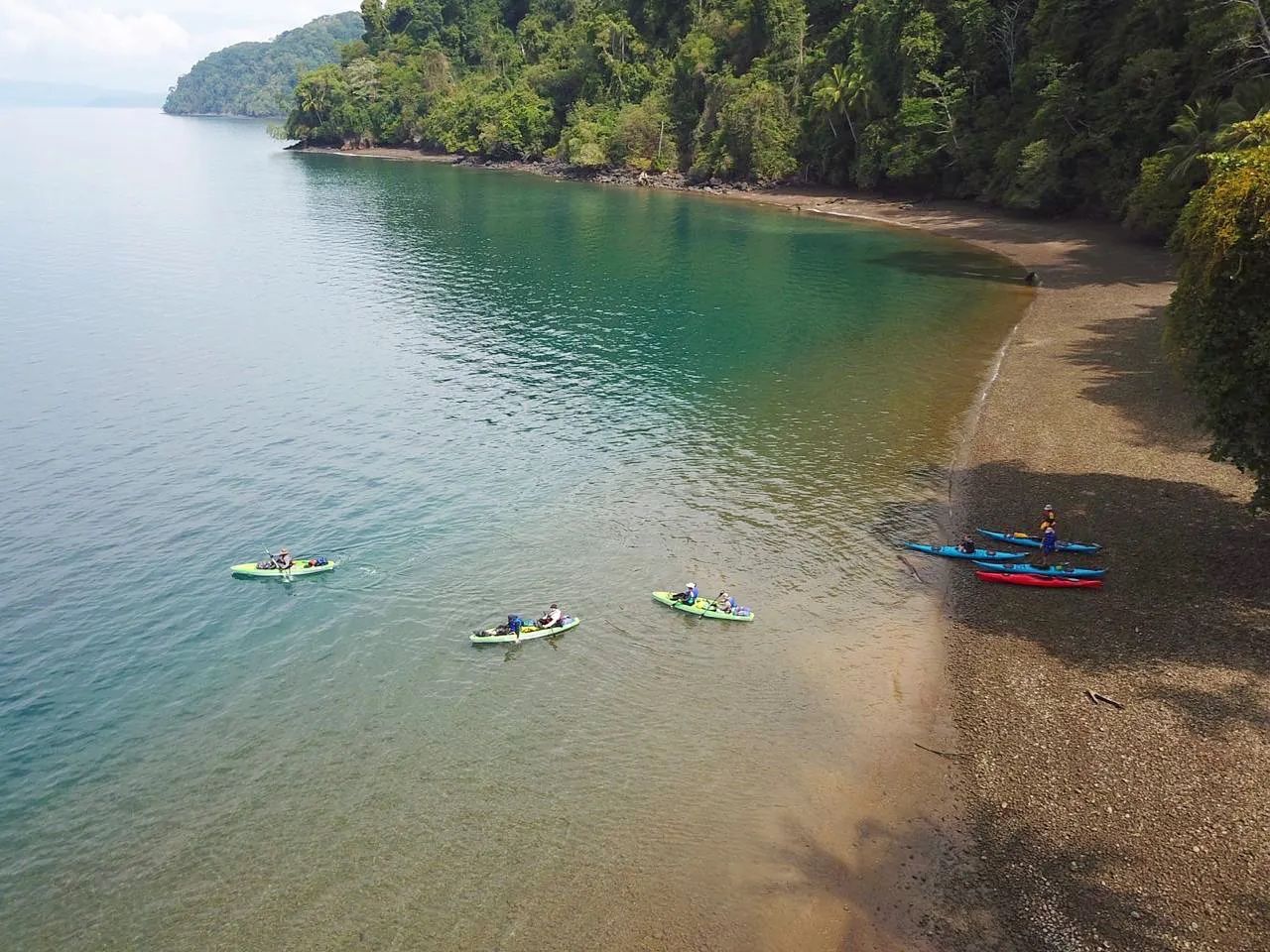 Golfo Dulce, literally 'Sweet Gulf', lives up to its name. It's a unique ecosystem, one of only four tropical fjords in the world. Clear turquoise water is surrounded by slopes carpeted in rainforest and fringed with mangroves, so there's plenty to explore.
You can launch at Golfito and spend a leisurely morning paddling along the coastline, looking at the mountains inland. In the afternoon we'd recommend taking a break to do a bit of snorkelling - the water's beautifully clear. One of the most beautiful parts of coastline in the area lies in the Piedras Blancas National Park, where rainforest slopes down to the ocean. There's a lot of marine life in the area, including dolphins and whales.
Don't Miss: The fact that you can also combine this kayaking trip with the chance to camp in a tree. That's right, a tree!
Fun Fact: It's called 'Golfo Dulce' because of the incredibly low levels of salt in the water. That's partly because of all the mangroves, which act as a filtration system.
10. Paddle Around Japan's Izu Peninsula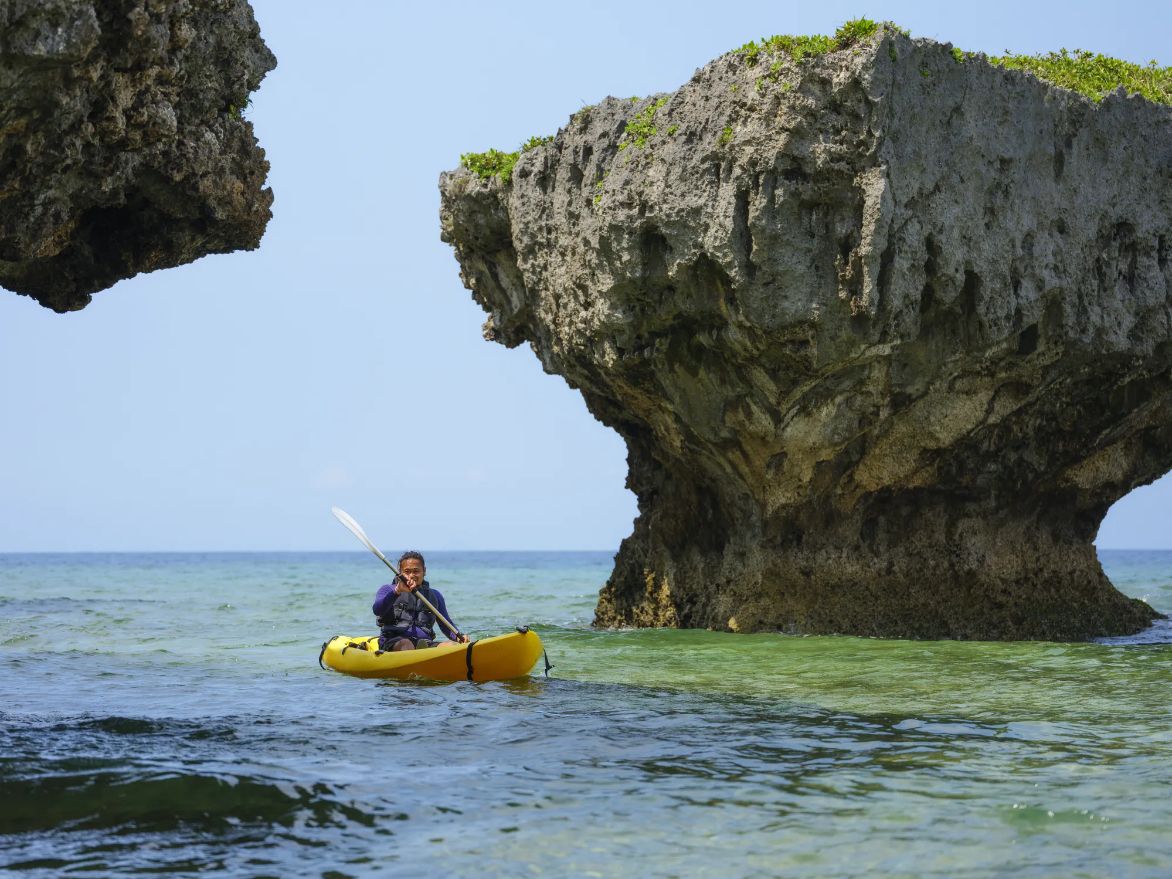 Four days of sea kayaking in Japan (and two days of hiking). Have you ever been to Japan? If you have, we're sure you know exactly how good this sounds. If not, the trip of a lifetime awaits. Japan has an incredible outdoor side, which is often overlooked for its famous cities. Explore the forests, the oceans, the beaches, camping and beautiful sunsets.
Paddling around the coast of the Izu Peninsula, from Stumekizaki to the towering red cliffs of Hagachizaki Bay, you'll experience Japan like few people ever do.
Don't Miss: As you kayak past Hagachizaki Bay, have a look at the residents. It's home to a troop of over 300 wild Japanese macaque monkeys!
Fun Fact: Ryokans are traditional Japanese inns where you sleep on futons on top of tatami mats on the floor, with rooms separated by sliding doors. Most ryokans provide robes and slippers which are often worn to dinner.
If these don't float your boat (sorry), then explore our other amazing kayaking holidays and other hand-crafted adventures.