Kayak and Wild Camp Norwegian Fjords
An epic weekend of paddling and fjord-side camping. ½ day off work.
Kayak and camp the stunning Nærøyfjord, a UNESCO World Heritage Site on this epic weekend escape. Your hassle-free adventure includes:
Two days guided kayaking remote areas of the fjord
One night hostel accommodation
One night camping with fjord-side barbecue and campfire
Breakfast and lunches
Airport transfers
All kayaking and camping equipment
Location
Known as the gateway to the Fjords, Bergen is a UNESCO World Heritage City as well as a European City of Culture. There is plenty to see and do, so it's well worth considering extending your stay or arriving early to explore this beautiful city.
Once you leave Bergen, your journey winds through the breathtaking Stalheim gorge on your way to the fjord-side village of Gudvangen. Over the weekend you'll paddle north through the fjord before arriving in the remote village of Unredal on Sunday. You'll be surrounded by seriously incredible mountains, cliffs and majestic waterfalls. Keep an eye out for seals.
Start point
Bergen airport, 14:30 or 00:30
You will be met at Bergen Airport and transferred to your hostel accommodation in either Voss or Bergen for the evening. There are two transfer options for this trip - either 14.30 or 00:30.
Your driver will wait for all Norwegian airline flights due to land before these times. If they are delayed, they will wait. You may arrive on a different flight, as long as you're able to meet your host at the designated transfer time.
If you choose to arrive a day or two earlier to explore Bergen, please note it is not possible to be picked up in the town centre. There are buses to/from the airport that run every 10 minutes, a tram line and taxi's all available, all of which accept card payments.
It's also possible to get the train from Bergen centre to Voss hostel - 45 minutes faster than the included transfer and one of the most spectacular journeys you can take by rail. Please see the additional information about getting the train in the FAQ's section.
Finish point
Bergen airport, approx 17:30
Your trip will end at Bergen Airport in time to catch any flight departing after 19:00.
Please note it is not possible to be dropped off in the town centre if you are staying on longer. There are buses that run every 10 minutes, a tram line and taxi's all available to/from the airport - all of which accept card payments.
What to Expect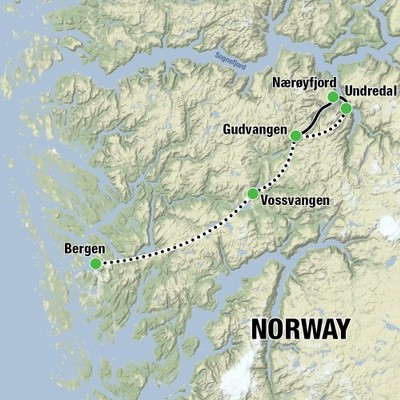 Itinerary, click to enlarge
The Weekend Plan
This weekend trip will be one to boast about. Put yourself in the heart of the stunning Nærøyfjord, a UNESCO World Heritage Site. Access little visited areas of the fjord only accessible by kayak, and enjoy a night under the stars around a campfire.
Day 1: Get there
Wave goodbye to the office and head to Bergen where you will be met ready for your airport transfer to either Voss or Bergen for the first night.
After settling in to your accommodation, head out to explore and grab dinner, then it's time for a good night's sleep before hitting the water tomorrow.
Day 2: Kayak
Meet your guide in the morning for the drive to put in point at Gudvangen.
Time to pack your gear into dry bags and get set up with your kayak before heading out for the first days unforgettable paddling down the beautiful Nærøyfjord.
Arrive at your campsite late afternoon for a well-deserved break.
Enjoy the stunning scenery, a barbecue, campfire, and conversation.
Head out for an optional short walk and get a view of the fjord from above.
Day 3: Kayak and fly home
Wake up in Norwegian paradise and enjoy a leisurely breakfast before setting off again.
Continue kayaking north along the Nærøyfjord, exploring the magnificent cliff faces and rarely visited waterfalls - great for seal spotting.
Arrive early-afternoon at the remote village of Undredal, at the Aurlandsfjord.
Then it's time to jump back on the shuttle to unload all equipment and head to Bergen airport in time for your flight home.
Note: This itinerary and the duration of the activities are subject to change due to group abilities and preferences, accommodation availability, weather conditions and forecasts.
Accommodation
You'll be staying in local hostel accommodation in Bergen or Voss on the first night. The rooms are typically 4 person dorm rooms. Your local hosts will confirm your exact accommodation once you have confirmed your travel arrangements (via email after booking).
On the second night, pull your kayak into the beach and camp with a wild campfire and a barbecue.
You will be sleeping in quality 2-man tents. Sleeping matts and sleeping bags are also provided - bring your own if you prefer. These will be stored in dry bags on your kayak while you're out on the Fjord. If you have not requested your own tent, you may have to share a tent with another member of the same sex in the group.
There is a composting eco toilet outhouse near the camp spot. There are no showers, (but a lovely fjord to swim in!)
Private rooms/tent upgrades
If you wish to have your own private room in the hostel on the first night, or a private tent during the trip, then please request this after booking. Your host will contact you by email to confirm your travel and personal details and any extras you wish to add. Private rooms are limited availability, and cost an additional 400NOK (approx £40, $50). Single tents are available for 150NOK (approx £15,$20). Both are payable locally, but must be booked in advance.
Dates & Prices
Prices include
Accommodation · Airport Transfers · Equipment · Guide · Local Transport · Meals As Described · Happiness Guaranteed · 100% Financial Protection
Please note: Flights are NOT included and must be purchased separately.
Loading Dates & Prices...
Optional Extras
Make your life easy. Once you have reserved your space, your host can help you arrange the extras you'll need. Here are some guide prices which can be confirmed with you during booking.
| Private twin room | Payable In Resort |
| --- | --- |
| Private twin room | · · · |
| Private tent | Payable In Resort |
| --- | --- |
| Private tent | · · · |