Looking for a Norway fjords map? Well, then you've come to the right place.
There are over actually 1,700 named fjords in Norway - so admittedly we've not mapped out all of them on this page, but what we have done is create a little resource which you'll hopefully find a bit more practical. We've created a useful Google map that you can carry around in your pocket pinned with our 10 favourites.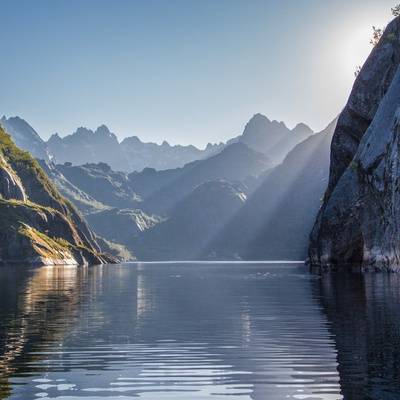 The fact that you're searching for a map of Norway's fjords means that you've probably already decided visit (good choice!), and that really, you're in the process of deciding which of the Norwegian fjords to visit. That's the big question. Metaphorically speaking, of course. Literally, it's not that big a question. It's only five words long and it's the same font size as everything else on this page. Come to think of it though… we can change that last part, since it is such an important question.
Norway Fjords Map
Behold, our Norway fjords map! Specifically, this is a map of what we reckon are 10 of the best Norwegian fjords to visit. What makes them the best, in our opinion? These fjords are a little off the beaten path, so you're less likely to find yourself face-to-face with cruise ships, boats, and large crowds. Some of them, like the Trollfjord and Hjørundfjord are smaller and less-visited so you might even find you have the fjord all to yourself, while others like the Nærøyfjord, are firm favourites with the team here at Much Better Adventures due to some of our most wish-listed trips being run there!
Whatever you're looking for from your research into the fjords, we hope that this resource helps you plan which ones you might want to visit, where they are in Norway, and in relation to one another, and what else you can see and do while you're out there.
You'll notice that many of the fjords are in the south, not far from the beautiful city (and international airport) of Bergen. There are also a couple up north, in the Arctic Circle. Below, you'll find a little bit more about each of those fjords we've listed, as well as a closer look at their location on the map of Norway, and their nearest airport. We hope it's helpful as a resource for planning your fjord road trip.
So there you go. Time to get stuck in. What are you waiting fjord?
The 10 Best Fjords in Norway
1. Lysefjord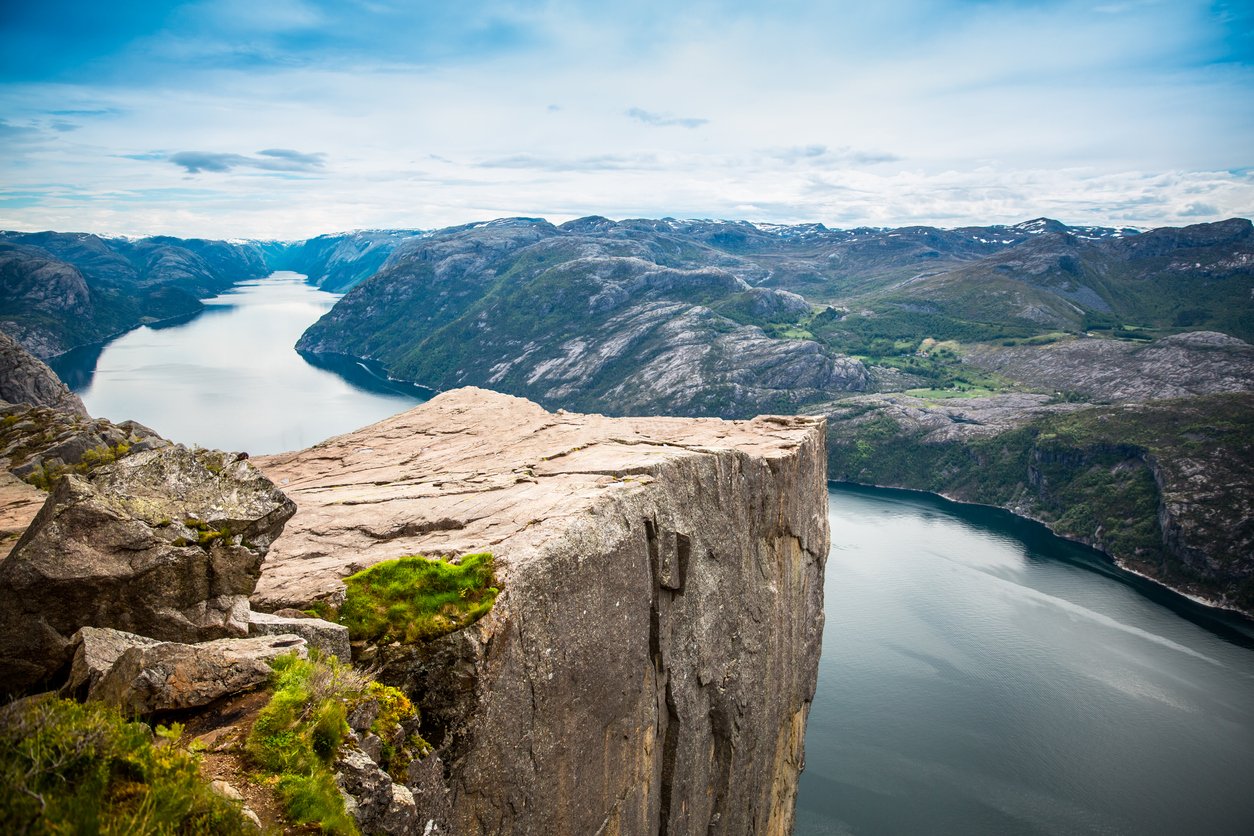 Why should you go there? Lysefjord is home to the world's longest wooden staircase. It creaks, and it squeaks, and it takes you 740m above sea level in about an hour and a half. So if you want a fjord to challenge your calf muscles, this is the one. The staircase is just one of the selling points of Lysefjord, though. Preikestolen (which translates as 'The Pulpit Rock', and is pictured above) is also in the area. A naturally square rock plateau of 25 metres in width and height, it's one of the most beautiful viewpoints of any fjord. It gives those views we all pine for when we think of the fjords – from a stern cliff which drops as deep as the mountains are high.
Where is the fjord? In the Ryfylke area in southwestern Norway.
Nearest airport to fjord: Stavanger (29km).
Distance from Bergen: Around 300km; 6 hours by car and ferry.
2. Hardangerfjord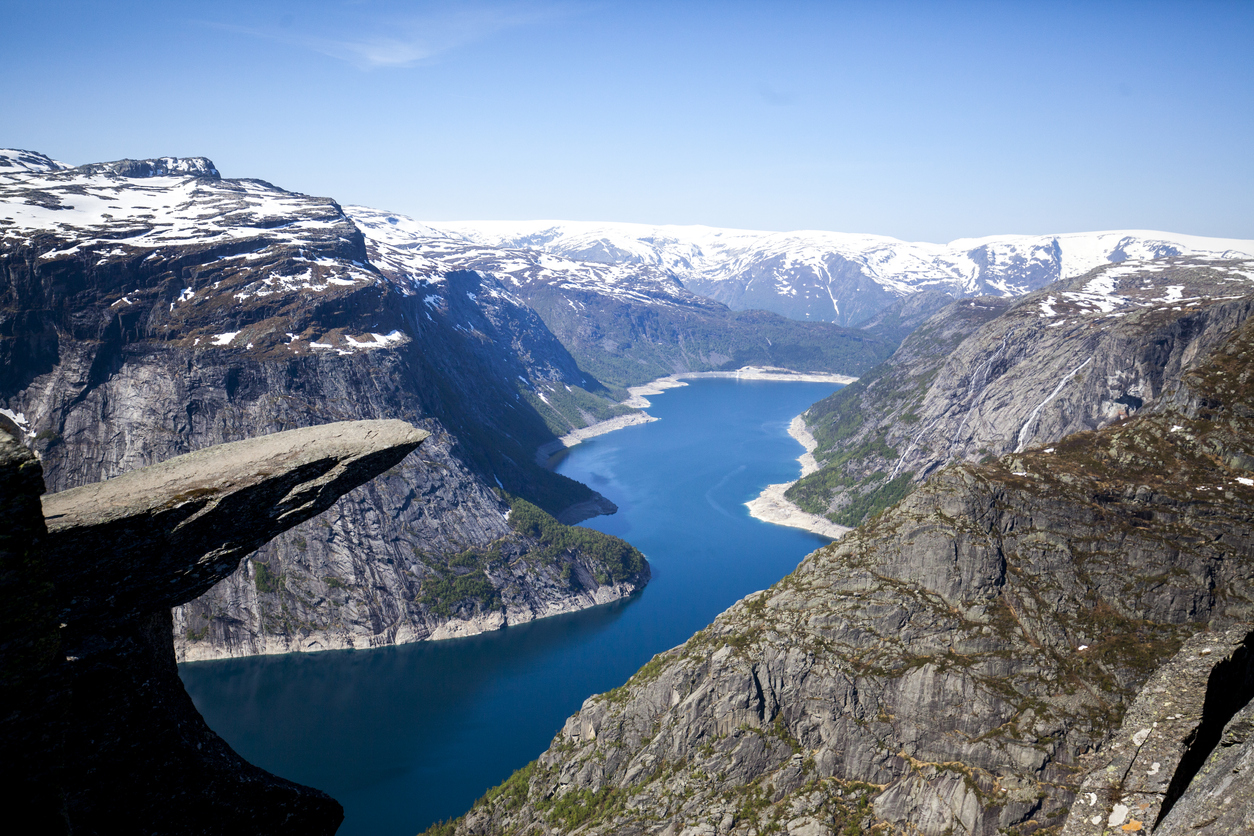 Why should you go there? If there's one fjord with a more famous viewpoint than the Lysefjord above, it's Hardangerfjord and the Trolltunga Rock. Many an Instagramer has recorded a POV video on the cliff's edge of Trolltunga, looking out over the Norwegian wonder… presumably whilst sweating profusely, inches from the drop. There's more than just a pointy-out rock with remarkable views in Hardangerfjord, though. The four waterfalls trail in Husedalen valley, so named because – okay, we're sure you already know why it was named – but seriously, it's one of the most beautiful hiking trails in all of Norway. Think rope bridges, waterfalls and steep cliff faces. The route to Vøringsfossen waterfall is particularly stunning.
Where is the fjord? Hordaland county in the Hardanger region.
Nearest airport to fjord: Bergen Airport (99km).
Distance from Bergen: Around 100km; 2 hours by car.
3. Nærøyfjord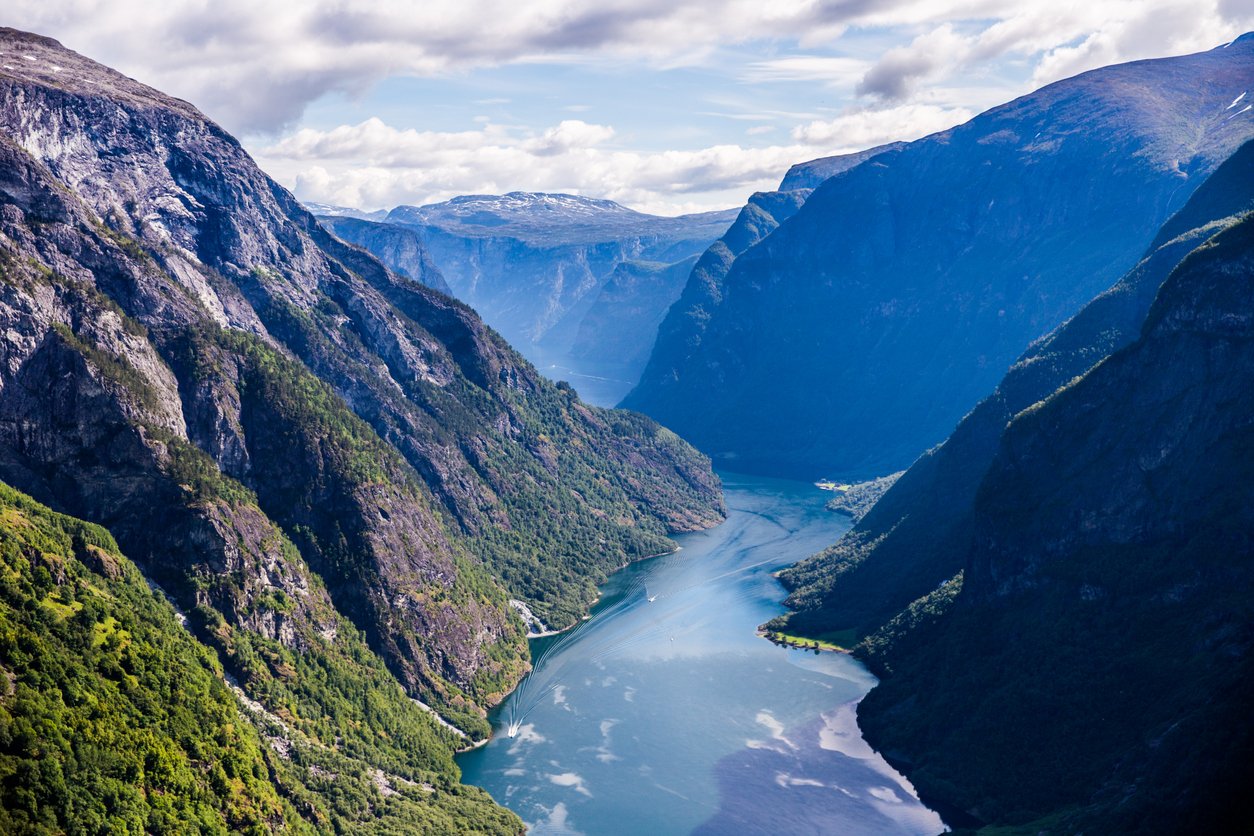 Why should you go there? Nærøyfjord is a UNESCO World Heritage Site.  The mountains are 50 million years old. There are no planes allowed overhead. The fjords provide protection from the wind, making it a kayaking haven and the perfect place to pitch a tent to wild camp with a view. You might wake up to a seal in the water in front of you. Maybe even an eagle in the air above you. Do we have to say any more? If you fancy a long weekend on the fjords doing all of the above, have a look at our trip itinerary here, based in Nærøyfjord, or check out our first-hand experience of kayaking the Nærøyfjord on our team trip in May 2022.
Where is the fjord? The municipality of Aurland in the country of Sogn og Fjordane in western Norway.
Nearest airport to fjord: Sogndal Airport (26.3km).
Distance from Bergen: Around 150km; between 2 and a half to three hours by car.
4. Nordfjord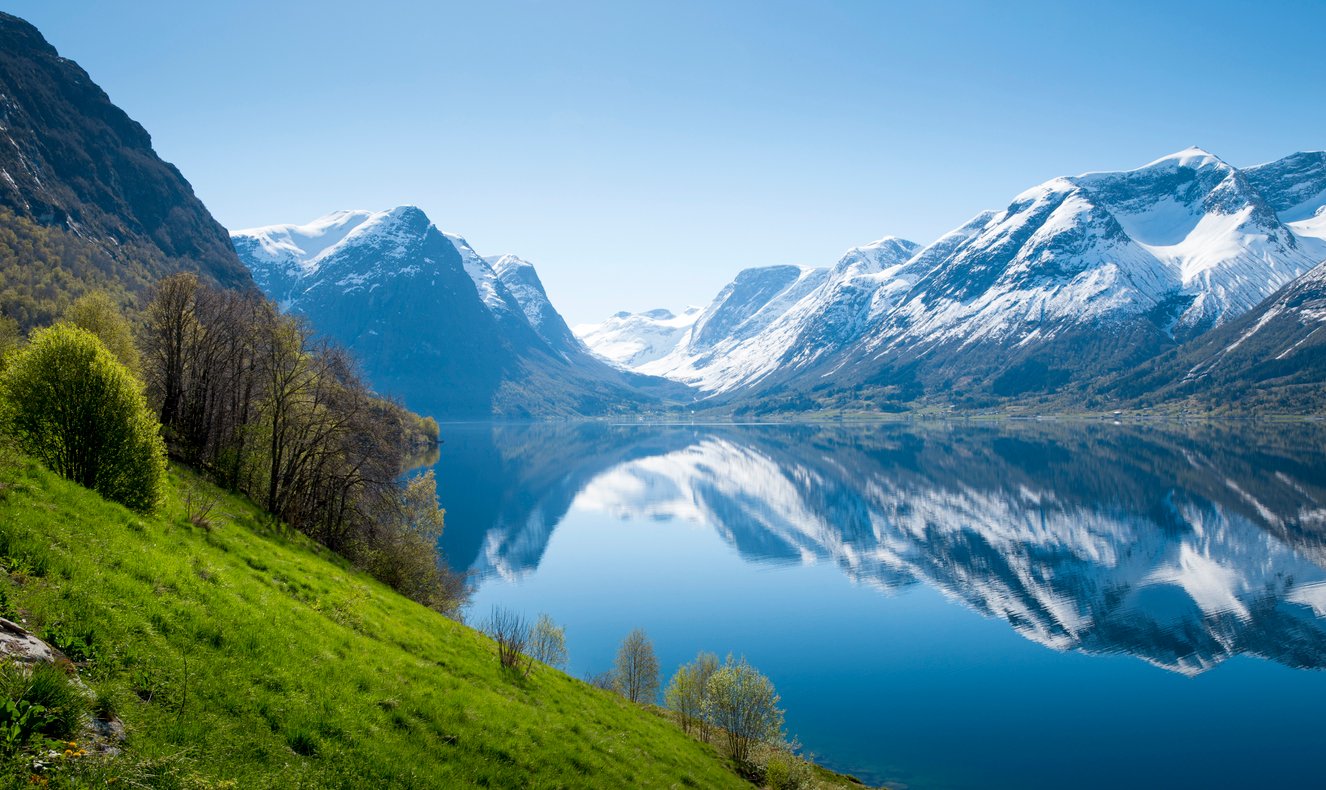 Why should you go there? Nordfjord is almost definitely the most enjoyable of all the fjords to say out loud. Go on. Treat yourself. Nordfjord. Nord-fjord. What fun we're having. It's not so bad on the eyes, either. It's got coastlines and mountains. There's the biggest glacier on mainland Europe – 'Jostedalsbreen' – covering 1310 square kilometres. And it's also got Europe's deepest lake, Hornindalsvatnet. So if you like record-breaking scenery, or just words made up of two syllables that rhyme, Nordfjord scores. It'll leave you floored. It's simply sure to strike a chord.
Where is the fjord? The northern part of Sogn og Fjordane county in western Norway.
Nearest airport to fjord: Sandane Airport (27.5km).
Distance from Bergen: Around 250km; four and a half hours by car with a ferry crossing.
5. Sognefjord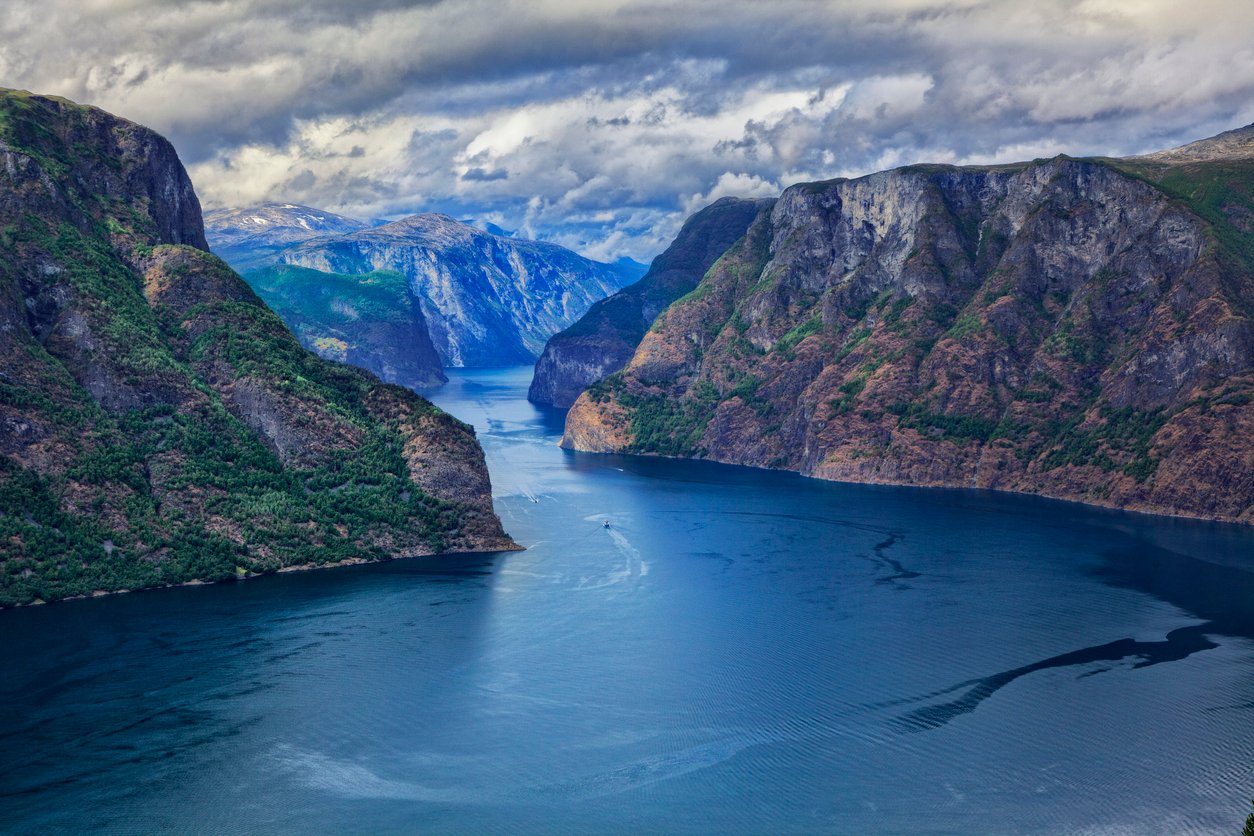 Why should you go there? If you like your fjords like we like our philosophical conversations – long and deep – then Sognefjord is the fjord for you. It's the largest and deepest fjord in Norway. The fjord is almost as deep as Ben Nevis (the highest mountain in the UK) is high, reaching over 1300m down, while the mountains that run alongside the water rise to over 1700m. It's so big that the arms and branches of the fjord are destinations in their own right. The previously mentioned Nærøyfjorden is just one arm of the Sognefjord. Others include Lusterfjord, the Fjærlandsfjord and the Finnafjord. It's not called the "King of Fjords" for no reason.
Where is the fjord? Sogn og Fjordane county in Western Norway.
Nearest airport to fjord: Sogndal Airport (71.2km).
Distance from Bergen: Around 200km; approximately 4 hours by car.
6. Geirangerfjord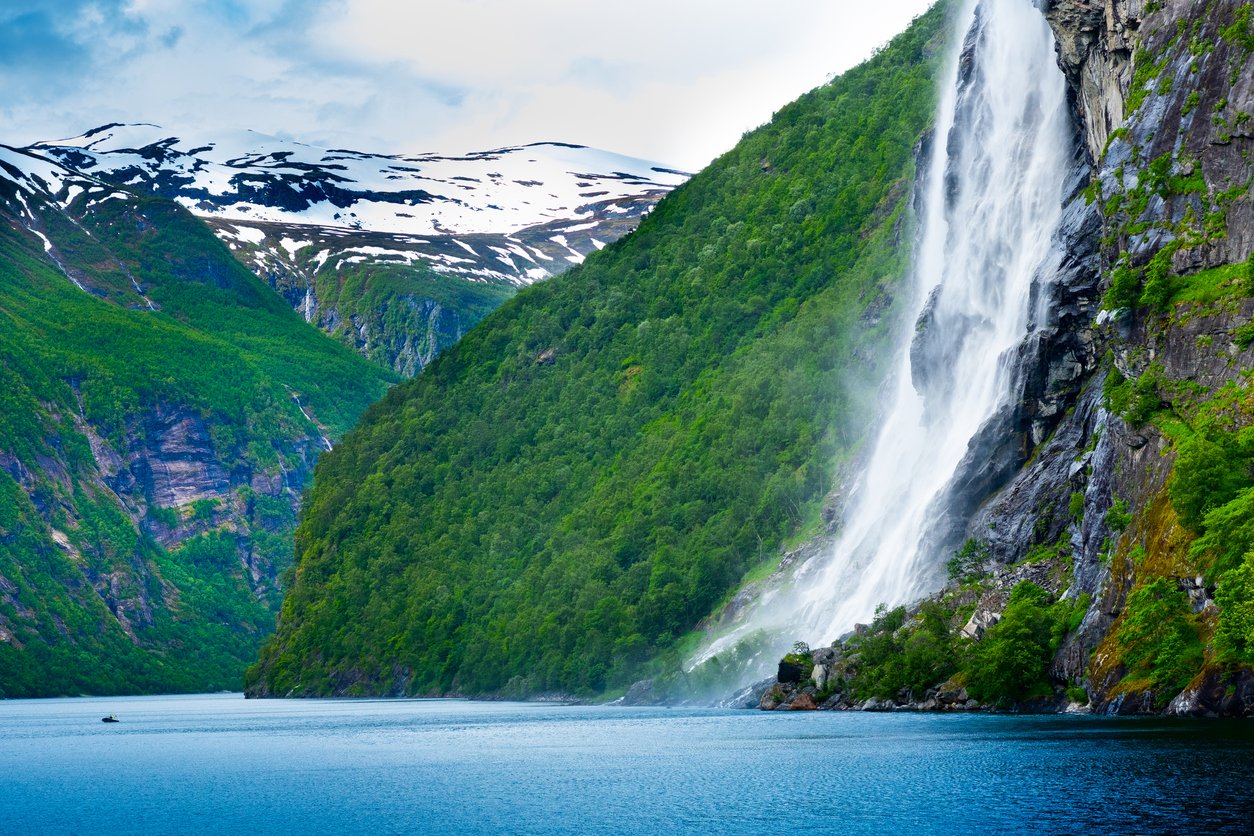 Why should you go there? Geirangerfjord is widely considered to be one of the most beautiful fjords in all of Norway. There are times when you can be sitting in a kayak, paddling the waters, and watching a waterfall drench down the steep cliff faces of one of the mountains that make up the fjord walls. Those surrounding mountains go up to 1700m high and there's even a farm 320m up – Westeras farm – which dates back to the 17th century, and where you can spend the night. Now just look at that photo above. And imagine yourself in a kayak in the middle of the water in Geiranger. Picturing it? Yup. We rest our case.
Where is the fjord? In the Sunnmøre region of Møre og Romsdal county.
Nearest airport to fjord: Ålesund Airport (123km).
Distance from Bergen: Around 370km; expect to be on the road for around 8 hours if you're driving.
7. The Hjørundfjord
Why should you go there? All fjords are a great example of wilderness, but there's something about the lesser visited Hjørundfjord which really just screams wild. Most people venture instead to the more famous Geirangerfjord (from the previous point) which neighbours the Hjørundfjord. This means the chances of getting the remarkable, 35-kilometre long Hjørundfjord to yourself (or at least, not crowded) are actually quite high, if you go at the right time of year, or get up early. It's a beauty, too.
Where is the fjord? In Sunnmøre in Møre og Romsdal county.
Nearest airport to fjord: Ørsta/Volda Airport (32.7km).
Distance from Bergen: 370km; a 7 hour drive including two ferry crossings.
8. The Aurlandsfjord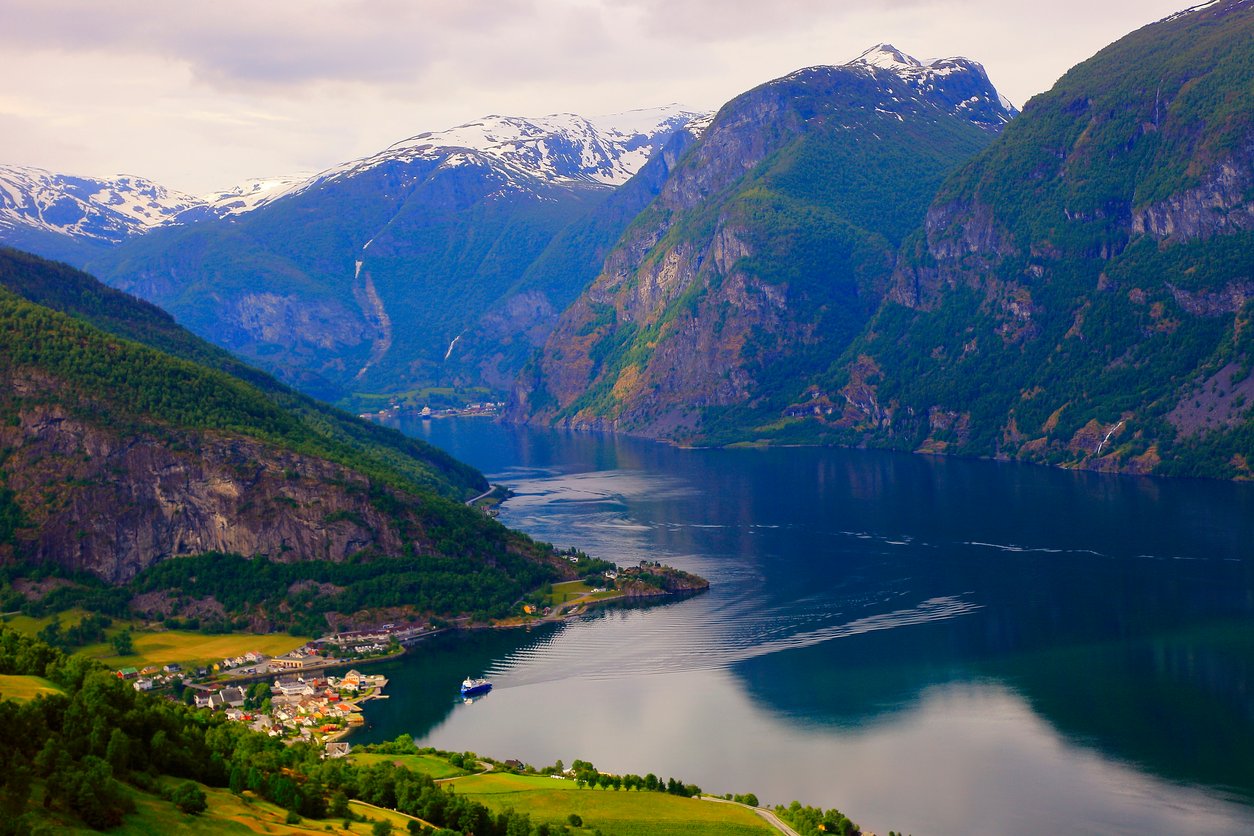 Why should you go there? The Aurlandsfjord is another one of the branches of the larger Sognefjord. Along the fjord you'll find the villages of Undredal, Aurland and Flåm, making it a great way to combine the quaint experience of visiting Norwegian wilderness towns and experiencing their culture, with seeing the rugged wilderness of the nearby fjords. One of the good things about going to Aurlandsfjord is you can see all that, then nip over to the nearby Nærøyfjord. Two fjords (and more should you wish) for the price of one.
Where is the fjord? In the Sogn og Fjordane county.
Nearest airport to fjord: Sogndal (67km).
Distance from Bergen: Around 180km; roughly a three hour drive.
9. Lyngenfjord
Why should you go there? Lyngen is an 82km fjord in Troms county. And since you've gone to the bother of venturing as far north as Lyngenfjord, you have a pretty good shot at seeing the northern lights while you're up there, too. If you're interested in sailing the Norway fjords on a Tromso Northern Lights tour, look no further! Lyngen is a much wider fjord, dramatic in completely different ways than most others further south. It's a fantastic opportunity to get to the fjords, to aurora borealis, and to the Arctic Circle in one trip.
Where is the fjord? In Troms county, in the north of Norway.
Nearest airport to fjord: Tromsø Airport (113.7km).
Distance from Tromsø: Around 450km; 6.5 hours by car
10. Trollfjord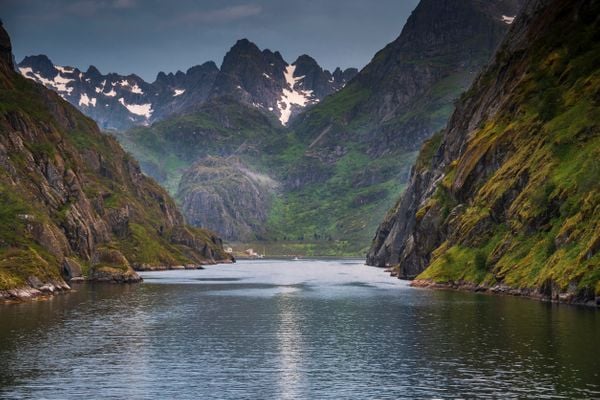 Why should you go there? Trollfjord is best noted for the fact that it is an incredibly narrow fjord. At times the fjord is only 100m in width (max 800m), and at 2km long, it's not huge either. It's actually a sidearm of the Raftsundet strait between Lofoten islands and Vesteralen archipelago. So it's another really quite unique beauty deep in the Arctic circle. Short it may be, but with that short width, and the towering mountains around it going over 1000m, those two kilometres are possibly the most breathtaking two in all of Norway. Plus, it's called Trollfjord, which is fun. The region around it has plenty of dreamy folklore to go along with the name.
Where is the fjord? In Hadsel Municipality in Nordland county.
Nearest airport to fjord: Hammaerfest Airport (39km).
Distance from Tromsø: 390km; approximately 5 and a half hours drive
Inspired? Check out our range of adventure holidays in Norway, including hiking, kayaking and wild camping on the Norwegian fjords.