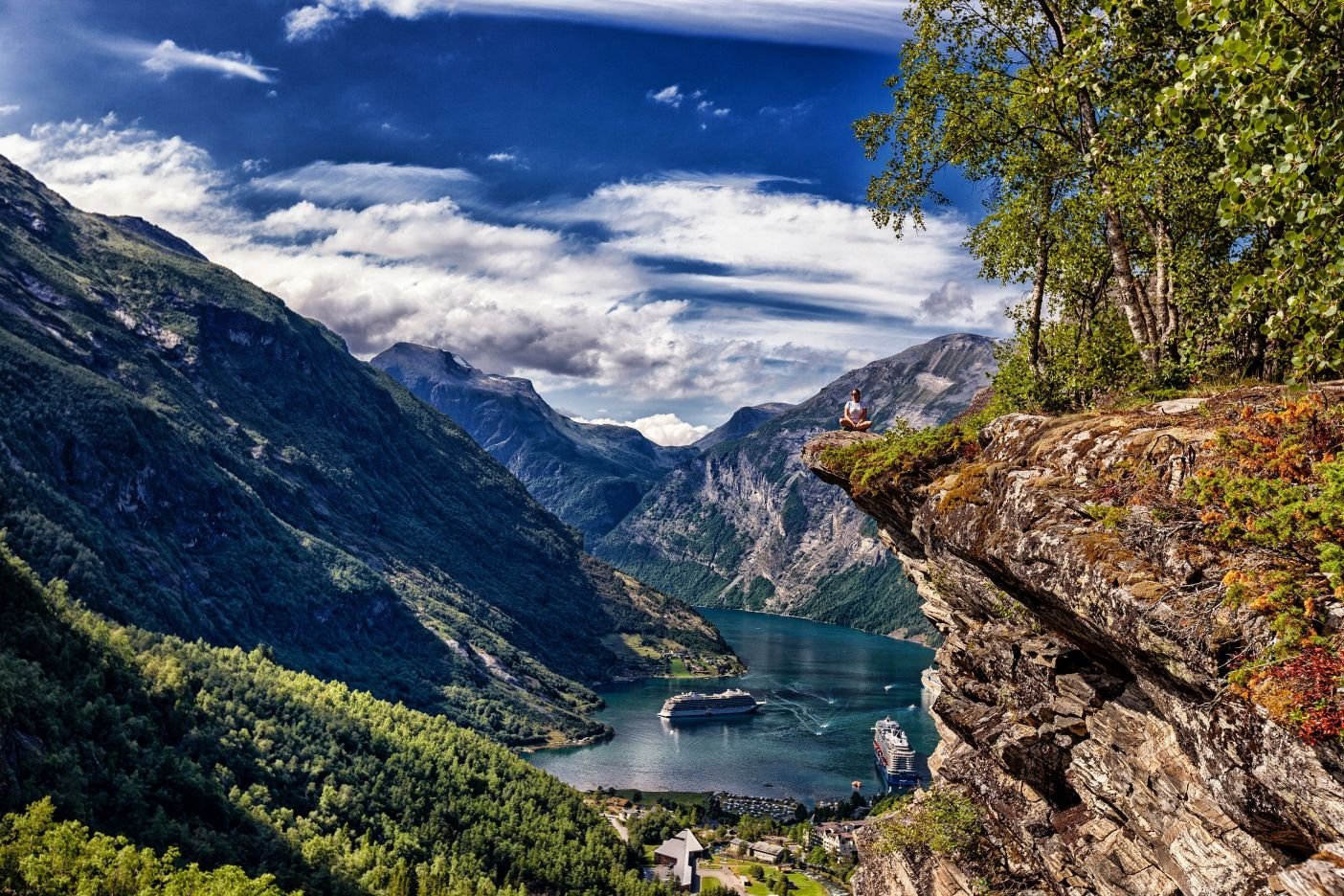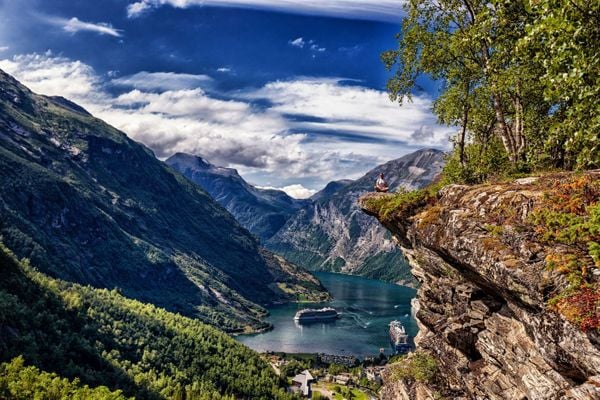 Geiranger is a village in western Norway and is the gateway to the Geirangerfjord – often said to be the "jewel in the crown" of the Norwegian fjords. Now, when it comes to Norwegian fjords, that's saying something, because they're all pretty stunning. The Norwegian fjords are on so many bucket lists exactly because they deserve to be there. The fjords are one of the most stunning natural phenomenons in the world – but the Geirangerfjord in Geiranger is considered to be one of the most beautiful fjords for good reason.
So… what's all the fuss about? Here's our guide to Geiranger and the Geirangerfjord, complete with definitions, maps, highlights, hikes and directions. Everything you need to get your adventure started in Geiranger, Norway.
Where is Geiranger and what is Geirangerfjord?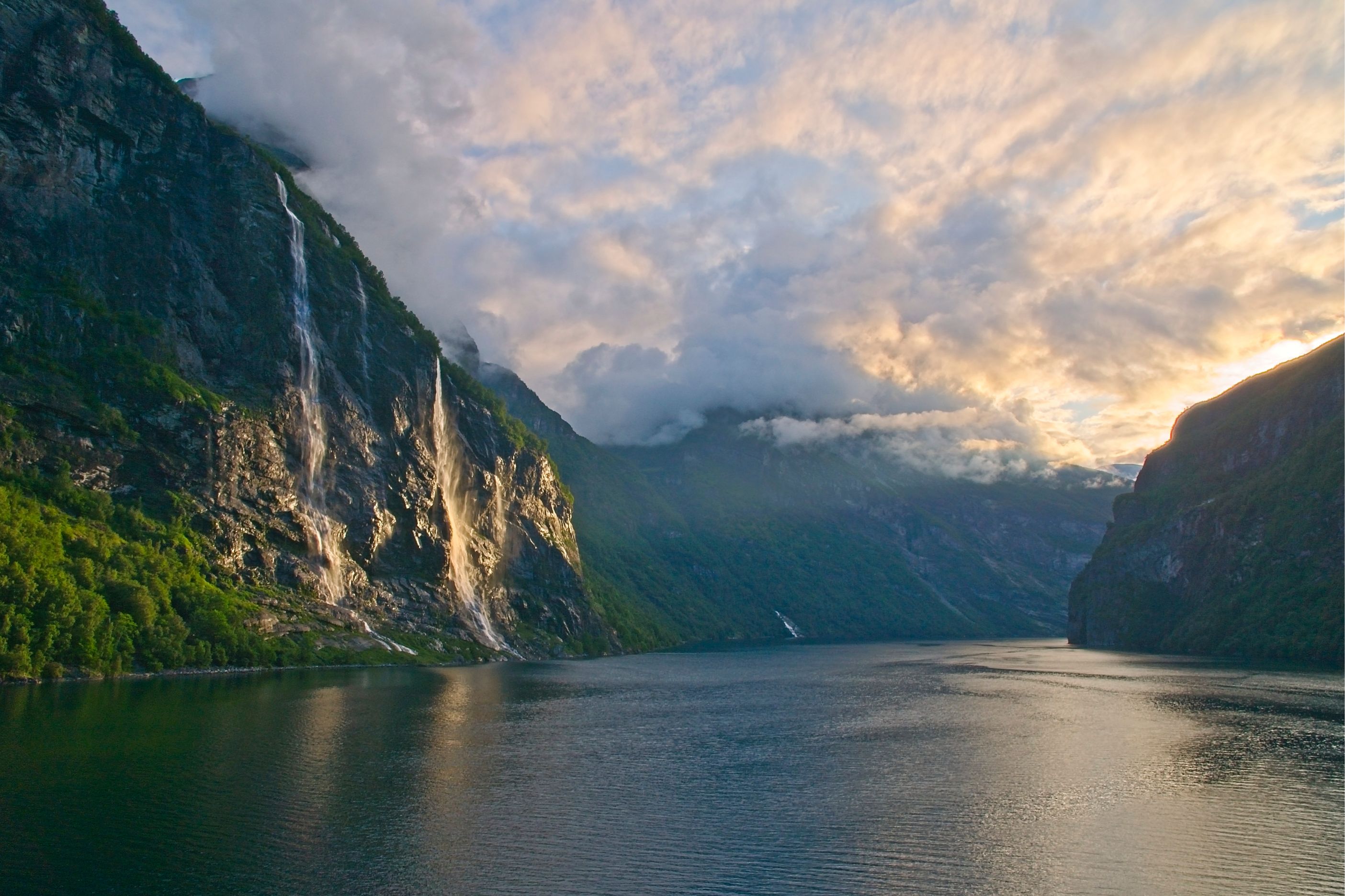 Geiranger is a small tourist-focused village on the western coast of Norway. Specifically, it's in the Sunnmøre region of Møre og Romsdal county and in the municipality of Stranda. It's actually the third biggest cruise ship port in Norway, with hundreds of thousands of tourists passing through Geiranger each summer, making it one of the most visited tourist sites in Norway.
The village sits at the head of the Geirangerfjorden and, because of the beauty of the Geirangerfjord, Geiranger has previously been named the "best travel destination in Scandinavia" by Lonely Planet. The Geirangerfjord was even listed as a UNESCO World Heritage Site in 2005.
To go back to absolute basics for a second, the Geirangerfjord is – and the clue is in the name – a fjord. A fjord is a narrow inlet of land lined by steep, huge mountainous cliffs, created by a glacier. Geiranger is a village on the Geirangerfjord, and Geirangerfjord itself is 15km/9.3 miles long. It's actually a branch of another, even bigger fjord called Sunnylvsfjorden… and that fjord is actually a branch of the Storfjorden, known as "the great fjord". So there's a bit of fjord-ception going on in all this. But that's not so important.
To give you your bearings a little, here's a map (and if you want a full Norway fjords map, click that link!):
Ferries run across the fjord, for sightseeing and for transport purposes, and there's currently a goal in place to make those ferries zero-emission by 2026.
What's so special about Geiranger and the Geirangerfjord?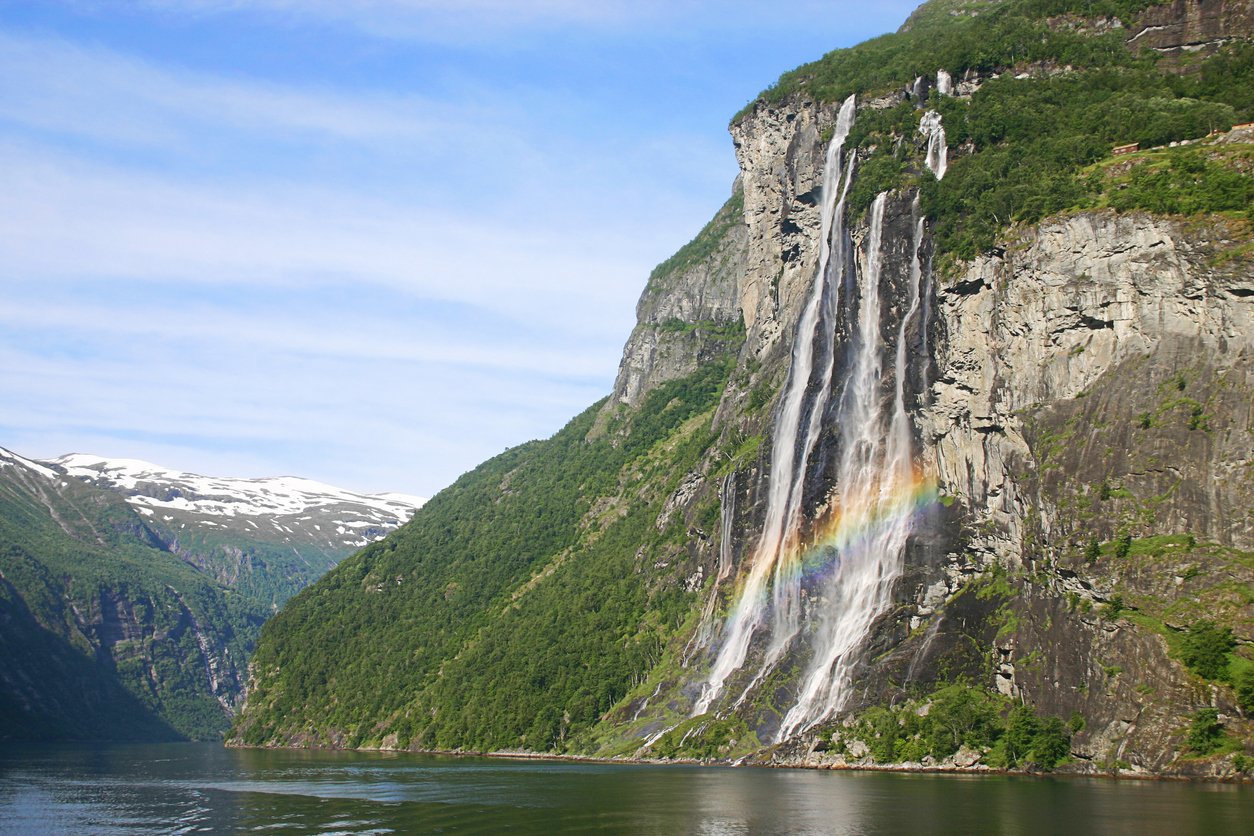 So, Geirangerfjord is a UNESCO World Heritage Site. Geirangerfjord has been voted one of the best travel destinations in all of Scandinavia. Yup. But why? Well… basically because it is (to quote Zoolander) really, really, ridiculously good looking. The place is simply absolutely stunning. That it's. That's the reason.
In fact, it's so good looking that even Disney took inspiration from it for their animations. The film Frozen used the landscape of the Geirangerfjord as the basis for the scenery around Arendelle (which, if you love the film as much as us, you won't need reminded is the kingdom over which Elsa the Snow Queen rules). Whatever you think of the film, though, if Disney princesses are living there, you know it's extra beautiful. Like, comically, out-of-this-world beautiful. That's the Geirangerfjord for you.
Not only is the fjord lined by some of the steepest cliffs on the west coast of Norway, it's also incredibly narrow and basically has no shoreline, giving it an even wilder feel than most other fjords. The waterfalls on the fjord are some of the most famous in Norway, too. Most notably, the Seven Sisters Falls, which falls 410 metres down the walls of the fjord and consists of seven separate streams. Directly opposite the Seven Sisters is "The Suitor" waterfall which, legend says, is trying to woo and flirt with the sisters dancing merrily on the wall. Not sure quite what you're meant to do with that information, but there you go. Have it.
Oh, and did we mention the Geirangerfjord inspired Frozen? We did? Okay. We'll let it go.
The 3 Best Hikes Around the Geirangerfjord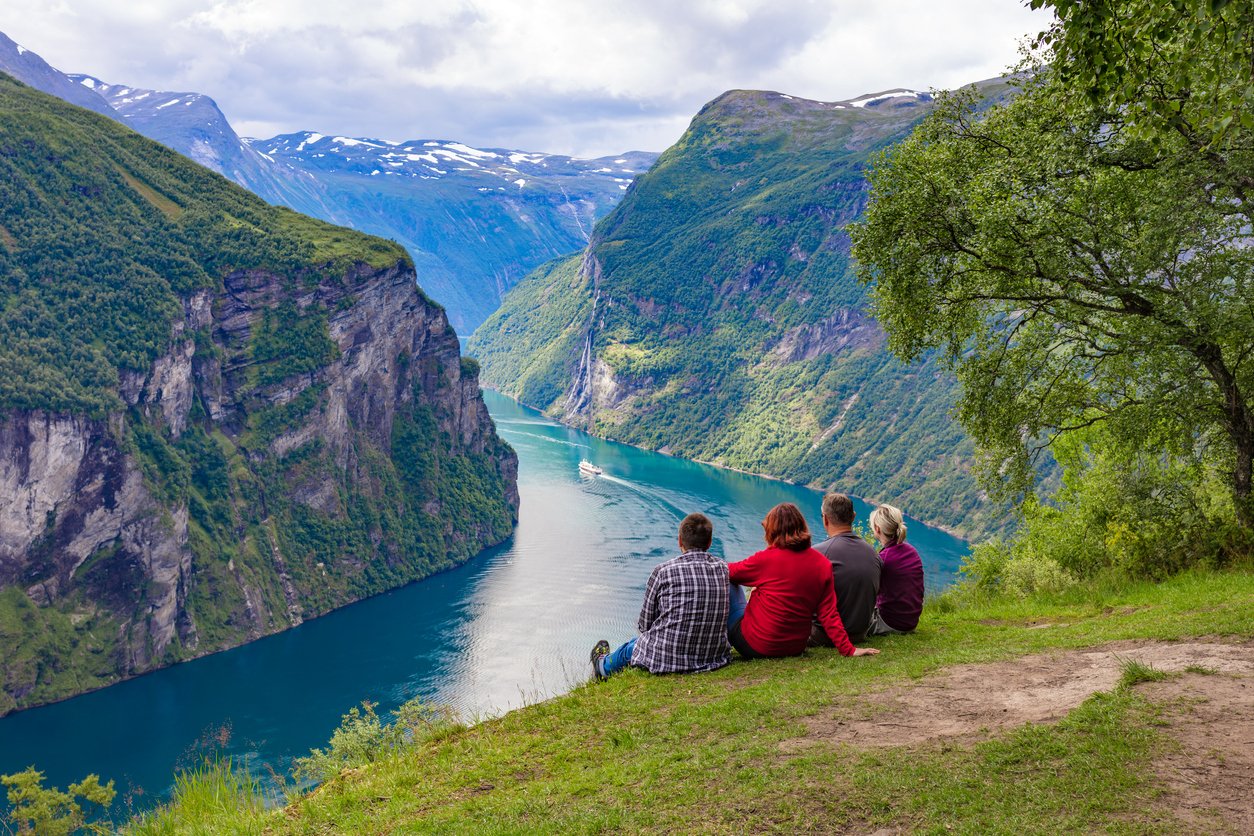 Where there is beautiful scenery there is beautiful hiking and this is a truth that holds for the Geirangerfjord. Of course, there's a lot more than three routes to choose from in the area, so this is just to give you a few ideas of where to hike around Geiranger. Without further ado…
1. Hike to Storsæterfossen waterfall
Storsæterfossen waterfall is an easily accessible and brilliantly unique hike. Starting from a car park, the hike is well sign-posted. There's even a stand with walking sticks to loan for the trip at the start. You'll then follow a stone route with hundreds of steps (sorry) made by Sherpas from Nepal, finished in 2014. There is an alternative route which isn't stone, but is shorter and steeper. Either way, you'll end up following the route behind the Storsæterfossen waterfall (like you'll literally be under the waterfall, which will be falling over your head, onto the ground) – giving you a stunning view as it falls, and a fantastic photo opportunity.
2. Hike the mail route at Ljøbrekka
The Ljøbrekka is a route with 35 hairpin turns. It raises to Herdalsbrekka then follows the east side of a lake before going north to Herdalen. The history here is great. It's called the mail route because it was the mail route (what a twist!) across Ljøfjellet, between two farmsteads in Herdalen, in 1786. This was just one part of a 800km long postal trail between the cities of Bergen and Trondheim – but known as one of the toughest parts. In the winter, it often required the use of a rope (take note – it can get cold here in winter). In 1862, a packhorse road was built going up Herdalbrekka, meaning you could take your horse up, so you've also got that option. If you remembered to pack a horse. The mail route didn't make it into the 20th century, as the steamship took over transporting mail in the late 1800s. But the trail remains popular.
3. Hike to Homlong
This hike starts on a hillside farm, so you'll need to get a boat out to the start of it. Get off at Skagehola and climb the winding trail upwards. You're already on the fjord so the views will be beautiful all the way. And the trail itself is super nice. It has that feel of an olden-day trail: sketchy metal bannisters grounded in place, steeply rising upwards. That said, it's also completely fine for families. You'll earn a beautiful view of the fjord and Seven Sisters waterfall – a view so beautiful it's where the Norwegian royalty celebrated their silver wedding anniversary in 1993.
The Best Viewpoints around the Geirangerfjord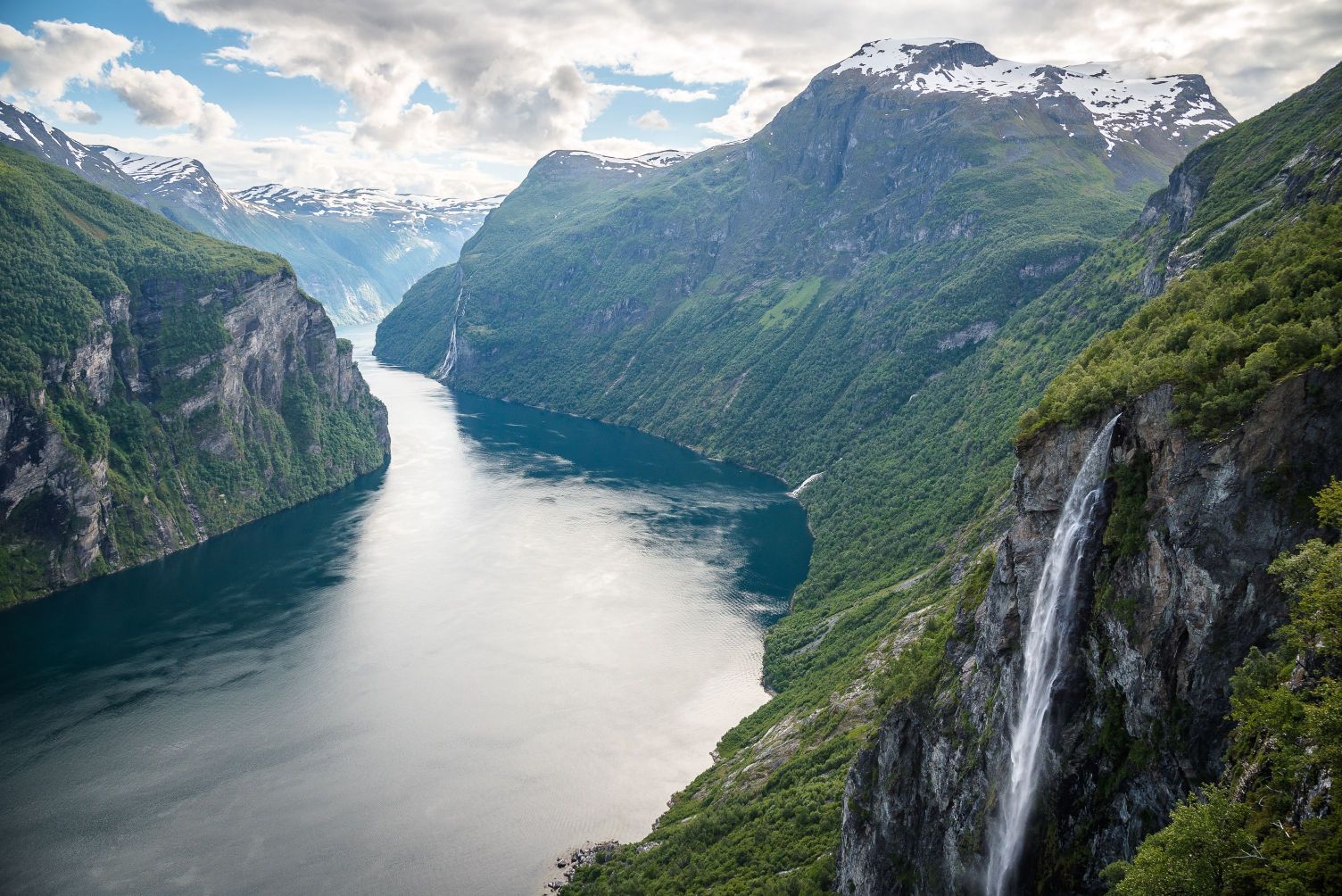 The Geiranger Skywalk platform is the highest view of a fjord available from any road in Europe. It's 1500m up, and while the drive is windy, the end product is well worth it. The road is called 'Nibbevegen' and is described as "the very symbol of tourism in Geiranger". It opened way back in 1939 and is usually open from late May to October. Also, if you walk the Skywalk, that makes you a Skywalker – so while this place has nothing to do with Star Wars, that's got to be a pull for fans of Mr. Vader & co.
Other popular viewpoints include Fydalsjuvet, easily accessible from road no.63 and with a great view of both Geiranger and Geirangerfjord, and Ørnevegen – a viewpoint reached from a rather perilous, steep, hairpin-hectic road which has become an attraction in its own right. If you want a challenge that isn't a hike, try taking on Ørnevegen on a road bicycle!
Geiranger: From Fjord to Summit
The Geiranger – From Fjord to Summit event is also well worth a mention here. Taking place each June, it ties together a half marathon and bicycle race, and sees competitors race from sea level to the 1,497 metre summit of Mount Dalsnibba, near the lake Djupvatnet. Not only do you climb from sea to mountain top, but you also climb from summer to winter. There tends to still be a lot of snow at the top of Mount Dalsnibba, even in June.
How to get to Geirangerfjord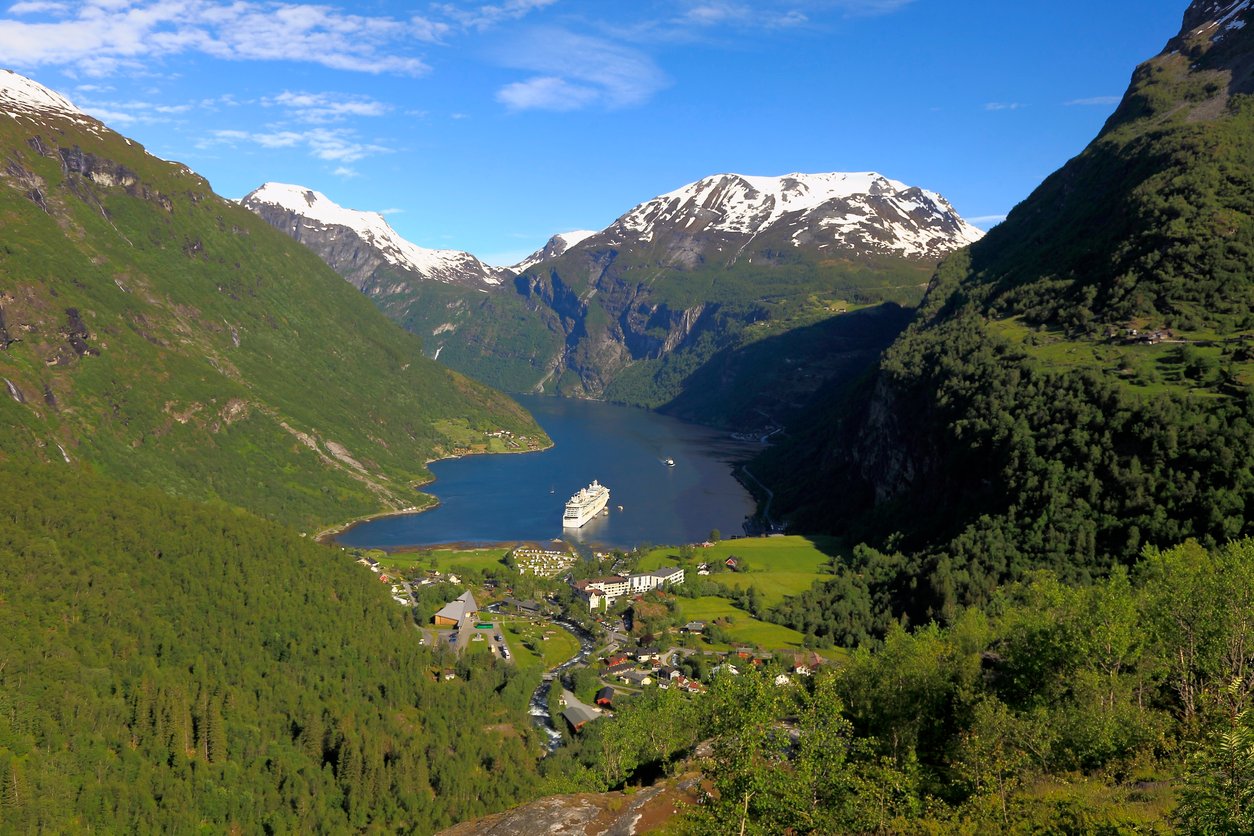 We're going to base our section on how to get to Geiranger around the places that you're most likely to be visiting from as a tourist – so how to get to Geiranger from Oslo and how to get to Geiranger from Bergen.
The closest airport is called Ålesund International Airport. There are daily flights there from both Oslo and Bergen. A flight from either city would take under an hour to get to Ålesund, and from there, Geiranger is about a two and a half hour drive.
You can also get the bus to Geiranger from Oslo or Bergen. From both it's around a nine to 10 hour journey, making that flight look pretty appealing. If you're driving of course, it's a little – but not much – quicker. There tend to be more roads available in summer than in winter, but in winter, there's a chance of seeing the northern lights at the fjords. Of course, in terms of northern lights, the fjords up north give you a much greater chance of a sighting.
The train is a different story though, and possibly the best, carbon-friendly way to get from the major cities of Norway to Geiranger. While you can't get the train from Bergen to Geiranger, a train from Oslo will take around five and a half hours, and the views you'll get along the way are simply fantastic.
Inspired to check out the fjords? Have a look at our adventure holidays in Norway now.