Slovenia Adventure Holidays
Slovenia is right on the edge of Western Europe, sharing borders with Italy, Austria, Hungary and Croatia. The country feels alpine - which comes as no surprise, given it's almost 80% mountains - but without the crowds you'll find in popular parts of the Alps. Plus Slovenia doesn't just have mountains to offer. It's got forests and caves, canyons and rivers. You could be taking a swim in the turquoise waters of a remote lake. Or hurtling down a mountain river on an inflatable raft with your teammates, paddle in hand.
Slovenia adventure travel can be jam-packed with adrenaline if you want it to be. Climb to the summit of jagged limestone peaks on via ferrata wires or plunge into waterfall pools on the Emerald River. Here are a few places you might start looking for your activity holiday in Slovenia.
Julian Alps
The Julian Alps are Slovenia's main mountain range, in the north west corner of the country and spilling out into Italy. Expect towering pointed peaks and huge amphitheatres naturally carved out of karst limestone. These mountains make up most of Triglav National Park, which is centred around Mount Triglav: the country's highest peak.
Soča River
The Soča River is Slovenia's answer to whitewater rafting and kayaking. It has a good variety of rapids and has hosted several international kayaking competitions in the past decade. The river's beautiful green-blue colour inspired its other name: the Emerald River. These crystal clear waters are considered to be some of the cleanest in Europe. In the surrounding Soča Valley, you can hike to pools, gorges and waterfalls, while still being close to some of the best water-based adventure holidays Slovenia has to offer. And if that didn't cinch the deal, apparently they filmed some of the Narnia movies there.
Kranjska Gora
If Slovenia is the adventure capital of Europe, then Kranjska Gora is fast becoming the adventure capital of Slovenia. Placed in the Upper Sava Valley and almost completely surrounded by mountains, it's still easily accessible - making it a great base for adventure holidays in Slovenia. You could be doing anything from trail running to hiking to mountain biking to canyoning.
Lake Bled
Lake Bled is that characteristic image of a tiny island, mostly taken up by a church, in the middle of a huge lake. As picturesque as it may be, it's also a fab spot for watersports of all kinds and a gateway into the mountains. Your Slovenian adventure holiday could include wild swimming, kayaking, stand up paddleboarding and even hiring a boat to row out and explore the island. The water temperature gets up to 25°C in summer and can drop to 4°C in winter… or even freeze over.
Hiking in the Slovenian Alps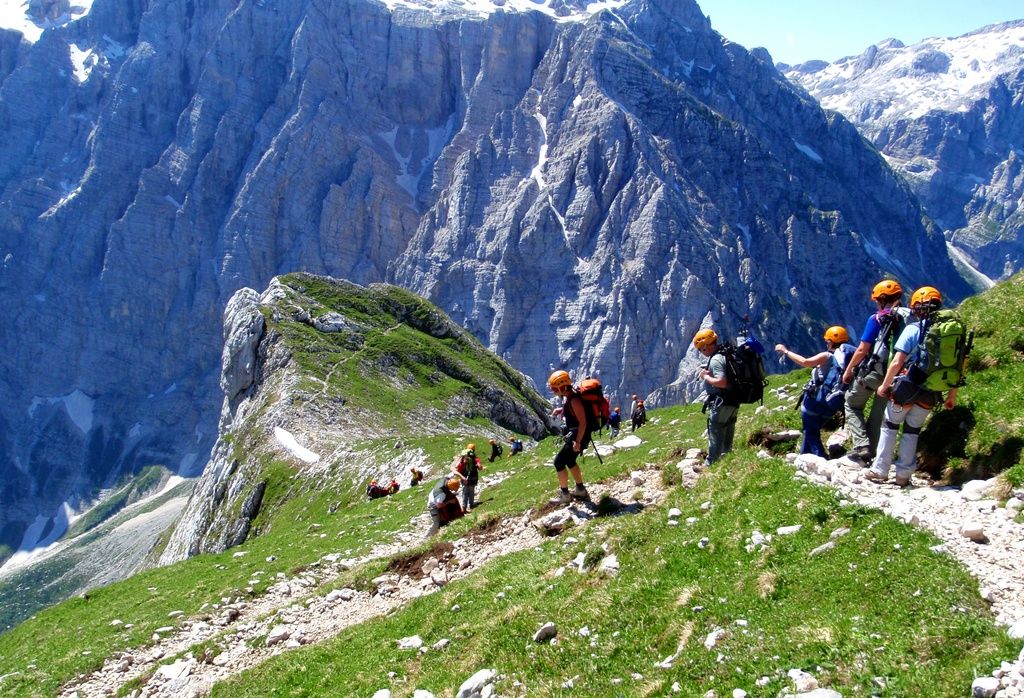 You're spoilt for choice when hiking in Slovenia. The country is dominated by the Julian Alps, where the highest and most technical peaks are, but don't forget the Kamnik Alps and the Karawanks too (yep, what a name!). Depending on your tastes, you could be strolling through alpine meadows and foothills or clinging to metal rungs on a towering limestone pillar.
There are several long distance walking routes in Slovenia. The longest national trail is the Slovenian Mountain Trail that takes at least 28 days to cover 617km and 21 peaks. It starts in the south west corner of the country and winds its way north through Triglav National Park, before turning a sharp corner eastwards. The Via Dinarica, Via Alpina and Alpe Adria Trail all pass through Slovenia, as do European Routes E6 and E12.
Trails are marked with yellow signposts, giving estimated times, or red and white paint splodges on rocks. In the high mountains there is barely any vegetation, but the landscape makes up for it with dramatic cliffs and sharp peaks. Every single view presents more exciting routes to try out next time - or as soon as you can!
There are many mountain huts open in the summer (up high and at the head of valleys) and campsites. Wild camping is officially prohibited in Slovenia, especially in the National Park. A few mountain huts have self-catered winter rooms that stay open in the off season when the snow comes.
It's also worth noting that Slovenians have a funny idea about what counts as a "path". Your footpath could range anywhere from flat and benign to requiring a descent via metal rungs. These sections tend to be short (and steep) but expect wires and holds more akin to via ferrata, particularly in Triglav National Park. The line between via ferrata and footpath is rather blurry sometimes.
Climb Mount Triglav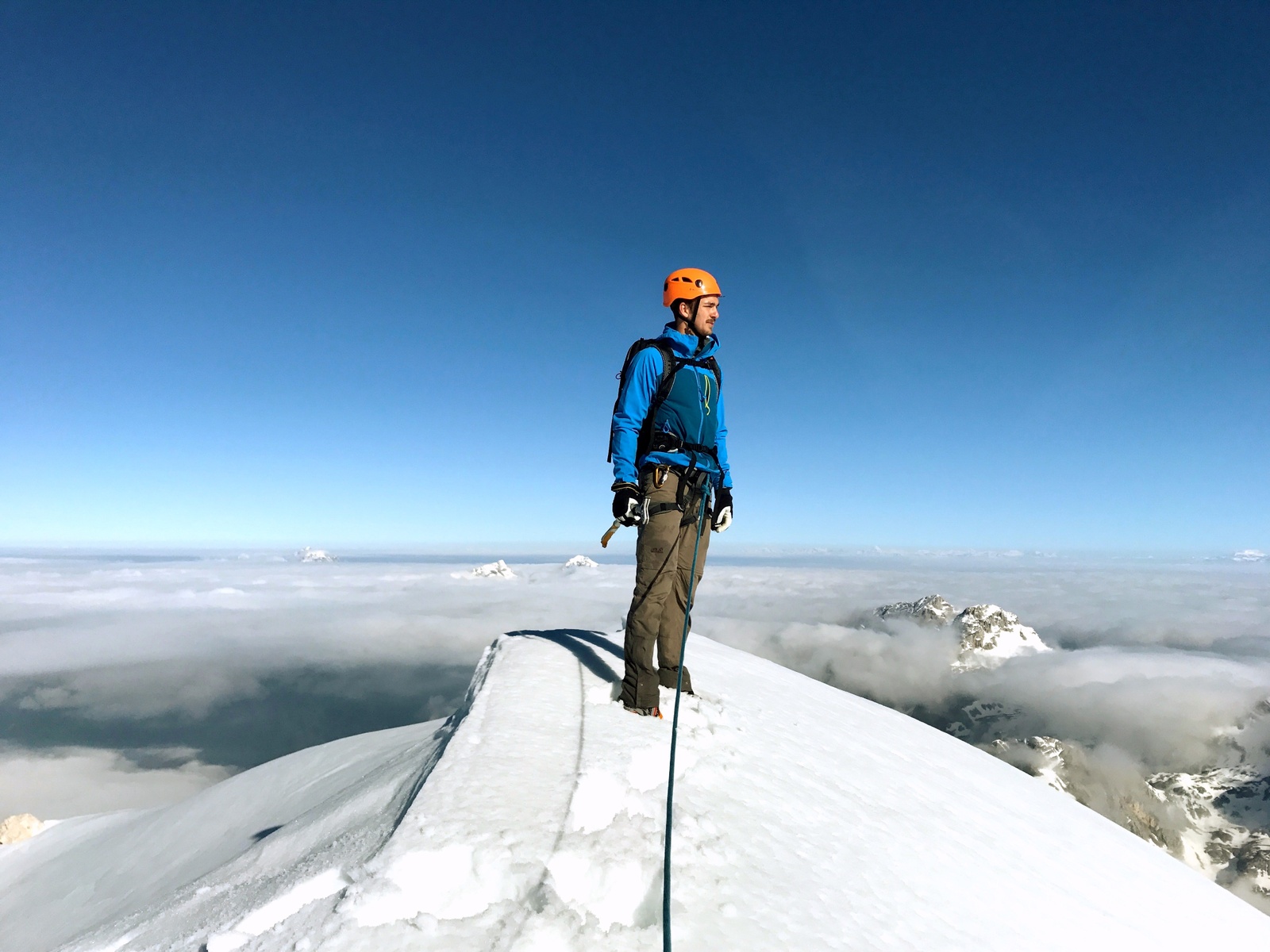 It's considered a rite of passage for Slovenians to make it to the top of Mount Triglav, the country's highest peak. Given it's a measly 2864m above sea level and requires a good hour of via ferrata to reach the summit, this tells you a lot about Slovenians! The peak also features on their national flag, adding to its status as an icon.
Aside from it being the top of the country, there are plenty of reasons to climb Mount Triglav. You'll have views across the country from the top (if you're not standing above a cloud inversion in the sunshine). The via ferrata route to the summit is a proper Slovenia adventure with exposure, scrambling and a knife edge ridge. You're clipped into the wire all the time - and that doesn't make it any less incredible.
Most people would stay in a nearby mountain hut the night before reaching the summit, it's so far from civilisation. The closest is Kredarica Hut, just metres away from the start of the via ferrata route. It's quite something to spend the night under the massive shadow of Triglav's three peaks. From the hut decking, you can watch people wind their way up the sheer ridgeline, over Little Triglav and out of sight. It looks impossibly exposed from a distance, but the via ferrata wire is there to guide you and keep you secure. Channel your inner mountain goat to reach the distinctive, cylindrical Aljaž Tower at the top of the mountain.
Wild Swimming and Stand Up Paddleboarding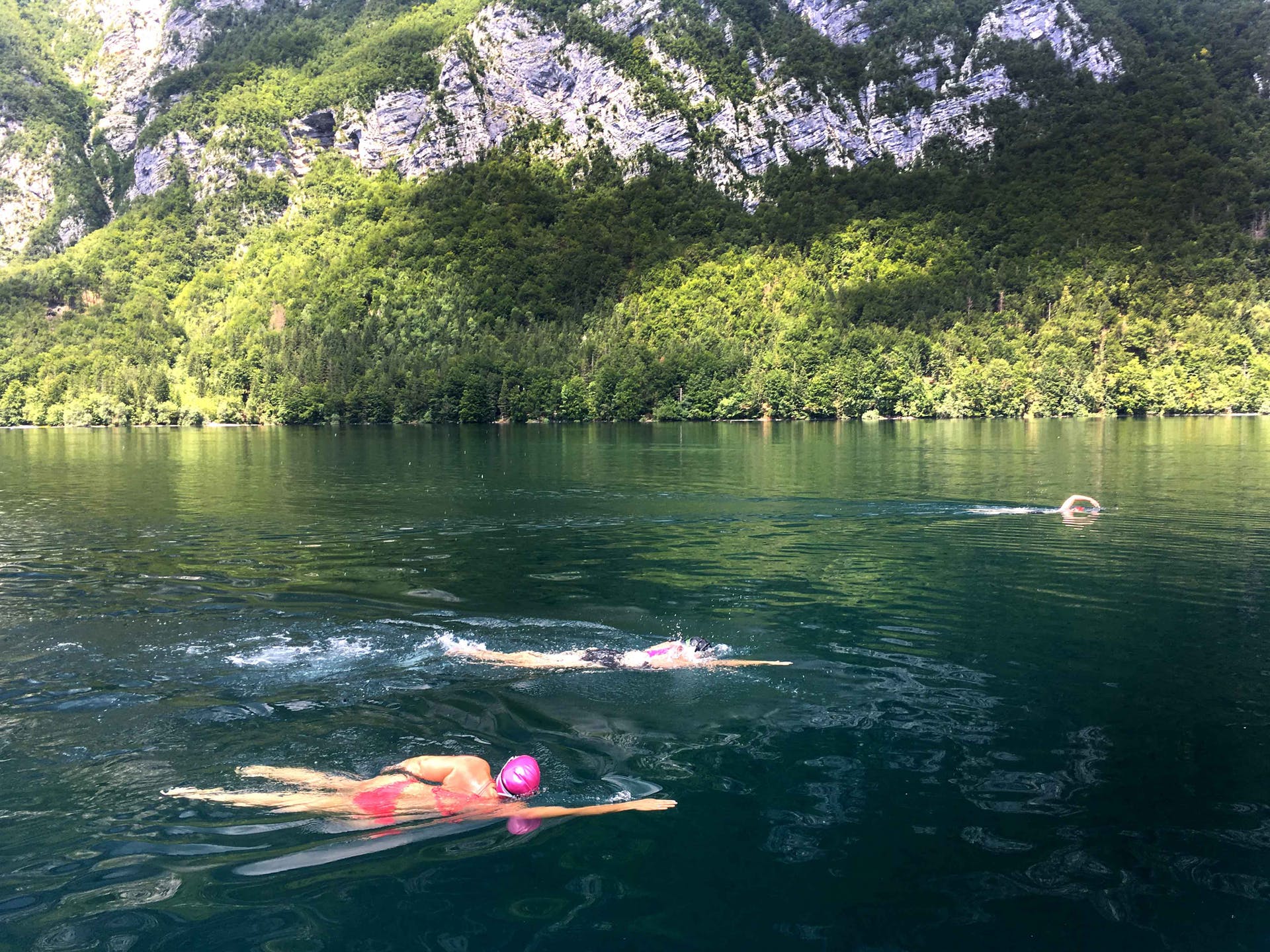 As a country with over 300 lakes, we'd be hard pressed to pick out the best wild swimming spots. Needless to say, you're unlikely to ever be far from one in Slovenia! Lake Bled and Lake Bohinj are large, beautiful and easily accessed. But there are plenty more to discover in the forests and hills of Slovenia.
For a chilled out SUP adventure, you might try exploring the Emerald River, with its characteristic green water. Your chill level will obviously depend on how well your stand up paddleboarding zen is going - and how eccentric your yoga poses are. (Sit down paddleboarding is fine by us!)
In fact, Slovenia's capital Ljubljana has a river and canal that crosses the city. It's one of Europe's greenest and most photogenic cities: the perfect place for an urban stand up paddleboarding adventure. Combine sightseeing with an adventurous twist as you pass castles and underneath iconic bridges, like the Dragon Bridge.
Canyoning and Rafting on the Soča River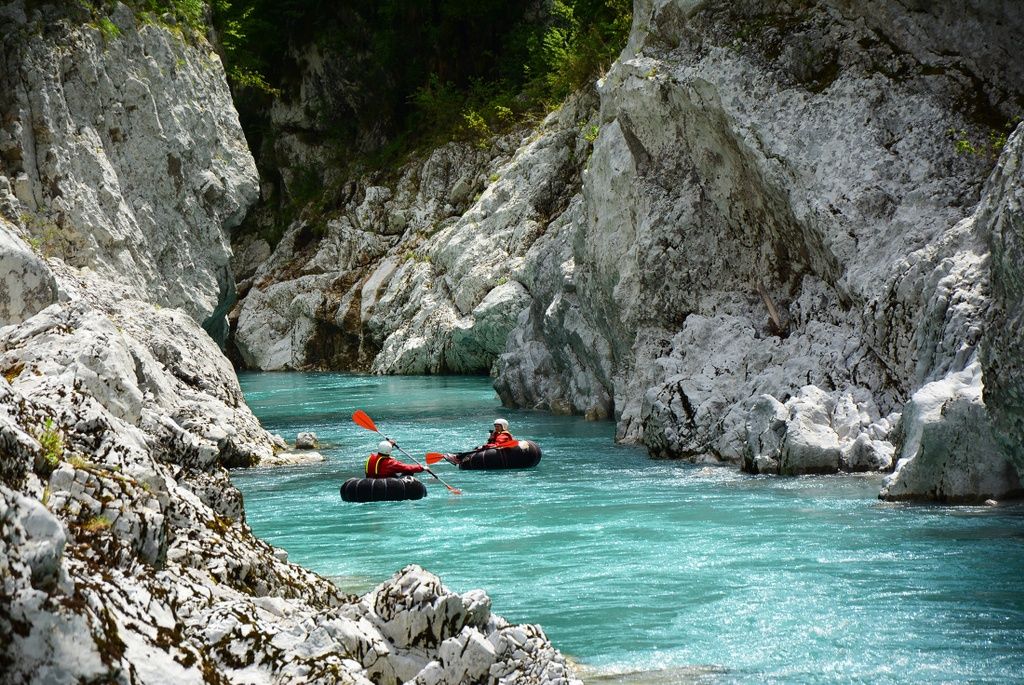 The Soča River, and the streams in its surrounding valleys, are the perfect place for all things that involve adrenaline and getting soaked. Whether that's taking on the whitewater rapids in a team raft or going solo in a fast and light kayak. The Soča cuts its way through the limestone rock, creating many deep gorges, canyons and caves. It's a perfect playground for canyoning adventures. Safely geared up in a wetsuit and helmet, you could be jumping into pools, leaping off the top of waterfalls and sliding along natural chutes - like no indoor pool can ever provide.