Albania Adventure Holidays
Albania is a tiny country on the Balkan Peninsula in south east Europe. It's a country of two halves, with the high mountain peaks of the Albanian Alps in the north and ancient UNESCO cities and castles in the south. It has borders with Montenegro, North Macedonia, Kosovo and Greece. Plus a sandy coastline with the Adriatic Sea, all the way down the west side of the country. The bottom tip of Albania is only a hop, skip and a jump from Corfu.
Albania adventure travel is on almost no one's radar. For many years, it was locked away from the rest of the world by a Communist regime. Only since the turn of the millennium have foreign visitors been able to visit. So although Albania is in Europe, it is very much a wild and unexplored country off the beaten path. You could be kayaking across a turquoise lagoon by the sea or exploring a network of gravel trails by bicycle. You could be hiking through pine covered valleys, between limestone peaks, or rafting the last free flowing river in Europe.
But don't forget there are a few little quirks of Albanian culture. Most importantly, that nodding your head means "No" and shaking it means "Yes". Try not to get too confused!
The Accursed Mountains
The Accursed Mountains are another name for the Albanian Alps, in the far north of the country. Although there are several stories about why exactly they are cursed, most link back to the inhospitable nature of the mountains. Whether it's not enough water or barren limestone peaks that are hard to cross, plenty of people may have cursed them over the years. Still, if you're there by choice, we think they're wonderful for mountain adventure holidays in Albania.
Llogara National Park
Although only one of Albania's many national parks, Llogara National Park has a wide diversity of landscape. Reaching from the tips of the Ceraunian Mountains to the sea, you can experience hot Mediterranean summers and snowy alpine winters all in one national park.
The Albanian Riviera
Although Albania has a coast right down the length of the country, the Albanian Riviera is some of the best. At the very south of the country, it's got a Mediterranian feel with gold sand beaches, warm weather, seaside gorges and clear turquoise waters. And a backdrop of mountains to top it off. There is lots of cultural interest here too with ancient castles, churches and monasteries.
Vjosa River
Starting in Greece and flowing right across Albania, the Vjosa is the last wild river in Europe. Its 270km of free-flowing water offers great potential for kayaking and white water rafting.
Hike from Mountain to Canyon to Sea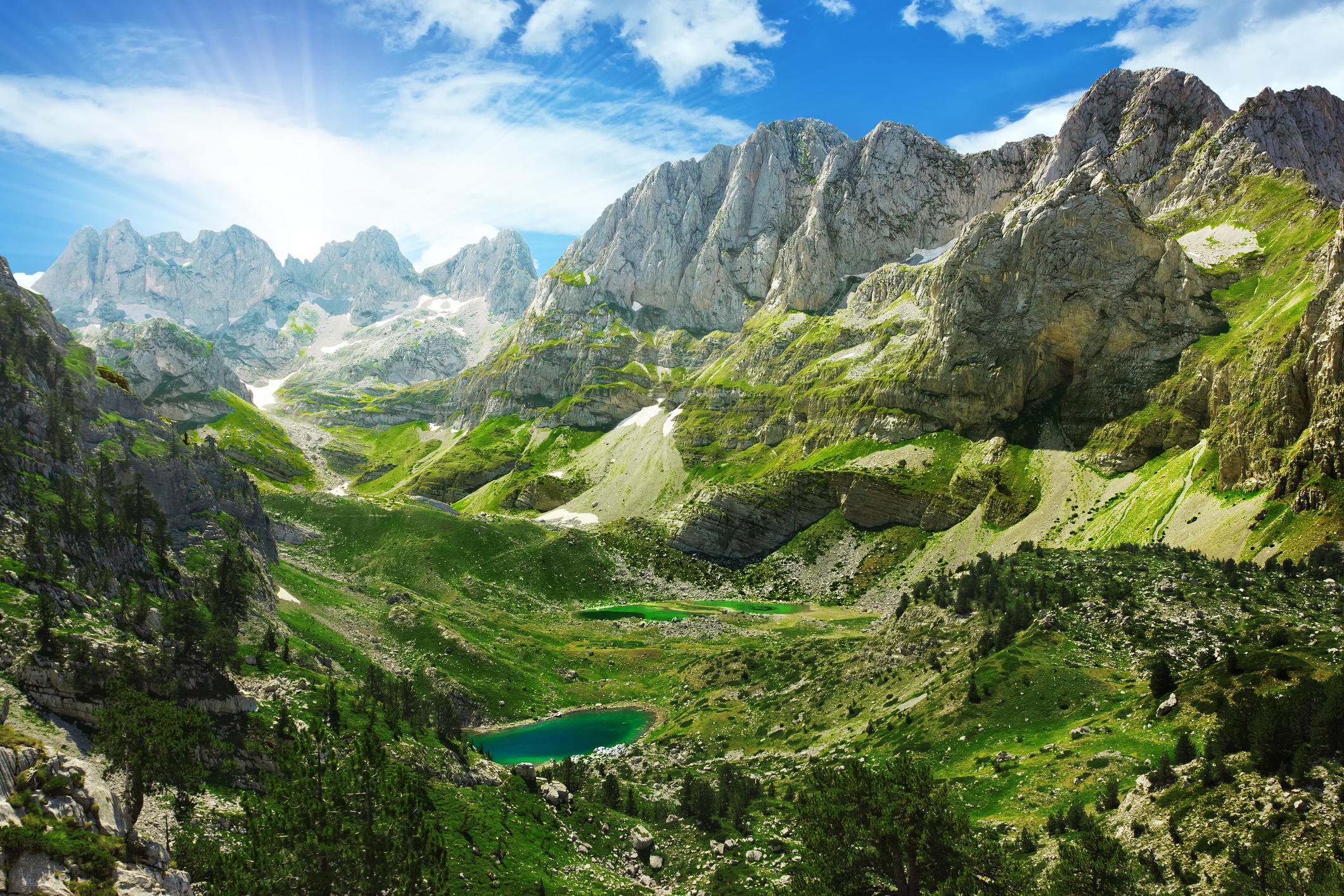 Walking holidays are a staple of Albania adventure. There are 15 National Parks, each with their own flavours of Albania adventure holidays. Some are key ecological conservation areas, protecting lynx and wolves. Others protect special places from wetland to UNESCO World Heritage sites. For example Tomorr National Park contains the highest peak in the southern part of the country - making for excellent views across the Albanian Riviera and coast. It is also home to deep canyons like Osumi Canyon. You can hike alongside it, or occasionally in it if the river level permits. When the river is high, it's a great white water rafting route with Class II rapids.
The Via Dinarica is a 2000km long distance hiking trail that passes through Albania on its way to Slovenia. It's a relatively new trail, promoting responsible tourism in the western Balkans. Connecting the Dinaric Alps with the Sharr Mountain Range, Albania's section is some of the most beautiful. Walk among towering 2500m mountains and spend the night in traditional homestays.
But be careful if you do go off piste and into the very deep mountains - there are still unexploded land mines on the border with Kosovo. A poignant reminder of the not-so-distant past and conflicts in this corner of Europe.
Cycle coastal roads and gravel trails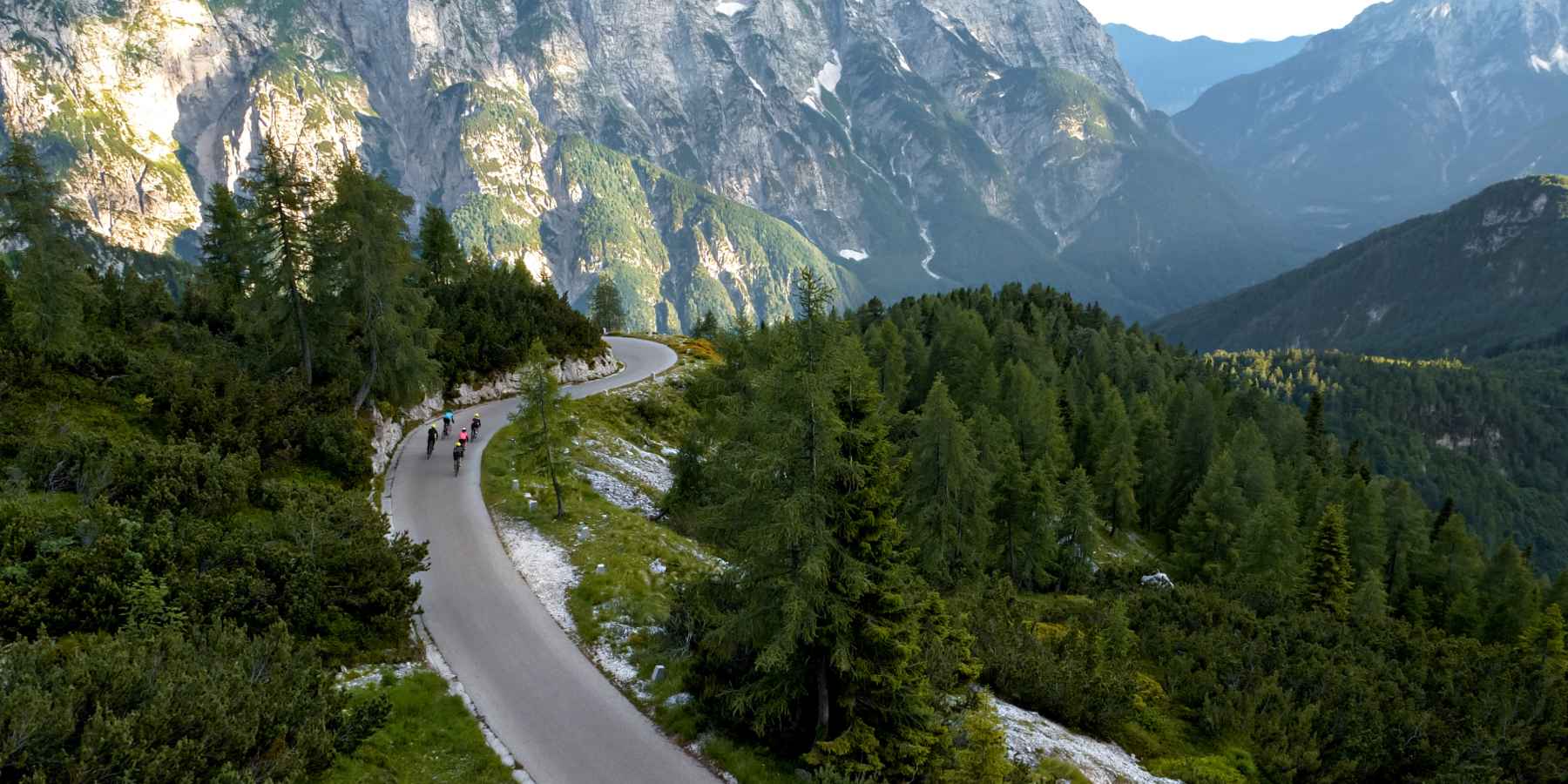 As Albania has so many different landscapes, you have so many options for cycling in Albania.
Most of Albania has tarmacked roads, but there is a growing gravel riding scene in the more rural mountain areas. Theth National Park and nearby Valbona Valley, in the far north of the Albania Alps, is a growing hub but still well off the beaten track in all senses! You could be hurtling down a hefty pass on a dirt track road or winding carefully around narrow paths above precipitous limestone cliffs.
But cycling is also a great way to have a self-powered adventure that takes in the highlights of Albania. There are plenty of quiet country lanes to ride - from taking on mountain passes to cruising alongside the coast, depending on what takes your fancy. The international cycle path EuroVelo 8 (The Mediterranean Route) runs the length of the Albanian coast. It starts in Spain and finishes in Cyprus, if you've got a spare four months.
Swim, Kayak and Adventure on the Water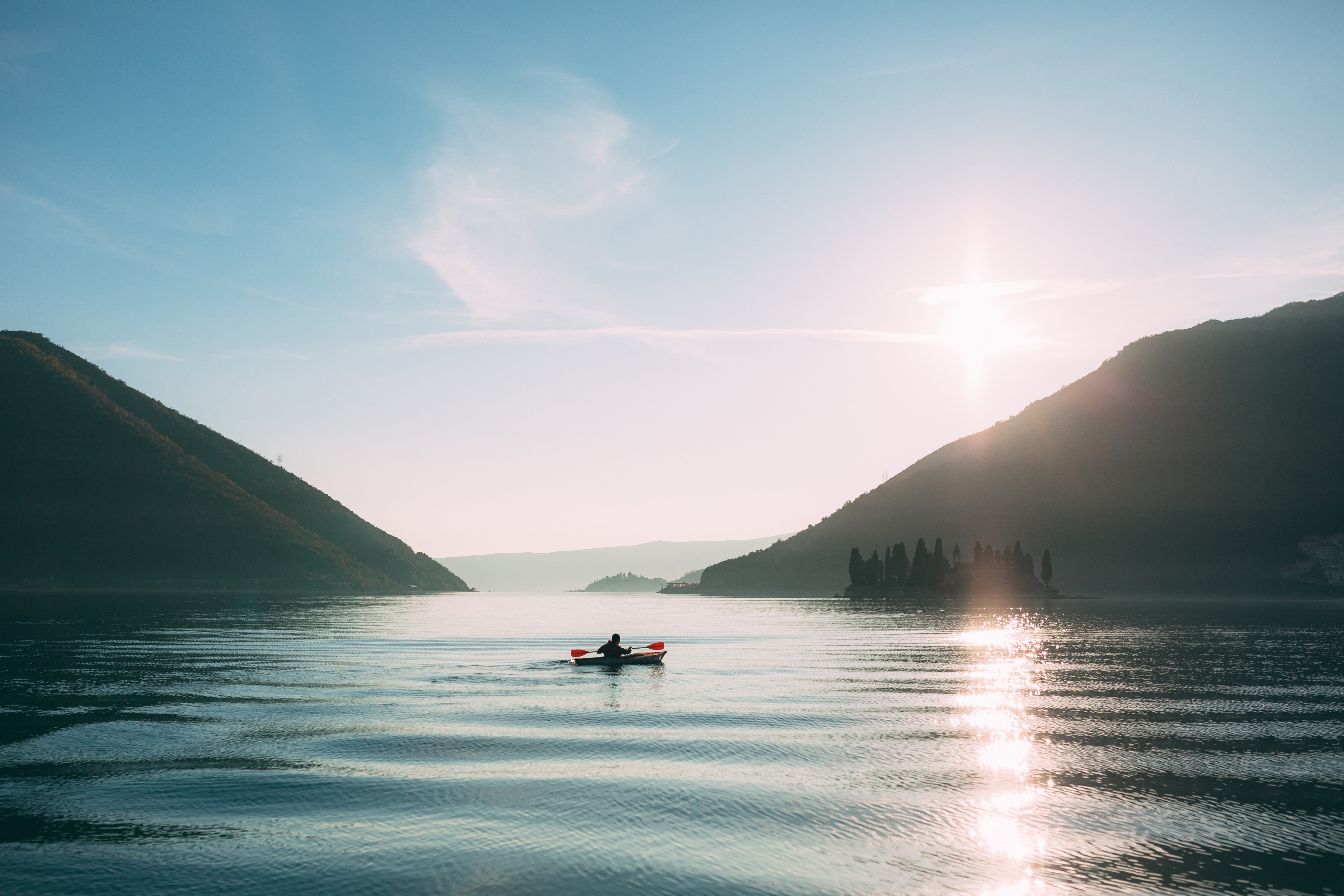 The abundant coastline provides all sorts of opportunities for an Albanian adventure on the water. Choose your favourite craft: you can go with the wind by sailing, kite surfing and wind surfing - or paddle your own path on a sea kayak or stand up paddle board. Not to mention just jumping in for a wild swim and snorkel amongst the fishes. The Karaburun-Sazan National Marine Park extends out into the water, protecting the ocean - including ancient Greek and Roman shipwrecks, now overgrown with underwater life.
There are plenty of water-based outdoor activities to experience inland as well. Albania has 247 natural lakes and over 800 artificial ones. The Karavasta Lagoon, for instance, is separated from the Adriatic Sea by only a large strip of sand and is the largest lagoon in Albania. Its light blue waters are the perfect place for a stand up paddleboarding or kayaking trip, surrounded by pine trees and small sandy islands. If you're really lucky, you might see a Dalmatian pelican (no it's not spotty) that live in the protected wetland area.
Saving the Vjosa River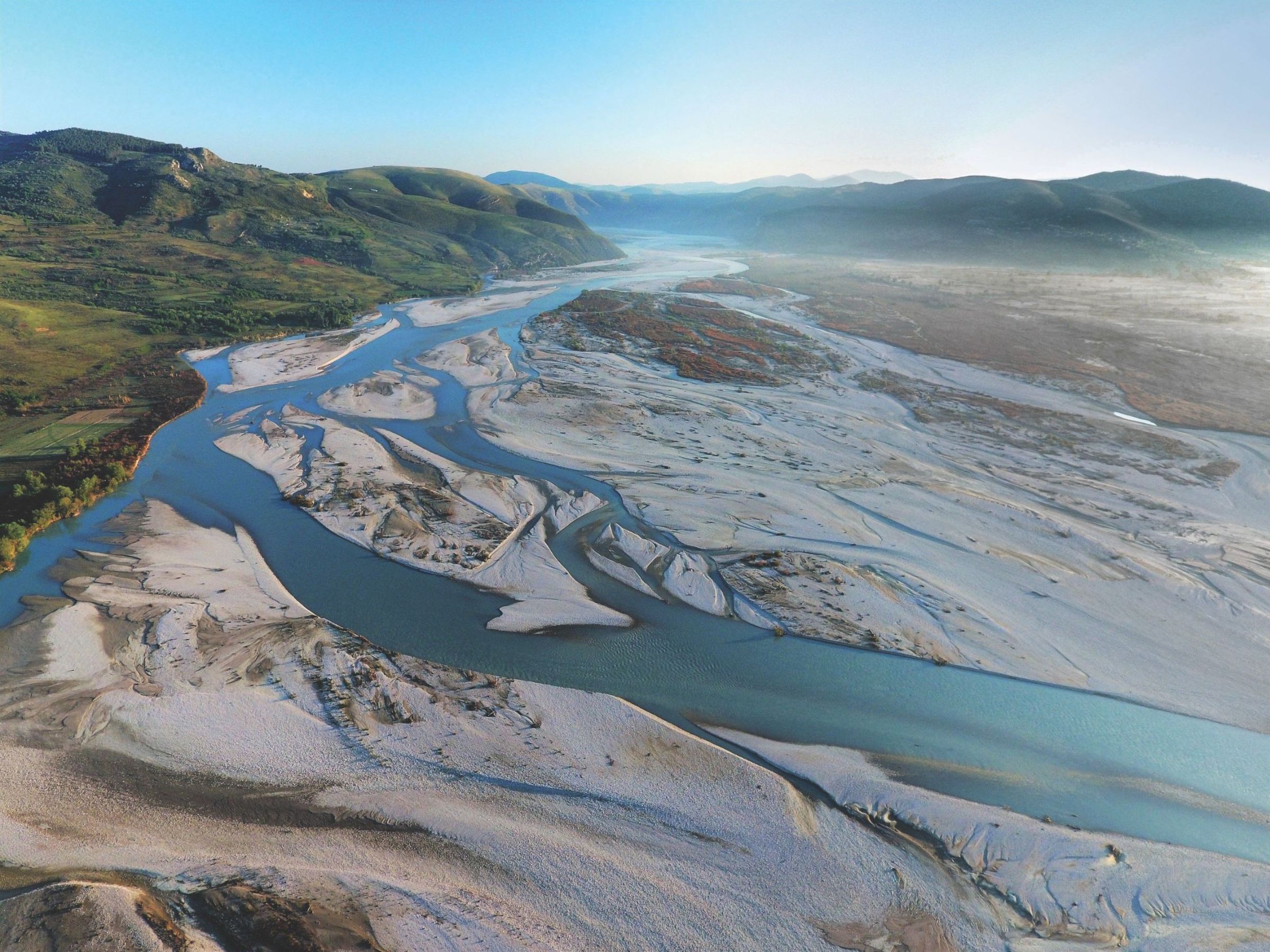 The Vjosa is the last wild river in Europe. It flows freely from its source in Greece across Albania to the Adriatic Sea. That's 270km of river, unaltered by humanity - and there's only one such river left in the whole of Europe.
Despite this, the Vjosa is under threat from as many as 40 hydropower projects on the main river and its tributaries - and most recently exploration for oil. The local people, and many others, are protesting against the damming of the river to save its unique ecosystem. They hope to make the Vjosa into Europe's first Wild River National Park.
We started the Adventures Not Dams campaign back in 2018 to try to help, supporting local activists and adventure guides to save both the Vjosa and their livelihoods. Adventure travel forms a growing economy that could help decision makers see monetary value in keeping the river wild. Read our interview with lead campaigner Ulrich Eichelmann from Vjosa National Park Now.