Switzerland Adventure Holidays
Switzerland is a landlocked country in the west of the European mainland. It has mountains on all sides, with the Swiss Alps in the south and the Jura mountains in the north. Switzerland has borders with France, Germany, Italy and Lichtenstein. The country is famous for its alpine meadows, passes, deep blue lakes - and of course the Alps themselves. These high mountains peak at Monte Rosa (4,634 m) although its younger cousin, the Matterhorn (4,478 m), is probably more famous. The highest mountains are snow-covered all year around and there are many glaciers in the mountains too, although they are receding.
Adventure holidays in Switzerland usually involve mountains - but you don't have to be a mountaineer to enjoy them. You could be trekking through sweeping glacial valleys, crowned by snowy peaks. Or have your head down, powering up an alpine pass on your bicycle - or better still, enjoying the downhill run. To add an adrenaline rush to multi activity holidays, Switzerland can offer heights, drops and edges. You could bungee jump off Contra Dam, plunging down to the water below. Or shimmying along a ledge to metal ladders, high up in the mountains, clipped into a via ferrata route. Never mind running full-tilt off a cliff on a tandem paraglide, soaring and swooping down into the valley below.
For getting about, the Swiss public transport system is famously efficient and all the buses sync with the train times. You might even say it works like clockwork. For self-powered travel, there are well waymarked trails of all kinds. Expect yellow signs for hiking trails and white for barrier-free routes. Cycling, mountain biking and skating are all marked in red, with clear picture labels. One digit numbers are national routes, two digits are regional and three digits are local routes - what did we say about efficient and organised? Long distance hiking trails include the Via Alpina through alpine passes, the Jura Crest Trail - oldest long distance trail in Switzerland - and the 488km Trans Swiss Trail. For cyclists, there are two long distance cycling tours, along the Rhone and the Rhine, that pass through Switzerland. As does Euro Velo 6 from the Adriatic to the Black Sea and the Via Romea.
Activity holidays in Switzerland happen all year around. Summer is all about blue skies, green and flowering alpine meadows. Expect the sound of cow bells in the valleys and sunshine on the mountains. Winter activities involve snow and lots of it, whether you're trekking out on snowshoes or skiing cross country. Rain, shine or snow you're in for a Switzerland adventure.
Geneva and Lac Léman
Geneva is in the western corner of Switzerland, the end of a narrow finger of country sticking into France. It is famous for its enormous lake: Lake Geneva (aka Lac Léman). Its 580 square kilometres makes it the largest lake in Switzerland - although it shares some of its waters with France. With such easy access to France, it's likely you'll start any Alpine adventure in Switzerland here - especially if you're crossing into France.
St Moritz
St Moritz is a winter sports capital for Switzerland. It's surrounded by ski resorts and even has an outdoor ice rink in winter. Although it is the birthplace of Alpine winter tourism (dating back to the 1860s), it was originally established as a spa town, thanks to mineral springs discovered thousands of years ago.
Verbier
Verbier is a small town in the foothills of the Alps. As well as ski resorts in winter and mountain bike trails in summer, it has many hiking trails passing through. If you take on the Haute Route from Chamonix to Zermatt., you'll pass through Verbier.
Hut to Hut trekking in the Swiss Alps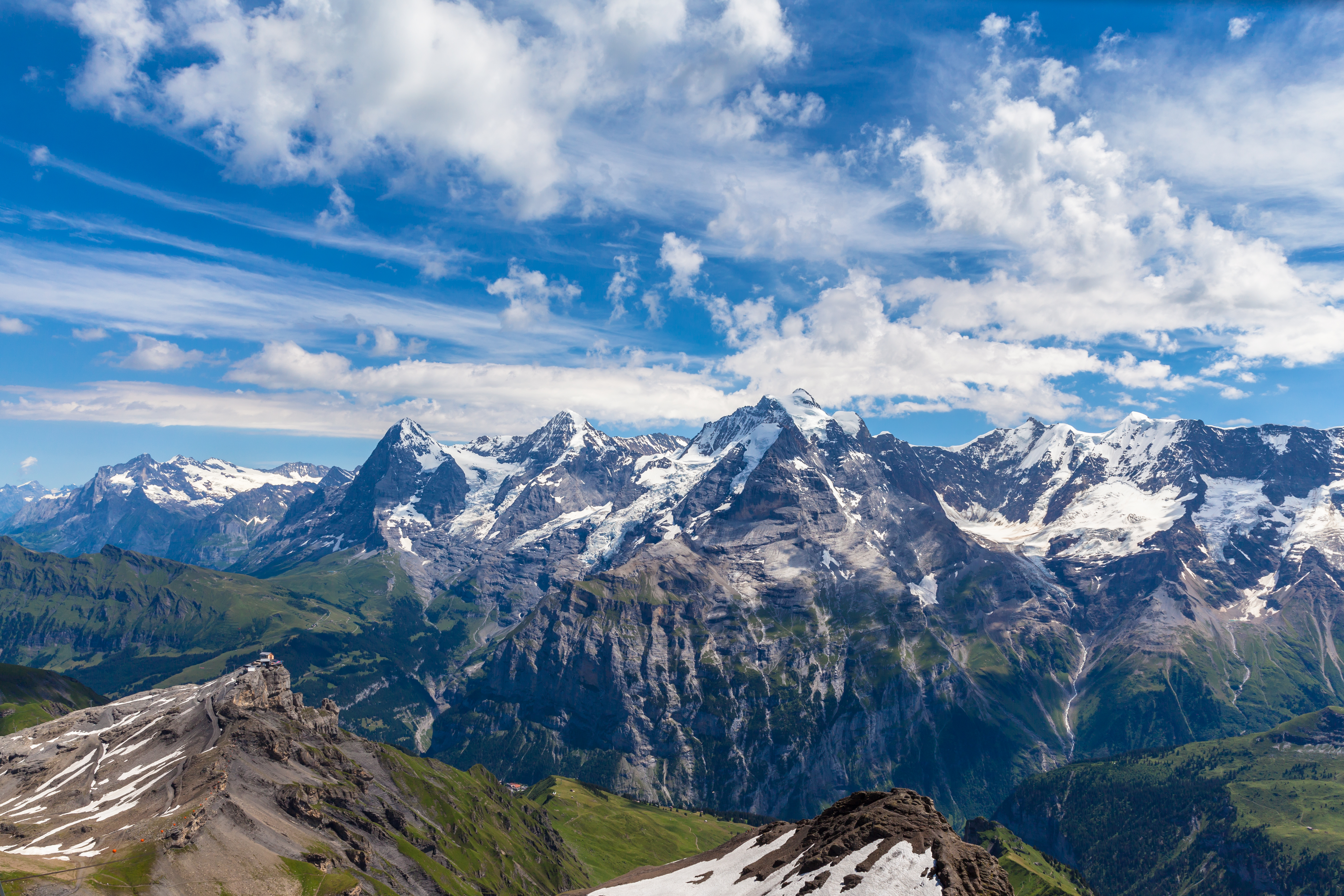 Switzerland is the perfect location for multi-day treks. There is a great mountain hut infrastructure - many adventure holidays in the Swiss Alps rely on them. You can do a full day's hiking and arrive at a comfy bed and cooked meal each night. A hut is certainly not a shed. Imagine a hotel crossed with a mountain goat. Switzerland's mountain huts are spacious cabins with many rooms and beds, staff and full board catering. You will typically have electricity and water too. Of course they are more expensive than bringing a tent, but are far cheaper than a hotel and allow you to really experience the full hiking culture in the Alps. It also means that you can ditch the 60L rucksack and carry far less weight. You are often able to stop for lunch at a hut too, if your route allows it or stock up in advance in the morning.
This opens up the whole world of trekking - anyone who can do a day hike can consider multi-day walking holidays without needing to be able to carry a week's food. Walking holidays can still be based on one location. Start at the valley bottom, already well above sea level, or take a cable car to start the more exciting paths quicker. It definitely works, but linear adventures are a great way to see more of the country - or possibly countries!
The Walkers' Haute Route is a classic hiking trail between Chamonix, in France, and Zermatt. It takes in some of the best of the Swiss Alps with stunning views all round. Although the Tour du Mont Blanc starts in France, it passes through Switzerland and Italy too. You could do the full Tour du Mont Blanc in 10 days, or take a quicker version of the Tour du Month Blanc over a long weekend. Or the Matterhorn Circuit is a four day hike where you can see the famous mountain from all sides, while summiting a 3000m peak of your own.
Cycle Valleys, Passes and Pine Forests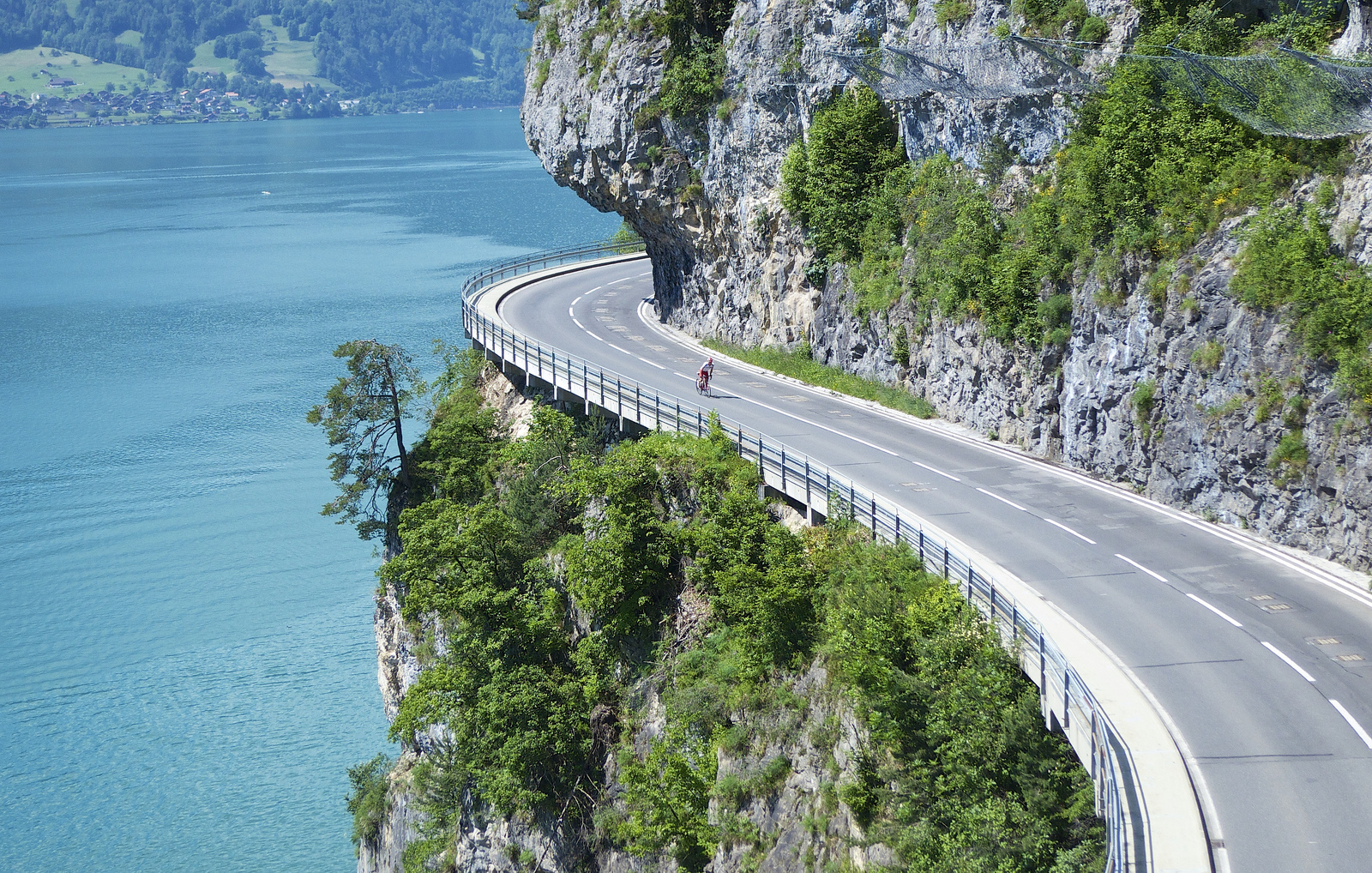 Cycling in Switzerland is all about the hills. Whether you're on the road or sending trails, you'll almost always be on an incline. If that's not for you, best grab your e-bike or leave for a flatter country. Many of Switzerland's ski resorts turn into mountain biking trails in the summer, as well as the red labelled local routes. Or take to a bikepacking tour like the Panorama Bike route: 450km of mixed trails across the country. If you're looking for adventure, Switzerland will provide as you pedal through between mountains and meadows, pine forests and Alpine passes.
There are waymarked cycle touring trails along both the Rhone and Rhine rivers that continue out of the country to the sea. But don't be fooled - it's certainly not downhill all the way. Use cycling as the perfect vehicle for adventure travel, experiencing local culture (did someone say cheese fondu?) and exploring at your own pace.
Winter Adventure Holidays Switzerland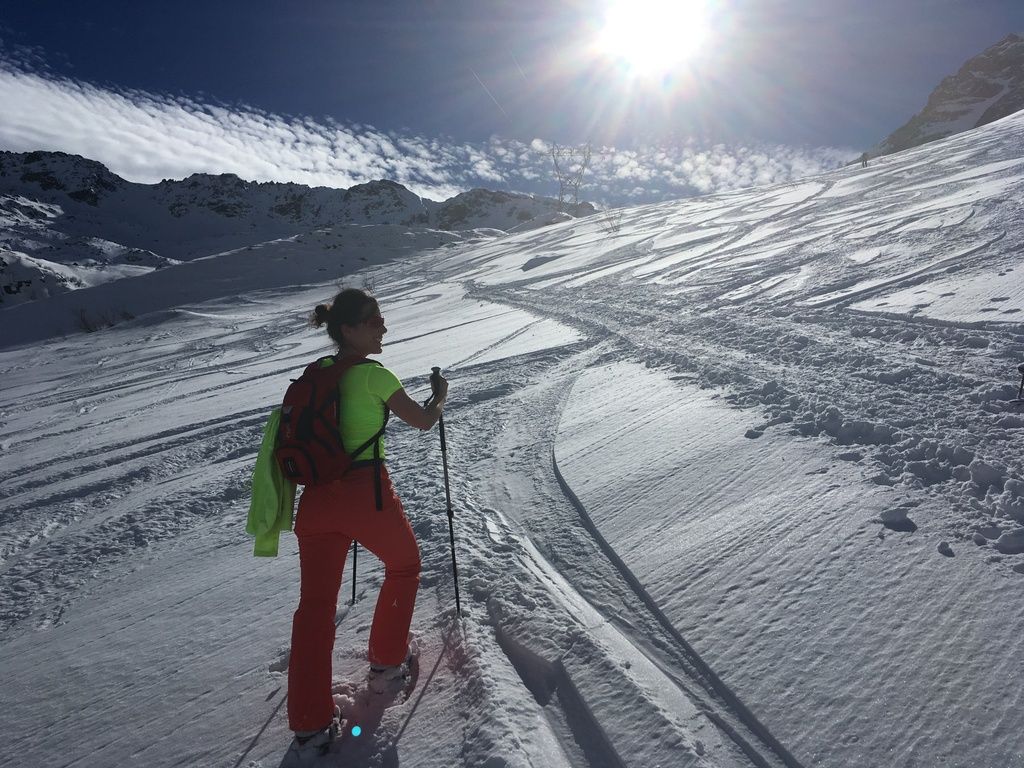 For winter activity holidays, Switzerland is the domain of the most adventurous. Some of the mountain huts will still be open, perfect for ski touring. And the high mountains become a playground for cross country skiing and mountaineering. But that by no means excludes winter hiking.
Lower hills and valleys can be covered in thick snow. Just don you snowshoes to be able to crunch over the powder on winter walks, surrounded by pine forests. Alpine meadows are transformed into rolling white fields and trees are draped in ice crystals. Or hike above the trees, gazing out towards the blue-white spires of distant peaks like the Matterhorn and Mont Blanc. Maybe even learn winter survival skills and sip on mulled wine round the fire in an igloo. While you're at it, pop by a Christmas market, for the final festive sprinkling on your Switzerland adventure travel.