Slovakia Adventure Holidays: from canyon trails to high peaks
Slovakia is an adventure paradise. We wouldn't normally use that word, but with a national park that's genuinely named Slovak Paradise, we couldn't resist. There are so many options for adventure holidays in Slovakia. Whether that's hiking in its mountain ranges, getting wet in its canyons or clambering across cliff faces on wire bridges and ladders. Nine national parks and 14 protected landscapes make Slovakia's natural places some of the most protected in Europe.
Slovakia is on the western edge of Central Europe, bordering with Austria on one side and Ukraine on the other. The River Danube flows along its southern border and international cycle route Eurovelo 6 along with it. But the more remote areas are further north, including the Tatra Mountains and National Parks. The Tatra Mountains are the highest range in the Carpathian Mountains, that stretches about 1500km across Central and Eastern Europe. The Low Tatras are a separate (but equally awesome) mountain range further south.
With snowy winters and warm summers, there's room for Slovakia adventures all year round. Swim in Palcmanska Masa lake and descend into the depths of Dobšinská Ice Cave. Paddle along the Danube, track bears through the forests or whistle down off-piste ski slopes.
Where can I go? Your options
High Tatras
The highest mountains of the highest range in the Carpathians. Certainly worth a look. They're the only alpine mountains in Slovakia and share a border with Poland. Expect rough trails, turquoise mountain lakes and the occasional chamois. The highest mountain in Slovakia, Gerlachovsky Stit (2655 m / 8710 ft), lives in the High Tatras Mountains too.
Low Tatras
One of many Tatras Slovakia has to offer! The Low Tatras are shorter cousins of the High Tatras. These mountains are part of a separate range that spreads out between the river valleys of Vran and Hron. Expect dense forests and hidden waterfalls on your hike - or maybe even bear tracks. The main ridge is 80km long.
Adventure Hiking in Slovakia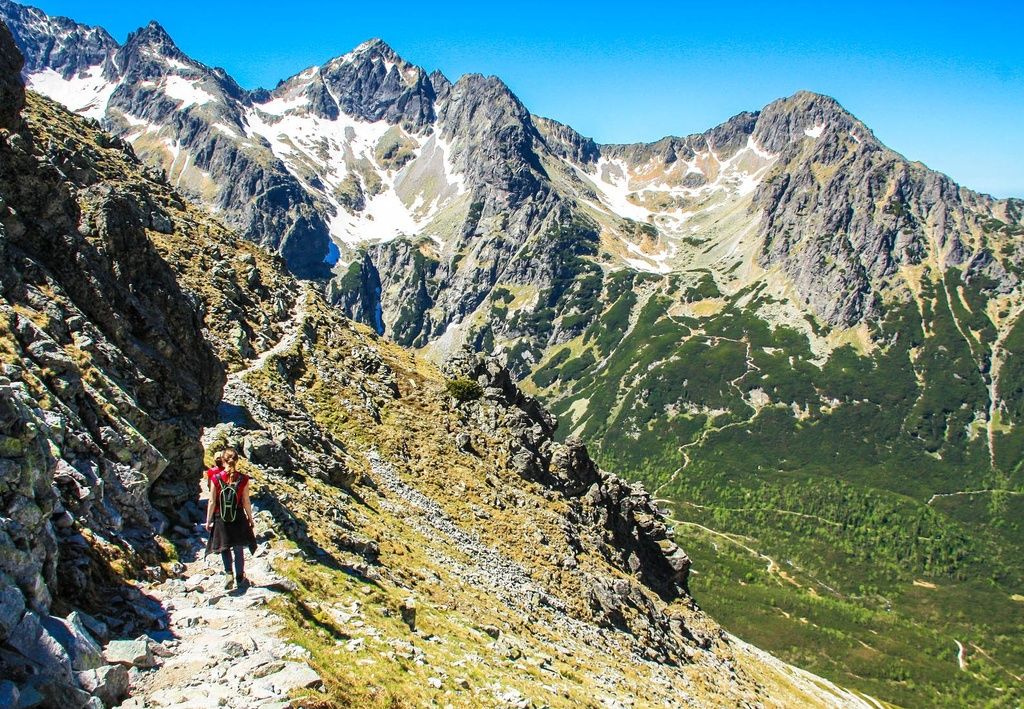 You're spoilt for choice of hiking routes in Slovakia. Explore forests, meadows, plateaus, canyons, caves and waterfalls as you travel through one of Europe's most beautiful National Parks. Or follow the epic but little-known trekking route of the Tatranská Magistrala Trail - remote, quiet and insanely beautiful. Whether you're doing day hikes or multi-day trekking there are trails and views for everyone.
We're particular fans of Slovak Paradise National Park. Not just because of it's awesome name and huge network of trails. This place takes 'hiking trail' and turns the adventure-o-meter up to 100. Sure there are normal trails, but you can also climb up cliffs and through canyons on metal bridges and board-walks. Stride out high above the trees and peer down into the river below on a gorge-spanning bridge.
For more information about the full range of options, take a look at our Trekking and Hiking Holidays in Slovakia. Have a read of our Complete Guide to Hiking in the Tatras including when to go and hiking highlights. Or read our interview with a Slovakia guide who quit his job as an accountant to set up his guiding company: "I didn't want to spend the rest of my life in an office. I started to feel disconnected from reality."
Wild Swimming in thermal pools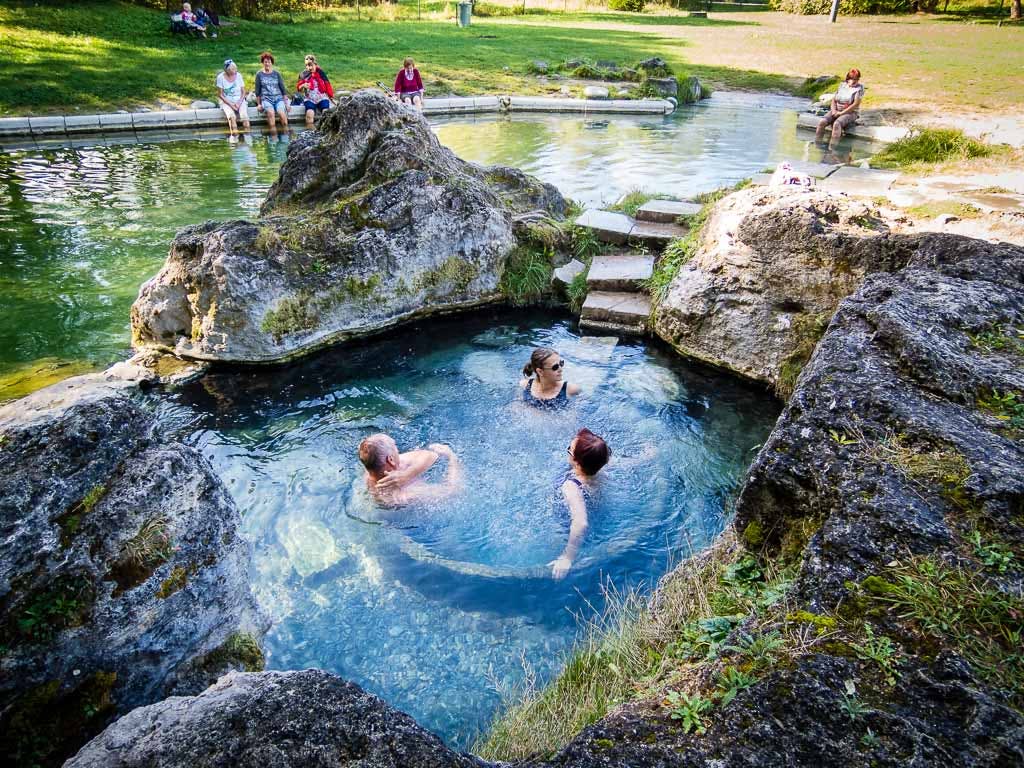 Slovakia's wild places are very carefully managed and conserved, so you can only go wild swimming in designated places. Not that those places are any less stunning! Palcmanska Masa Lake is the largest reservoir in Slovak Paradise National Park. Take a swim with the fish, enjoying crags and forests all around.
If that sounds a bit too chilly for your liking, there's plenty of warmer waters in Slovakia too. There are many thermal springs and pools, some hidden away in the wilderness. You could stop for a dip while you're Hiking the Tatras Mountains or take a well earnt pause on your Slovakia Adventure Hiking escapades.
Winter Walking and Snowshoeing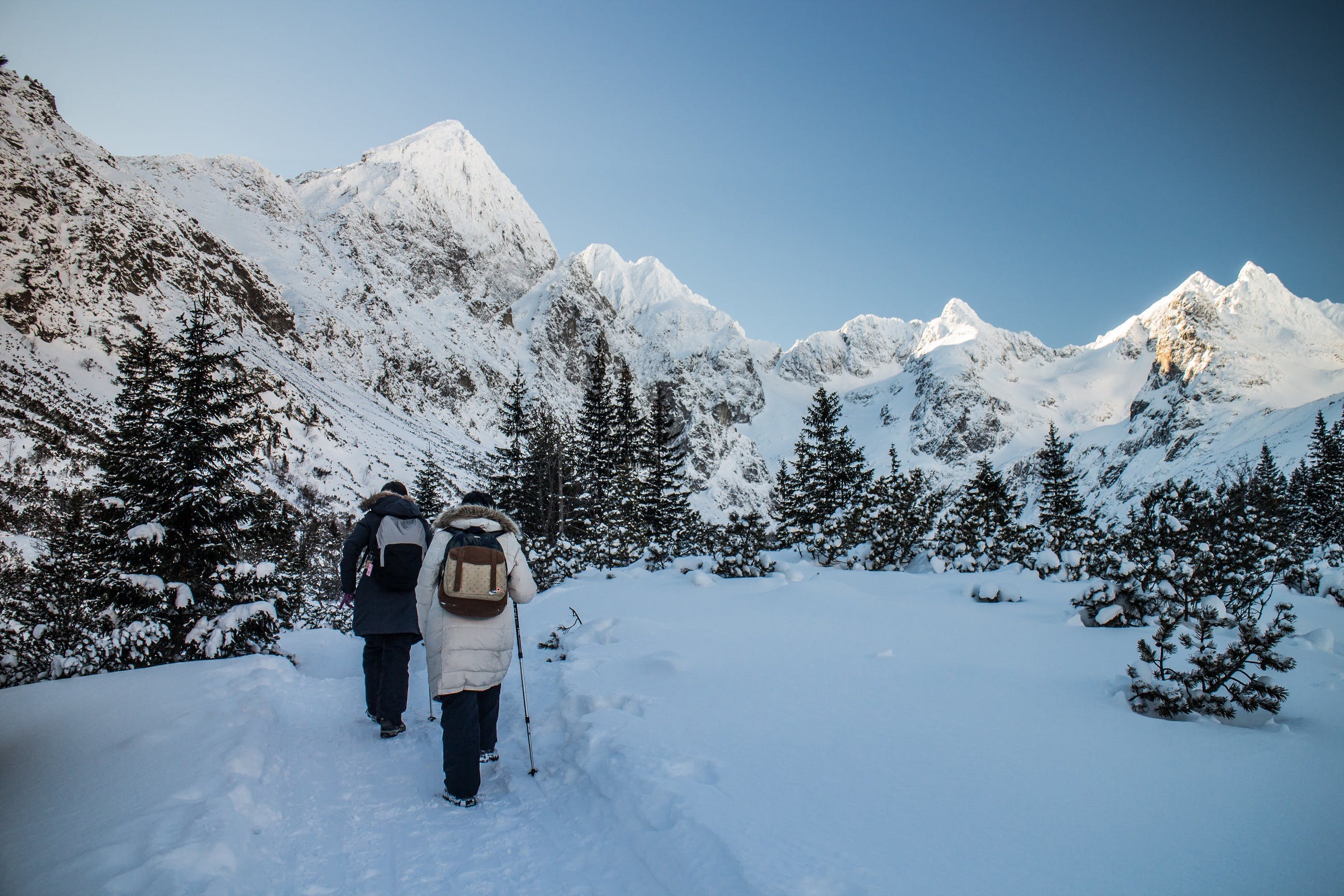 When the weather outside is frightful, the snowshoeing is so delightful. And, to be honest, winter walking holidays or winter adventures in Slovakia are only frightful if you're scared of snow. The winter weather turns Slovakia's mountains into a whole new landscape - one you can still enjoy on winter hiking trips. Don your trusty snowshoes to access even more remote areas with even deeper snow.
With a small group of adventurers, trek over 70km across the snowy peaks and through pine forests on a winter trekking holiday. Plus there'll be plenty of thermal baths and saunas to jump in at the end of a chilly day.
Gravel Biking and Cycling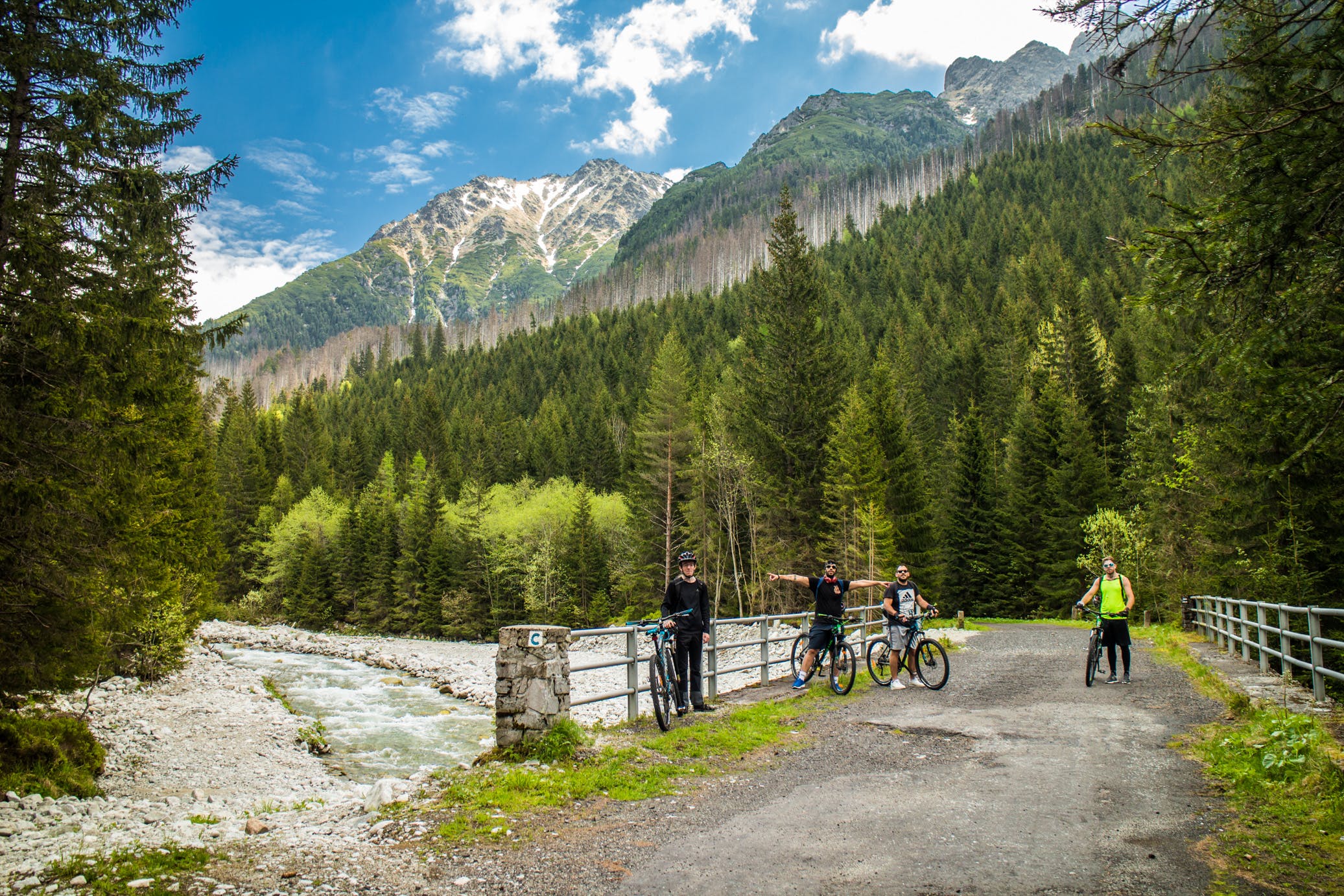 No fewer than three international cycle trails pass through Slovakia. Cruise along the Danube on the Adriatic to Black Sea Route, cross north to south on the East Europe Route or pedal along the culturally historic Iron Curtain Route. And, of course, if you're happy to go off-piste a little there are plenty of cycle touring options.
For those who want to go even more off-piste (mountain bikers and gravel bikers, we're looking at you) Slovakia has plenty to offer. You could be bombing down a trail through the forest or using gravel tracks to access even further into the wilderness, to make the most of your 24 hours.
On our Hike Slovakia's Tatras Mountains trip, we use 10km of flat gravel tracks to get into the Koprova valley, before hiking to the highest waterfall in the country and Lake Temnosmrecianske.
Canyoning and caving Slovakia adventures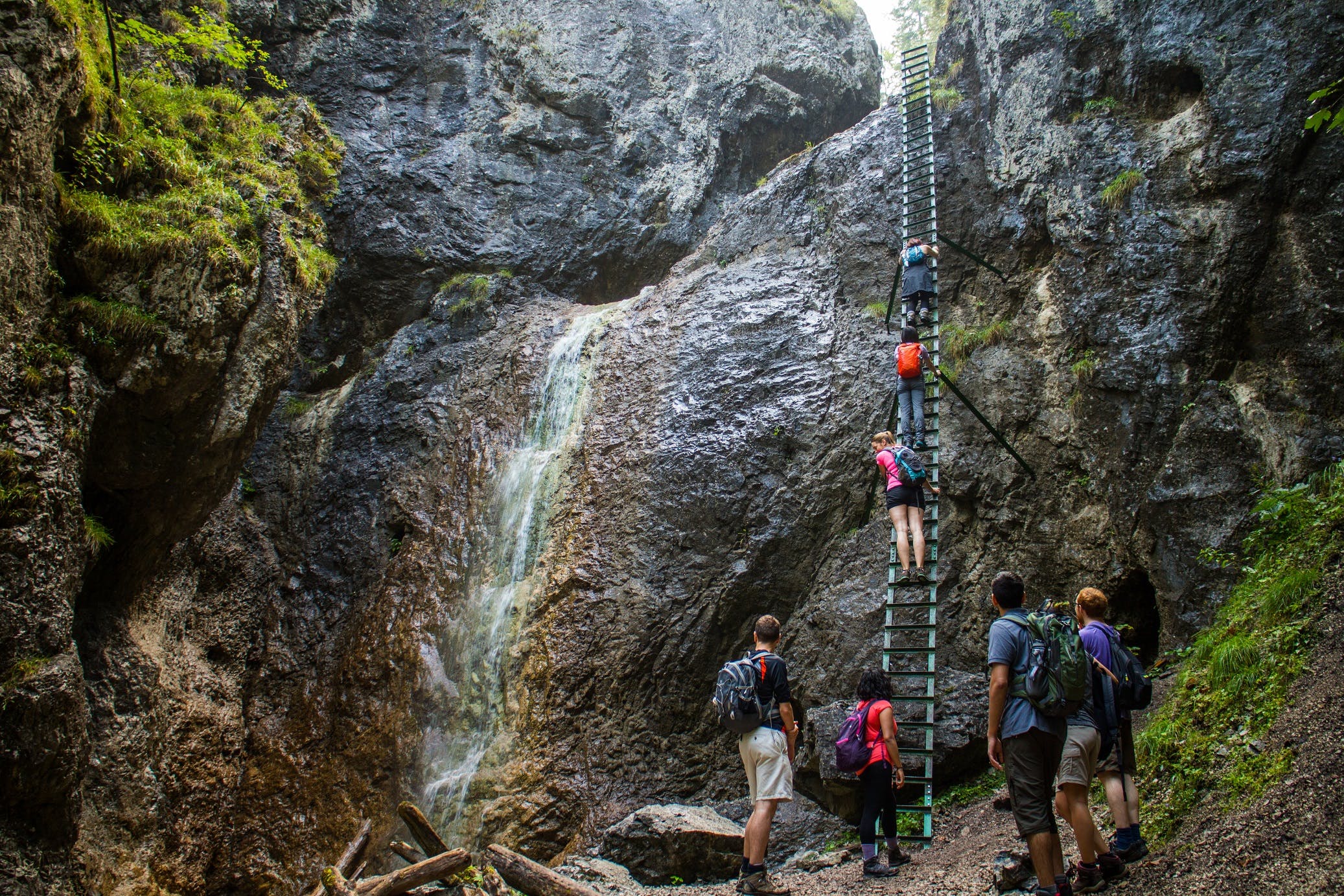 Many rivers in Slovakia carve out gorges and canyons, especially in the karst limestone areas. You can clamber along the length of Sucha Bela Gorge, one of the longest gorges in Slovak Paradise National Park. Trek through water, scramble over fallen trees and climb metal ladders - you'll even pass through a window-like hole in the rock. Emerging from the canyon for a spectacular mountain hut lunch, you can continue onto more gorges - like Prielom Hornadu: famous for the series of ledges and catwalks that rise above the Hornad River.
The limestone rock also lends itself perfectly to creating caves. There are huge networks of caves underneath Slovakia. Pass through huge caverns and narrow passages, adorned with ancient stalagmites and stalactites, like Belianska jaskyňa cave. Or explore the glistening depths of an ice cave, like the UNESCO recognised Dobšinská Ice Cave.
Wildlife Encounters on the Way
Slovakia has an abundance of wildlife, thanks in no small part to the number of National Parks and their commitment to conservation. While other countries are more 'popular' for bear tracking, there are well over a thousand bears in Slovakia on the last count. Add a nature element to your hike by tracking bears in the remote Tatras with a knowledgeable local guide. You might see wolf prints - though you'd be lucky to see the elusive creature itself - or perhaps spot roe deer, or even a lynx.