Our journey began when Kostas, our driver, picked us up at the airport. We arrived at our first Greek guesthouse in Kastoria, where we were warmly welcomed by our host and super-enthusiastic guide, Maria. With no hesitation, she took us to explore, showing us a forest path teeming with animal tracks.
Sharing lots of information and interesting stories, she showed us how she installed a wildlife camera, before we returned to the guesthouse for our first delicious meal.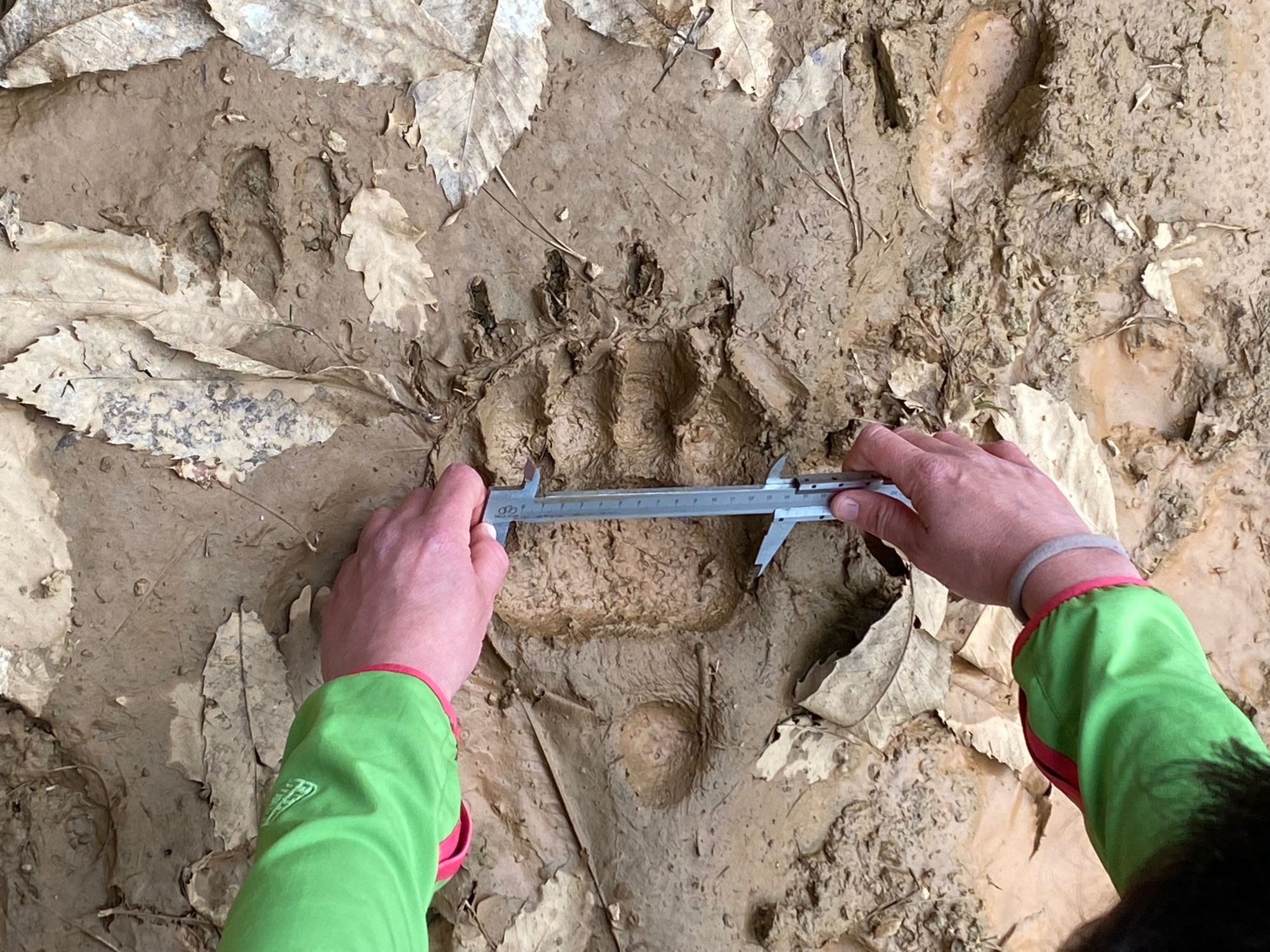 The next day, we got up early to head to a beautiful lookout point overlooking the forest road, hoping to spot a bear. Bears were not on the cards for now, but we did see a fox and several bird species. Maria went to pick up the wildlife camera and the footage showed that two wolves, a fox, a deer and a badger had passed in front of the lens.
For the rest of the day I had a very big smile on my face, feeling super lucky to have seen a bear in its natural habitat.
After breakfast, we went to meet a local farmer who gave us a fascinating explanation of how he protects his sheep from wolves and bears. We met his impressive shepherd dogs and heard their interesting story, learning how they contribute to the protection of local wildlife. This centuries-old breed of dog has adapted to the mountainous countryside of this part of Greece, and is a valuable guardian able to face any wolves and bears that may approach the flocks.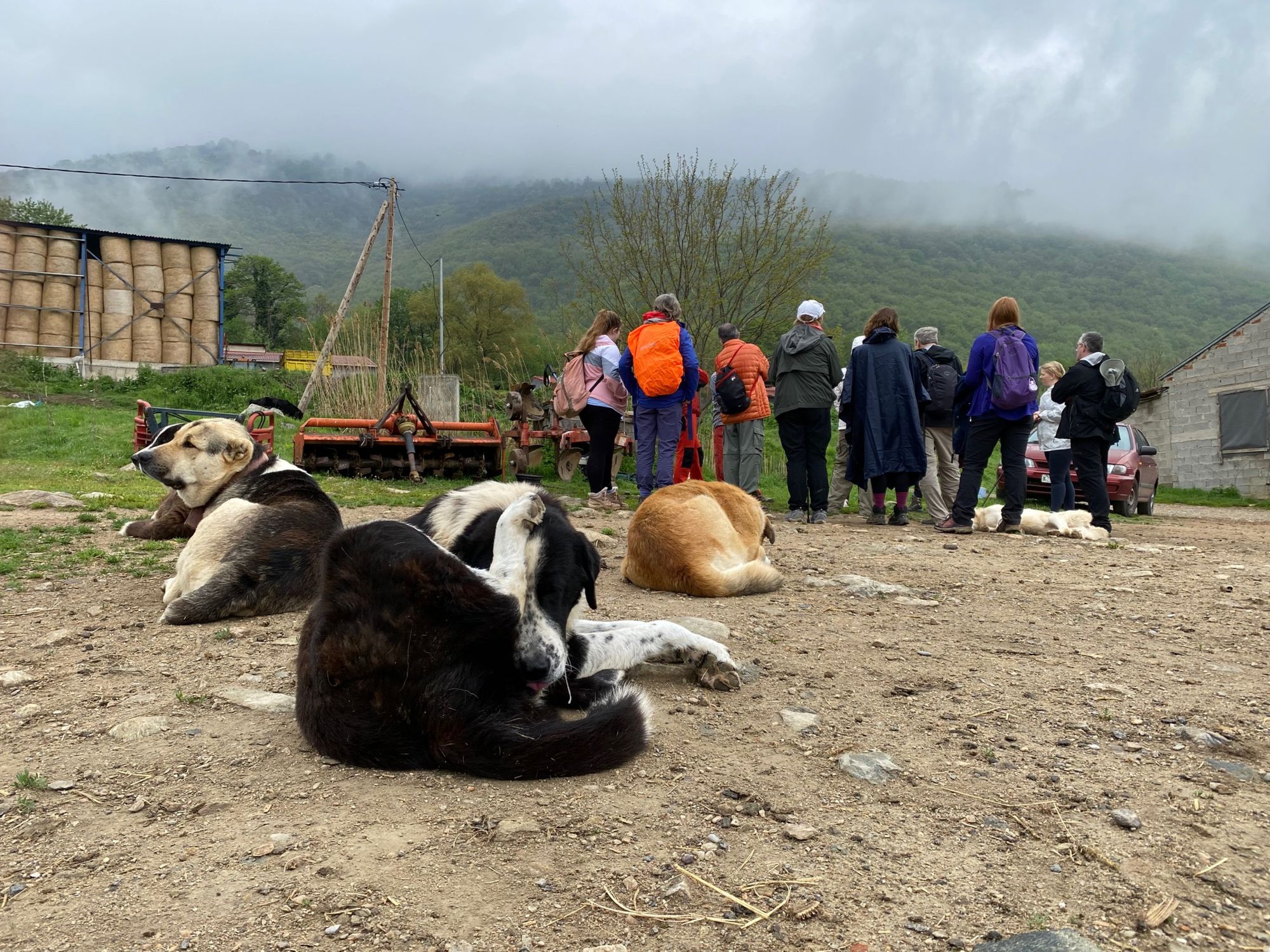 Later, we visited the bear sanctuary where we heard how rescued and ex-captive bears ended up here. Unfortunately, these animals can never be released back into the wild. Usually captured as very young cubs, they don't possess the essential survival skills they should have learned from their mothers, such as how to hunt for food, or how to find and prepare a den for hibernation.
Due to unusually heavy rain the following day, Maria advised against hiking around Mount Gramos, and instead we visited Prespa Lake. On its island, which you can explore only on foot, we were able to spot many birds and it was a beautiful location to visit. We ate lunch at a nearby restaurant, which was a feast of many local dishes.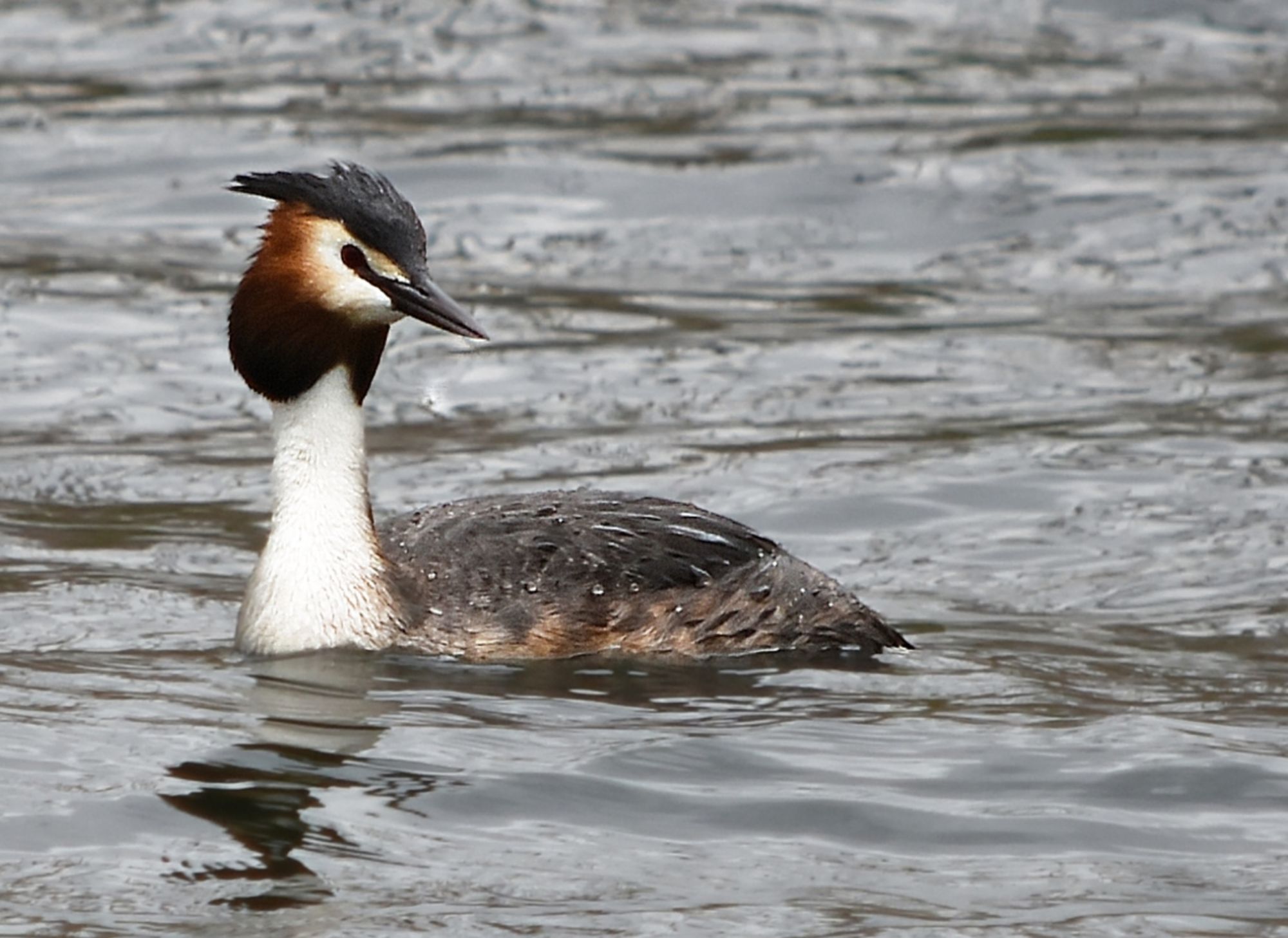 In the evening, we visited a local restaurant in Kastoria where we enjoyed very good food and drinks in a wonderful atmosphere.
On our fourth day, there was again the chance to get up very early in the hope of spotting a bear. We settled in to a spot with a very good view of the valley below. Everyone was scanning the area for wildlife, until Maria exclaimed, "Bear!" and, hallelujah, we saw a bear in the wild. It was on the lane below, and we watched until it ran into the bushes and out of our view. For the rest of the day I had a very big smile on my face, feeling super lucky to have seen a bear in its natural habitat.
A nice adventurous hike took us to an impressive waterfall later in the morning. While we walked, our guides Maria and Pantelis taught us a lot about the research they do on bears and how they use that information to protect the bears.
Afterwards, we headed for our second guesthouse. A breathtaking drive with lots of hairpin bends brought us to a tiny, but very picturesque, village. High in the mountains, this is where we stayed for the next two nights in a cosy hotel.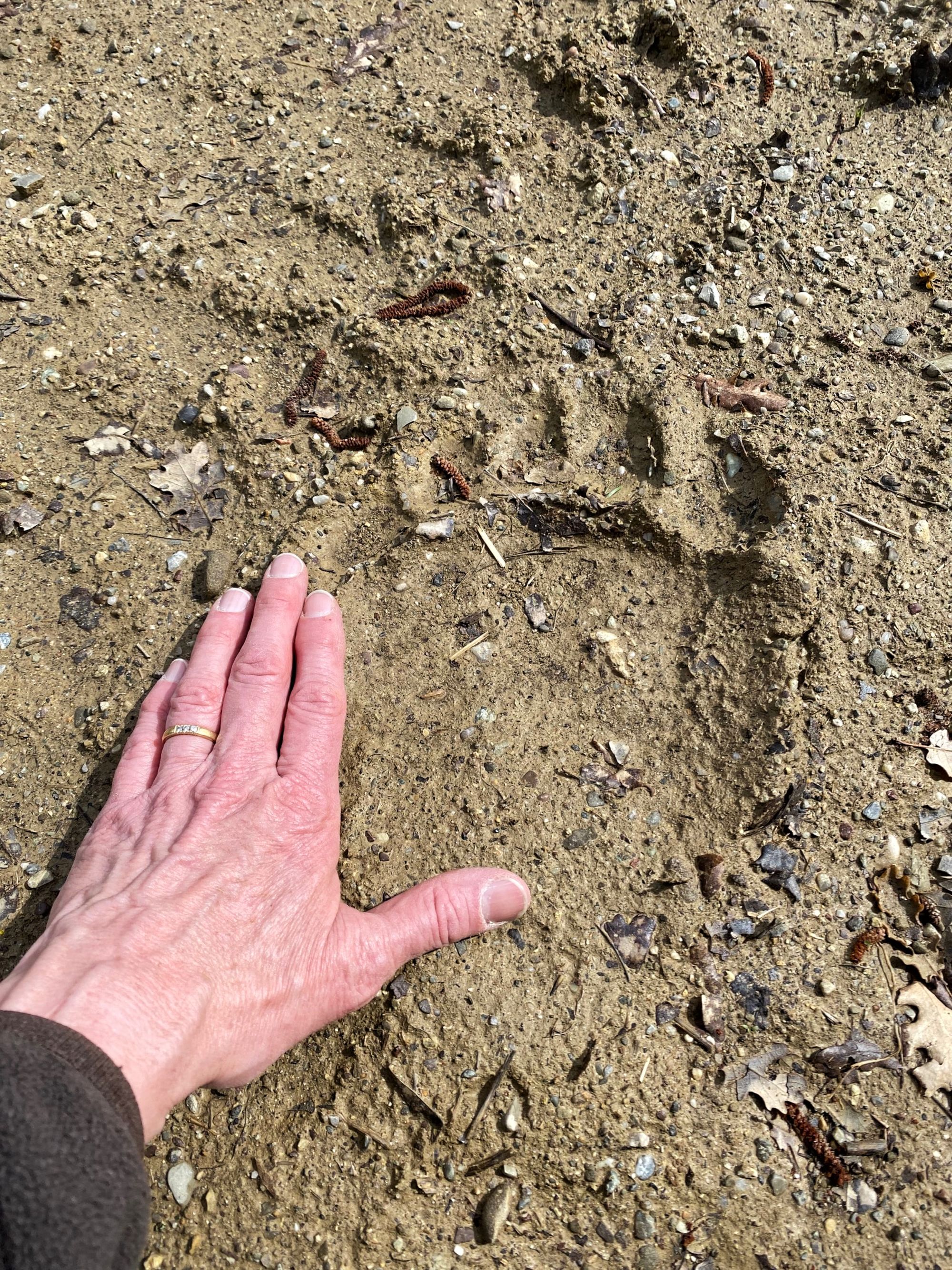 Besides seeing a bear, our fifth day was a highlight for me - from the village of Mikro Papigno we hiked to Vikos Gorge. I can summarise this in one word: amazing. I never knew that the mountains in Greece were so incredibly remarkable. For me, as someone who is not very sporty, this was quite a challenging trek. We first descended the mountain, where we were rewarded with a beautiful crystal clear, azure river where we had our packed lunch.
Then, we climbed 800m where we had a welcome stop for a drink. It was just wonderful. I can recommend this trek to anyone, but I was glad I brought walking poles, as they were of great value here.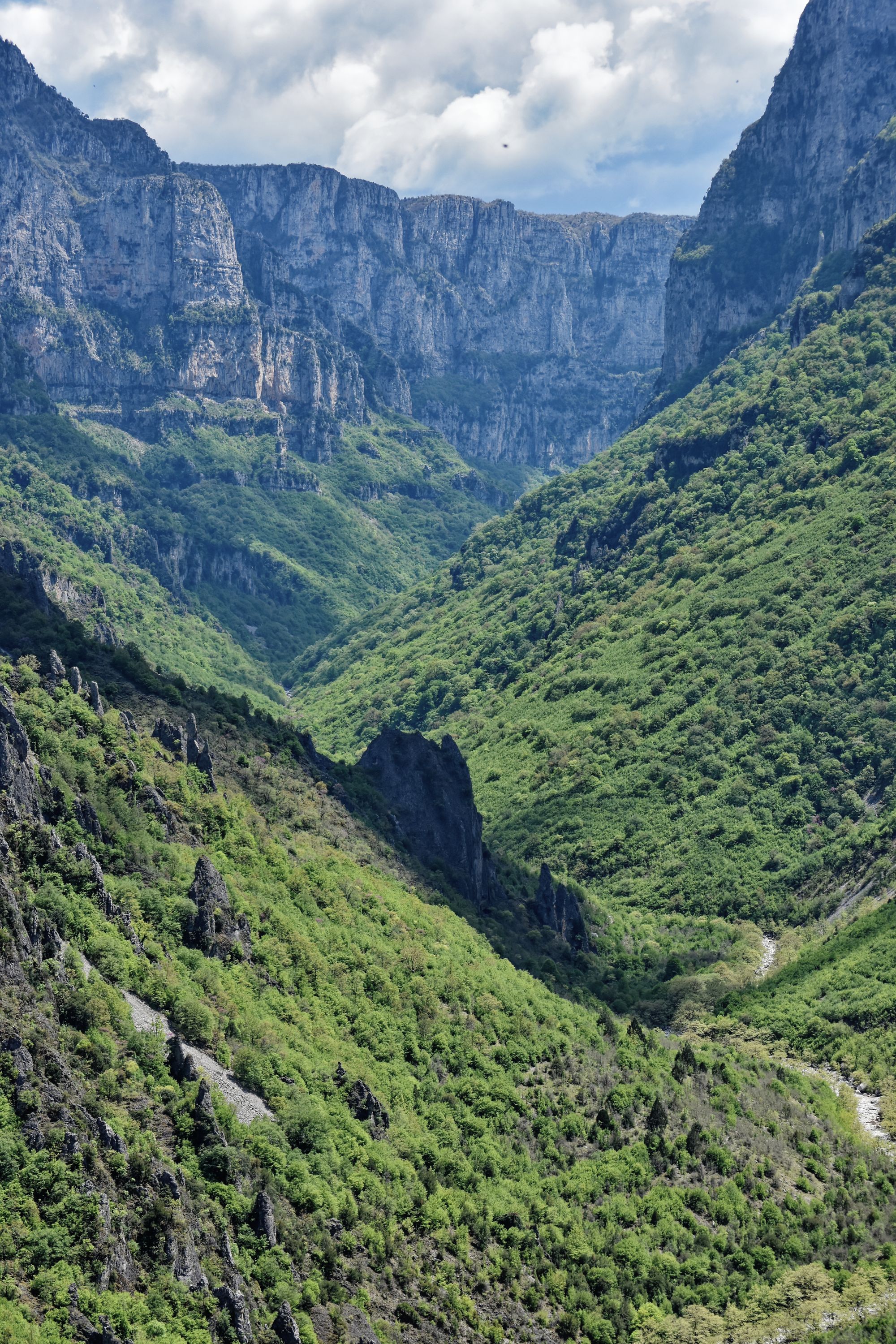 Day six meant that unfortunately, the trip was over all too quickly, with our good driver Kostas taking everyone to the airport. With great memories, I only wish that this very varied trip with a great group could have lasted a few days longer.
Inspired by wildlife and wild places? Check out our Wildlife Spotting adventures.