The French Grande Randonnée No. 20, better known as the GR20, is an 112-mile long hiking trail in Corsica. It's also routinely described as the toughest long-distance hiking trail in all of Europe. Why? Well, it may be the fact that underfoot you could be dealing with anything from loose rock to snow to puddles. It could be the extreme heat and cold that comes with that - or the climbing. The trail can demand over 1000m of vertical ascent in just 5km.
Equally, it could be the fact that you've got to walk for hours on end, on tough terrain, day after day for around a fortnight. That's simply what it takes in order to complete the trail. And you won't be enjoying luxury hotels en route.
You're going to climb above the height of Ben Nevis on day one alone - with over 1,500m of ascent
So, if the GR20 is so demanding, why walk it at all? Well, as most hikers know, good views might come free in the great outdoors, but the best don't come without a bit of hard work. As Paddy Dillon writes in his Cicerone guidebook to the route, "the GR20 climbs high into the mountains and stays there for days on end, leading ordinary trekkers deep into the sort of terrain usually visited only by mountaineers."
Between the northern starting point at Calenzana (near Calvi, Corsica's capital of culture) to the finish at Conca in the south, there are hidden mountain lakes, sea views, rugged, rocky cliffs and remarkable panoramas.
Over the course of the GR20 you'll cross the rugged, challenging northern segments and the southern part of the route, which is smoother and (slightly) easier to traverse. Both are beautiful. Below we take a brief look at the 15 stages of the GR20, day by day. Here's your introduction to the toughest trek in Europe.
GR20 | A Guide to the 15-Stage Route
Start Point: Calenzana
Finish Point:  Conca
Distance: 112 miles / 180km
Days required: Approx 15 days
Stage 1: Calenzana to Refuge d'Ortu di U Piobbu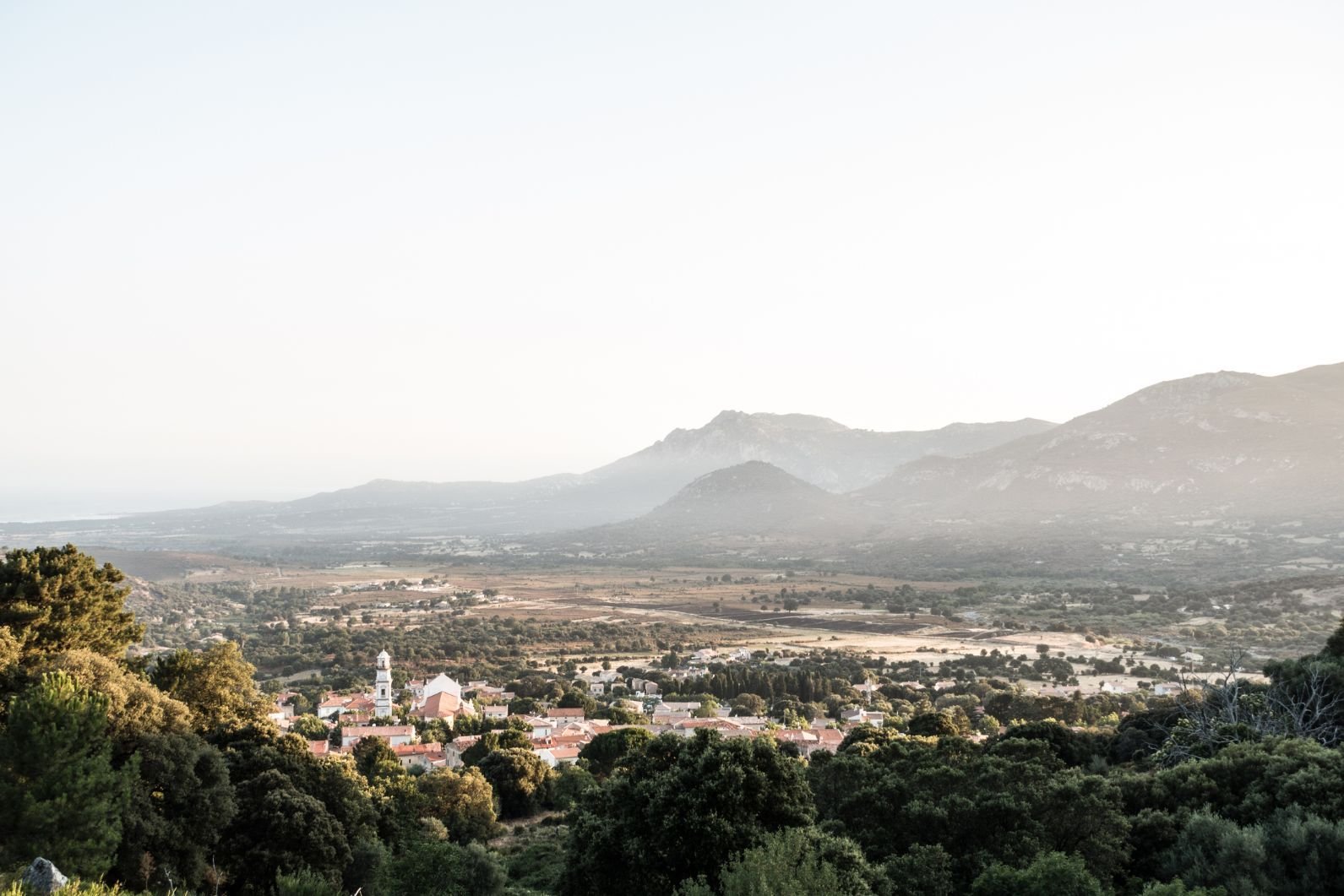 There's no easing into the GR20. You're only travelling seven and a half miles on this opening hike, but it starts off steep. You're going to climb above the height of Ben Nevis on day one alone - with over 1,500m of ascent. It's a constant climb, through a variety of maquis and pine forests, but you'll be getting your first taste of the rugged mountain views. Remember to stock up on water in Calenzana.
Stage 2: Refuge d'Ortu di u Piobbu to Refuge de Carozzu
You're only going five miles today. Easy, right? Of course not. This is the GR20. Expect to take around six hours to navigate the mixture of woodland and open mountain. You'll climb up to the beautiful viewpoint at Bocca Piccaia (1950m) today, looking down on the Ladroncellu valley.
Stage 3: Refuge de Carozzu to Ascu Stagnu
The five miles of stage two will have taught you that short distances do not mean quick days on the GR20. The four miles ahead in stage three are not easy. Expect to be on the trail for around the same amount of time as stage two. Leaving the refuge, you'll climb almost immediately. You'll cross a scenic suspension bridge, later traversing beneath Muvrella (2148m) and eventually reach Bocca a i Stagni (2010m). Finally, you'll descend to the ski centre at Ascu Stagnu.
Stage 4: Ascu Stagnu to Auberge U Vallone
If the temptation to get the bus back to civilization from the ski centre wasn't too much for you, it's time to press on. The pass and climb of Monte Cinto (2,706m) lies ahead - the highest point on the island. The route involves rocky trails and a bit of scrambling either side of the peak, but it's really all about that view - out over the GR20 mountains and the island of Corsica. Get an early start today, as you're going to be on the trail for the best part of eight and a half hours. When you pass the perilously perched Refuge Tighjettu, you're almost done for the day.
Stage 5: Auberge U Vallone to Refuge de Ciottulu di I Mori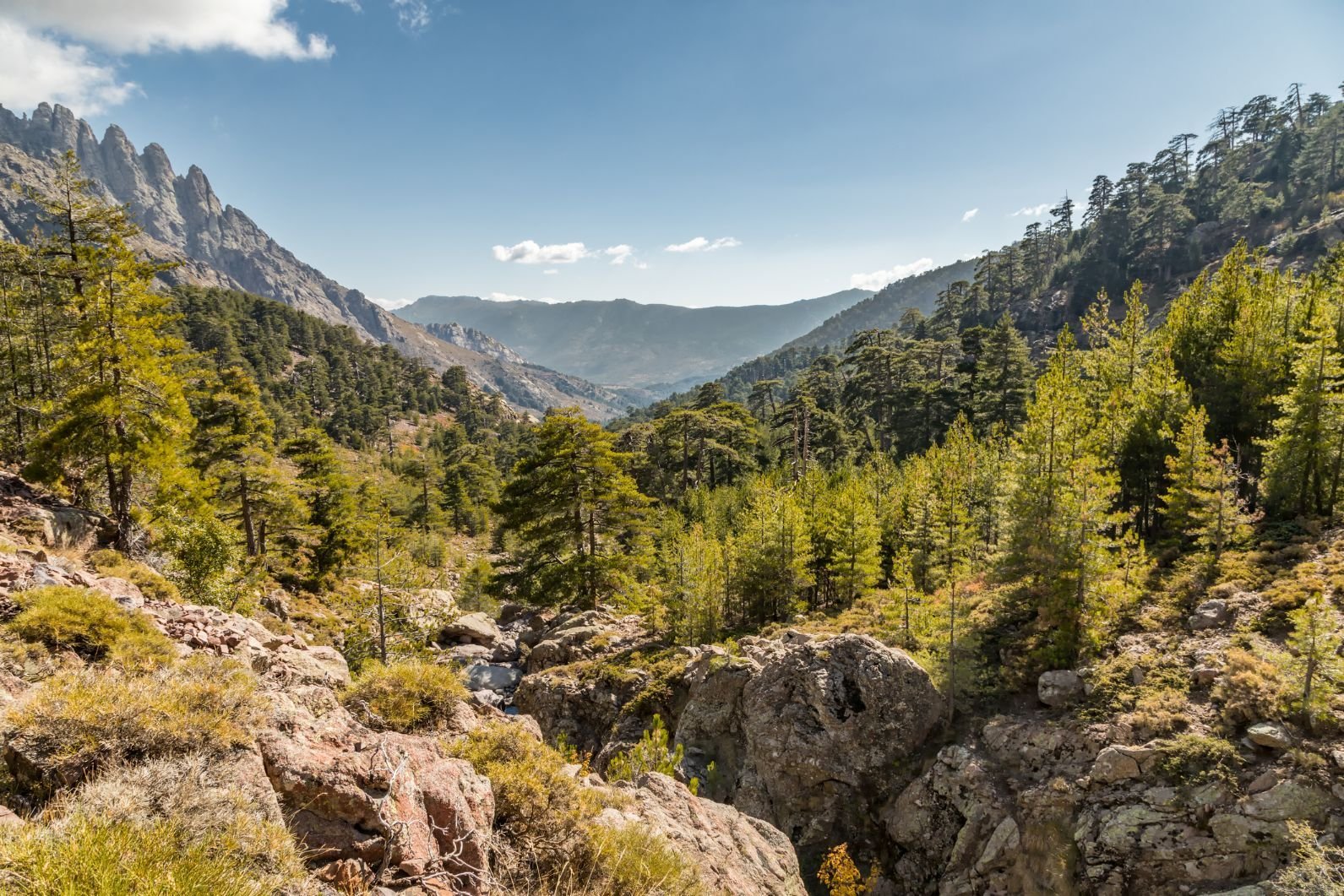 You'll travel five miles in something around five hours today, starting on gentle forest paths and alpine-style pastures. You will eventually work your way back up to the rocky mountains, though. This is the highest mountain hut on the entire GR20 (1991m) - meaning a night with a great view of the Golo valley. There are certainly worse places to pitch a tent, that's for sure.
Staying at this refuge also offers you the option to climb Corsica's third highest mountain - Paglia Orba (2,525m). It's commonly regarded as the most beautiful mountain on the island.
Stage 6: Refuge de Ciottulu di I Mori to Hotel Castel di Vergio
This is your first majority downhill day, as you descend from Refuge de Ciottulu di I Mori. You'll be able to look out to the sea at the Golfe de Porto. You'll cross over the Golo and get views of the Monte Rotondo Massif. Rotondo (2,622m) is the second highest mountain in Corsica. Expect to take just under five hours to cover the five-six miles today.
Stage 7: Hotel Castel di Vergio to Refuge de Manganu
This is one of the most varied and perhaps one of the most beautiful days on the GR20. It's also a bit easier than the previous days, despite being over 10 miles. It'll take you over green meadows (keep your eye out for wild horses!) and onto the Bocca a Reta (1,883m). You'll reach a beautiful mountain lake, the Lac de Ninu and pass gorges, small rivers and geological beauty.
Stage 8: Refuge de Manganu to Refuge de Petra Piana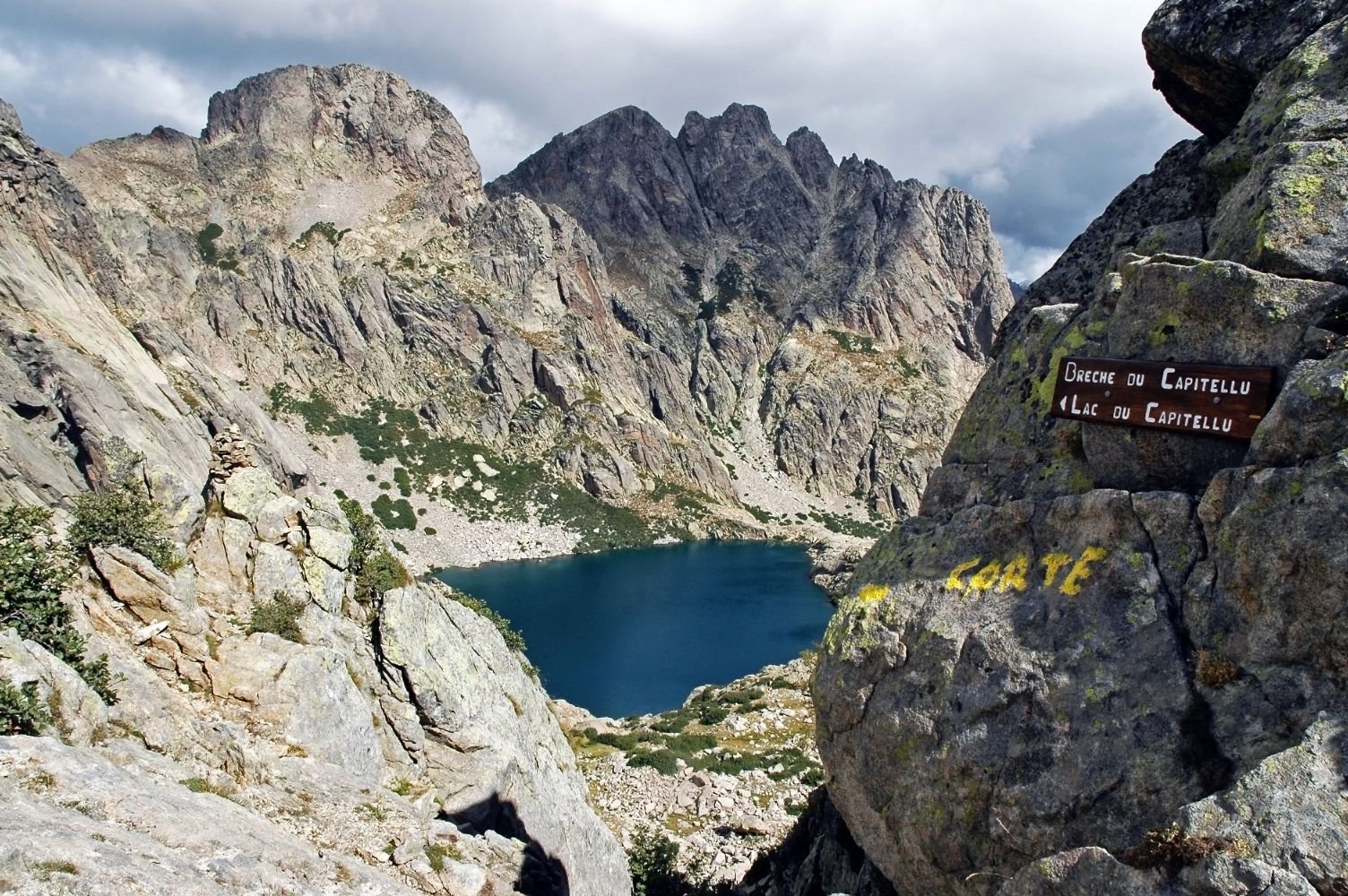 After a relatively simple day, you're back on the ascent today. But you earn some serious views in doing so. Take six miles, and even more hours on the trail, and you get to look on at Lac de Capitellu and Lac du Melo. You'll be on the high ridges today, with care required but remarkable views over the mountains. The Refuge de Petra Piana itself is a cute little pyramid on the edge of a cliff.
Stage 9: Refuge de Petra Piana to Tattone
Downhill? The whole way? Not quite, but almost. You're in for eight and a half miles and five hours of joy today. Walk by waterfalls, through forests and by a river. You'll pass through Bergeries de Tolla - small stone huts offering food and drinks to hikers. You'll arrive in the town of Tattone, where you can wolf down yet more well deserved food. Can't everyday be like this?
Stage 10: Tattone to Bergeres d' E Capanelle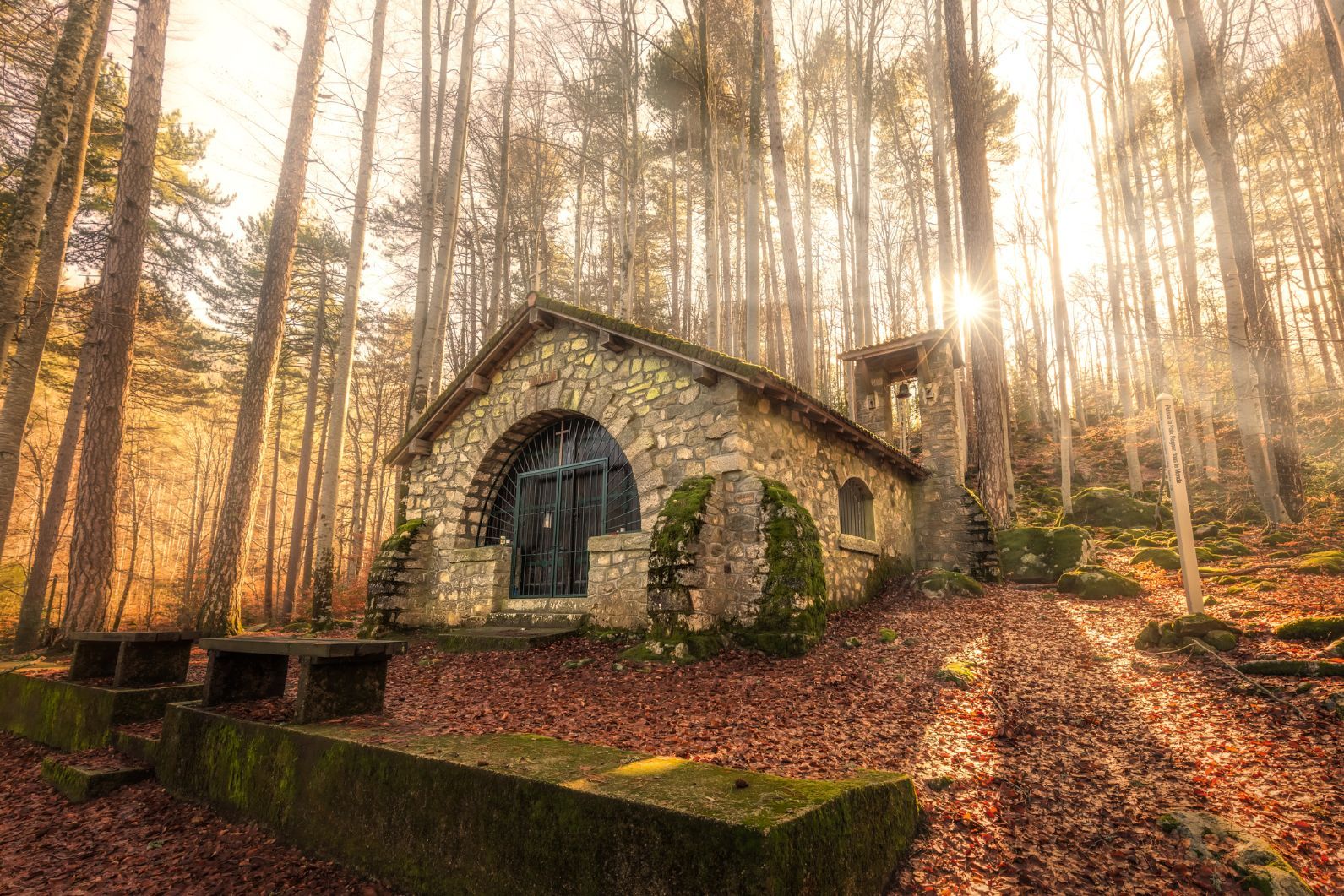 You're going to walk over 11 miles today and early on in the day, you'll reach Vizzavona. This is the line that separates the northern section of the GR20, which is considered the more difficult half, from the southern section. From Vizzavona, you've got around 50 miles to go to the finish line - and none of it is going to be as tough as what you've already done. On this stage, you'll get great views of Monte d'Oru (2,388m) and Monte Ritondu (2,622m) too.
Stage 11: Bergeries d' E Capanelle to Refuge de Prati
A cosy eight miles that will take you just over four hours to Bocca di Verdi, through shaded forests and near rivers. This isn't the trickiest stage of the GR20. You can stop at the Refuge di Verdi for the night if you wish to keep it that way, but if not climb to Refuge de Prati, below, to make your next day a little shorter.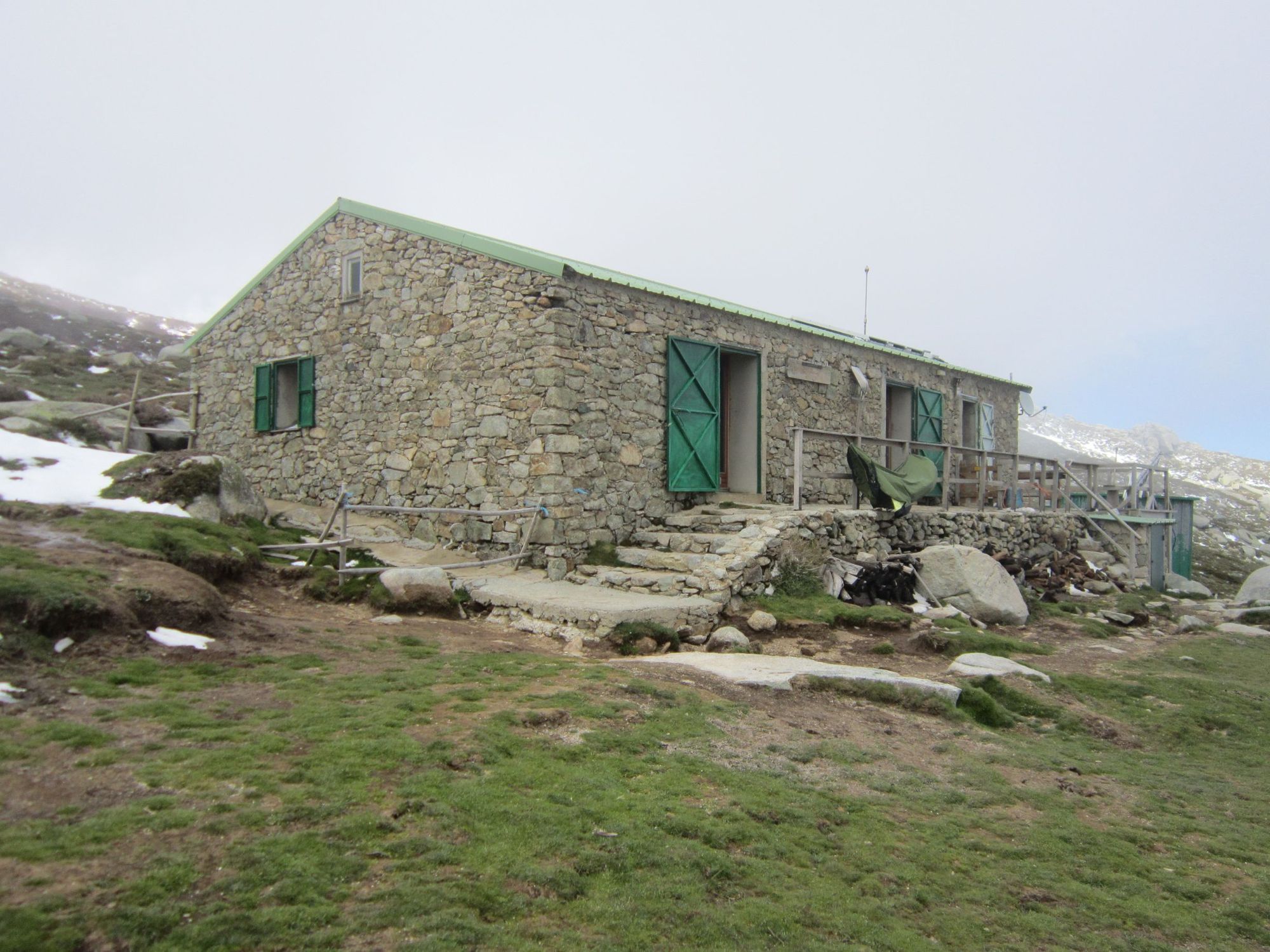 The final three miles to the refuge are steep uphill. It sits way up at 1,820m - but hey, better to end your day with a view than start the next one with a climb.
Stage 12: Refuge de Prati to Refuge d'Usciolu
A scenic uphill mile will bring you near to the summit of Punta Cappella (2,041m) from the Refuge de Parti, as the sun rises over the mountians. The following descent to Bocca di Laparo is a few miles long. Then it's a climb to Monte Furmiocula and on to the Refuge d'Usciolu.
Stage 13: Refuge d'Usciolu to Refuge d'Asinau
An opening scramble and ridgeline, spots of woodland and alpine meadows, with big mountain views. You're getting the drill by now, right? This isn't a short stage - coming in around the 10 mile mark, but it's also not a hugely technical one. One big draw of this stage is the view out over the red granite Aiguilles de Bavella from the actual Refuge d'Asinau. You do need good weather here, though, as you're exposed to the elements and are high in the mountains. There used to be another refuge on this route, but it was destroyed by a lightning strike back in 1981.
Stage 14: Refuge d'Asinau to Refuge de Paliri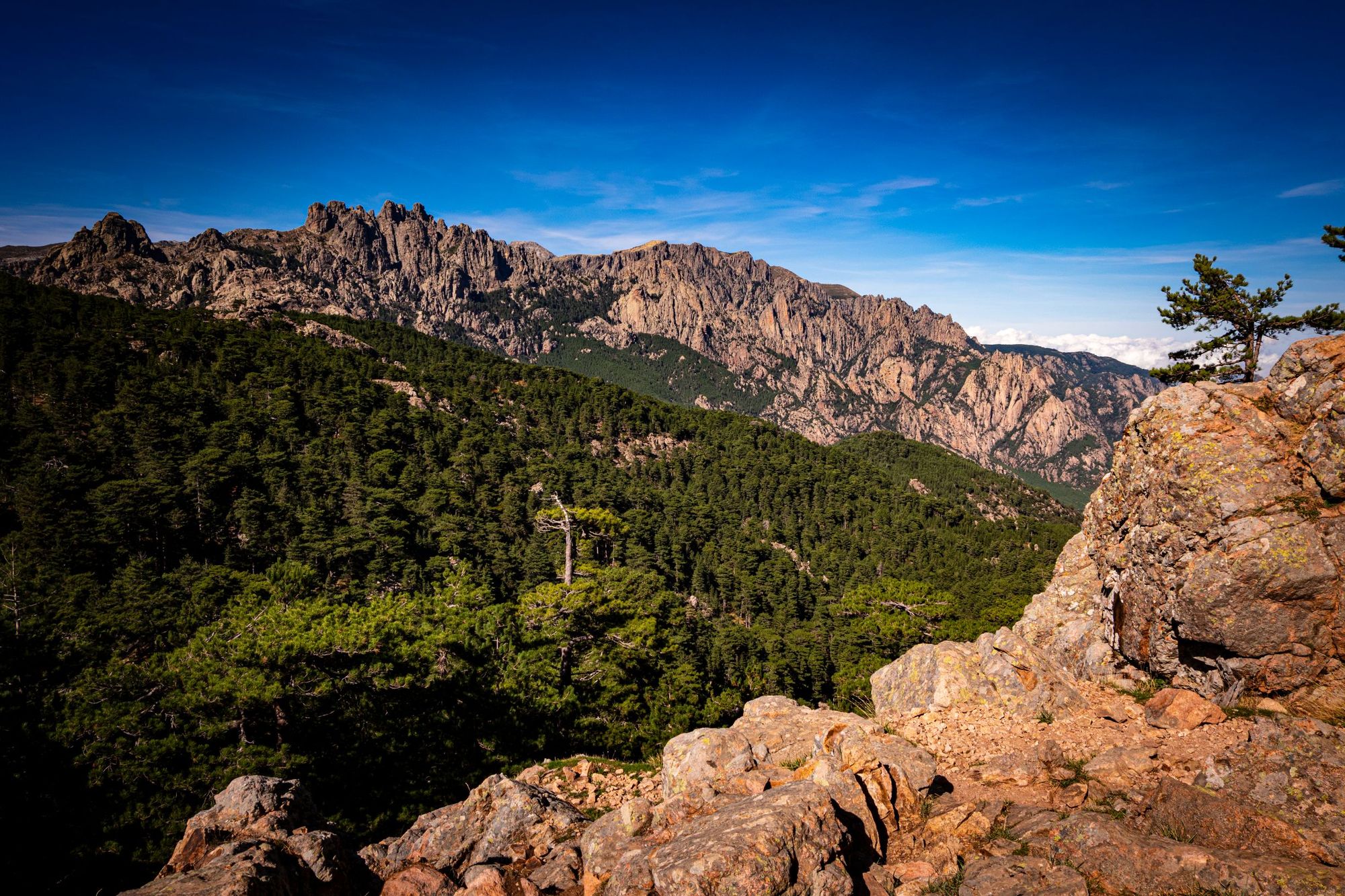 There is a low-level route and a high-level route (or 'Alpine Variant') from the Refuge d'Asinau to Village de Bavella, a small town at 1,170m. Many people stop for the night at the village, but by walking on to the Refuge de Paliri you make your final day a little more enjoyable. Since there's only two stages left of the GR20… we've opted for the high route in our little guide. It's still not the trickiest route ever - coming in at five miles and taking most hikers around four hours.
You'll climb towards those towers of the Aiguilles de Bavella you viewed the night before. The high point is the Punta di u Pargulu tower, and the view in all directions is one of the best on the GR20. Heading on to the Refuge de Paliri, you'll go past pine trees, heather and rocky paths. There is very little ascent here.
Stage 15: Refuge de Paliri to Conca
The last day? Well done you. You're looking at around eight miles to finish your day down in Conca, with the majority of it descending. You'll pass through pine forests, walk by the protruding spike of Punta di l'Anima Damnata and stare down the blue eye of Punta Tafunata de Paliri. You'll see olive trees for the first time since day one, and though there is a period of stony uphill, you'll soon be down in the greenery of Conca - a coastal commune - and at the end of the GR20.
GR20 | The Frequently Asked Questions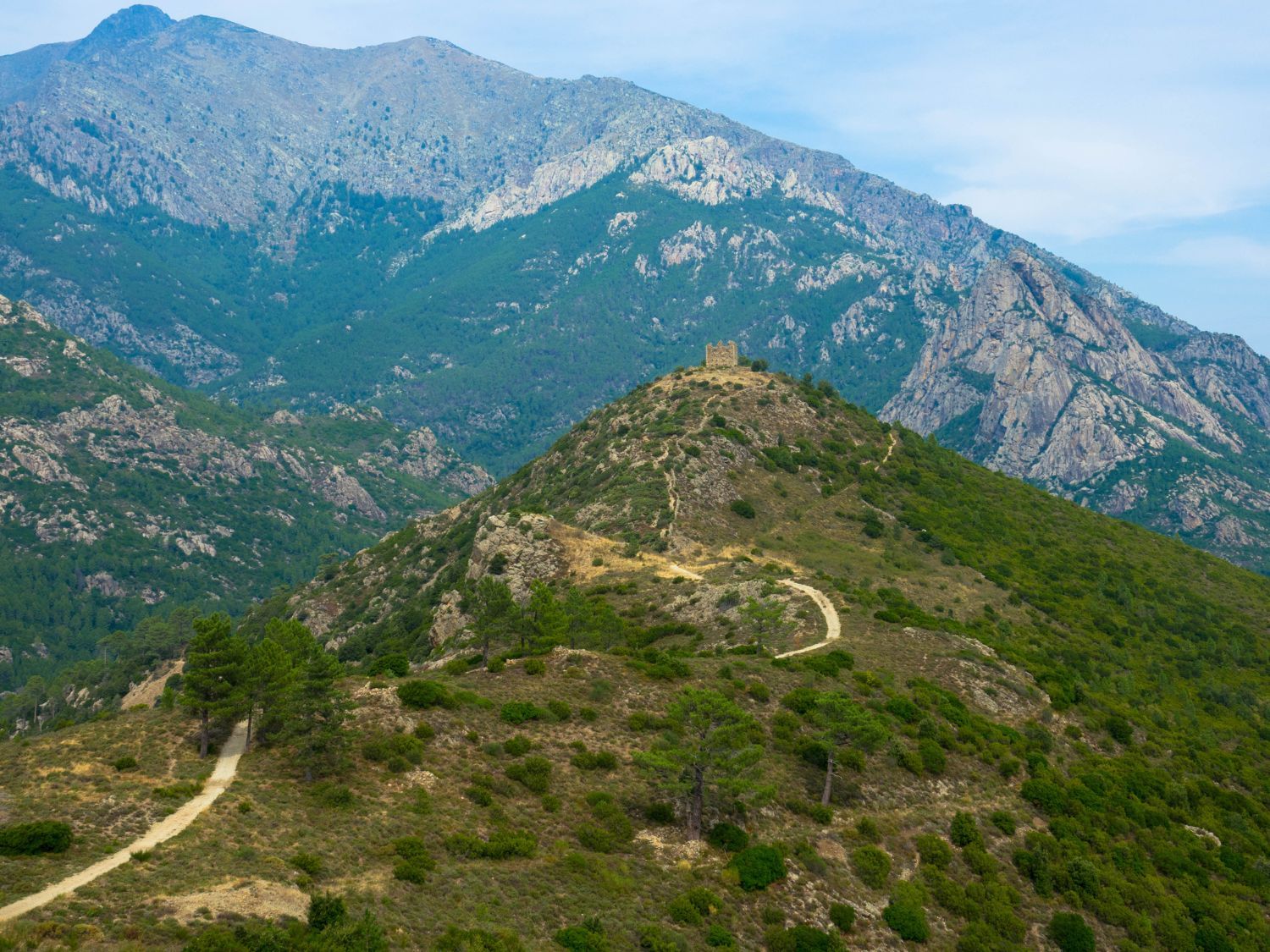 How long does it take to hike the GR20?
It takes the average backpacker around two weeks to complete the GR20. This, of course, depends on fitness and pace. If you're particularly athletic you'll be able to walk the trail quicker, or if you want to really take it all in - why not take your time and spend longer out on the trail? 15 stages for 15 days, right?
The record for the GR20 is, of course, a lot quicker than the average tour. In 2009, the Spanish trail runner Kilian Jornet - possibly the most famous mountain runner in the world - completed the route in 32 hours, 54 minutes and two seconds. The fastest woman to complete the route is Emilie Lecomte, who finished the GR20 in 41 hours, 22 minutes and 10 seconds in 2012.
Salomon made a great little documentary about Jornet's run. Watch below:
What's accommodation like on the GR20?
The GR20 isn't known for its luxury. Quite the opposite, in fact.
Stay on the GR20 and you'll usually be staying in refuges run by the Parc Naturel Régional de Corse (PNRC). Get a booking, and you'll be paying around 15 euro to stay on a mattress, or you'll be sleeping in a tent outside a refuge. You'll be able to buy (cash only) food and drink from the 'guardians' who manage the refuges from approx June-September - and you can even book a hot meal on arrival. Make sure you stock up on that water everyday, as water out on the trail itself can be hard to come by. Dorms are mixed-sex, on bunks, and don't leave a lot of room between hikers. You need to bring your own sleeping bag.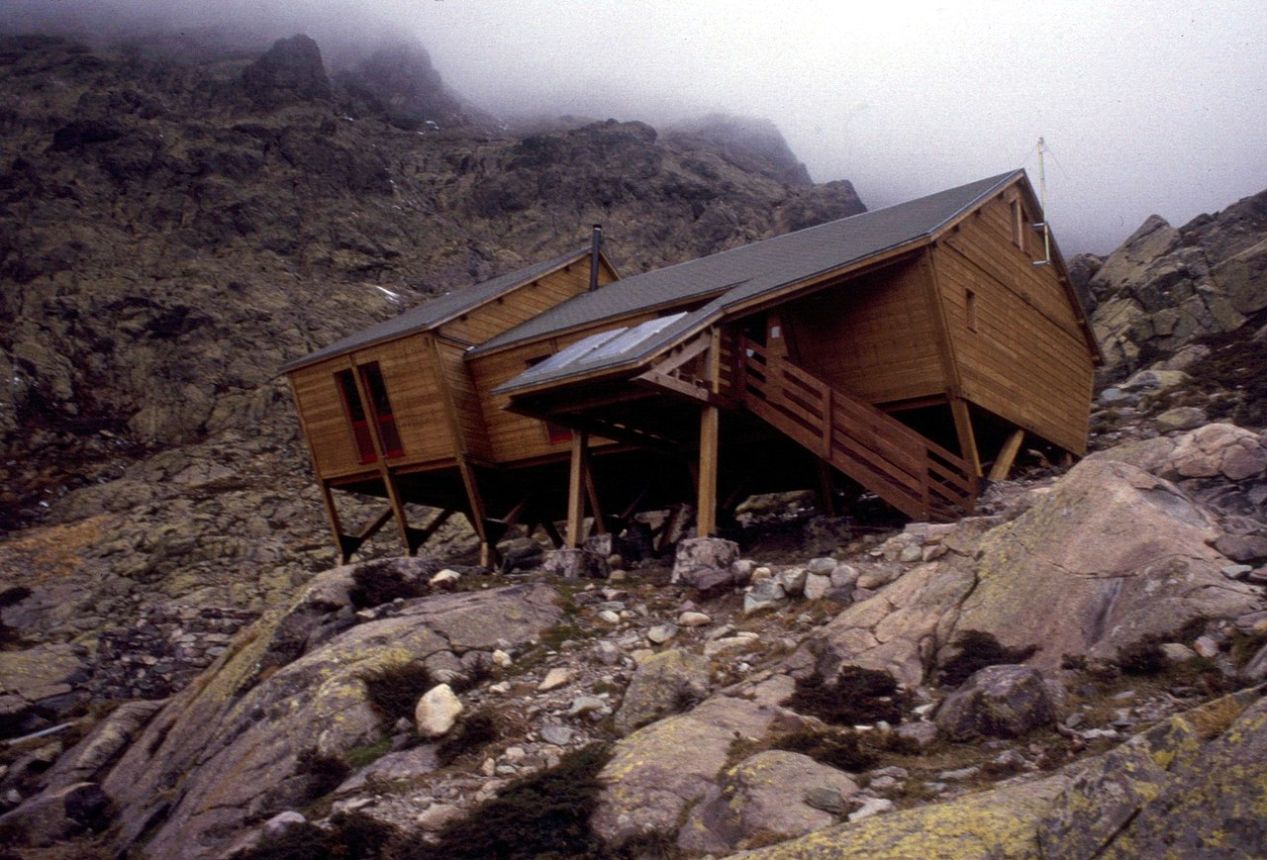 You have to reserve bed spots advance online - so make sure you're organised. Wild camping is strictly forbidden on the GR20. You can really only stay with the refuges (if you're staying on the trail itself). What you can expect at these PNRC stops is a couple of old and cold outdoor showers, a water supply to stock up, an outdoor kitchen, and bins.
If you stray off route on certain stages, you can sometimes find farmhouses, villages or places that offer a little bit more luxury than a mattress next to seven other snoring, sweaty hikers. But, of course, you won't wait up on the trail itself.
Best time of year to trek the GR20?
The best time to trek the GR20 is from June-September. During these months, the refuges will be open, staffed and supplying food and drink - though of course, the trail will be busier than during other times of the year. In May there may still be snow, and by October, there's a good chance that you'll have to carry your own food, with refuges unstaffed. During other times of the year, snow is likely to fall, blocking the path and obscuring the route. It can be dangerous.
Can I hike just a small part of the GR20?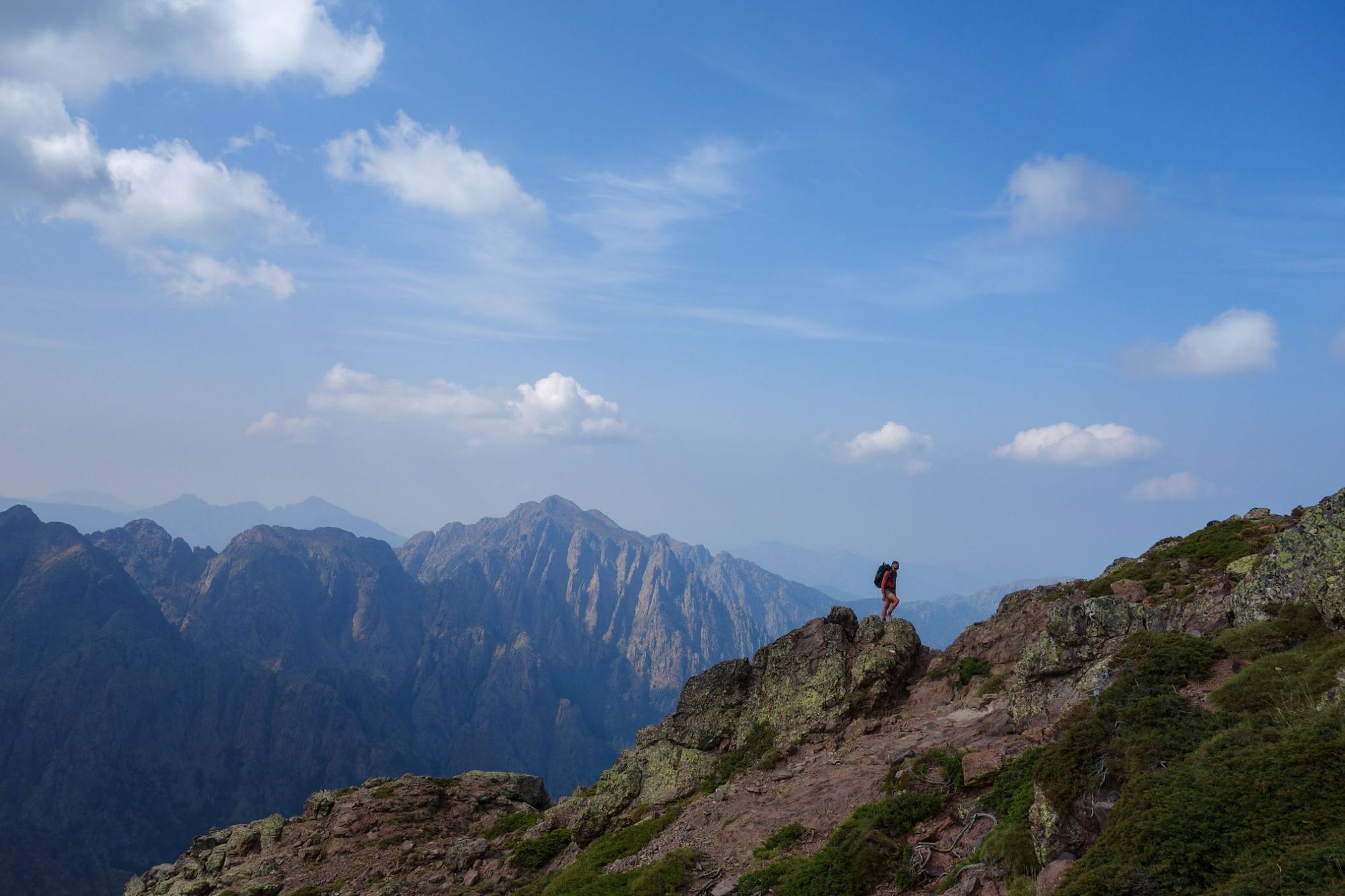 Of course! Some people split the trail up into north and south, meaning you can walk approximately half the trail if you so choose. The north section of the trail runs from Calenzana to Vizzavona, and covers just over 60 miles. This section can be covered in 7-10 days. The southern section of the trail runs from Vizzavona to Conca, covers 50 miles, and can be done in around a week.
The north section is considered more challenging than the south of the GR20, due to both the extra distance and the terrain under foot. With a bit of research, there are other route options that allow you to tackle specific segments, too.
Looking for a full guidebook to the route?
Having quoted the author in our introduction, we've got to recommend Paddy Dillon's excellent 'GR20 - Corsica: The High-Level Route' from guidebook regulars Cicerone. It's an incredibly detailed guide to the GR20, with maps, tips and details - written by Dillon on the trail itself. The Komoot map linked to above also has a great stage-by-stage breakdown of the GR20.
This article contains affiliate links. Which basically means we make a little commission if you click through and buy something. It doesn't cost you anything, and it just means we can do more good things in good places.
Inspired? Check out our Sea Kayak and Wild Camp in Corsica adventure!