Hiking in Patagonia has to be fantastic, surrounded by one of the most impressive landscapes in South America. Right down at the southern tip of the continent, it straddles the border between Chile and Argentina, all the way to the tail of South America and Fin del Mundo in the Tierra del Fuego National Park: the end of the world.
The top end of Patagonia is less well defined. Academics, without much else to talk about, disagree about how far north Patagonia begins. Unless you're doing some crazy "cross the entire of Patagonia" hiking challenge, it doesn't really matter too much. Which, by the way, you can do in an epic 1700 mile hike from one end of Patagonia to another. It's called the Route of Parks and crosses 17 National Parks all up the west coast of Patagonia. Start booking your time off work now.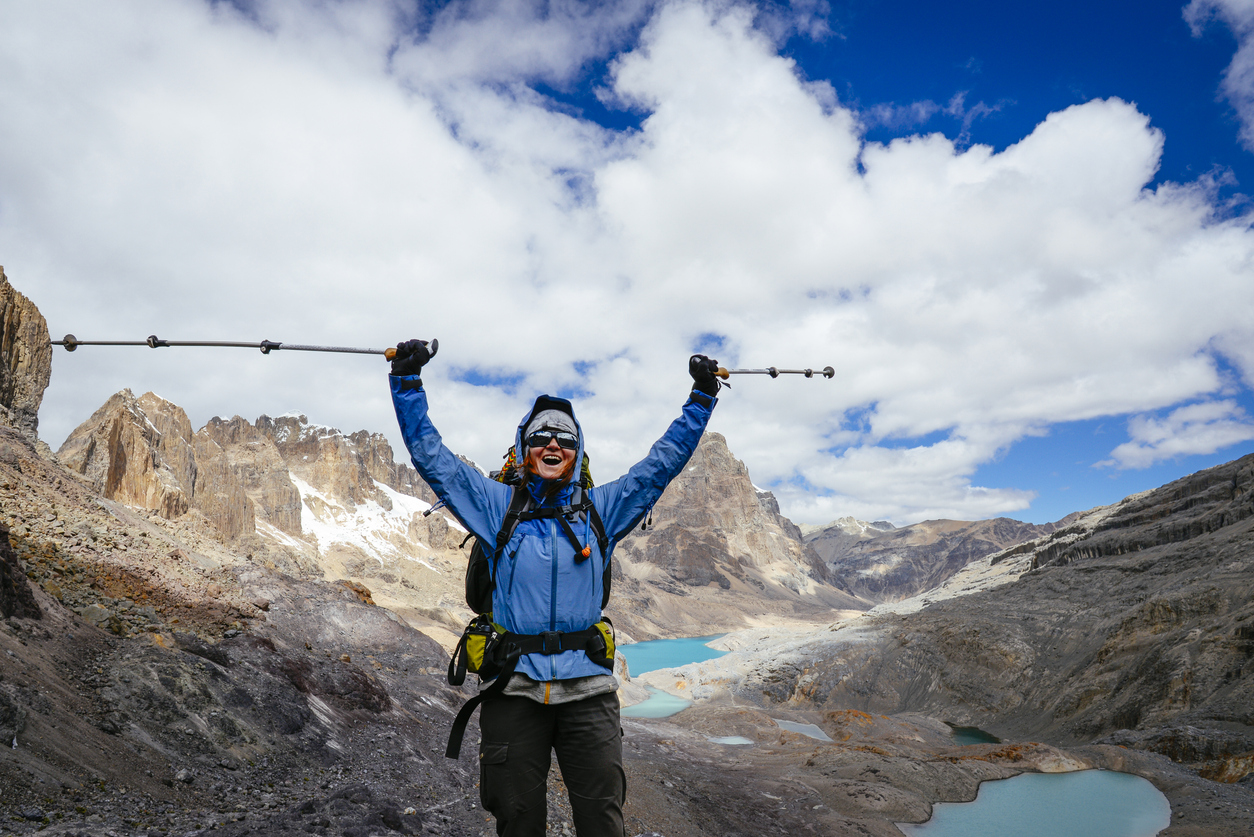 Where to Go Hiking in Patagonia?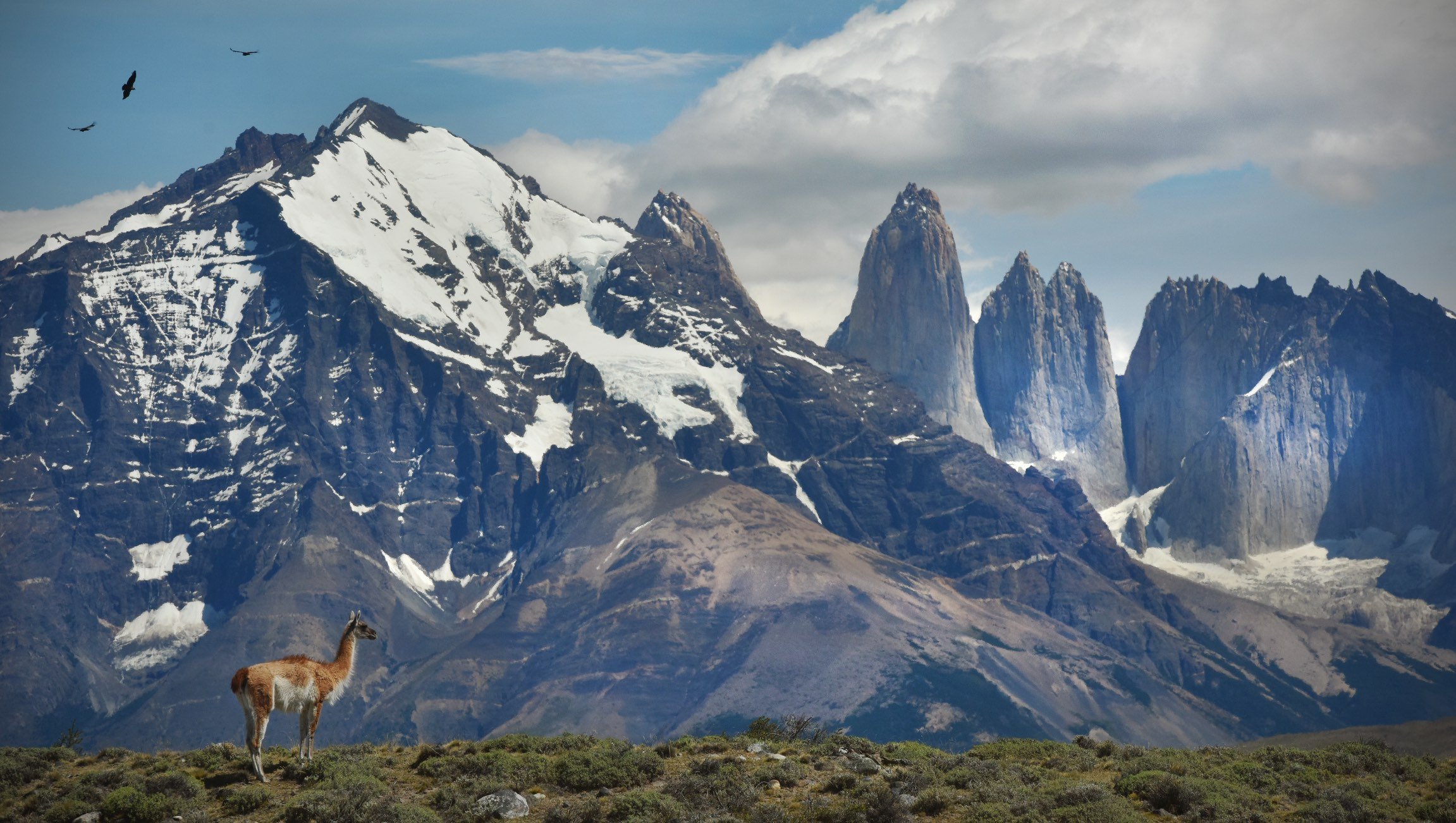 In Patagonia, you are spoilt for choice of hiking destinations. Never mind plenty of Patagonia hiking routes. In the map below, we've roughly sectioned off some of the important areas. It should give you a good idea of the main National Parks and hiking destinations.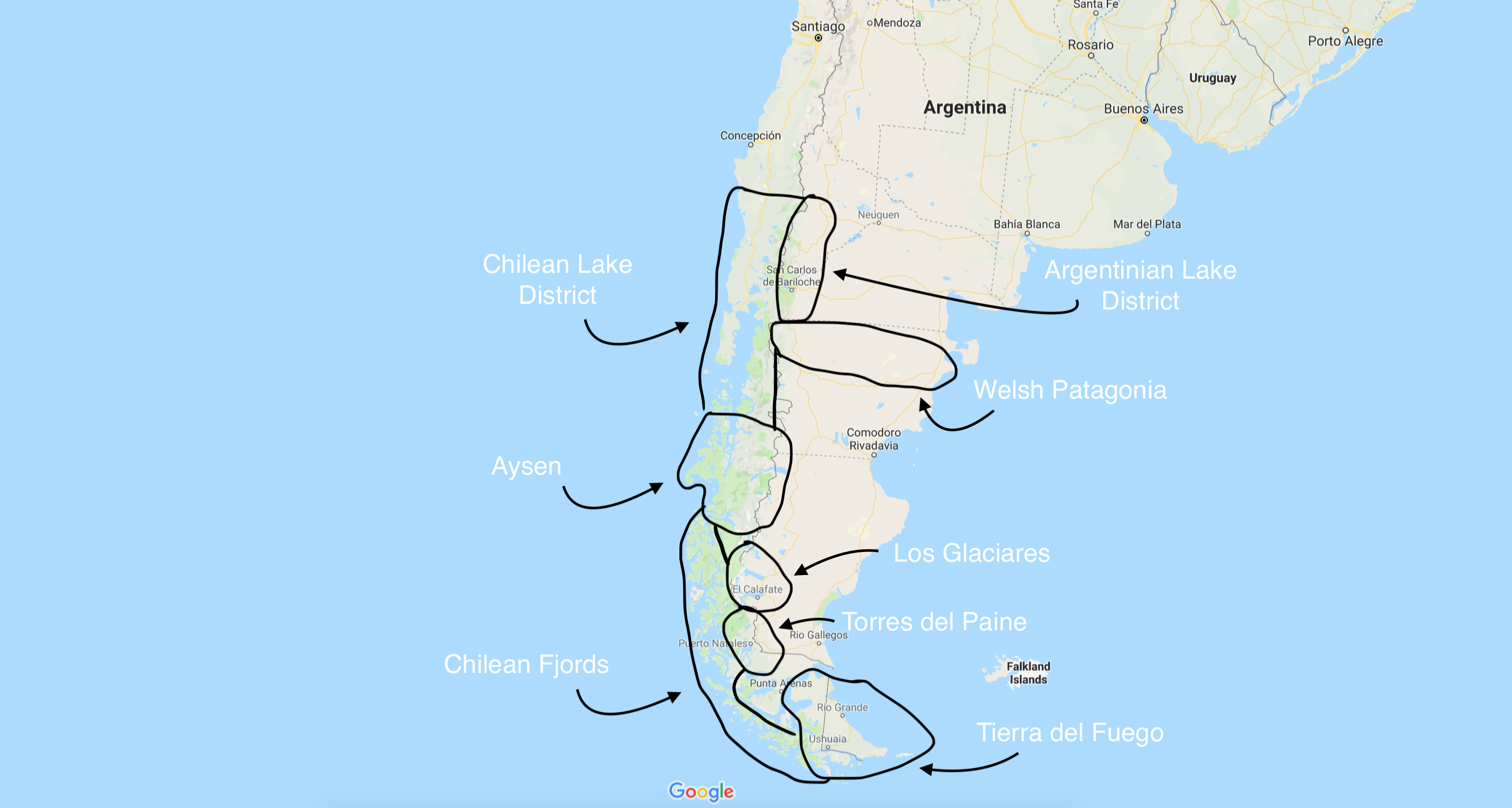 Okay, so it's a very very rough idea. Please don't come back at us asking why, according to the map, a large part of Torres del Paine National Park is in Argentina. That's not the point. It's so that you can point at Patagonia on a map and show your friends roughly where you'll be hiking, without looking like a spanner.
The main hiking areas in Patagonia are:
Chilean Lake District
Argentinian (or Argentine) Lake District
Welsh Patagonia
Aysén region
Los Glaciares National Park
Torres del Paine National Park
Chilean Fjords region
Tierra del Fuego
That's not to say you can't go anywhere else, but there's not a lot going on in those big empty sections of Argentina that don't have a circle around them.
Chilean Lake District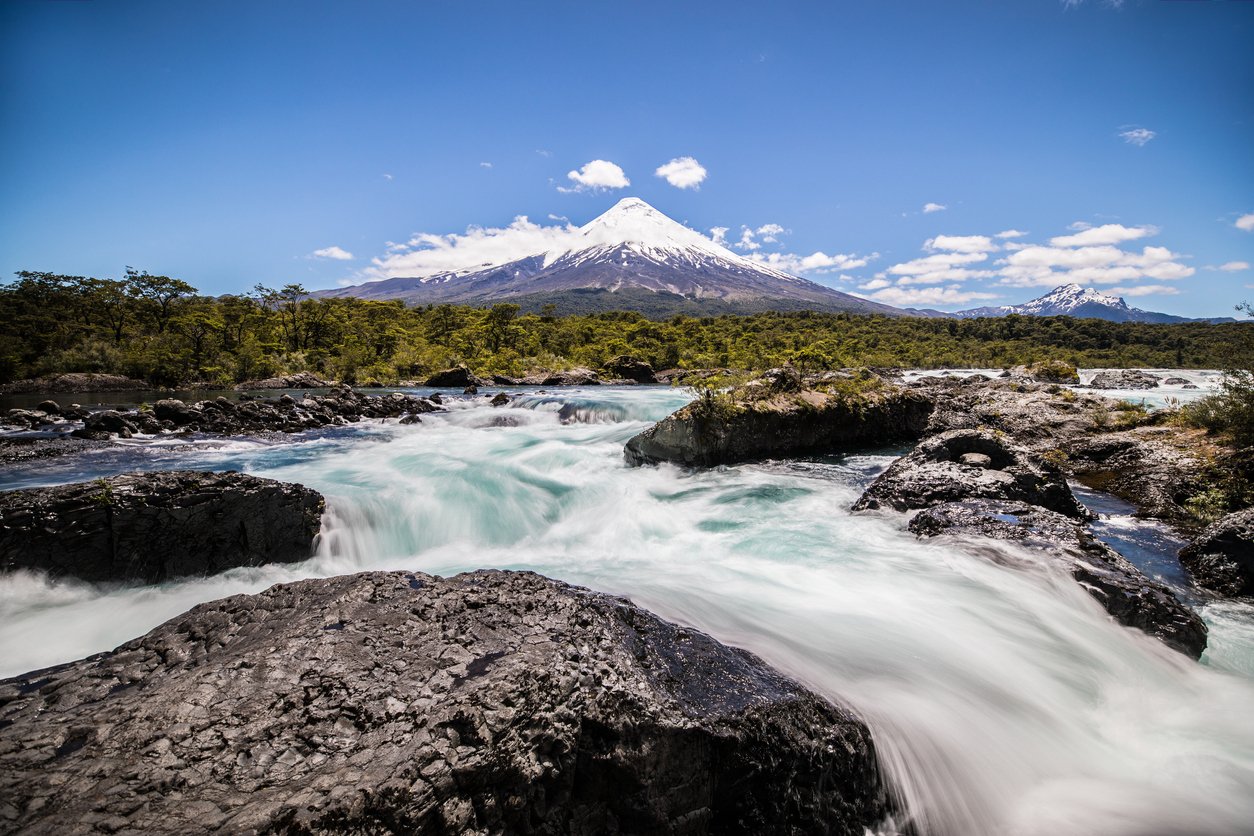 Best Time to Go: All year round – hiking season is September to February. You can ski in June to August!
Highest Peak: Ojos del Salado (6,893 m)
Hiking Trails: Cochamo Circuit
Yes that's right, step aside UK Lake District. This Lake District has got a mix of lakes, forest… and snow capped volcanoes. In this area of Chilean Patagonia, you can do multi-day hut to hut treks, or day walks based out of local towns. Hikes could see you walking through deep forest or farmland, up snowy peaks or through rocky mountains. It's your choice. Since you're in the Lake District, you might also want to check out some of the lakes… The Seven Lakes Area is probably a good place to start.
Argentinian Lake District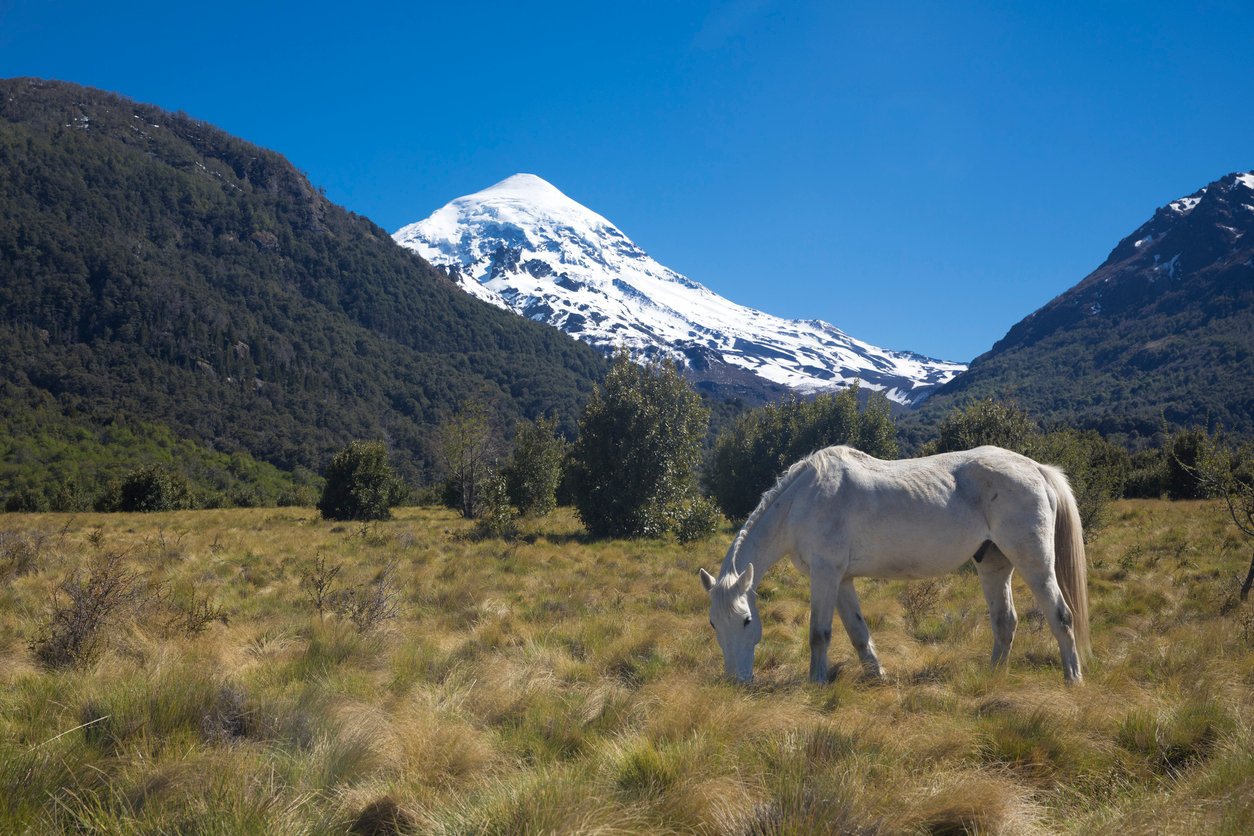 Best Time to Go: All year round – hiking season is September to February. Expect winter in July/August and rain in September/October
Highest Peak: Volcan Lanin
Hiking Trails: Paso de las Nubes
East of the Andes, Argentina's version of the Lake District is just as good – with volcanoes, forests… and of course lots of lakes. We get the impression that there's a bit of competition between these two Lake Districts. They both have a Seven Lakes feature (in Argentina it's the Seven Lakes Road), for example. The Nahual Huapi National Park has a good network of refuges for planning a hut to hut multi-day hike, or you can camp in Lanin National Park to your heart's content. The volcano peak of Lanin is a challenging hike to 3,728m.
Welsh Patagonia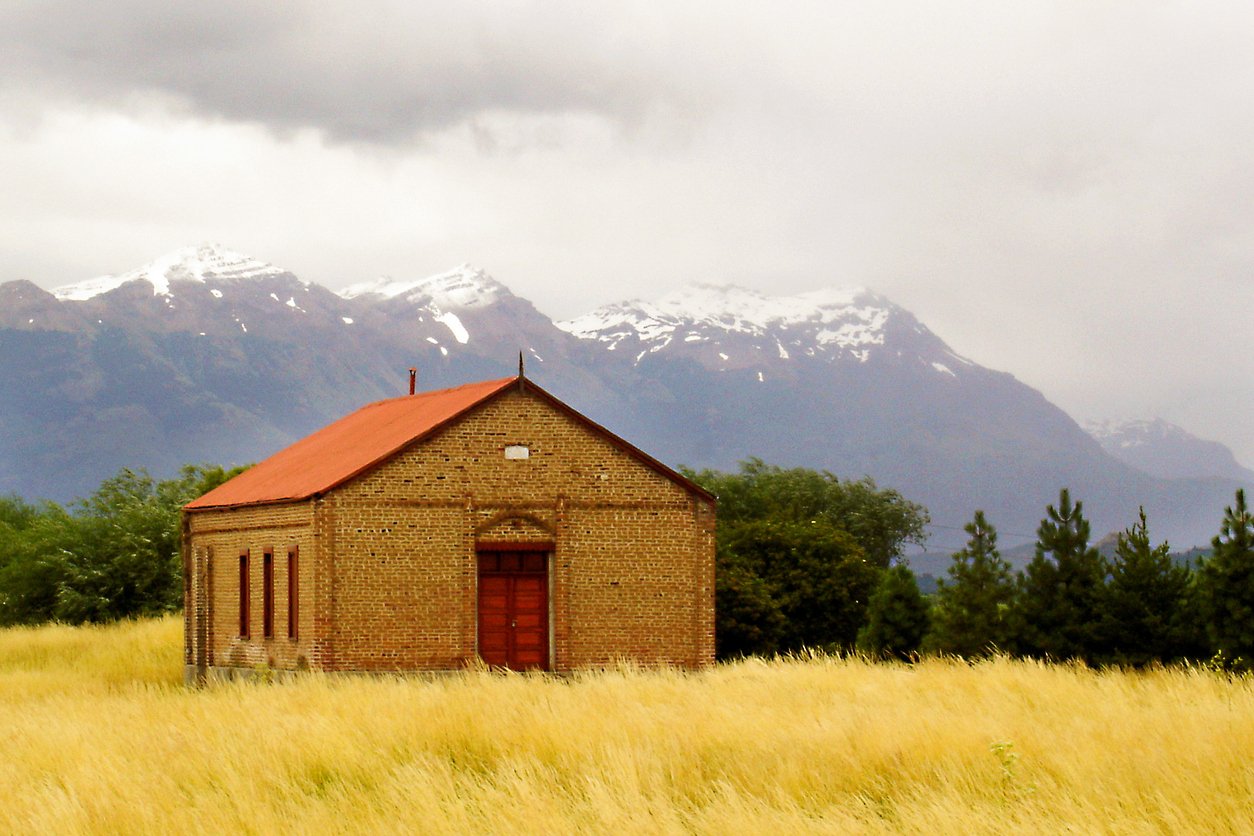 Best Time to Go: Summer months are November to March
Hiking Trails: Circuito Lacustre in Los Alerces National Park
There is a small Welsh colony in Patagonia. It is one of the only places outside Wales where Welsh is spoken. There's also a very interesting mix of cultures – you can find Welsh cakes and pasties here! And windmills… which aren't typically Welsh, but not your first guess of things to see in Patagonia either. For hiking, your best bet is Los Alerces National Park. The park is very alpine: forests below, leading to alpine meadows and the rocky peaks of the Andes up high.
Hiking in Patagonia: Aysén Region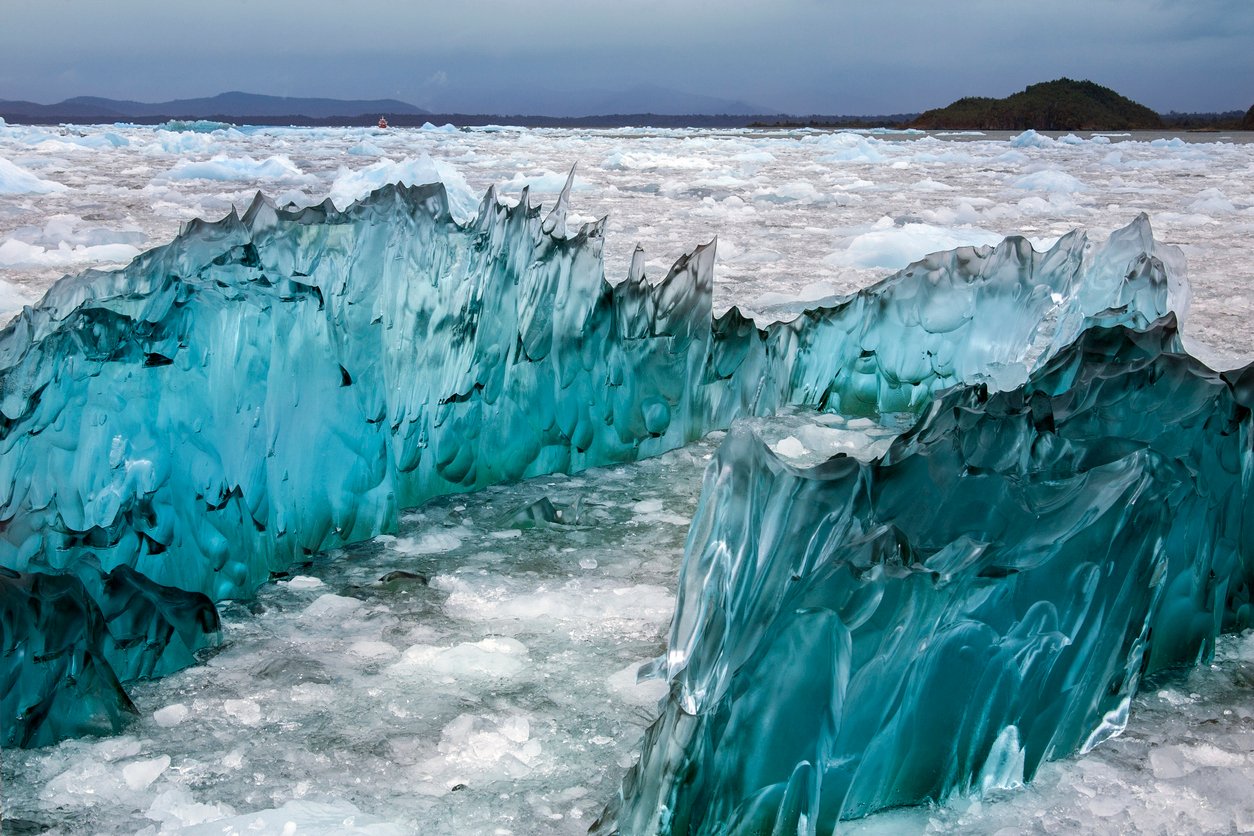 Best Time to Go: November to March for hot summer days
Highest Peak: Monte San Valentín (4,058 m)
Hiking Trails: Lots in Patagonia Park e.g. Lago Chico Loop
Aysén is Chile's least populated region. But who needs people when you can have ice, lots and lots of ice. Aysén is the sandwich filling between the North and South Patagonian Ice Fields… in a very cold and crunchy sandwich sort of way. The glacier by San Rafael Lake regularly releases icebergs into the lake.
The Aysén Region is also home to Patagonia Park… which might seem confusing. Patagonia Park (place) is a privately owned park inside Patagonia (region), owned by the person who used to run Patagonia (outdoor brand). We hope you got that. The park is a conservation project, but hikers are allowed inside to enjoy it.
Los Glaciares National Park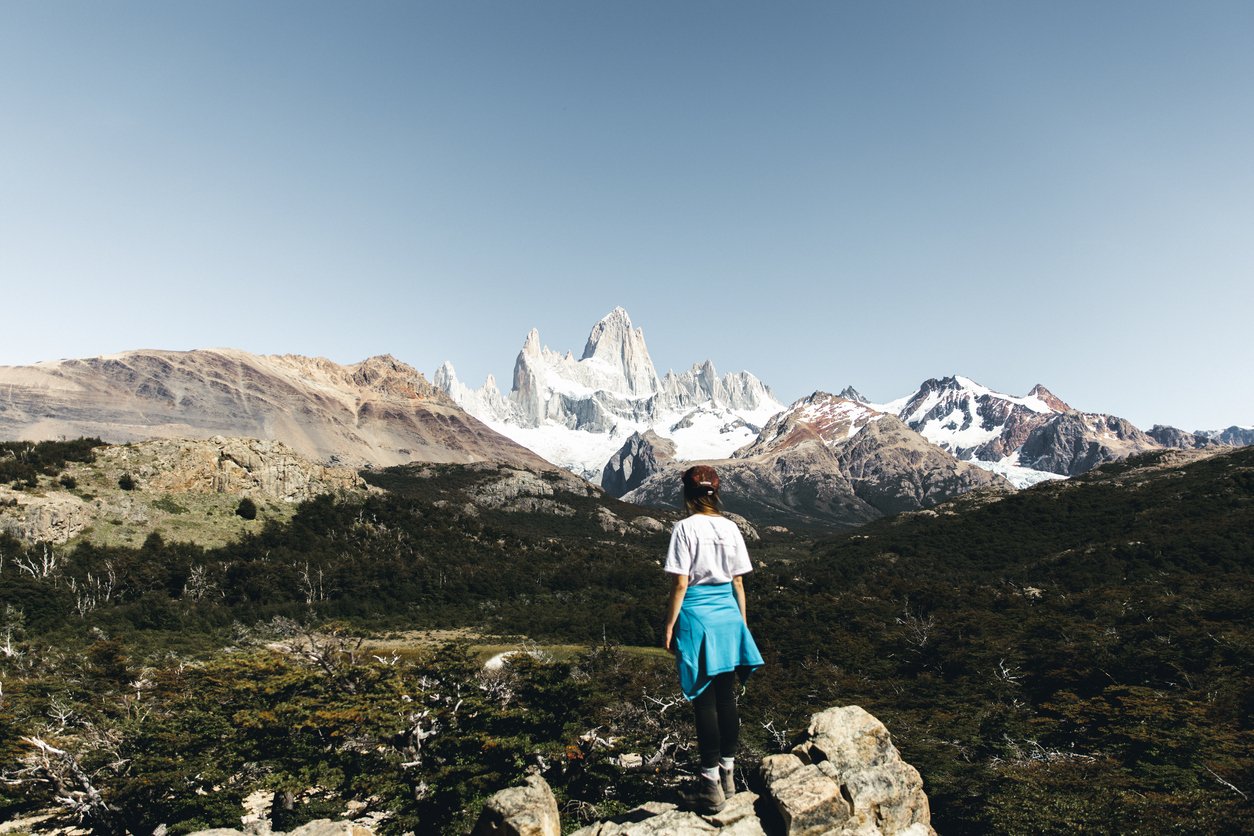 Best Time to Go: November to March for warm weather, but expect the possibility of four seasons in one day!
Highest Peak: Cerro Chaltén aka Mount Fitz Roy (3,405 m)
Hiking Trails: Many unnamed routes within the national park
The two big names in Los Glaciares National Park are Perito Moreno and Fitz Roy. The Perito Moreno Glacier is an enormous glacier in Argentina. The ice spans 19 miles and rises about 240ft above the water, on average. Better still, this glacier is still growing. There are hiking paths that give you access to unusual views of the glacier and some treks will even allow you out onto the ice.
Mount Fitz Roy is the highest peak in Los Glaciares National Park. Although you won't be hiking up to the peak (unless you have some serious mountaineering skills stashed down your hiking socks) there is a great network of trails to hike. Even if you can't ascent those pointy rocks, you can walk in their impressive shadow.
Torres del Paine National Park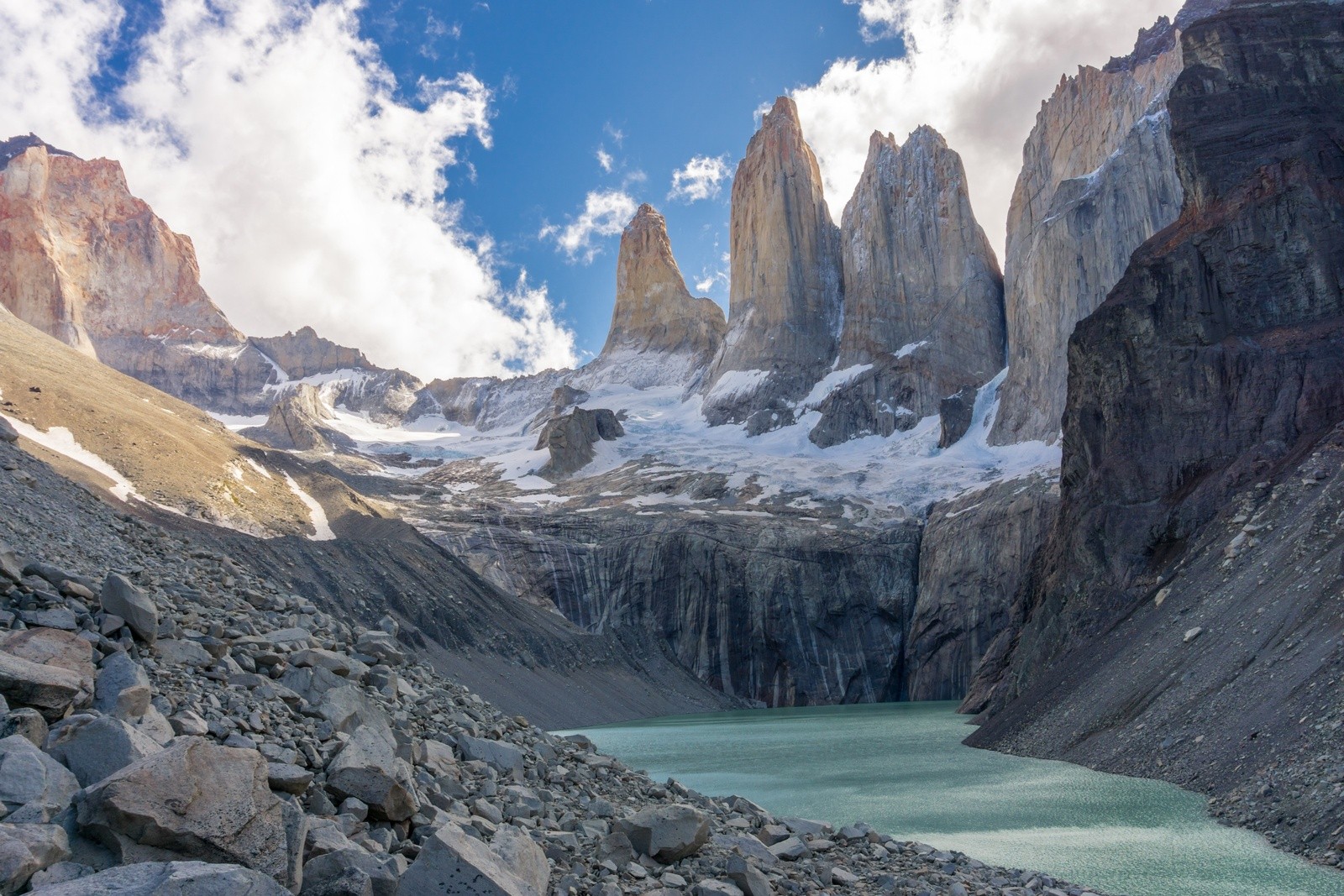 Best Time to Go: November to March for warm weather, but expect the possibility of four seasons in one day!
Highest Peak: Paine Grande (2,884 m)
Hiking Trails: W, O and Q routes
More pointy rocks! The Torres del Paine mountains are icons of Patagonia. Those three spikes are called Los Cuernos, The Horns, and look very fetching in photographs.
The hiking trails here are well established and most people will be doing one of the three letter routes: W, O or Q. These are possibly the most well known trails in Patagonia. Each route is a multi-day trek that generally trace the shape of the letter it's named after. Original, right? The Torres del Paine W Trek is the shortest, at 80km long. Then, the O route is a 110km hiking circuit around the Cordillera del Paine (basically, the cool bits). Finally the Q trek does the O but adds an extra bit of hiking down south to Lake Pehoe.
You might like to have a look at our comprehensive guide to Trekking Patagonia's Torres del Paine National Park for more information. Or maybe consider one of our guided treks to take the faff out of it all.
Chilean Fjords Region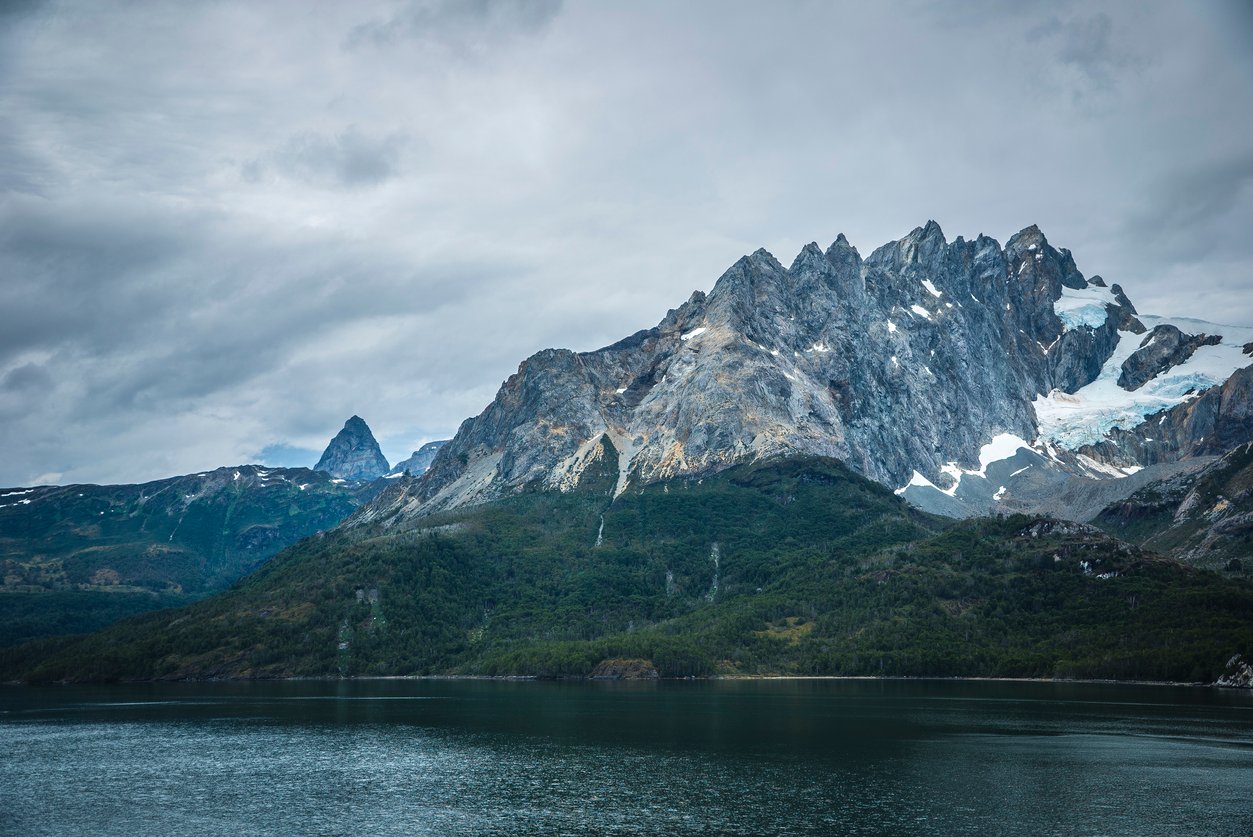 Best Time to Go: Shoulder season September-November and March-April to avoid very hot weather
Hiking Trails: Several trails in Alberto de Agostino National Park
Patagonia is one of the only regions in the world to have borders on three different oceans (Pacific, Atlantic and Southern). It seems like most people visit the Chilean Fjords region from the safe distance of a luxury cruise ship. Sure, we can understand that fjords are exciting from the water, but a kayak would be far more our style. Still, whatever floats your boat (or kayak).
What's awesome about the Chilean Fjords region – and also somewhat problematic for hikers – is the that it's mostly islands and isthmuses. On the map, it looks rather like Norway. Lots of tiny islands clustered around the edge of the mainland. Plus we're getting into the area of barely-touched exciting mountains, where people who climb them get to give them a name.
On the north end of the Chilean Fjords region is a mountain range called Cordillera Sarmiento. It's the mountainous extension south of the South Patagonian Ice Sheet. To the east is the Fjord of the Mountains – a huge 66km canal that weaves its way through the tail end of Patagonia.
Tierra del Fuego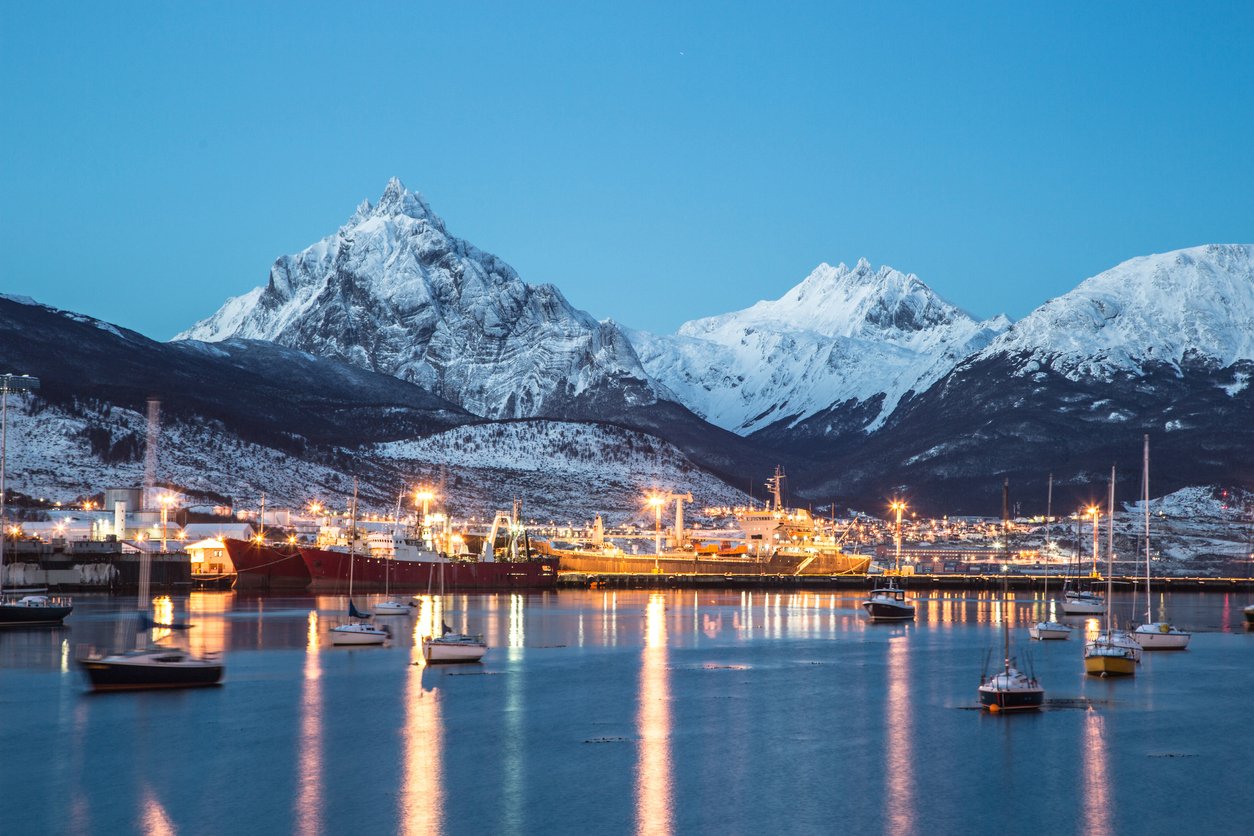 Best Time to Go: when you are an extremely competent mountaineer
Highest Peak: Mounte Darwin / Monte Shipton
Hiking Trails: Hito XXIV trail, Cerro Guanaco trail, De la Isla trail
The Tierra del Fuego is an incredible place, where there is still lots of exploratory mountaineering to be done. If you want to get a taste for attempts at unclimbed peaks, read Simon Yates' book The Wild Within. But be warned, you might get a serious case of mountaineering wanderlust… if that's even a thing. The mountains are calling and no one has ever stood on top of them before. You could be the first.
If you don't want to wait for gathering years of mountaineering experience, there are still some hikes that can be done in Tierra del Fuego National Park. You can climb Cerro Guanaco – a peak that's less than 1000m, but has great views over the Beagle Channel and Ushuaia.
Feeling psyched and ready to visit Patagonia on a hiking trail? Check out our adventure holidays in Patagonia.