The best place to learn bouldering in London is the closest bouldering wall to where you are in London. Seriously. It's like going to the gym. You might have great plans when you sign up. But if you don't live or work close enough, suddenly going to the gym becomes an extra chore. Some clever person did a study that said unless you live within 15 minutes of your gym, you're very unlikely to actually use it. Same goes for bouldering walls. If you don't live close enough, you're probably not going to train regularly.
On the flip side, you don't really need anything to get started. Unlike rock climbing there are no harnesses or gear or even ropes. The maximum you'll need is chalk (for sweaty hands) and shoes (for getting your toes into ridiculous cracks). You don't even need to buy climbing shoes: every wall will allow you to hire some. If you're going bouldering outside, you might consider getting a bouldering mat to cushion your falls.
But we're getting ahead of ourselves. Learning bouldering is a slow, methodical process. So take those finger boards and pull-up bars back out of your shopping trolley! There is so much more to bouldering than sheer physical strength. You'll need to learn balance and endurance. Here are a few of the best places to get started:
The Bouldering Grades Explained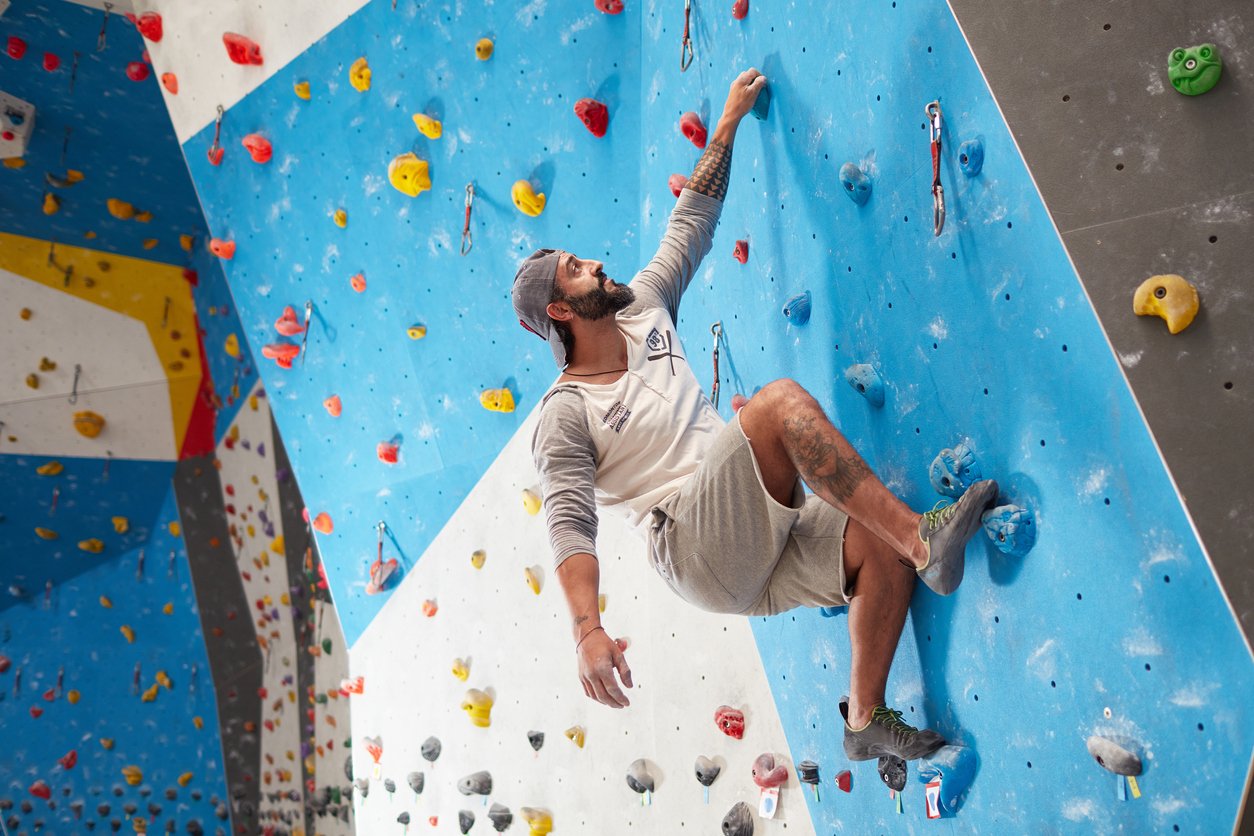 The first thing you should probably learn is some lingo. Whilst rock climbing comes in "routes", bouldering comes in "problems" or "circuits". A problem is following a particular line to reach the top of the boulder or, indoors, following particular coloured holds to the top. A circuit is made up of a combination of problems that traverses round a rock or wall.
How do you know what's hard and what's easy? Well, London bouldering centres will typically grade their problems by colour and number. There are several grading scales, but the most common are the Hueco or V Scale and the Font Scale. That's short for Fontainebleau a bouldering heaven in France. V Grades go from VB, V0-, V0+, V1-,… etc to V15 and beyond. Font Grades start at 4, 4+, 5, 5+ then change to introduce letters just to mix it up: 6a, 6a+, 6b, 6b+, 7a,…
Fortunately, you will be able to find a guide to the grades in any London bouldering centre. There will be a wall chart with equivalent grades and colours. It makes a good place to stand and stare at the chart, pretending you're thinking whilst you're actually trying to give your arms a break!
The Best Places to Go Indoor bouldering London
Most people start bouldering indoors nowadays. Most indoor climbing walls have at least a small bouldering section – others are completely dedicated to bouldering. So you can probably start anywhere near you in London. But, in case you'd like some suggestions (I mean that's why you're here right?) here are a few places we can suggest.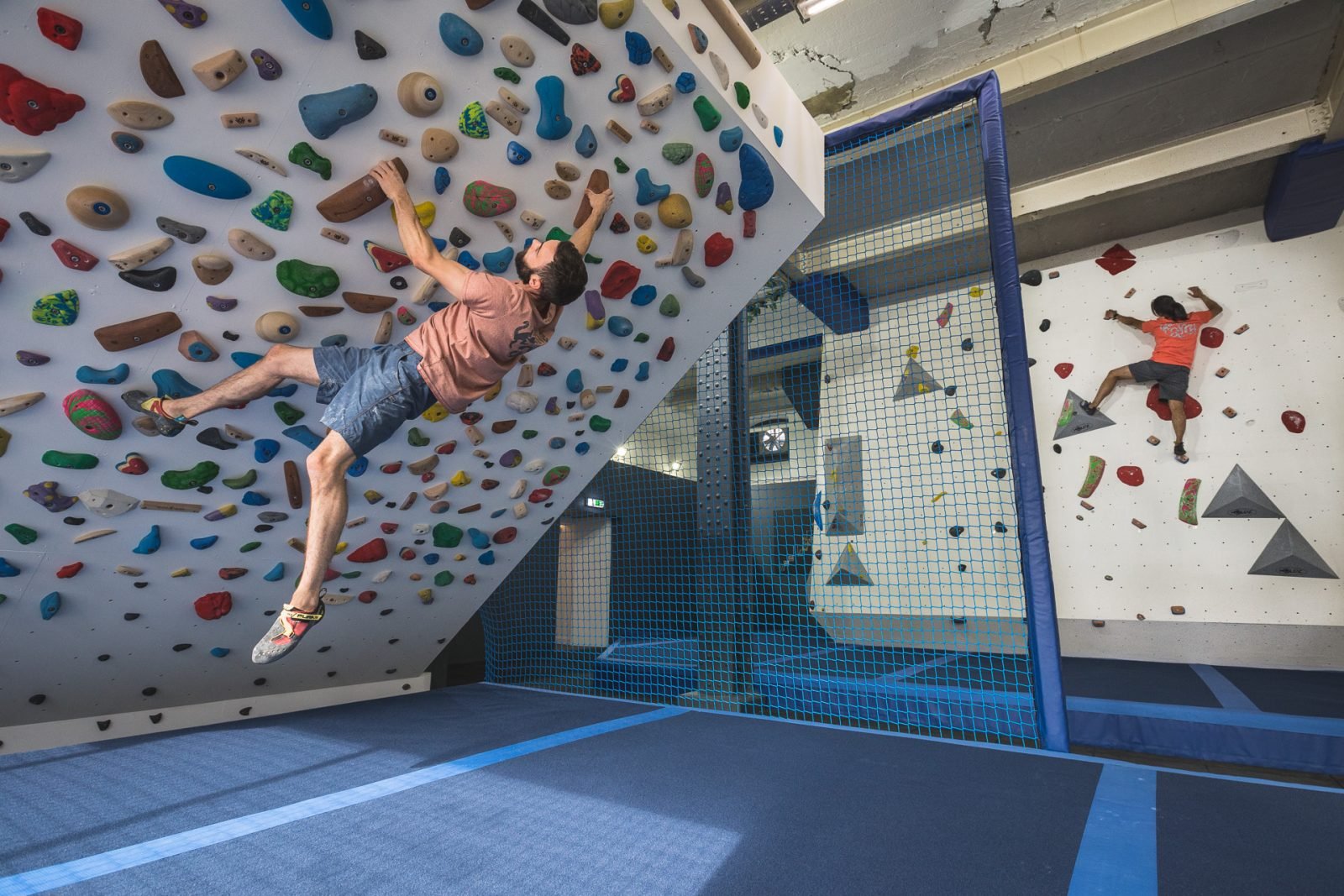 1. The Arch
Locations: Bermondsey, Acton and Edgware
Offers Lessons: Yes
The Arch Climbing Wall is completely bouldering. Every wall is up to 4.5 metres high and the floor space is covered in bouncy safety mats. If you happen to have friends who've bouldered before, or if you've done some bouldering already, you can just rock up and climb there. Expect some basic safety questions from the staff beforehand. If you're a complete novice, The Arch offer introductory lessons – but remember to pre-book!
2. The Castle
Location: Stoke Newington
Offers Lessons: Yes
The Castle has both bouldering and roped climbing. There are 10 different bouldering areas (including three in an organic garden outside!). To start bouldering with them, all you need to do is watch their bouldering safety video and fill out a registration form. No need to book. Although they do also offer a bookable Discover Bouldering course too.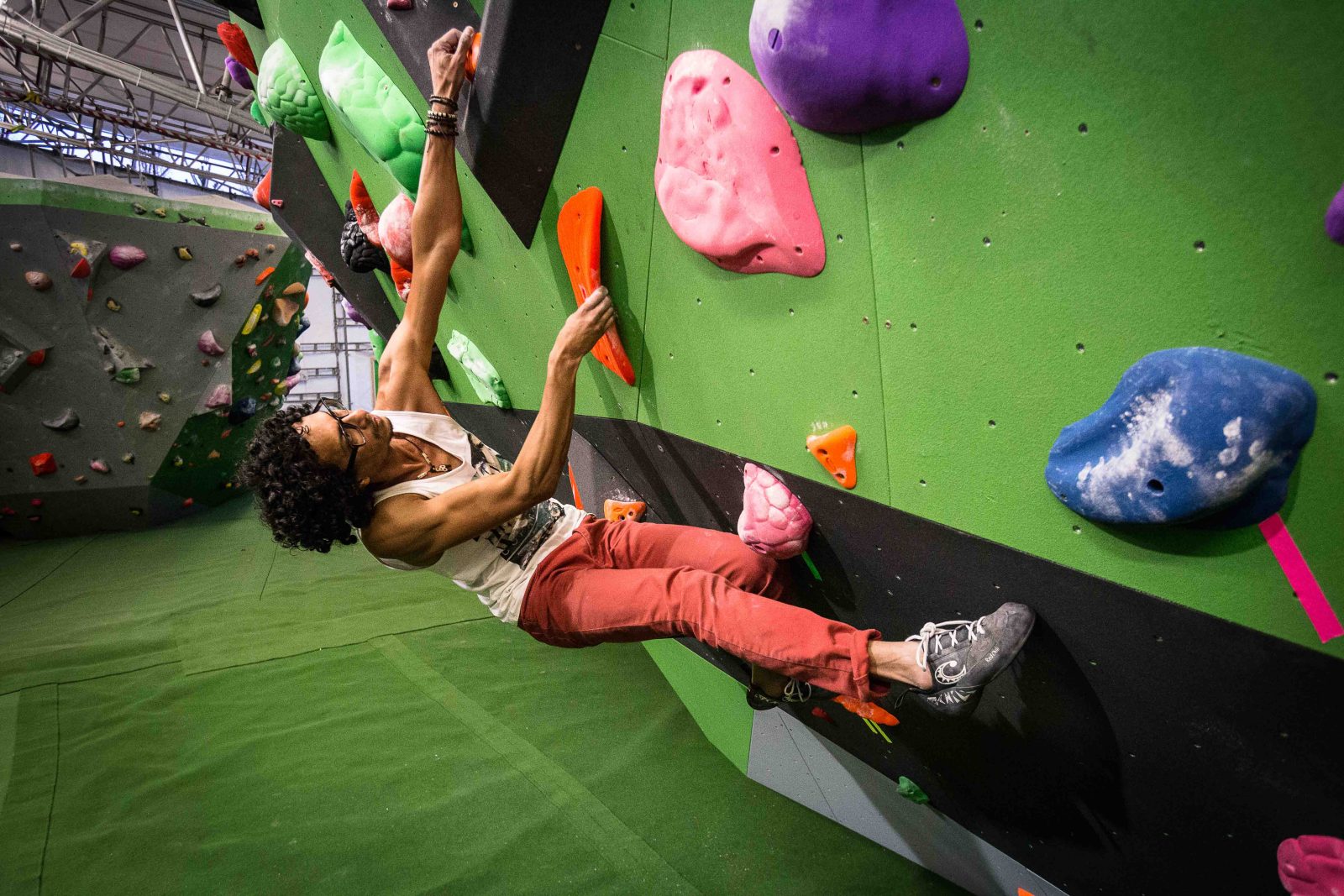 3. Mile End Wall
Location: Mile End
Offers Lessons: Yes
Mile End Climbing Wall also has a mix of roped climbing and bouldering walls. They offer a "turn up and try" for over 18s with no experience bouldering. Show up whenever they're open and they'll give you a tour of the centre and walk you through the basics of bouldering. If you want to go beyond that they also offer bookable lessons.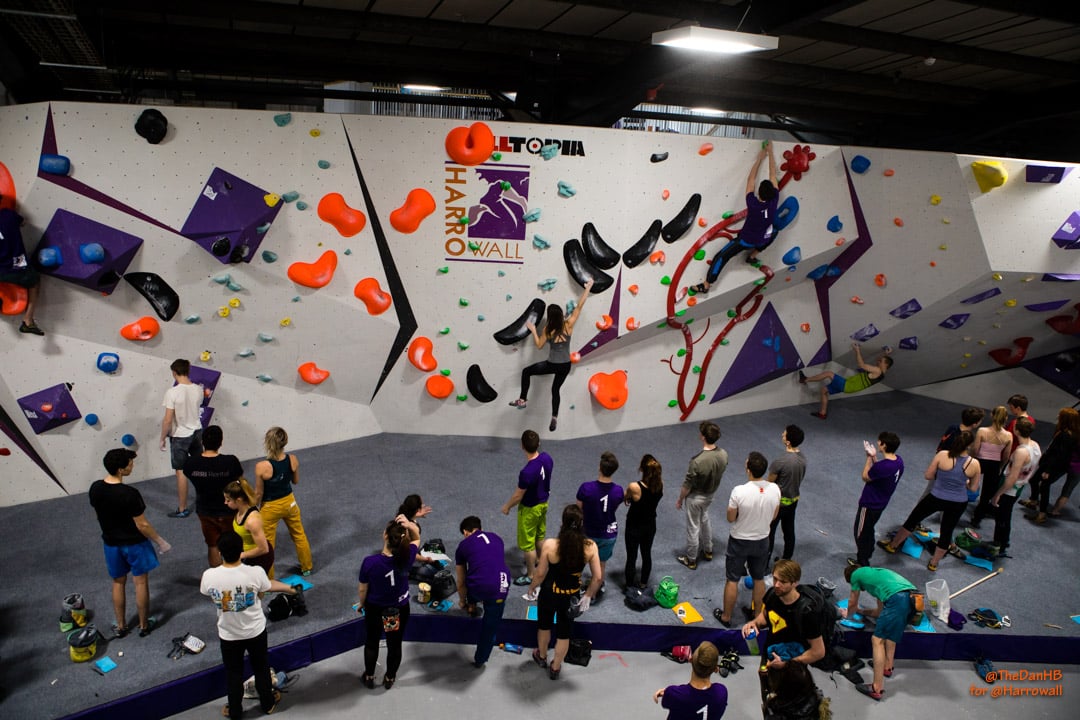 4. HarroWall
Location: Harrow
Offers Lessons: Yes
HarroWall describes itself as the UK's Largest Bouldering Centre. They are purely dedicated to bouldering and have a simple pre-registration and video that you can watch online before you visit. You can do a bouldering induction session with an instructor too, if you'd like. They also offer a variety of sessions for kids and is the home of Europe's largest indoor cave (if you fancy something a bit different!).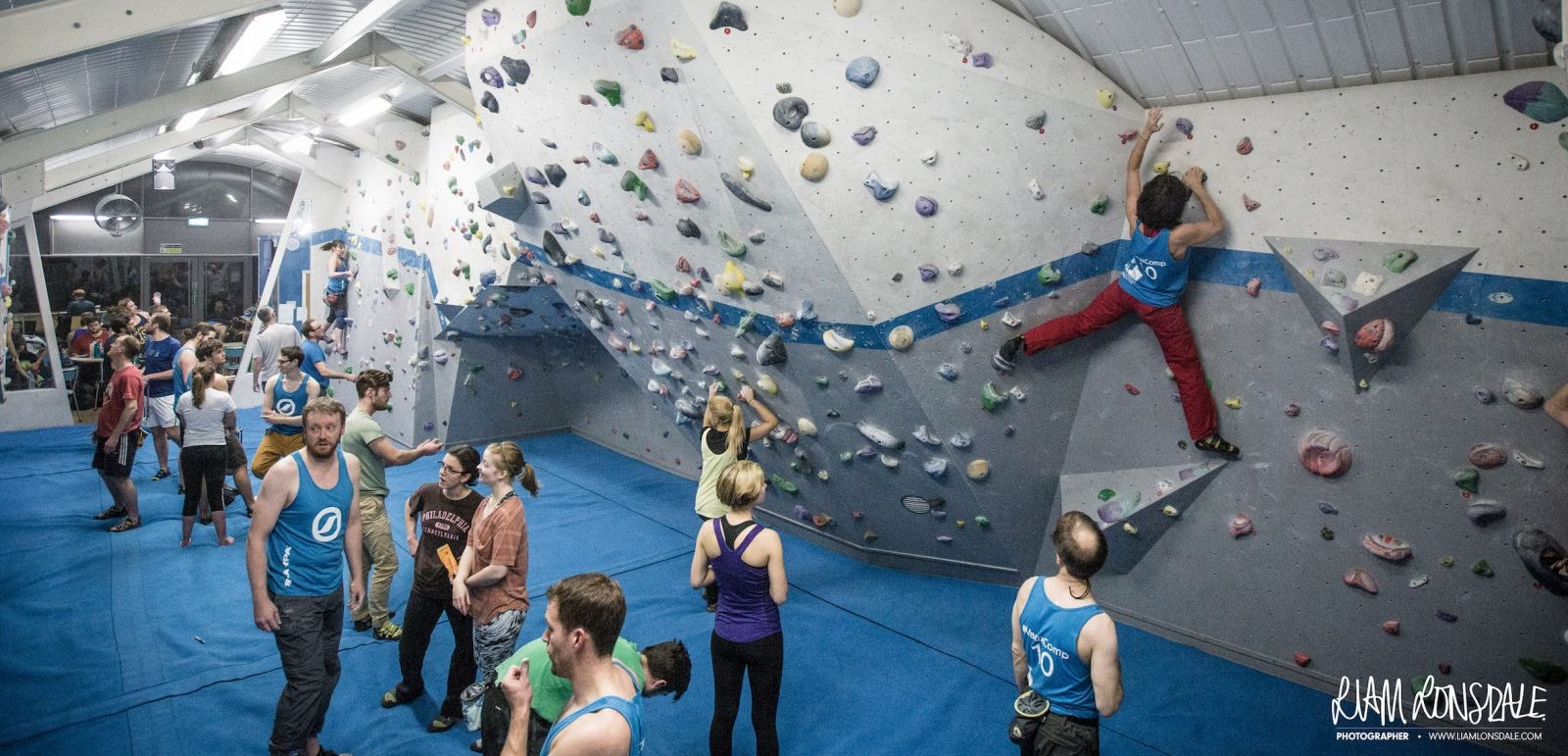 5. VauxWall
Location: East and West in Vauxhall.
Offers Lessons: Yes
VauxWall's two locations are both dedicated to indoor bouldering only. They are run by the same people as HarroWall, so your card will get you in to all of them. They offer a range of adult sessions from complete beginner to improver courses and private sessions. There are opportunities for under 18s too. We love this video of Alex Honnold recreating THE boulder problem from Free Solo (but this time a lot closer to the ground). Extra points for choosing a name that's a pun.
6. The Climbing Hangar
Location: Parson's Green
Offers Lessons: offers a selection of "coach-led sessions"
The Climbing Hangar have locations across the UK. The London bouldering wall is quite small compared to some of the others we've listed. They have classes, coaching and socials for climbers of all ages. Plus their shoe hire is free – great bonus if you're just starting out and haven't bought any yet.
Outdoor Bouldering London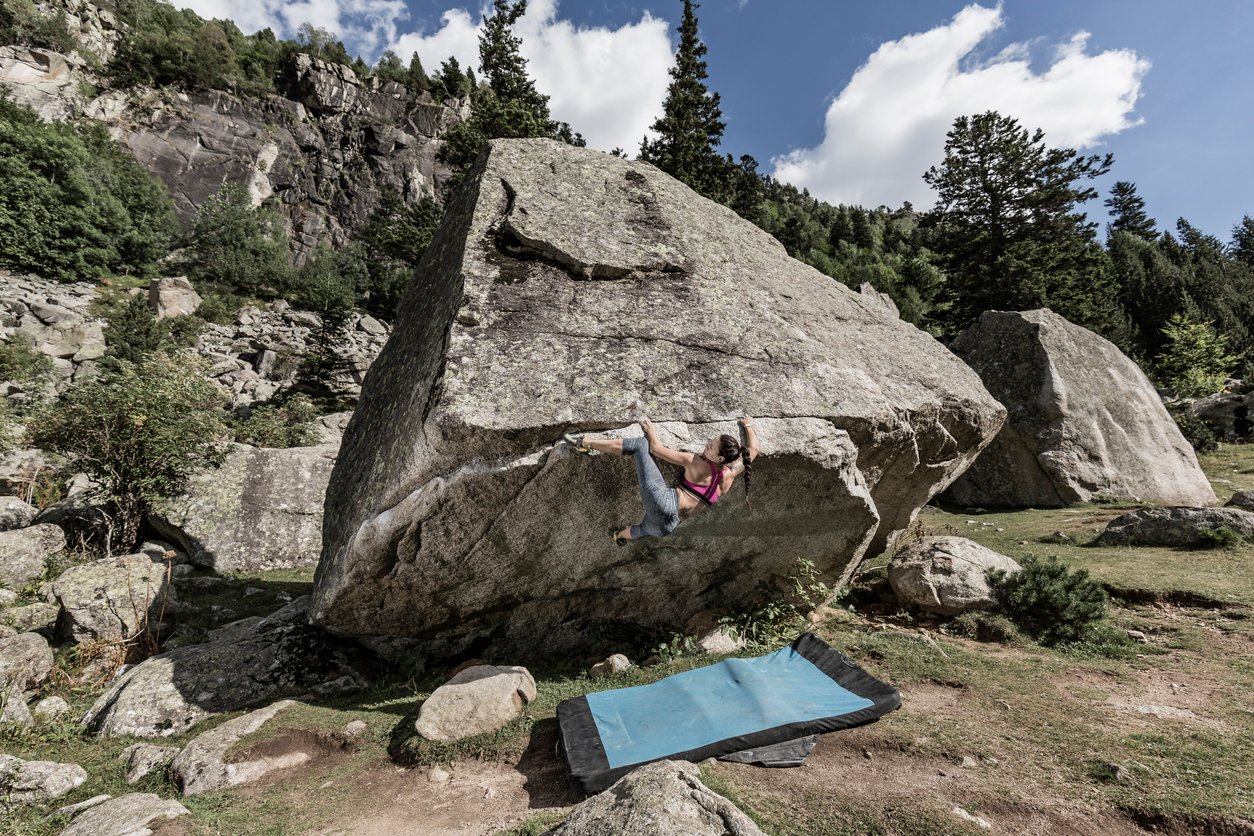 You don't need to start bouldering indoors. Once upon a time everyone started by seeing a big rock outside and wanting to get on top of it. Whilst indoor bouldering feels more like a gym, outdoor bouldering should allow you to unleash your inner child. You want to get on top of that enormous boulder!
It's a good idea to try bouldering outside before spending too long bouldering indoors. Apparently it's harder to transfer your skills outdoors, the longer you leave it. Of course, outdoors is a bit different to the nicely colour-coded holds on indoor walls. The ground doesn't bounce, for a start, so you'll need a bouldering mat to take with you to be safe.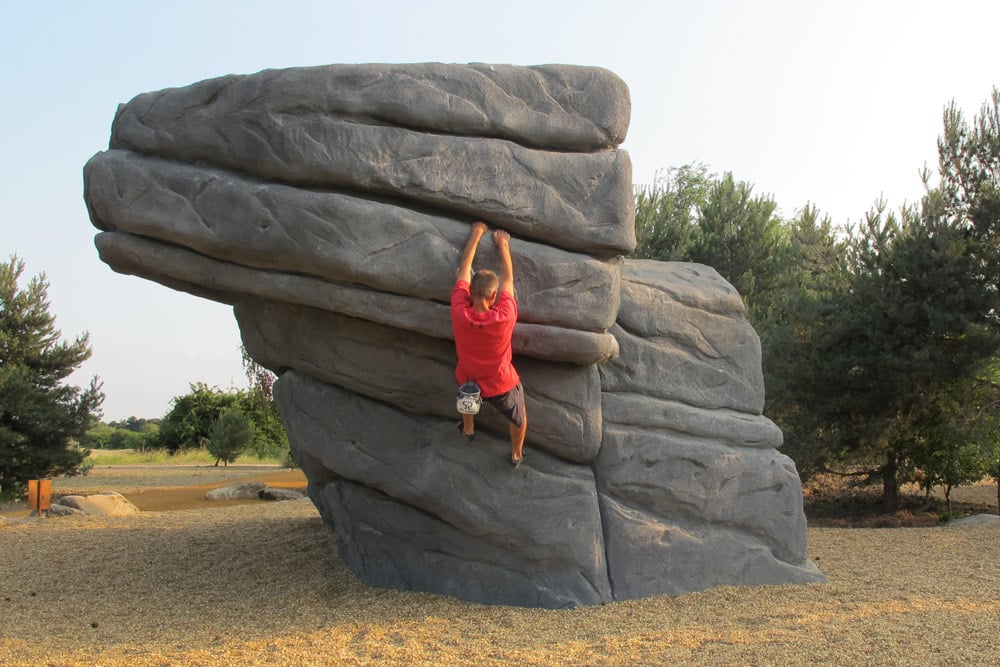 7. Fairlop Waters Country Park
Location: Redbridge
Offers Lessons: No
Fairlop Waters Country Park has a surprisingly secret outdoor bouldering park. It doesn't have a website, but you can see great pictures of some of their outdoor boulders on the manufacturer's website. The "rock" is made from concrete, that has been carved and spray painted into problems. A pretty clever idea! It has the same feel as bouldering outdoors on real rock, but in the convenient location of London.
Fancy going on an adventure close to home? Check out our UK-based adventures for trips from as little as zero days off work. Or have a look at our Epic Weekends for Busy Londoners.