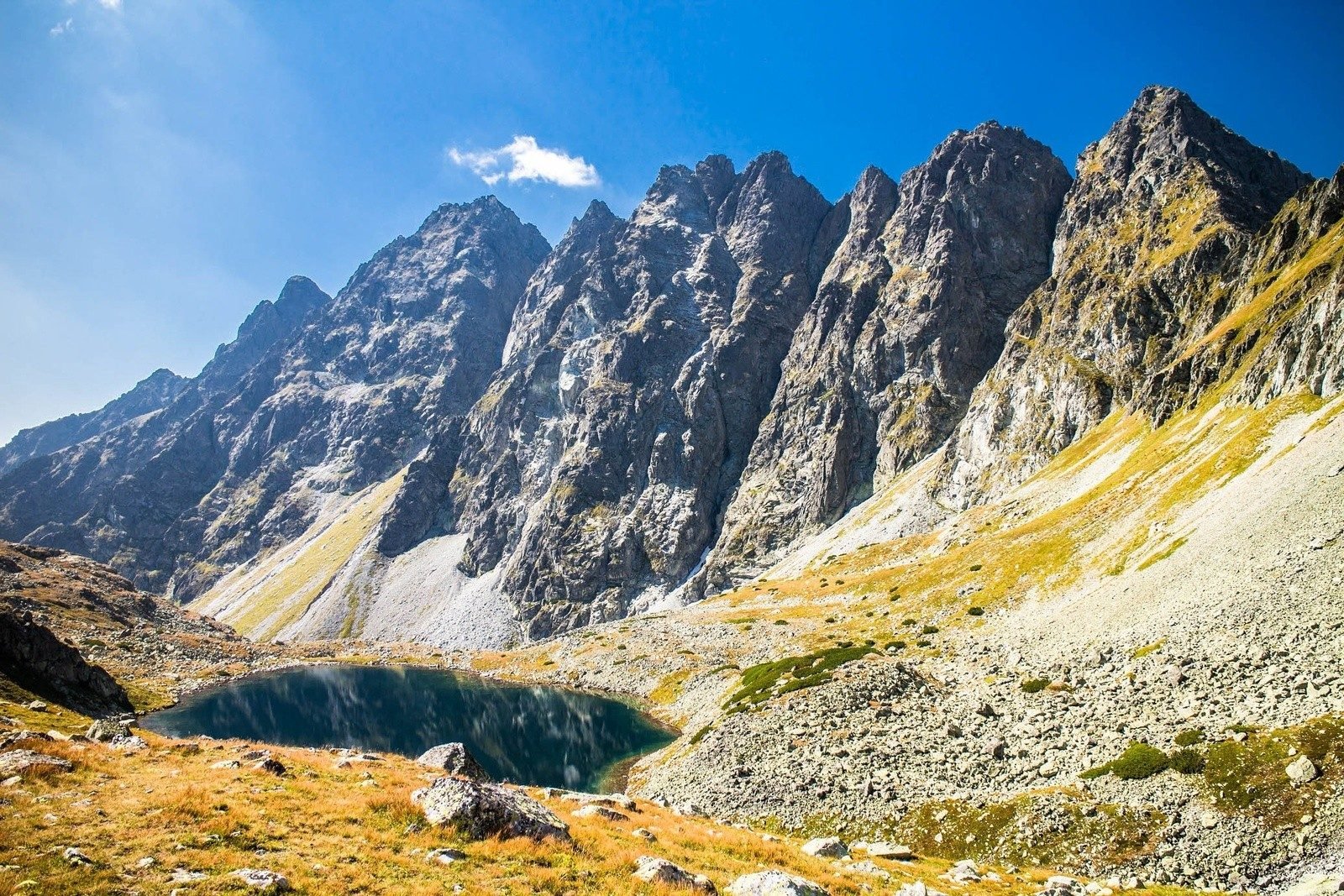 The Tatra Mountains in Slovakia are the highest range in the Carpathian Mountains. They form a natural border between Slovakia and Poland, with a fairly colourful history. On both sides, the mountains are designated an UNESCO biosphere reserve, making the landscape feel wild and barely touched by humans. If you're looking for a mini Alps-style mountain range, without the crowds of the Alps, then this is the place for you.
"The Tatras" is quite a vague way of describing these mountains. Several sections of the Tatra Mountains could easily be referred to as the Tatras, as can some other mountains that are nowhere near them. To help you out, here's how the Tatras are split up in Slovakia.
High Tatras
The High Tatras are basically the big ones! These mountains reach up to the sky with snow on their peaks often well in to the summer. The rock in the area is mostly granite, making for jagged and precipitous peaks. Some routes can only be accessed by rock climbers. When people talk about the Slovakia Tatras, these are usually the mountains they are talking about. Hiking in the High Tatras is incredible. There are 26 peaks over 2500m, which is surprising for such a small area. Routes can involve scrambling and fixed chains, for the more adventurous. There are more than 100 small alpine lakes and a wide range of plants and wild animals (including bears). Think the Alps before it became popular.
Western Tatras
The Western Tatras are a separate mountain range, but still part of the Carpathian Mountains. They are lower than the High Tatras, but still the second highest mountain range. The highest peak, Bystrá, tops out at 2248m. Unlike the High Tatras, the underlying rock is slate, so the mountains are generally more rounded and less craggy than their higher cousins. The border between Poland and Slovakia runs through the range, so you can go and stand with one foot in each country if you like!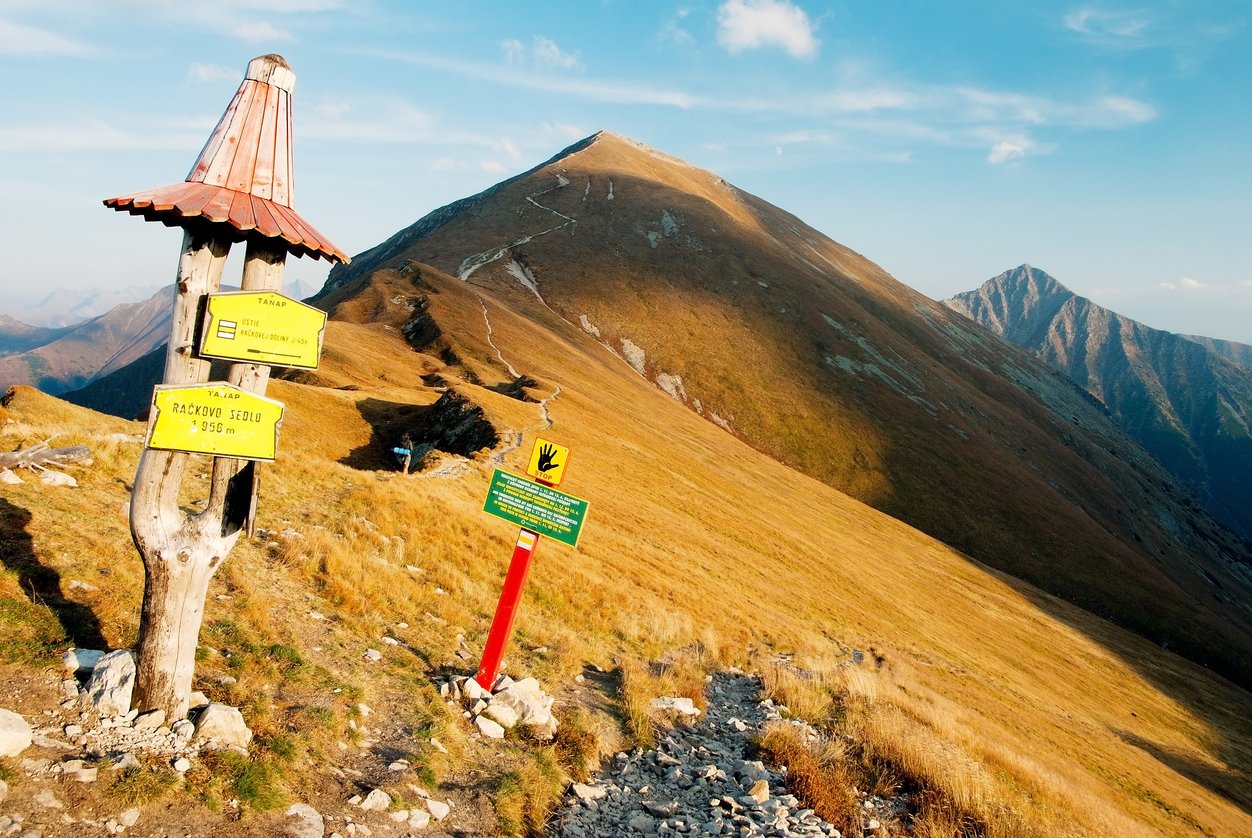 Other Tatras
Don't be mislead! There is another range of mountains, known as the Low Tatras in Slovakia. These are much further south than the High and Western Tatras. Funnily enough, these mountains are lower too – and more popular with tourists. Not surprising really when there's great skiing, kayaking and Europe's largest ice cave… For more about this part of Slovakia, check out Adventure Hiking in Slovakia. There is also a small section of the Carpathians, next to the High Tatras, that is know as the White Tatras. This is probably because they are made mostly of limestone, so the peaks look a white-ish grey above the grass line.
Hiking in Tatras
Most people visit the Tatras for hiking. Compared to many hiking destinations, this is still very much off the beaten track. The Tatra Moutains are described as "every bit as scenic as the Alps" but undiscovered by the masses. With around 600km of waymarked paths, it's a bit of a mountain playground. There is great hiking infrastructure, with a big culture of protecting and preserving the environment. Nobody steps off the paths, for risk of damaging the pocket of nature that is being preserved. It's a good reminder not to take the wild places we have left for granted.
When to Go
Summer: The best time to go hiking in the Tatras is September to October. The weather won't be as hot as in July and August, but there will be less chance of thunderstorms. This is something you really don't want if you've got a fixed wire on your route. It is possible to go in May to June, but there may still be snow (or melting snow) on the peaks. Here's an example of an active mountain weekend in the High Tatras in summer. Winter: You can expect snow in the Tatras from November through to March. This is great for skiing (check where it's allowed) and winter mountaineering. If you're happy to stay lower, you can also hike or snowshoe on the trails. Here's an example of a winter hiking adventure in the High Tatras.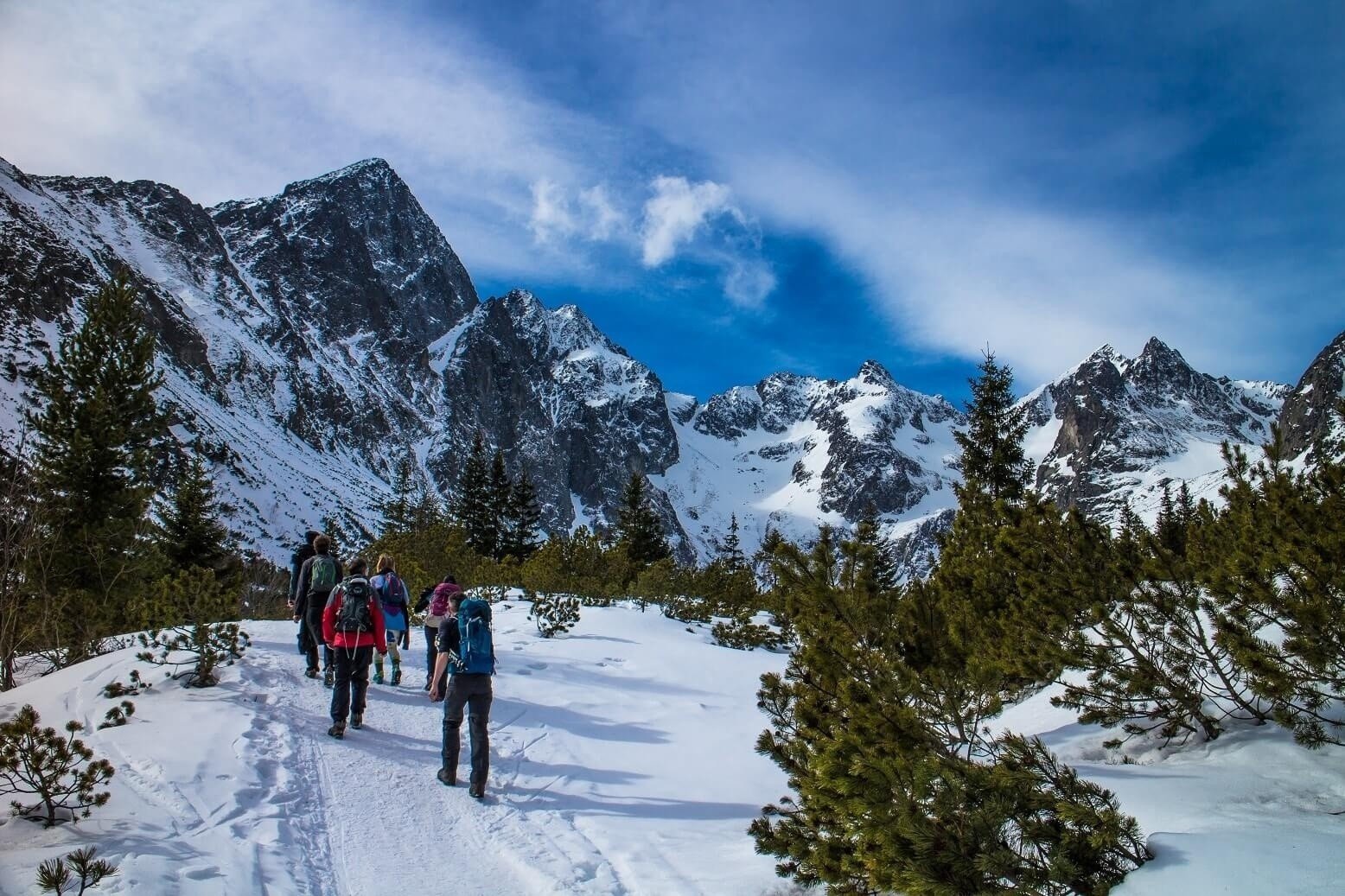 High Tatras Hiking: Gerlachovský štít
If you're going to the High Tatras, you may as well go to the highest of High Tatras in Slovakia! Gerlachovský štít, informally known as Gerlach (because pronunciation!), also happens to be the highest mountain in the whole of the Carpathian Mountains. It is 2655m above sea level. Do you need any more reasons to go? This mountain is quite an undertaking, even in summer. You have to go with a certified guide to be allowed access to the summit, or be a UIAA club member. If that doesn't mean anything to you, then take a guide! The summit is quite technical, even without snow. Depending on where you go, this can be a rock climb – make sure you know what you're doing and where you're going.
High Tatras Hiking: Kriváň
Kriváň is a mountain in the High Tatras that looks higher than Gerlach from many angles. It's not: the peak measures in at 2494m, but that's not far off. The summit has an interestingly curved peak, from which the mountain gets its name (literally Curved Mount).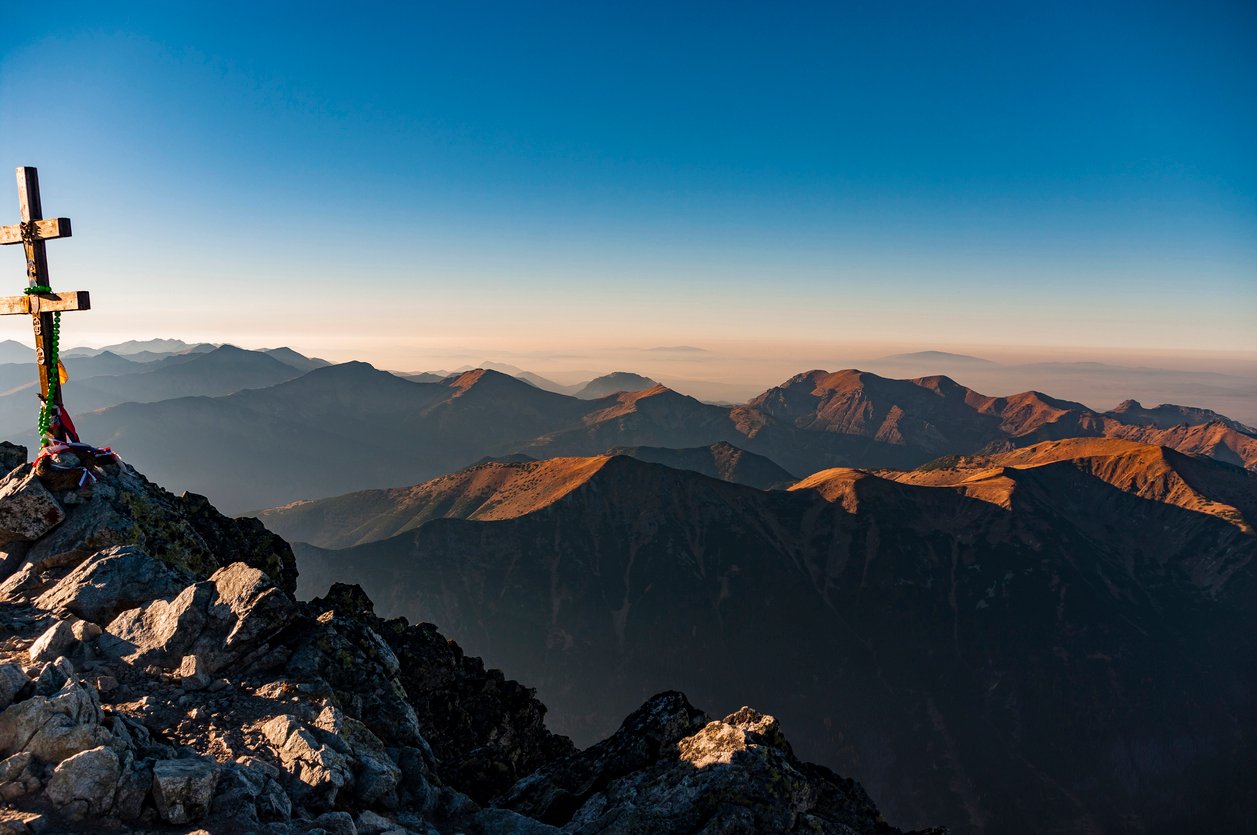 It is said that every Slovak has to climb to the top of Kriváň  at least once in his or her lifetime. Remind you of Mount Triglav in Slovenia, anyone? Kriváň has huge significance in Slovakia as a national symbol. Particularly since 1955, when the first "National Excursion" up the mountain took place, to commemorate the 10th anniversary of the Slovak National Uprising. Nowadays, these national ascents of the mountain take place yearly in August as a 2 day hiking event. To hike Kriváň, you have a choice of three routes to reach the summit, all waymarked. There are no special restrictions, like those on Gerlach Peak, so pick a good day and go for it!
High Tatras Hiking: Green Lake
Hiking in the Tatra Mountains isn't all about the peaks. The alpine scenery is beautiful all year around. For a lower level hike, try visiting Green Lake (Zelene Pleso) from the village Ždiar. Zelene Pleso is one of the largest mountain lakes in the Tatra Mountains. The name comes from the green colour of the water: think a pure greener-than-turquoise rather than stagnant algae! There are several routes to reach the lake, all on well marked trails. There is even a cablecar from one side that can help cut out some of the climbing. Inspired to try a piece of Slovakian mountains? Don't put it off for "one day" – you can do it in a weekend! Have a look at our Slovakian Hiking Weekend in Summer and our Slovakia Winter Hiking (with Thermal Baths to warm you up).