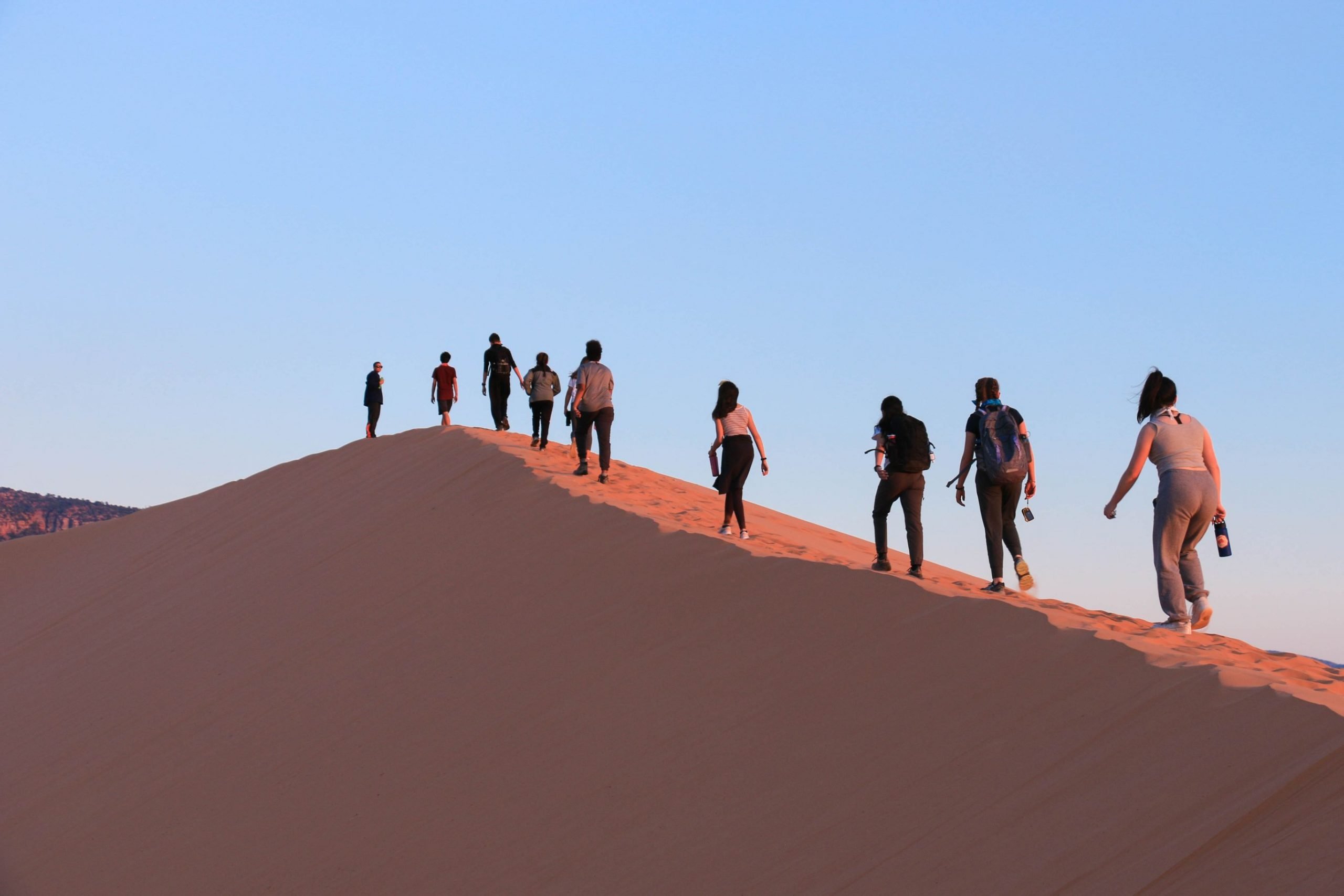 Sand dunes are remarkable things. Picture one and you probably think of far off desert lands; of Lawrence of Arabia making his way through the sand, or some other poor sod who hasn't had a drink for a week hobbling towards an exotic oasis on a cinema screen. The tallest sand dunes in the world are mostly in the desert, but unlike the highest mountains in the world, not a lot of people know where the dunes actually are.
To give you an idea of how far out they're spread, the mighty Duna Federico Kirbus in Argentina is the highest sand dune in the world, while many Namibia holidays, all the way over in southern Africa, also revolve around almighty sand dunes which make this list. You'll also find huge dunes in China, in America and in Australia. This truly is a list which spans the globe.
After the top 10 highest sand dunes, we've carried on with a couple of bonus options in Europe, including an entry from France - and even south Wales!
So, just how good is your sand dune knowledge? Well, we've listed the top 10 below, as well as some fun facts on sand dunes around the world, to give you more details on those sweet, sweet dunes on the coast of Wales. In the unlikely event that the next pub quiz you go to has a round on the highest sand dunes in the world, trust us – you will now be remarkably prepared!
What is a Sand Dune?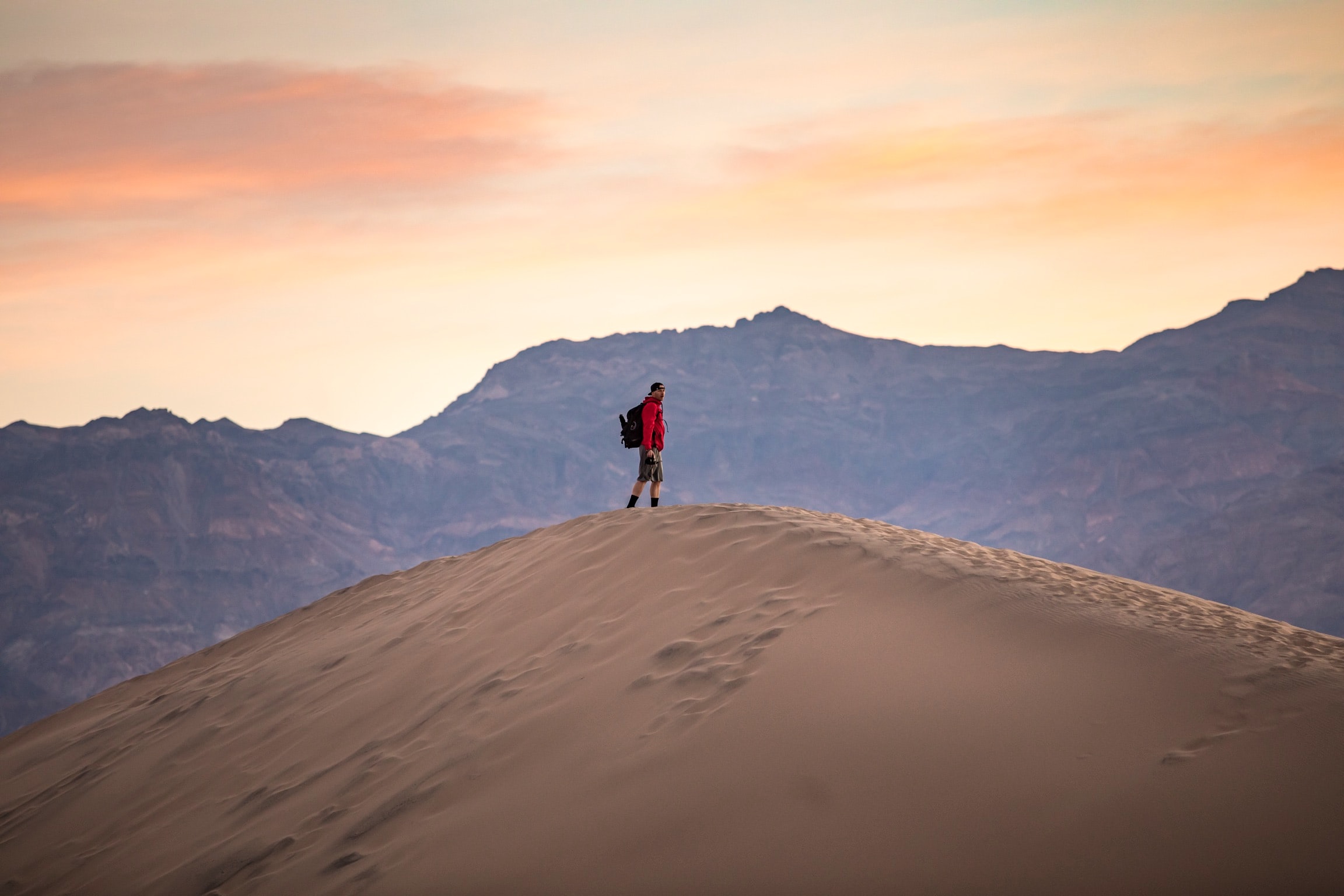 A sand dune is, more or less, a giant lump of sand. Like a mountain… but sand. That's it. A sand tune is literally any huge mound or hill of sand.  They are formed from large masses of sand blown by the wind, and are most common in deserts, but also often appear near beaches. When sand is blown by the wind into a sheltered area, behind an obstacle, where it then becomes sheltered from that wind, the sand accumulates and forms a dune. The effect of various dunes forming in one area can be that of forming a sand-style small-scale mountain range. Although, that said, sand dunes don't reach near the lofty heights of a real mountain or mountain range. Still, they can make for quite a miraculous sight – and real adventure playground. Think hiking, fat biking or sandboarding. Where there's a slope, there's fun to be had.
The 10 Tallest Sand Dunes in the World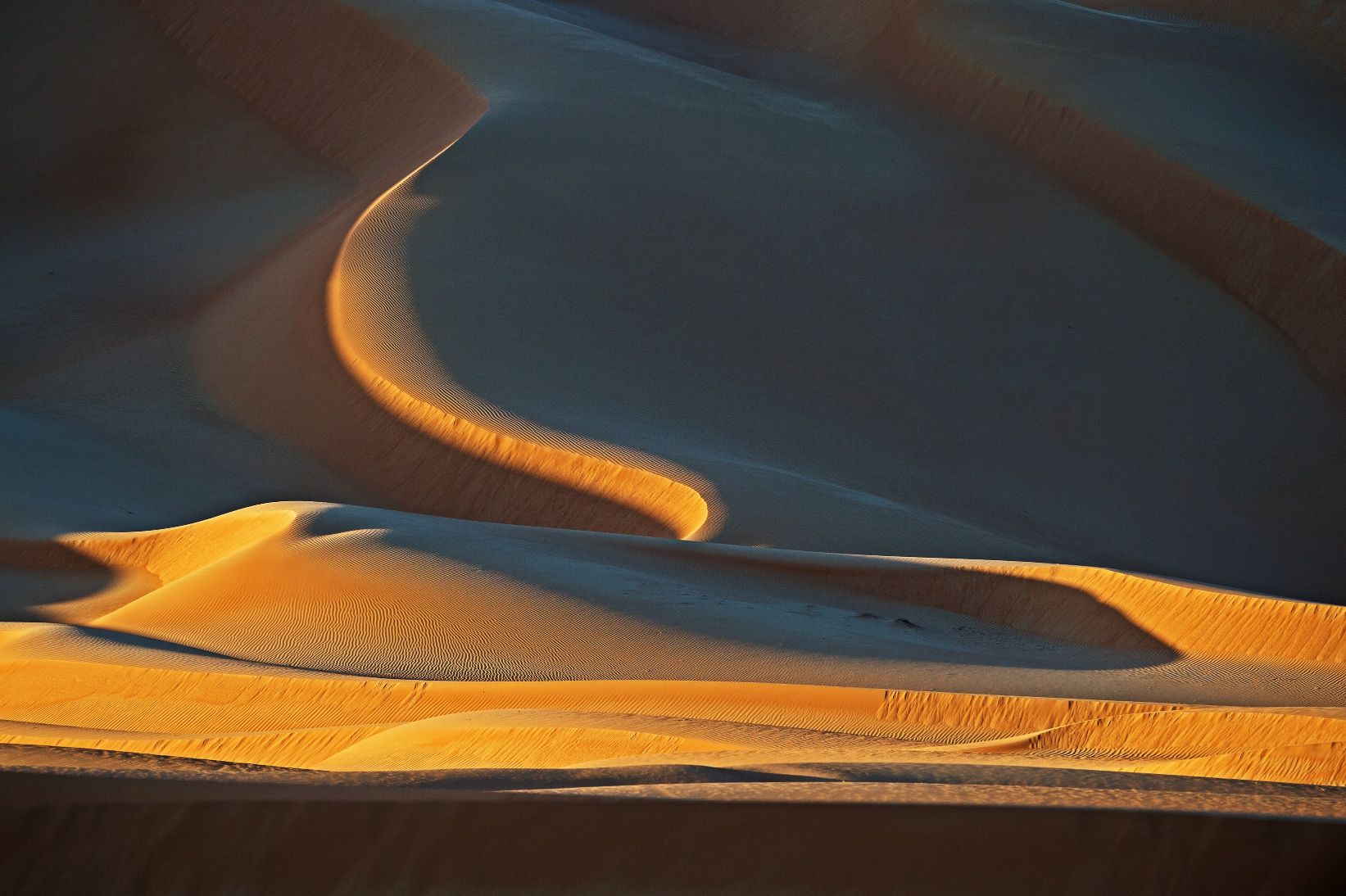 For our list of the tallest sand dunes in the world, we've ranked the top 10 sand dunes in terms of how high they are from the base of the dune to the top of the dune. We've also supplied info on how high they are from sea level. So if you would rather see them in order of their height from sea level, and have a whole lot of time on your hands, feel free to rearrange the list. It's also worth noting that due to the nature of sand dunes, their actual height can differ from year to year.
1. Duna Federico Kirbus, Argentina
Where? Bolsón de Fiambalá, in the town of Fiambalá, in Catamarca Province, Argentina.
How Big is the Dune? Real high! 4,035ft (1,230m).
How High From Sea Level? 9,334ft (2,845m).
What's it Like? Well, imagine a big mountain of sand that's only 115 metres short of Ben Nevis, the highest mountain in the United Kingdom, and you'll start to get an idea. The dune is named after Federico B. Kirbus, the journalist who discovered it. As well as spanning 1230m from base to peak, it also reaches 2845m above sea level. The dune sits in front of beautiful mountain views. But we couldn't find a picture of it that copyright will let us use, so you'll just have to take our word for it.
2. Cerro Blanco, Peru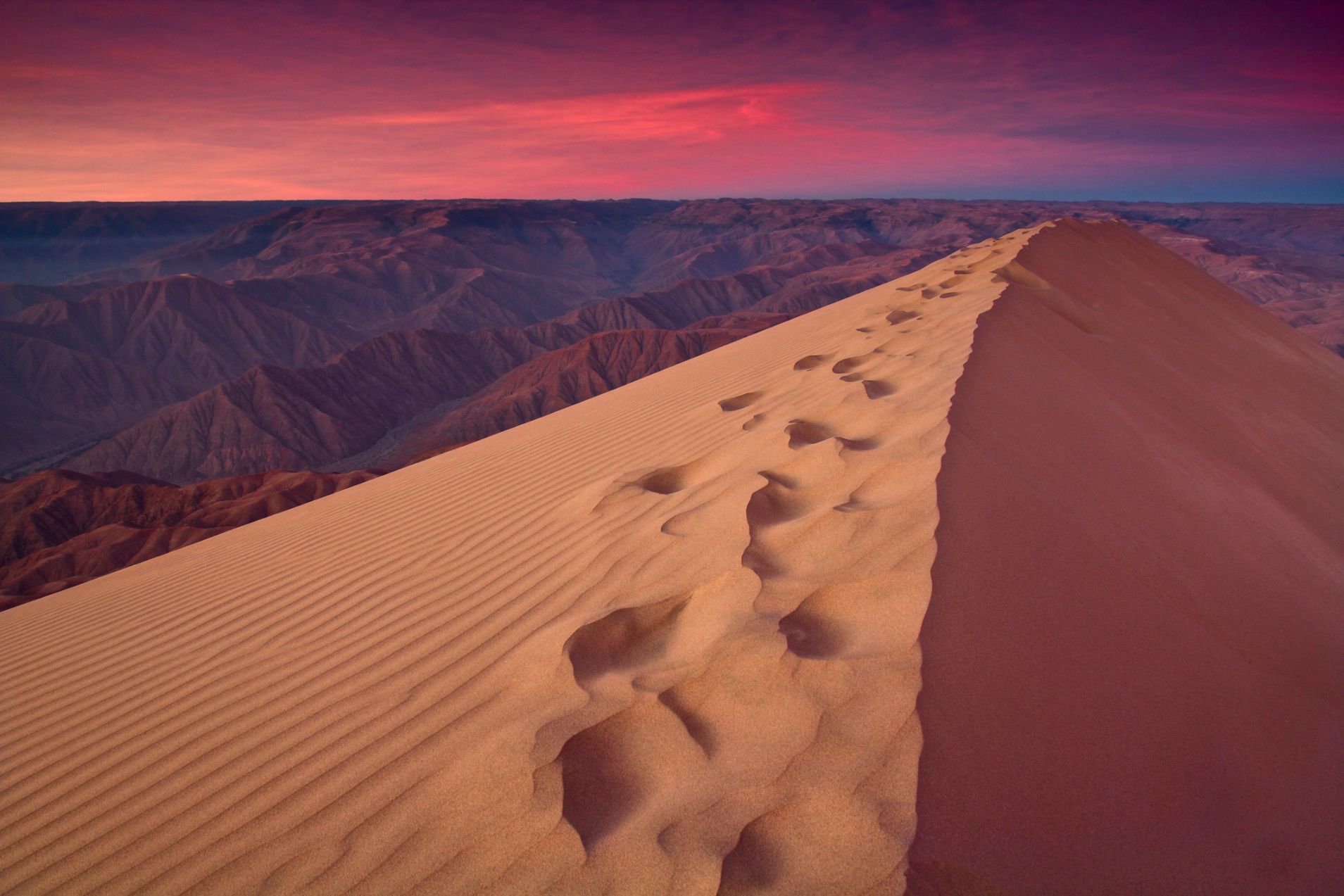 Where? Nazca Province, in the Ica Region, Peru.
How High We Talking? 3,860ft (1,176m).
How High From Sea Level? 6,791ft (2,080m).
What's it Like? The second highest sand dune in the world, the Cerro Blanco can be found 38km from the town of Vista Alegre, which is the capital of the district of the same name. The nearest city is Nazca. It's only 25km southeast of Nazca as the crow flies. Nazca is 455km south of Lima, the capital of Peru. Getting across the dunes is easier said than done. You can go by 4×4, and sandboarding is commonly practised in the area too – some of the dunes flow down for a full 1km.
3. Medanoso Dune, Chile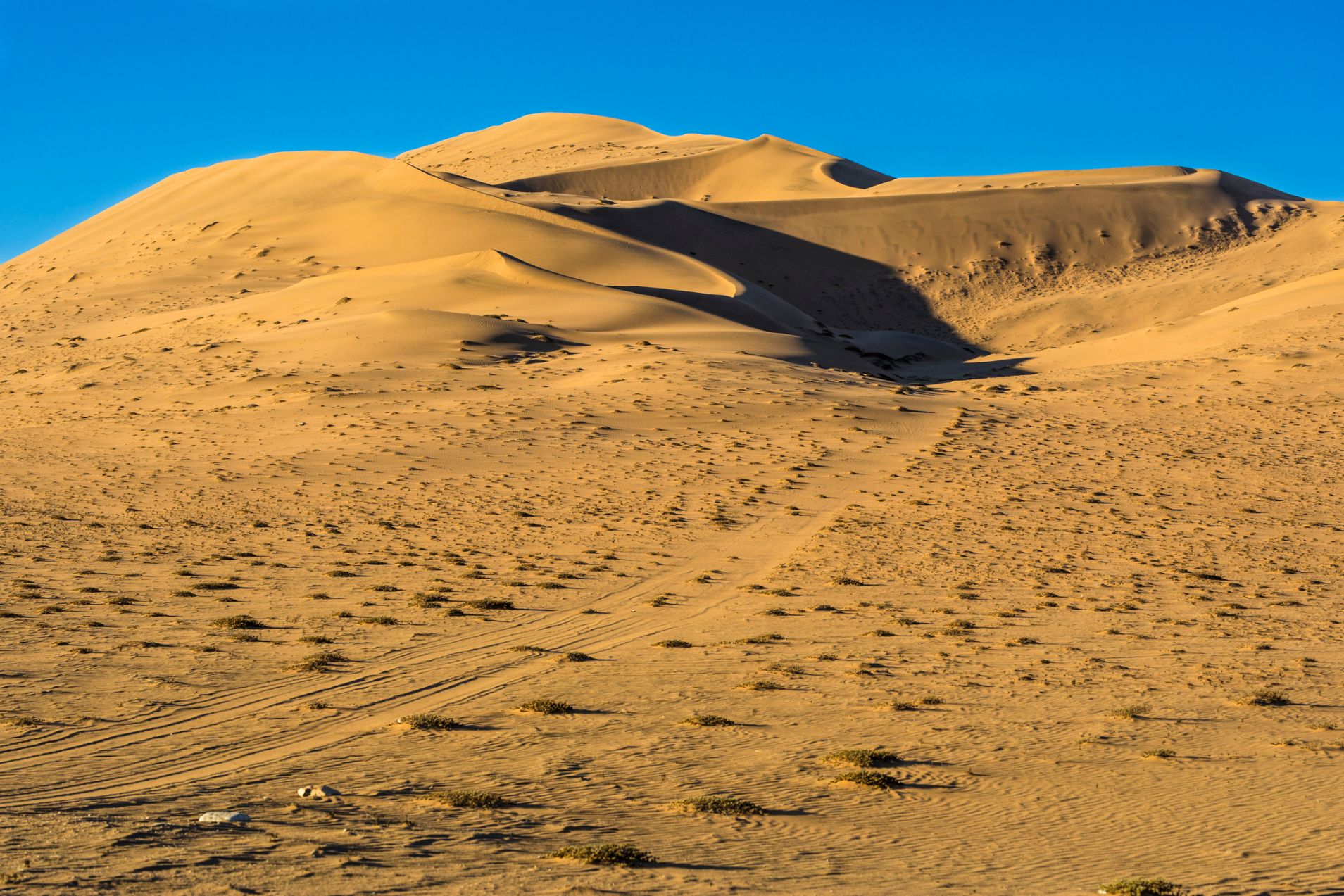 Where? The Atacama Desert, Chile.
How High We Talking? 1,805ft (550m).
How High From Sea Level? 5,446m (1,660ft).
What's it Like? Also accessible via 4×4, the Medanoso Dune completes the trio of southern American sand dunes that make up the tallest three in the world. You can also sandboard here. Due to the positioning in the Atacama Desert, it's dry here. Like… super dry (though this is nothing to do with the clothing company, other popular 00-s jumper suppliers are available). Seriously though, even for a desert, it's super dry here. This is the only true desert to receive less precipitation than the polar deserts.
4. Badain Jaran Dunes, China
Where? The Badain Jaran Desert, in Inner Mongolia, China.
How High We Talking? 1,640ft (500m).
How High From Sea Level? 6,640ft (2,020m).
What's it Like? The Badain Jaran Desert covers 49,000 square kilometers in China, spanning the provinces of Gansu, Ningxia and Inner Mongolia. It's home to some of the tallest stationary sand dunes in the world, and the desert also has over 100 spring-fed lakes. These lakes give the desert its name – in Mongolian, it means "mysterious lakes".
5. Rig-e Yalan Dune, Iran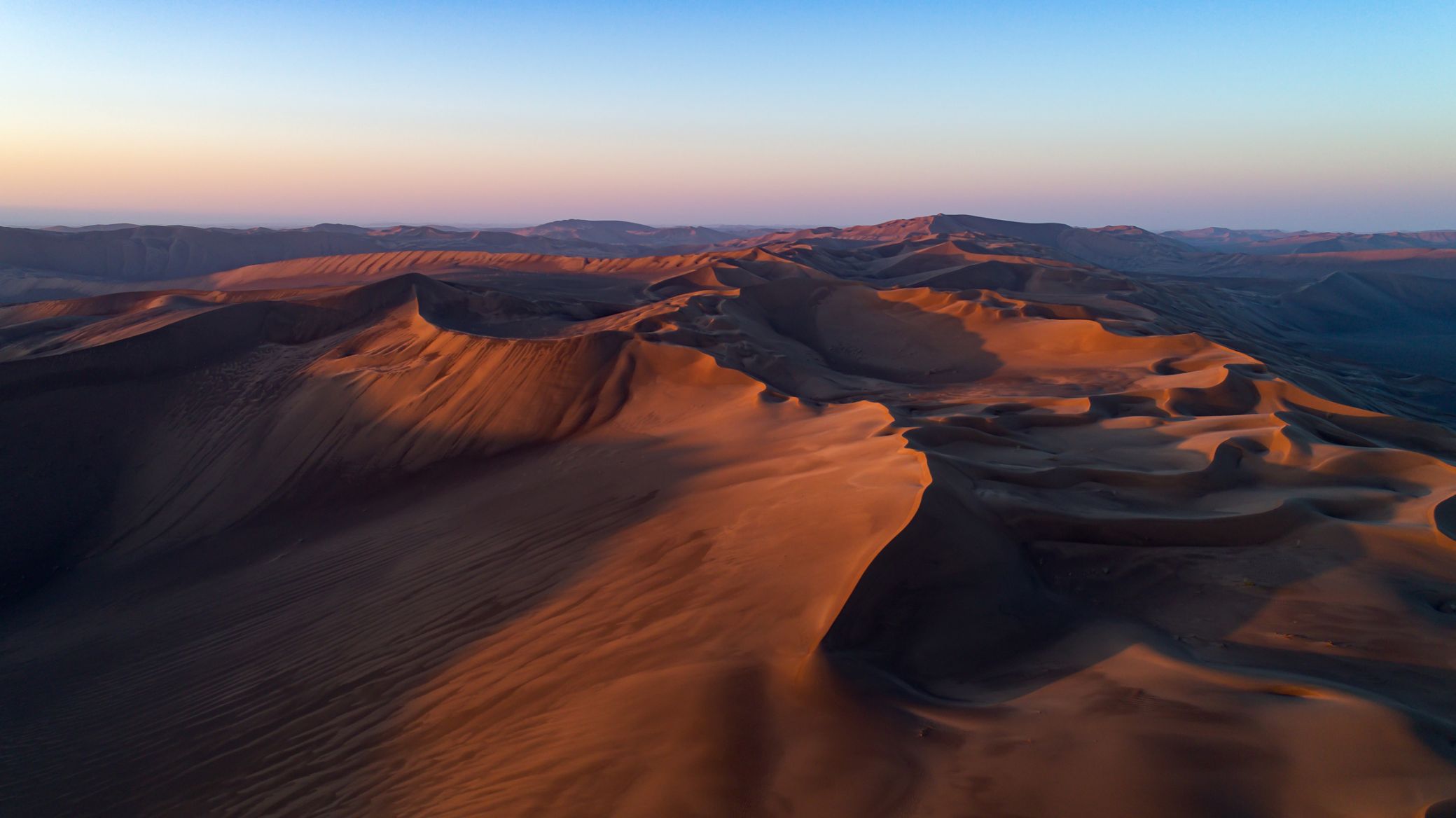 Where? Lut Desert in Kerman, Iran.
How High We Talking? 1,542ft (470m).
How High From Sea Level? 3,117m (950m).
What's it Like? The Rig Jenn is an enormous area of sand dunes in the middle of Dasht-e Kavir, Iran's central desert. It's the kind of place you imagine a film character when they're stranded in the desert, having been walking (most probably round in circles) for days. Sand as far as the eye can see. Oh yes, and the Lut Desert is also one of the hottest places on Earth, according to NASA. So basically, don't get stranded in the Rig-e Yalan dunes. Won't end well.
6. Ramlat Jadilah, Oman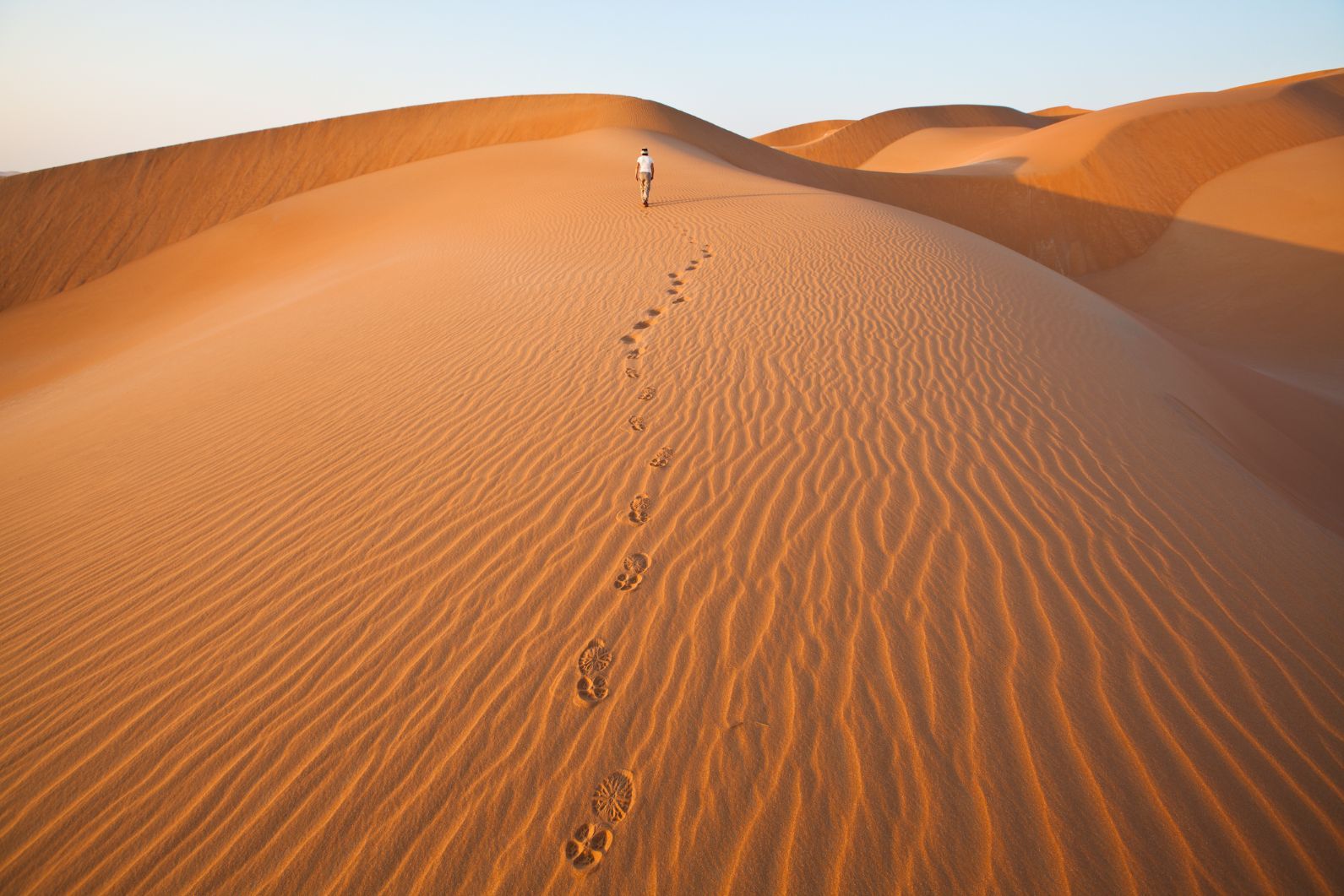 Where? Ramlat Jadilah, in Oman's Rub' al Khali desert.
How High We Talking? 1,492ft (455m).
How High From Sea Level? 1,492ft (455m).
This is a sand dune which was discovered relatively recently, when a Saudi anthropological researcher and TV presenter, Dr. Eid Al Yahya, found and climbed it near Ramlat Jadilah in Rub' al Khali, the world's largest contiguous sand desert in 2017.
7. Average Highest Dunes, The Sahara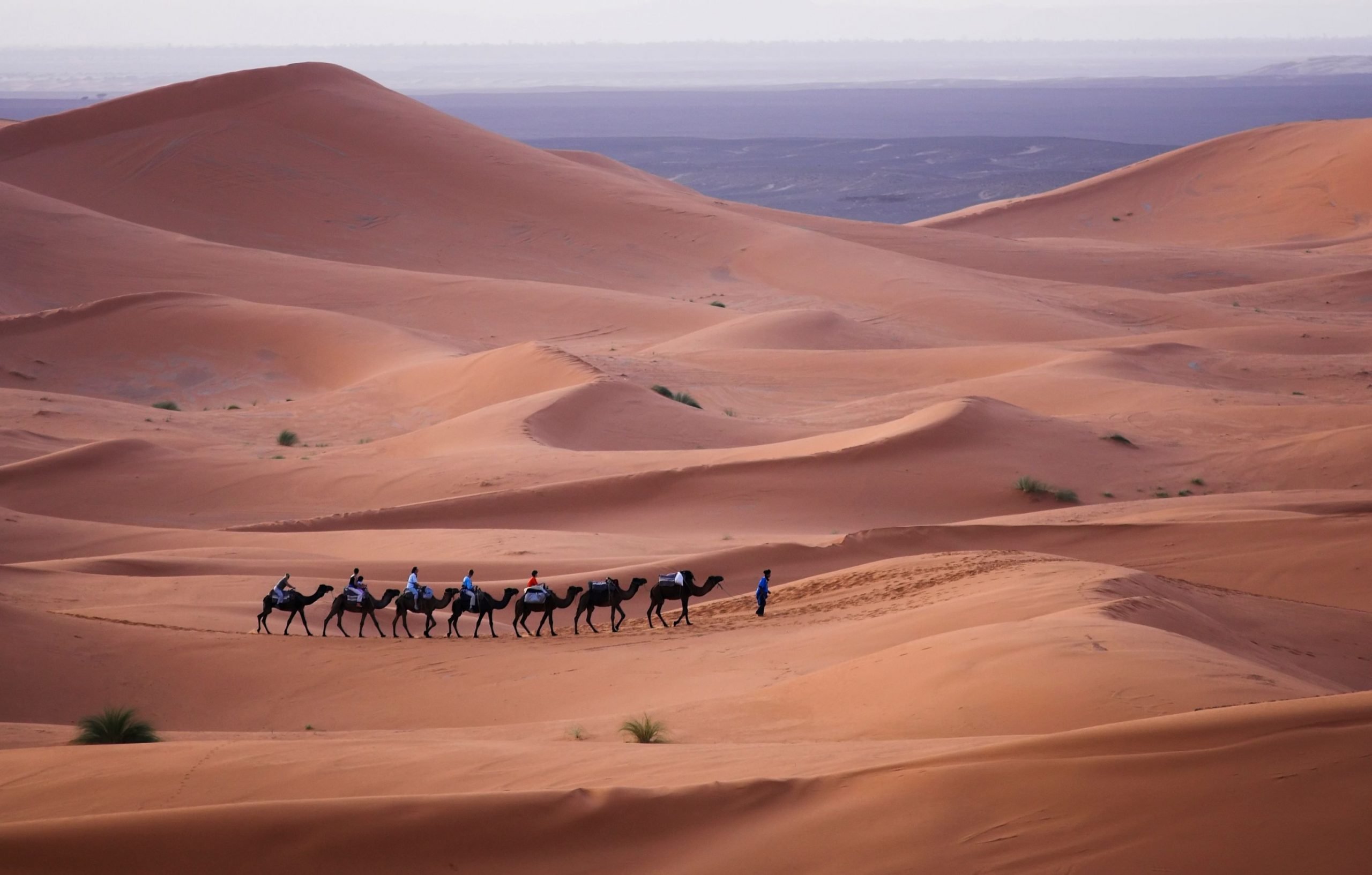 Where? Isaouane-n-Tifernine Sand Sea, in the Algerian Sahara.
How High We Talking? 1,410ft (430m).
How High From Sea Level? 6,500m (1,980m).
What's it Like? The further into the vast Algerian Desert you get, the more sand dunes you'll come across. The Issaouane Erg is a 38,000 kilometre squares segment of the Algerian desert. It's part of an enormous dune network that is flanked by the Libyan erg of Murzuq. To be honest, we're starting to think you should probably try not to get lost in any of these sand dunes. It takes long enough to try and walk 100m on sand. Imagine trekking 38,000 kilometres squared.
8. Dune 7, Namibia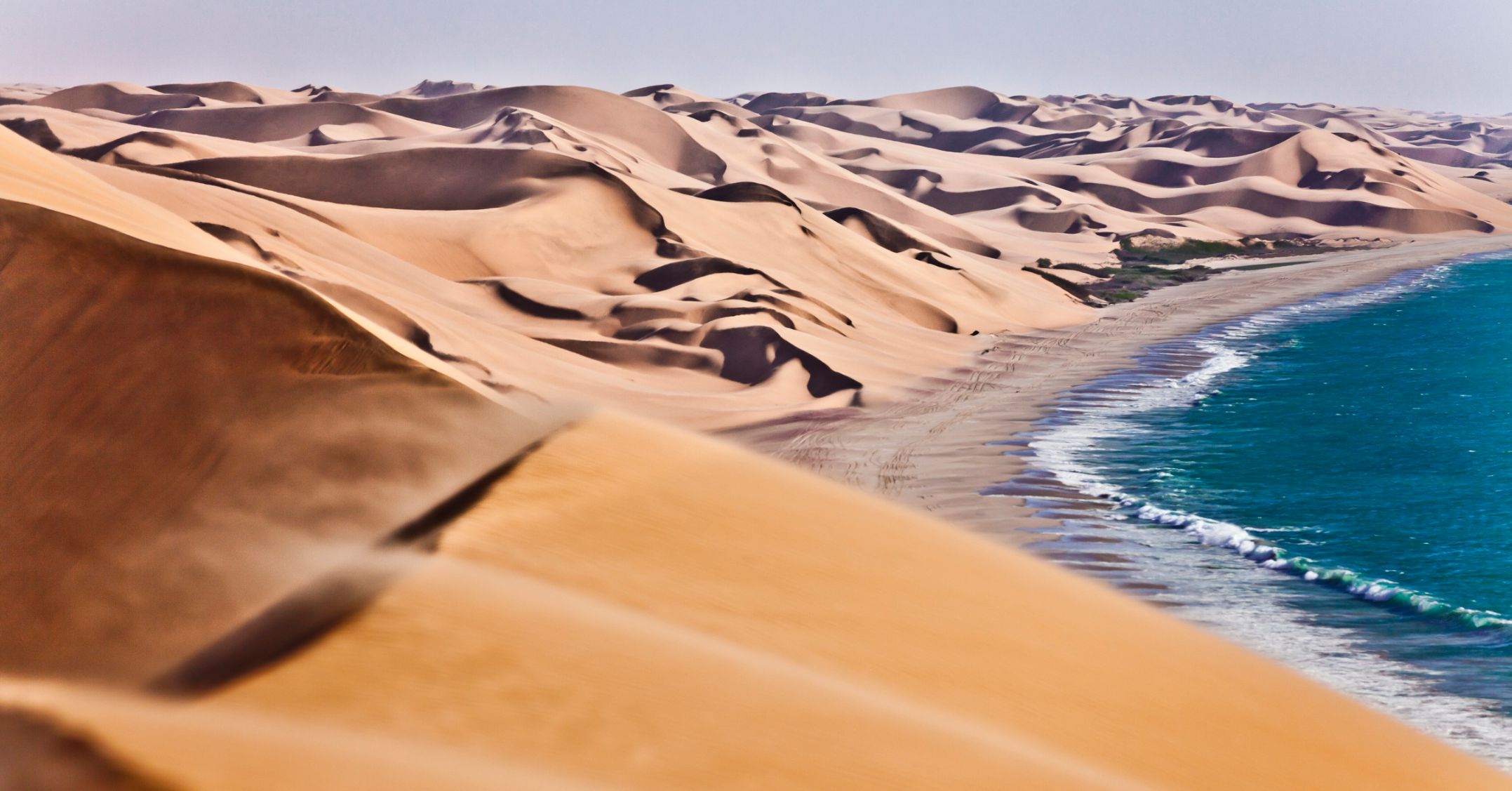 Where Exactly? In the Namib Desert in Namibia, in the south of Africa.
How High We Talking? 1,256ft (383m).
How High From Sea Level? 1,870ft (570m).
What's it Like? We mentioned that most sand dunes are near the coast or in a desert, and Dune 7, one of the highest sand dunes in the world, ticks both of those boxes. Situated in the Namib Desert, on the Atlantic Coast, Dune 7 is one of many sand dunes in the remarkable desert which stretches for over 2000km in Namibia. Also very pleasingly, Dune 7 happens to come in at seventh on this list.
The dune measures in at 383 metres tall. It's named Dune 7 because it's the seventh dune you'll cross after passing the nearby river Tsauchab. The Namib Desert is the oldest desert in the world, and offers great adventure opportunities.
Holidays in Namibia are becoming increasingly popular. The gateway to the Namib Desert is the adventure capital of Namibia, Swakopmund, which is about four hours from the actual capital of Namibia, Windhoek. If you fancy it though, we happen to run an eight-night adventure cycling and fat biking the sand dunes of the Namib Desert. We know we shouldn't have favourite sand dunes, but what can we say? This is one of our favourites.
> Check out the full itinerary for the adventure in Namibia here
9. Mount Tempest, Australia
Where? Moreton Island, Brisbane, Australia.
How High We Talking? 920ft (280m).
How High From Sea Level? 920ft (280m).
What's it Like? The only sand dune on this list self-declaring as a mountain, Mount Tempest can be found on Moreton Bay, off the southeast coast of Queensland. The island was proved to be an island – rather than a peninsula – in 1770 by Captain James Cook.
10. Star Dune, USA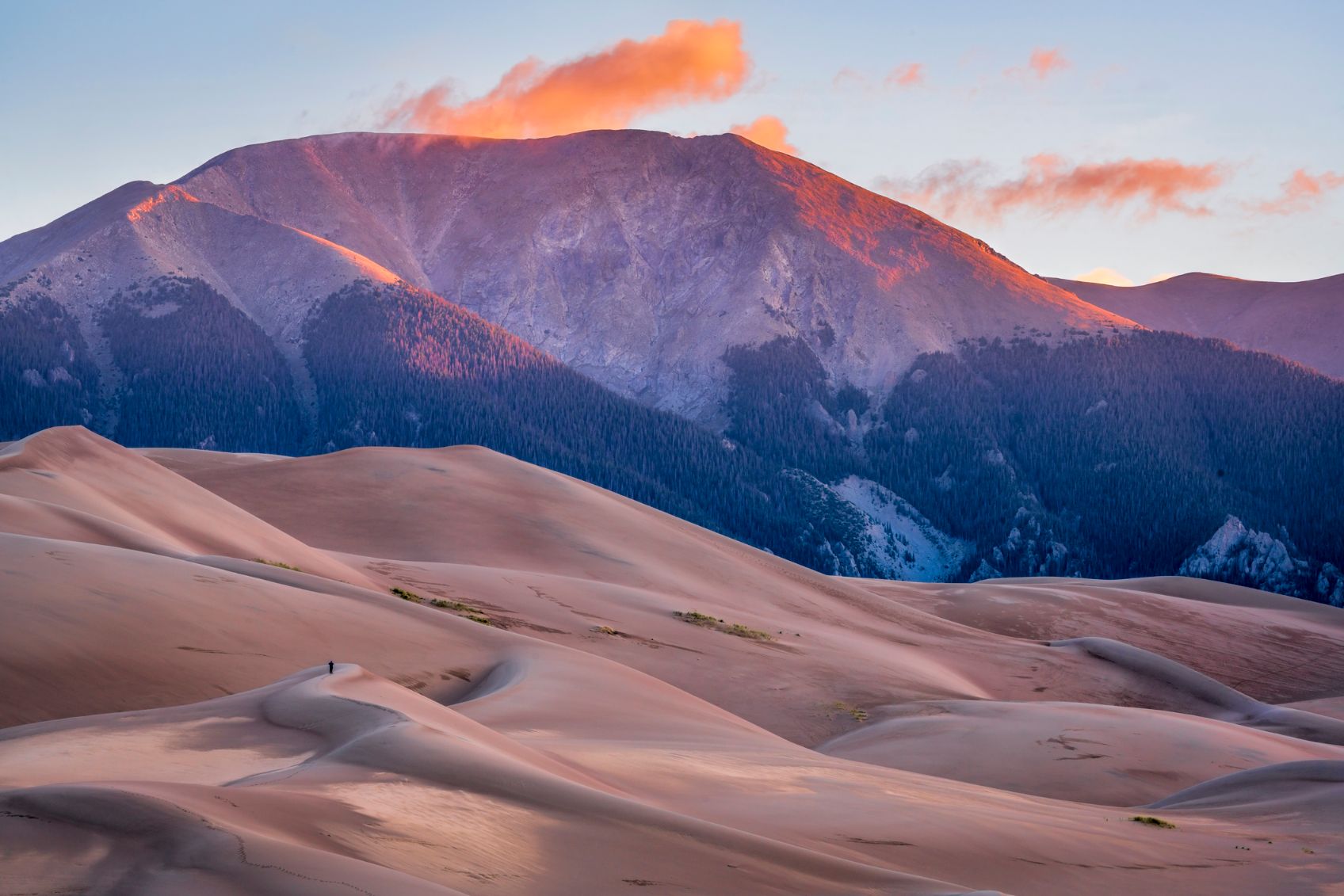 Where? Great Sand Dunes National Park and Preserve, in Colorado, USA.
How High We Talking? 720ft (230m).
How High From Sea Level? 8,950ft (2,730m).
What's it Like? The sand dune which, more than any other on this list, sounds like it's been taken directly out of some sort of sci-fi space odyssey, the Star Dune is in the Great Sand Dunes National Park in Colorado. Which was accurately, if rather unimaginatively named. It's the biggest dune in North America and is named the Star Dune as it's a star-shaped dune, meaning it grows upwards rather than laterally.
11. Great Dune of Pyla, France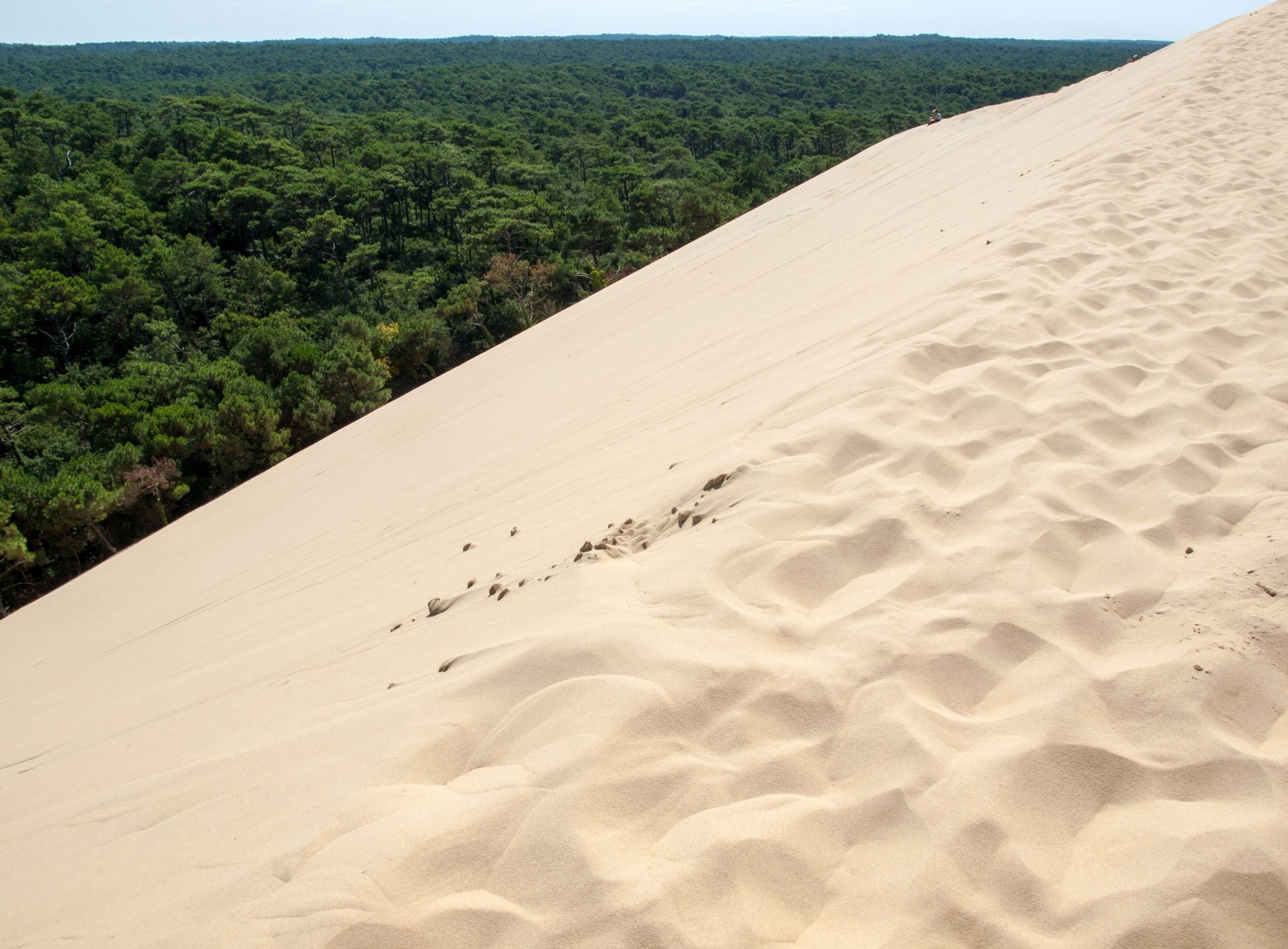 Where? The Bay of Arcachon, in Aquitaine, France.
How High We Talking? 699m (130ft).
How High From Sea Level? 9,334ft (2,845m).
What's it Like? The only sand dune in Europe to make the list, the Great Dune of Pyla is on the Atlantic coastline of southern France. It's a major tourist attraction and runs for 616m, being otherwise entirely surrounded by the ocean and forest. Due to the steep slope of the dune, and the wind that comes in from the ocean, it's also a renowned spot for paragliding.
Other Sand Dunes of Note
This section is entitled "other sand dunes of note", but it should really be entitled "other sand dunes of notes, but specifically in Wales", because it's really only here so we can talk about The Big Dipper sand dune in Wales. The Big Dipper is the second largest sand dune in Europe, and yes, "The Big Dipper" is its actual name. Go on yourselves Wales. The dune is 200ft (61m) and is actually pretty great for fat biking. It's found in the coastal town of Merthyr Mawr – which is also great for hiking and surfing – and believe it or not, of all the dunes in this list, this is the one where Lawrence of Arabia was filmed. Eat your heart out, Sahara.
Check out our full range of adventures around the world – from sand dunes in Africa to mountains in South America and everything in between.