There are 46 Areas of Outstanding Natural Beauty in the UK (AONBs to their friends). Well, only in England, Wales and Northern Ireland actually, because Scotland have a totally different acronym.
AONBs range from coasts to farmland to river valleys. Just like National Parks, they're the perfect starting point for an adventure. Plus, with only 15 National Parks in the UK, you're far more likely to be close to an AONB. Unless you live in Scotland. We're going to give you 10 fantastic AONBs to start with and some adventure ideas for while you're there. But first, we think it's pretty important to answer some quick FAQs about AONBs.
What is an AONB?
Like we said, AONB stands for Area of Outstanding Natural Beauty. But hang on a minute, who decides what counts as outstandingly beautiful? So much for beauty in the eye of the beholder and all that. Let's not even get started on "natural". It's a designation under the 1949 National Parks and Access to Countryside Act. Natural England, Natural Wales and the Northern Ireland Environment Agency are responsible for AONBs and for adding more to the list. We like to imagine them standing in wild places, with suits and clipboards, rating the beauty of the rain on a scale of one to outstanding.
The difference between AONBs and National Parks is that AONBs aren't legally obliged to provision for public recreational activities. With AONBs it's conservation first, fun second. Although they apparently don't have the same legal powers as National Parks to prevent ugly developments, which seems a little odd when the focus is on beauty. Both are considered nationally important landscapes.
AONB Map: Where are they?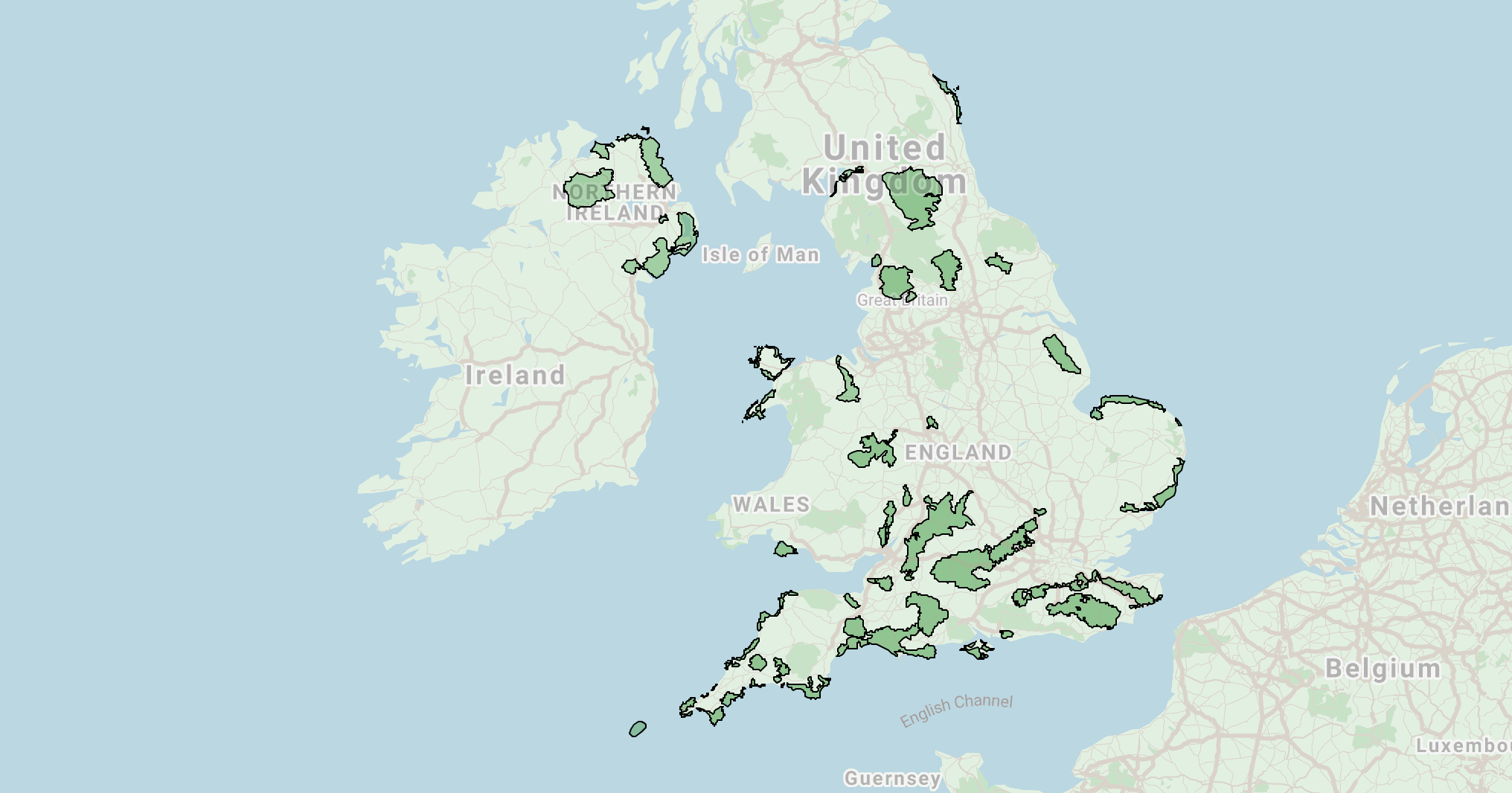 We don't have time to go through all 46 AONBs and tell you how awesome each one is in turn. But here's a handy AONB map to at least give you an idea of where they all are. Compared to National Parks, you'll see there's a much higher concentration of AONBs down south. But they really are spread all over England, Wales and Northern Ireland. The farthest you can be from one is probably around about Leicester - and even that's not far.
Now, without further ado, let's jump into our top 10 Areas of Outstanding Natural Beauty - in no particular order.
1. Cornwall Coast and Moors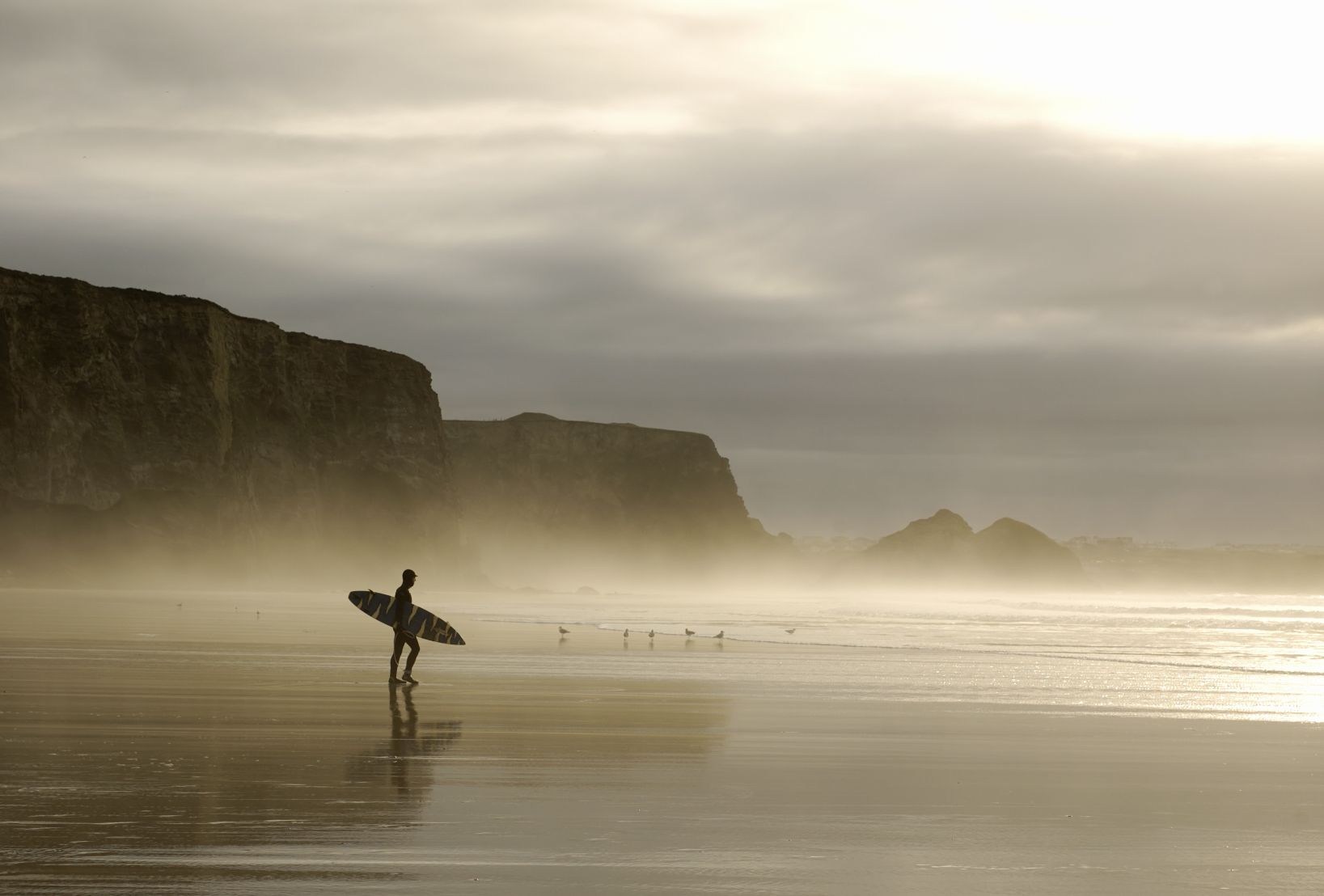 Cornwall AONB is split up into 12 separate sections of coastline and moorland. However sunny the postcard-perfect holiday photos look, even Cornwall can't be 100% beautiful. Luckily, so many pockets of AONB means plenty of opportunity for adventure. You could hike to the top of Bodmin Moor on the wild hillsides of Rough Tor and Brown Willy. Or spend a day on the coast - whether that's coasteering along the shoreline, or catching waves and enjoying Cornwall's surf scene. Although surfing is the most well known watersport here, you could just as easily be sea kayaking with dolphins or wild swimming in a secluded cove near smugglers' caves.
To explore multiple sections in one self-powered adventure, you could take on the Cornish section of the South West Coast Path - almost 500 kilometres of the 1,014 kilometre hiking route from Minehead to Poole. The continuous footpath will take you all the way around the peninsula, through 10 sections of the AONB. Or grab your bicycle and cycle Route 3 from Land's End to Bude (or Bristol, if you get carried away) or the new off-road West Kernow Way. You can bring your bike on trains to Penzance.
2. Northumberland Coast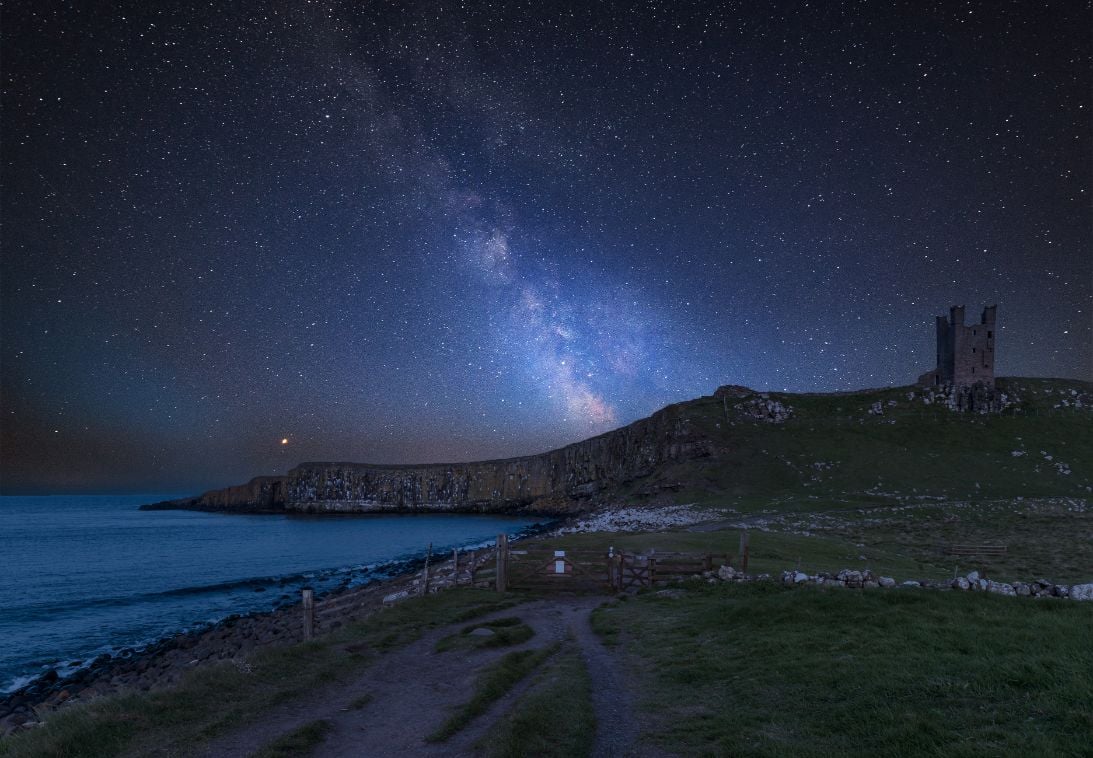 Northumberland Coast AONB has a dramatic coastline, with cliffs, castles and tiny islands. You can stroll along the coast path beside sandy beaches, taking a dip in the sea if you dare (rumour has it it's rather cold). The Northumberland Coast Path stretches 100 kilometres from Berwick to Cresswell and is usually done in six stages. If you have to only pick a section, we'd recommend the section near Dunstanburgh Castle, where Whin Sill breaks the coastline to create interesting rocky coves.
Northumberland is also home to a Dark Sky Park, the largest in the UK. Although the Park doesn't extend all the way to the coast, that doesn't mean you won't see some exceptional night skies from the beside the sea. Another place worth visiting is Lindisfarne Island, topped with a castle. You could hike along the coastline, cross on the causeway and explore the island. Don't forget to check the tide times! Or plan to make the crossing by something that floats a bit better than you do...
3. Isle of Wight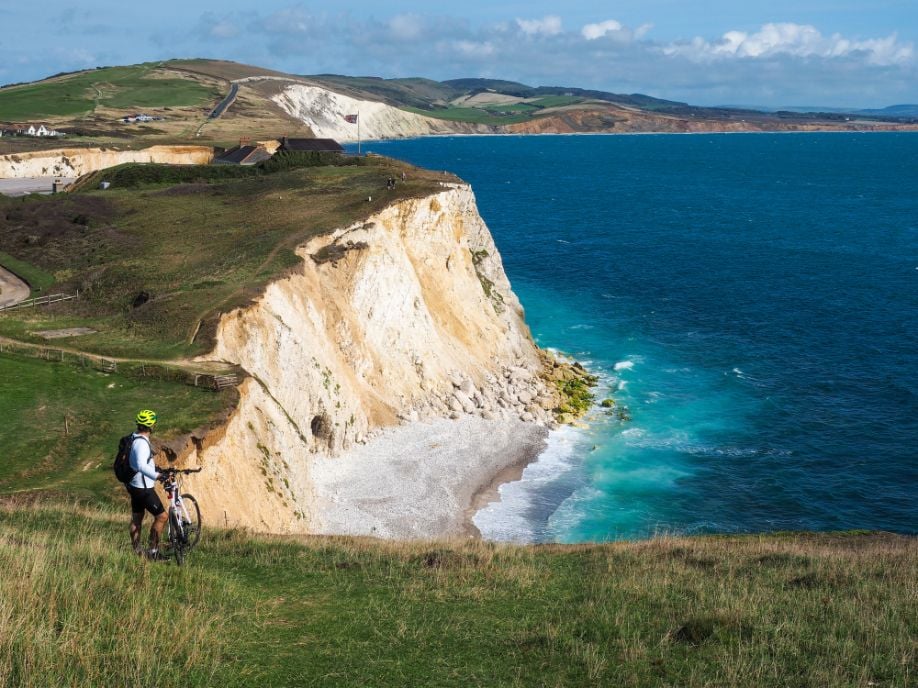 About half of the Isle of Wight is designated AONB, which says a lot for a 380 square kilometre island just south of the New Forest. The Isle of Wight is perhaps best known for sailing in the adventure world. You'll see plenty of yachts and sailing races starting from Cowes, although the AONB itself stops just short of the town. Both the North West and South West coasts of the island have AONB status. On one, you have mud flats and salt marshes. On the other sandstone and chalk cliffs.
With your feet out of the water, you can hike or trail run all the way around the island on the Isle of Wight Coastal Path. Or try shorter routes like the Hampstead and Tennyson Trails. Cycling could take you on or off-road, like the Red Squirrel Trail: a 32 mile off-road bike route that takes you into one of the last stronghold for the native red squirrel. On the other end of the MTB spectrum, the Chalk Ridge Extreme is a 50 mile extravaganza, taking in challenging steep and chalky terrain.
4. Isles of Scilly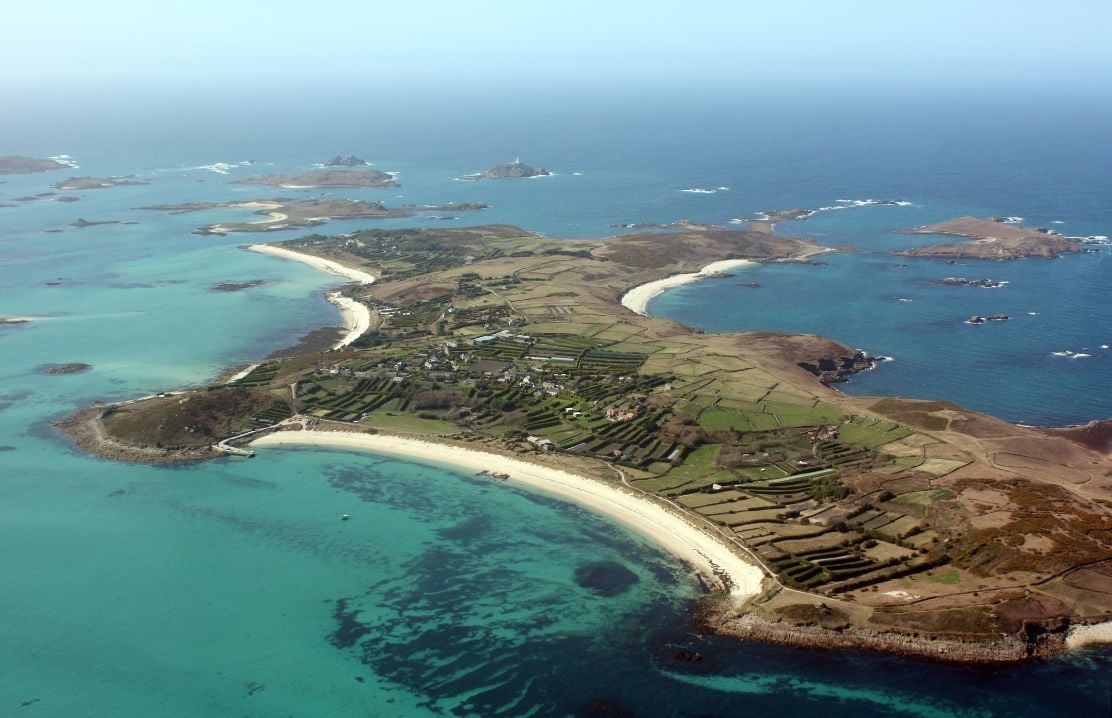 Although the Isles of Scilly are the smallest AONB, only 16 square kilometres, you wouldn't think it. (The Cotswolds is the largest AONB in the UK, at over 2000 square kilometres, since you asked.) There are over 140 islands in the archipelago and only five of them are inhabited: St. Mary's, Tresco, St. Martin's, Bryher and St. Agnes. What does that sound like? A fantastic kayaking adventure. Paddle between uninhabited islands, maybe even sleep on the beach. The Duchy of Cornwall owns most of the land in the Isles of Scilly AONB - it's easy to forget that the islands are only 28 miles off the coast of Cornwall. If you're a kayaking monster, maybe you could even paddle it!
With so much coastline, swimming and hiking are obvious choices for adventures. In fact, it's possible to swim between the inhabited islands and Samson - the largest uninhabited island. But obviously make sure you know a thing or two about open water swimming, or go with a guide. And while we're at it, why not combine it into a swim-run, or even a triathlon!
5. Anglesey Coast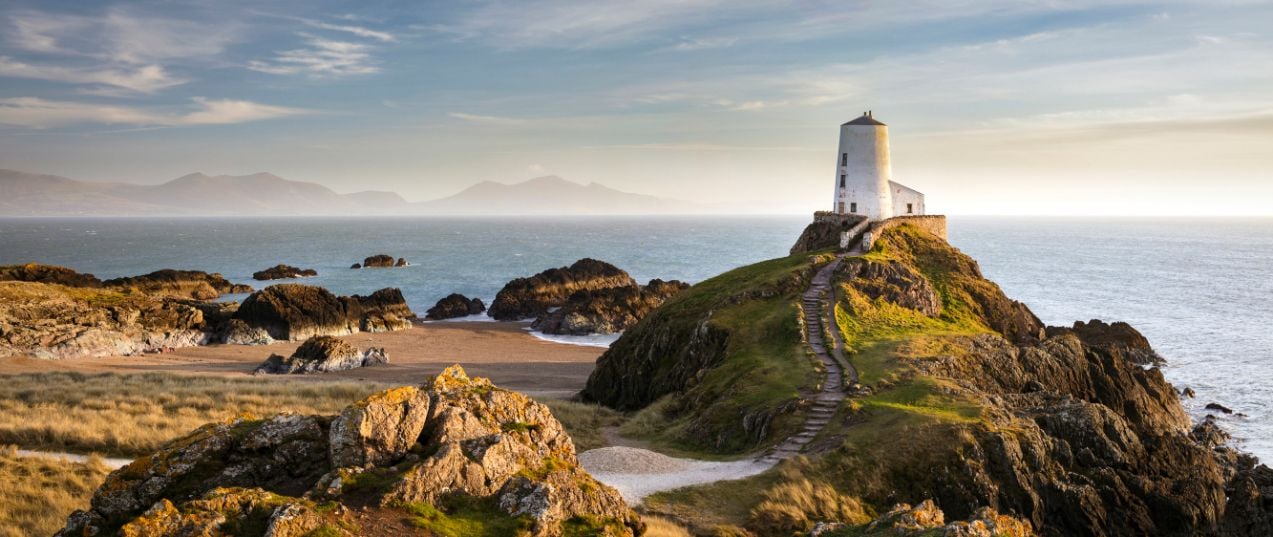 Although Snowdonia National Park gets most of the attention from visitors to North Wales, its coast is very beautiful for hiking. In fact, it's outstandingly beautiful. The highest peak in the area, Holyhead Mountain, might only be 219m but you can see the slate ridges of Snowdonia on one side and the sea on the other.
These jarring contrasts, between the flat(ish) ocean and the jagged rocks are what make Anglesey. Sure, it sounds a bit cliche, but you won't be thinking that as you inch your way up a sea cliff on a day of rock climbing. Or experiencing just how well these two mix as you coasteer along the very edge of Anglesey. Explore hidden coves, clamber over rock pools, get thoroughly buffeted by the waves and finish it off with a cone of salty chips.
6. Mourne (Mountains and Coast)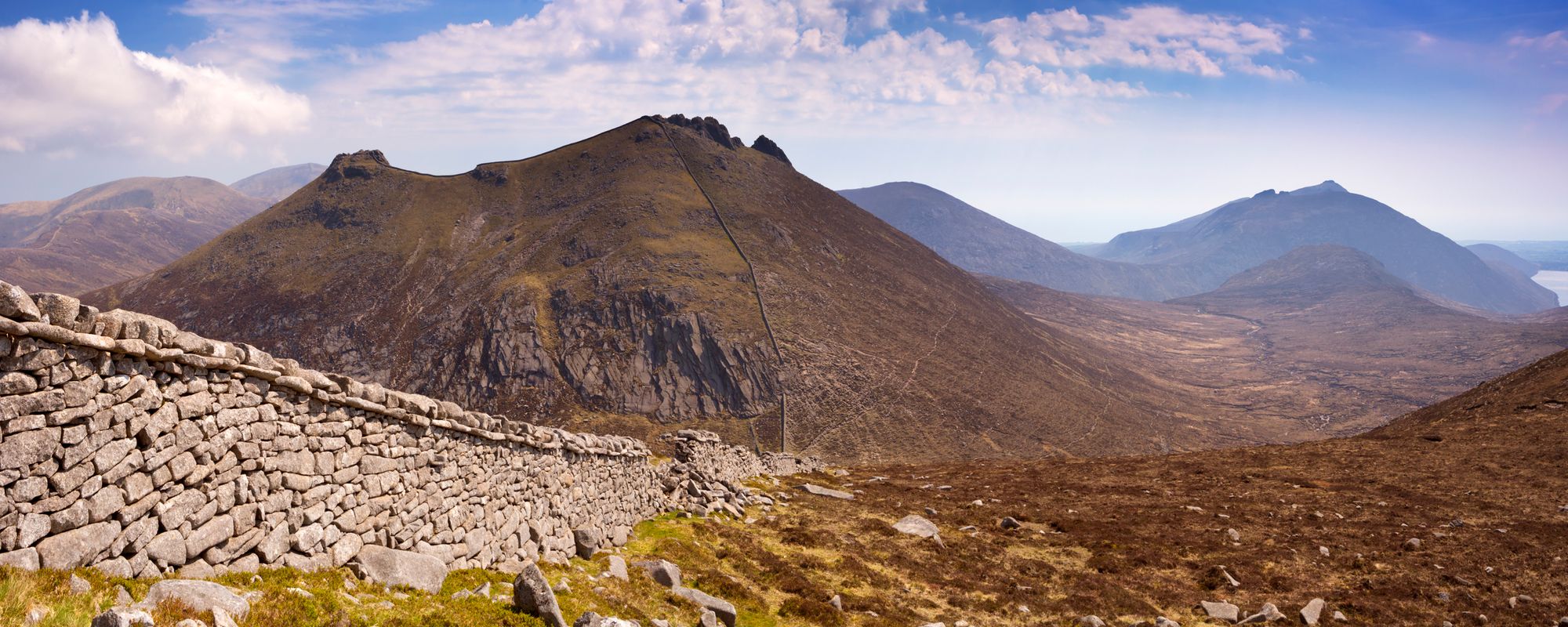 Northern Ireland's Mourne Mountains are the perfect setting for a hiking adventure. Designated part of an AONB in 1966, they include twelve main peaks with Slieve Donard (850m) the highest peak in Northern Ireland. One particularly striking feature is the Mourne Wall: a 31 kilometre drystone wall that surrounds the centre of the mountains. The wall was built in the early 1900s to try to keep livestock out of the water catchment area of the Silent Valley reservoir. Hiking it is quite a challenge: complete with classic "how on earth did you build a wall up this cliff" moments.
But, the Mourne Mountains are only part of the Mourne AONB. The area encompasses 570 square kilometres, right down to the sea. The mountains drop away abruptly, sweeping down to the coast through woodland and farmland. Slieve Croob is a single isolated mountain out to the north of the Mourne AONB. The cairn on the summit is said to be the ancient burial mound of twelve kings. You can connect the mountain to the coast in a 25 mile circular bike ride, the Slieve Croob Cycle Route.
7. North Wessex Downs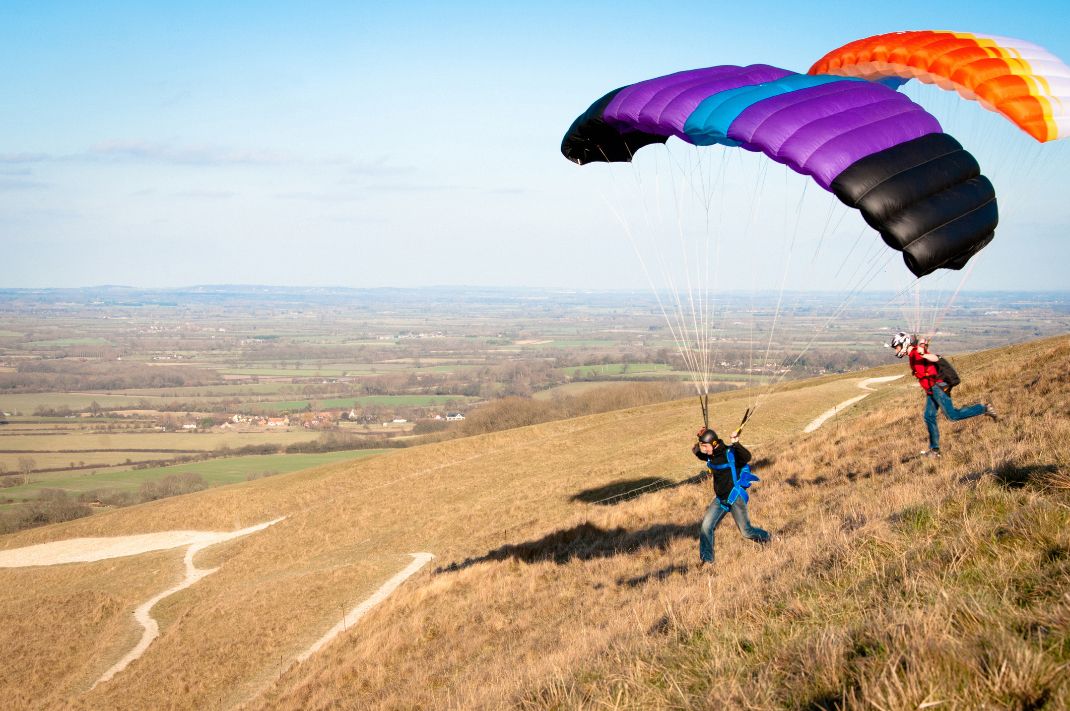 The North Wessex Downs are an area of hill and downland between Basingstoke and Swindon. Home to peoples since 3000 BC, you'll pass right through them if you cycle the Greater Ridgeway, a long distance UK bikepacking route. The Ridgeway within the Downs is a National Trail that has been used since prehistoric times by travellers and herders. You can explore it by bike, on foot or on horseback. The AONB is full of ancient sites, whether that's barrows and burial grounds or broadleaf woodland. The Uffington While Horse, carved into the chalky hillside, is perhaps the best known. You can get a bird's-eye view from a paraglider.
If water is more your adventure jam, then have a look at the Kennet and Avon Canal that passes through the North Wessex AONB from Bristol to Reading. There is 140 kilometres of paddling to be done. The canal passes through small villages and countryside, taking in a section of the Devizes to Westminster Canoe Race that has been running since the 1960s. It's very possible to complete the route over a multi-day paddling adventure, with lots of options available for spending the night.
8. Wye Valley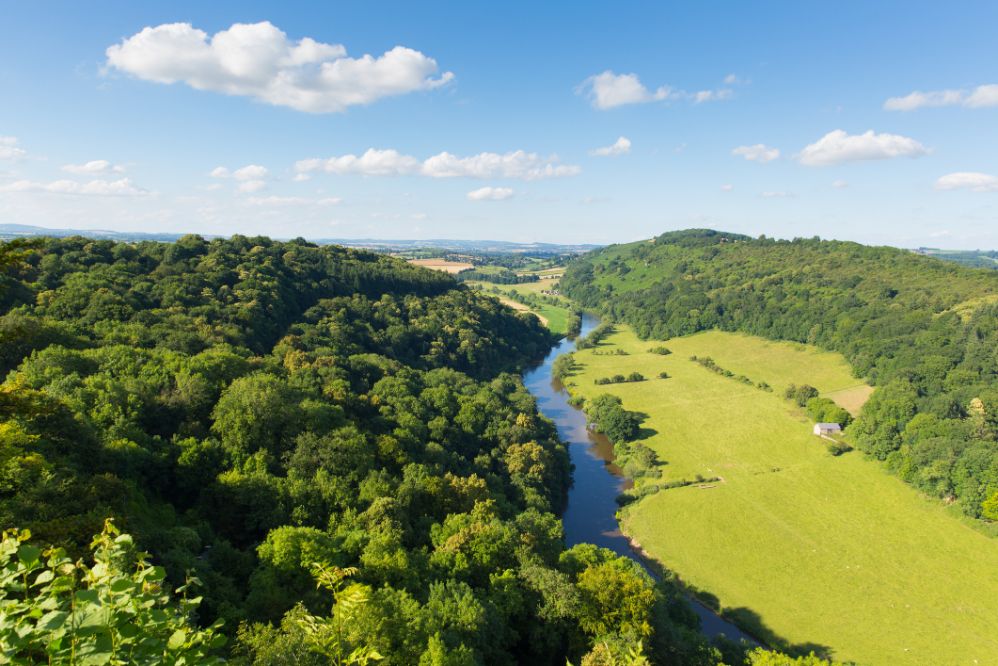 Technically, the Wye Valley is two AONBs: one in Wales and one in England. So we're being a bit cheeky here. But with the glorious River Wye connecting the two halves it seemed wrong to favour one side over the other. And there is so much adventure to be had on the river itself. Grab the nearest thing that floats: canoe, kayak, SUP or coracle - and hit the water. The River Wye is the fifth longest river in Britain and is an AONB from Hereford to Chepstow, almost 100 kilometres.
But let's not forget the rest of the valley. You can walk the length of the Wye Valley AONB on the Wye Valley Walk. From Chepstow, the route weaves up river crossing both sides, up through Ross on Wye to Hereford. It then continues all the way out to Hafren Forest - a 219 kilometre hike in all.
9. East Devon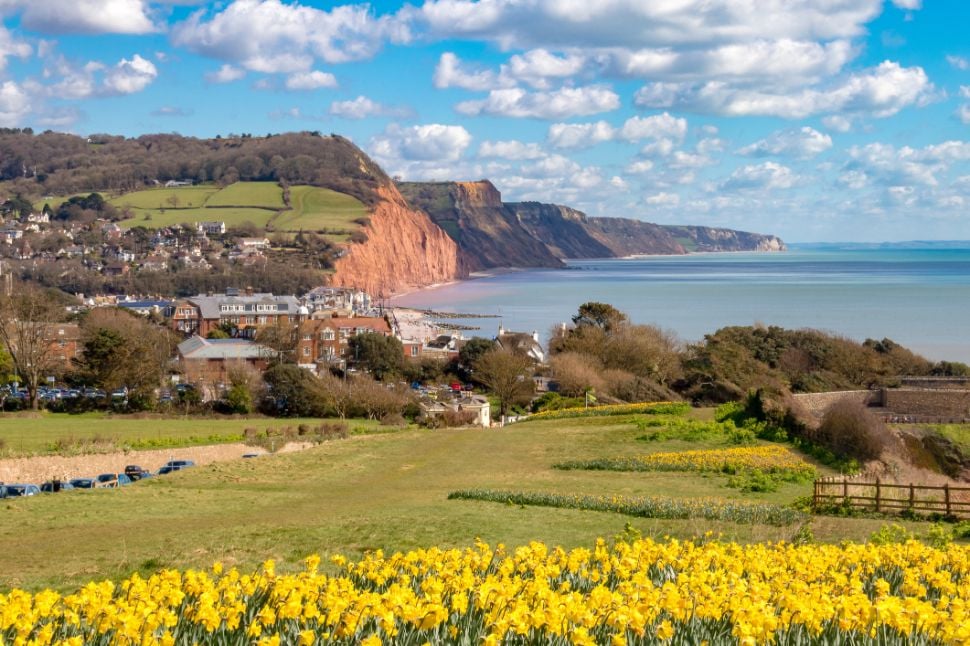 East Devon AONB is a rather forgotten part of the Jurassic Coast. It's not quite Dorset and you'd be more likely to pass through it on the South West Coast Path than single it out as an adventure holiday destination. Unless you were doing a funny place names challenge: there is a village called Beer.
To explore on foot, the 64 kilometre East Devon Way runs from Exmouth to Lyme Regis. Don't be tricked into thinking this is the same as the coast path, though, just because the start and end points are by the sea. It passes squarely through the AONB and far from the coastline, though fields and commons, up hills and along rivers.
The three main rivers within East Devon AONB are the Axe, Otter and Sid - which sounds rather like a the name of a legal firm or a very fancy tailors. If you're lucky, you might even see an otter. The estuary at Sidmouth is the place to go for beginner SUP, kayaking and canoeing. Or if you're at the beach, you could try your hand at surfing.
10. North Pennines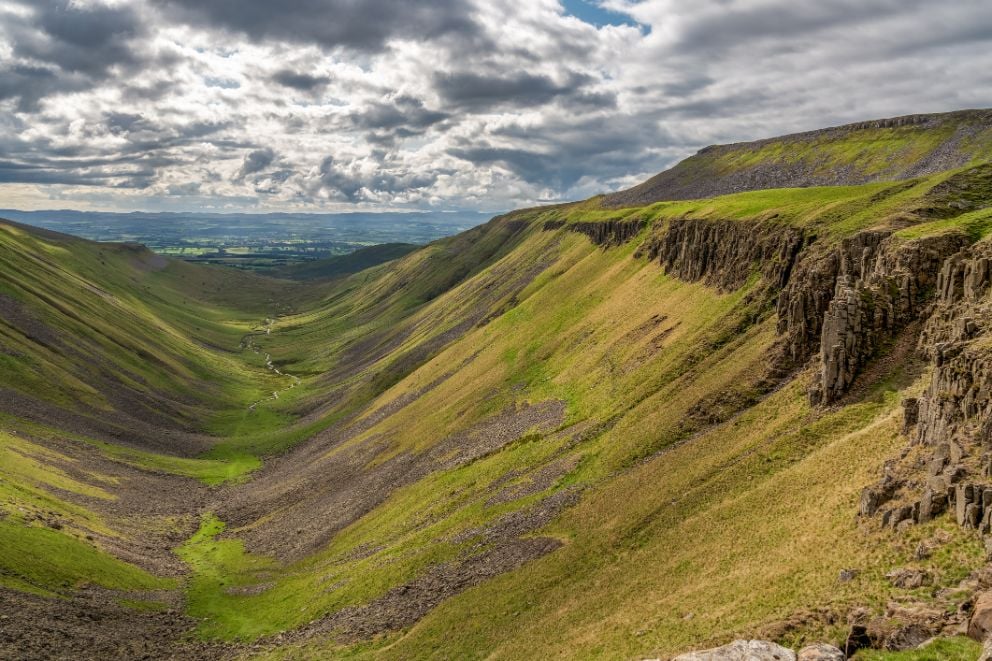 The North Pennines AONB is an often overlooked part of Northern England, squeezed between Northumberland and the Yorkshire Dales. You'll pass just above it on the Hadrian's Wall Path and just south of it on Wainwright's Coast to Coast. You will, however, pass straight through it on the Pennine Way whether you're hiking or cycling.
Even if rocks aren't your thing, the geology here is pretty exciting. The AONB is also an UNESCO Global Geopark. It has heather moors and 27% of England's blanket bog. You can go caving or climb High Cup Nick, a classic U shaped valley with a distinctive rock escarpment, from Dufton.
England's biggest waterfall is here too: High Force in Teesdale - 21 metres high and dropping either side of a huge rock outcrop. You can easily hike out to see it, although we wouldn't recommend trying to paddle it. Twenty one metres is pretty high and you don't have Hollywood plot armour. We recommend going in winter to really see the full force of the water. You'll pass it too if you're hiking the Pennine Way.
Ready to have a UK adventure in beautiful locations? Check out our adventure holidays.