The Torres del Paine National Park is located in the south of Chile's Patagonia region. Spanning over 180,000 hectares, the park is renowned for its iconic granite towers that dominate the landscape, undoubtedly one of the gems of wild and magical Patagonia. But it is by no means a one-trick pony - from the W trek to the O circuit, the area is home to an array of stunning landscapes, and all the hiking infrastructure that you need to explore it.
The park offers a spell-binding array of mountains, glaciers, lakes, rivers and forest, with views evolving and changing with every step. The glaciers, including Grey, Pingo and Tyndall, spill out into impressive lakes and wind their way up pre-historic valleys to join the Southern Patagonia Ice Field.
This is a place where the wind might whip up to 80 miles per hour, forcing you to sit down while you protect your face from tiny flying rocks. The trails are challenging and windy, but there is no chance you'll ever forget hiking the breathtakingly beautiful Torres del Paine National Park.
The WOW in Torres del Paine: The W, O and Beyond
It's no secret that trekking in the Torres del Paine National Park, and trips to Patagonia and Chile and Argentina in general, have boomed in the last decade. Some hikers may look elsewhere for this reason, but to do so would be a mistake.
Before we go any further though, it's worth highlighting that Cerro Torre and Fitz Roy, two of the most iconic Patagonian mountains, are actually in Argentina, not Chile, and sit hundreds of miles north of the Torres del Paine national park. Still, there's a reason Torres del Paine is such a famous landscape.
Probably the most well-known of the trails in the Torres del Paine National Park is the 'W' trek, with only a small percentage of hikers tackling the longer and more strenuous 'O' circuit – which includes the W but loops around the backside of Torres del Paine. The O circuit is also known as the 'Full Circuit' for obvious reasons.
The W route of Torres can be hiked in three to four days and offers up some of the most classic views, such as the three huge granite peaks and towers – impressive 2500-metre rock formations that jut up over a turquoise glacial lake like something out of a fantasy novel. However it can be a long way to go for a long weekend's hiking, so it's worthwhile teaming this up with a few days exploring parts of the park that others seldom do or continuing on the O circuit trek.
The W is not easy – the day that includes the trek to the Torres (Towers) involves eight to ten hours of gruelling uphills on often loose, rocky terrain that defies the grip of even the best boot. But, those who tackle it are rewarded with stays in warm and cosy hostels with plentiful food, clean bathrooms, and even a full bar at the day's end.
The French Valley, or Valle del Francés, is considered by many people to be the most beautiful section of the W circuit in Torres del Paine (and it's also on the O circuit too).
The valley is characterised by the remarkable Glaciar Frances, the French River that runs through it, and by beautiful beech forests. On the W trek, you're most likely to come at the French Valley from the west, from the Redugio los Cuernos. If you're on the O circuit, it's more likely that you'll come at the valley from the east, from Paine Grande. Keep your fingers crossed for clear weather, because if the mist clears, you'll get jaw-dropping views of Cerro Cota and Cerro Catedral.
The O trek takes around seven to eight days, with many people building in a rest day to take a boat to the impressive Grey Glacier or kayak around the icebergs floating in Lake Grey. Although obviously more challenging than the shorter W trek, you will encounter significantly fewer people, more wildlife, and views and vantage points that you just wouldn't see otherwise.
Heading out with a local guide means you are very likely to find trails and pockets of the park that even the W and O cannot replicate.
When to Go to Torres del Paine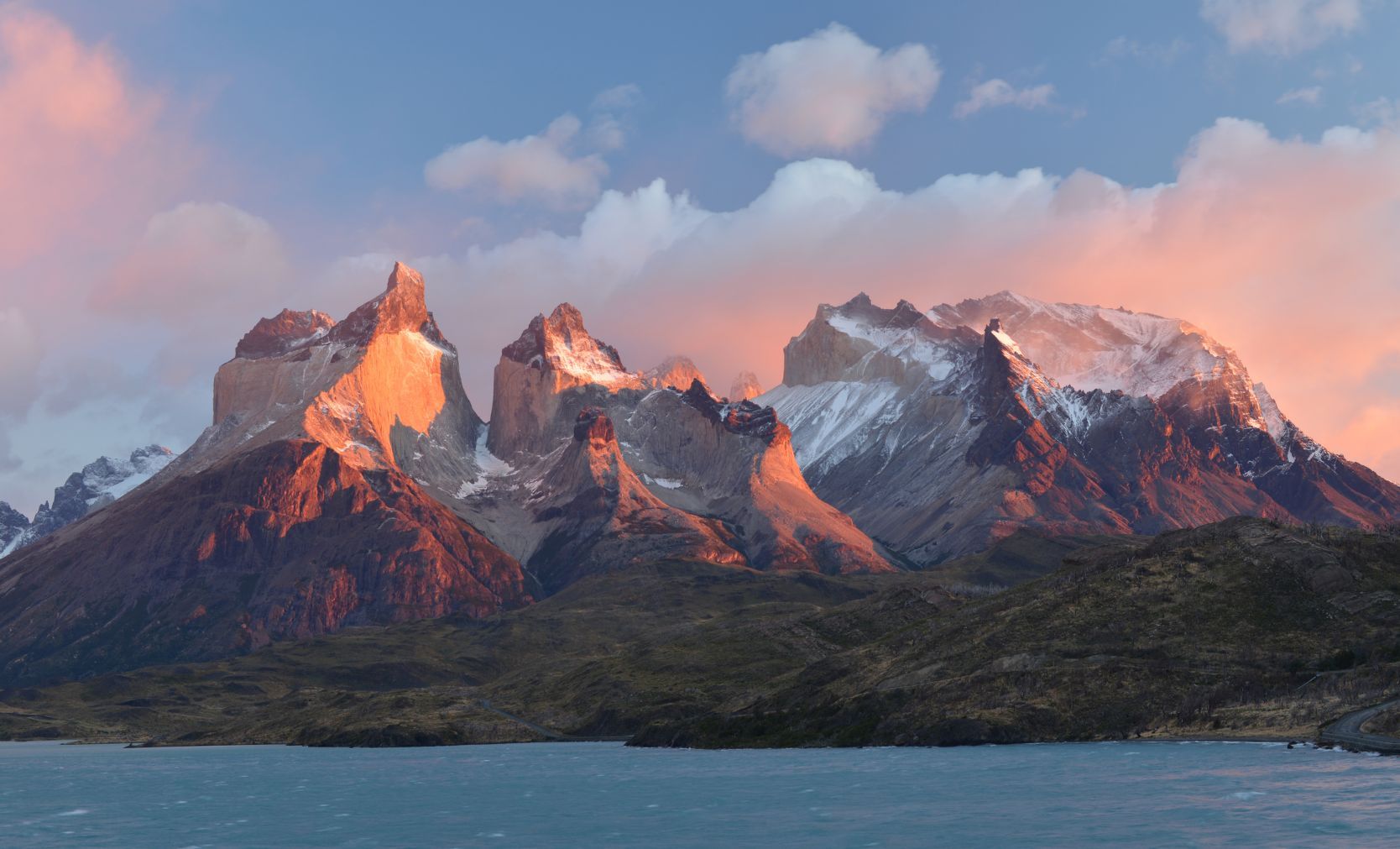 The height of Patagonian summer (December to February) is the best time for hiking Torres, the weather is warm and the days are long. Temperatures average between 17 and 20 degrees during the day but drop to around 8 degrees at night. During the Patagonian winter (April to September), the park is usually covered in snow and the trails are not passable on foot.
Because the ideal season for hiking Torres is short, campsites tend to book up very quickly and should be reserved at least a year in advance unless you travel with a local guide. Some hikers have reported walking miles to a campsite during peak season, only to be turned away because there were no spaces available.
Of course, Patagonian summer is still not what you might call hot. Nights are downright cold, and the wind is a force to be reckoned with regardless of the temperature. In the summer, rain and even snow can occur at any time, and you will likely take off and put on various layers numerous times throughout the day and night. Even in summer, a heavy-duty cold-weather sleeping bag is necessary, as are a variety of rain layers.
Where to Stay
While in the park itself, you will be staying in refugios, each of which has its own unique character. Refugios are ultimately campsites, but the tents are nice, with ample room and comfortable sleeping pads usually supplied. Some grounds offer elevated platforms and even sleeping bags (though you should absolutely have your own). All feature a building with proper bathrooms, showers and sometimes even a shop and bar.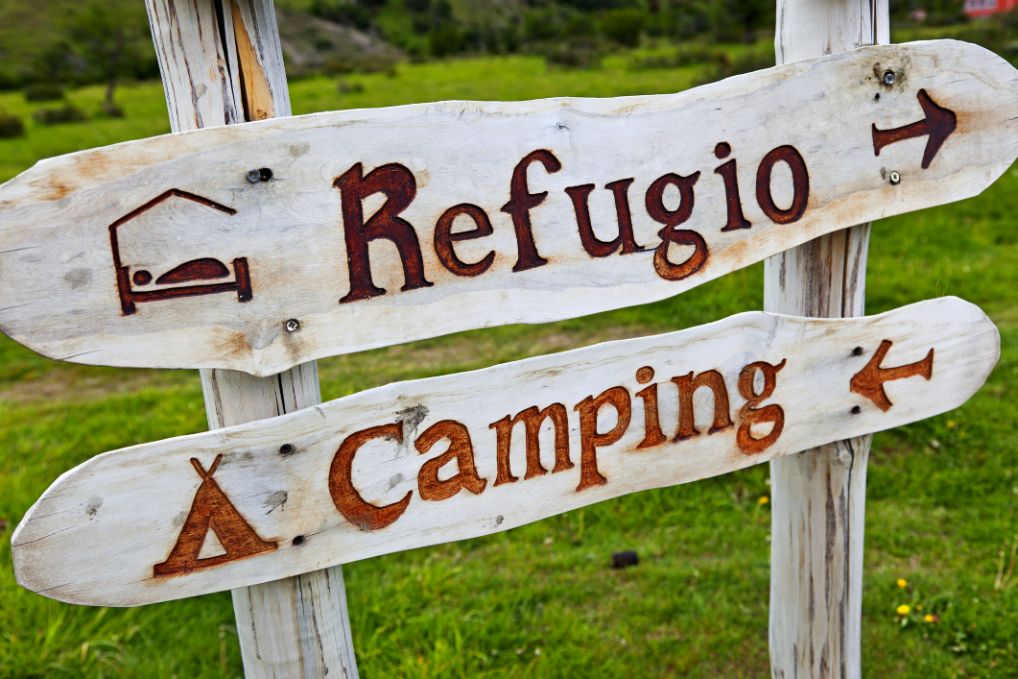 The dining halls at each refugio are also impressive with limited dishes that are universally agreeable to all tastes. Vegetarian options are available upon request, and you can even order boxed lunches to take on the trail the next day – these feature more than enough sandwiches, chocolate bars, nuts, granola and fruit to keep you going. The refugios on the backside of the O feature smaller campgrounds, but all are well maintained and boast incredible scenery. The majority of hikers will find the refugios more than adequate to their needs, given that they book early enough.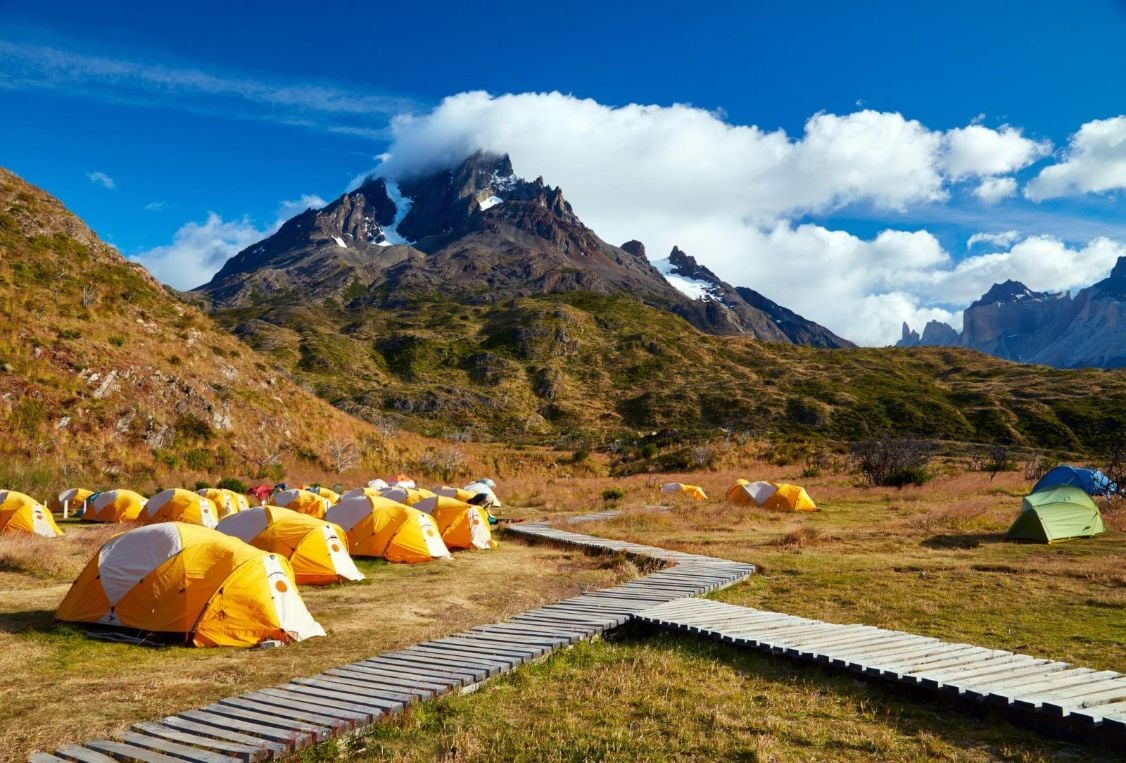 It is important to note that, unlike countries like Norway, Chile does not allow free-camping. This is especially important in Torres del Paine National Park, where a recent incident involving a tourist lighting a fire to cook outside a designated campground led to a fire that destroyed a significant portion of the forest. There are rangers present throughout the park, and they are serious about ensuring that you follow the rules for everyone's safety – especially your own. Do not bring a tent and simply expect to set it up anywhere.
How To Prepare for your Trek
While Torres del Paine does have a few trails that are easy going and pass through the gentle meadows at the base of the mountains, most treks through the park are very challenging.  This isn't a place where you're going to want to just stick a bottle of water in a day back and then head on out, unfortunately. It's definitely worth doing some multi-day hikes in the lead up to your trip to Patagonia, ideally carrying a similar size backpack to what you're use on you trip, to get your hiking legs sorted before the trip.
The best way to train for a trek is simply to trek, but most people do not have full days to dedicate to climbing up steep inclines. Spending a couple of days a week at the gym focusing on leg and core exercises, as well as balance and stability, is a great solution. Running may also help. Having an idea of what lies ahead on the trail is important, as it's hard to build up a picture through reading alone.
Generally, the length of the hikes through the park are regimented because of necessary refugio stops. You will spend your days hiking from one campsite to the next. However, sites are not evenly spaced. This is a good thing, as your days will alternate between long and short. A long day (such as the hike to the Torres, and the day that crosses the John Gardner pass), will include 16 to 20 km of hiking over the course of 8 to 10 hours. These days tend to be very up and down and incredibly steep, making trekking poles a necessity.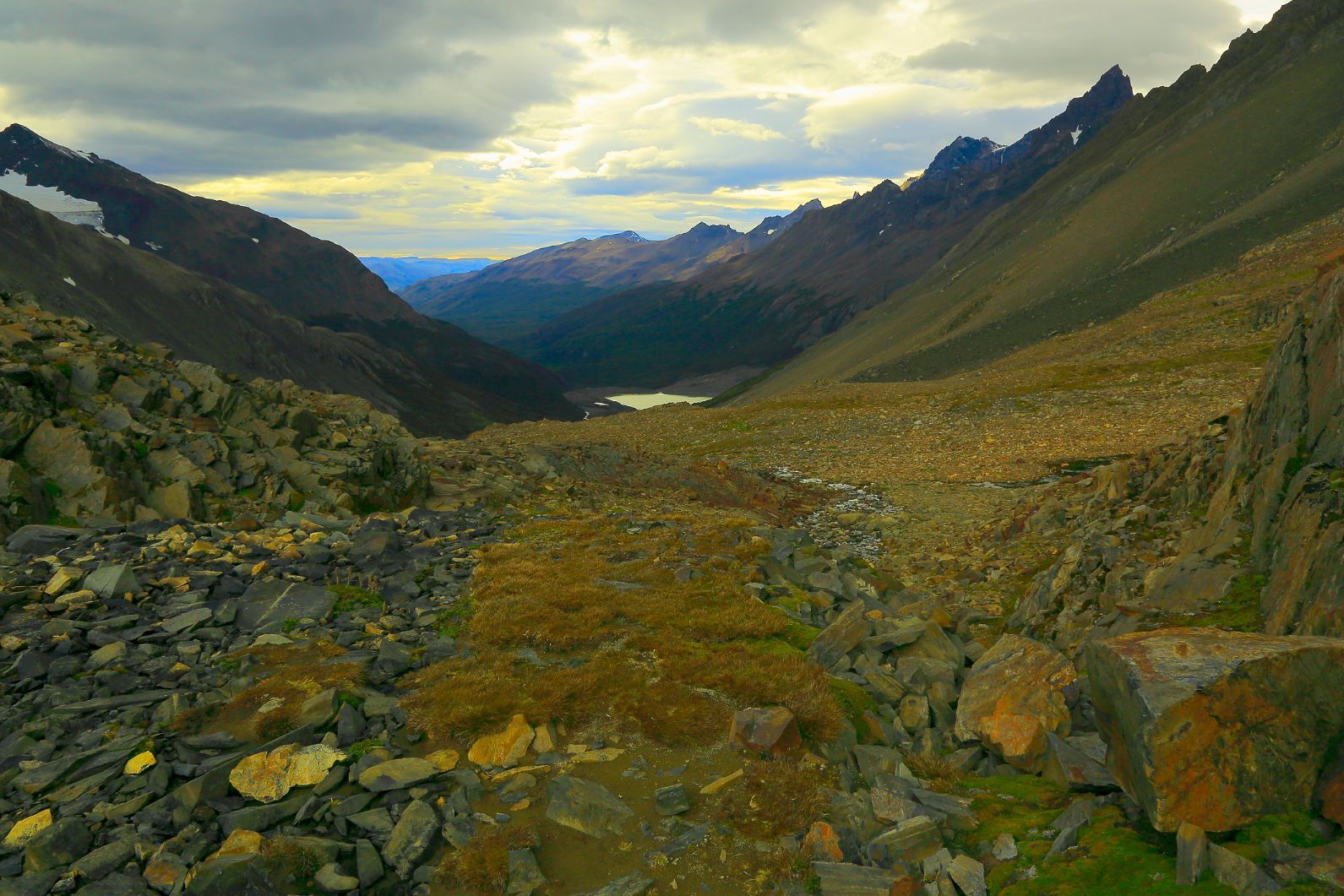 You will often hike up and down very loose rock, which requires a lot of focus and stability, and many areas are entirely exposed to sudden, harsh winds. You can also encounter areas of deep mud. While the long days tend to be physically demanding, they are also what makes trekking here so adventurous. By the time your sore knees arrive at your campsite, you will feel you have truly earned a good night's rest. While the hiking is every bit as challenging as the Himalayas, the bonus of Torres del Paine is that there is no altitude to contend with. You will climb some impressive mountain passes, but a lack of oxygen will not be an issue.
With regular training pre-climb, someone who is in good shape, with no injuries or illnesses, really should be able to hike Torres as long as they are fueling correctly with plenty of calories and water. However, anyone who tends to have knee trouble should beware. Trekking here often involves descending extremely tall stairs. If you are short, this means almost jumping down repeatedly, which will irritate any pre-existing knee injuries.
The Wildlife in Torres del Paine
Despite its harsh climate, Torres del Paine National Park is full of wildlife. On the way into the park it is easy to spot Chilean flamingo, ostrich and guanaco. Chilean condors soar above the campsites, jackrabbits can be seen darting between tents, owls add an eerie vibe to the nights, and if you're lucky you may spot Chilean deer. The park also has arguably the world's densest population of puma, though chances are you will not see these shy, introverted creatures. The prospect of them lurking in the shrubs does ensure that midnight trips to the bathroom have a heightened sense of adventure.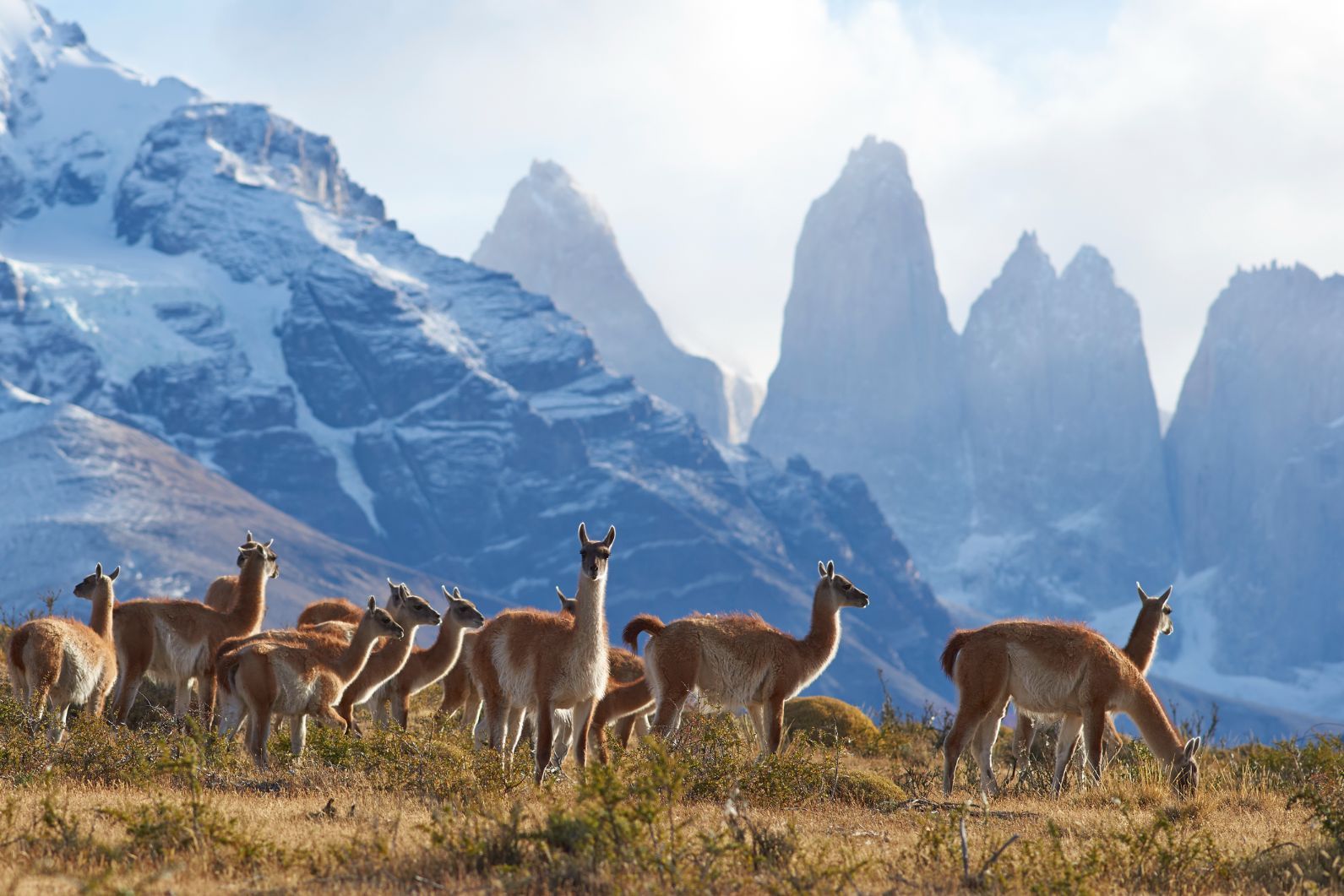 What to Pack for a Torres del Paine Trek
If you travel with a guide, which is recommended for both safety and ease of reservations, you will have most of your baggage carried by porters. However, the porters are restricted in terms of weight they may carry, so it's worthwhile investing in a cold temperature, ultra-light bag to keep with you and thinking carefully about what you choose to pack.
Your day pack should include a rain layer (including a cover for the backpack), a fleece or warm layer, and a packable down coat with a hat and gloves. Sunglasses are highly advisable, as is sunscreen for when you inevitably start stripping off layers. Your lunch will travel in your daypack, as should your water. A luxury of hiking around the park is that you can fill up at streams without needing water purification tablets, so you should only need to carry one bottle.
Packing an ultralight bag is an art, especially with a sleeping bag, it's unlikely that you'll have fresh clothing every day. The clothing you do pack should be quick-dry, and zip-off hiking trousers are recommended. Wool is best for socks, and many practise wearing a thin sock underneath their heavy-duty hikers to minimise blisters.
Camp shoes are a must, as even in the most comfortable of hiking boots, your feet will kill by the end of the day. Forms of entertainment like books will most likely go unread, though a deck of cards will make you fast friends at the refugios. Some cash is necessary for camp shops. Most refugios do not provide toiletries, so you should take anything you desperately need with you. In the summer you will encounter biting bugs, so carry some bug spray, a handkerchief or Buff to pull over your face. As in all hiking situations, a quick-dry towel and plasters will round out your camp arsenal.
Feeling Good About Your Trek
Torres del Paine National Park exists as it does today because environmentalists and adventurers (including the owners of Patagonia and The North Face) have fought hard for its conservation. Organisations like the Torres del Paine Legacy Fund work tirelessly to help protect its delicate ecosystem and provide a sustainable future for the park and local communities.
As a result, the park is clean and well managed, with an abundance of rangers. Other hikers in Torres often tend to be more respectful than hikers encountered elsewhere. There is no rubbish littering the trails and people take the carry-out rules very seriously. In fact, at the O refugios, you may not even find bins. Each hiker is expected to carry their own rubbish and dispose of it later. It is truly a leave-no-trace park.
Most hikes in Torres seem to yield a surprisingly slim number of photos. It is the ideal hike for people who want to feel truly connected to somewhere off the beaten path, where the landscape is nothing like that found anywhere else in the world.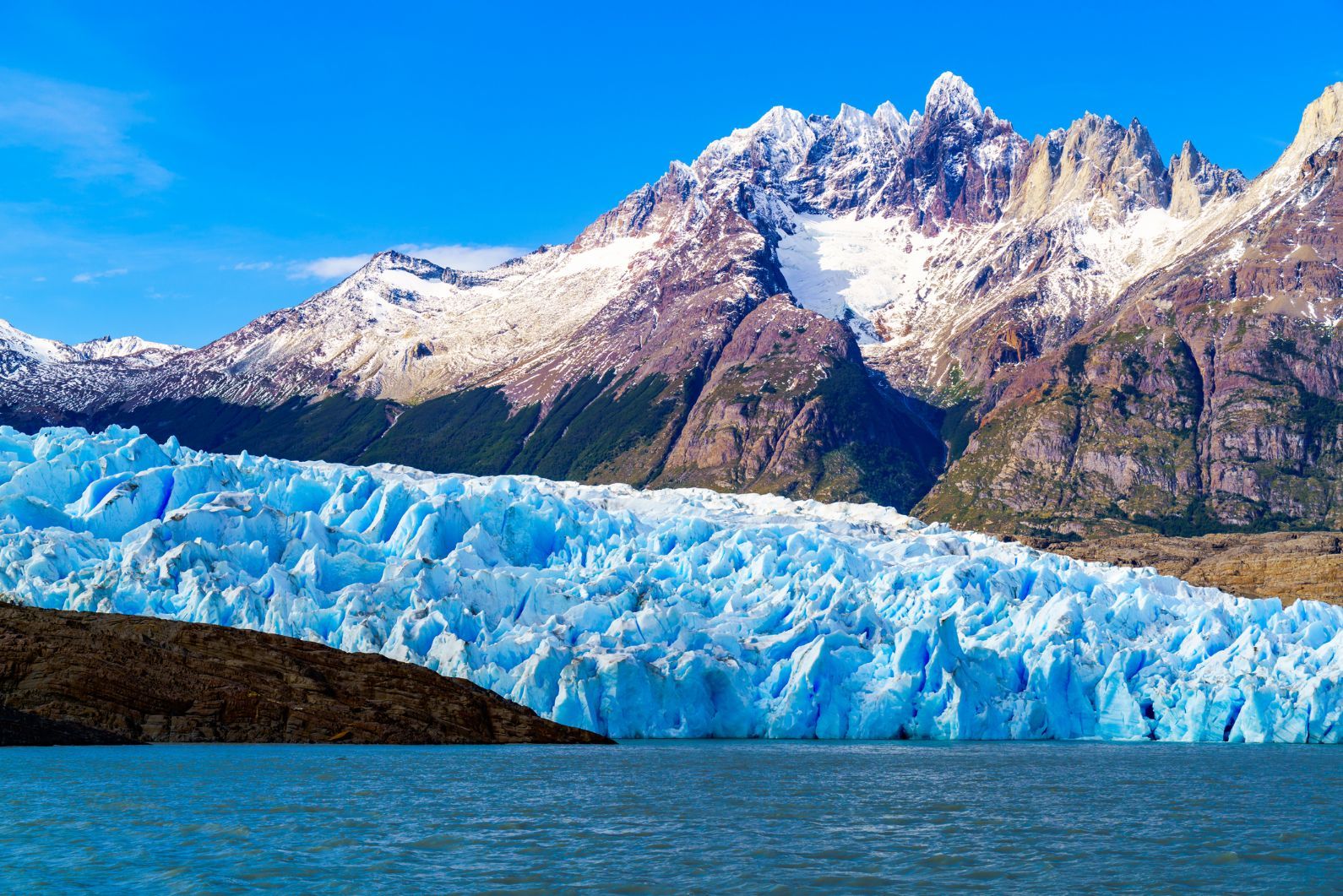 It is easy to be overwhelmed by the natural surroundings, and equally easy to give up trying to capture the scale and conditions of the park in a photo –  it's important to stop frequently and look behind you, this is often where the most incredible views are. Hiking Torres is a visceral experience and when not looking at the incredible scenery that surrounds you, every ounce of your concentration will be on where your foot goes next. The weather changes minute by minute, and you will feel as if you are living minute by minute, enjoying every rock slide, every slosh in the mud, and every gust of cold, glacial wind as you hike slowly towards the next camp.
Feeling inspired? Check out our hand-picked itinerary to trek Torres del Paine, and see our other adventures in South America.