What is a fat bike? You may not have heard the term before, but believe us, you'll know a fat bike when you see one. They're pretty hard to miss - and the clue is in the name. A fat bike is a bicycle with extremely wide tyres. How wide are those tyres? The usual width is between four and five inches, which when you compare to the average width of a mountain bike tyre - closer to the two or two-and-a-half inch mark - is rather fat indeed.
Truth be told, fat bikes look a little like a bicycle that's been drawn by a child in art class and then 3D rendered for a Twitter joke - so the natural next question is; why would you want fat tyres on a bike? What are the advantages of having larger than normal tyres, other than attracting the points and stares of bamboozled strangers? Well, try and ride a regular bike on sand or snow and you'll find out. Fat bikes certainly have their place and function. In this feature, we're going to talk through some of the FAQ's of fat biking - and get you stoked to give one a go.
What are fat tyre bikes for? What are the advantages?
The primary benefit of a fat bike is that they're able to travel over diverse terrain, from snow to sand, better than regular bicycles. The wide tyres provide you with extra grip and traction, and combined with a low tyre pressure, you'll find that you're able to pedal over terrain that'd make conventional tyres sink.
I've ridden fat bikes over sand dunes in Wales and snow in the French Alps and Arctic Finland. While it's not necessarily always easy work pedalling through soft snow or sand, it's certainly a whole lot more manageable than on a more conventional mountain bike - where much like an angry hamster, you could find yourself spinning a whole lot and hardly moving an inch.
All that extra wheel contact with the ground also means that you'll be able to roll over obstacles like roots or rocks with more stability, and fat bikes aren't just good for keeping steady and covering varied terrain, either. Despite the added weight, they're actually quite easy to ride uphill too. You may not be the fastest, but with traction aplenty, you should find yourself climbing at a steady pace.
It should also be noted that while fat bikes were definitely designed for snow and sand, they're becoming increasingly common on regular trails too.
So, do fat bikes need suspension?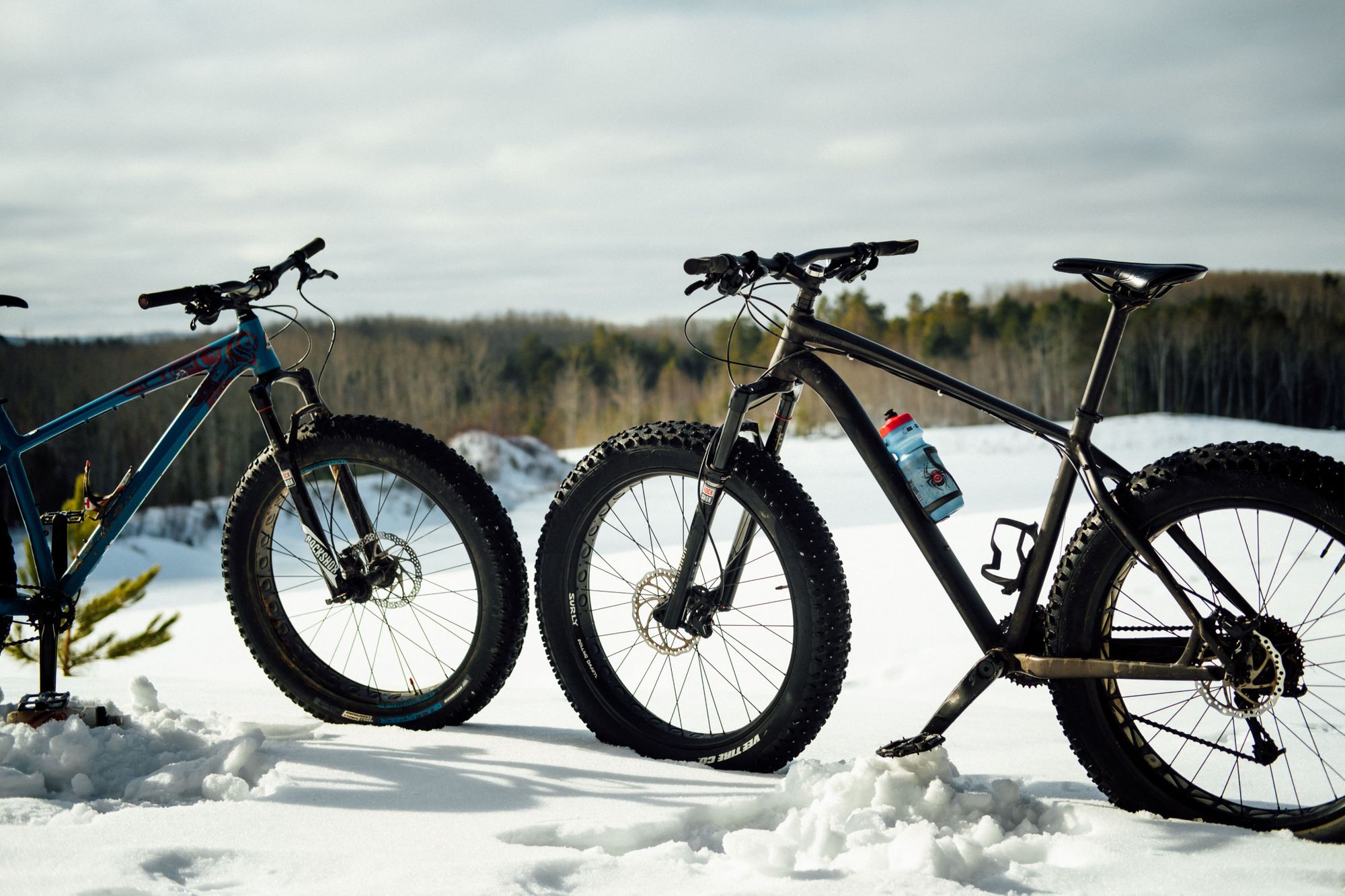 Whether your fat bike needs suspension or not really depends on what you'll be doing with it. The tyres of a fat bike don't need to be inflated much, so they're squishier than your average tyre and that means they eat up some of the smaller bumps on the trails. But really, the reason they don't come with suspension is that the main purpose of a fat bike is to put as much of the wheel on the floor as is possible and give you mega traction and grip. So, fat tyres are not a valid alternative to a suspension fork. If you're going to be riding through rough and rooty trails on your fat bike, then it's not a bad idea to look out a fat bike with suspension. If you're just heading out to cover some fun off-road terrain though, save yourself the extra weight and get yourself a fat bike with a rigid frame.
Can I put fat tyres on any bike?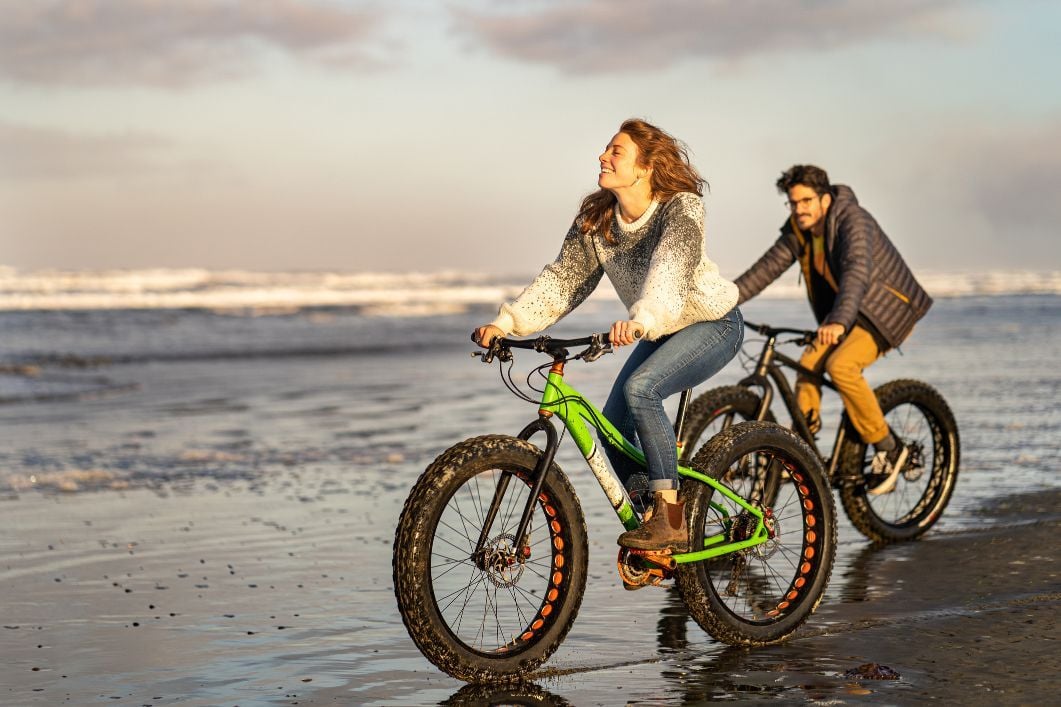 Long story short: no. You won't be able to fit the four-inch plus tyres of a fat bike onto any old bike. You can typically put conventional mountain bike wheels onto a fat bike, but unfortunately not the other way around. There usually won't be enough space. Plus-size tyres, which are wider than the usual tyre width but not nearly as wide as a fat bike's tyres, are becoming more popular, though.
How much does a fat bike cost?
Like any style of bicycle, fat bikes aren't typically too cheap, but they do come in a huge range of prices. Kona's Wo fat bike is on sale for £1,499 for example, while Canyon's Dude fat bike is available from £2399 to £3299.
Where can I ride a fat bike?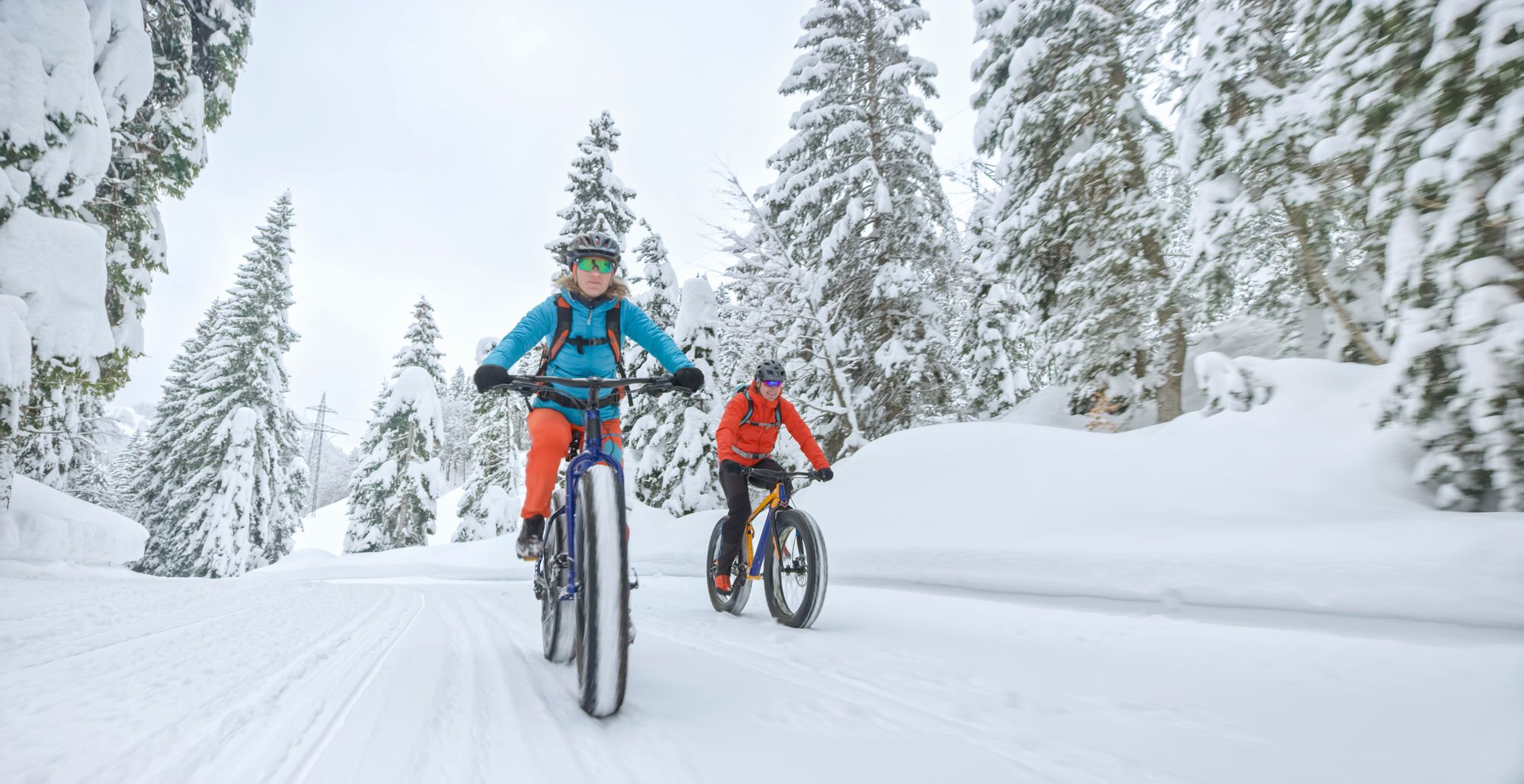 Well, that's sort of the point! Anywhere. Get a map out and point at it. The beauty of riding a fat bike is that you can have proper days out on terrain that you may have otherwise struggled on if you were on more conventional tyres. On our side? Well, since you've asked, we offer numerous adventures which happen to include fat biking - including a fat biking expedition across the Finnmarksvidda mountain plateau in the Arctic Circle, or fat biking the sand dunes of Namibia.
Inspired? Check out our full range of cycling adventures now.
This article contains affiliate links. Which basically means we make a little commission if you click through and buy something. It doesn't cost you anything, and it just means we can do more good things in good places.