Remote and wild, the Drakensberg Mountains in South Africa are a hiker's paradise. 'Drakensberg' means 'Dragon's Mountains' in Afrikaans, and their Zulu name is uKhahlamba, the 'barrier of spears'. Both monikers help convey the spiky, jagged contours of these peaks, which form part of a large escarpment leading to a vast interior plateau.
Some of the most spectacular scenery can be found in the Maloti-Drakensberg National Park, which hugs the border between South Africa and Lesotho. Expect a landscape of towering basalt peaks and columns, sheer cliffs and sandstone outcrops. Rare bearded vultures and other bird species ride the thermals above them. At lower altitudes you'll encounter vast grasslands and fern-carpeted forests, rivers and waterfalls thundering through narrow gorges.
The Maloti-Drakensberg area also incorporates The Royal Natal National Park, a 32-square mile (81 sq km) reserve to the north, which is also renowned for its scenery. It's where you'll find the Drakensberg Ampitheatre, an austere three-mile long (5km) rock wall, and the plunging Tugela Falls, which is one of the highest waterfalls in the world.
The park is a UNESCO world heritage site due to its natural beauty, and the fact it contains the largest number of rock paintings in southern Africa, created by the San people. Due to the region's cultural and natural significance, it's here that you'll find some of the most scenic and well maintained hiking trails.
But there's more to do than walking in the Drakensberg Mountains. We've listed some of our favourite treks alongside other activities that will appeal to adventurous souls, from vulture spotting to visiting the highest pub in Africa. This guide also provides some tips for when to visit and where to stay within the region.
Where are the Drakensberg Mountains?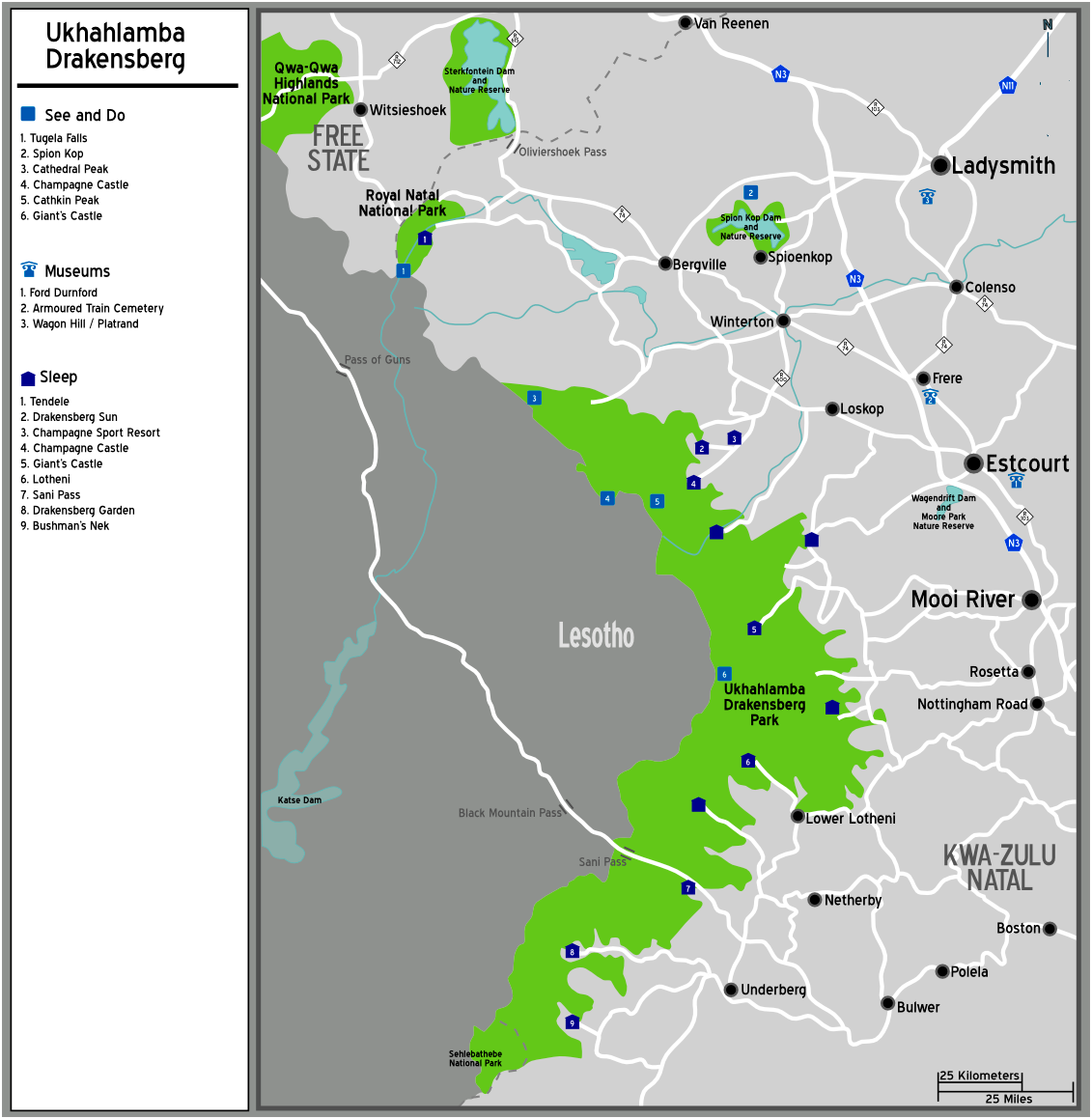 The Drakensberg Mountains stretch all the way from South Africa's Cape Province to the Eastern Mpumalanga province for roughly 700 miles (1,125 km). However, when people talk about Drakensberg they tend to be referring to a far smaller area - the Maloti-Drakensberg National Park.
This is a crescent-shaped area around 124 miles (200km) long. It's transnational, comprising the uKhahlamba Drakensberg National Park in South Africa and the Sehlathebe National Park in Lesotho.
7 of the Best Things to Do in Drakensberg
1. Boulder Hop in Tugela Gorge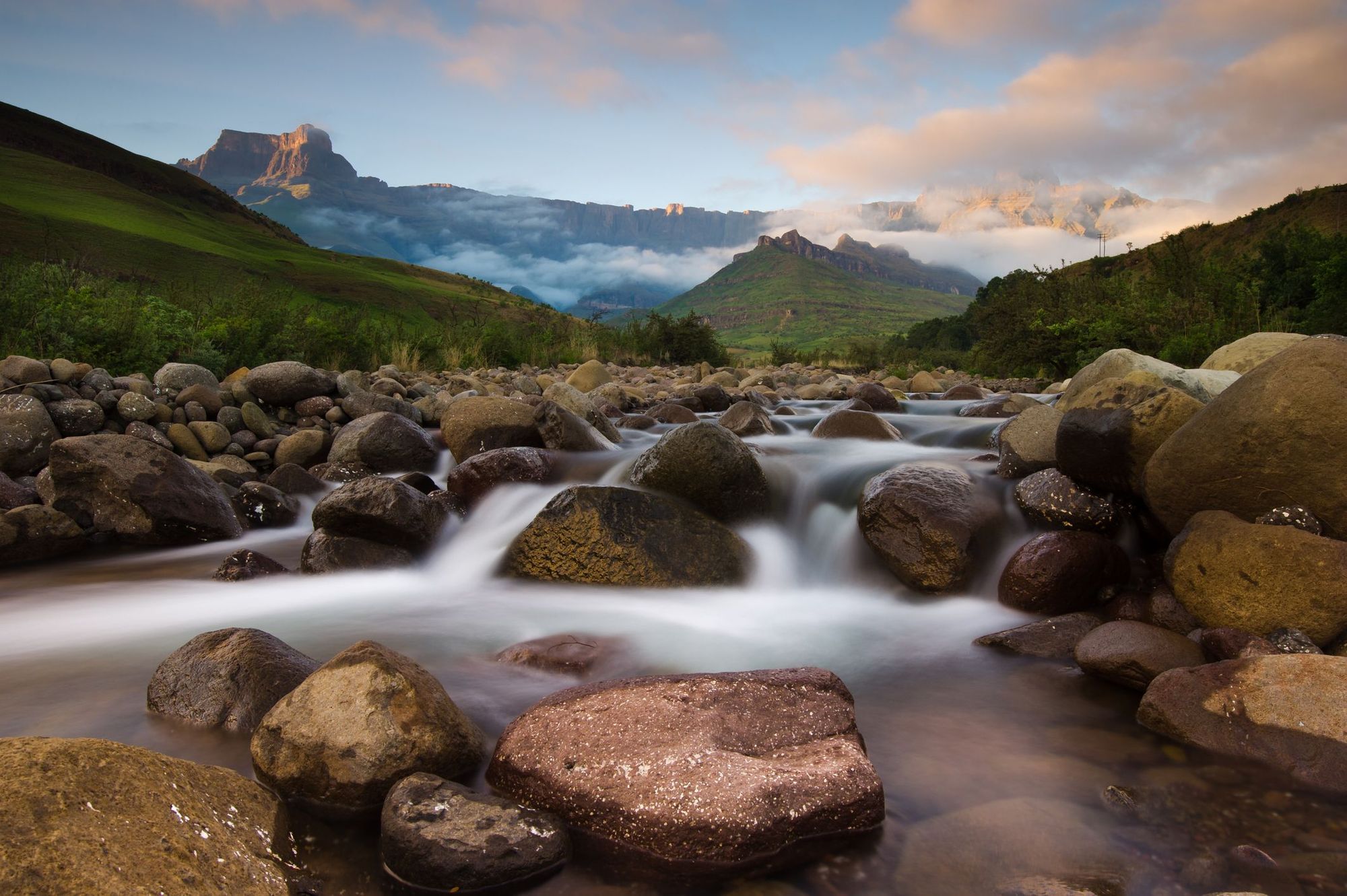 This 8.7 mile (14km) out-and-back trail takes you through the heart of the Royal Natal Park. It traces the path of the Tugela River as it passes through dense forest and into the steep-walled Tugela Gorge. You'll hop from boulder to boulder as you cross the water, passing crystalline rock pools which are ideal for a refreshing trip.
The scenic highlight of the trip is a view of the Tugela Falls gushing over the high cliffs of the Drakensberg Ampitheatre. There are three different ways to catch sight of it. The easiest is to climb a small wooden ladder and walk a short distance along a clear path to the designated viewpoint. But you can also scramble across the boulders studding the river towards the falls (but be careful of slippery stone). The most challenging route is up a chain ladder and a scramble up a steep gully before descending back to the river.
2. Go Kayaking on the Tugela River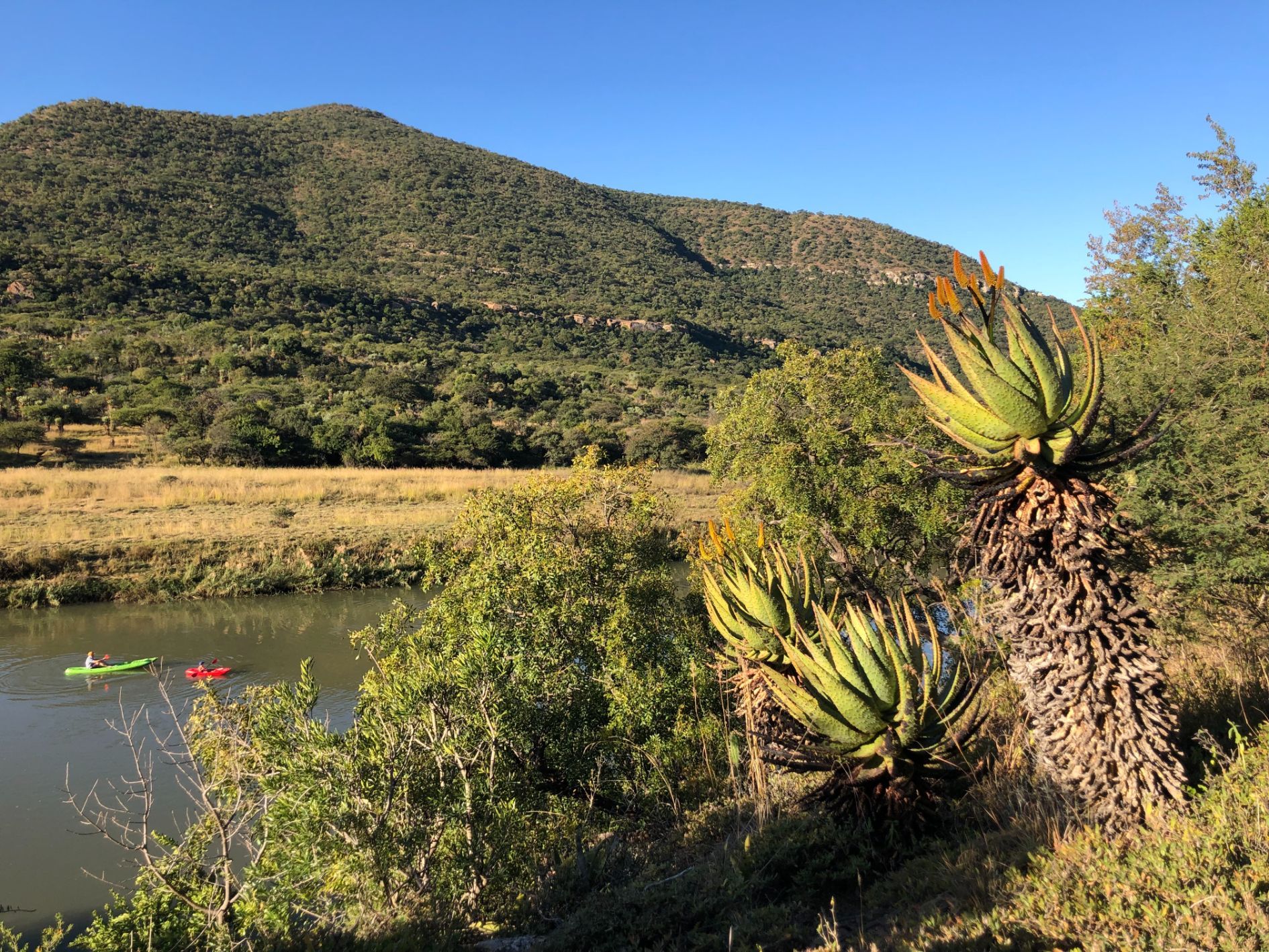 The Tugela River is 330 miles (531km) long, so there's plenty to explore outside of the Tugela Gorge. To shake things up a bit, why not explore it on water? Glide downstream through the Tugela Valley, passing forested hills and grasslands. Pull ashore for a picnic - we recommend Warthog Island, in the middle of the river. You can then hike back upstream to camp when you're done.
Kayaking is possible from March to November. From December to February the water levels are much higher and the river flows faster - that means whitewater rafting is in order!
3. Wild Swim and Abseil in Mahai Valley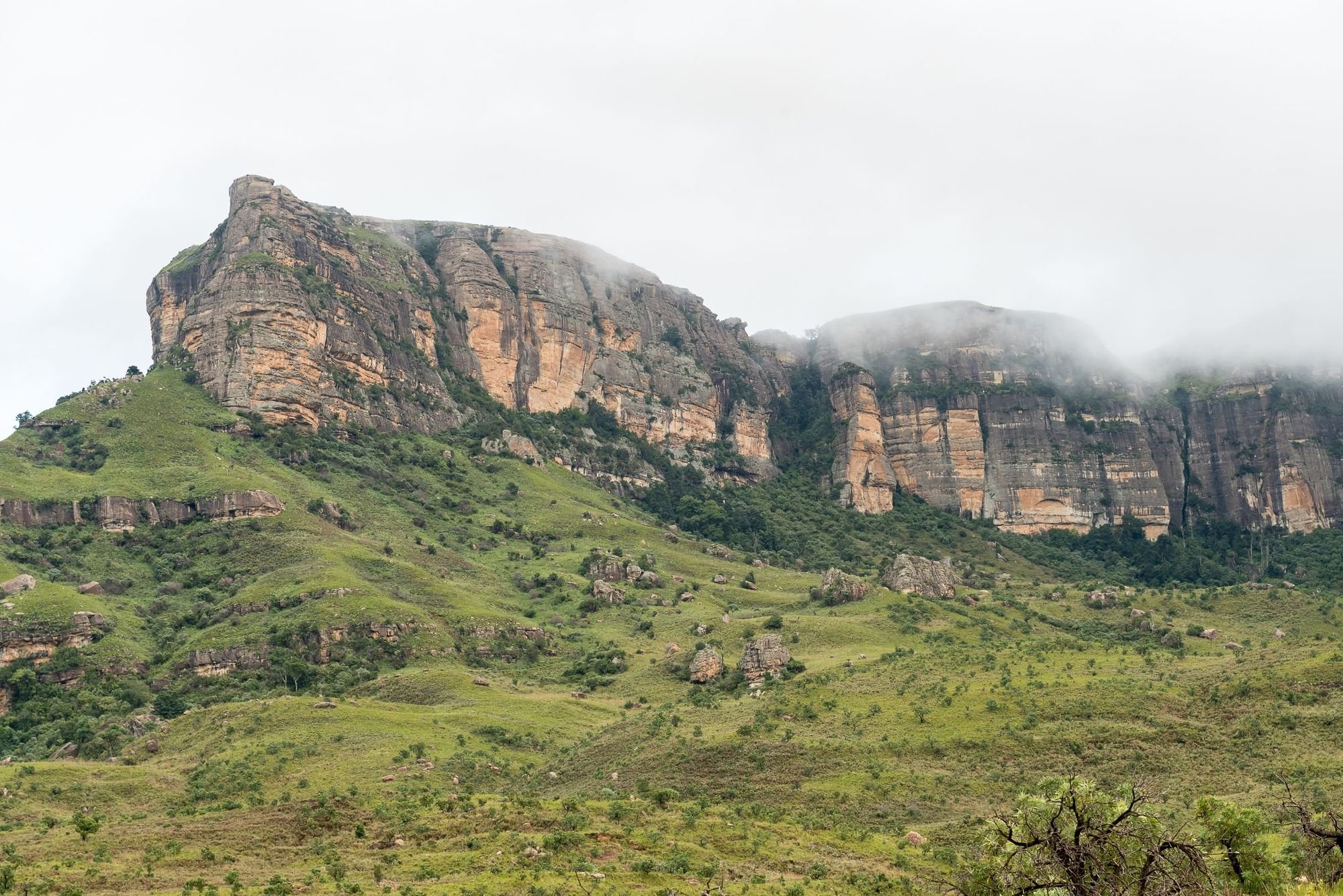 The Mahai Valley, in Royal Natal National Park, is renowned for its craggy cliff faces the silver waterfalls running down the rock into natural pools below. As you hike along this tranquil valley, you can stop for a wild swim in the pools.
For something a little more adrenaline fuelled, you can abseil down the sheer gorge walls. You'll need a guide for this one - they'll help set you up and find the right spots.
4. Marvel at the San Bushmen Rock Art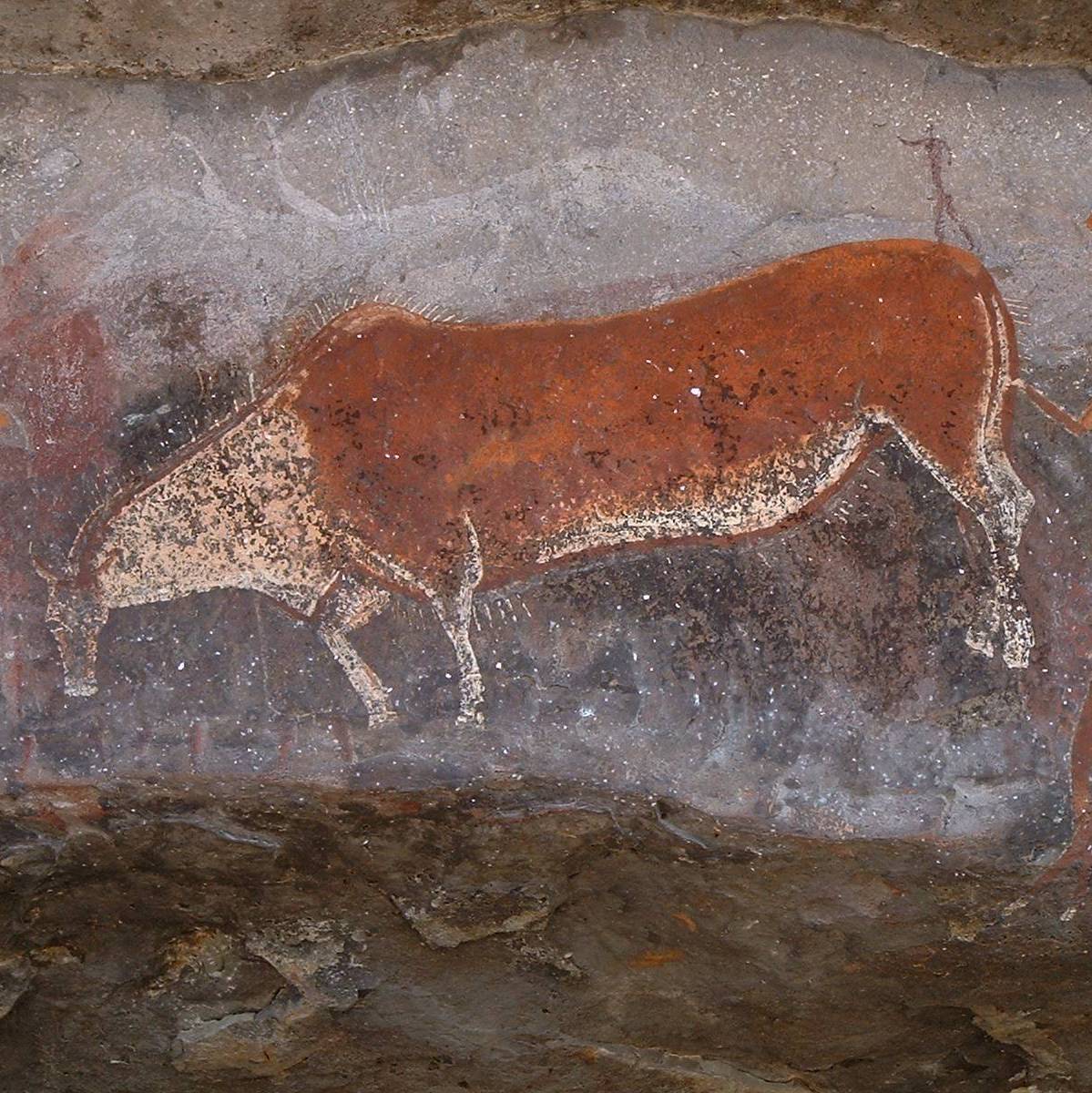 The San, or Bushmen, were South Africa's earliest inhabitants, and they lived in the caves of uKhalamba-Drakensberg for millennia before their population was decimated by white farmers. They decorated the cave walls and cliff faces of the Drakensberg with paintings depicting hunting and their spiritual beliefs.
While many of these paintings have faded or been vandalised, there are still over 600 rock art sites spread throughout the region. Some of the most well-known (and well-preserved) can be found at Game Pass Shelter, the caves near Giant's Castle Camp or at Battle Cave near Injisuthi. Lone Rock also has a good display of San art, and can be accessed during a rewarding hike to Sugarloaf Gap.
5. Scale Challenging Chain Ladders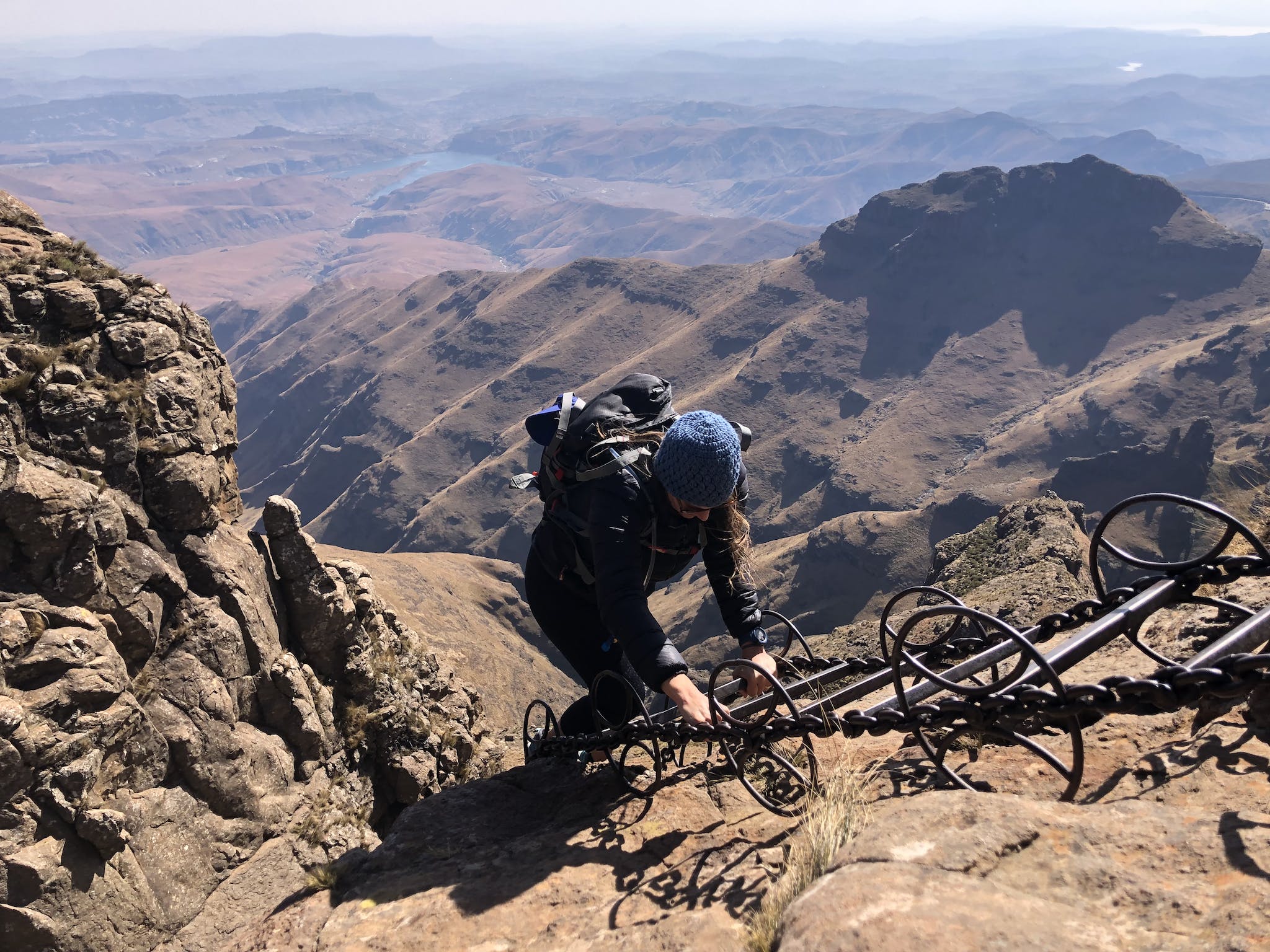 Some of the walks in the Drakensberg region require the use of chain ladders. They've been drilled into the sheer stone cliffs and allow you to make your way up them without having to rock climb. There are often easier alternatives, but if you enjoy a challenge the ladders are well maintained and pretty stable.
One of the most popular chain ladder hikes is the Sentinel Peak Chain Ladder Hike. To reach the top you'll need to climb a 30 metre rock face via one pair of ladders rising vertically upwards (around 17 metres in length), and then another pair of 13-metre-high ladders. When it comes to choosing which ladder to climb, we'd recommend using the right hand side ones, which have large grabbing handles.
6. Go Vulture-Spotting at Giant's Castle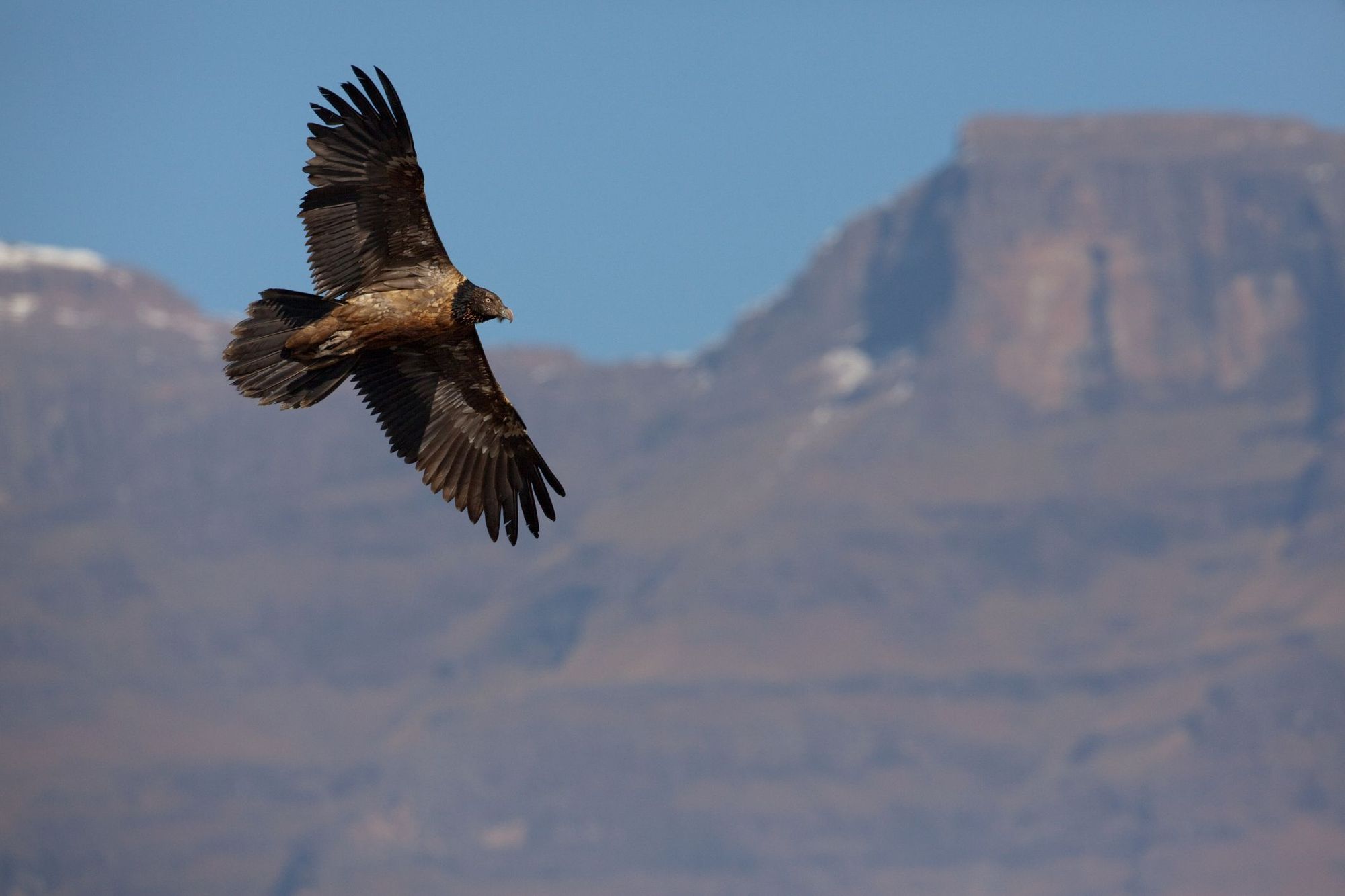 The lammergeier, or bearded vulture, is a rare bird species found only in several of the world's mountainous regions - in South Africa they can only be seen in Drakensberg. The vulture hide overlooking the bulky ramparts of Giant's Head Peak is one of the best places to see them.
Reserve wardens provide groups with pre-cut shin bones to help attract the scavenging birds. It's best to go out at first light, scatter the bones and settle in the hide to wait. The best time to visit is during the winter months (between May to August), when food is scarcer, but there are sightings year-round. Alongside the rare bearded vultures, you may catch sight of other avian species such as Cape vultures, black eagles, jackal buzzards and more.
7. Climb Cathedral Peak (3004m)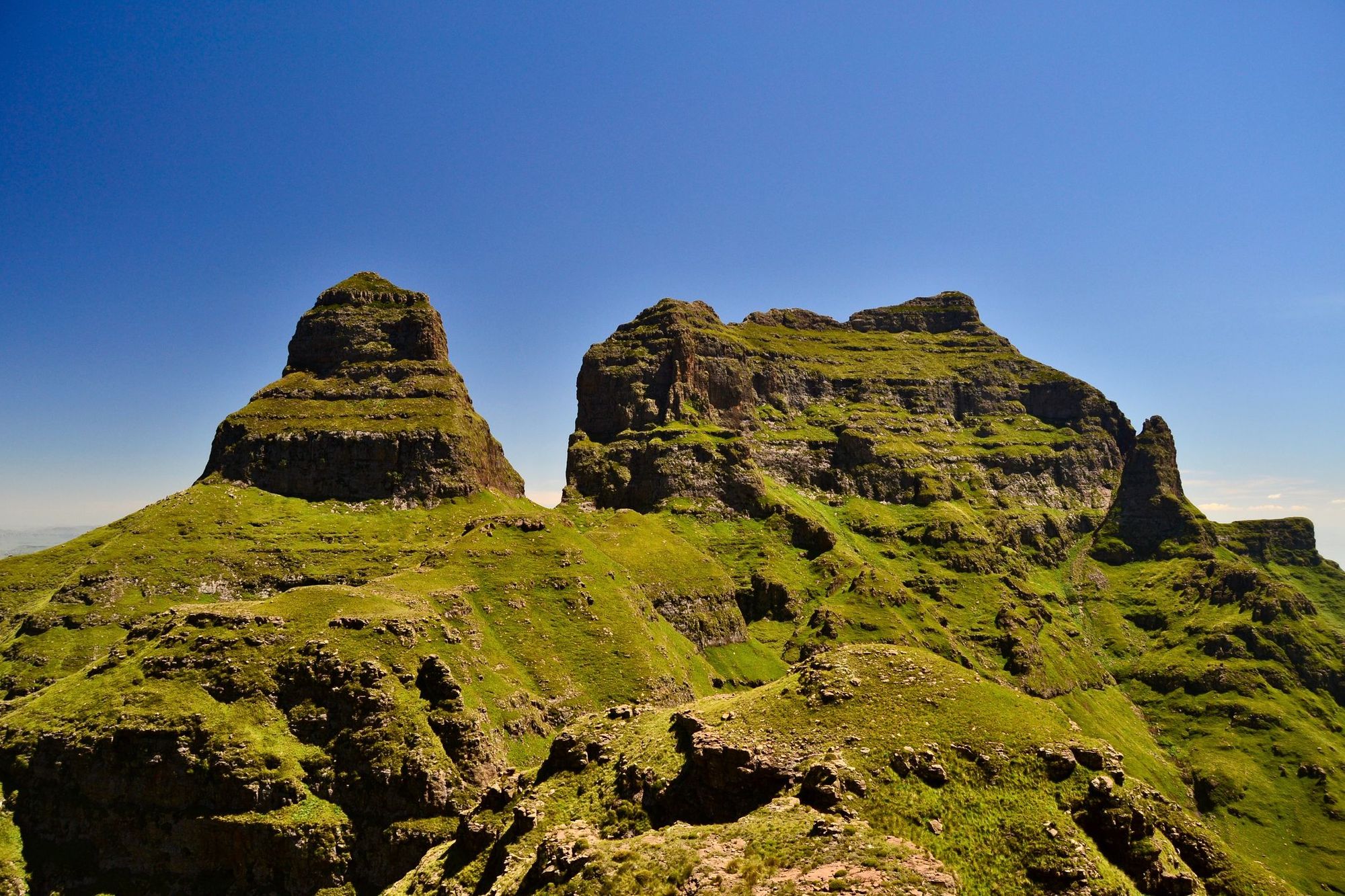 Cathedral Peak might not be the highest mountain in Drakensberg, but it is one of the most rewarding to climb thanks to its prominence - it's a freestanding summit amidst stone buttresses, ridges and pinnacles. The ascent is a challenging one, taking around 10 hours in total, and the views from the summit across Drakensberg are superb. We'd definitely recommend taking a guide.
You'll begin by hiking through gently undulating grassland until you reach Swine Hill, and the land slopes sharply upwards to a ridge. The path follows this ridge before ascending up and around a buttress and up a scree slope to Orange Peel Gap, so named because this is where guides were said to hand out oranges to hikers for a break. Later on you'll encounter Bugger Gully (the name is explanatory when you see how rocky it is), before the final scramble to the summit up an exposed rock face.
The Best Time to Visit Drakensberg
The Drakensberg experiences hot, humid summers with frequent rainfall and summit cloud cover (December to Feb). Winters (June to August) are drier but colder - temperatures can plummet to -20°C at the highest altitudes.
We believe the best time to visit Drakensberg is in between these periods. April and May are ideal walking months, with daytime temperatures between 15-20°C, cool nights and blue skies. During May and June the visibility can be a little hazy, due to the controlled grass burns sometimes happening during these months. September to mid-October are also good months - the beginning of spring, before temperatures and rainfall increase too much.
Having said that, the weather can be unpredictable, especially at high altitudes. Pack for all seasons, whenever you decide to visit.
Drakensberg Accommodation: Where to Stay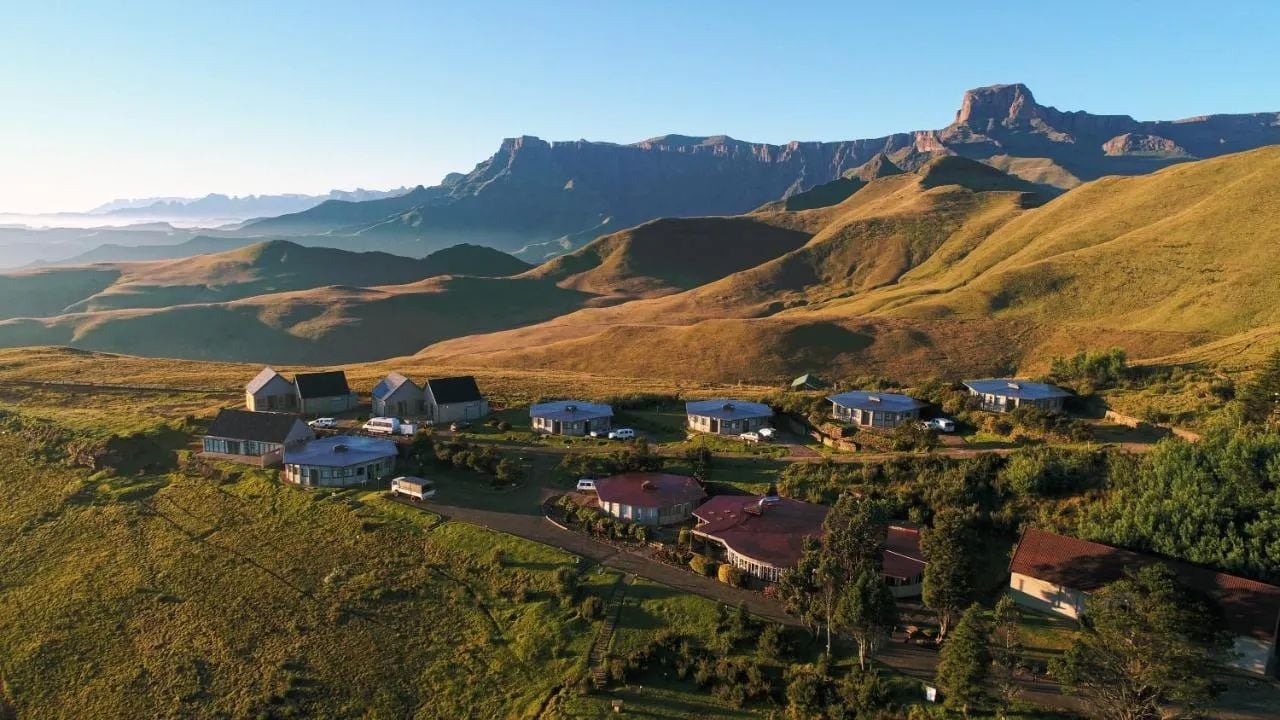 The Drakensberg is a remote and sparsely populated region. While there is a variety of accommodation options, it's worth researching and booking in advance, as spots can go quickly. Accommodation options include campsites and hutted camps within the park, and private lodges and B&Bs just outside.
Hutted camps (also known as rest camps) consist of self-catered thatched huts, each often with their own fireplace and barbecue. Many of these - alongside the campsites - are run by KZN Wildlife, the KwaZulu-Natal province's conservation management agency. Thendele Camp is the closest one to the Ampitheatre, and has some of the best scenery in the park. There are also some fantastic mobile bush camps, where you'll sleep in hammocks and bathe in the soft glow of the stars.
On the outskirts of the park you'll find privately owned lodges, which tend to be family-run, smaller and more integrated with the local community than hotels. Witsieshoek Mountain Lodge, the highest lodge in the Northern Drakensberg, comes highly recommended.
How to Reach Drakensberg
Most people reach Drakensberg via South Africa, flying into Johannesburg or Durban Airport. Whilst Durban is marginally closer, Johannesburg's OR Tambo Airport is much better serviced, with direct flights from 77 cities across 40 countries (compared to 11 cities across four countries from Durban).
Whichever airport you fly to, there's no public transport to the remote Drakensberg region. Your options are to hire a car and drive yourself, or to visit as part of a guided tour. From Durban you head north up the N3, and from Johannesburg you head south along the same highway. Narrow, potholed roads will take you off the main road to different destinations within the park.
Inspired? We visit the Drakensberg Mountains on our Hike, Kayak and Wild Swim South Africa Adventure - join us to hike Sentinel Peak, kayak Tugela River and much more!