The region of Zagori is nestled in the rugged Pindos Mountains of Epirus, in northwestern Greece. It consists of 46 stone villages (known as Zagorohoria) scattered across an area of 1000 square kilometres. These ancient settlements are nestled into the deep forests, craggy mountains and limestone gorges of the area. They're connected by a network of stone steps and bridges that seemed to come straight out of a fairytale, which were used to move between the villages until a modern road network opened in the 1950s. Now they make for spectacular hiking trails.
You won't see many other people on your trip to Zagori. But you might well encounter wildlife. Zagori's Vikos Aoos National Park is home to 120 different bird species - including 15 raptor species - alongside brown bears, foxes, otters, lynxes and more. The wildlife, the silence - save for a fast flowing river or the wind rustling through the trees - and the rugged scenery make Zagori feel like a world apart from the fly and flop beaches of the Greek islands, or the bustling city of Athens.
Is your curiosity piqued? If so, this guide is a good place to start when planning an adventure to Zagori.
When is the Best Time to Visit Zagori?
The answer to this question depends very much on what you would like to do in the region. If it's hiking, we recommend visiting between April and October. From May to July, you'll be treated to an abundance of wildflowers in the Zagorian meadows - a heady, ever-changing palette of white narcissus and star of Bethlehem to scarlet poppies and purple-flowering sage. In September and October, the woodlands blaze with autumnal colours as the leaves of the oak and maple turn red and gold.
The weather is warmest and driest during the summer months (June to August). During Spring and Autumn it's a little more unpredictable - in May you might experience cloudless skies and 20°C weather - on the other hand, you might be treated to a spring shower. It's important to remember that Zagori is a mountainous region, and as any intrepid hiker knows, in the mountains you can experience four seasons in a single day.
There's nothing to stop you from visiting Zagori during the winter months either. It becomes a quiet, snow-covered winter wonderland. There are several ski resorts in the area, and it's also a great destination for backcountry or off-piste skiing.
What to do in Zagori
1. Hike Vikos Gorge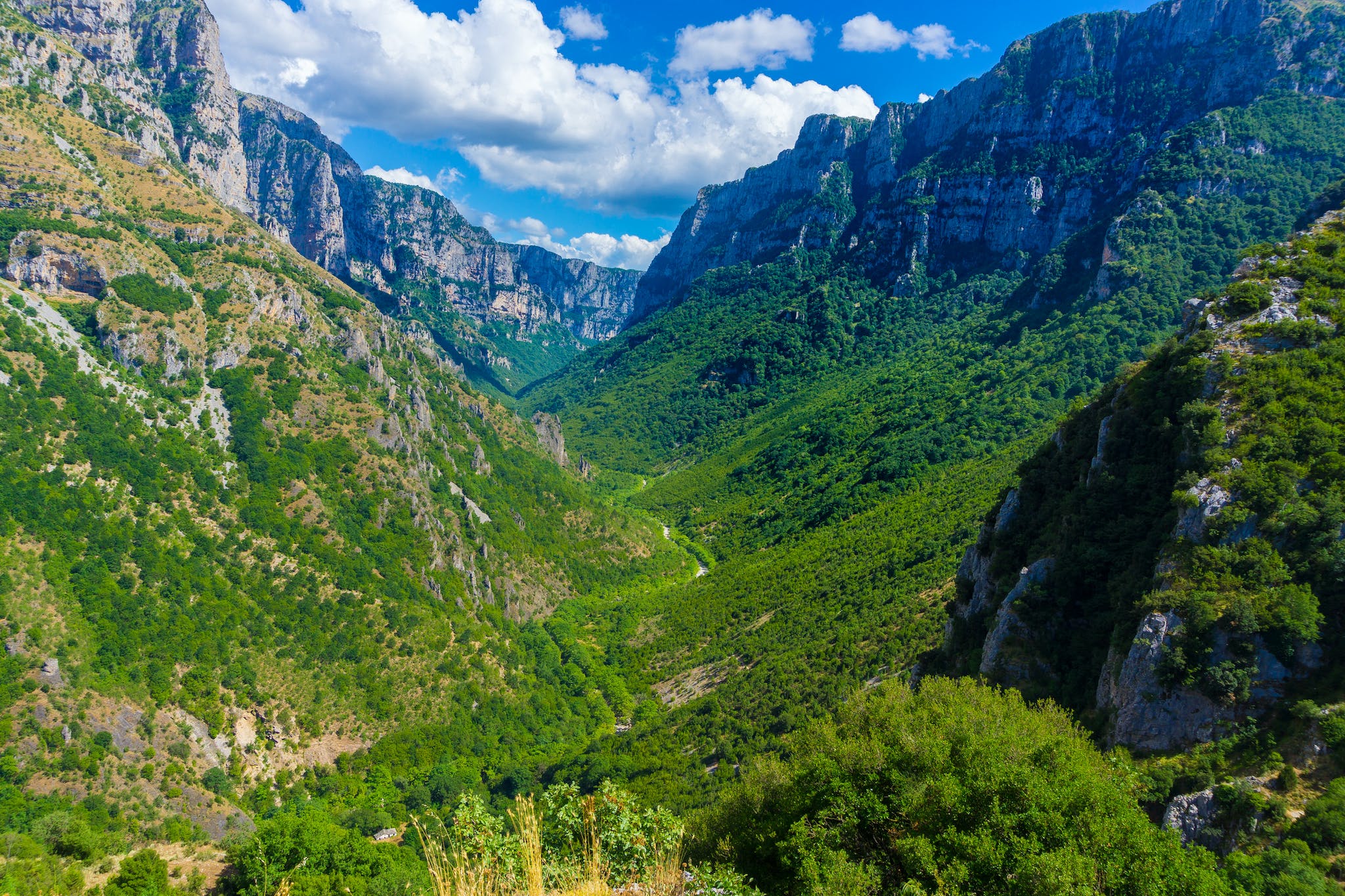 Vikos Gorge holds the Guinness World Record for being the world's deepest gorge relative to its width - its steep limestone walls rise up to heights of 1040 metres. A 13-kilometre hiking trail takes you from one end of the gorge to another, a route which takes around six hours to complete.
The start point for the hike is the small village of Monodendri. You'll follow the trail downwards to the bottom of the gorge, down a steep and rocky path. It continues north through pristine forest. There'll be clearings in the tree canopy which reveal views of the limestone cliffs on either side.
After around five hours of hiking, the path splits. The left hand path will lead you up a steep path to Vikos Village, where the hike ends. But we recommend following the right hand path a short distance to Voidomatis Springs, which are characterised by their clear turquoise water. Take a refreshing dip in the pool - it's cold year round, and very refreshing on a hot summer day - and follow up with a picnic lunch. You can either return to Vikos or continue hiking down the right hand path to Papingo Village (which will take you two additional hours).
2. Raft the Voidomatis River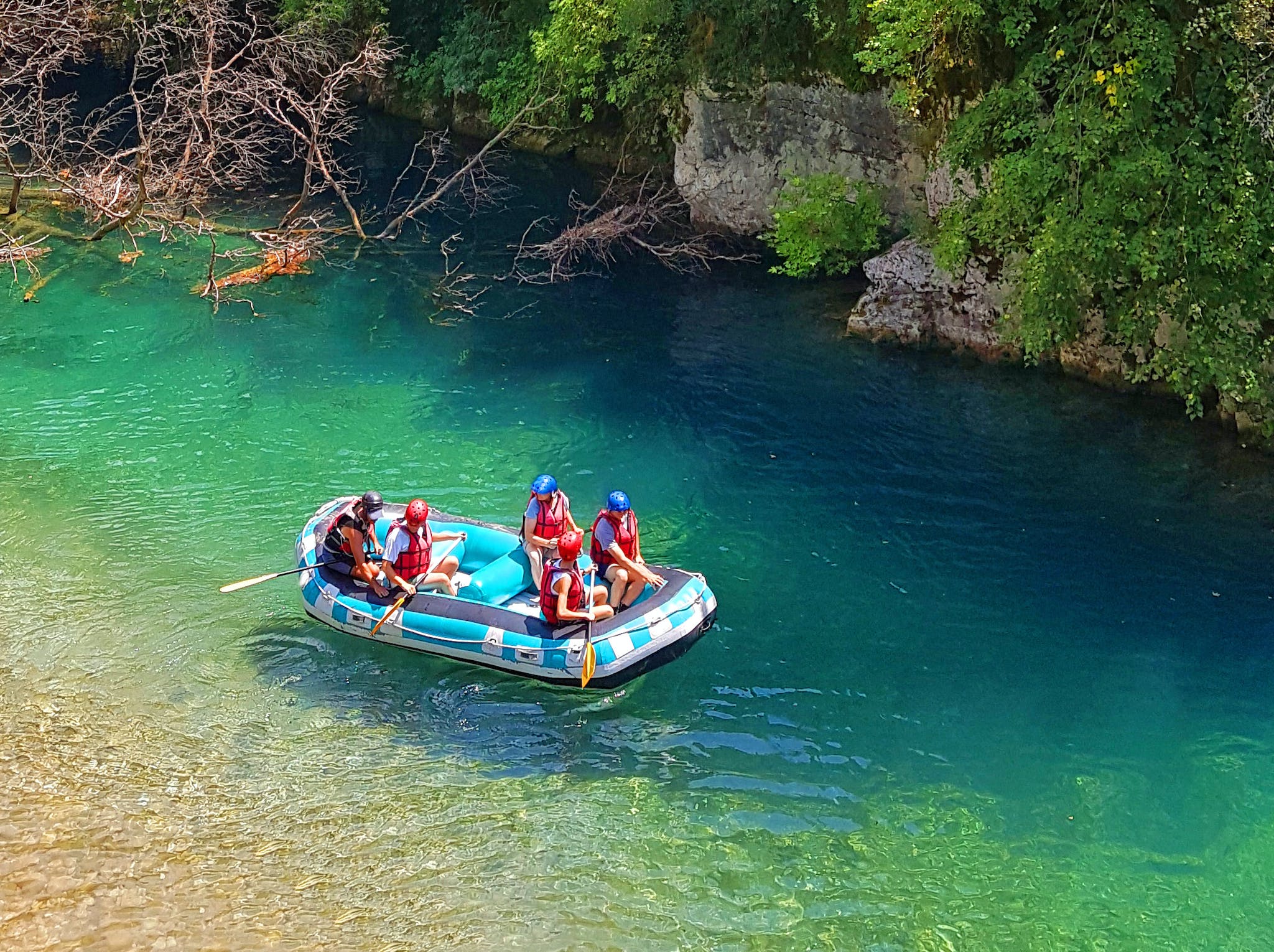 The Voidomatis River originates in the Vikos Gorge before flowing down the Voidomatis Gorge, where large plane trees line the rocky shores. Eventually, its waters join the Aoos River, which becomes known as the Vjosa River - one of the last free-flowing rivers in Europe, thanks to the efforts of environmentalists and activists in keeping it undammed. The Voidomatis River is also known for being one of the cleanest rivers in Europe, with clear blue glacial waters. It's an ideal environment for trying river rafting; the water is calm, with several class I to II rapids.
Launch your raft from the put-in spot near Aristi Bridge and the current will pull you downstream. There are several pebbly river beaches where you can pull ashore for a quick (and very cold) swim. You can conclude your rafting trip several hours later at the ancient stone Klidonia Bridge.
3. Climb Mount Tymfi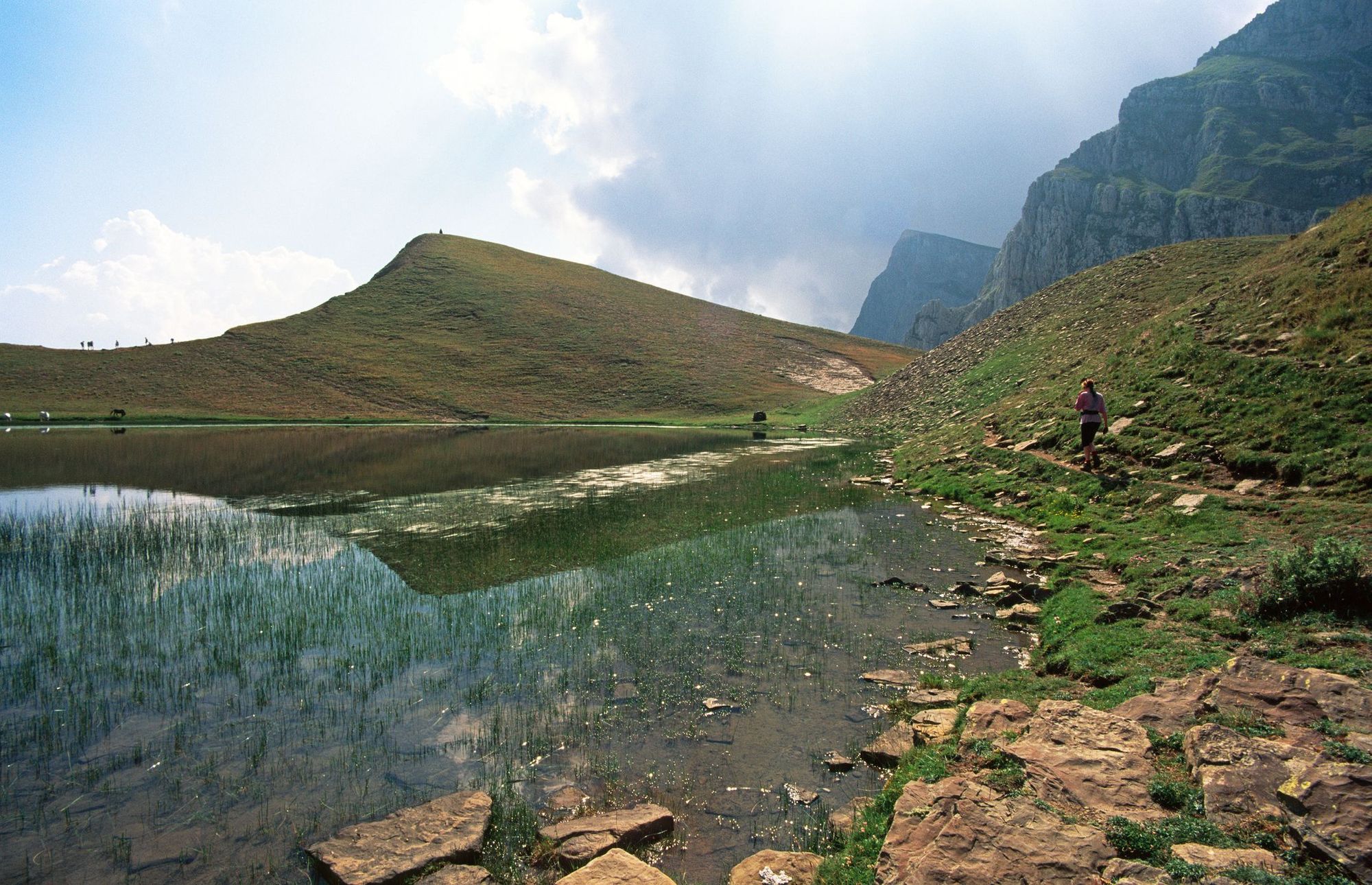 Mount Tymfi is a wide massif with lots of different peaks, several of which stand above 2400m. Some of the most prominent include Astraka (2436m), Gamila (2,497m) Gamila ΙΙ (2480m) and Karteros (2478m). That means there is a wide variety of different routes and climbs. There are also several glacial lakes within the massif, the most well-known being Drakolimni or 'Dragon Lake', so named because it was once said to be the home of dragons.
Astraka is one of the most popular - and clearly signposted - peaks to climb on Tymfi. From the village of Papingo, follow the signposted trail to Astraka Refuge (the only mountain hut on the massif). As you make your way uphill you'll pass Antalki Fountain, where you can refill your bottle with spring water. Continue upwards on a trail running through sloped fields speckled with boulders, until you reach Astraka Hut (1936m), located in the saddle between two peaks - one being Astraka.
From the hut to the peak takes two and a half hours along a clear trail - you'll head along a high altitude plateau before reaching the summit. You'll have gorgeous views of the massif, including the craggy ridgeline of nearby Gamila. We'd recommend spending a night at the refuge either before or after your summit climb, to have more time in the mountains. We also recommend doing further research before embarking on a summit climb - take a decent map, or go with a guide to ensure a safe trip.
4. Tackle the Vradeto Steps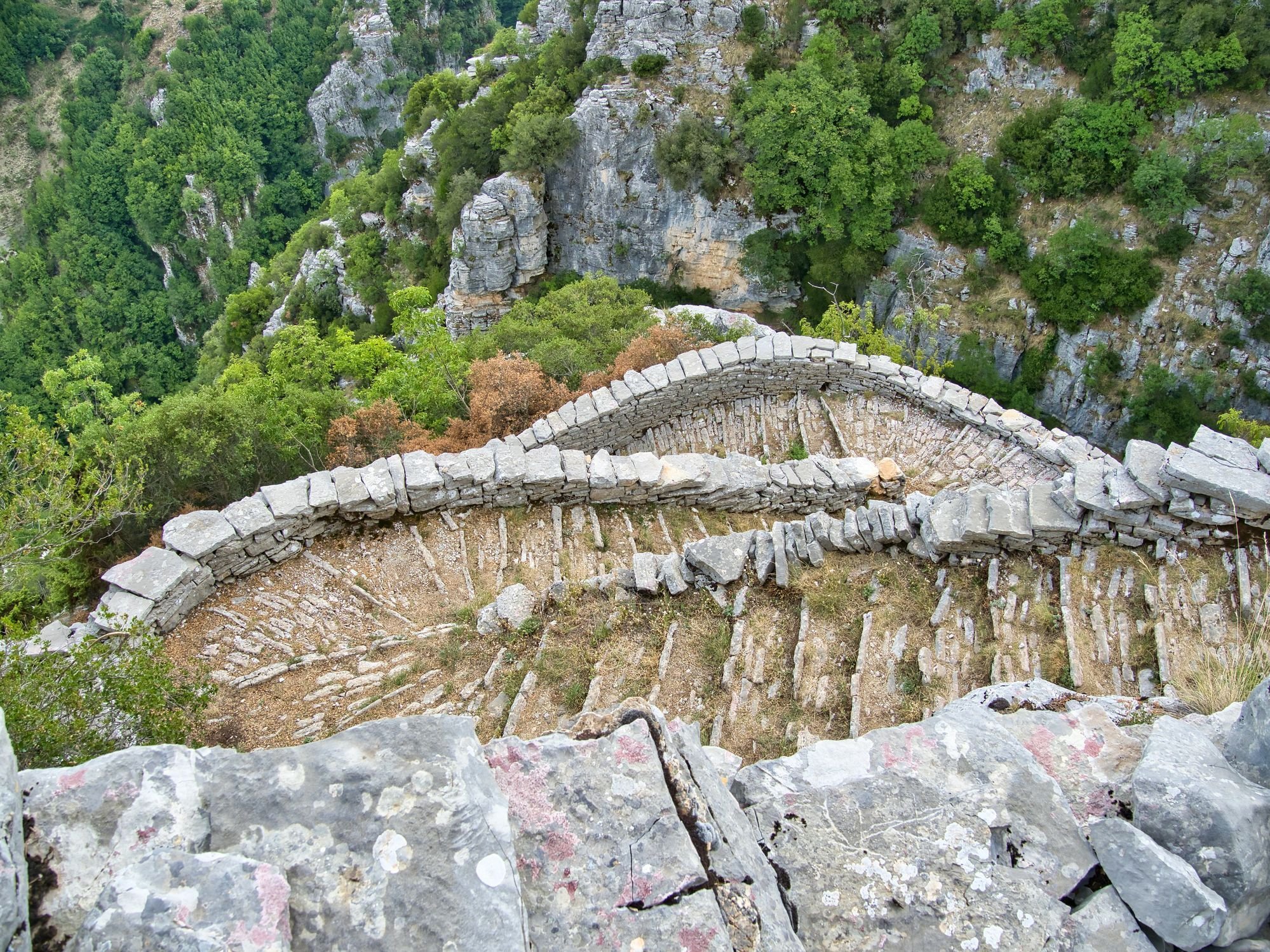 The famous Vradeto Steps consist of 1200 steps and 39 hairpin turns, which climb their way up a forested hillside. Until 1973, they were the only way that the villages of Kapesovo and Vradeto were connected. They can be hiked as part of a glorious trail leading through Vikos Aoos National Park, an area renowned for its beauty and biodiversity.
Start off in the town of Vradeto and hike to the Beloi lookout, where you'll be awestruck by the views over the Vikos Gorge. From there, head back the way you came and down through Vradeto via the famous Vradeto Steps. The trail continues down the hillside towards the village of Kipoi. From here, an old stone path leads from the Bridge of Kikoris, through the forest to the Bridge of Misios.
5. Cycle Remote Mountain Roads
Zagori is a paradise for cyclists, with its quiet roads and hairpin bends, steep ascents and amazing mountain views. There are also plenty of gravel tracks and mountain biking trails if you want to go off piste. The route options are practically endless - we recommend getting out a decent map of the area or heading off on a guided tour to make an informed decision about where to go.
One option is to begin in the village of Samarina, in the heart of the Pindos Mountains. From the timeworn Agia Paraskevi monastery, take the forest road through the wooded Valia Krna (Devil's Valley) passing mountains and waterfalls. Get back on the main road to Distrato. The next day, you can ride from Distrato to Vovousa, going uphill until you crest over the top, and can head through the unspoilt Aoos Valley. Vovousa is an ideal place to base yourself for a couple of days, as there are several circular routes through the Valia Calda protected area.
6. Try the Local Cuisine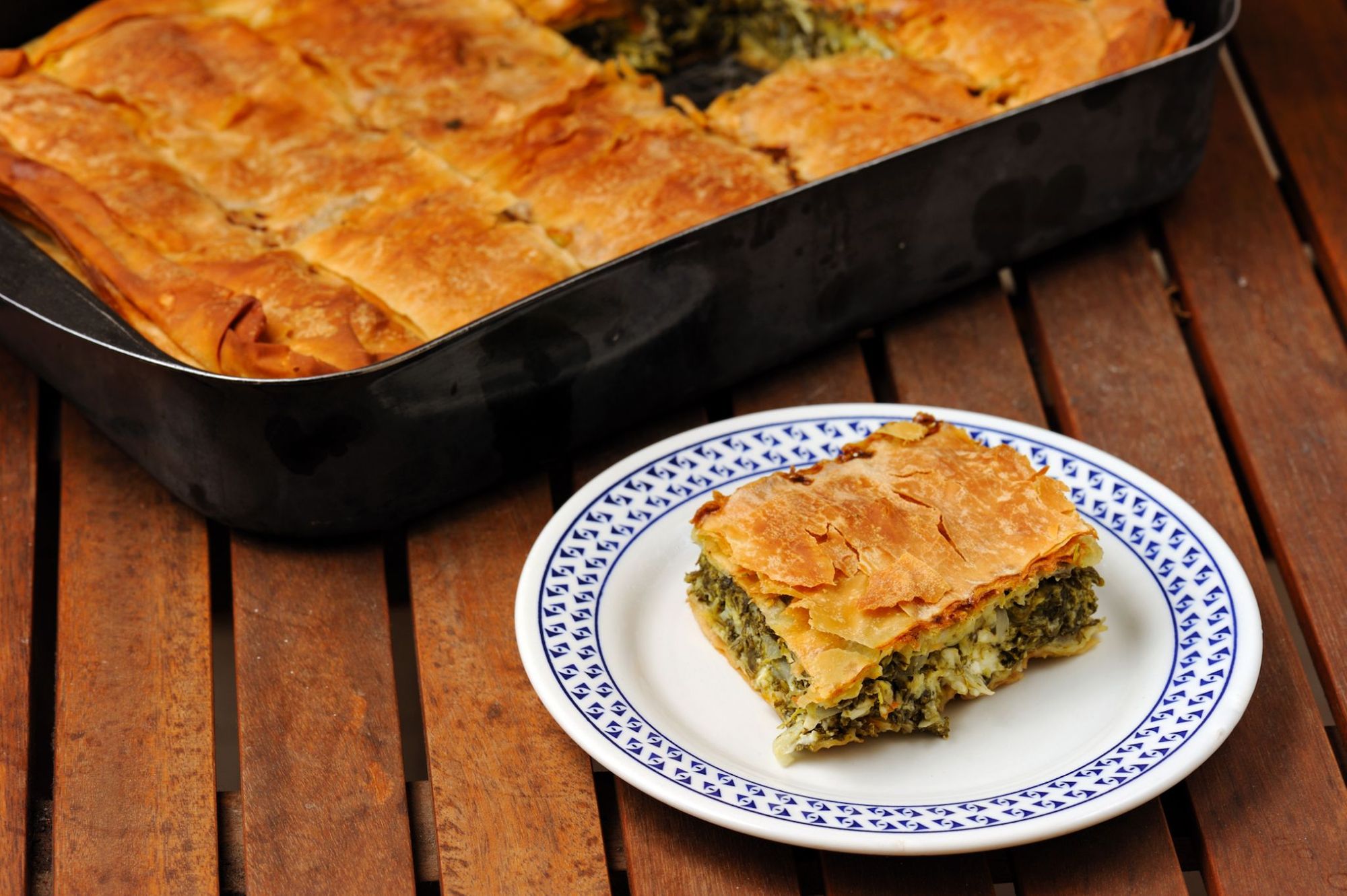 The food in Zagori is a culinary adventure, one which tells a story of the landscape itself. Isolated from the outside world, traditional dishes were made using foraged herbs, home grown vegetables and the animals that could be fished, hunted or farmed.
Pies are the undisputed star of the region - there are around 178 recipes in all, including blatsaria (a crust of corn flour and a filling of wild herbs and feta) and 'lazy pie' (filo pastry encasing a cheese, egg and yoghurt filling). Other fillings include macaroni, wild mushrooms and pumpkin.
Meat was also eaten in abundance. Think liver fried in butter with herbs and breadcrumbs, and hearty meat stews. Another traditional dish is freshly caught eel, cooked on an earthenware tile in the oven. Vegetarians can sample the butter bean casserole with wild herbs. And less adventurous eaters don't need to worry - there'll be plenty of other Greek dishes available, such as salads and mezze platters.
Where to Stay in Zagori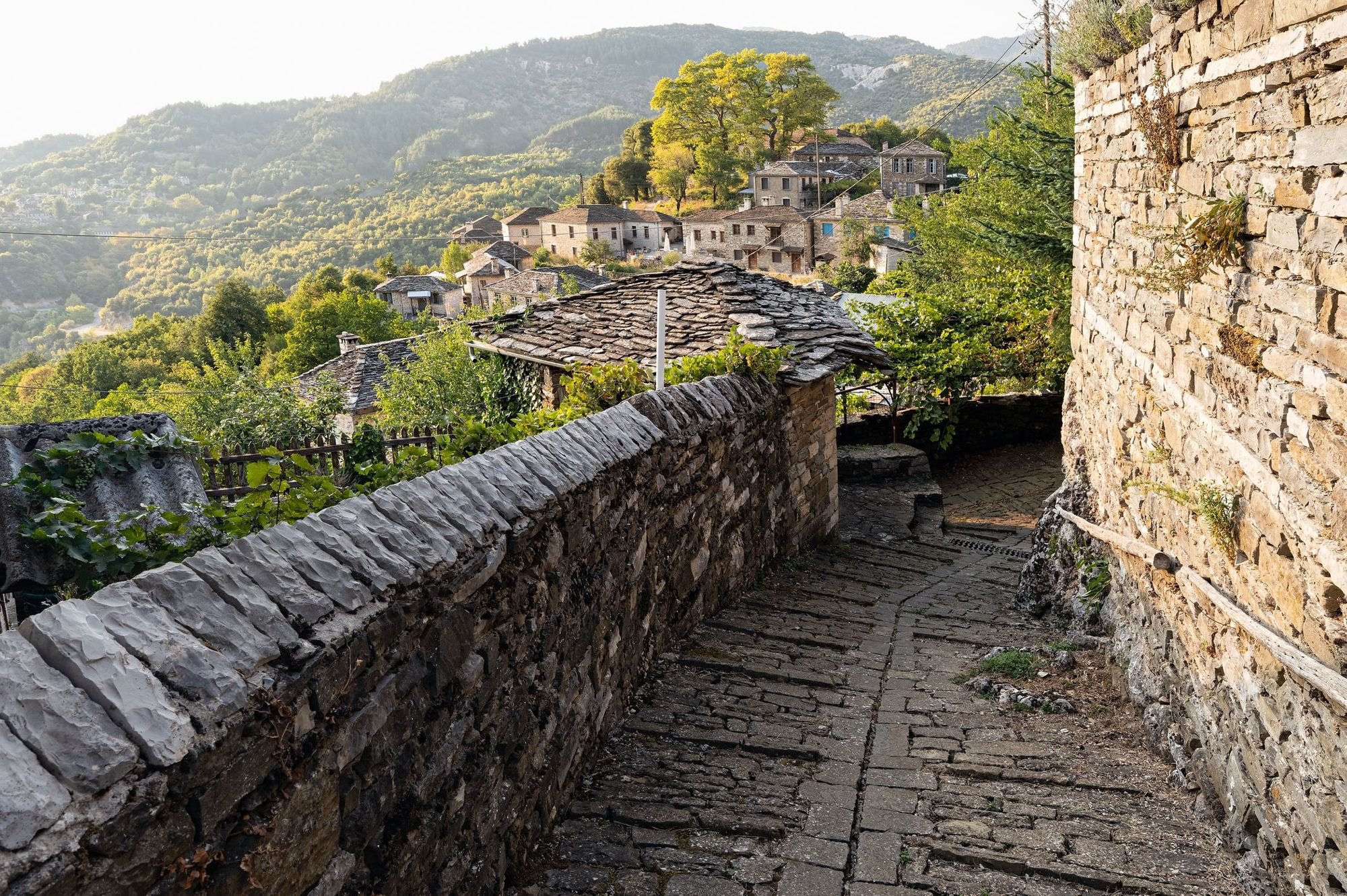 There are 46 villages in the region, so choosing one to stay in can be a difficult choice. For convenience, we recommend Monodendri. There's several restaurants and tavernas for evening meals and drinks, hiking trails from the village, and it's also conveniently located to Vikos Gorge, Vradeto Steps and the Voidomatis River. Meanwhile, Vikos Village tops the bill when it comes to mountain scenery.
Papingo Village is another option. This idyllic stone village is surrounded by forests and mountains. Despite being more off-the-beaten track, there is plenty to do nearby, such as swimming in the gorgeous Papingo Rock Pools or striking out towards the Tymfi Massif from the village.
How to get to Zagori
The closest airport to Zagori is in Ioannina, the capital of the Epirus region. However, considering it only operates two direct flights (to Athens and Tel Aviv), many tourists choose to visit via Athens - it's a busy airport with nonstop flights to 163 countries across the world.
If you happen to be on a guided adventure, you'll be picked up and driven to Zagori. Travel independently, and your best bet is to hire a car - you'll have to be comfortable navigating the hairpin bends and steep drops of the mountain roads if you choose to do this. Another alternative is to take a bus from Athens to Ionannina (around five hours), and then catch a taxi to your base in Zagori.
Inspired? Check out our Hike and Raft in Greece's Meteora and Zagori Adventure